Some people are confused by what the word "chignon" means, but it isn't complicated. "Chignon" is a French term for a hair bun. It originates from the term "chignon du cou", meaning nape of the neck. You can show off your neck if you choose to put your hair up in one of these styles.
Chignon Bun Hairstyles
Chignon hairstyles are incredibly versatile because they can be used for loads of different occasions. Chignons are a popular women's hairstyle for weddings and formal events, but they are also great for when you just need to throw your hair up and go. They are a great way to make unwashed hair look as though it has been lovingly styled.
#1: Classic Low Bun
The best thing about this classic bun is its simplicity and elegance. Brown hair with blonde highlights is perfect to create this look with the middle-parted front strands being swooped on the opposite sides of the low bun. This style is ideal for brides and bridesmaids.
#2: Simple Chignon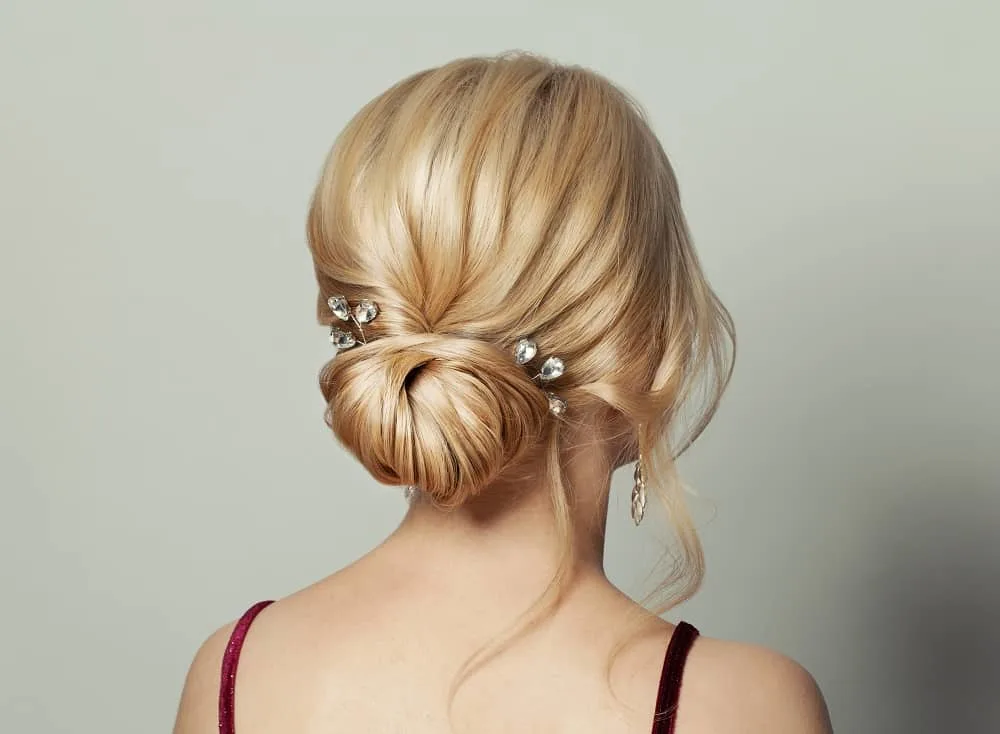 There is no need to spend hours creating a chignon bun like this. The hair is twisted at the back to create a low bun with shiny hairpins. Hairspray is used to create patterned lines of hair with fingers. Curl the front strands and leave them loose.
#3: Chic Waves
A versatile French bun hairstyle like this will be definitely liked by women who love waves. The brown locks are secured into a low bun lying on the neck keeping their wavy pattern undisturbed. Some hairspray keeps the style intact which is topped off with a white flower.
#4: Interwoven Pattern
For the ones who prefer a detailed look, the strands of hair are interwoven into a subtle loose braid starting from the crown. The hair is then twisted around into a bun. The curly loose strands at the front finish off this romantic look.
#5: Sleek and Shiny
This hairstyle is ideal for ladies with thick black locks. With a side-parted swooped front fringe the hair is styled into a jumbo side bun using a hair donut to get the extra volume. The fancy headband adds a queen-like appeal.
#6: Lovely Side Bun
Young girls can amp up their chignon bun by carrying it on one side. The hair is folded up to create the bun and secured with pins. The front strands are pinned back loosely too. Highlights peeking through the darker strands set off the look.
#7: Keep It High
Flaunt a high bun instead of a usual low one. To create this look, the hair is brushed up and rolled around into a perfectly round chignon. The front fringe is twisted around the bun too. Add a pearl chain on the bun for a chic appeal.
#8: Twisted Style
You will definitely like this twisted bun that is perfect for any occasion. The front hair is twisted and wrapped around the low bun on opposite sides. Add cute little white roses to complete this adorable style suitable for women of any age.
#9: Front Braids
Flaunt your naturally dark hair with this dreamy princess look. The front is braided all the way to the back where an oversized chignon bun is created using a hair donut. Some hairspray and bobby pins keep the style in place all day long.
#10: Modern Appeal
A chignon updo is classy and timeless. Add a modern glamour to it by making it extra-large using hair pads. Leave no strands loose and pin them all down for a neat look. This sophisticated and simple style is difficult to overlook.
#11: Low Chignon with Highlights
This low chignon sits just under the nape of the neck. It is a beautiful style which can be worn for formal or informal occasions.
#12: Twisted Chignon Bun
Divide your hair into sections as if you were about to start braiding it. Cross each section of your hair over once and then twist the rest of it round and up into a high knot.
#13: Voluminous Hair
Another great chignon bun. Give your hair extra volume by combing it up from the roots. Once you have created volume, loosely pin your hair hack into a voluminous chignon. Take care not to pull the hair at the front flat.
Read: 80 Hottest short haircuts for young and adult women
#14: Hidden Volume
Even if you have relatively thin hair, you can still create a voluminous-looking high chignon by faking it in different ways. Either add extra curls to your bun for volume, or wrap your hair around a foam hair shaper to give it a boost.
#15: Soft Chignon
Rather than scraping your hair back tightly, gently pull it up into a loose bun. This will make your hair and your face look softer. It is a great casual look.
Some people are confused by what the word "chignon" means, but it isn't complicated. "Chignon" is a French term for a hair bun. It originates from the term "chignon du cou", meaning nape of the neck. You can show off your neck if you choose to put your hair up in one of these styles.
#16: Tight top Knot
A tight top knot can be worn at casual or business events. Pulling your hair tightly into an upwards chignon hairstyle can help to give you extra height as well as helping to make your face look slimmer.
#17: Helmet hair
Create a sleek and trendy helmet hairstyle by straightening your hair and then pulling it right round from one side. Cover your forehead as you would do with an extreme side fringe. Check our post on Fringe haircuts to look splendid.
#18: Side-swept Chignon
Instead of knotting your hair at the back, create a glamorous chignon which is pinned to one side. Leave a little section down at the front at the other side to balance things out a bit.
#19: Crown of Flowers
If you are thinking about chignon hairstyles for an event such as a wedding or formal ball, give your hair an extra special touch by wearing a flower crown or similar accessory.
#20: Textured Chignon up-do
Create texture with loose waves or curls. Comb your hair backwards at the roots to create a little volume without brushing your curls back. Make sure your waves or curls stay visible when they are put up.
#21: Retro Glamor
Pull your hair back and start pinning it high up on your head. Curl the chignon underneath itself to create a voluminous glamorous style.
#22: Wispy Fringe Chignon
With a chignon-style up-do, you do not need to ensure that all of your hair is pinned up. A short, wispy fringe at the front can help to add softness and vulnerability to the look.
#23: Voluminous Waterfall
Comb your hair up from the roots to create fantastic volume, and then pin your hair back high up on your head. Once it is pinned, use a curling wand to create loose waterfall curls.
#24: Diagonal Parting
Team up a diagonal parting up with a gentle side fringe for a soft, classically beautiful look.
#25: Blunt Bangs
Blunt bangs are eye-catching when teamed up with a soft chignon haircut. This is a trendy take on a classic hairstyle and looks fantastic with heavy eye make-up.
#26: Soft Top Knot
A soft top knot does not pull your hair back as tightly as a tight knot would. This means that your chignon looks a little bit softer on your head.
#27: Braided Knot
Keep your chignon hairstyles in place by using braided hair to wrap around the bun. This helps to add a lovely touch for any formal events that you might be attending.
Mind-blowing braid hairstyle ideas to look cute & smart
#28: Light Side Fringe
Soften your look by teaming up a loose up-do with a light side fringe. This look can be used for casual occasions and can be worn on a night out when you don't want to look over-styled.
#29: Scruffy Chic
The scruffy chic look is a popular choice for people who want to look good, but not like they have tried to hard. Pull your hair up into a loose, tousled bun and then free some strands and allow them to fall around your face. It doesn't matter whether these are the same length or not.
Frame your face with a subtle fringe. A central parting with the main body of the fringe near to the top of your face will draw attention to your eyes and a few chin length strands will draw attention to your lips.
#31: Highlights and Lowlights
Add highlights and lowlights to complement your natural color. This can help your chignon hairstyle to look thicker and more luxurious.
#32: Centre Parting
Chignon bun hairstyles for women look great if you have a strong center parting without a fringe. Draw your hair back into an updo, but only pin it loosely. This will allow it to sit near to your cheekbones and will make your eyes smolder.
#33: Regal Elegance
Brush your hair for volume then gently draw your hair to the back of your hair. Lightly twist sections of your hair and then pin them all up together into a voluminous bun.
#34: Subtle Side Chignon
Side chignons do not have to be all the way to one side. Putting your hair up slightly off center with an alternating side parting is a very fresh, modern look.
#35: Bronze Highlight
Having one signature strand of color which runs through the center of your chignon up-do can look amazing. The difference in color can appear to add extra volume and texture to your bun.
#36: Manicured Knot Bun
This style utilizes a perfect knot type bun and is best if you have very long hair. Pull your hair up into a ponytail and then wrap your hair around and around itself. Tuck in any loose ends for the manicured look.
#37: Thin Curl Bun
A chignon hairstyle can still look ultra-glamorous, even if you do not have thick voluminous hair. This thin curl bun looks great because each curled strand adds texture to the style.
#38: Soft Romantic Side Chignon
If you want a romantic side chignon, leave your fringe to fall naturally near to the front of your face. This will help to give your eyes a special softness.
#39: Sweepover
Create a striking look by sweeping your hair over to one side to create a significant side parting, then pulling the chignon back over so that it falls on the same side as your parting. This look is the height of elegance.
#40: Braided Headband
Accessorize your hairstyle with a braided band. You can choose from a range of different band colors, so you will be able to find one that matches your outfit.
#41: Textured Waterfall
Keep the top of your style smooth by straightening sections our with thin irons and then create textures curls for the bun section by wrapping portions of your hair around the irons.
#42: Quiff
Make any up-do a little bit funkier by combing your fringe up into a quiff style. Quiffs can add an amazing androgynous touch to a feminine hairstyle.
#34: Coppertop
This soft chignon hairstyle looks amazing on fiery copper-colored shorter hair. Twist your hair from underneath then pin-up into a bun, leaving a loosely curled section hanging down at the front.
#44: Butterfly Bun
Accessorize your up-do hairstyle with a set of cute "butterfly" clips. These clips take their inspiration from the beauty of nature.
#45: French Plait
This French plait Chignon bun style is perfect for special occasions. Plait together hair from both sides of your head and then pin the ends up into a bun.
#46: Sleek Knot
With this sleek chignon up-do, there is not a single hair out-of-place. Knot the hair securely at the back of your head.
#47: Romantic Tousled Chignon
You will need to add loose waves to your hair before attempting this gorgeous style. It's a two person job so you will need to ask your friend or a stylist to help you to get it looking just right.
#48: Cool and Casual
Chignon styles are not only for formal events. Twist your hair and pin loosely at the back for a super casual chignon style. Leave a few strands of flyaway hair loose for a "just out of bed" look.
#49: The Croissant
Twist your hair tightly at the nape of your neck and then pin the rest of your twisted ponytail up. It should be a narrow "bun" which follows the center of your hair like a croissant pastry!
#50: Retro Bouffant
Tease your hair backwards to create volume and then pin it so that this volume lies at the crown of your head. This is a fantastic 60's inspired look.
#51: Single Side Braid
Teaming a Chignon bun hairstyle with a single side braid is a really romantic choice for your wedding hair. Leave a few strands of lightly curled hair down to soften your face further.
#52: High Texture Bun
Chignon hairstyles look really elegant when sleek sides are paired up with a textured bun. Keep the bun high to give it a real Hollywood style.
#53: Eternity Bun
This style is known as an eternity bun because of the way that it looks like it wraps around itself with no end. Eternity buns can actually take many different forms.
#54: Twisted Braid Crown
To create this hairstyle you need to twist sections of your hair around one another from the front of your head to form a crown. Pin the sections into a bun at the back of your head.
#55: Loop Chignon
Secure your hair with a band above the nape of your neck then make a big loop with the rest of your hair. Knot your hair around the fastener and then secure the end underneath to keep it tucked away.
Next time when you are doing your hair, you should consider chignon hairstyles. Even if you are only throwing your hair up to keep it out of your way whilst you are doing the washing up then a chignon is perfect. Whatever the occasion, you will be sure to be able to find the perfect style for your needs.