Space buns are quite a head-turner for women in recent hairstyling trends. The urban dictionary explains the space bun as a 'hairstyle worn by Princess Leia in Star Wars movie A New Hope'.
We can just add that this lovely hairstyle is worn and loved by many Hollywood stars as well. It has that '90s vibe (think Gwen Stefani, Björk) and it has the most gorgeous comeback.
Wearing pigtail buns is fun, easy, and absolutely effortless. You can make them in less than 5 minutes, which makes them very practical for everyday wear.
Where Does the Name Space Buns Come from?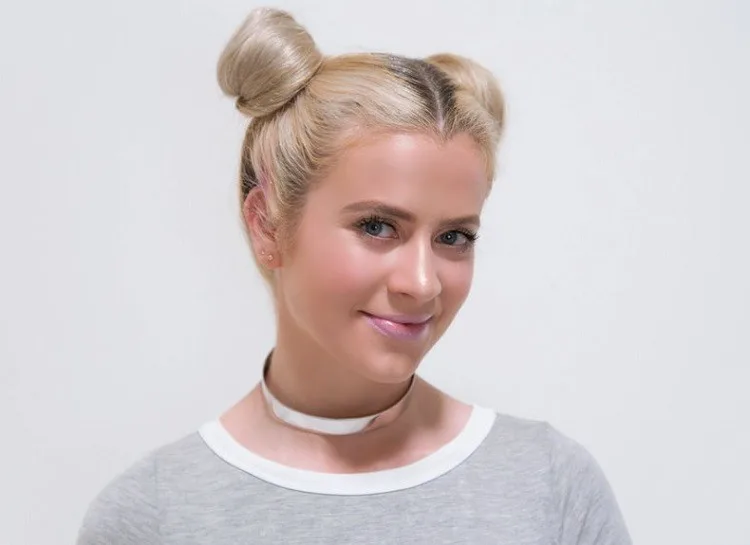 Even if you don't believe it, space bun hairstyle has quite a history! Thanks to the Star Wars franchise and Princess Leia, we now have one of the most popular hairstyles in the world.
Even though Carrie Fisher was warned by her mother not to accept roles that require any strange hairstyles, she didn't listen. Fortunately for us, we have to add.
However, in the recent interview, George Lucas admits he had a lot of trouble to find something unique for Leia to wear as her hairstyle. Surely, he made his point – her buns became one of the most worn hairstyles in history.
Lucas told that he found inspiration in the old Mexican history. He went with Southwestern Pancho Villa woman. She has that typical revolutionary look that Lucas wanted for Princess Leia. No surprises there!
Later researches made by fans showed that the hairstyle can also be related to the Native American Hopi tribe. They use to call hairstyle 'squash blossom.'
How to Do Space Buns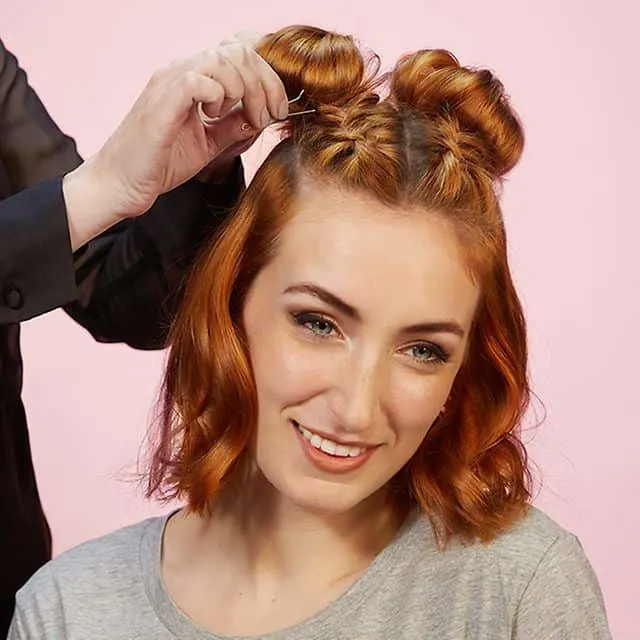 With just a few simple steps, you can achieve a wonderful hairstyle that will allow you to fly into space! You will need bobby pins (we always lose them), hairbands, and a brush. You can additionally add some hairspray for the long-lasting buns. Do you have it all? Let's start then!
Step 1 – Brush your hair and don't forget to go all the way down to the ends.
Step 2 – You can now part your hair. Usually, women tend to part it in the middle, but if you want to make your buns look even more interesting, part your hair in zig-zag style. It's up to you.
Step 3 – By using your brush to separate these two parts of your hair create side ponytails. Make sure your ponytails are high, positioned in the middle of your head.
Step 4 – If you desire more volume, tease your ponytails with a brush.
Step 5 – twist and roll your hair into a cord and then wrap it around in a bun.
Step 6 – Finish the look by securing your hair with an extra pair of elastics and a few bobby pins attached under.
Watch The Following Video of DIY Space Bun Hairstyle in a Quick and Easy Way
How to Style Braided Space Buns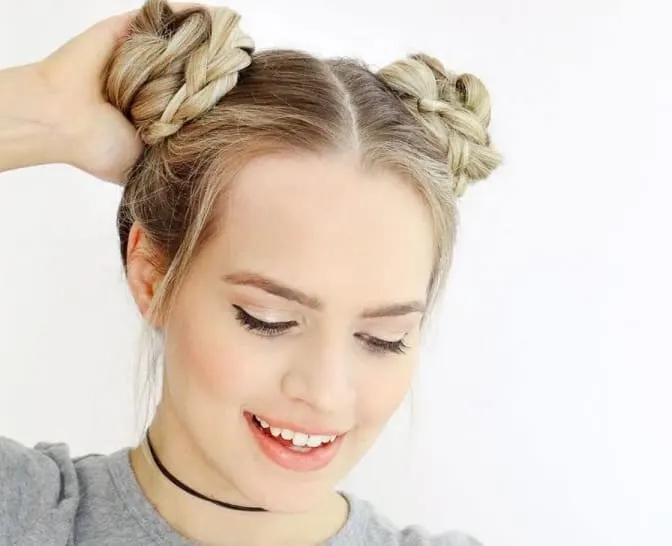 A cool upgrade to standard space bun is braids. You can opt for both fishnets or classic ones, but they will certainly make your hairstyle even more interesting. Whether you opt for top or you want to braid your hair at the back – the results will be amazing!
We have to admit this is a bit more complicated hairstyle to do, but once you try it, you won't be able to stop wearing it.
Step 1 – make a middle parting in your hair– section in two equal parts.
Step 2 – start braiding your right side of the head by taking a part of your hair and split it into two parts.
Step 3 – you should break off the small piece of hair from the outside your left hand.
Step 4 – Cross this hair over and add it to the right-hand section.
Step 5 – Repeat this step with the left-hand hair part.
Step 6 – Pick up the section of loose hair and cross it over. Add it to the right-hand section of your hair.
Step 7 – Repeat these steps on the other side of hair as well, until you reach the middle part of your head.
Step 8 – Once you reach a middle part of your head, stop adding loose hair and just finish off the fishtail braid.
Step 9 – Create ponytails on both sides of your hair. You will need to add some of your loose hair to the braids for extra volume. Wrap hair around to make double buns.
Step 10 – You can leave your braids down or use them to hide the elastic.
Watch The Following Video to Learn How to Do and Style Braided Space Bun Hairstyle
Modern Space Bun Hairstyle Ideas
As we have learned where the name 'space buns' came from, it's time to get inspired! Here are some of the best space bun hairstyles you'll love to try.
1. Voluminous Braids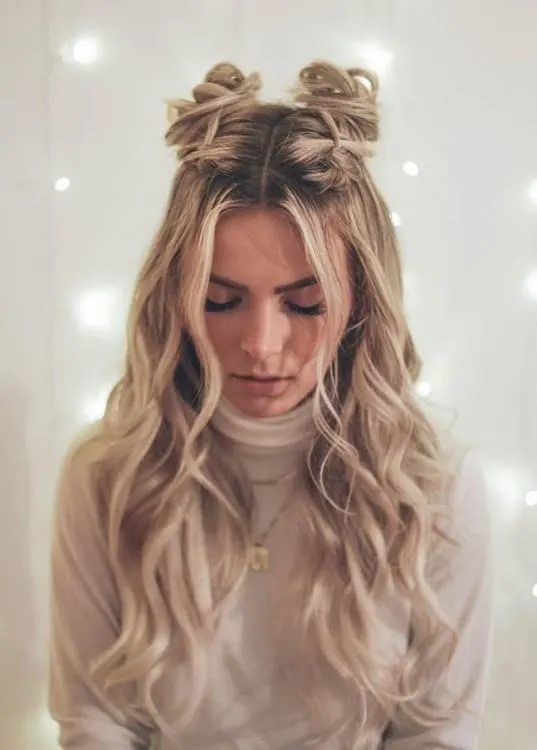 For a perfect combo of volume and chicness, do this braided hairstyle. Braids are easy to make – make sure you follow our guide. Make them look voluminous and wrap them into half-up space buns. Easy and stylish, right?
2. Rainbow Ends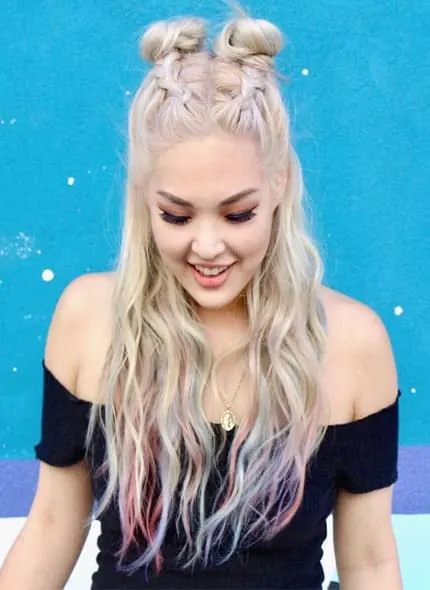 If you are a fan of pastel balayage for hair, you need this hairstyle right now! The rainbow ends, double bun and short braids are everything you will need to make an appearance.
3. Simple yet Beautiful Buns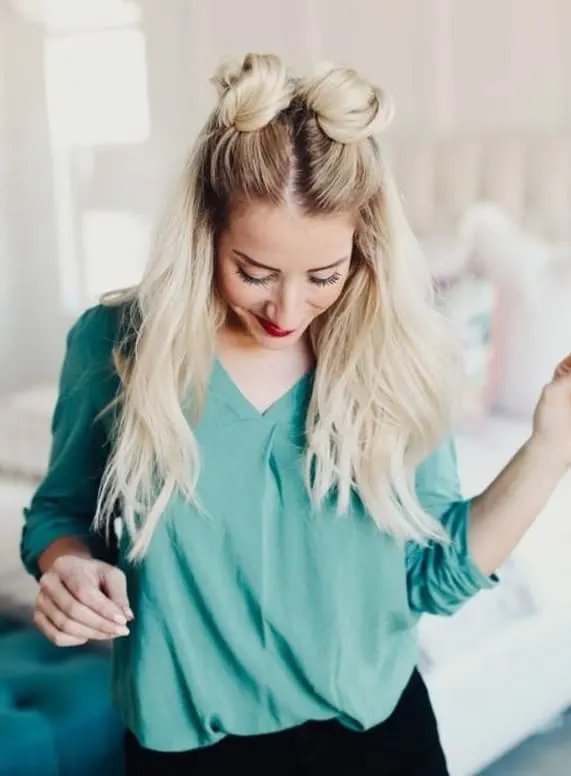 If you would like something equally simple to make but beautiful-looking, this is definitely the right hairstyle. Half up, half down space buns are perfect for every day.
Maybe you were not aware of the fact that space bun hairdos are a great solution for all those sporty types. Whether you are going to the gym or out running – this upside down French braids bun hairstyle will keep your hair in order and will make you look fashionable at the same time.
5. Lilac Buns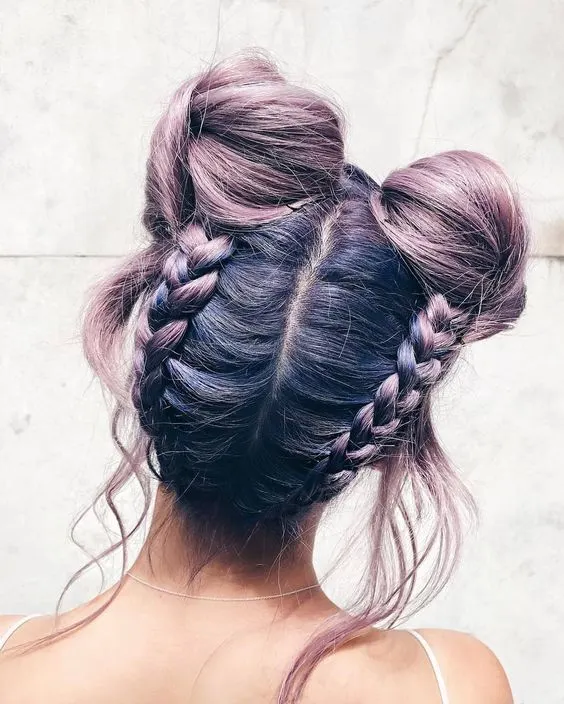 If you want something unexpected, you should go extreme with lilac hair. It will bring a lot of positive comments, trust us! Purple is beautiful, but it looks even more stylish with braids and space buns!
6. Space Buns with Bangs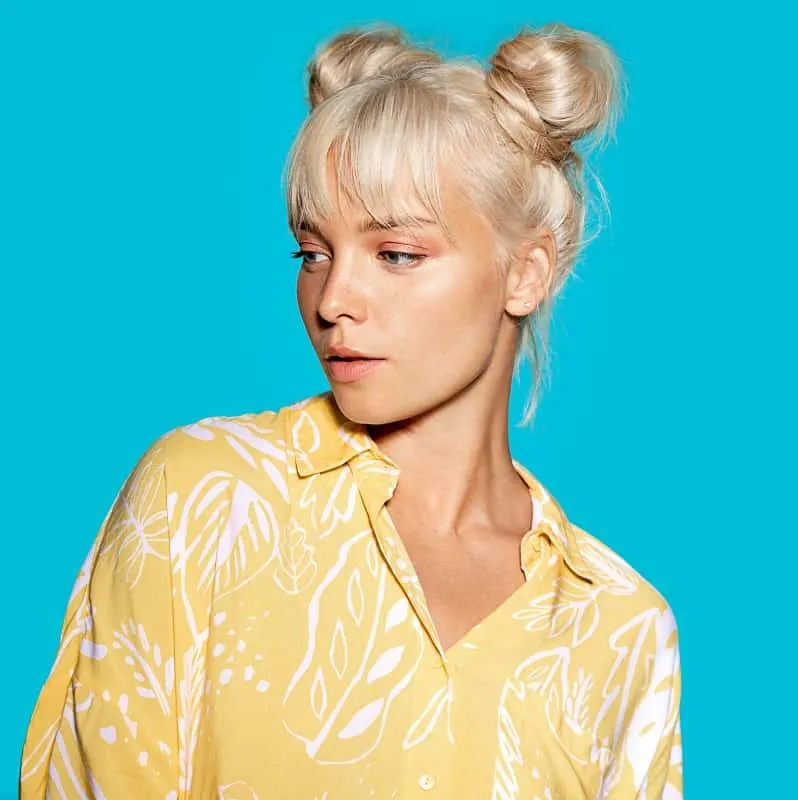 With chic long bangs that cover eyebrows, a space buns hairstyle is no longer just for kids. Secure them just above your ears and don't be afraid to leave a few tendrils loose.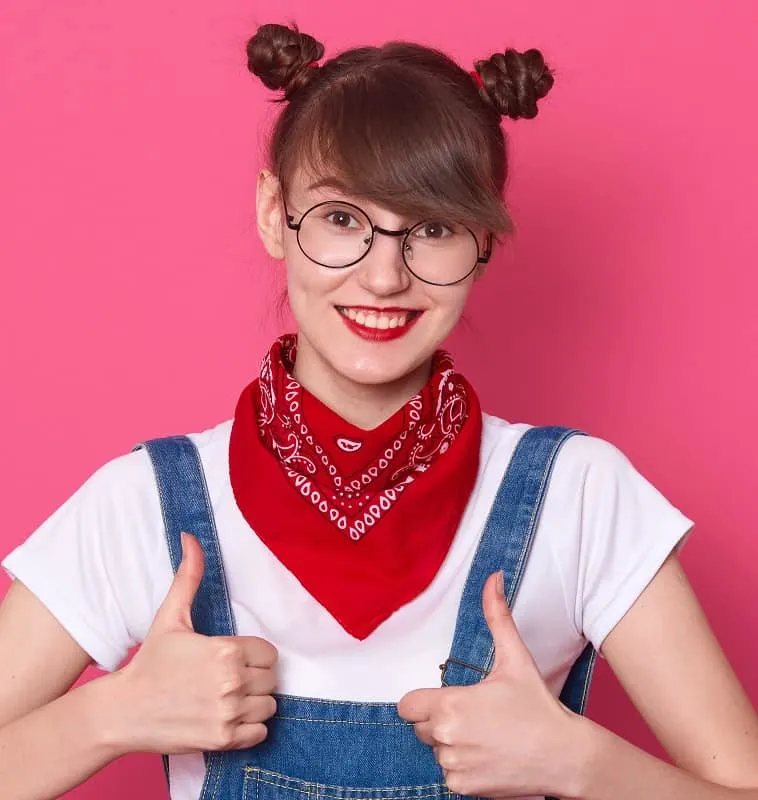 For thicker hair, a side bang is just the fringe type to pair with braided space buns. These ones are wound tightly for a small shape.
8. Micro Box Braided Space Buns
Micro braids are a go-to hairstyle for many Black women trying to go out of their natural hair. In the meantime, add some colors like purple and blonde, then wind up your hair into jumbo space buns.
9. Red Space Buns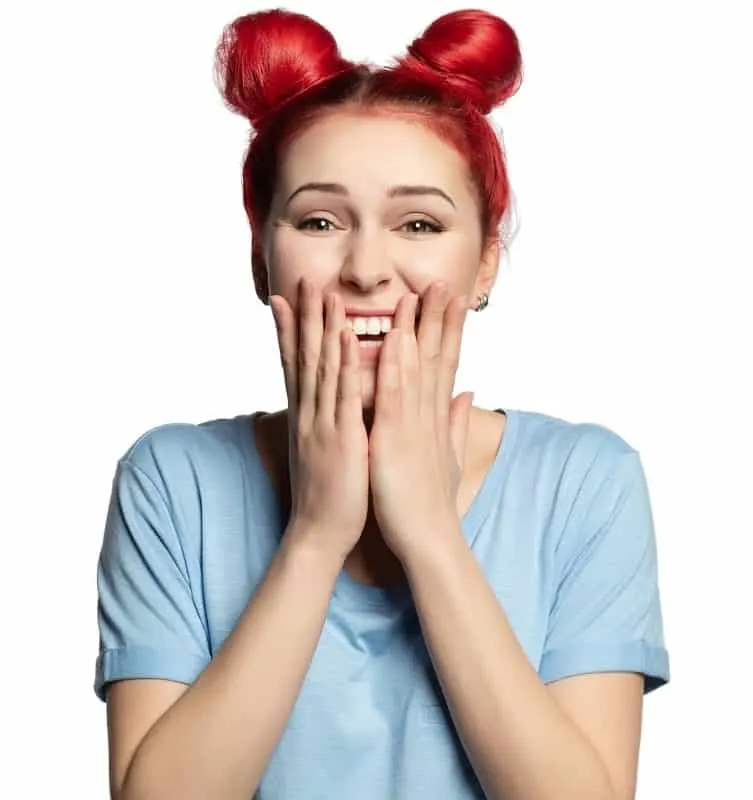 Add a pop of electric color for long straight hair with bright red. Space buns are easily created in minutes by creating two ponytails, then winding the hair around the base.
10. Vintage Space Buns Style
Here's an update on Princess Leia's classic bun hairstyle. These ones are jumbo in size and fan out behind the ears. Pair with a deep dark lip for the ultimate statement look.
11. Space Buns with Flowers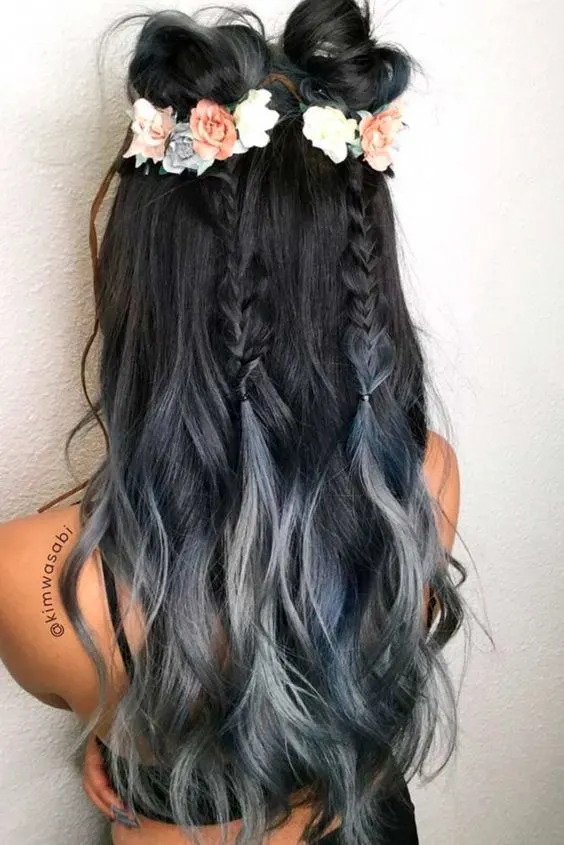 Long black hair, braids, and buns – is there anything else you need to make this pigtail bun hairstyle amazing? Yes, you do! Flowers as hair accessories are always in style.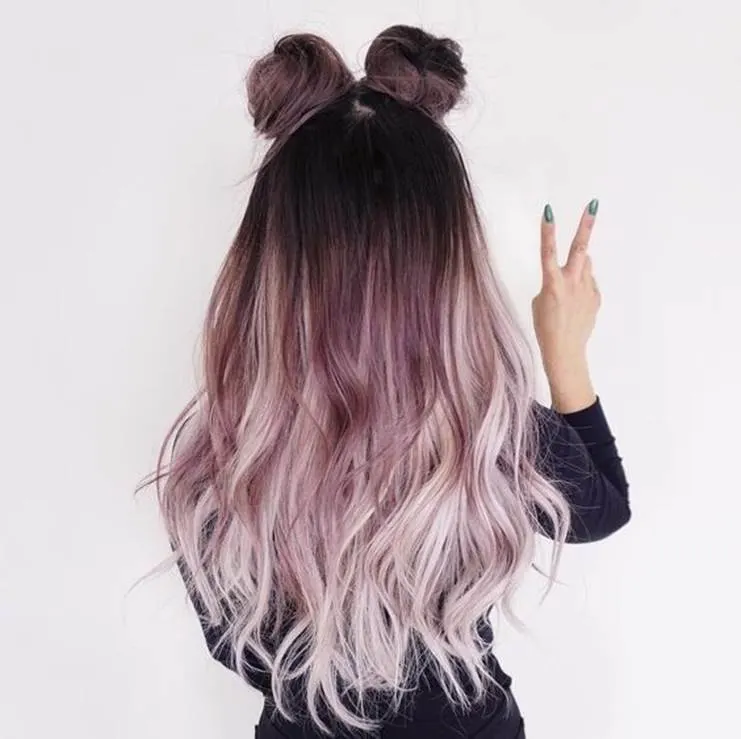 Dark roots and highlights in purple and pastel pink shades look just gorgeous. When you add two buns to the equation, you get an interesting teenage hairstyle, perfect for everyday wear.
13. Festival Ready Buns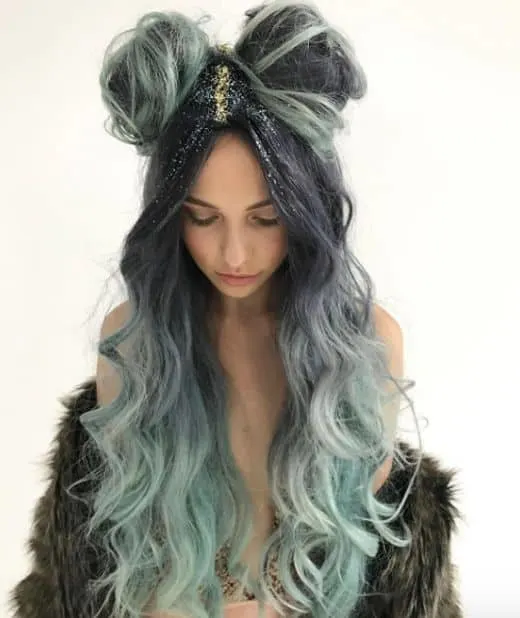 Pastel green hair might not be a perfect dye for everyday or work wear, but it certainly is for music festivals. Long hair with space buns on the top, along with some glitter – you will be the main star of any event!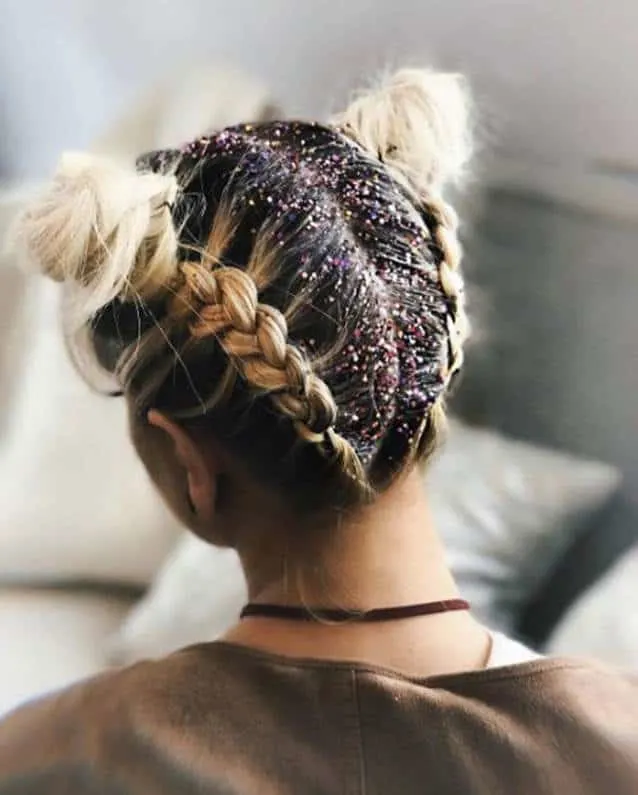 If you are going to Coachella or other music festivals, don't hesitate to overdo the sequins. They are more than allowed! You can part your hair in the middle, make two Dutch braids and put them into space bun and add a lot of glitters. Perfect look with a boho vibe, don't you think?
15. Chic Low Buns
A cool and chic variation of top buns are these lovely low ones. You can make them very easy – make two braids and just wrap them very into two low buns.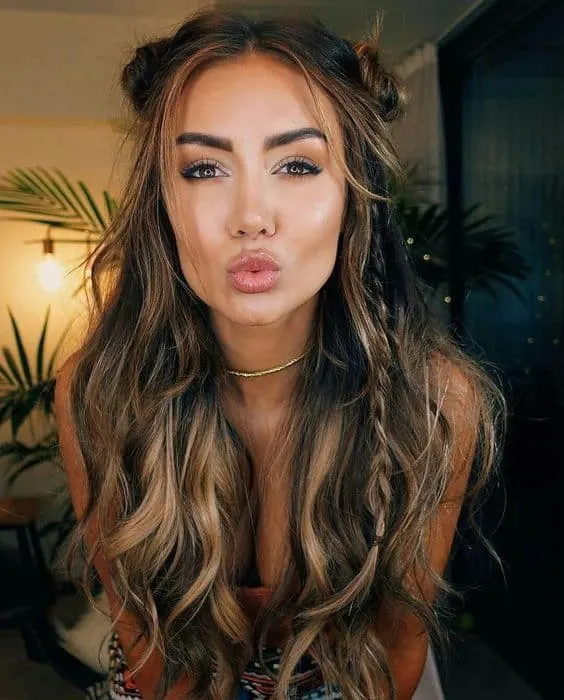 For ultimate bohemian vibes, braid only parts of your hair while making two mini buns on the top. This hairstyle is perfect for summer wear, music festivals, and everyday wear in general.
17. Holographic Hair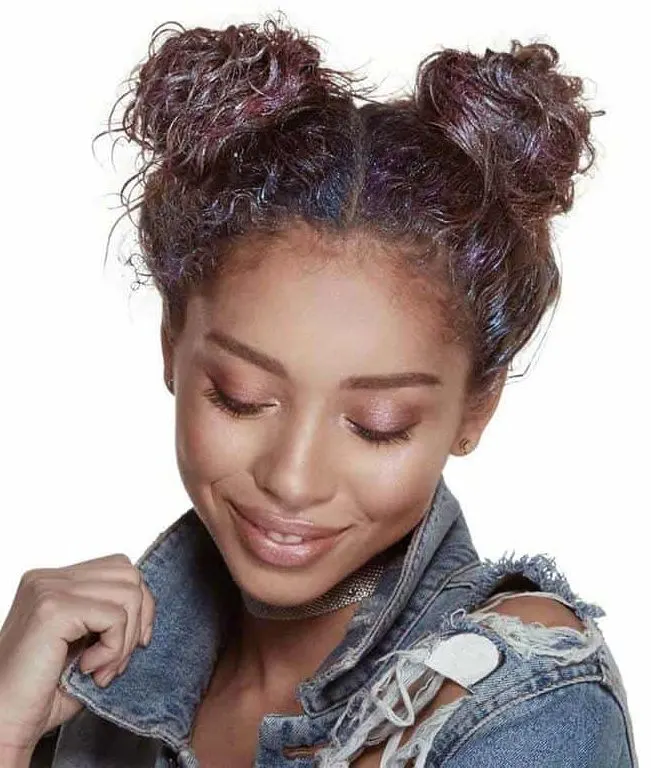 An ultimate galactic vibe can be achieved with hairspray that consists of light-changing sequins. This hairstyle with a space bun is perfect for parties, night outs, and festivals such as Coachella.
18. Zig-Zag Sequins and Buns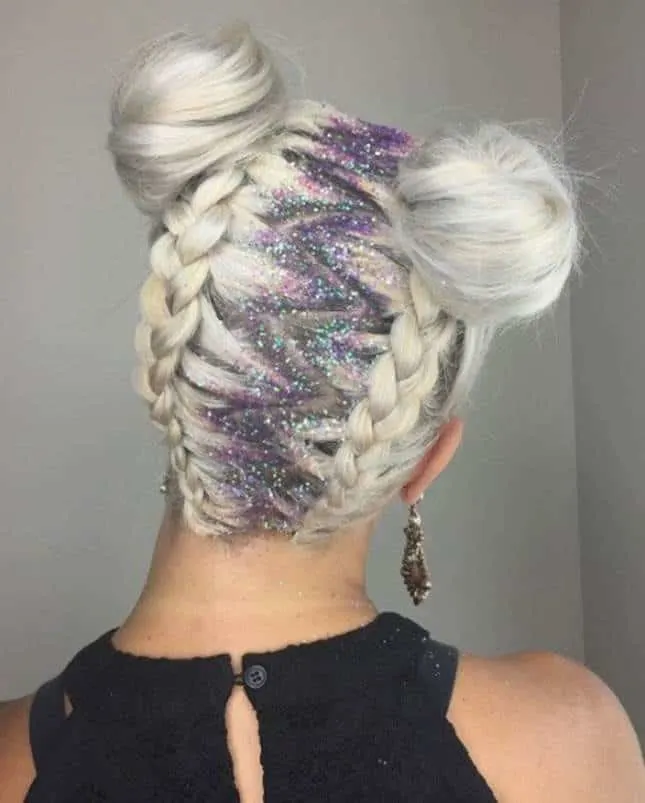 Instead of parting your hair in the middle, throw parts of your hair in both directions to make a zig-zag path. After finishing your space buns with braids, don't hesitate to add some glitter in the middle.
Who had guessed that space buns on curly hair can look this amazing? Well, we certainly haven't known. However, if you are struggling with styling your curls, make buns and don't worry at all.
20. Glitter on your Hair
If glitter on your face is not enough, add it to your hair as well. You will shine the whole universe! This half up half down hairstyle is perfect for parties and festival season.
You were wrong for thinking women with short hair can't get a bun hairstyle. This is how a space bun looks when you have short hair – fabulous!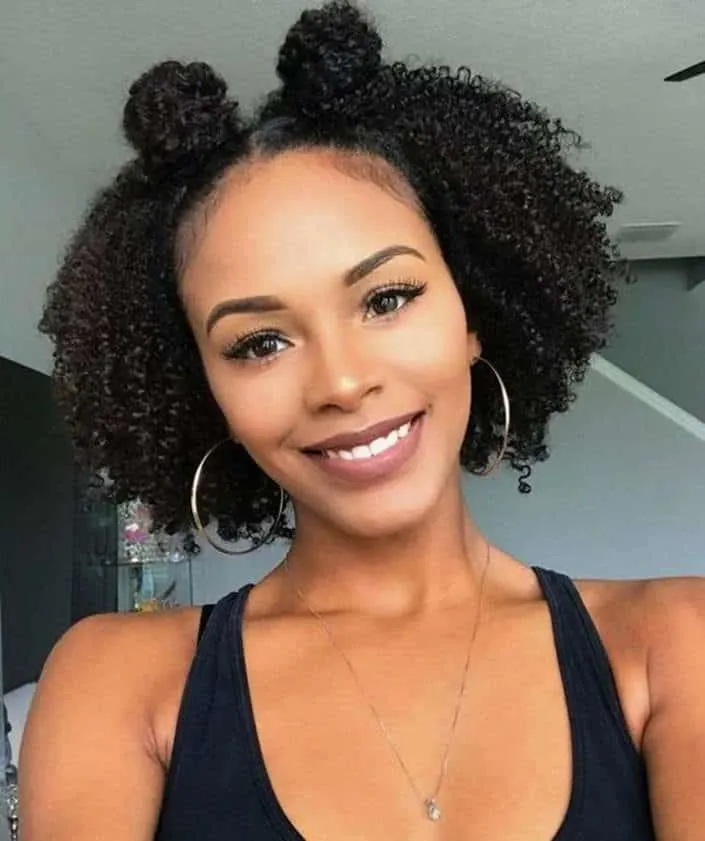 And how cute these half-space buns look on short curly hair? If you have a hairstyle like this, try to make them – you won't regret it!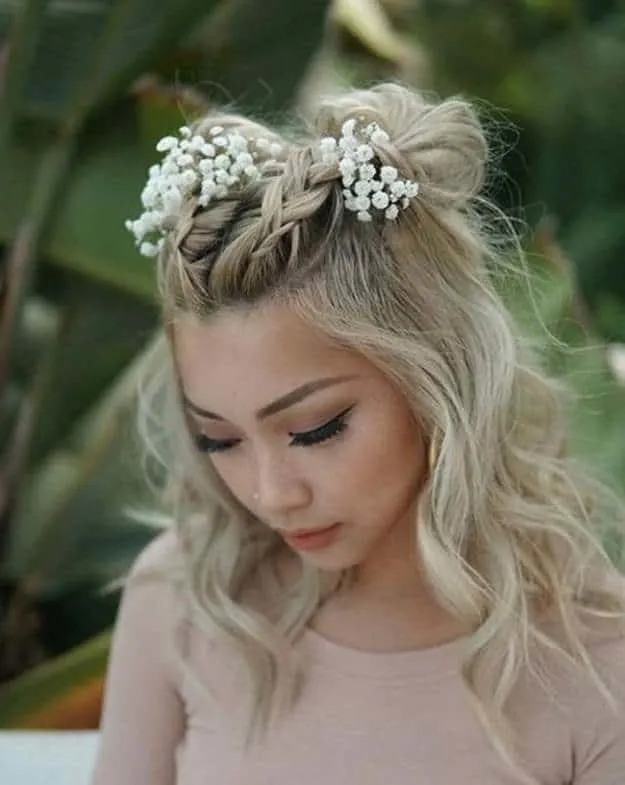 You might think pigtail buns are not a wedding-appropriate hairstyle, but that is not entirely true. As you can see, with white fresh flowers and sophisticated waves these buns will do a perfect job for your wedding day.
24. Cute Double Buns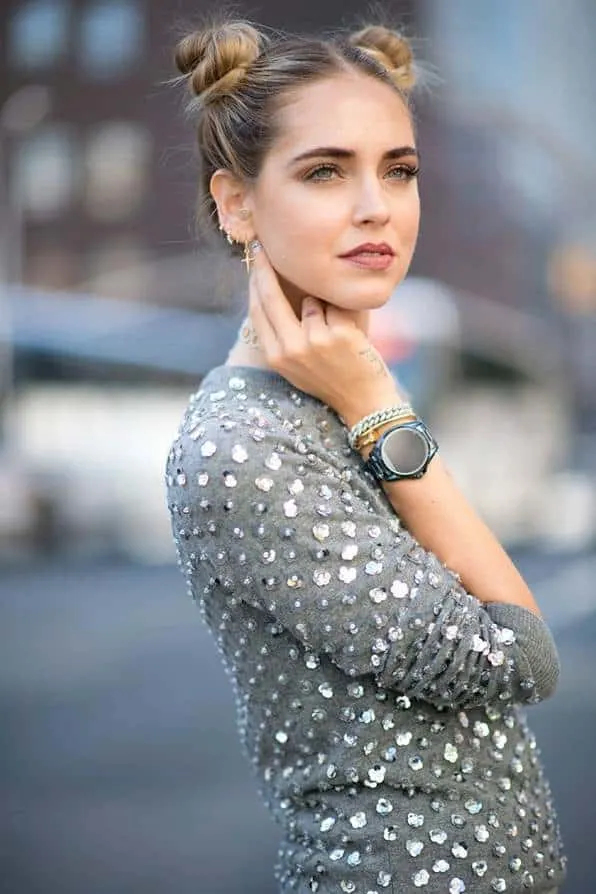 Many girls admit that space buns are a great hairstyle for traveling. The hairstyle is practical, you can even make it on the go.
Three small classic braids and two buns are everything you will need to make this hairstyle work for you. It will give your everyday looks an unexpected twist.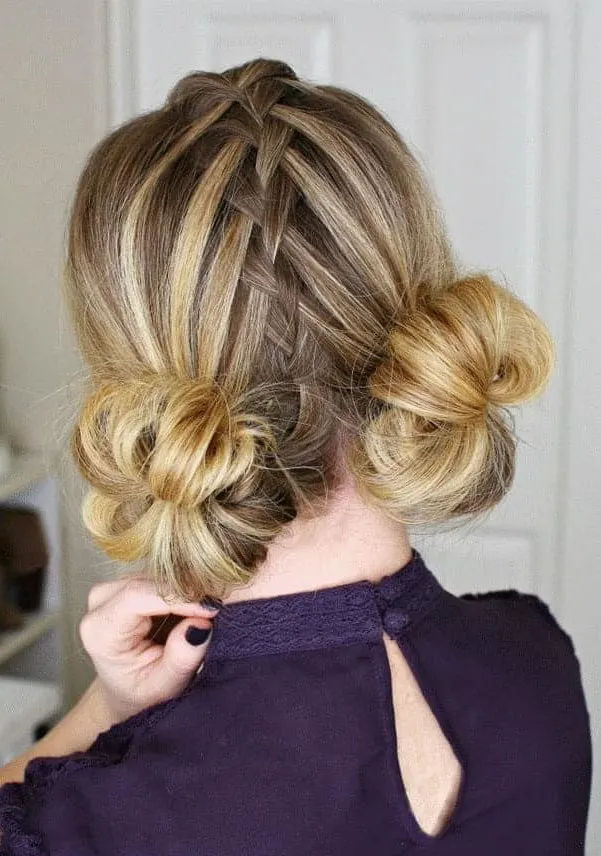 You won't get anything but amazing views and comments for this waterfall Mohawk look. This space bun hairstyle is great for both casual and elegant occasions.
27. Bun Cuffs
Make your buns even more eye-catching by adding boho bun cuffs. The tassels will surprise everyone around you!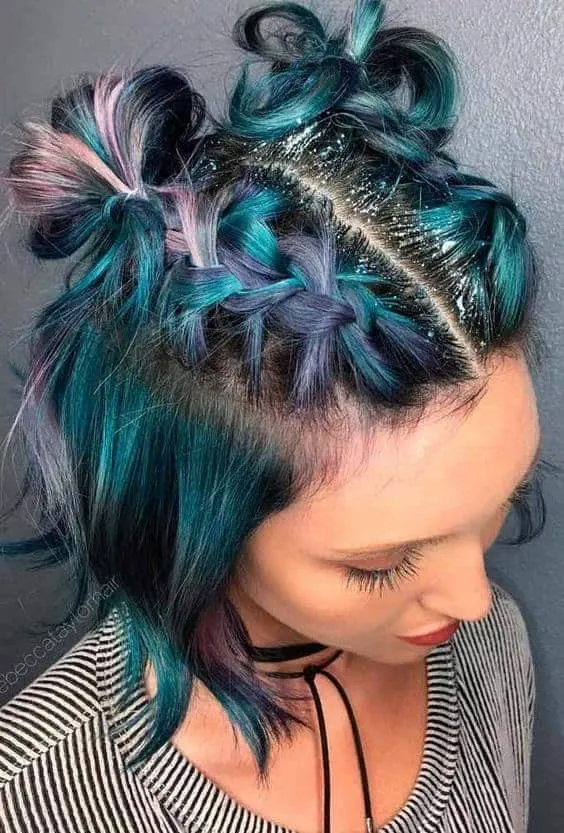 Deep blue dye with colorful highlight is for rebel girls! Don't hesitate to add a bit of glitter in the middle of your head, along with space buns.
29. Boho Vibes Buns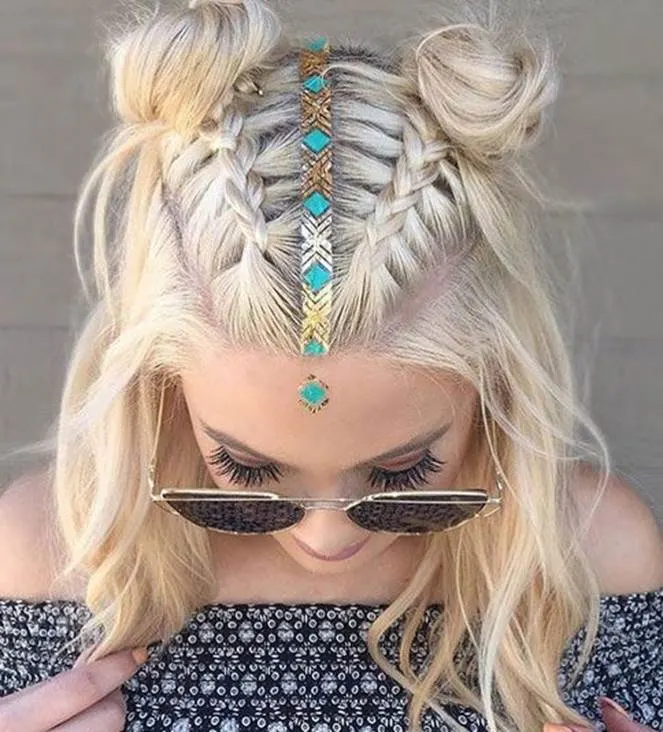 Believe it or not, tattoos are not only reserved for the face and body anymore. Summer tattoos in gold and turquoise shade look perfect on your hair! With a space bun and double French braids, you will have a perfect boho beach look.
30. Ribbon Ties in your Hair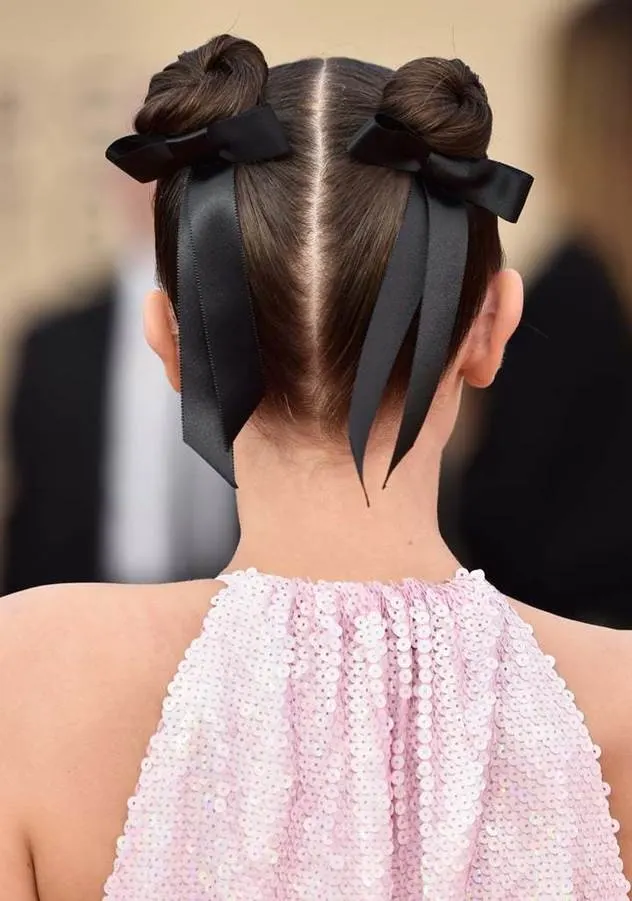 Copy this style whenever you have some black-tie event. Ribbons are the perfect way to style and make your buns look even more sophisticated.
31. Curly Space Buns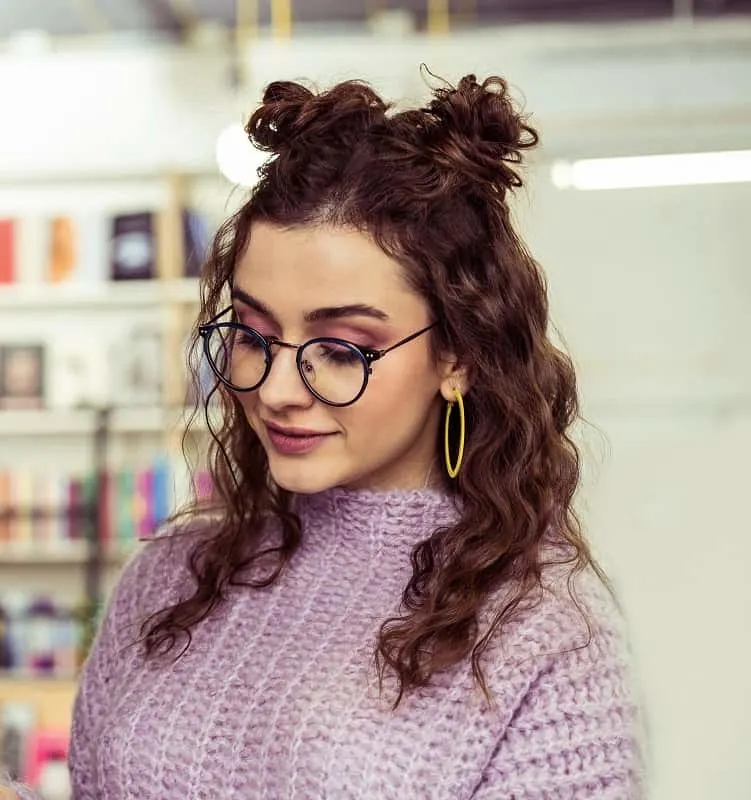 A half up space bun hairdo is the perfect way to display your curls while sporting the trendy look. Create a center part before forming these small space buns for chic symmetry.
32. Space Buns for Asian Women
Instead of wearing natural Asian straight hair flat and limp, pull it up into these cute braided space buns. A few hairs around the face soften the style.
33. Twisted Space Buns
To create two low space buns with a twist, start by rolling the hair from either side of your head. Secure with a hair tie, then wind the hair around the base.
34. Space Buns for Round Faces
You may not think drawing attention to your round face is a good thing, but there are some styles like space buns that are quite flattering. A center part is all you need before forming the buns on top of the head.
35. Space Buns for Thick Hair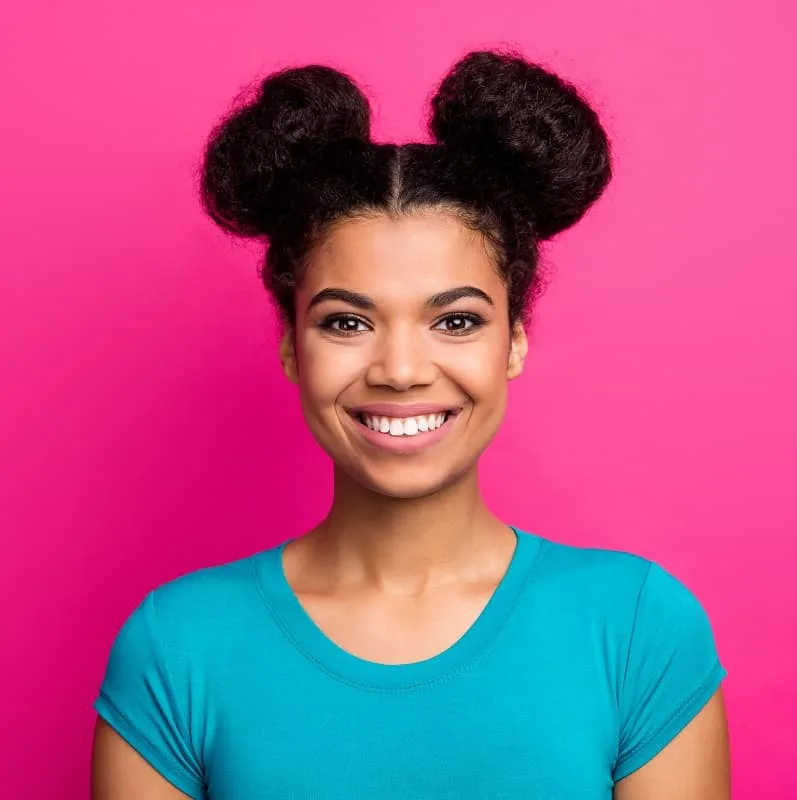 Space buns are a great look for accentuating your thick hair. Instead of winding the hair tightly around the base of a ponytail, try to leave it somewhat loose to create the jumbo shape.
36. Space Buns on Long Hair
Super long hair that is almost waist-length deserves to be shown off. But you can also wear small space buns up top for a cute half updo.
37. Space Buns for Little Girls
You may be used to just giving your little girl a ponytail or low braids for school days, but she'll love you even more if you give her two high space buns!
38. Space Buns with Crochet Braids
There's no reason you can't look stylish while also protecting your natural black hair: with two small space buns as a half updo, you can rock this fun micro-braided look.
39. Bow Space Buns
You may need to follow a bow hair tutorial for this space bun style, but it'll be well worth it for the result. Leave two long tendrils to frame your face.
40. Dreadlock Space Buns
For women who are rocking thick dreadlocks, two high space buns that are large in shape are a great go-to look for easy style.
FAQs
Can I try space buns on thin hair?
Of course, you can! Although you can't expect much of a volume and texture, your space buns can look equally amazing. Styling them messy will provide others with the illusion of volume.

The trick to making your buns look voluminous is not to make a ponytail. Right after you section your hair into two equal parts, apply dry shampoo. Brush your hair and then twist that part until you make a cord.

By pulling apart that twist, you will make the illusion of more hair. If you are looking for even more volume, tease all your hair before starting twisting it up.
Ballet bun Or space buns which one is cuter?
Ballet buns are for those girls who like polished and pretty sophisticated looks. There is no more space for improvisation if you are making a ballet bun.

On the other hand, space buns can be both messy and polished. We think that fact makes them cuter and more accessible to everybody.
Gigi Hadid or Ariana Grande: Who pulled space buns best?
Since Ariana Grande showed off her two buns, many fans wondered if that is really the end of the ponytail era. She loves braided buns, as well as classy ones. Ariana has rocked both half updos and classic double bun hairstyles.

On the other hand, supermodel Gigi Hadid has tried this rising '90s hairstyle trend too. She showed it off and on the runway.

Final Verdict – Ariana love buns more, so she is seen wearing this hairstyle all the time. Our voice goes to her!
From their name and short history all the way to trendspotters – double bun hairstyles will stay in the hair industry forever. There is always someone who adore to wear them, whether it is summer or winter.
Braided or classic – it is on you to choose space buns to wear. We can only say that they can be both casual, funky, and elegant. There are no much practical hairstyles like this.
You May Also Like