The popularity of twist braids is gaining momentum and many girls and women all over the planet are after the beautiful and voluminous look they have to offer. Buying these braids and attaching them requires much less effort than growing your own hair and taking good care of it. These hair extensions are created to make your hair care routine fast and easy. You attach the braids and forget about extensive hair care for days. Besides allowing you to create the hairstyles you always dreamed about, these braids save your hair from environmental damage and allow it to grow much faster.
How to Keep Twist Braids from Unraveling
When you have beautiful twist braids, you have to care for them in such a way to keep them from unraveling. Here are a few tricks you can use to make your twists look as beautiful as possible for a long time.
Use kinky hair to create your first twists. Go for Marley or Havana twists.
Spend some time watching the education videos on YouTube to get your twisting technique right. It will take much longer to fix a bad twist than to learn how to make a good one.
Always seal the ends. If you don't seal the ends, your twists will unravel shortly. Dip the ends into boiling water so the hair fuses.
Wear a silk scarf to bed in order to keep the hair from becoming frizzy. It can keep your twist braids looking fresh longer.
Try to wash the hair as seldom as possible. Frequent washes cause the twists to unravel and the hair to lose its luster. Usually, the twists can handle 1 – 2 washes a week.
Before washing your hair, consider braiding it. It will keep the twists intact.
When you see that the twists are starting to unravel, do a little retwisting before the damage is visible.
Best Twist Braids for Busy Women
Busy women are not ready to spend hours styling their hair. They'd rather attach the hair extensions and let them look lustrous all on their own. Of course, twist braids require certain maintenance just like natural hair does. However, it's not as time-consuming. As a result, you can get striking hairstyles you could never make using your own hair. Whether you always wanted an afro, a mohawk, a large bun, or just beautiful long locks, the twist braids can do the trick today. So what are you waiting for?
1. Thin twists
Thin twists are a wonderful choice for girls who want the most natural hairstyle without the volume hair extensions usually brings. You'll need to spend substantially longer time creating the hairstyle but you can enjoy it much more.
2. Brown volume
If your natural hair is black, you can experiment with various colors when you make your twist braids. For example, you can start with brownish shades, which look perfect on girls with dark skin.
3. Long and purple
Hair extensions allow you to play around with the color of your mane. If you've always want to see how purple looks with your skin and suits your style, the time has come to give it a try. Outrageous colors look amazing!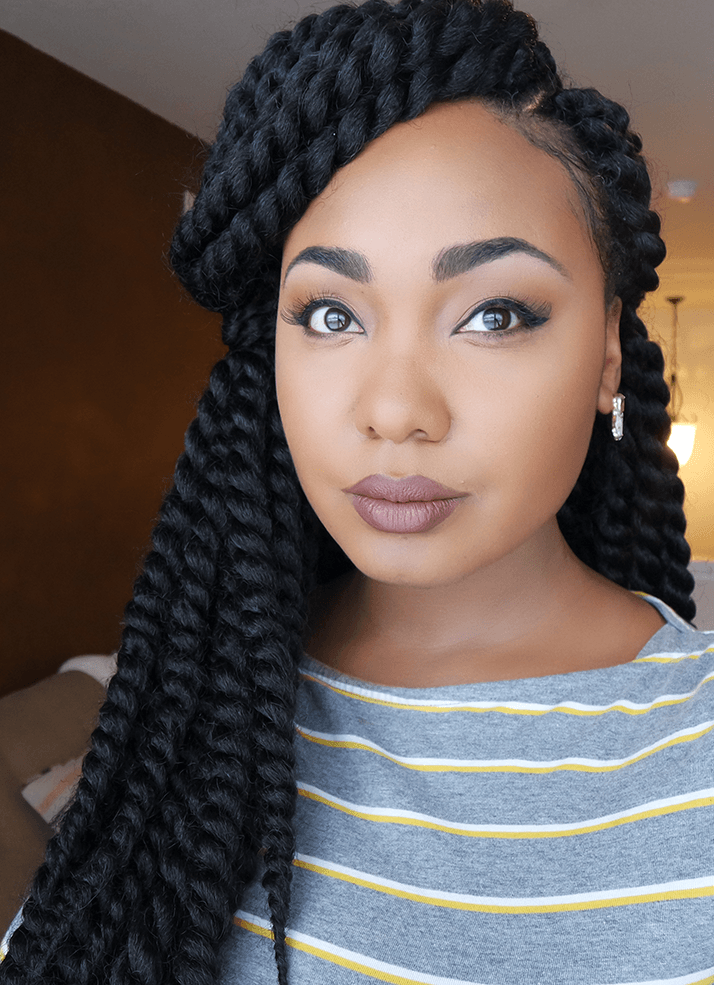 The Senegalese twists are a wonderful way to arrange your beautiful hair extensions. While this style is rather voluminous, there are plenty of ways you can lift your hair up or keep it out of your face.
Best Two Strand Twists for Any Women
5. Twist the twist
Your pretty twist braids can look even more stunning if you twist them into a large twisted braid. Take a look at how amazing this "twisted twist" hairstyle appears. Add some highlights to complete the image.