Like three strand twists, two strand twists are just as fabulous. In fact, they are catchier than three strand twists.
Two strand twists come in different lengths, they can be done with bob short haircuts and ones longer than your waistline. Different thickness of each twist make a huge variance in the hairstyle so does the color. All in all, it's a glamorous way of protecting your hair and making it look as natural as possible.
The Best Two Strand Twists for Women
In this article a lot of styles of different lengths, thicknesses, and hues will be presented, so make sure to keep on scrolling and take a look!
#1: Purple Punch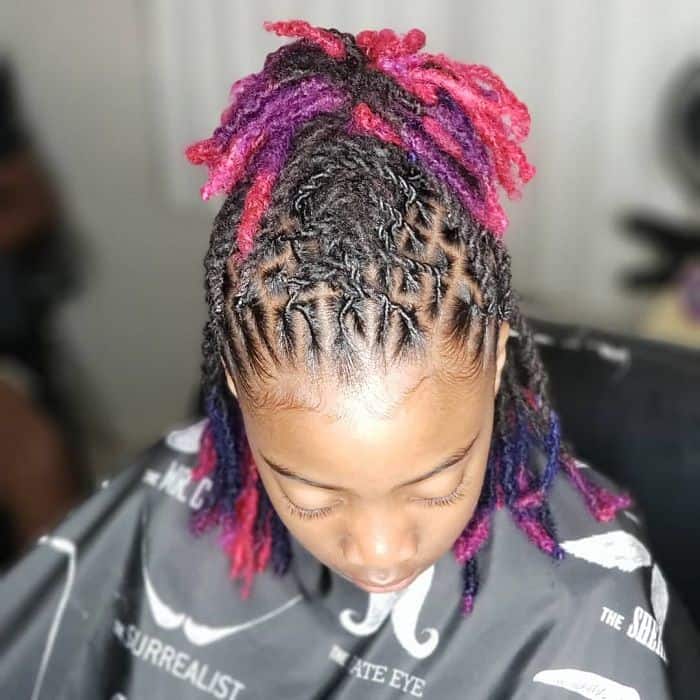 If you want to make your twists look creative and stylish, you have to come up with unique ideas. It's time to play with hair colors along with style as well. Two-strand twists tied into a half ponytail is an easy-to-make hairstyle. It looks good on short hair.
Hype up this mainstream style with funky colors like purple and pink. Black twists with colorful tips create a multidimensional and dramatic hairstyle.
#2: Twisted Crown Bun
2-strand twists come in a variety of protective hairstyles. However, since it is a tight styling technique, we have to make sure that the hairstyles look stylish are do not cause damage to hair. To make your thick and voluminous hair less unruly and easily manageable, try making a diagonal crown bun.
This style looks dramatic and neat. It also adds sophistication to one's overall look. Middle-aged and slightly old-aged women should try this twisted hairstyle as it goes well with their personality.
#3: Twisted Updo
One gets amazed by the fact that protective hairstyles have a never-ending variety. An updo looks neat, sophisticated and extremely gorgeous. For added texture and versatility, a twisted updo is a perfect choice. Make thick and loose twists with two strands and tie all of them at the back into a whorled bun.
Tie the front twists on a side to create a pouf. Use hair pins to hold your hairstyle in place. A good-quality styling gel spray will also hold the style and give shine. This high-volume and stunning hairstyle won't let your partner take his eyes off you.
A twisted updo is one of the finest and coolest protective hairstyles. If you want a hairstyle which is less bothersome yet looks gorgeous, a pomp made of 2-strand twists is a perfect choice.
The pompadour on the front adds volume and dimension to the style. Moreover, the side twists drawn centrally create symmetry which is the essence of this hairstyle.
An asymmetrical hairstyle with twists looks very diverse. You can create a side part in your hair and style them the way you want. In our case, diagonal side twists tied on the back into a short ponytail make a gorgeous hairstyle.
Using two strands instead of three to create twists will make your hair look like an endless swirl. Try using thicker strands to create jumbo twists, which looks more contemporary than thin ones.
#7: Curled Ends
With your long twists hanging limply, try making them look livelier by curling up their ends.
For a change in style, consider an adorable way of styling your hair by creating a high ponytail on the side of your head. Make sure the extensions aren't stressing much on the roots of your hair though, or the consequences will be ugly.
Using two strands to make twists doesn't limit your options in styling them. This combo of cornrows on the side, a pouf on top and an updo on the back is a perfect example of the endless options to consider while styling your hair.
#10: Caramel Ombre Low Bun
With your natural two strand twist hair create a neat low bun for a fast and organized look. It's always a plus to have some colored strands, the warmer the color the better.
Craft a fauxhawk by creating cornrows on optionally one or both sides of your head. As for the rest of your hair, you can simply let them loose to spring freely as you move.
With two stranded twists being sufficiently attractive on their own, styling them won't be necessary. Although adding some hues would be a nice touch.
You can easily create fish braids with your hair sleek. But creating them with twists makes the style more voluminous and lively.
#14: Low Twist
Try adding some accessories that will help create your hairstyle. With your thin twists, roll them on the back of your head around a band to keep them in place. Consider using different extension ombres for a more personified look.
Try this style by creating a side jumbo twist crown out of smaller twist strands. That's a very pleasant style to go for on a special occasion.
#16: Tied Ropes
This look is unique in the color-style combo. It shows just how far our creativity can take us when it comes to two strand twists. With simply choosing to tie up the colored strands alone, you can end up with a pretty satisfying outcome.
#17: Bob Twist
Short twist is an attractive style that'll make you look mature. You can control the volume of your bob with the thickness of each twist.
#18: Diverse Colours
Try to be daring when it comes to your hair colors. Some totally diverse hair colors that don't even blend in will sure make you stand out in the crowd.
Double top knots are known to expose your fun and amusing side. With some colored strands and hair rings, you'll get the funky look you're aiming for.
#20: Bordeaux Twists
The color of your hair usually gives people an insight into your personality. To avoid crazy daring and typical boring colors, try going for Bordeaux, which is a color that never seems to die in the fashion industry.
If you have a short hair that you don't want to wear loose, consider wearing it into a fauxhawk. Side fauxhawk to be precise will make your hair look stylish and the loose strands will frame one side of your face.
For a special occasion, ask your stylist to create a hairstyle that is hybrid with both two and three strand twists. And so even if the style is a simple updo, knot or loose it'll be catchy with this style combo.
Dirty blonde isn't a typical color people with dark skin complexion wear. Yet when a lot of them do, we see how this hair color fits them just right. So try finding the color that you're most comfortable with, regardless of what people think.
It takes an artist to create such beautiful crafts. With the fauxhawk sides looking like a piece of art, be more stylish by tying up your long loose hair into three consecutive knots.
#25: Massive Top Knot
Creating a top knot with your long two strand twists will result in a beautiful gigantic knot. For a different feel in your style, consider installing some colored strands.
Use your medium sized twists to create an even larger twist. You can ponder making it into a high ponytail and let your face shine by removing any strands off of it.
If your hair is short, don't worry from running out of styles to make. Even simple cornrows will look beautiful when created with two strand twists.
With your natural hair being pitch black, it'll be bold of you to install ash blonde extensions. The two colors form quite a contrasting fusion, yet oddly beautiful.
#29: Cleopatra Hair
The first thing that comes to mind when seeing such hair is the Egyptian figure, Cleopatra. Although the bangs are sideways instead of downwards, this kinky twist hairstyle makes it strangely satisfying to look at.
Thin twists are pretty easy to deal with and style. A low bun like this can be worn as an everyday style or on special occasions.
For a more voluminous hairstyle, jumbo twists are the key. If your face is oval and not that chubby, then a style with more volume will bring out some life into your look.
Some styles are definitely not meant to be done by one's self. Like the one here, merging several styles from cornrows to braids to twists all into one forms a style that identifies you for as long as you wear it.
Don't be afraid to give some bold colors a try when it comes to your twisted hair. Worst case scenario if you didn't like it, is you'd change the extensions into a color you're more comfortable with.
Senegalese Twist Vs. Box Braids
#34: Medium Sized Twists
Medium sized two strand twists are in the middle of providing volume to the hair and being flexible enough to style easily. And so with a little hue, even leaving them loose will look significantly beautiful.
#35: Accented Twists
Jumbo hair twists, although not flexible enough to style, can still be given a different flair by accenting your twists with several colors.
It's never too late to include colors to your hair! Caramel hair color is very common as it gives style and dimensions to one's hair. Two caramel half buns on the top without any center part look playful yet gorgeous. Leave the lower strands long and loose. You can bring them in front as well for added style.
Flat buns have always been very famous among African-Asian women because they make their thick hair very easy to manage. Moreover, the twists add volume to the hairstyle as well! This style is ideal for women with a round face by adding length to it.
Red is the color of bold women. Red ombre hair is highly trending among black women worldwide with all kinds of hair textures. Two-strand twists on double toned hair make an extremely gorgeous hairstyle. Especially, with bold colors like red, your twisted hairstyle will turn all eyes towards you.
Two-toned twists are a very simple way to accessorize your otherwise simple hairstyle. Leave your twists open and loose and slay!
#38: Two Strand Re-Twists
Let's make a style with twists on twists! This might sound complicated but this hairstyle is very simple to make. It is fun to add some variety and texture to the otherwise boring hairstyle. A crown hairstyle with twists and re-twists create a very versatile and bold look.
Try this intricate hairstyle which comprises of the second layer of twist superimposed on a first one. With this style, your hair will look gorgeous and get more manageable. Also, if you are not a bangs person and want a bold hairstyle instead of just a sophisticated one, this style is perfect for you.
#39: Octopus Bun
Who would've thought that simple two-way twists will make the hairstyle game so strong? A twisted octopus bun is no less than a masterpiece. The purple hair dye adds more hype and dimension to the style. If you haven't tried this amazing hairstyle yet, you have missed a lot!
Make two twists on the back of the head in an upwards direction and finally tie them on the top into a bun. Similarly, twist the front hair as well. Leave some thinner braids on the forehead to style bangs for more creativity and diversity in the style.
#40: Twisted Faux Hawk
A twisted faux hawk is more like twists on the front and twists on the back. Divide your hair into a front and a back section. Make two-strand twists in each section and leave them loose on the respective directions to give a volumized faux hawk look.
Low buns, updos, bobs, loose and much more styles can be easily done with twists. Styling your kinky hair might be hard, but when they're in the form of twists, this job becomes much easier.
After taking a look at these 40 styles and the variation of each style, you must now have an idea of how to style your hair with two stranded twists. If you're hesitant about twists just think of how long they'll last (4 – 8 weeks) I'm sure you'll be motivated!