Like three strand twists, two strand twists are just as fabulous. In fact, they are catchier than three strand twists.
Two strand twists come in different lengths, they can be done with bob short haircuts and ones longer than your waistline.
Different thickness of each twist make a huge variance in the hairstyle so does the color. All in all, it's a glamorous way of protecting your hair and making it look as natural as possible.
The Best Two Strand Twists for Women
Irrespective of the season, going for two-strand twist styles provides the personal touch that sets you on an elegant path.
Two-strand twist is a hairdo made with two-strand in any section of the hair around each other till the ends. The 2 strands twist out in various parts of the hair and may range from small to large.
Often when women want these twists on natural hair over other traditional hairstyles, it always implies taking a break to enjoy a two-strand twist out.
Whether you are only on the lookout for something new or a bit fancier, this list has got you well covered. Styles of different lengths, thicknesses, and hues are presented below. Keep on scrolling and take a look!
#1: Thick Twists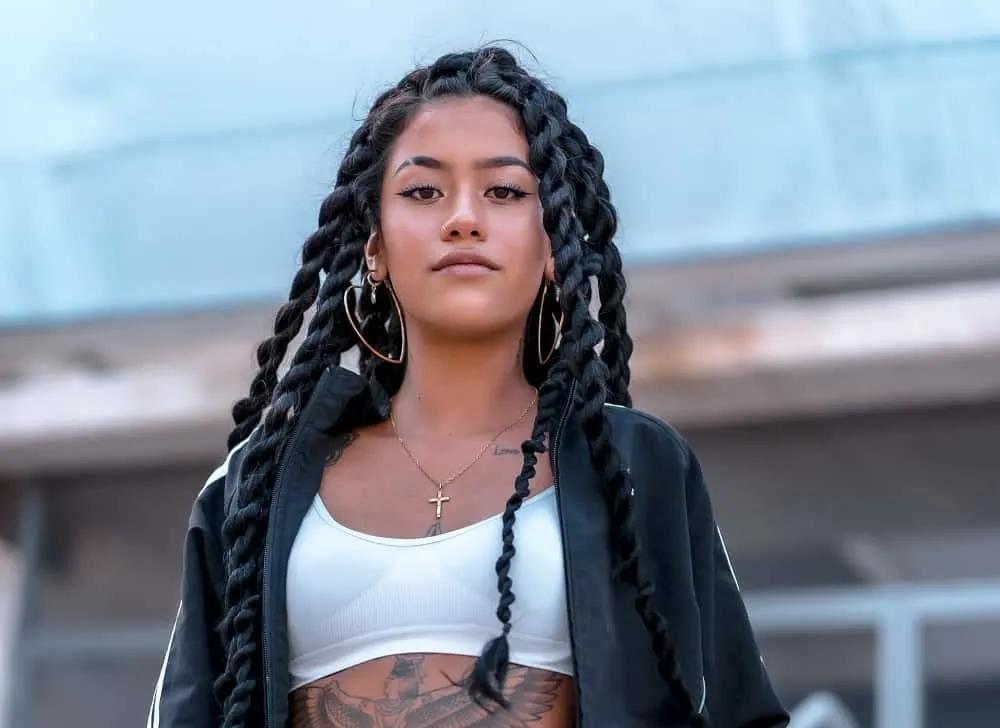 Whether your hair is naturally thick or you're opting for extensions to get a full mane, thick two strand twists are a gorgeous hairstyle. Try overlapping your twists or parting your hair off center before twisting hair to get a little dimension.
#2: Half Twist, Half Natural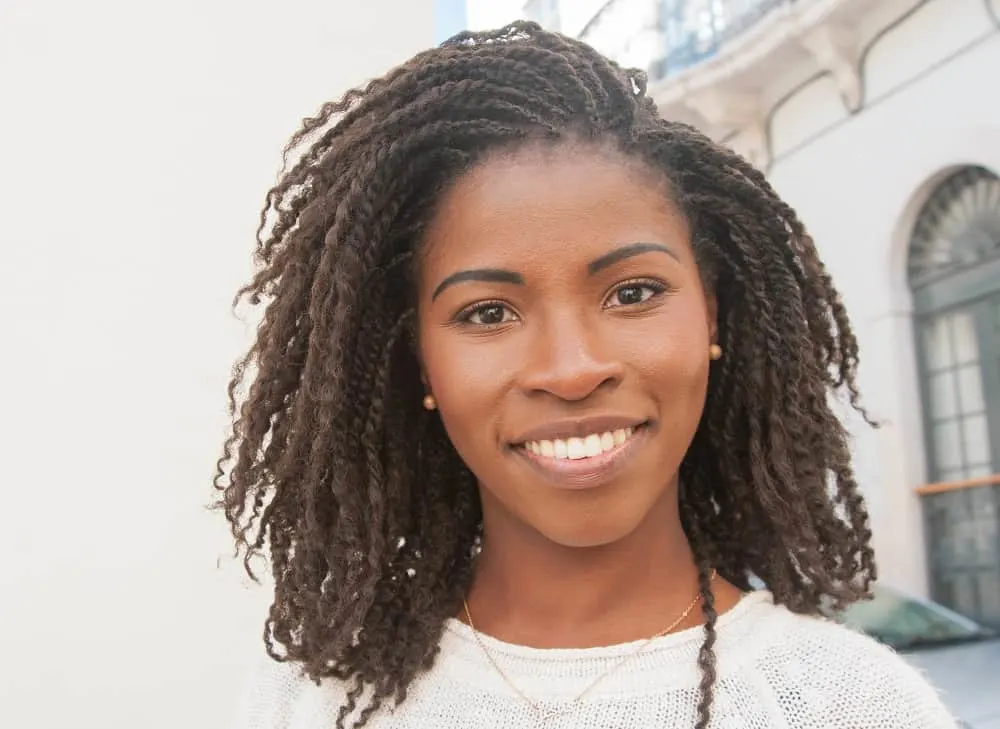 A short bob instantly becomes thick and sexy with hair that has only been halfway twisted. Just twist hair in two strands from the scalp to halfway down the length of your hair, leaving the rest natural.
#3: Two Strand Twist Side Ponytail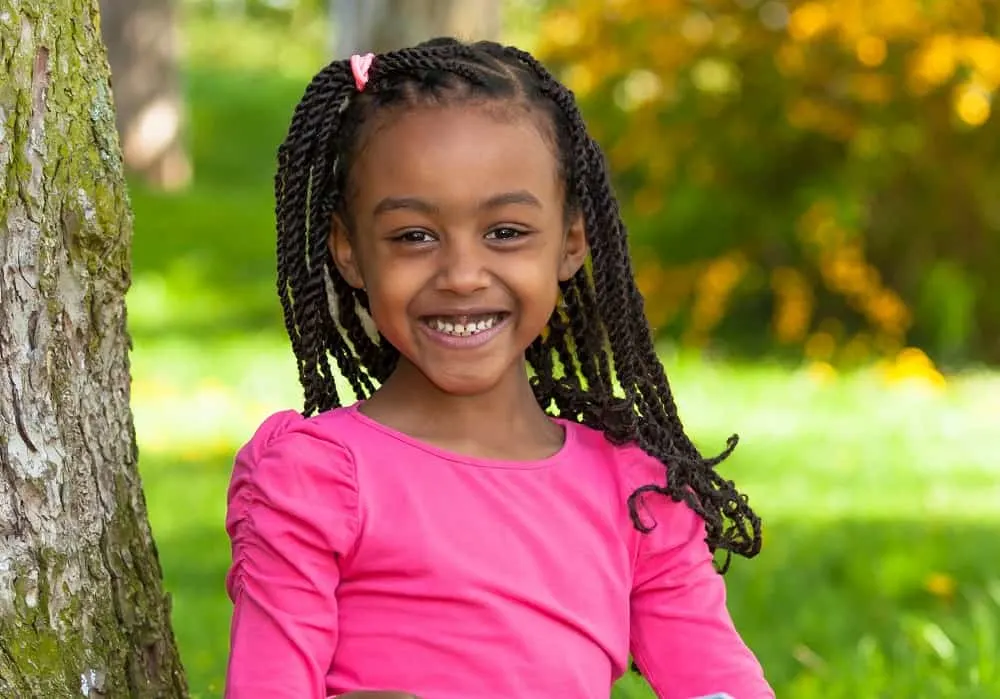 How adorable is this little girl's hairstyle with two strand twists? Your little one will love rocking a peppy half ponytail or a super high ponytail when she's out running around.
#4: Colorful Half Space Buns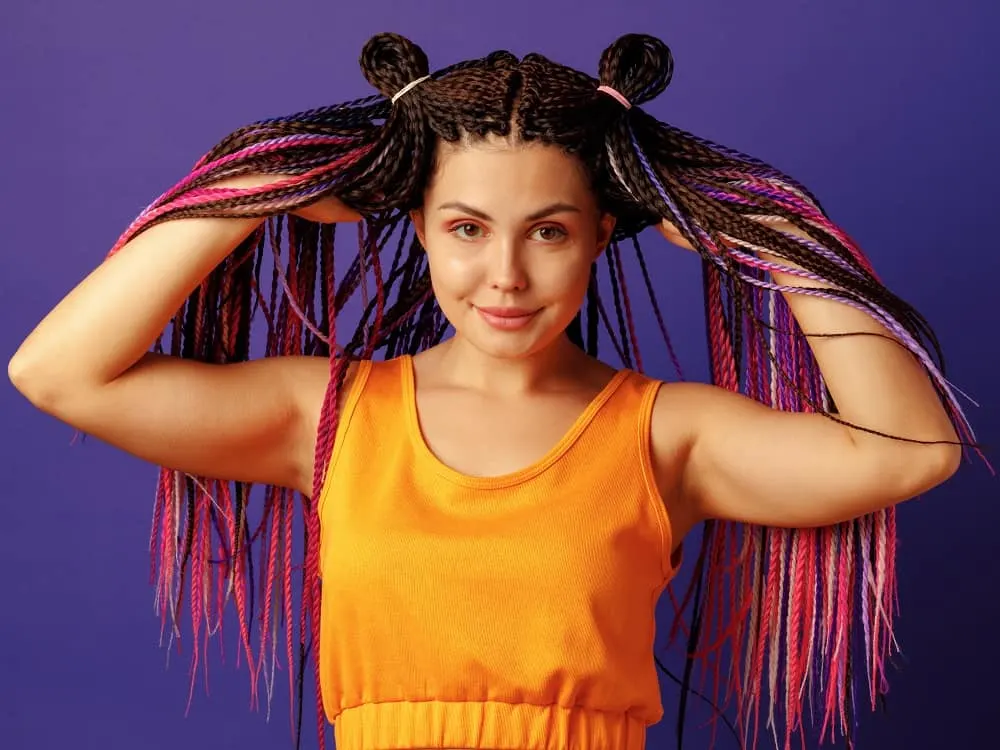 Are you all about color when it comes to your hairstyle? Choose two strand twist extensions in flirty colors like hot pink and purple for a beautiful look that becomes even more fun when styled into two half space buns.
#5: Messy Two Strand Twist Bun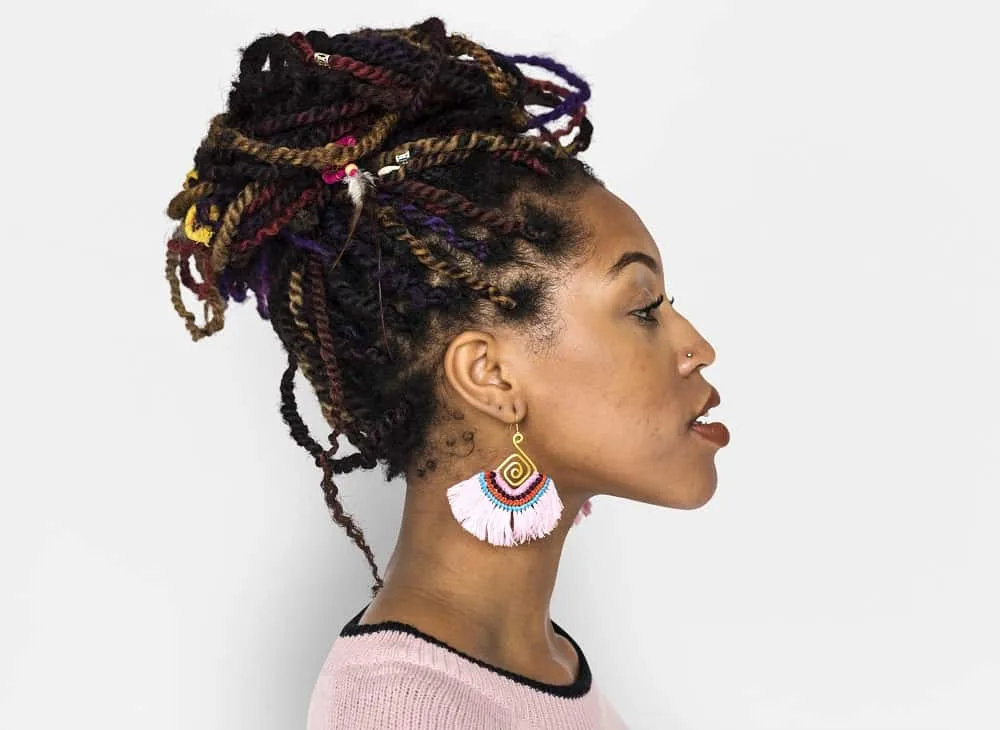 From the classy silver hair cuffs that add a shining detail to the understated ombre extensions, this two strand twist hairstyle is a must try for any lady who loves a sophisticated updo.
#6: Extra Long Extensions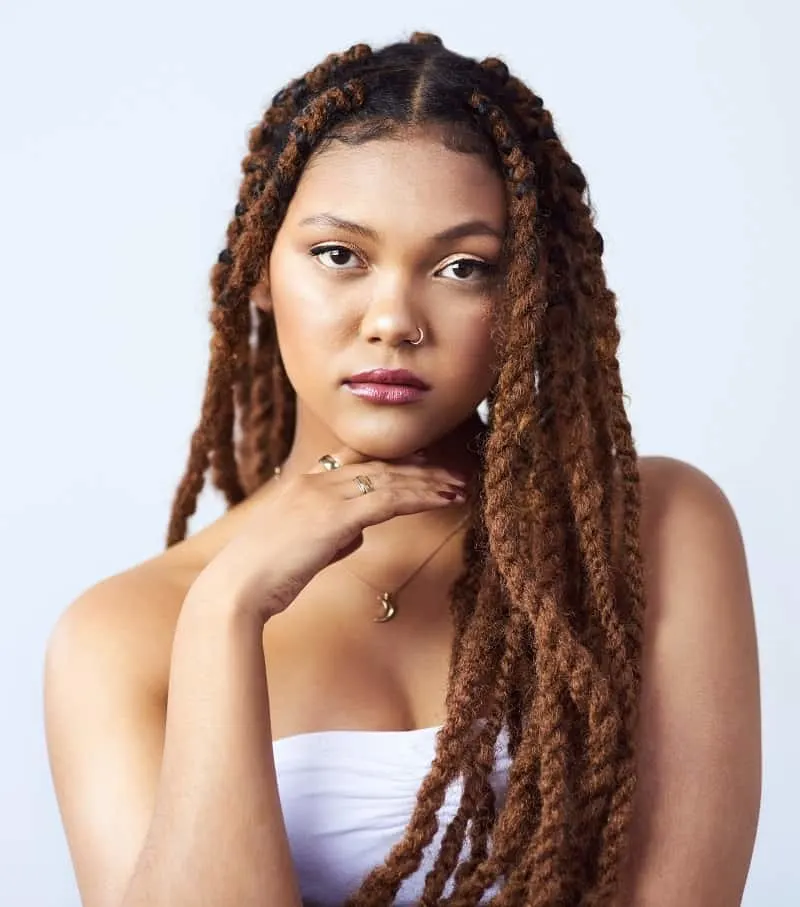 Are you currently rocking short natural hair and need a beautiful protective style in the meantime? We love the way these extra long light brown extensions look when twisted into the hair.
#7: Ribbon Two Strand Twists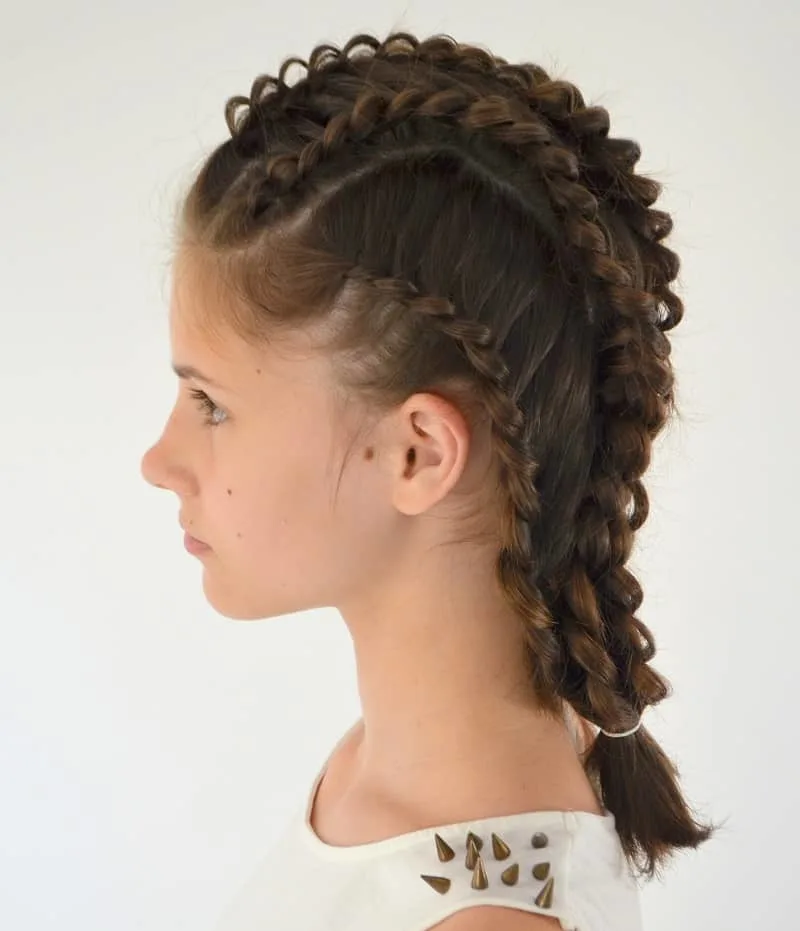 The French braid is a thing of the past when you've got two strand twists at your fingers. They easily liven up a little girl's hairstyle. To give them a textured ribbon-like appearance, loosen them around the top of the head.
#8: Little Girl's Short Natural Twists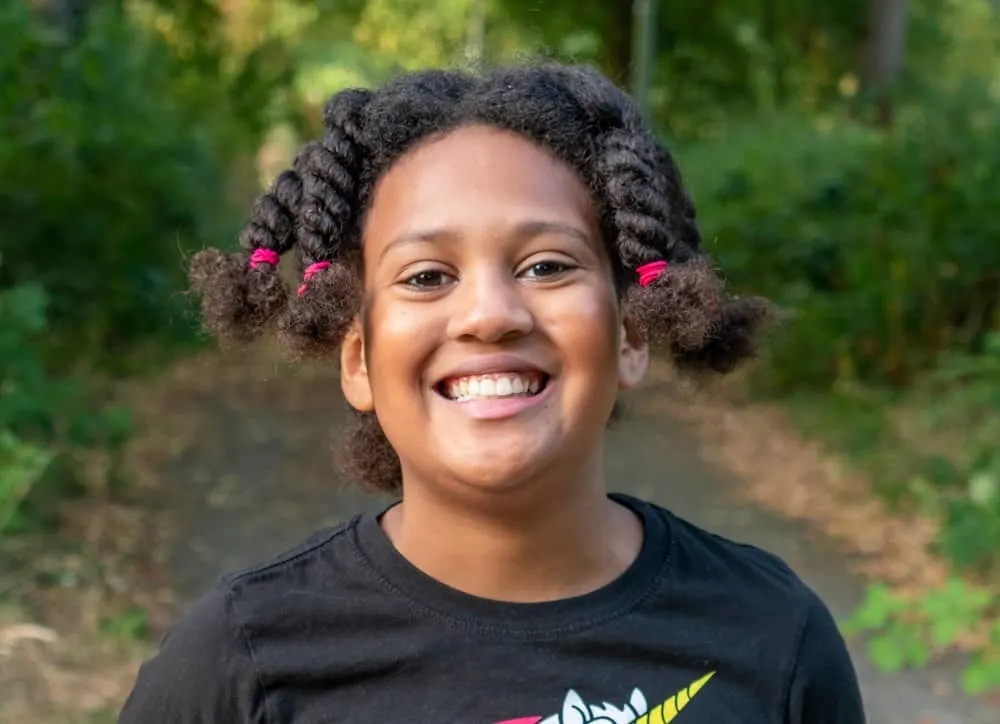 For young girls, a two strand twist hairstyle is a pretty way to keep hair off the neck and out of the face. These short twists are perfect for thick hair.
#9: Half Up Bun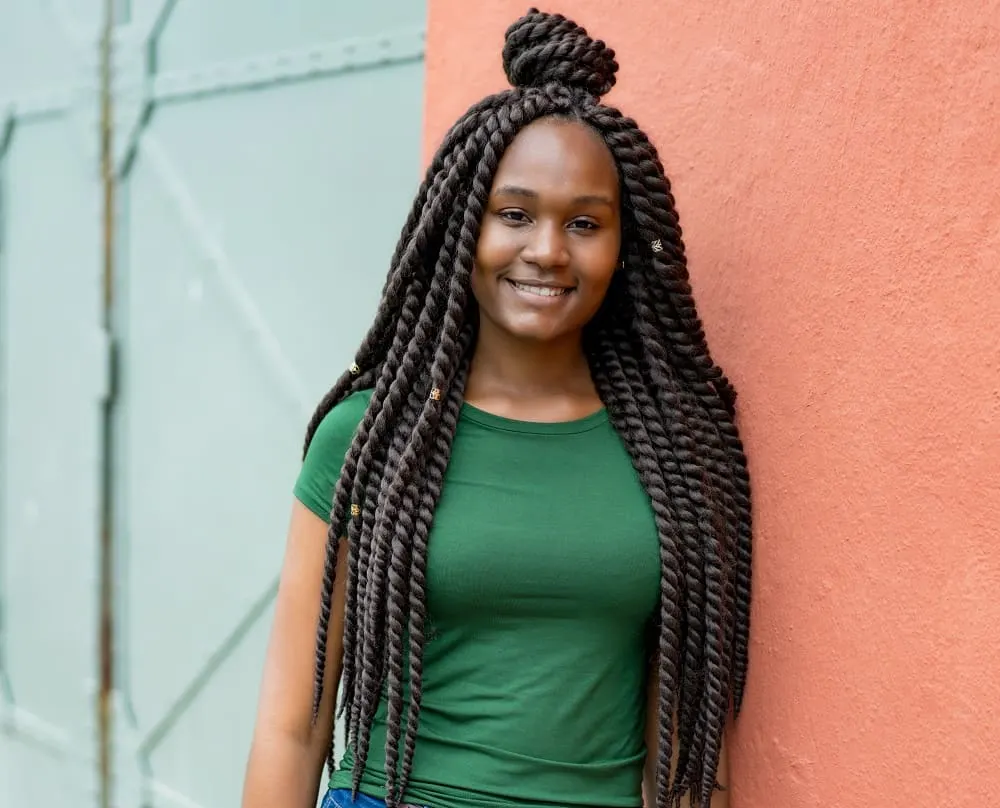 The word "glamorous" somehow doesn't quite do these sleek two strand twists justice! Another beautiful look for women of all ages includes a tight half up bun. You'll feel both classy and casual no matter where you rock this look.
#10: Long Twists for Oval Face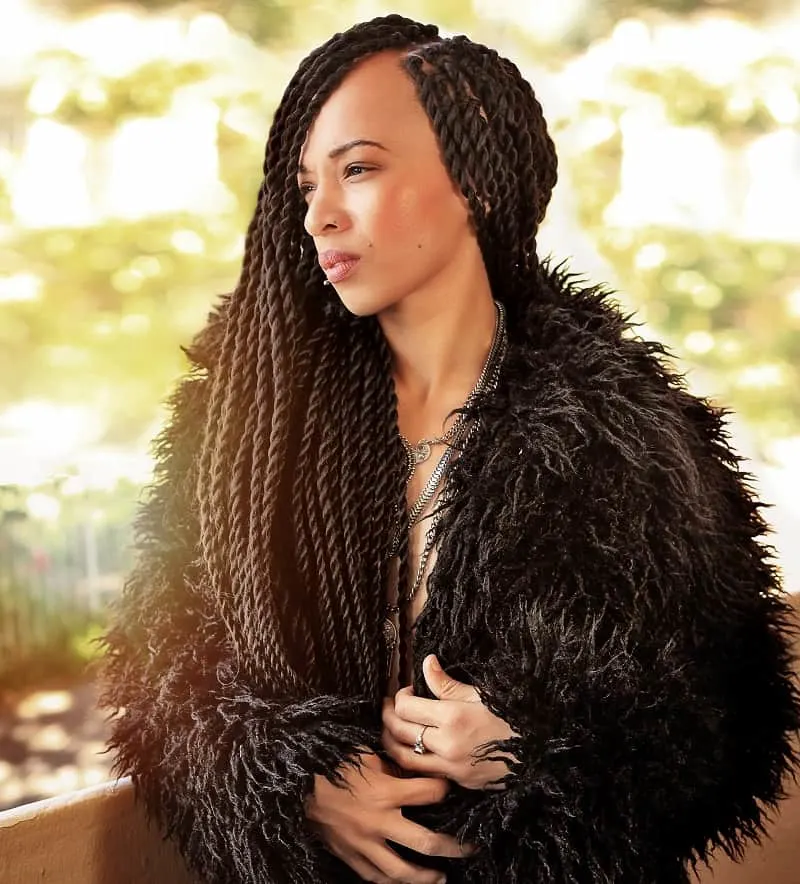 Two strand twists make a particularly flattering hairstyle for women with an oval shaped face. If you're trying to distract from your face shape, we recommend extra long twists that drape elegantly over shoulders.
#11: Purple Punch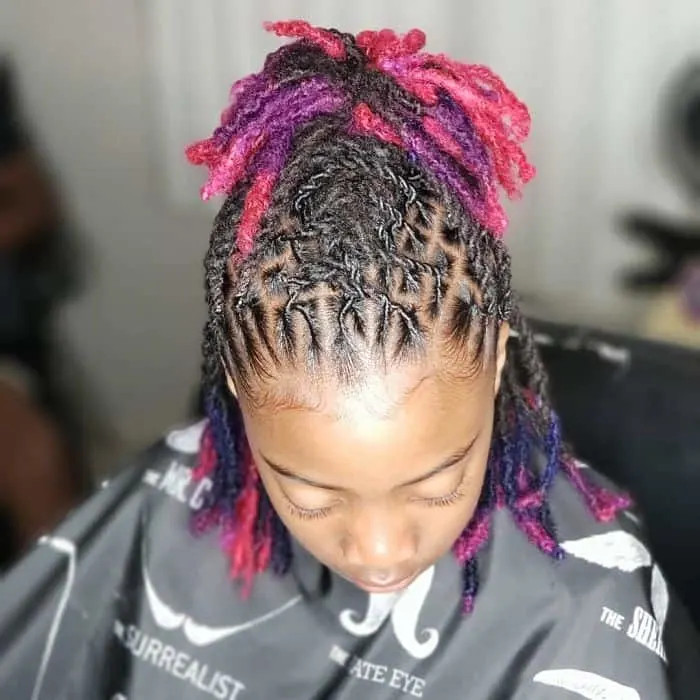 If you want to make your twists look creative and stylish, you have to come up with unique ideas. It's time to play with hair colors along with style as well. Two-strand twists tied into a half ponytail is an easy-to-make hairstyle. It looks good on short hair.
Hype up this mainstream style with funky colors like purple and pink. Black twists with colorful tips create a multidimensional and dramatic hairstyle.
#12: Twisted Crown Bun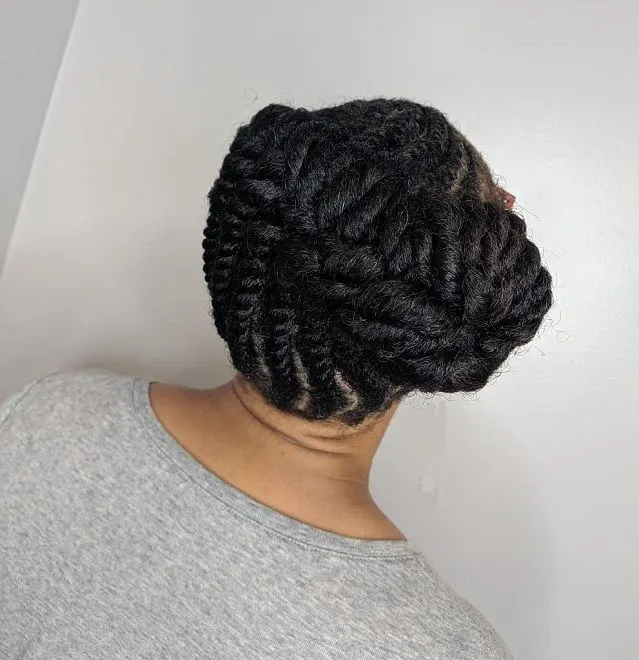 2-strand twists come in a variety of protective hairstyles. However, since it is a tight styling technique, we have to make sure that the hairstyles look stylish are do not cause damage to hair.
To make your thick and voluminous hair less unruly and easily manageable, try making a diagonal crown bun.
This style looks dramatic and neat. It also adds sophistication to one's overall look. Middle-aged and slightly old-aged women should try this twisted hairstyle as it goes well with their personality.
#13: Twisted Updo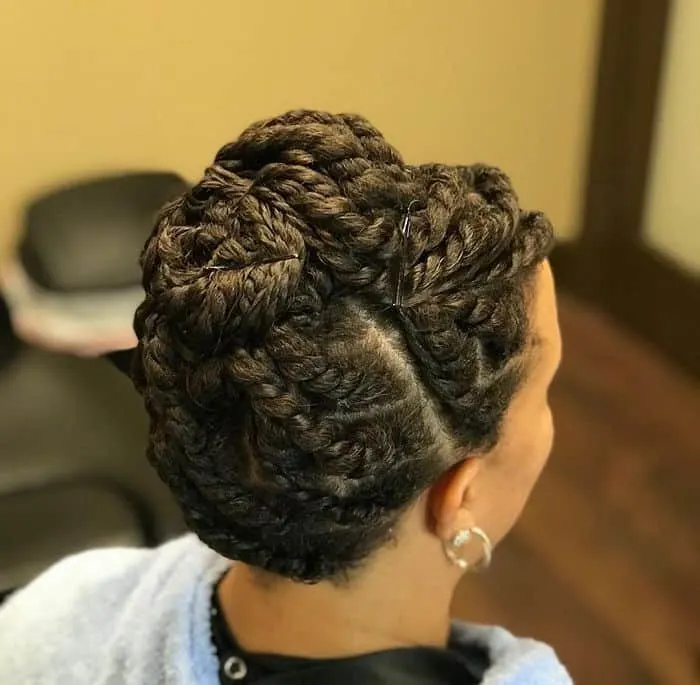 One gets amazed by the fact that protective hairstyles have a never-ending variety. An updo looks neat, sophisticated and extremely gorgeous. For added texture and versatility, a twisted updo is a perfect choice.
Make thick and loose twists with two strands and tie all of them at the back into a whorled bun. Tie the front twists on a side to create a pouf. Use hair pins to hold your hairstyle in place.
A good-quality styling gel spray will also hold the style and give shine. This high-volume and stunning hairstyle won't let your partner take his eyes off you.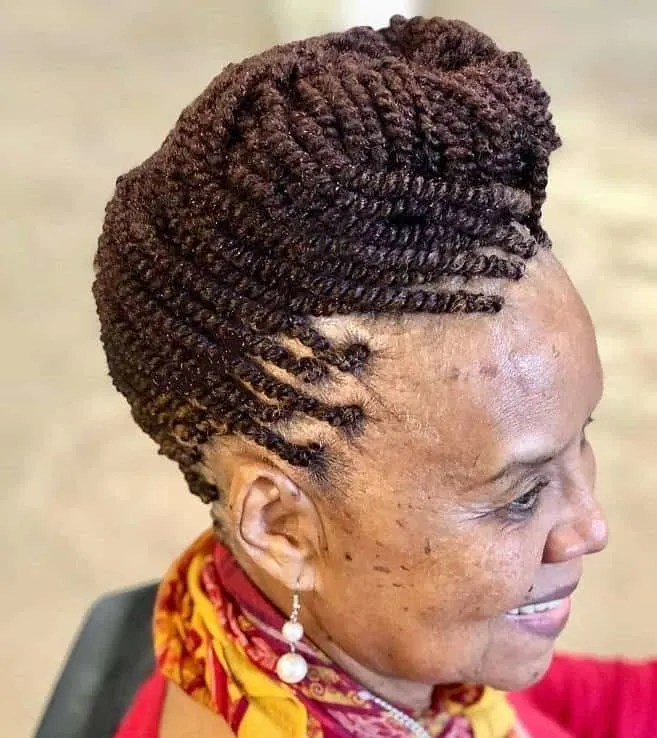 A twisted updo is one of the finest and coolest protective hairstyles. If you want a hairstyle which is less bothersome yet looks gorgeous, a pomp made of 2-strand twists is a perfect choice.
The pompadour on the front adds volume and dimension to the style. Moreover, the side twists drawn centrally create symmetry which is the essence of this hairstyle.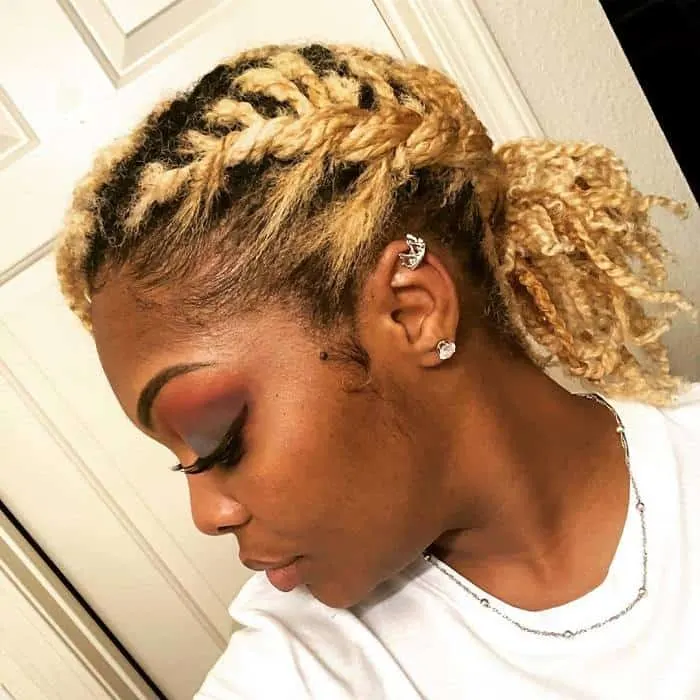 An asymmetrical hairstyle with twists looks very diverse. You can create a side part in your hair and style them the way you want. In our case, diagonal side twists tied on the back into a short ponytail make a gorgeous hairstyle.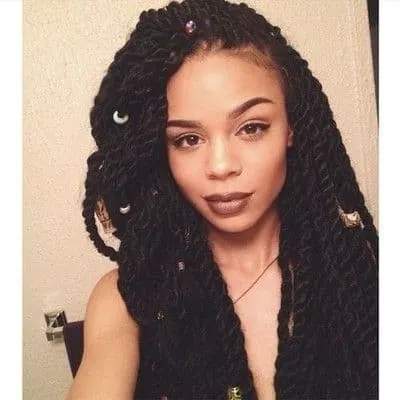 Using two strands instead of three to create twists will make your hair look like an endless swirl. Try using thicker strands to create jumbo twists, which looks more contemporary than thin ones.
#17: Curled Ends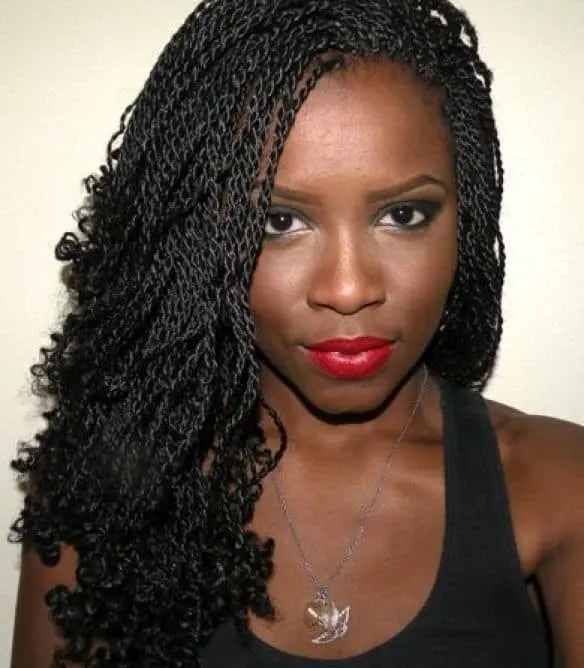 With your long twists hanging limply, try making them look livelier by curling up their ends.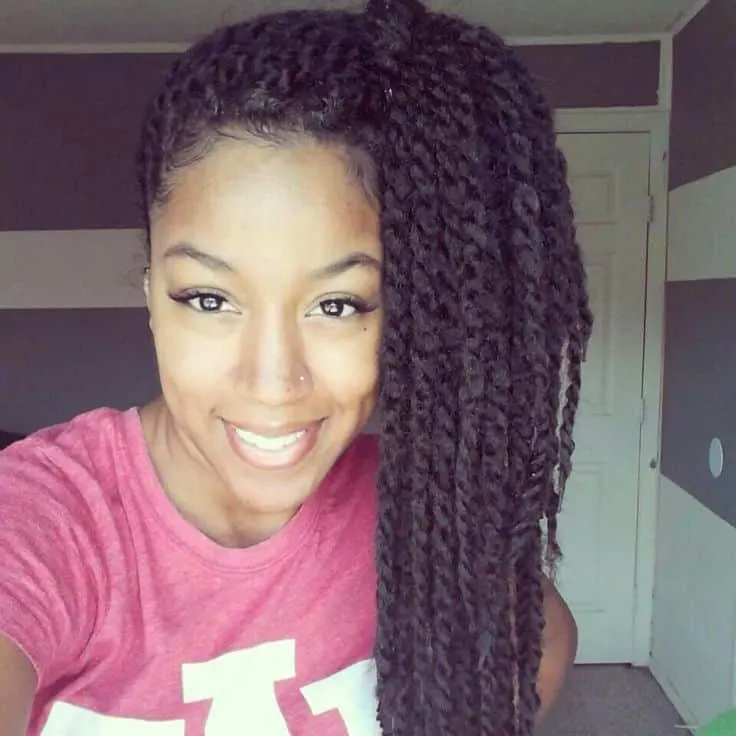 For a change in style, consider an adorable way of styling your hair by creating a high ponytail on the side of your head. Make sure the extensions aren't stressing much on the roots of your hair though, or the consequences will be ugly.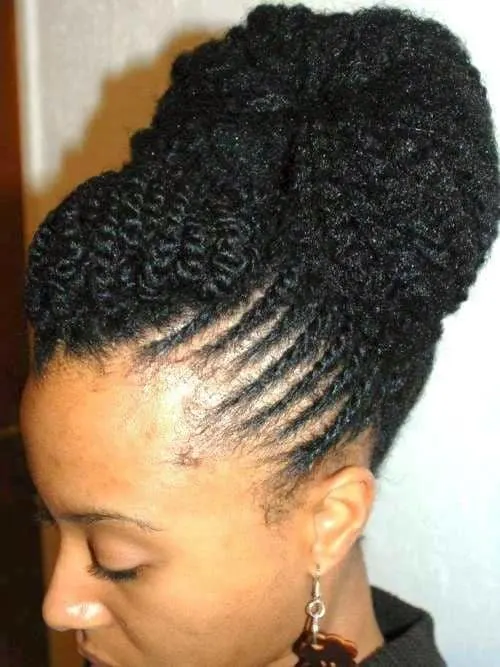 Using two strands to make twists doesn't limit your options in styling them. This combo of cornrows on the side, a pouf on top and an updo on the back is a perfect example of the endless options to consider while styling your hair.
#20: Caramel Ombre Low Bun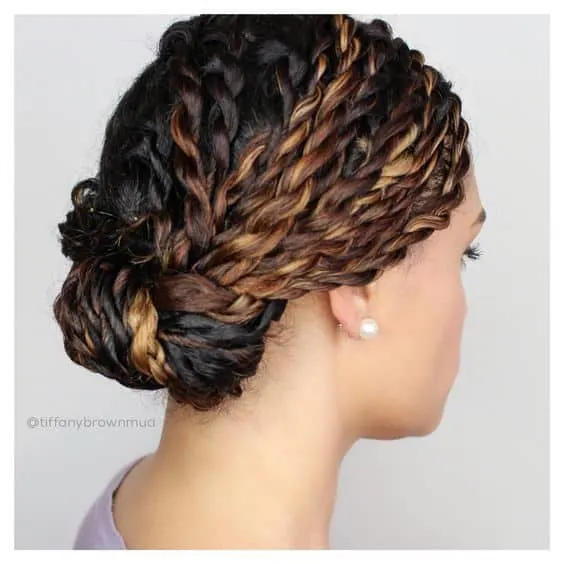 With your natural two strand twist hair create a neat low bun for a fast and organized look. It's always a plus to have some colored strands, the warmer the color the better.
#21: Half Up Half Down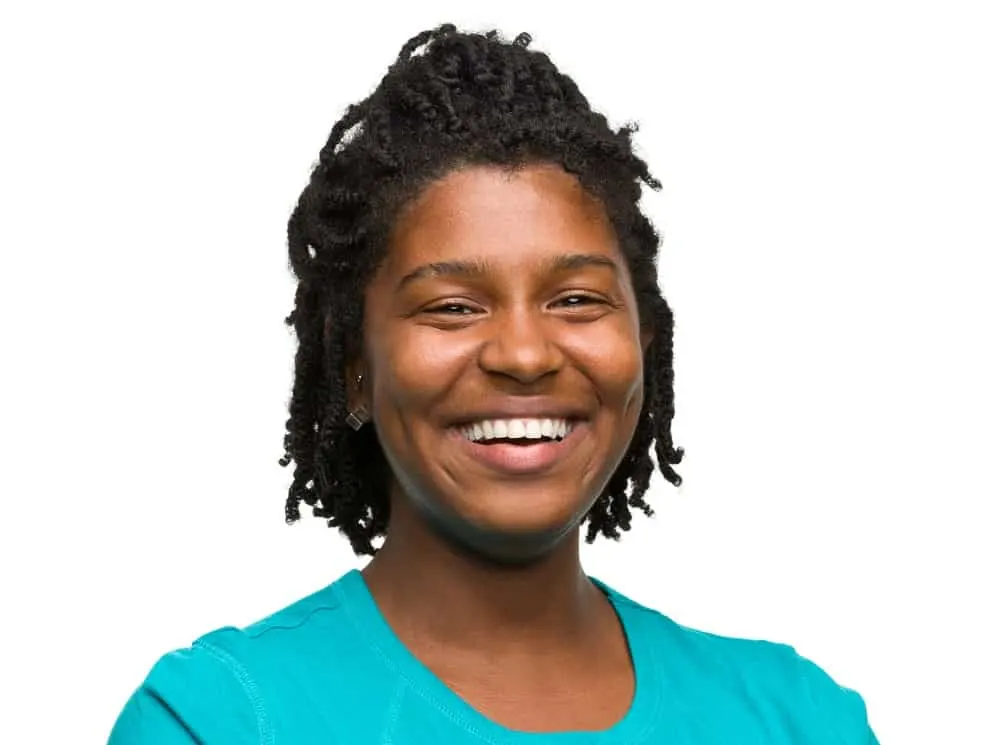 Two strand twists can upgrade your natural hair look in a glimpse of an eye. We know coarse hair can be hard to manage, but these twists do a really fine job keeping your hair protected and tied down.
They also allow you to create various hairstyles like this half up, half down hairstyle.
#22: Rope Braids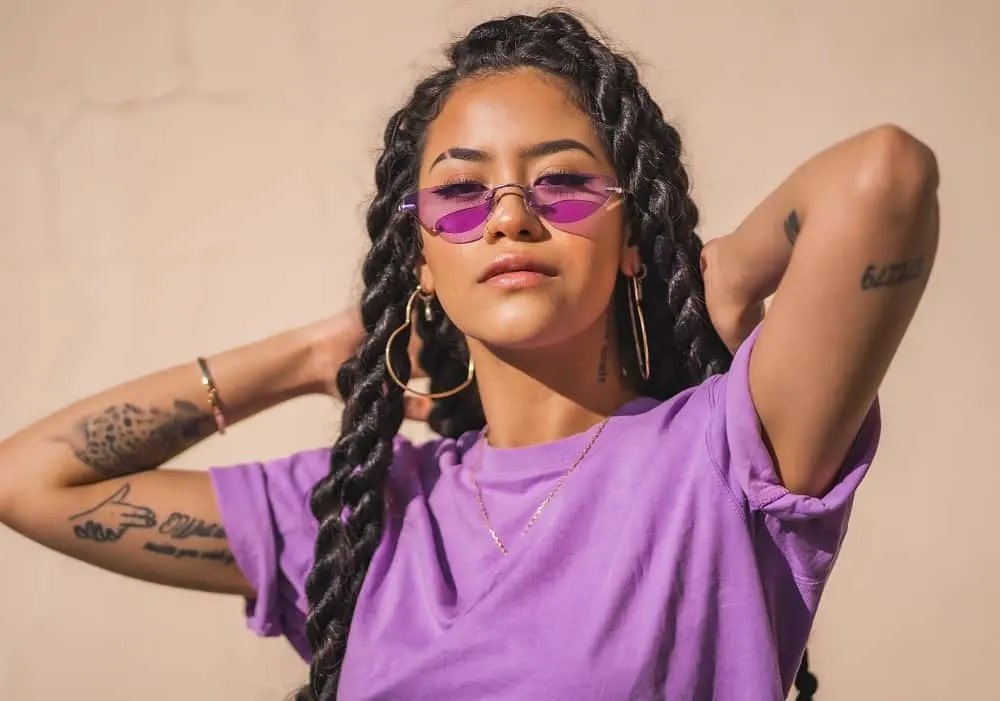 Wanna get that spicy Latina look? It's gonna take you more than a cool outfit and some jewelry; you need some stylish twists to get a fancy appearance. And rope braids are definitely the key to a hairstyle that expresses your glamorous style and personality.
#23: Two Strand Twists Bob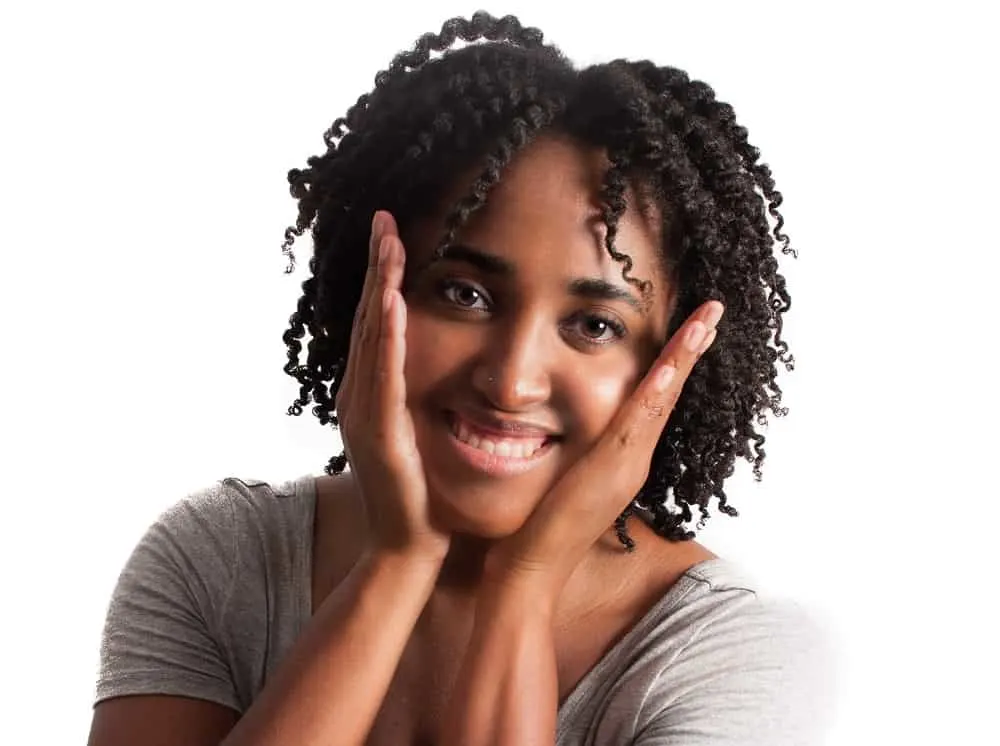 Twisting your natural hair will give those coarse locks more definition and shape. Get them the right cut, but make sure you know how tighter your curls get once you trimthem. You definitely don't want to end up with hair that is too short.
#24: Curly Twists for Medium Hair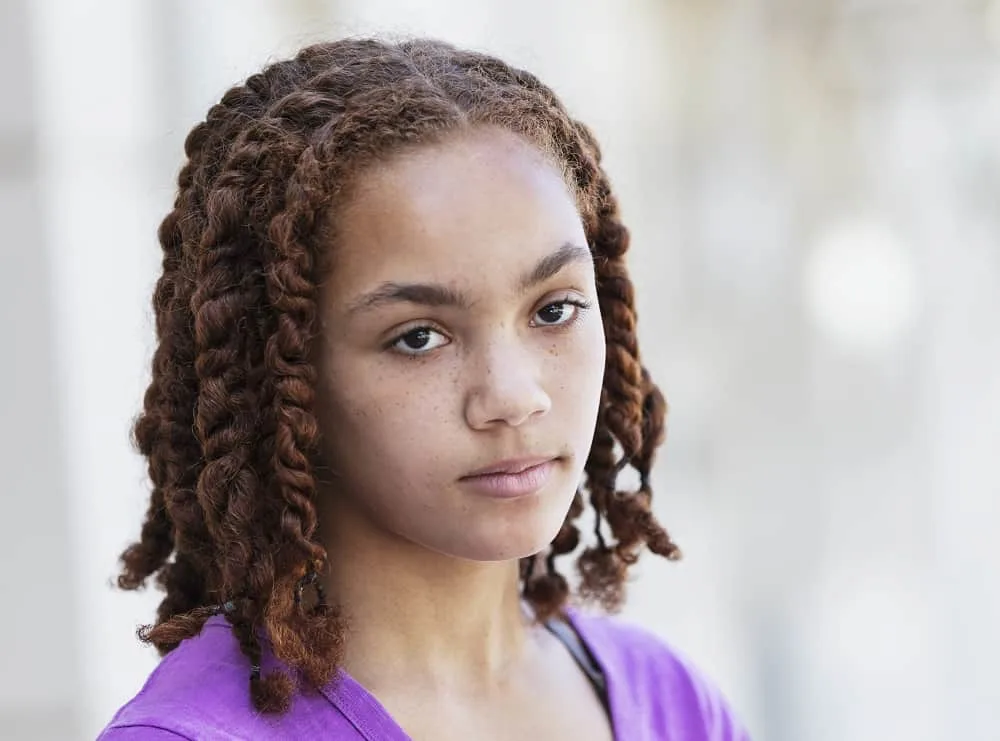 To recreate this effect on your twists, here's a tip you might find in handy: loosely roll each strand when getting twists for your natural hair. It will preserve the curls and make the braids seem intricate.
#25: Knotless Two Strand Twists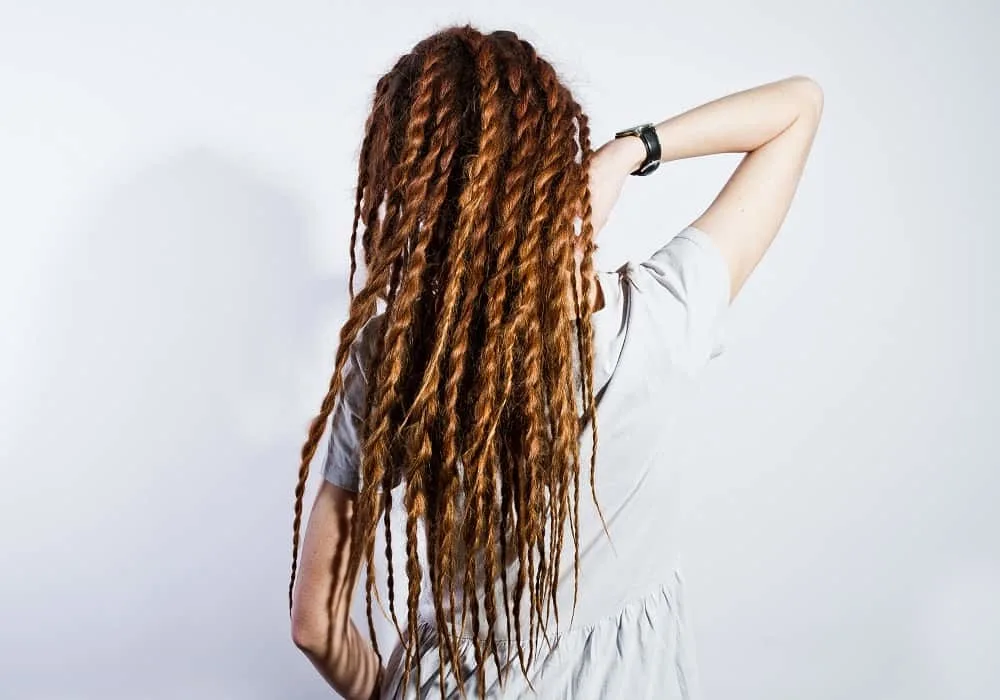 Knotless braids work best for hairstyles that are built using hair extensions. The technique used to secure them involves dipping the tips into hot boiling water so that you won't need any elastics for the ends. Twist them loosely to gain that messy aspect.
#26: Bumpy Top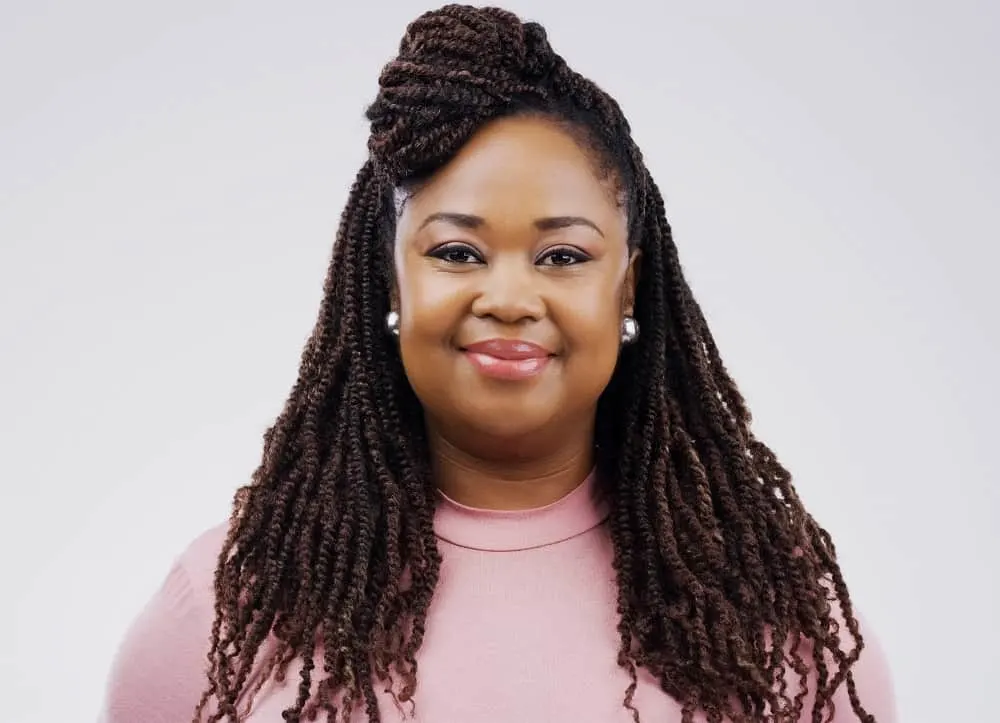 Not many women have this amazing texture and hair volume, and if you're not one of them, hair extensions can certainly help you gain that fabulous dimension.
On natural hair, it will probably take you a good couple of hours to create these two-strand twists, but when talking about extensions, things are easier. You can find already braided bundles and you just need to attach them.
#27: Cornrows and Twists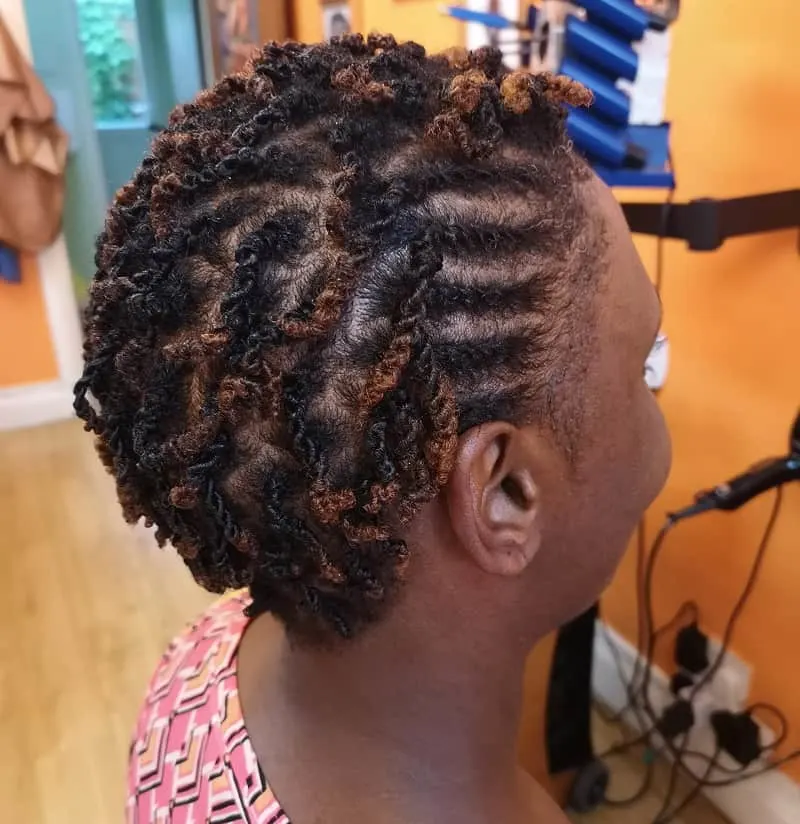 Combining two types of braids is always a great styling for a woman with natural hair. Firstly, for the hairline, create cornrow braids, knot them and continue with two stranded twists. Dye the tips in a brown nuance if you don't think this is not fancy enough for you.
#28: Thick Twists for White Women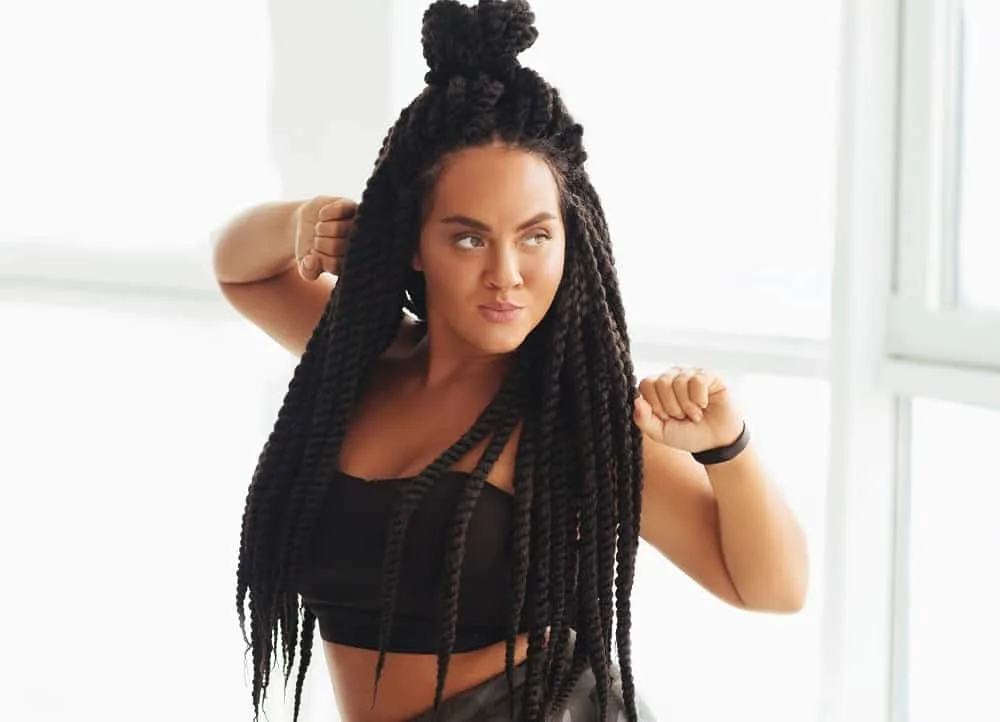 Always loved those black women hairstyles? Then this is your way to shine! Buy two or more packs of rope braids and attach them close to the roots. Also, make sure your natural hair has the same color as the extensions to create a full black look.
#29: Twisty Dreadlocks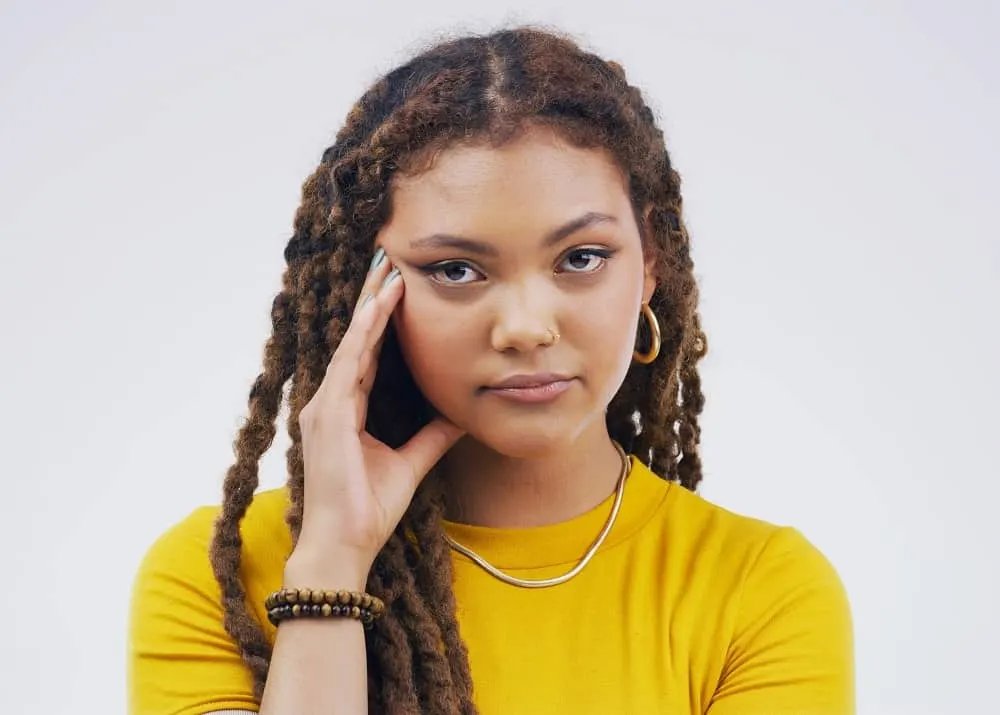 Did you know that you can create a hairstyle resembling dreadlocks using the two-strand twists technique? Well, here's how you do it! Make sure your hair is washed and combed.
Take a section, twist it a little and rip it to the roots. Repeat the procedure until you have your dread. Do the same for another section and use the dreads to build the twists.
#30: Twisted Braids with Side Part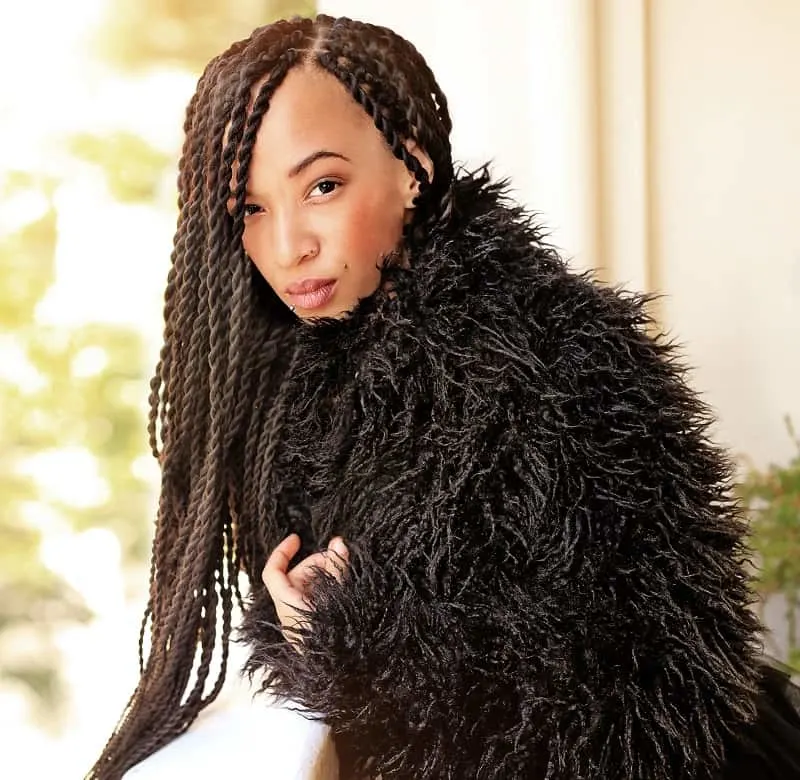 For these Marley thin braids, you should search for hair extensions that have a kinky texture, but also elasticity.
When attaching the hair, use gel on both extensions and natural hair, part the section in two and wrap each on the Jumbo or Kanekalon hair. Keep twisting each individual as you turn.
#31: Loose Two Strand Twists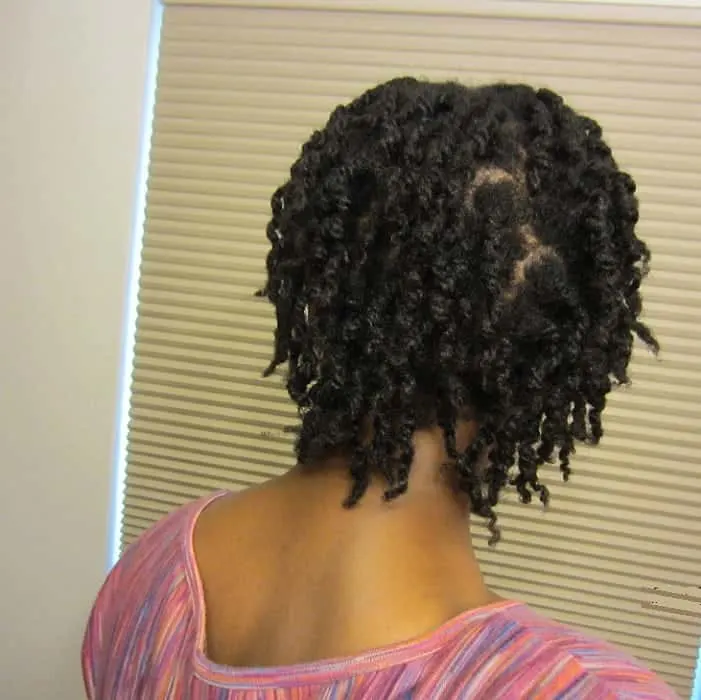 The use of two-strand create twists that would make your natural hair resemble a great swirl. The usage of thicker strands offers a more jumbo twist, which appears to be more fashionable than thin ones.
#32: Low Bun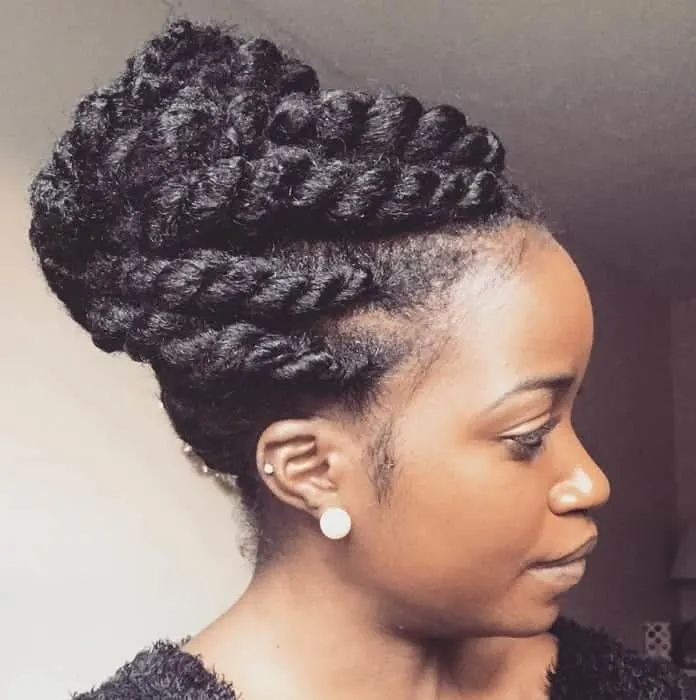 With the low bun, you get a two-strand twisted hairstyles that give a stunning appearance when worn!
The low bun offers more inspiration whenever you run out of ideas. It is a handy 2 strand twist out that work well for school/work or special occasion. It is always a great natural hairstyle to keep under your radar.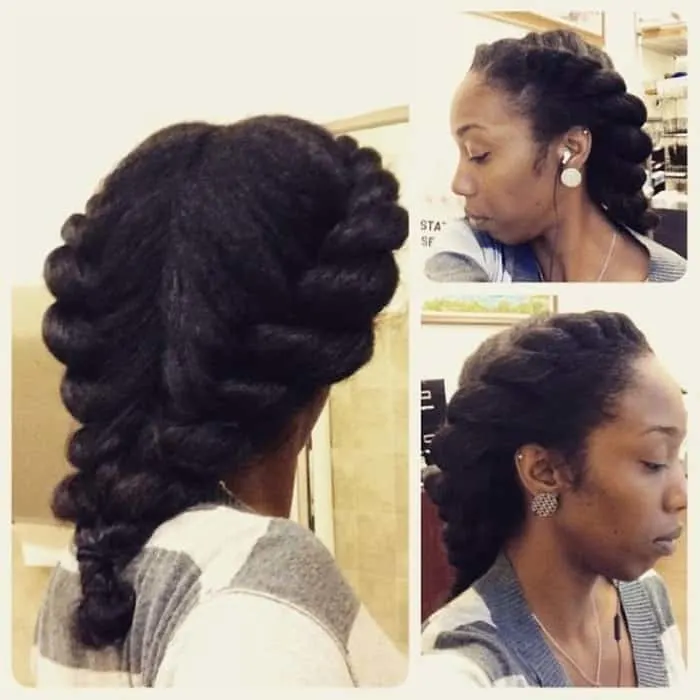 The milkmaid braid style is our favorite amongst all hairstyles. Women with afro hair can rock this natural hairstyles by 2 strand twisting the anterior sections of hair back into two strand twist out with layers over each of them.
To get more sleekness and polished finish, all that is required is to perform a smooth through the locks before styling.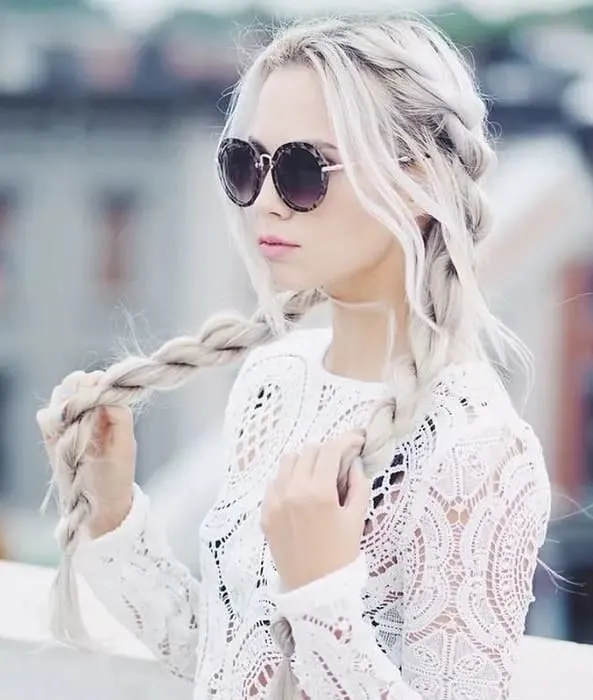 In case you missed the memo, women can also rock pigtails, too! For a two-strand twist style on women's natural hair, the plaited pigtails give an edgy two strand twist out that works well on all hair lengths!
To manage the lookout for the playground and add a more mature vibe, try binding 2 strand twist out collectively at the base to create a chunkier twist.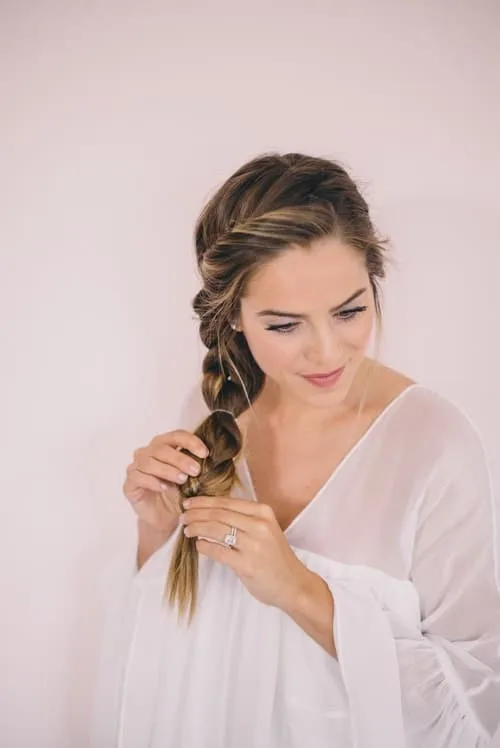 Seeking natural twist hairstyles for some date night? Well, nothing is more romantic than the side braids hairstyle!
This hairstyle is ideal whenever you find yourself struggling with the trickier French and Dutch braiding techniques. Side braid to give a better appeal as they become messier, so you get the chance of dragging this hairstyle out for days!
#36: Single Two Strand Braids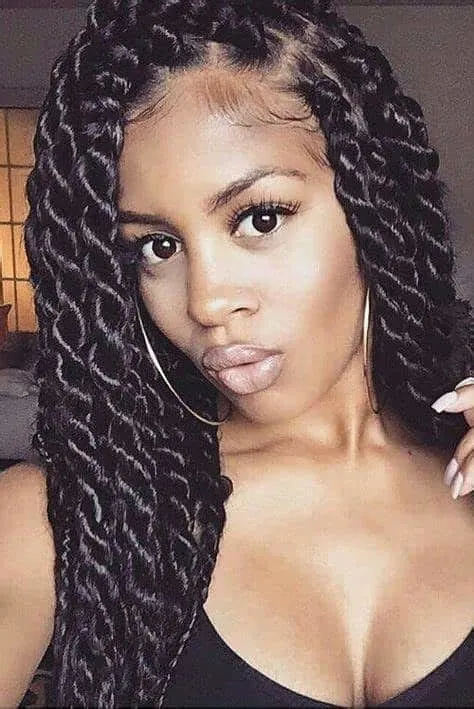 If you enjoy the practicality attached to woven styles, yet wholly fed up of standard box braids, then you can make some changes by applying the two-strand flat twist approach.
With this two-strand twisted natural hairstyles, you get to preserve your hair length, with a bonus of exploiting definition and texture.
#37: Short Twist Black Hairstyles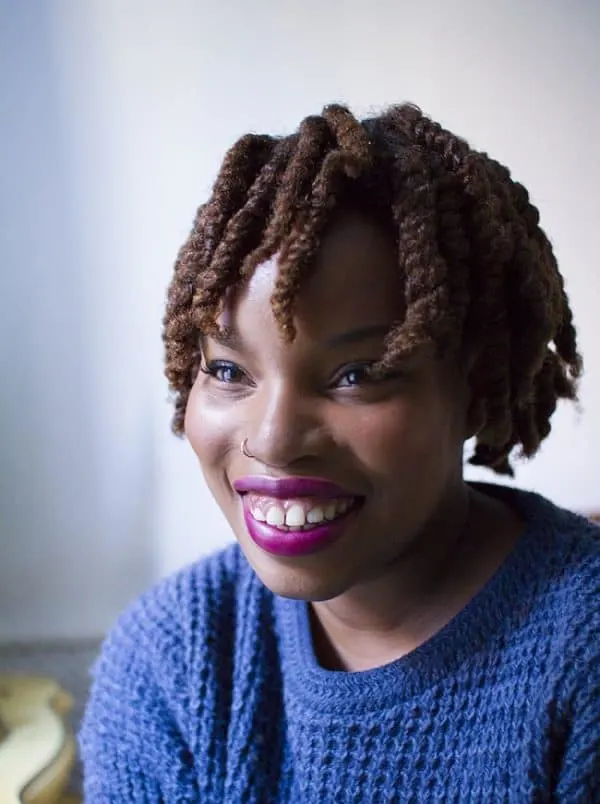 The short twist hairstyle is a superb style common amongst black women with short hair. The two-strand twist styles on natural hair appeal more to the women folks for being fashionable and fabulous.
One notable feature of this 2 strand twist out is that it offers flexibility. Irrespective of your hair texture, you would always get a fantastic look and not strand stretching.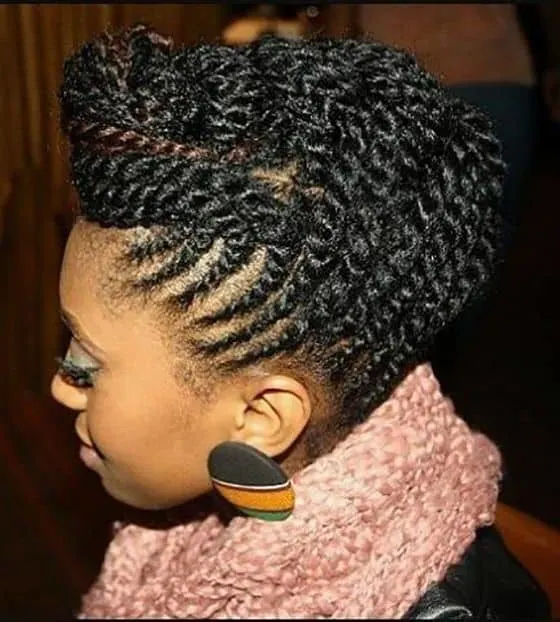 Got a formal event to attend? Then let the twisted updo uses its 2 strand twists to leave a lasting impression on you and other guests.
With the elegant finish that neatly tucks away all tresses, this natural hairstyle remains a perfect companion for any outfit you plan to rock.
Long and Beautiful Kinky Twist for Women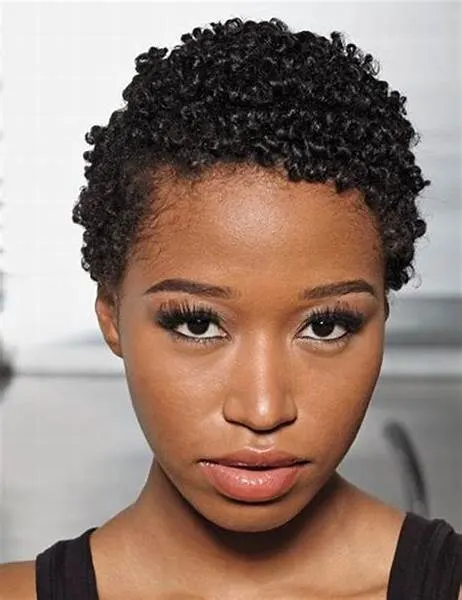 Teeny Weeny Afro (TWA) is a consistent performer and has remained a top favorite amongst women. The bold and flattering natural hair look with this two-strand twist styles can afford you more delight and unique challenge in scalp protection.
There is no doubt that these twist styles seek to solve a lot more. Its small profile makes it suitable for warm seasons.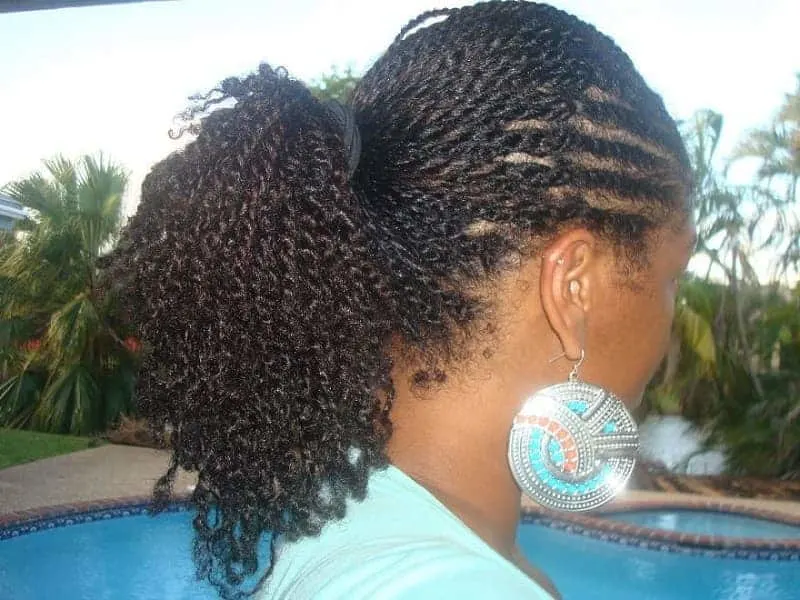 A ponytail is a simple but superb style for long or medium two-strand twisted natural hair. It's best suitable for any casual party.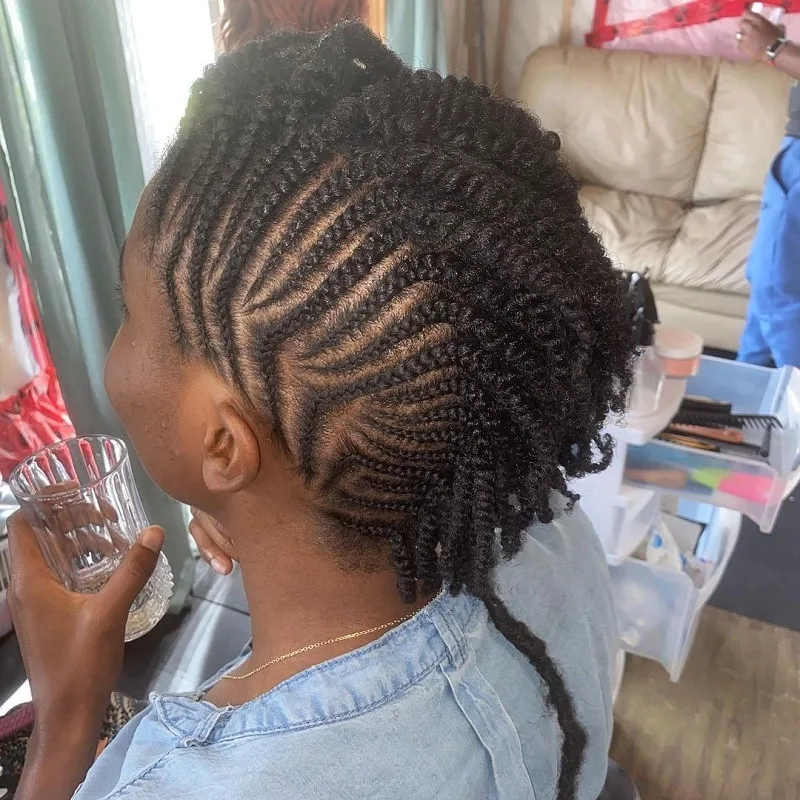 Craft a faux hawk by creating cornrows on optionally one or both sides of your head. As for the rest of your hair, you can simply let them loose to spring freely as you move.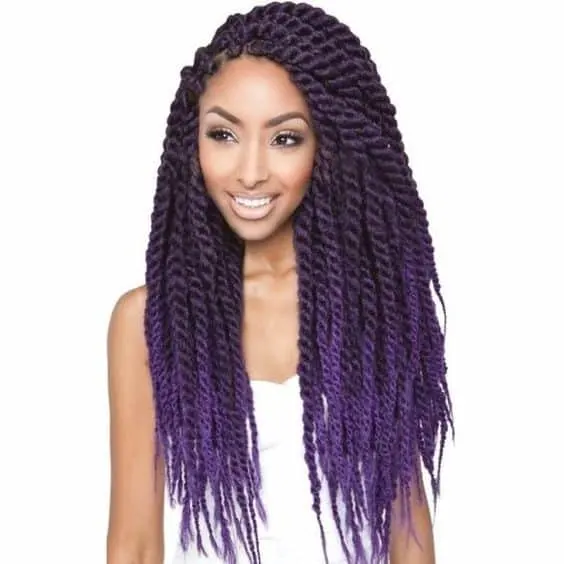 With two stranded twists being sufficiently attractive on their own, styling them won't be necessary. Although adding some hues would be a nice touch.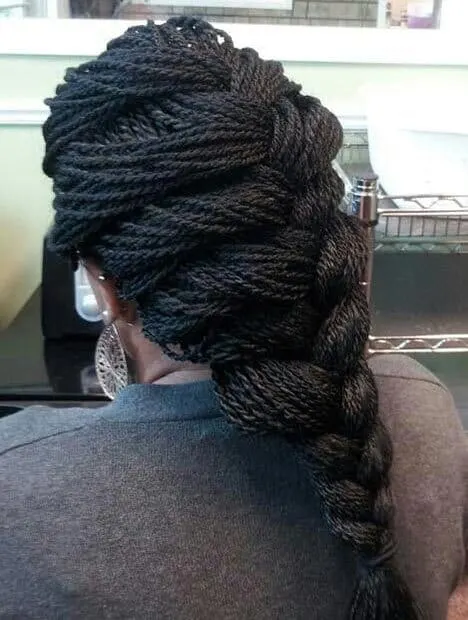 You can easily create fish braids with your hair sleek. But creating them with twists makes the style more voluminous and lively.
#44: Low Twist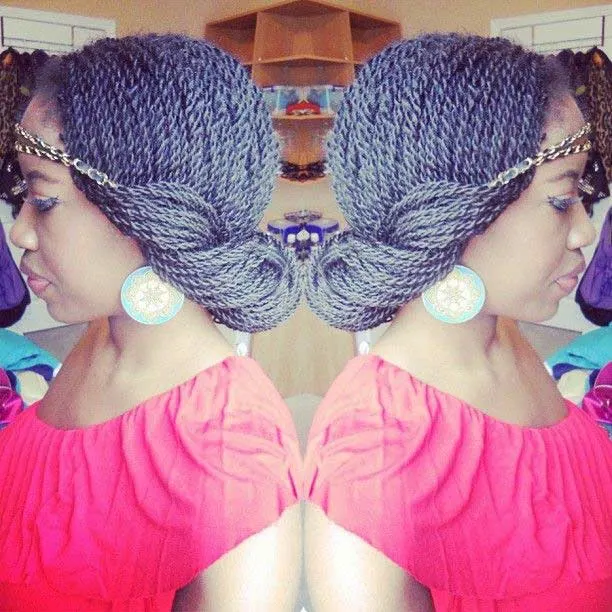 Try adding some accessories that will help create your hairstyle. With your thin twists, roll them on the back of your head around a band to keep them in place. Consider using different extension ombres for a more personified look.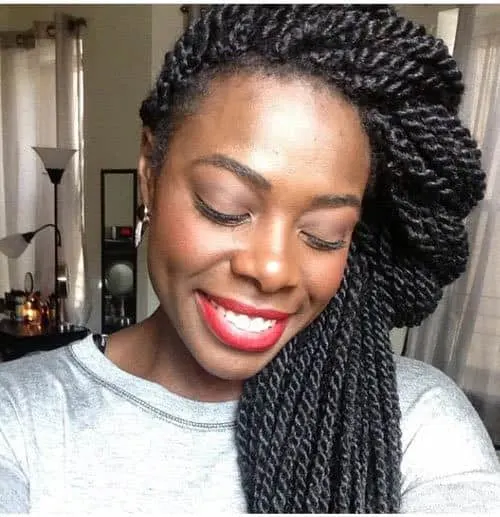 Try this style by creating a side jumbo twist crown out of smaller twist strands. That's a very pleasant style to go for on a special occasion.
#46: Tied Ropes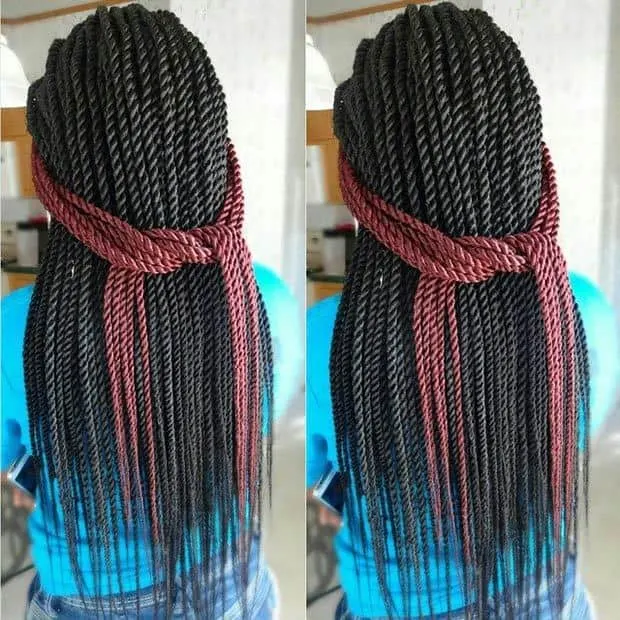 This look is unique in the color-style combo. It shows just how far our creativity can take us when it comes to two strand twists. With simply choosing to tie up the colored strands alone, you can end up with a pretty satisfying outcome.
#47: Bob Twist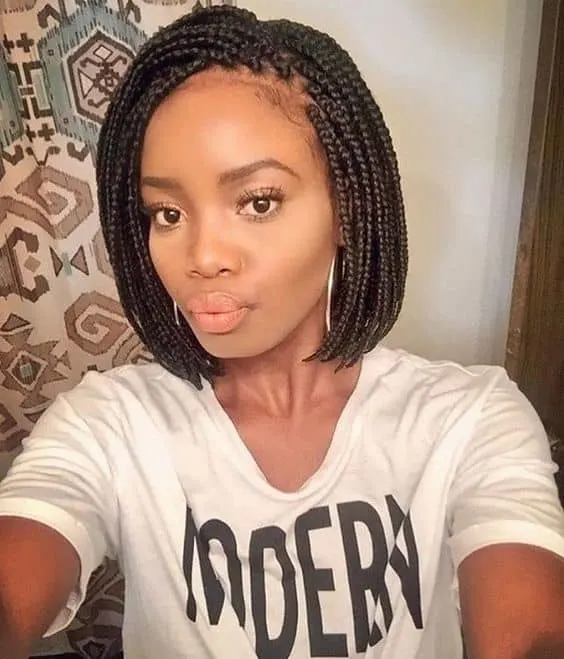 Short twist is an attractive style that'll make you look mature. You can control the volume of your bob with the thickness of each twist.
#48: Diverse Colours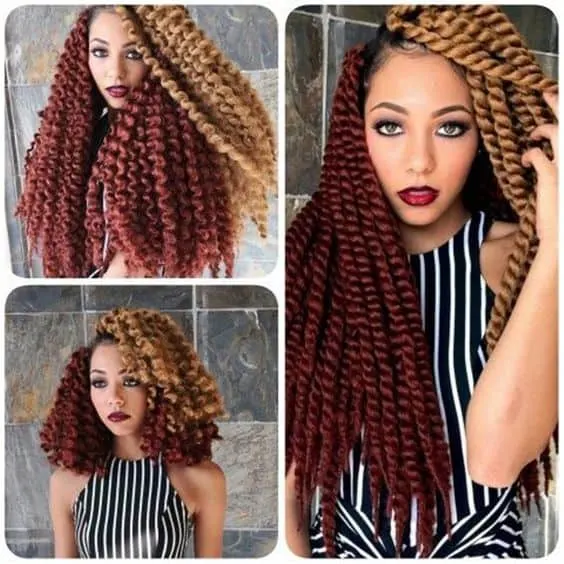 Try to be daring when it comes to your hair colors. Some totally diverse hair colors that don't even blend in will sure make you stand out in the crowd.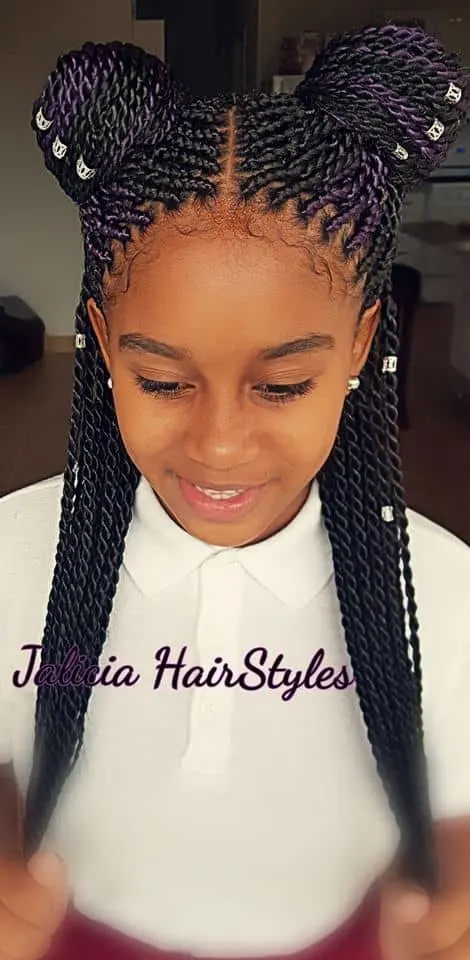 Double top knots are known to expose your fun and amusing side. With some colored strands and hair rings, you'll get the funky look you're aiming for.
#50: Bordeaux Twists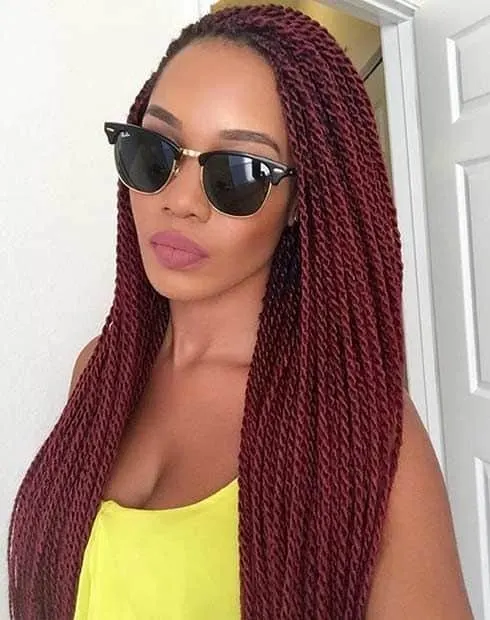 The color of your hair usually gives people an insight into your personality. To avoid crazy daring and typical boring colors, try going for Bordeaux, which is a color that never seems to die in the fashion industry.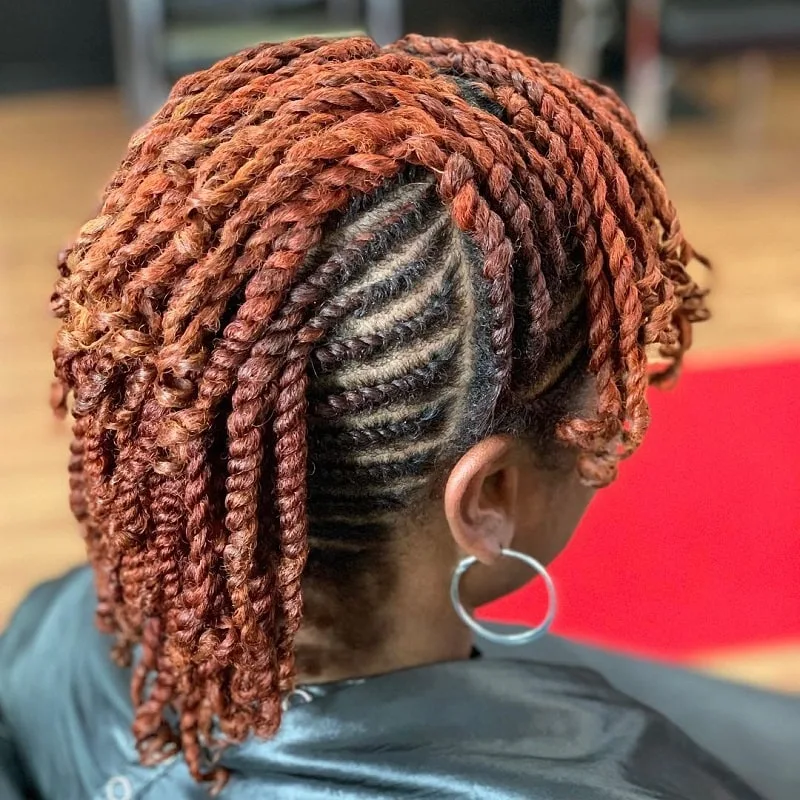 If you have a short hair that you don't want to wear loose, consider wearing it into a twisted cornrow. Side swept mohawk to be precise, will make your hair look stylish and the loose strands will frame one side of your face.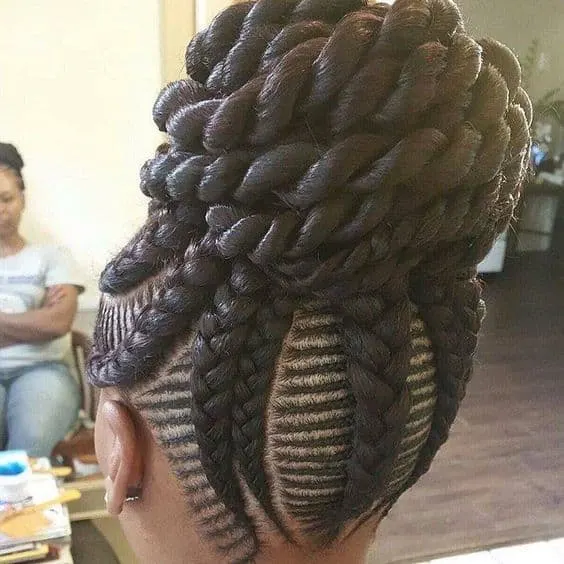 For a special occasion, ask your stylist to create a hairstyle that is hybrid with both two and three strand twists. And so even if the style is a simple updo, knot or loose it'll be catchy with this style combo.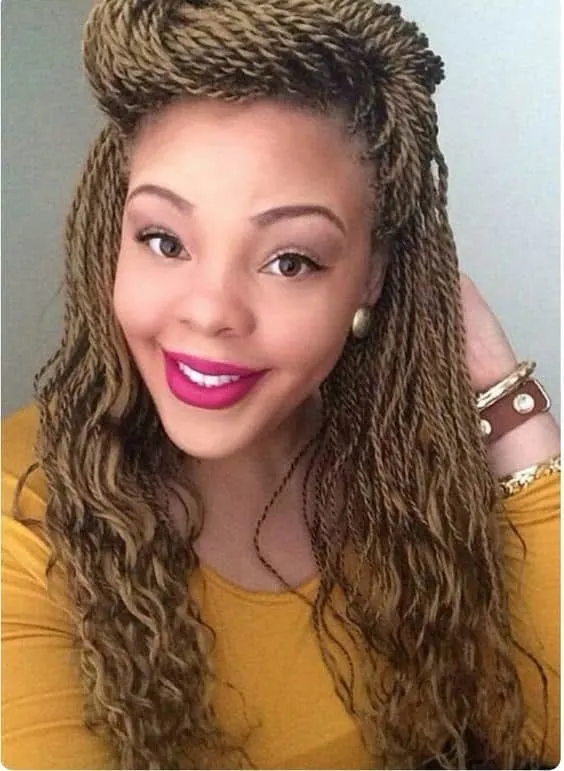 Dirty blonde isn't a typical color people with dark skin complexion wear. Yet when a lot of them do, we see how this hair color fits them just right. So try finding the color that you're most comfortable with, regardless of what people think.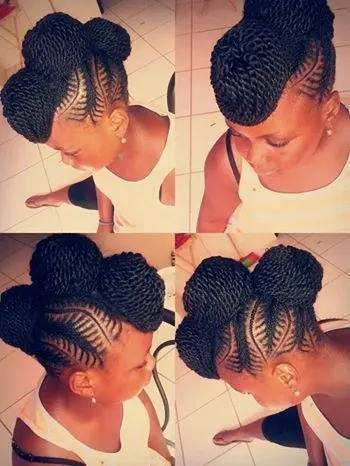 It takes an artist to create such beautiful crafts. With the faux hawk sides looking like a piece of art, be more stylish by tying up your long loose hair into three consecutive knots.
#55: Massive Top Knot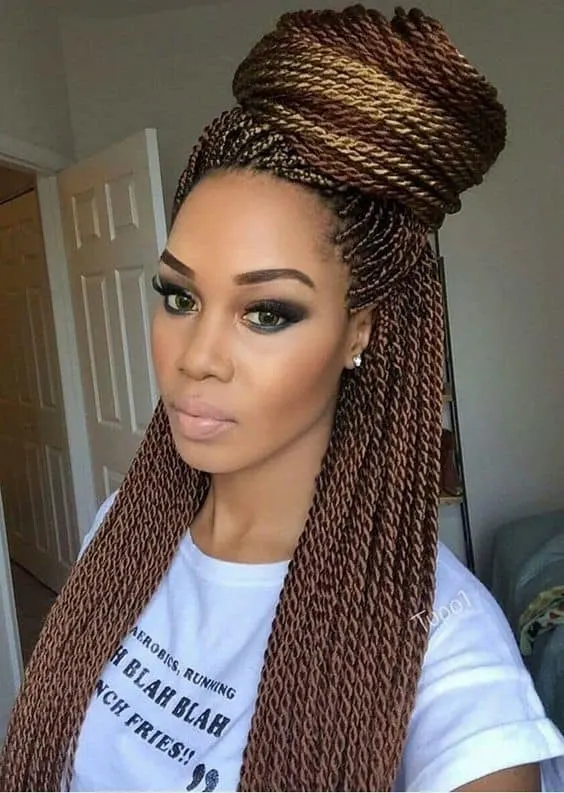 Creating a top knot with your long two strand twists will result in a beautiful gigantic knot. For a different feel in your style, consider installing some colored strands.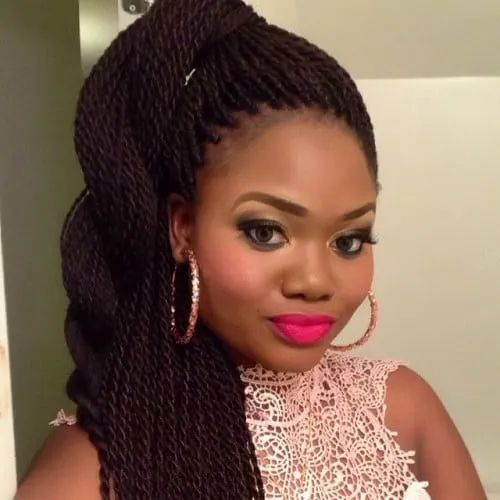 Use your medium sized twists to create an even larger twist. You can ponder making it into a high ponytail and let your face shine by removing any strands off of it.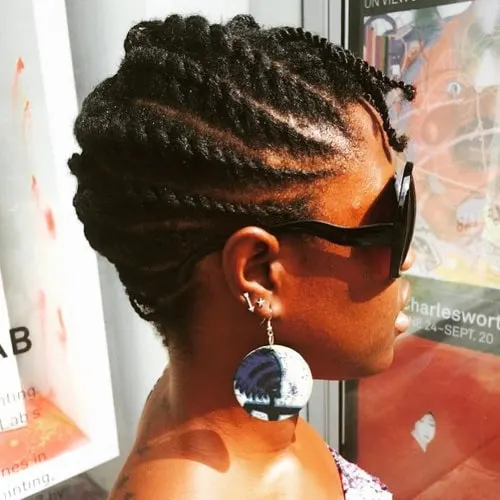 If your hair is short, don't worry from running out of styles to make. Even simple cornrows will look beautiful when created with two strand twists.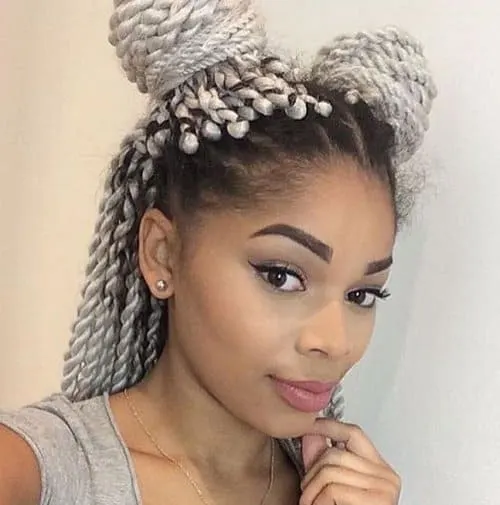 With your natural hair being pitch black, it'll be bold of you to install ash blonde extensions. The two colors form quite a contrasting fusion, yet oddly beautiful.
#59: Cleopatra Hair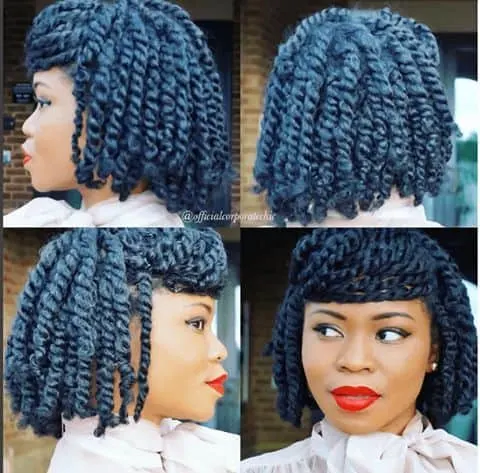 The first thing that comes to mind when seeing such hair is the Egyptian figure, Cleopatra. Although the bangs are sideways instead of downwards, this kinky twist hairstyle makes it strangely satisfying to look at.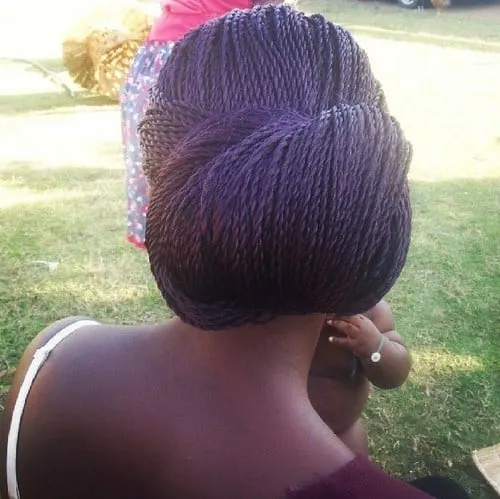 Thin twists are pretty easy to deal with and style. A low bun like this can be worn as an everyday style or on special occasions.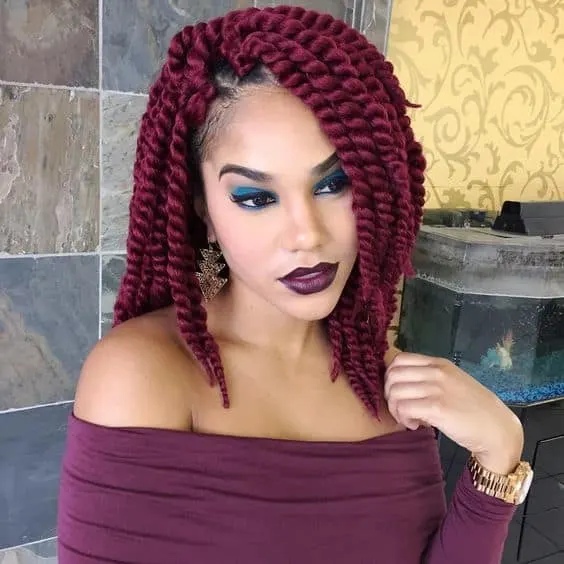 For a more voluminous hairstyle, jumbo twists are the key. If your face is oval and not that chubby, then a style with more volume will bring out some life into your look.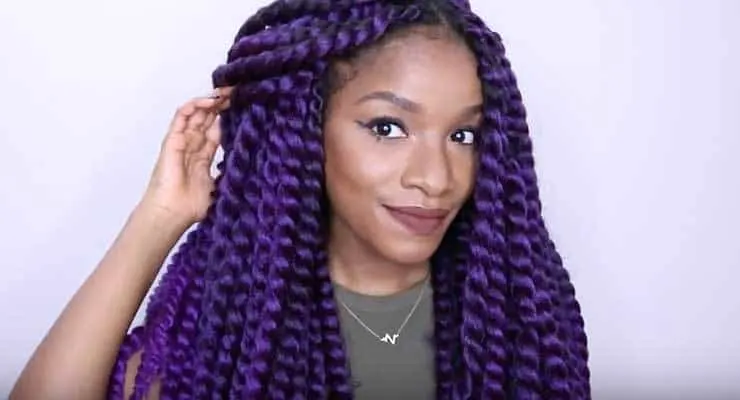 Some styles are definitely not meant to be done by one's self. Like the one here, merging several styles from cornrows to braids to twists all into one forms a style that identifies you for as long as you wear it.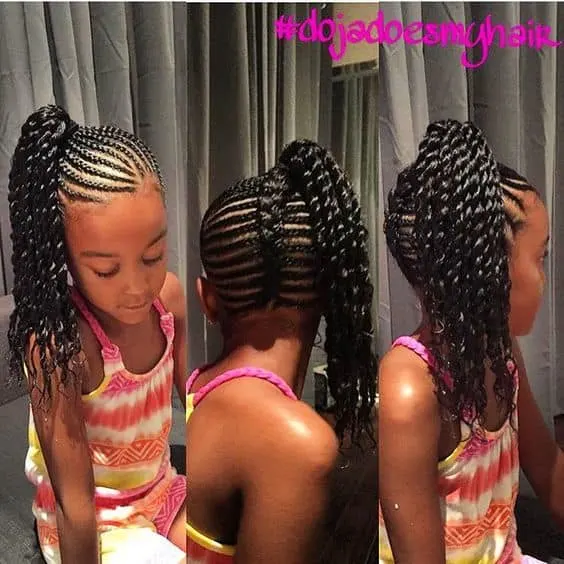 Don't be afraid to give some bold colors a try when it comes to your twisted hair. Worst case scenario if you didn't like it, is you'd change the extensions into a color you're more comfortable with.
Senegalese Twist Vs. Box Braids
#64: Medium Sized Twists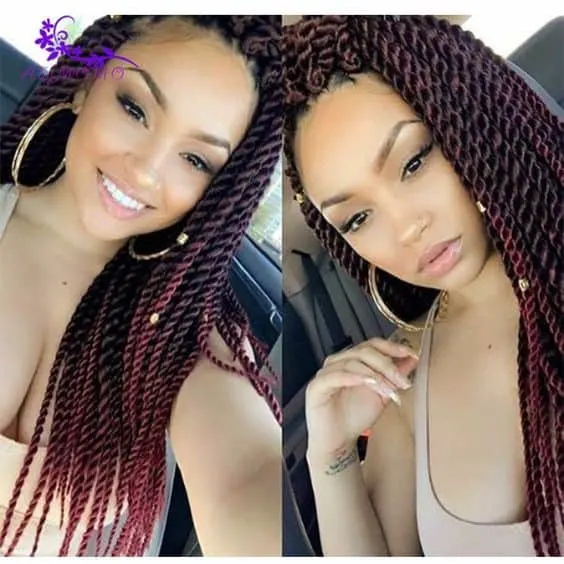 Medium sized two strand twists are in the middle of providing volume to the hair and being flexible enough to style easily. And so with a little hue, even leaving them loose will look significantly beautiful.
#65: Accented Twists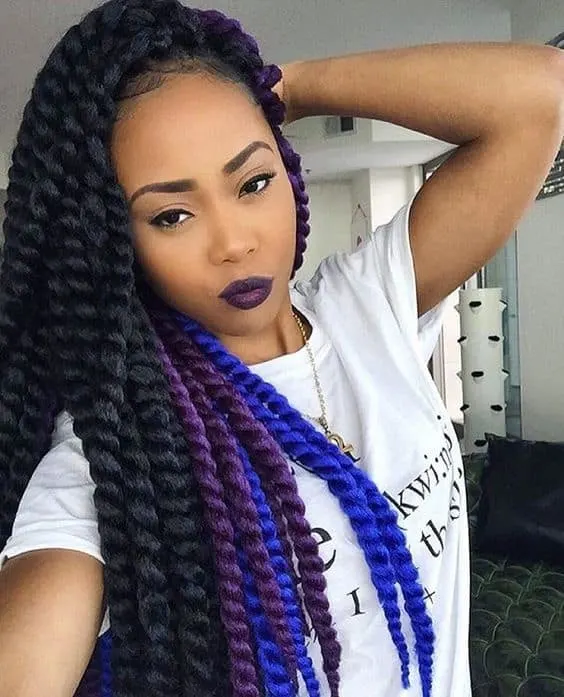 Jumbo hair twists, although not flexible enough to style, can still be given a different flair by accenting your twists with several colors.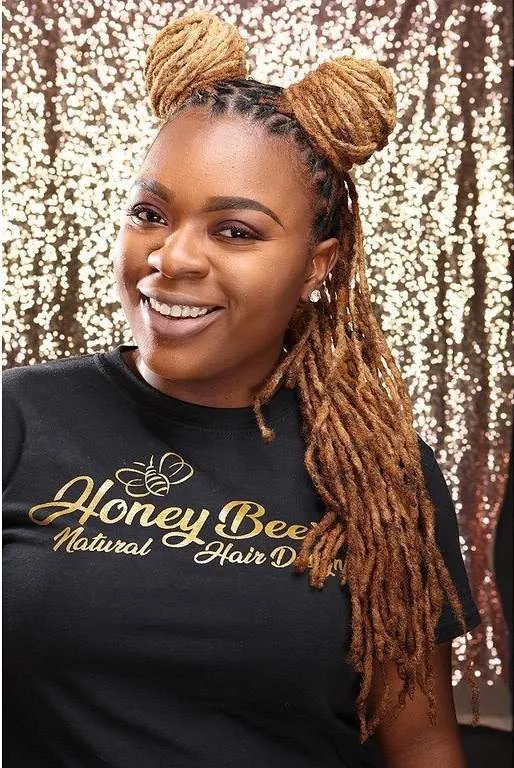 It's never too late to include colors to your hair! Caramel hair color is very common as it gives style and dimensions to one's hair. Two caramel half buns on the top without any center part look playful yet gorgeous.
Leave the lower strands long and loose. You can bring them in front as well for added style. Flat buns have always been very famous among African-Asian women because they make their thick hair very easy to manage.
Moreover, the twists add volume to the hairstyle as well! This style is ideal for women with a round face by adding length to it.
Red is the color of bold women. Red ombre hair is highly trending among black women worldwide with all kinds of hair textures. Two-strand twists on double-toned hair make an extremely gorgeous hairstyle.
Especially with bold colors like red, your twisted hairstyle will turn all eyes toward you. Two-toned twists are a very simple way to accessorize your otherwise simple hairstyle. Leave your twists open and loose and slay!
#68: Two Strand Re-Twists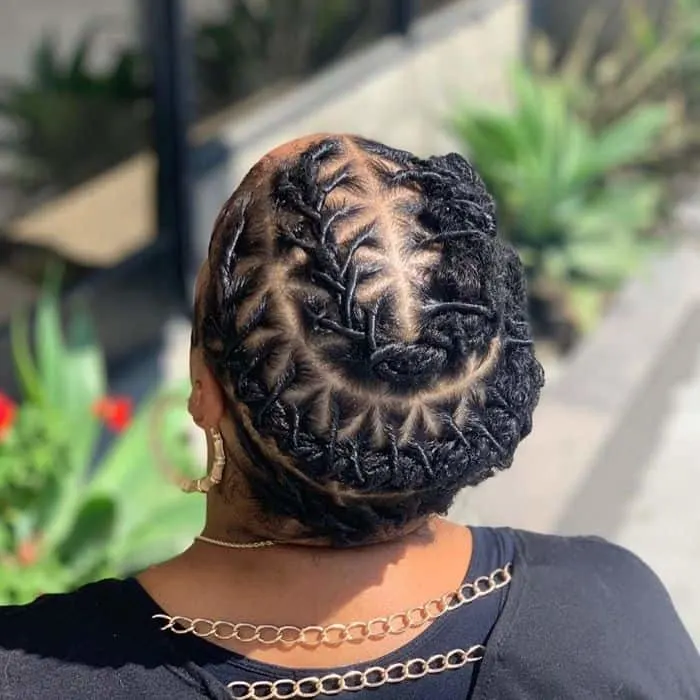 Let's make a style with twists on twists! This might sound complicated but this hairstyle is very simple to make. It is fun to add some variety and texture to the otherwise boring hairstyle.
A crown hairstyle with twists and re-twists creates a very versatile and bold look. Try this intricate hairstyle which comprises of the second layer of twist superimposed on the first one.
With this style, your hair will look gorgeous and get more manageable. Also, if you are not a bangs person and want a bold hairstyle instead of just a sophisticated one, this style is perfect for you.
#69: Octopus Bun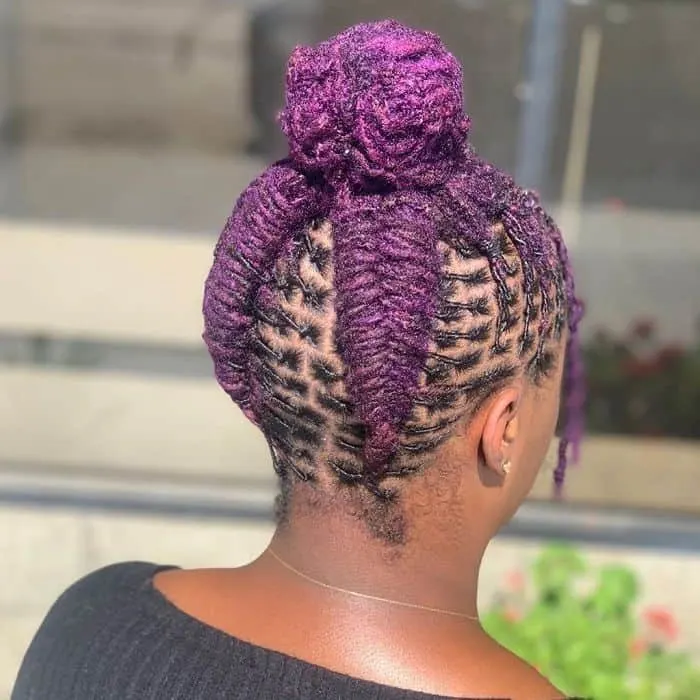 Who would've thought that simple two-way twists will make the hairstyle game so strong? A twisted octopus bun is no less than a masterpiece. The purple hair dye adds more hype and dimension to the style.
If you haven't tried this amazing hairstyle yet, you have missed a lot! Make two twists on the back of the head in an upwards direction and finally tie them on the top into a bun.
Similarly, twist the front hair as well. Leave some thinner braids on the forehead to style bangs for more creativity and diversity in the style.
#70: Twisted Faux Hawk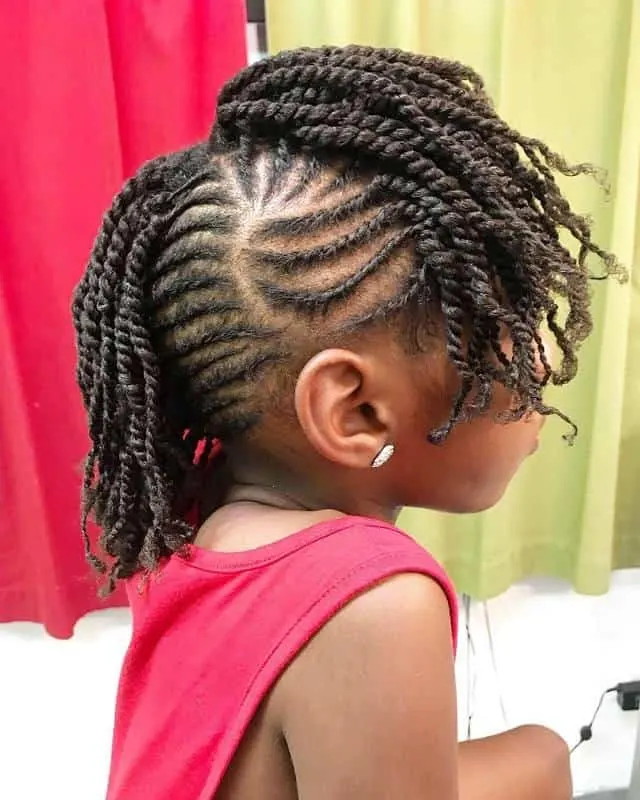 A twisted faux hawk is more like twists on the front and twists on the back. Divide your hair into a front and a back section. Make two-strand twists in each section and leave them loose in the respective directions to give a volumized faux hawk look.
How to Do Two Strands Twist with Natural Hair
To do two-strand twist styles, the following step is taken.
Prepare your hair to twist
Create and arrange each section
Divide the organized section into two
Start twisting and continue down the section
Keep your tension even and work on the ends
Curled ends and add finishing Product
Watch the following video about How to Do Two Strand Twist on Natural Hair
FAQs
What is a protective hairstyle?
The protective hairstyle is a term associated with natural hair women, or pretty much all women hear on a regular.

The right protective hairstyle in basic terms is merely a style that protects hair ends, while aiding you to reduce breakage, shedding, and tangling.
How long do protective hairstyles need to lock?
The time it takes to can range from six to twelve months. Several factors influence this duration.
Can I sleep with twisted hair?
Yes, you can.
How long do the protective hairstyles last?
The protective hairstyles last around 4 to 8 weeks.
Low buns, updos, bobs, loose and much more styles can be easily done with twists. Styling your kinky hair might be hard, but when they're in the form of twists, this job becomes much easier.
While two-strand twist natural hairstyles work well on various textures, they work better on full natural hair as it usually holds collectively without extra assistance. These hairstyles can also be combined with other hairstyles, like afros, braids, and flat twists.