Twists have been a great alternative to braids for those with kinky hair. And for those of you who have already tried twists and looking for a different urbanity, flat twists should be on top of your options list.
They are easy, fast and will give you a fabulous end result whether you go for natural hair or extensions. Those twists have evolved over the years into a horde of charming and enchanting styles. So… how about flat twist updos?
Amazing Flat Twist Updos for Women
Here are 21 flat twist updo ideas that will give you an idea about them, and help you choose your next style!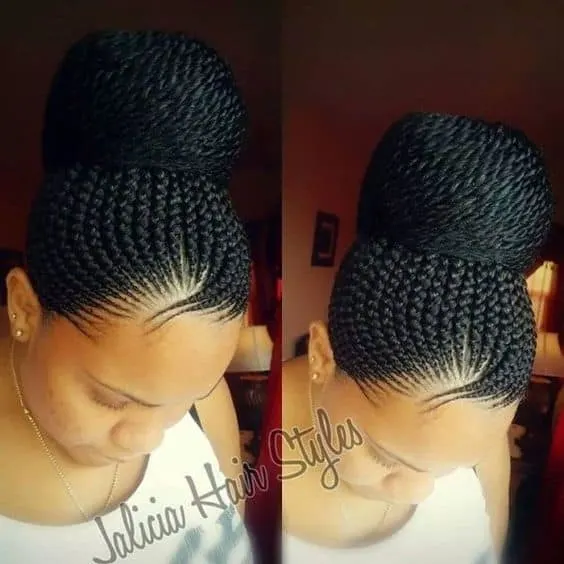 Neat buns were made for special occasions. With your flat twists, you can install extensions and make thin twists out of them. Then create a bun with those twists to get 'the' look, which will make you rule your world.
#2: The Art of Faux Hawks
This style is definitely not an easy DIY style, but it sure does intrigue and catches the eyes. This faux hawk can be created without shaving the sides of your head but by turning it into a piece of art. With the puffed afro hair going from top to back, you certainly set yourself off to such a casual event… Not.
#3: Elegant Flat Twist Updo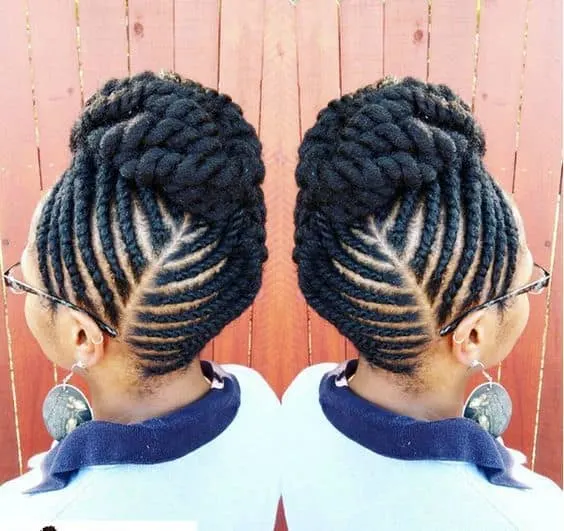 With flat tight twists around your head, you can create many unique designs like the one here. Using different styles and thicknesses of twists and creating an updo out of it will give you an exceptional outcome.
Magical Updos Dedicated to Medium Length Hair
#4: Shining Glamour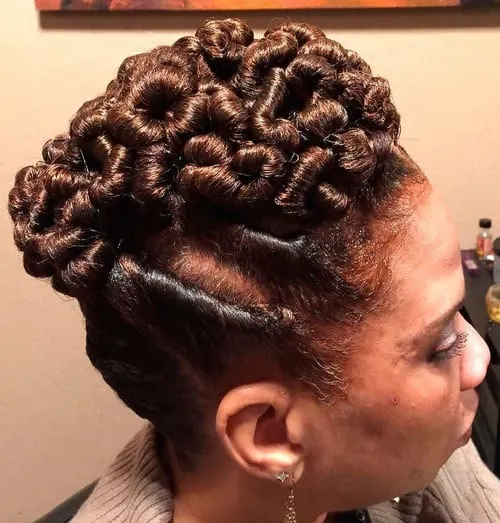 When it comes to flat twists, color plays a huge part in the presentation. If you're looking for deep colors, you can try whichever you think suits you best. But if you're aiming for a good shine, try taking a stylists advice for an effective result.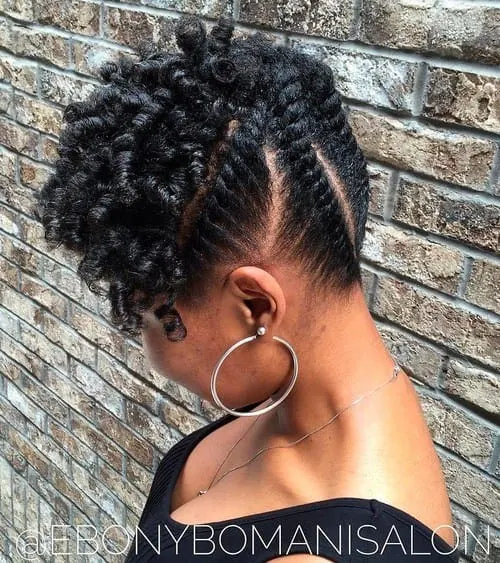 Try to have the right amount of tension on your hair so it doesn't stress. And secure the twists with bobby pins. Flat twist updos can go with short hair as well, with your flat twists going in a central direction and your top hair let loose, you'll get a cute updo, which fits perfectly in your short hair.
#6: Splendid Magnificence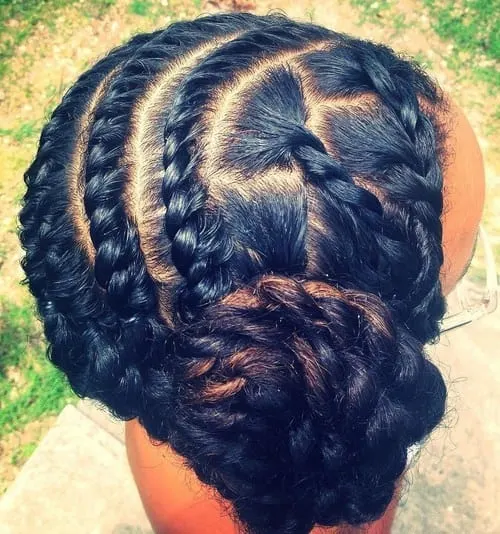 With flat twists like the heart of a flower flowing towards a bud, this style is adorable and feminine. The sided top knot really creates an innocent feel to your look.
Best Short Curly Hairstyles for Black Women
#7: Flat Twist Crown
Creating a crown out of your flat twists is really easy. A splendid style like that demands some practice, but once you get the hang of it, you can do it within minutes.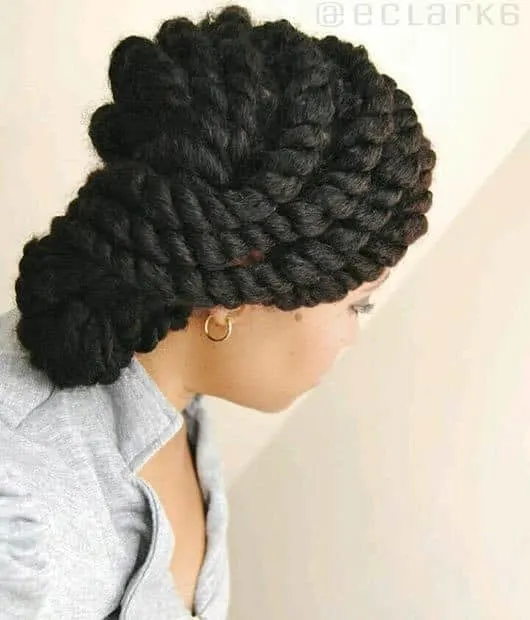 Side swept flat twists can exquisitely frame your face. With the twists being thick, it will create a more voluminous look than thin ones.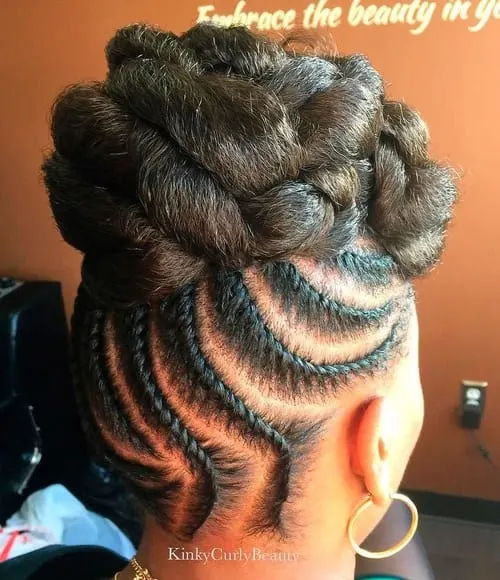 Try out this bold style with the use of some extra skills and extensions. This daring look is worth the try, since within its details you'll find the beauty hidden there.
#10: Colored Twists
Forming twists with colored hair will create color twists that make one shade fade gradually into the other. This form of hairstyle will create a head-turning outcome.
#11: Symmetric Twists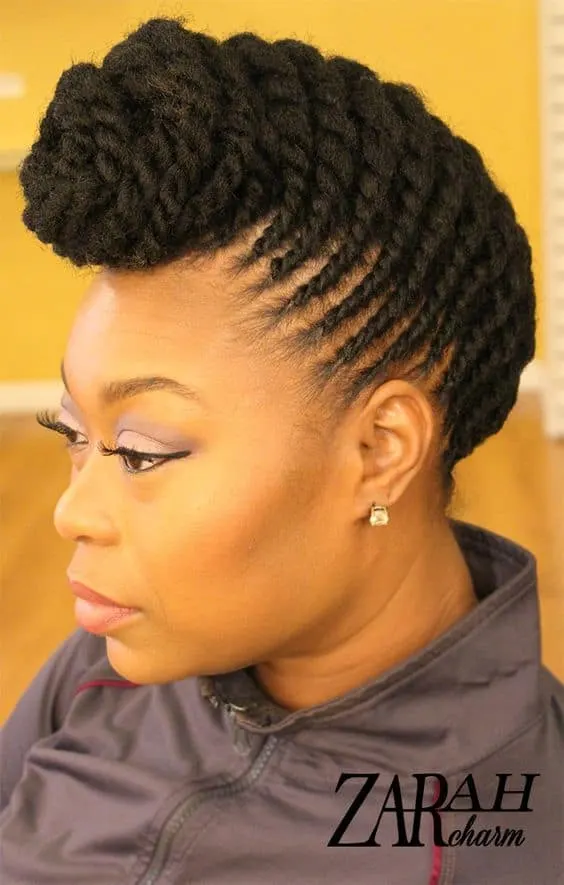 Create an updo with symmetric flat twists on the side that start out thin and thickens along the way. This hairstyle will keep your hair away from your face, and make your face shine.
#12: Flat Twist Updo with a Pouf
Creating a not so uniform look with the variety of styles is a good way to go. With your flat twists formed into a chain on top of your hair and a vintage pouf upfront, you're putting attention in your small pocket!
#13: Detailed Hair Updo
If you are into bold hair up do's, then this one's perfect for you. The flat twists are placed in circular motions and then focused and secured at the bottom of the head. This twist updo hairstyle is something that will turn people's attention your way. It is perfect for when you want or need to dress your updo up a little.
#14: Top Bun With A Pouf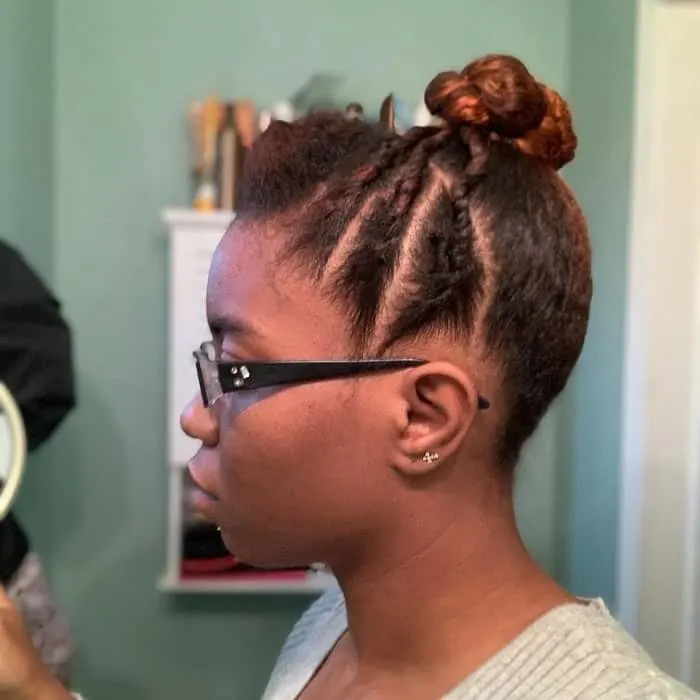 Buns are the kind of hairstyles that often go underrated. If you were to combine a bun hairstyle with flat twist and few other detail elements, you would be presented with something this beautiful!
The flat twist braids, which start on the crown area leading up to the bun, add an extra feminine element. The pouf at the front also adds some extra oomph to this twisted updo.
#15: Voluminous Updo Paired With Twists
When it comes to flat twist as details, you often only see them on the front crown portion of people's head. This hairstyle is a great demonstration of how instead of focusing on the crown area, you can focus attention towards the back too. This technique is simple yet unique, and above all, it definitely looks like a stunning flat twisted updo.
#16: Silver Accents with Twists
A great way to mix your flat twist updo is by using your flat twist braids with beads to create an illusion of a fringe. This will help shape your face better and add something more to your hairstyle.
Adding accessories is also another way of mixing it up; the silver accents here look great with the hairstyle. You could match the accents with your outfit.
There is something quite pleasing when it comes to jumbo twists that are sectioned at equal intervals, creating deep parts in between. A unique way of wearing them is having them braided upward and into a bun.
This fun yet sophisticated updo hairstyle with flat twists can be worn as and when pleased due to its versatility.
A great way to balance out details that are focused at the back is by adding something equally eye-catching at the front. Here, red ringlets that are towards the front balance the entire outlook. If you have colored hair, this is one flat twist updo style is something you should try!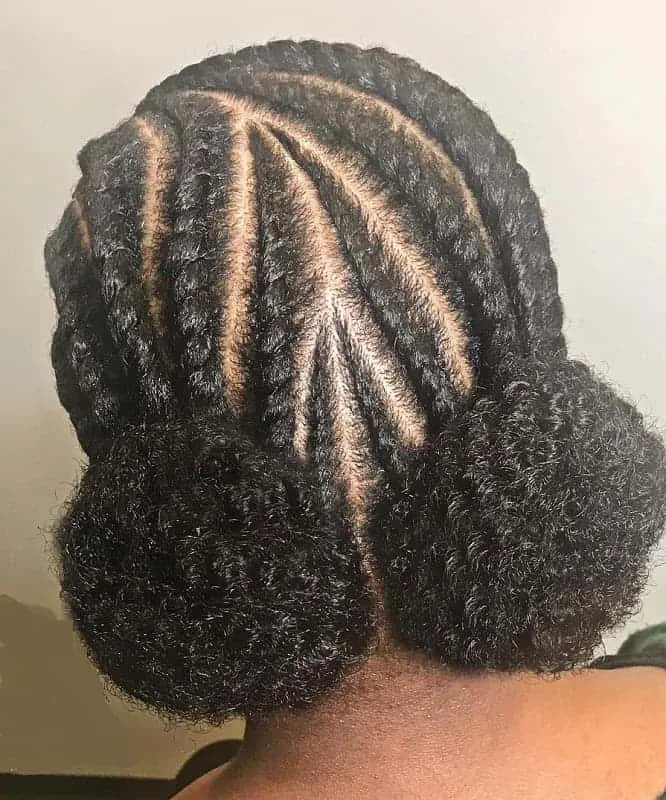 Space buns are hairstyles that will never go out of style. Hence, this twist updo is something different yet safe. The great things about space buns are that you can have them placed as and where you would prefer them to be.
Here, they are placed at the back of the head wherein the braids are blended into them with a gentle appeal. It's a great hairstyle for when you want to dress it up.
#20: Flat Twists for Grey Hair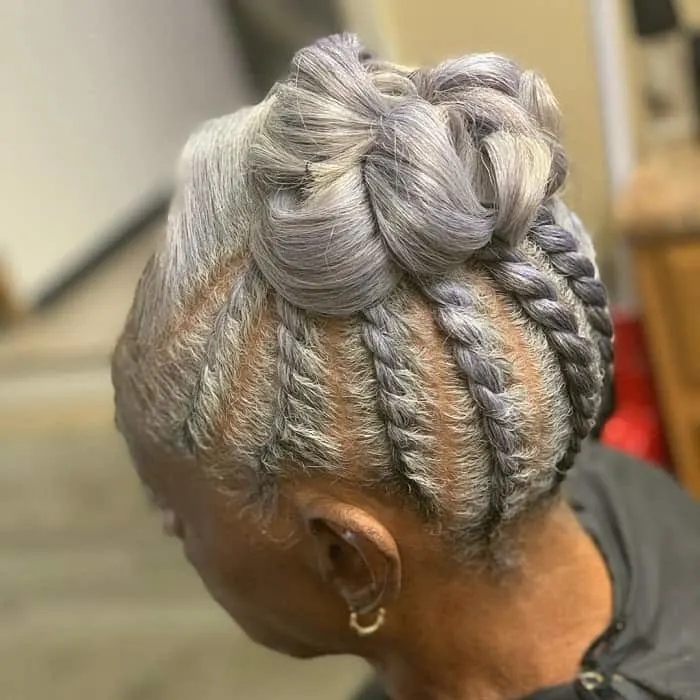 The best thing about flat twists is that they aren't for women of a specific age. It's a great way to spice up your mom's or grandmom's hairstyle by including them in an updo for a special occasion.
Voluminous buns have recently made a comeback, having flat twist complemented with gold accents into a huge bun is one of the most feminine yet striking flat twist bun styles!
With all those styles ranging between the long, short, curled, crown, Faux Hawks or simply loose, you can try whichever fits your taste and personality. Not to mention, a lot of updos are easy to create and look fancy enough for special occasions, which can be a huge advantage on your part.
Give some of those flat twist updo styles a try and provide us with your feedback on how they turned out to be in the comments below!