If you're getting bored with your natural hair color and ready to mix things up a bit, why not select one of today's stunning pink hairstyles?
These days, "pink" isn't simply "pink." Magenta, fuchsia, rose, baby, cotton candy, and hot are just a few of the vibrant shades you can choose from when you commit to going pink.
There's no limit to how you can style or cut your pretty pink hair. Short pixies, jawline bobs, medium shags, or waist-length beachy waves; a bright pink color transforms an ordinary day-to-day look into an innovative signature style that will turn heads.
Who can adopt pink hair?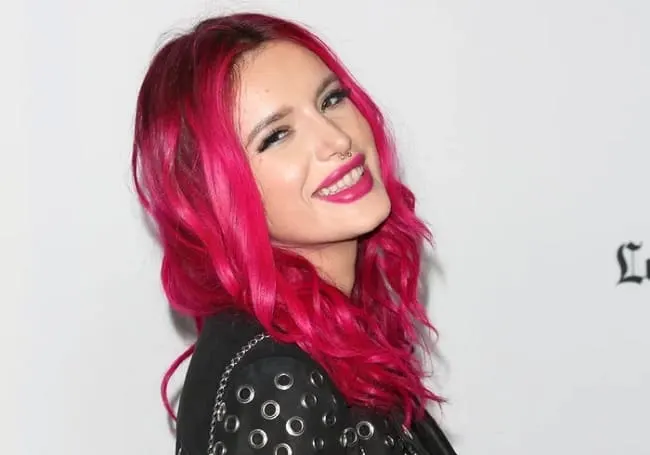 The good news is that pink hair is very democratic and can fit many skin tones. However, you need to find the right nuance for you. You can get a certified professional that has experience with hair colorimetry to evaluate your hair.
Specialists recommend that women with warm (darker) skin tones choose a cool pink shade, such as magenta and bright pink; meanwhile, women with cool (lighter) skin tones should choose warmer shades such as blorange and champagne. These will contrast with the skin tone in a nice way.
The most important thing for getting pink hair successfully is talking to a hairdresser you trust so that you can avoid possible future frustrations and regrets. After all, a change of look should be a pleasure and not trauma.
Top 35 shades of pink
Now that you can match your new hair color to your skin tone let's learn the most popular shades of pink for a cool and modern look.
1. Pink Highlights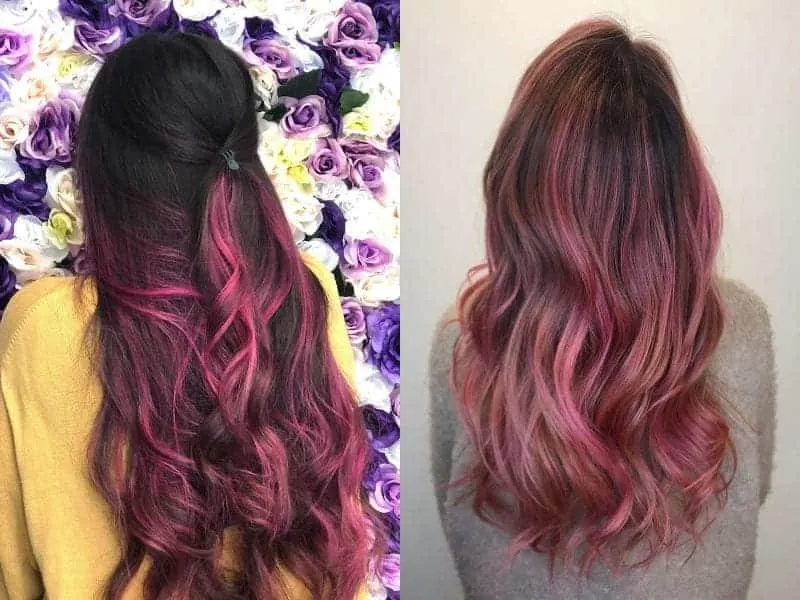 If you're not quite ready to go all-out pink, you can liven up your long brown hair with lots of light pink or magenta highlights. Accent the pink hairstyle's beachy waves and curly textures with a small hair clip to enhance the vibrant "pink pop" of color.
2. Pink Ombre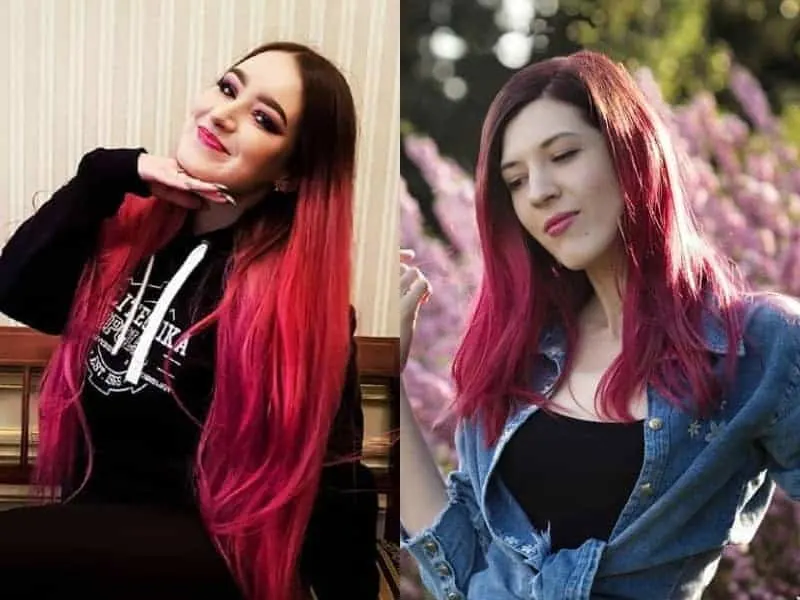 Color your medium or long hair with a rich pink ombre in fuchsia, magenta, and tangerine tones. When you part your hair on the side or in the middle, the dark roots stand out sharply against the gradual color change of the hot pink color palette.
3. Pink Balayage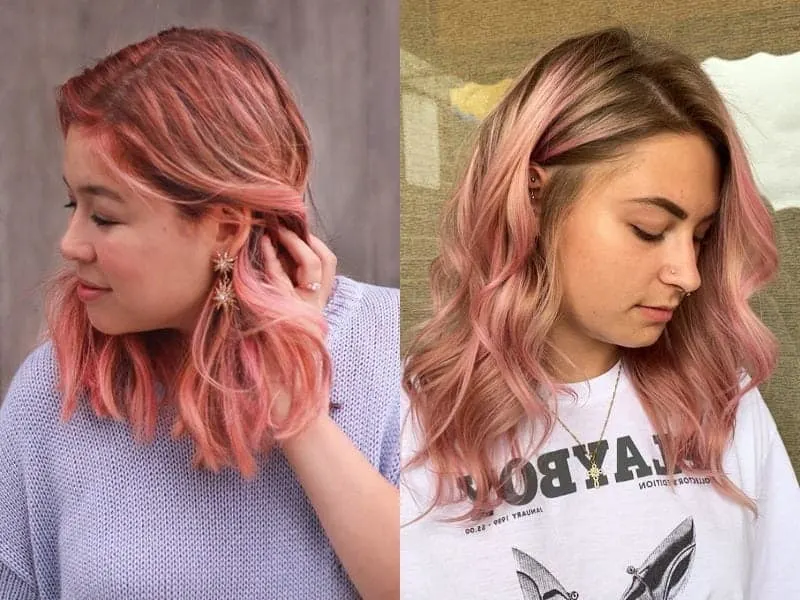 A light pink balayage adds an explosion of color to otherwise ordinary chestnut brown or dark blonde hair. Part your medium-length, wavy hair to one side, and tuck some of the textured pieces behind the ear to show off the different shades of pastel pink and blonde.
4. Magenta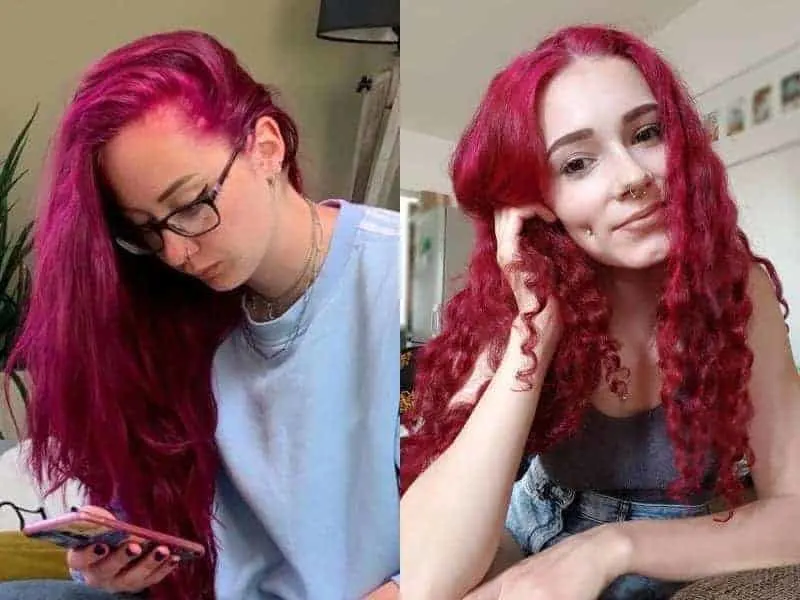 Magenta is a shade of pink that's cool in tone; it tends to look best on women with pale skin complexions. If you have straight hair, flip one side completely over the top to create a pink comb over with extra volume. For curly-haired girls, part it in the center and use a flat-iron to create a smooth and shiny silhouette down to ear level.
5. Pastel Pink Hair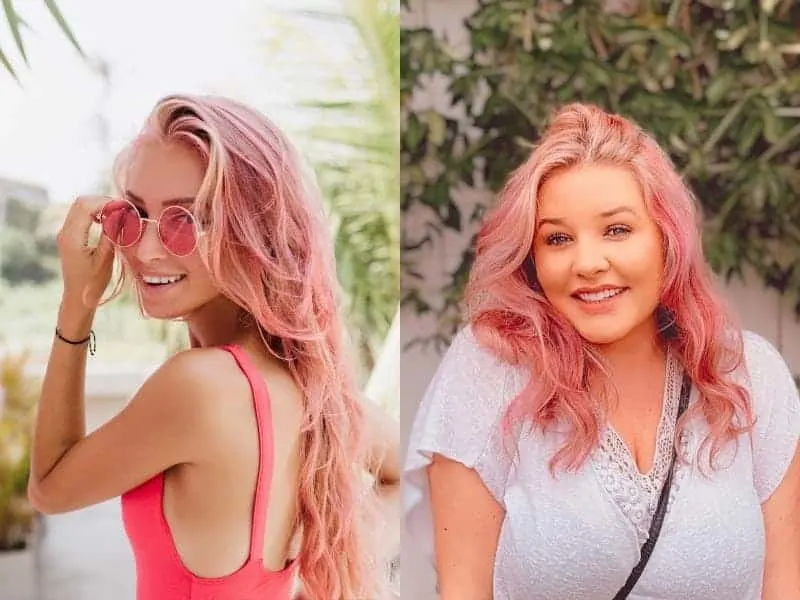 Wear bright pink sunglasses and style your long or medium-length hair into strawberry pink-blonde beachy-waves for some extra outdoor fun. A half or full comb over adds some volume at the top while framing the face beautifully.
6. Light Pink Hair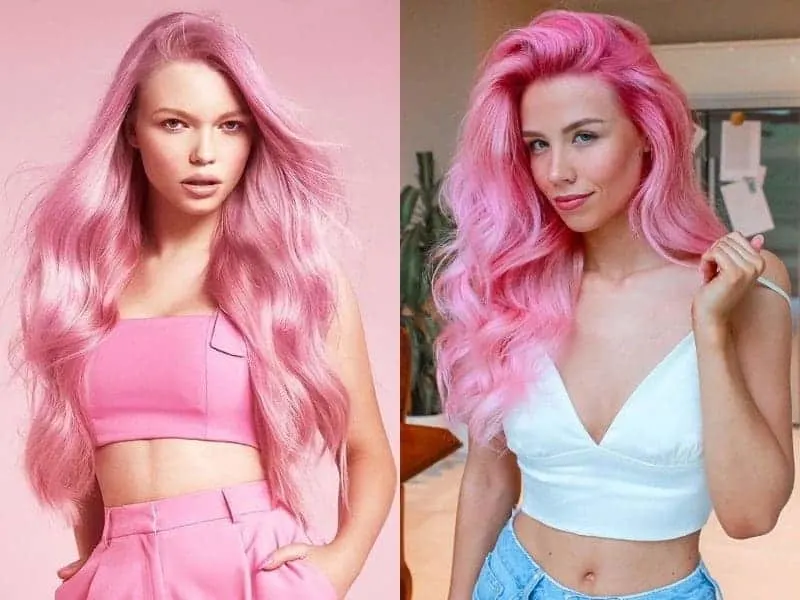 Are you brave enough to wear your long wavy hair in an electric pink color? There's no question that you'll attract a lot of attention when you commit to a sexy side-parted comb over. This illustrious pink hairstyle is full of texture, sheen, and, most importantly, dramatic flair.
7. Hot Pink Hair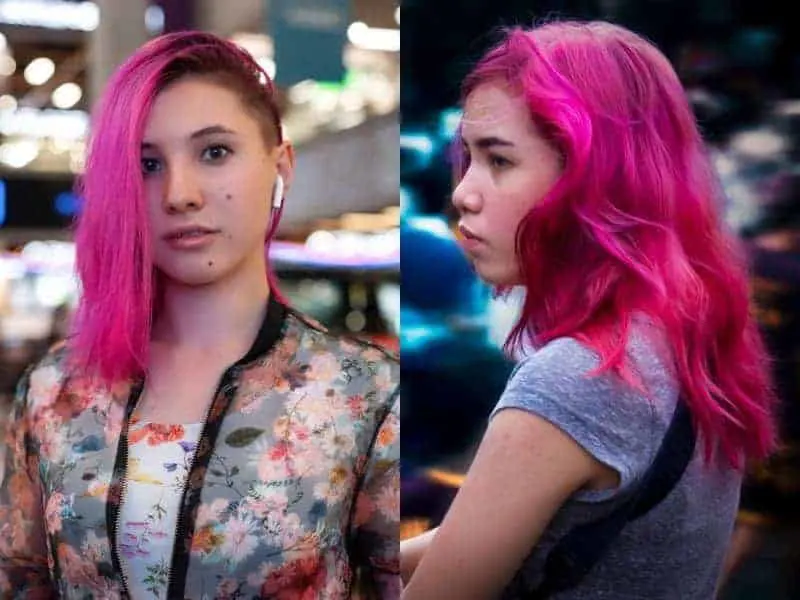 Straight, shoulder-length hair is anything but ordinary when it's dyed an electrifying hot pink color and styled into a comb over. If you wish, you can tone down the shock of the pink hairstyle by letting your naturally dark roots show through via a shaved undercut.
8. Baby Pink Hair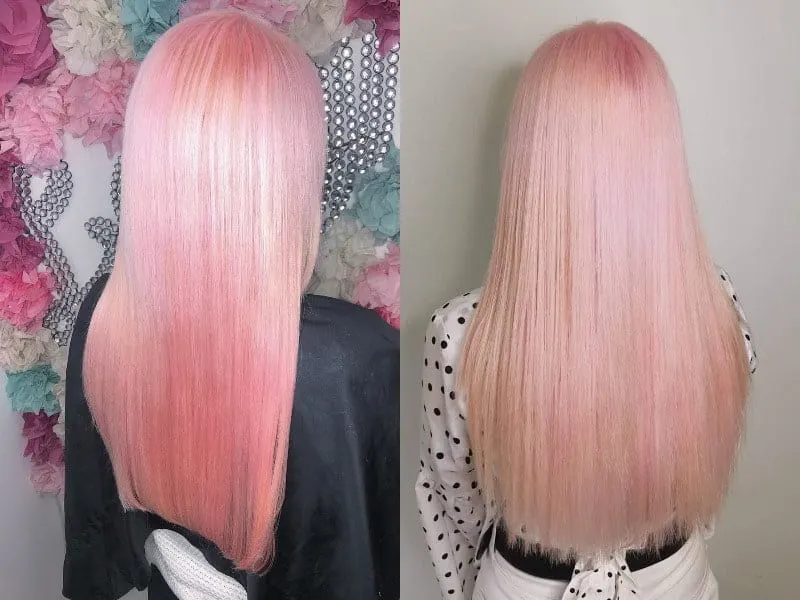 Waist-length straight hair always has a silky and smooth quality to it, especially when the hair is all-one-length and cut with bluntly snipped ends. A baby pink tone has an iridescent mother-of-pearl luster that shimmers and shines as you move your head from side to side.
9. Bubblegum Pink Hair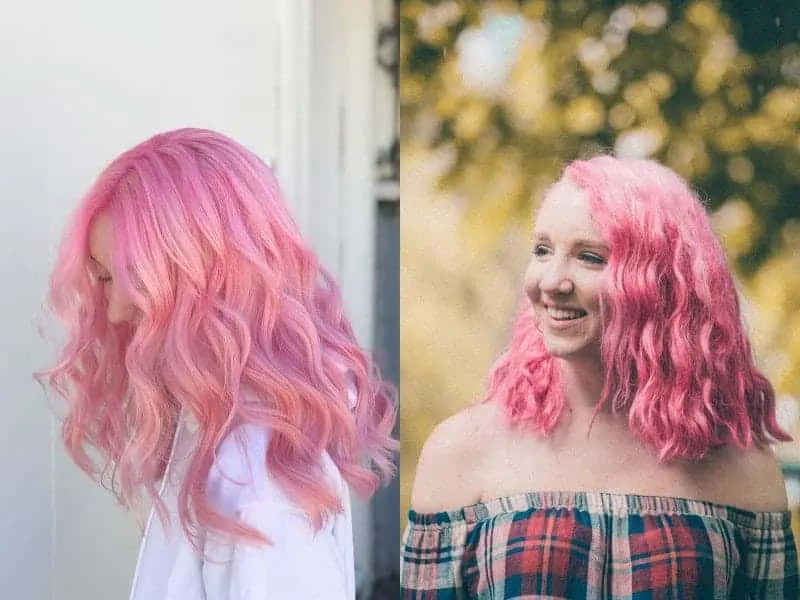 A bubble-gum pink hairstyle has a muted rose tone that's flattering on most skin complexions. In addition to the pink overtones, the color also has subtle hints of yellow and off-white, which can be seen more easily when you wear your hair in a wavy or curly hairstyle. Frame your face by parting your mid-length hair in the center or the side and let the textured angles caress the cheekbones and forehead.
10. Dusty Pink Hair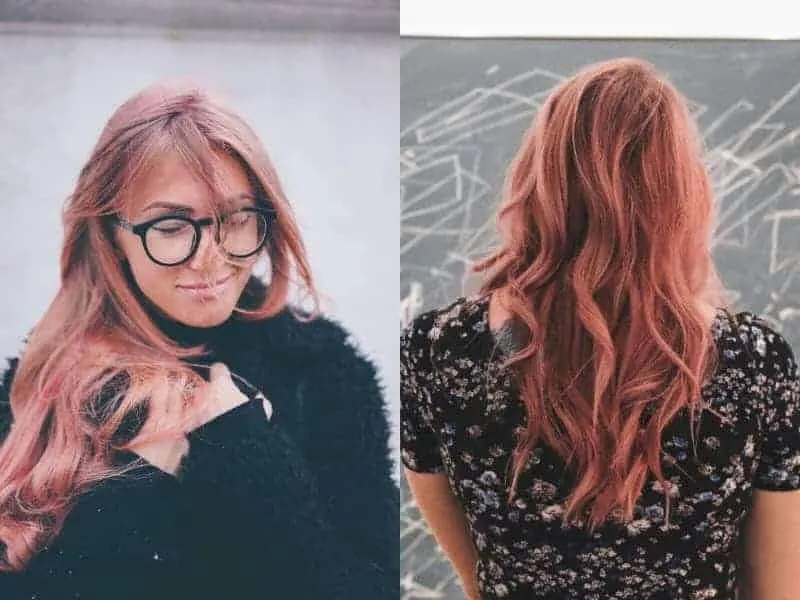 If an all-out bright pink feels too over-the-top for your long wavy hair, go for a more subtle, dusty tone. A muted pink color looks spectacular over light brown hair that's got lots of layers and loose, wavy strands. Part this pink hairstyle on the side or center, and wear some chunky black eyeglasses as a playful way to frame your face.
11. Cotton Candy Pink Hair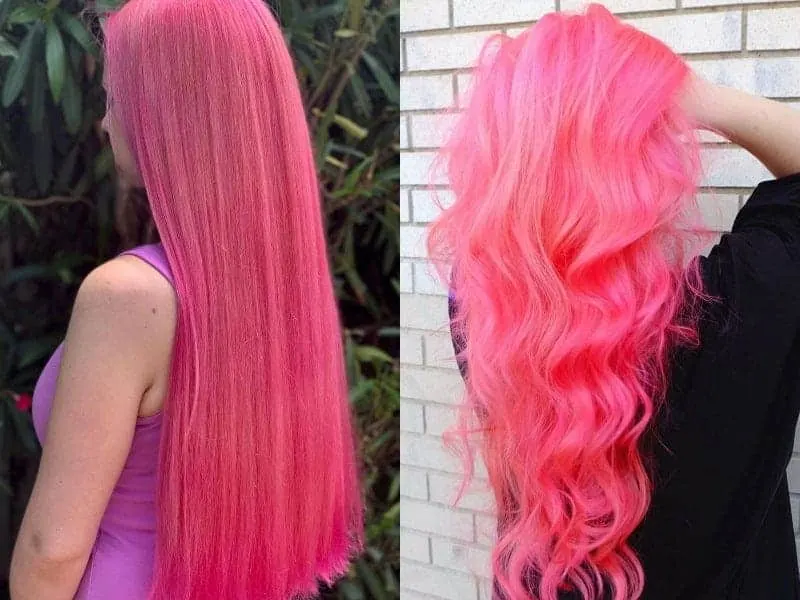 Cotton candy pink hair looks like a sweet mouth-watering treat that's yummy enough to eat! The long, straight, or wavy strands of this lovely pink hairstyle have a touch of pale yellow and lend a striking impression as they cascade down the length of the back.
12. Faded Pink Hair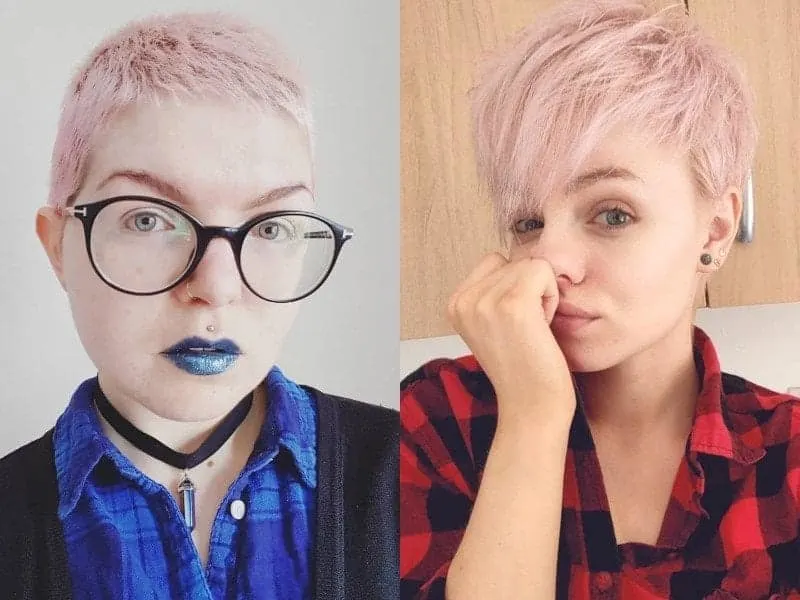 Pale skin tones look even more haunting and mysterious when matched with a purposely faded pink hair color that's closer to a washed-out taupe. The light pink hue looks fantastic on super-short pixie hairstyles with or without bangs. Bright blue lipstick and huge dark eyeglass frames provide a pop of color to create even more visual interest.
13. Neon Pink Hair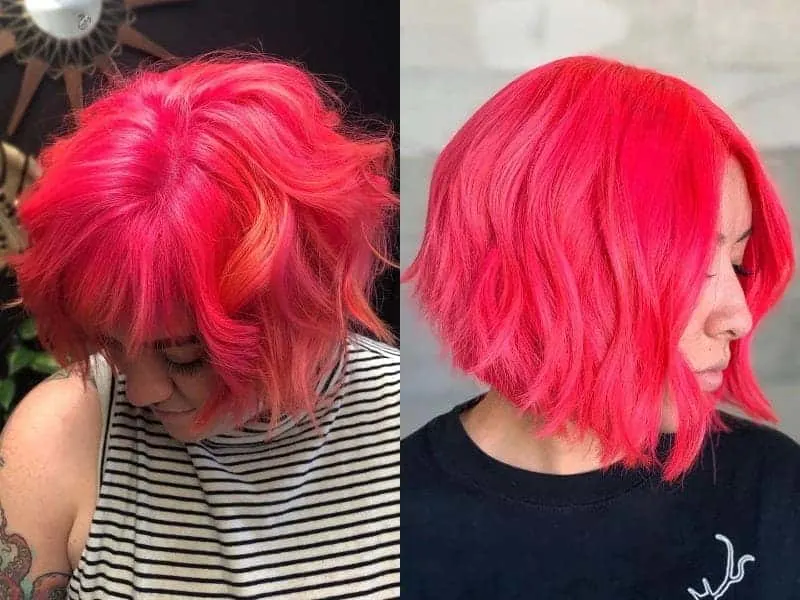 An inverted, neon pink bob is a sizzling way to wear your layered straight or wavy jaw-length hairstyle. Straight piece-y textures or chunky razored locks frame the face with bright splashes of pink color and subtle yellow undertones.
14. Coral Pink Hair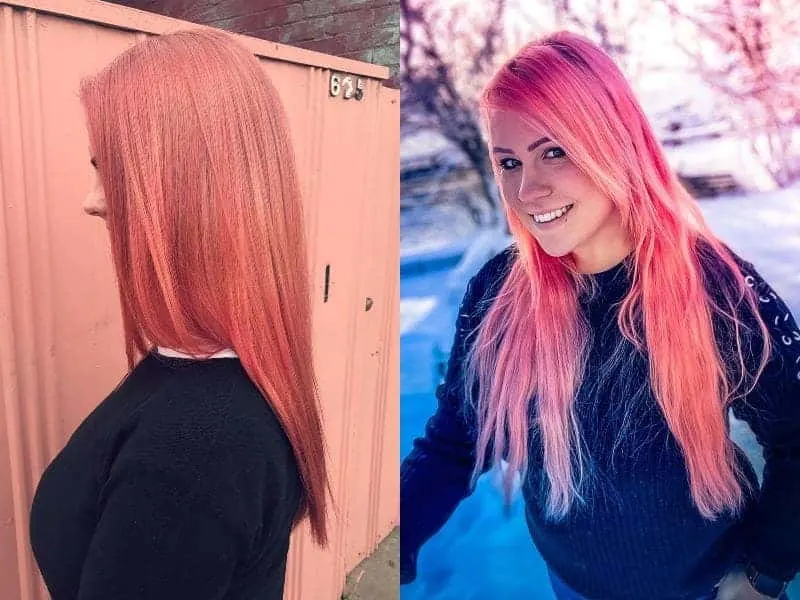 A fluorescent coral pink hair color tricks the eyes from every angle; is it orange, yellow, or hot pink? It's a combination of all of these colors, and the fiery hue looks amazing on women with long straight hair. Wear dark navy blue or brown tops (not black, it's too Halloween-like) to show off the fiery pink color.
15. Short Pink Hair
Pink pixie haircuts look edgy and cosmopolitan regardless of whether the bangs and crown section are textured and combed forward or straight and combed back in a mock-mohawk style. Shave the sides close to the scalp for a tomboyish flair, or leave a little more length for a more feminine rocker appeal.
16. Pink Long Hair
Show the world your fun-loving side by proudly wearing a long pink hairstyle. Not everyone feels confident wearing pink hair, and even fewer people know how to enhance the vivid color with the appropriate clothing, jewelry, and other accessories. Use a flat-iron or a curling wand to add texture and volume to your long pink locks.
17. Pink Curly Hair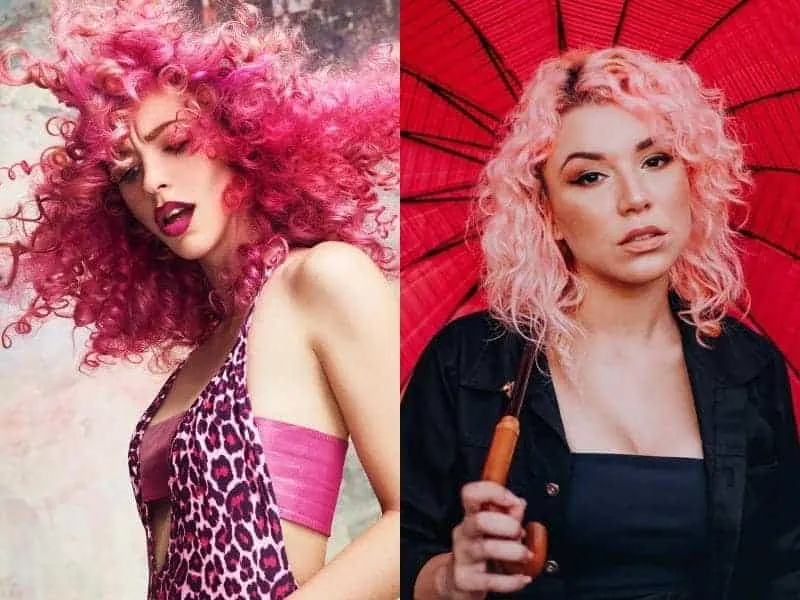 What's even better than bright pink hair? Bright pink curly hair! Crank your shoulder-length curly hair up a notch by dying it an electrifying fuchsia or baby pink balayage. Each layered ringlet shows off the full spectrum of darker to lighter pink hues that enhance the natural rosy tones of your cheeks and forehead.
18. Pink Hair with Bangs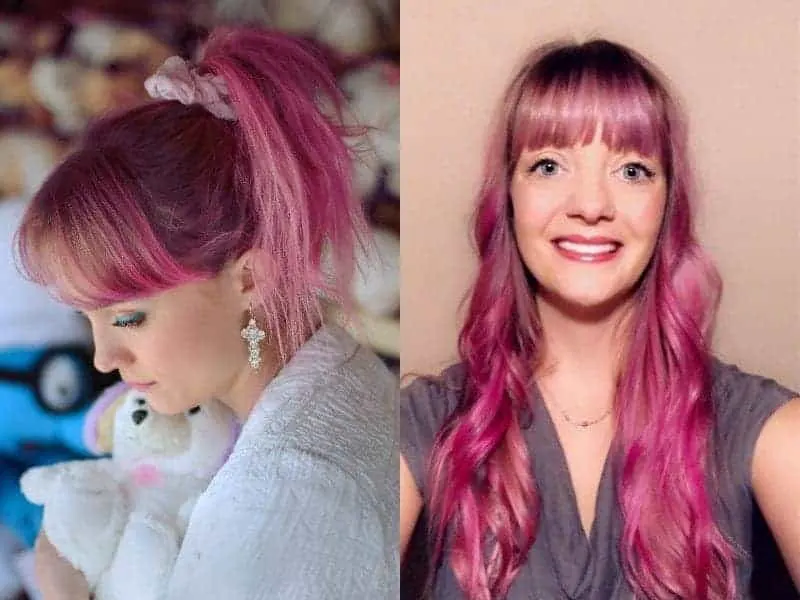 Pink hairstyles with straight bangs have a cute, little girl quality that's endearing and sweet, even if you're a full-grown adult. Wear your pink bangs full and thick or part them in the center, so a little bit of your forehead shows through. Use a simple white scrunchy to create a retro-style ponytail that shows off all the pink hues at the ends.
19. Pink Hair Updo
Wear your pink hair up and off your neck and shoulders with a casual, tousled top-knot or a more formal sock bun, aka, donut bun. If you keep your natural root color, the pink portion of a bun will stand out in contrast to the rest of your hair. Leave some loose pink tendrils around the ears and the nape area and match your funky sunglass frames with your base root color.
20. Black Girls with Pink Hair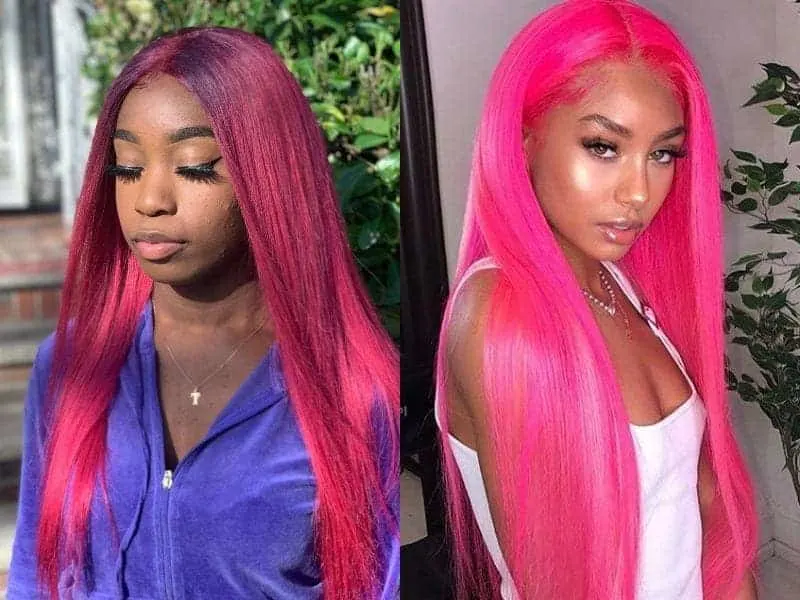 Smooth and silky pink hairstyles that look healthy and shiny are available to all women, even to those who don't have naturally straight hair. For women who need a little extra help, a sew-in wave can do the trick. Shop around until you find a solid shocking pink or magenta ombre that suits your darker complexion the best.
21. Short Pastel Pink
This version is popular for those who want a stylish but delicate look. It is a lighter shade of pink, ideal for all skin tones and perfect for a feminine and delicate look since it isn't too bright.
22. Bright Pink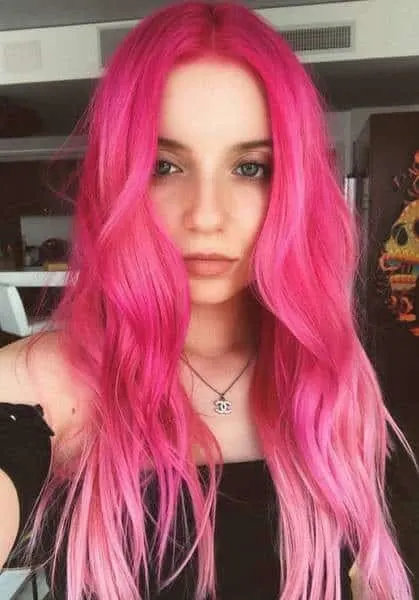 Unlike the pastel one, bright pink is not discreet at all. This is a vibrant shade that makes for a bold, cooler look for women who aren't afraid of changes.
23. Champagne Pink
This is one of the lighter pink shades. It is obtained by mixing gold and pink pigments, resulting in a shade halfway between pink and blonde. This nuance is recommended for women who favor a discreet but modern look.
24. Blorange
This is the mix of pink, gold and red, resulting in a rosy-orange shade. Blorange hair has been one of the favorite trends of girlie girls, and it looks like it will remain like that.
Interesting Topics for You:
25. Magenta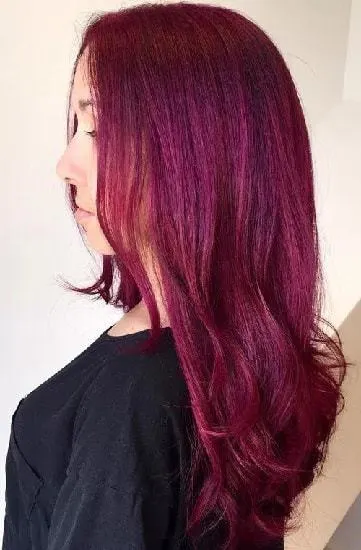 Magenta hair shade is a mix of blue, purple and red, to make a darker but vibrant shade of pink. It is ideal for women with darker skin because it contrasts nicely with the skin in a harmonious look.
26. Asian Pink Locks
Asian women can take part in the pink hair trend too by going for a muted magenta hue or a wine pink base with mauve highlights shining through to accentuate their skin tone. Couple the pretty hair color with an angled bob or a wavy lob.
27. Dark Roots
Here is a look for the laid-back ones. Dye the shoulder-length tresses in a bubble pink hue for a monochromatic appeal. You can also try a pastel purple to pink ombre keeping the roots dark and letting them grow to add up to the style. Finish off with waves.
28. Brown And Pink Hues
Although it sounds a bit unusual brown and pink hair shades create a stunning contrast. Go for a chic balayage with the light copper brown hue transitioning seamlessly into the coral pink tinge. A baby pink dip dye style is also perfect to spice up a long brown mane.
29. Pink + Purple Color Block
All girls love pink and purple together then why not try it on the hair too? Go for a half pink half purple look or use the color block technique alternating the shades on both sides of the face to drop some jaws.
30. Add Some Blue
Pink and blue tresses are too good to be true. Experiment with different shades like adding aqua blue highlights to rose pink locks and rocking them with side braids. Others can keep it low-key by playing with pastels and creating a pink to blue gradient or vice versa!
31. Soft Ombre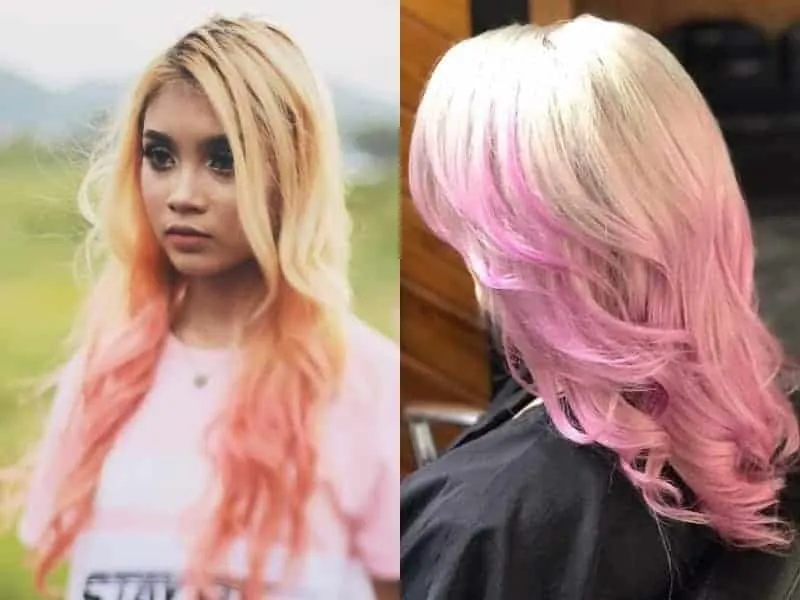 A hint of pink on blonde hair can give your hair a gorgeous makeover effortlessly. Try out an ombre look for the best results. Remember that a warm salmon pink tinge looks best on a golden blonde base while platinum blonde hair pairs best with a cool baby pink tone.
32. Pop of Colors
Turn around some heads by adding vibrant hues including hot pink, electric purple, aqua, and midnight blue to your mane giving off mermaid vibes. Add the pink on the top or use it as an underlayer. Blinding!
33. Bold and Bright
Bold women can express their wild side by going for a curly bob with neon orange hair and hot pink roots or trying out the split dye technique instead. Complete the bedazzling look with micro bangs covering a part of the forehead.
34. Frosted Mane
This nice subtle color lies among the top pink shades of 2023. Those who want to keep their look soft yet noticeable can try out a dusty rose pink balayage on a silvery grey mane. This style is however high maintenance demanding regular touch-ups.
35. Green Magic
Create magic by adding some green goodness to those bright pink locks. Go for an emerald green top or let it appear midway while fading into a neon green tinge reaching the ends resulting in a funky dichromatic look that is sure to catch some eyes.
Related: Can Someone Be Born With Naturally Pinkish Hair?
How to Get Pink Hair
The ideal technique to get your new pink hair depends solely on what effect you want. If you wish to go all out, you can dye your hair entirely, giving it a stylish and futuristic look.
If you're more discreet, you can start slowly, dying only the tips. You can also choose less invasive, more modern techniques such as ombré hair. A color gradation from hair roots to tips can also give your hair a softer, delicate look without a drastic change.
Checklist Before Going for Pink Hair
No matter what shade of pink you choose, you'll need to bleach the desired region completely. You can do this in a hair salon or at home.
However, since this process usually damages your hair a lot, you should take some steps before you start. This way you'll avoid issues like dry hair, breakage and the dreaded "chemical haircut".
To ensure your hair stays healthy, have a previous evaluation with a hairdresser you trust. You can also do nutrition and reconstruction treatments to make your hair stronger before the procedure.
People with darker hair colors can have a harder time achieving their desired shade of pink. In this case, just stay calm and be patient. You will gradually reach your desired shade.
How to take care
Since your hair will likely become more sensitive after bleaching, it is recommended to moisturize your pink hair weekly to seal the cuticles and delay color fading.
When washing your hair, use products that are specific for dyed hair – prefer those without sulfates, since they will clean your hair in a gentler way.
It is important to remember that colorful dyes tend to fade more quickly than conventional dyes. For this reason, you'll need to return to the beauty salon to retouch your colorful look more often.
Watch The Following Video about How to Get Perfect Pastel Pink Hair
See below beautiful photos of pink hair to get inspired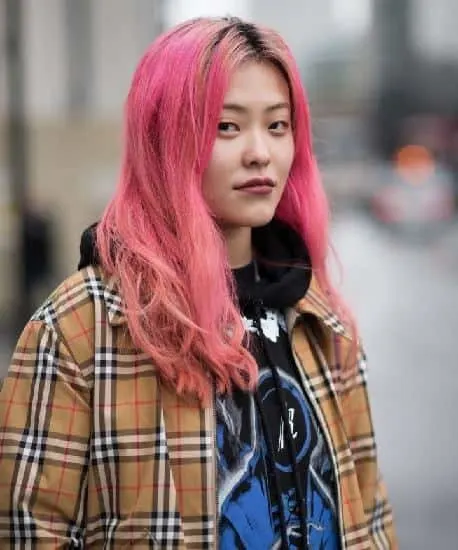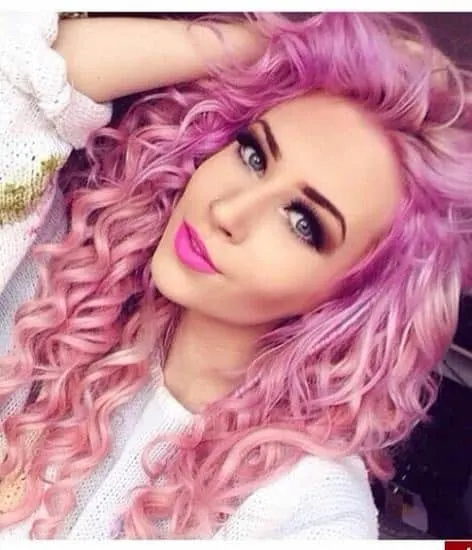 Wearing pink hairstyles is a great choice for women seeking ways to express their individuality and unique lifestyle.
Once you decide on a pink hue and hairstyle that mirrors your inner energy, you'll be able to carry off the bold color palette with confidence and grace.
Trending Topics