For a while now, colorful dyed hair has been a hit with women as a fashion trend, and not only something you'd see on rebel teens.
Nowadays, this is a trend among fashionistas, beauty bloggers, and YouTubers who adopted this modern, stylish look that is full of attitude.
Among the countless color possibilities, a few have become popular among people who want a radical transformation – such as pink hair. This coloration is super versatile and has many different shades, which made it popular with it-girls that go for a rocker look.
Are you wondering what shades of pink are most sought after in beauty salons so that you can look like a celebrity? Then keep reading this article!
Who can adopt pink hair?
The good news is that pink hair is very democratic and can fit many skin tones. However, you need to find the right nuance for you. You can get a certified professional that has experience with hair colorimetry to evaluate your hair.
Specialists recommend that women with warm (darker) skin tones choose a cool pink shade, such as magenta and bright pink; meanwhile, women with cool (lighter) skin tones should choose warmer shades such as blorange and champagne. These will contrast with the skin tone in a nice way.
The most important thing for getting pink hair successfully is talking to a hairdresser you trust, so you can avoid possible future frustrations and regrets. After all, a change of look should be a pleasure and not a trauma.
Top 5 shades of pink
Now that you can match your new hair color to your skin tone, let's learn what are the most popular shades of pink at the moment, for a cool and modern look.
1 – Pastel pink
This version is popular for those who want a stylish but delicate look. It is a lighter shade of pink, ideal for all skin tones and perfect for a feminine and delicate look since it isn't too bright.
2 – Bright pink
Unlike the pastel one, bright pink is not discreet at all. This is a vibrant shade that makes for a bold, cooler look for women who aren't afraid of changes.
3 – Champagne pink
This is one of the lighter pink shades. It is obtained by mixing gold and pink pigments, resulting in a shade halfway between pink and blonde. This nuance is recommended for women who favor a discreet but modern look.
4 – Blorange
This is the mix of pink, gold and red, resulting in a rosy-orange shade. Blorange hair has been one of the favorite trends of girlie girls, and it looks like it will remain like that.
5 – Magenta
Magenta hair shade is a mix of blue, purple and red, to make a darker but vibrant shade of pink. It is ideal for women with darker skin because it contrasts nicely with the skin in a harmonious look.
How to Get Pink Hair
The ideal technique to get your new pink hair depends solely on what effect you want. If you wish to go all out, you can dye your hair entirely, giving it a stylish and futuristic look.
If you're more discreet, you can start slowly, dying only the tips. You can also choose less invasive, more modern techniques such as ombré hair. A color gradation from hair roots to tips can also give your hair a softer, delicate look without a drastic change.
Checklist Before Going for Pink Hair
No matter what shade of pink you choose, you'll need to bleach the desired region completely. You can do this in a hair salon or at home.
However, since this process usually damages your hair a lot, you should take some steps before you start. This way you'll avoid issues like dry hair, breakage and the dreaded "chemical haircut".
To ensure your hair stays healthy, have a previous evaluation with a hairdresser you trust. You can also do nutrition and reconstruction treatments to make your hair stronger before the procedure.
People with darker hair colors can have a harder time achieving their desired shade of pink. In this case, just stay calm and be patient. You will gradually reach your desired shade.
How to take care
Since your hair will likely become more sensitive after bleaching, it is recommended to moisturize your pink hair weekly to seal the cuticles and delay color fading.
When washing your hair, use products that are specific for dyed hair – prefer those without sulfates, since they will clean your hair in a gentler way.
It is important to remember that colorful dyes tend to fade more quickly than conventional dyes. For this reason, you'll need to return to the beauty salon to retouch your colorful look more often.
Watch The Following Video about How to Get Perfect Pastel Pink Hair
See below beautiful photos of pink hair to get inspired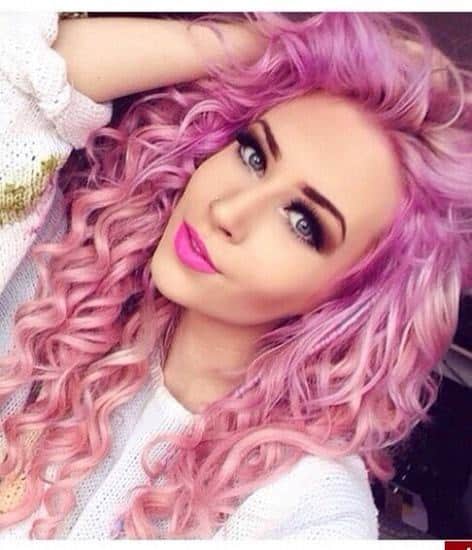 So? Did you decide to get your pink hair after reading our article? Then, share this post! See you next time!