When it comes to choosing the right shade of brown, you have many options to narrow down. Yet, have you ever thought of the rich allure of mahogany brown hair colors?
While mahogany doesn't seem to be very diverse at first, there are so many appealing shades to choose from, you can even get lost.
Mahogany hair color allows you to do some bold experimenting without looking outrageous. It's a hair color that both looks great on its own and as part of different hair designs.
Ombres and highlights that are created using mahogany brown are one of the most amazing choices for girls with dark hair.
But even if you are naturally blonde, there is no reason to despair. There are mahogany brown shades that will suit your hair as well.
Best Mahogany Brown Hair Color Ideas
Being a woman is about experimenting with your hairstyle. Mahogany brown hair color can give you a good hand in choosing your next style. If you think there is nothing to choose from, you are very wrong.
Take a look at how other girls went about experimenting with these amazing shades. There is no reason to stick to your natural color or try to go for conventional blonde, red, and brown.
The time has come to check out the best of the mahogany brown hairstyles and you'll love it enough to stick with it.
1. Light Mahogany Brown
Light mahogany brown is a color you'll get if your hair is naturally light. This color seems to be a mix of red and auburn brown, but whatever the origin, the result is definitely amazing.
2. Touches of violet
Mahogany brown hair color looks amazing with a few touches of violet. So ask your hairstylist to add subtle highlights that will make the overall color of your hair rich and more appealing.
If you want a real mahogany brown shade, ask your hairstylist for the darkest hues. You might want to add some light highlights later on if you don't like how it matches your skin tone.
4. Mahogany and Auburn
Mahogany mixed with auburn brown is an amazing way to create a hair color no one has ever sported before. Just don't overdo the Auburn or the reddish mahogany hue will be upstaged.
5. The Redhead
If mahogany brown hair color is not for you but you still want to be a redhead, you might want to consider mahogany blonde mixed with auburn brown. The result will be luscious and sweet.
6. A spicy ombre
Different shades of brown create stunning ombres. Use mahogany brown on top and auburn brown on the bottom or add some golden-brown into the mix. Whatever you do, the result will be great.
7. Mahogany red
Become a striking redhead with different mahogany shades of brown. If you've got green eyes, this color is definitely for you. Just don't forget to start using brighter makeup.
8. Be natural
Mahogany brown hair color is a great way to turn your dull-dyed locks into amazing shiny tresses. Add some natural hues and you will immediately enjoy the result.
9. 50 shades of mahogany

If you think mahogany brown is something dark, you are wrong, With the right shade of mahogany, you can change your image for the better by brightening up the color.
10. Close to perfect
A perfect mahogany brown hair color can only be achieved if you haven't dyed your hair before and it's not too naturally light. If you've been a blond before, the color can be a little lighter than it should.
11. A brownish hue
Dark mahogany brown can look close to natural brown if you will throw some other brown shade into the mix. If you don't like reddish hues, dilute your mahogany with some auburn.
12. A golden girl

Mahogany brown is not easy to change for another color. So if you decide to get a more golden brown hue, you need to be ready that some of the mahogany shade will stay behind for a while.
13. A smart approach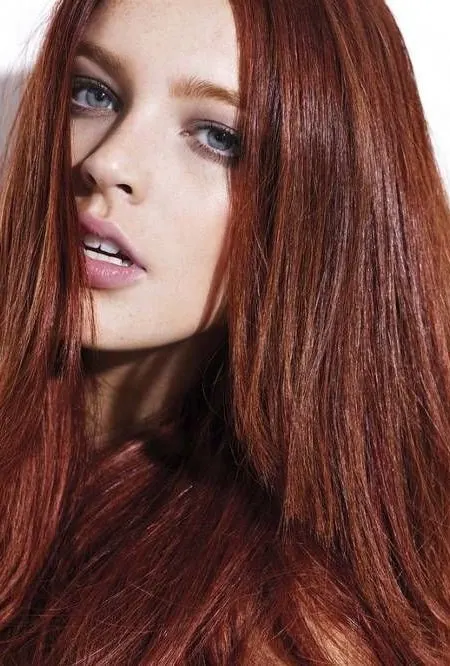 A smart approach to the mahogany shades would be to avoid highlighting. This color is so rich on its own, that finding something to suit it naturally is very hard. Settle for the right shade and enjoy it!
14. Soft and appealing

In order to make your mahogany brown soft and appealing, you might want to add some lighter shades into the mix. Throw in some ash or golden brown and see what you get.
15. Slick highlights

Slick highlights are not easy to make, so you need to find a real professional, You can leave your natural hair color intact while a few partial highlights will brighten up your image with minimal dyeing.
16. Mahogany blonde

Mahogany blonde is close to mahogany brown hair color. However, it is much lighter and almost doesn't have any reddish hues. It's a good choice for girls with light skin tones.
17. Sunny highlights

Whatever shade of brown you choose, sunny highlights can brighten up your image and make you look fantastic and unique. Choose blonde shades for your subtle highlights and they will do a fantastic job.
18. Mahogany ombre

If you are ready to go for a real mahogany ombre, you are an amazingly brave girl and should be commended. This color mix is a really unusual and wonderful way to make a statement.
19. Naturally soft mix

A naturally soft mix of mahogany brown hair color with auburn brown and dark brown will create a unique shade that you can be proud of. A mix of three hues will look different on every girl depending on the original hair color.
20. The classics
A perfect mahogany brown hair color is hard to create. You will need to start with a light brown base color and go from there. Ask your stylist for professional advice on whether or not you can get the perfect results.
21. Deep mahogany
For a more luxurious look, go for a deep mahogany hair color that will make you stand out of the crowd with ease. It not only gives you a really elegant look but also boosts your confidence massively. People are surely going to envy your hair color this time.
22. Mahogany brown lob
Long bob or lob is an adorable hairstyle if you want to cut your hair short. Dye your hair a brownish shade of mahogany to create an exotic look. This hairstyle is super stylish and trendy – definitely not going out of style any time soon.
It is not necessary that you have to choose a deeper shade of mahogany to look your very best. You can also choose medium mahogany brown for roots spreading to tips while turning into copper color. This hair color will also do just as much justice to your beautiful hair as deep mahogany would have done.
24. Warm copper hues
It is a pretty hairstyle with even prettier hair color. Dyeing your luscious mahogany locks with warm copper hue can be the best decision for you and your hair.
25. Mahogany brown highlights
Highlights are a hot trend going on this year. So, you better get subtle highlights to your plain long hair to be the truest trendsetter. Your long hair is going to look dope for all the days to come.
If you are more of a natural hair color person, then you will like this natural brown balayage to your beautiful medium length hair. This hair color will give you a natural look all the while making you a style icon for everyone to look up to.
Beach waves are everyone's go-to hairstyle, and with soft balayage combined, the glory of this mahogany brown hairstyle can be experienced in its most authentic and most real sense. You cannot simply resist it!
For a glossy look that will make you appear as the brightest star in the dark sky, opt for this glorious glossy shade. Include subtle waves to your hair to complete the look. No one is going to match your classic style.
29. Subtle curls
If you like warmer hues more than vivid ones, then try going for this warm mahogany hair color. To level up your hairstyle game, add subtle curls and be on your way with a bang. Remember, the fading process isn't going to be bad either, enjoy.
30. Caramel swirls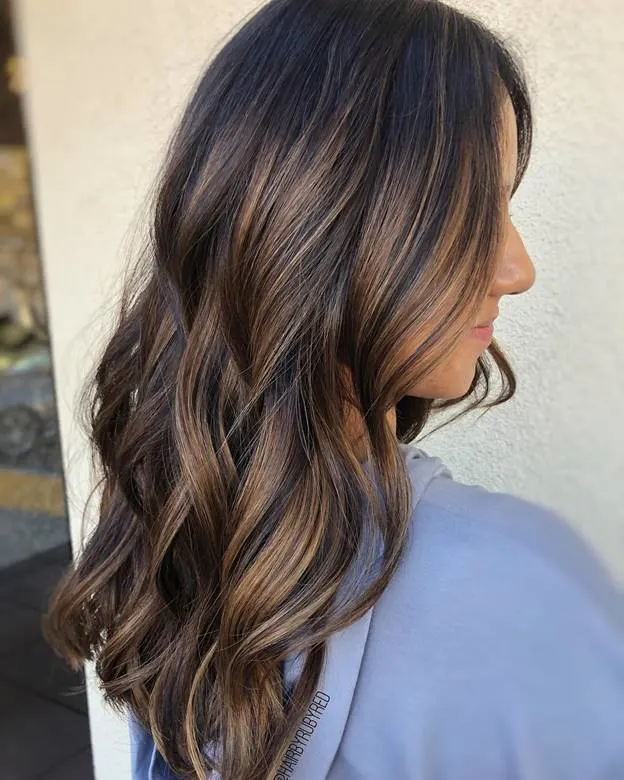 For an unparalleled and unique twist to your hair color, ask your stylist to add caramel swirls to your dark hair. People are going to swoon over your hair color right after your first step out of your home. This is an incredibly gorgeous hair color choice that you should not miss out on.
Mahogany brown hair color is an amazing shade that women around the world love. However, it's hard to make perfect. Give it a try! Even if you don't get an ideal shade, you'll still get an awesome color you will love.