With some incredible red hair and blonde highlights, you will add a lot of personality to your hairstyle, and you won't only get a lot of attention but also skyrocket your confidence.
It takes a lot of courage to make such a dramatic change because all eyes will be on you, and sometimes that can be overwhelming for a shy girl.
However, the most significant thing about red and blonde highlights is that they can be styled on any hair type: pixie cuts or long hairstyles, fine or thick tresses—you name it, and they can revive any look.
Red Hair With Blonde Highlights
If you are ready to make a considerable change that will transform you into a fierce woman in a glimpse of an eye, here are some mind-blowing examples that will win your heart!
1. Blonde and Orange Red Highlights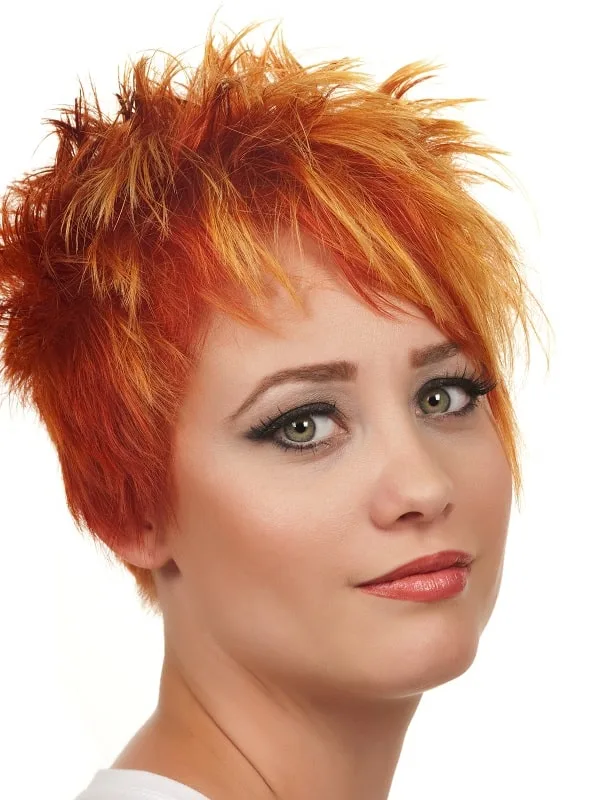 Short red hair with blonde highlights is a pitch-perfect hairstyle for women with fair skin that need a low maintenance haircut. Style a pixie cut with bangs, and you'll get ready each morning in just a couple of minutes.
2. Multicolored Hair with Blonde and Electric Red Highlights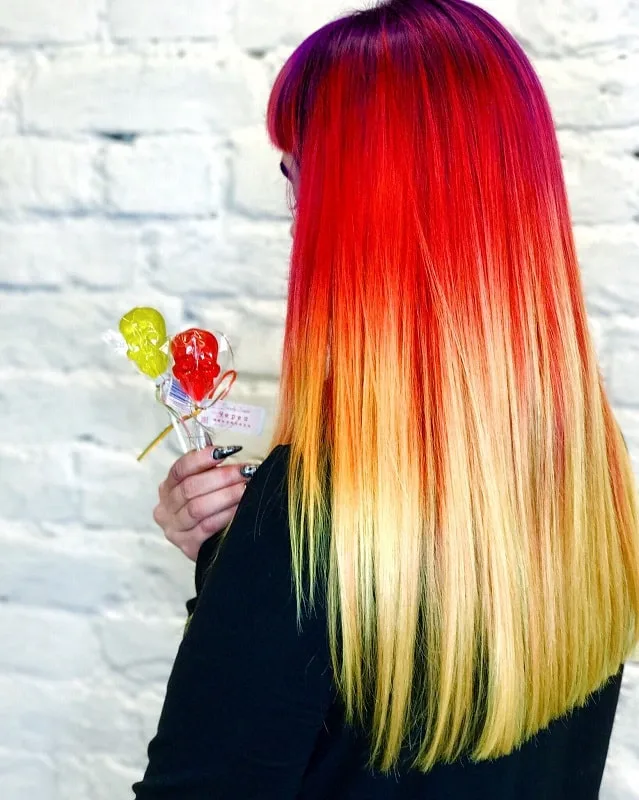 This hairstyle will probably become your dream look, and it's all thanks to that red and blonde balayage with electric highlights. Spice things up even more by dying your roots in a vivid dark purple.
3. Blonde and Dark Red Lowlights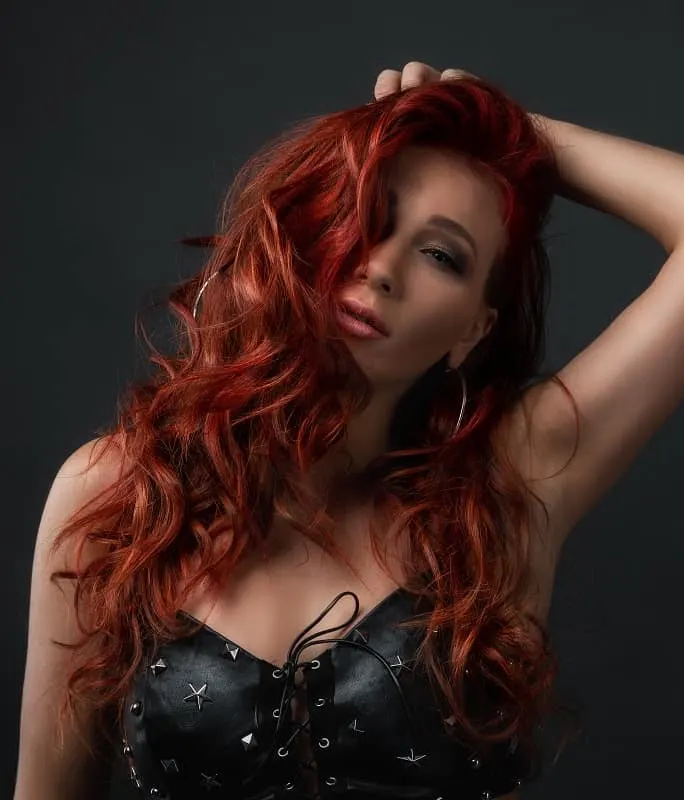 Go for a dark red shade for your mane, and you'll obtain a striking, gorgeous look. Red and blonde lowlights are optional, but they can make such a big difference when it comes to texture and glow.
4. Dark Red Hair with Blonde Highlights
If you are searching for a dark red hair with blonde highlights idea, the picture below probably represents the best option out there. The hairstyle is perfect for fair skin and blue eyes, and the curls will make the thin blonde strands pop even more.
5. Black Hair with Blonde and Red Highlights
Red and blonde highlights look impressive on black hair because they provide texture and dimension. Pull off some blunt bangs that will cover your forehead and create waves for the rest of the mane.
6. Red and Strawberry Blonde Highlights
Red hair with strawberry blonde highlights looks merely dazzling! The red shade gets more shine and the warmer tones give your mane a particular astonishing shine.
7. Red and Blonde Highlight for Half Hair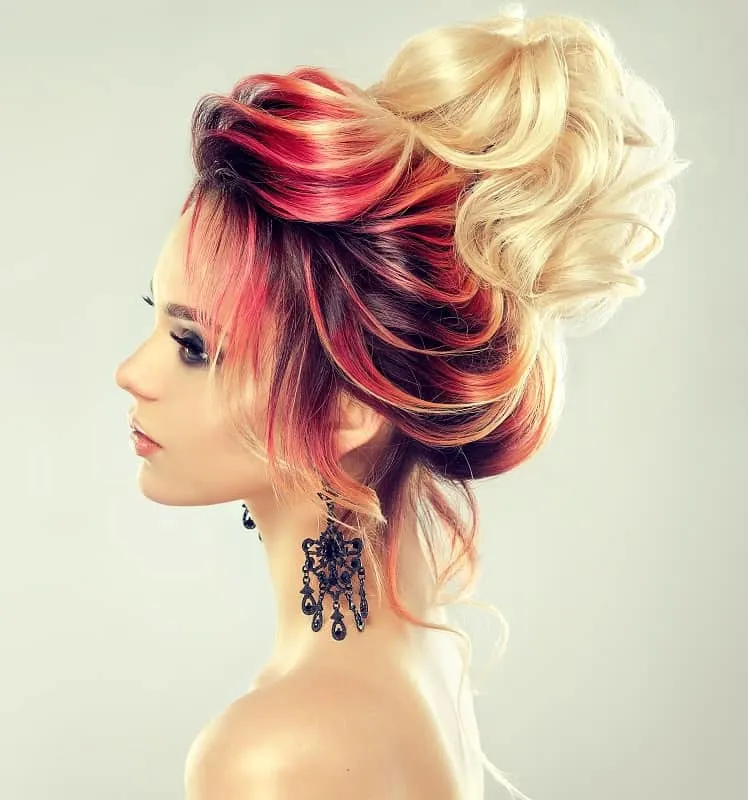 Opt for black, red roots and blonde highlights because they will fabulously blend. You will get an even more eye-popping and luscious look. Style a curly loose bun on top of the head and pull off some strands to obtain that glamorous look.
8. Red Hair with Blonde and Bright Red Highlights
A bright red hair with blonde highlights is going to blow your mind! The red shade is electric and fierce and the blonde highlights and tips will totally change your hairstyling game and gain all the attention you deserve.
9. Blonde Hair with Dark Red and Platinum Highlights
Blonde and red highlights can place you in the spotlight wherever you're going. Create a half up half down hairstyle by using your top hair to make a voluminous French braid. Use a straightening iron for the other section, to build amazing curls.
10. Red and Blonde Highlights for Curly Hair
If you are aiming for a sophisticated look, this hairstyle with bangs and red and blonde highlights will amazingly suit your fair skin. Also, you can use a conical iron to create mesmerizing curls.
11. Red and Blonde Asymmetrical Bob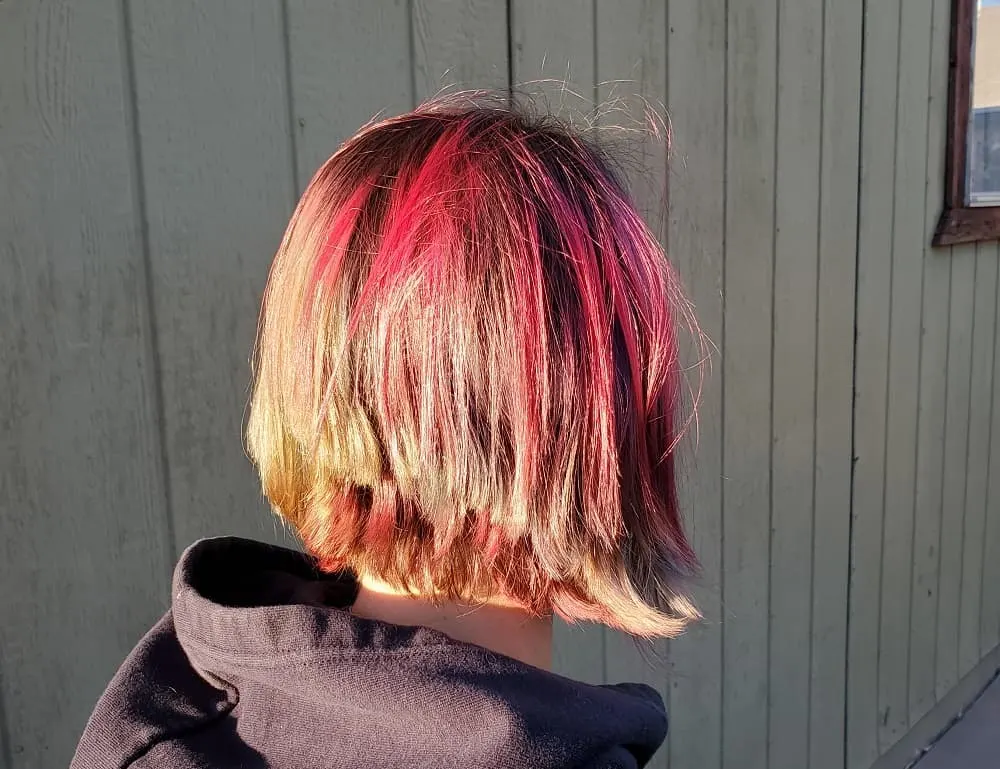 You need to see a colorist to create this awesome blend with purple, pink, red, blonde, and yellow hues. You can try transforming this into a DIY project, but you might end up with damaged hair and a messed-up color blend.
12. Ginger Pixie with Spikes and Blonde Highlights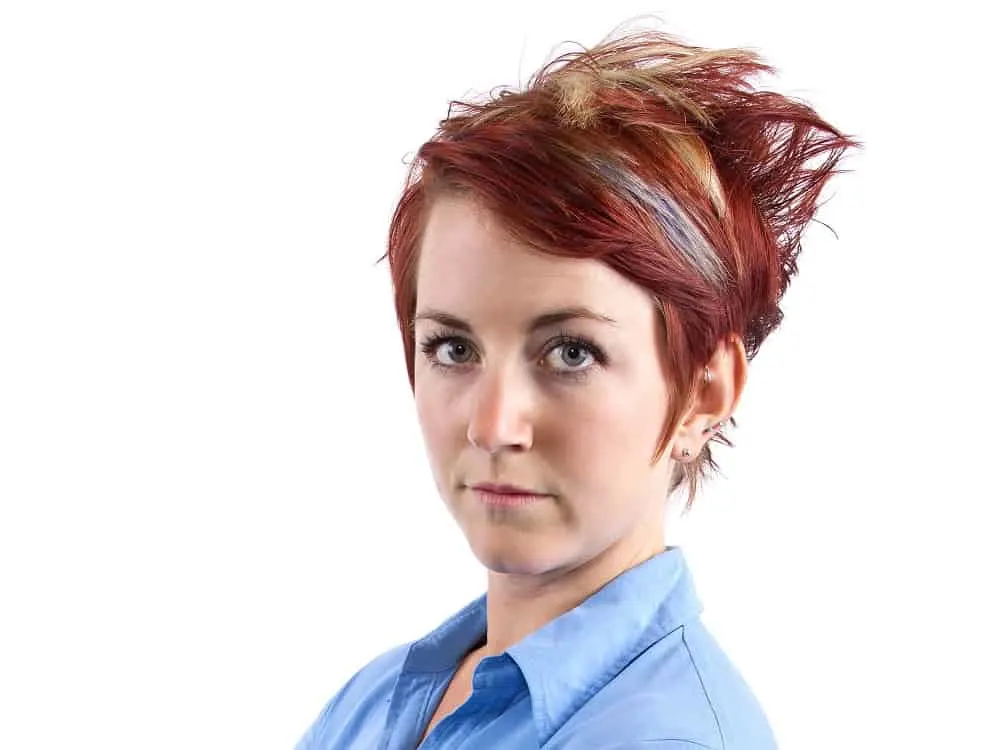 First of all, you need to get a pixie haircut and opt for a red hue that suits your complexion. As a woman with fair skin, most nuances will serve you. Create chunky blonde highlights and mess up the nape hair. Use hair gel to create spikes.
13. Thin Blonde Highlights
Platinum blonde highlights will fabulously stand out on a red base color. Layer the hair and create those blonde pieces, mostly in the lower section of the hair. Wear the bangs on your forehead, slightly on one side.
14. Multicolored Curly Hairstyle with Bangs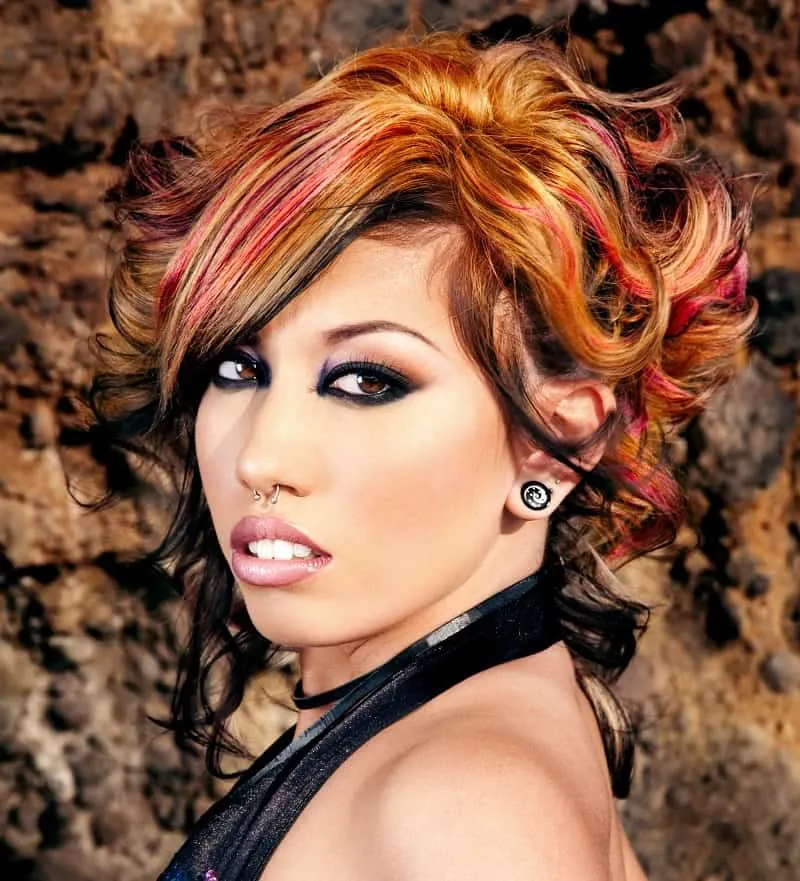 Combine colors, lowlights, highlights, and textures to achieve this mind-blowing look. Opt for a black hair dye for the peekaboo highlights and dye the top in red and yellow shades. Straighten the bangs and curl the rest of the hair.
15. Braids and Highlights
When going for a red ginger look, highlights are such a wonderful idea. Make them very thin so they will blend beautifully with that stunning red color. Also, when you braid your hair, those highlights will amazingly make your knit stand out.
16. Romantic Red look with Waves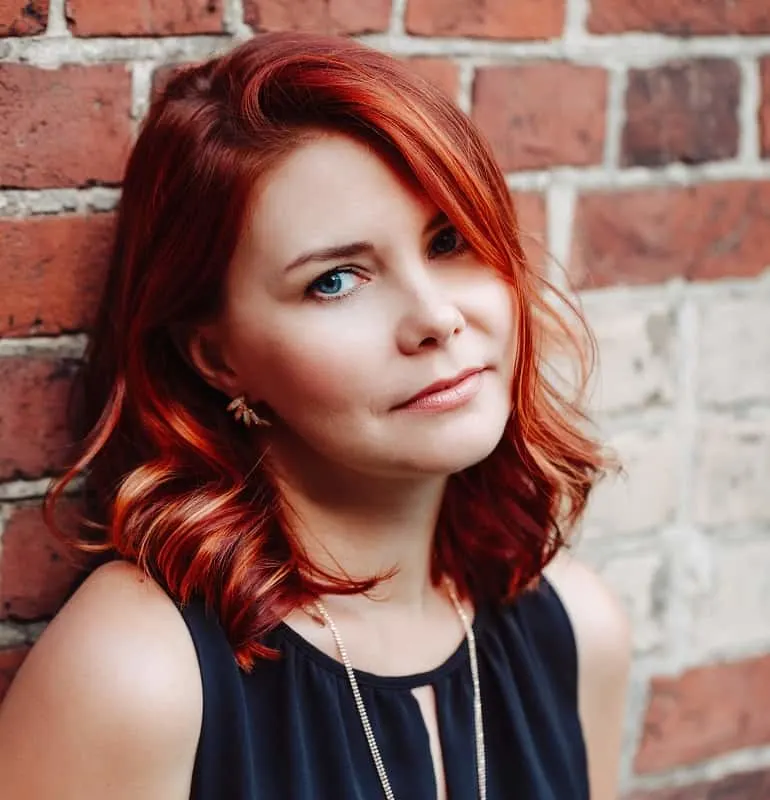 Girls with fair skin look amazing with red hair. The color greatly suits their complexion. Add a few blonde highlights and create waves. The hair will capture light and make each strand shine with each and every movement.
17. Pale Dark Blonde Highlights
Messy looks are remarkable, especially if you combine the right colors. You will build dimension and an impressive color mix.
Opt for a burgundy color and a darker blond for your highlights. Pull off these hues on a long brown layered hair.
18. Oldschool Blonde and Red Hair
Chunky blonde highlights can look so cool even if they are quite out of fashion. Opt for a medium haircut with bangs and layered ends. Pull off those thick blonde highlights and make them fade towards the ends.
19. Messy Bun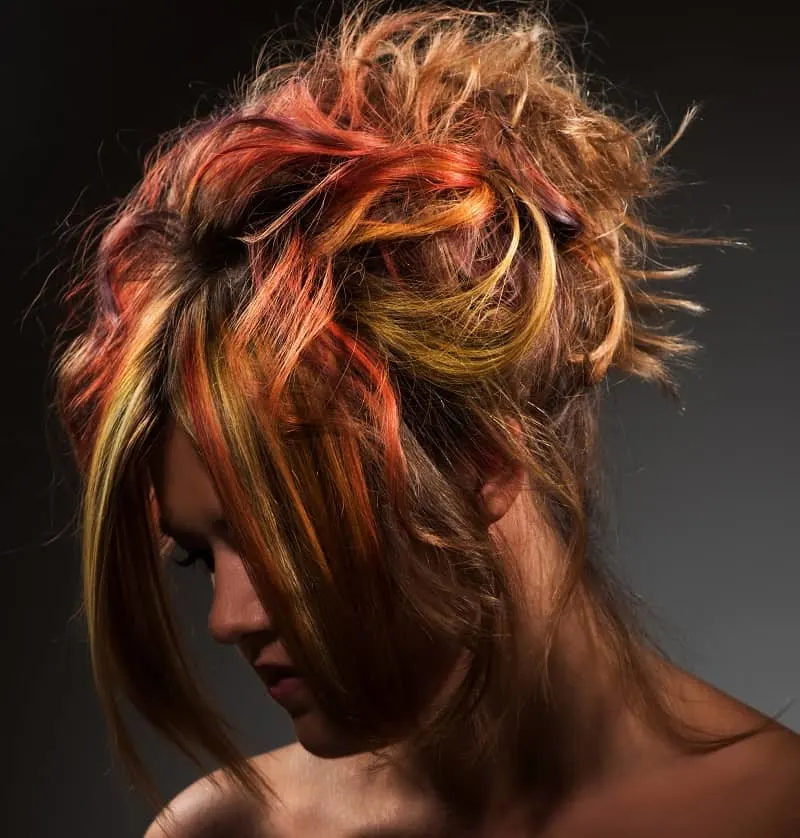 If you're in a crazy mood today or preparing for a tremendous party, you need a red and blonde hairstyle with highlights.
Use the straightening iron for the front hairpieces and wave the rest. This practice will give your bun more volume and dimension.
20. Layered Red Pixie with Highlights
Pixie haircuts have no age and can be a woman's best friend no matter how old they are. And if you want to spice things up, there are plenty of opportunities. One of them is this amazing mix of red and blonde highlights that suit even women over 50.
21. Red Hair with Blonde Bangs
This is probably the perfect recipe when you want your hair to be a statement, something that someone will never forget.
A shaggy bob will give your hair volume, while the bright red color gets all the attention. Build that most wanted contrast by going for platinum blonde bangs.
22. More than gold
Rosy highlights look magnificent when applied to golden blonde hair. If you are looking for a way to give your golden locks some shine, rosy or light red strands are exactly what you need.
23. Wine-red Highlights
Wine red is a wonderful color that looks amazing coupled with just about any shade. The combination of dark wine red hues with blonde locks is unusual but it can help you make a wild statement.
24. Ginger, brown and blonde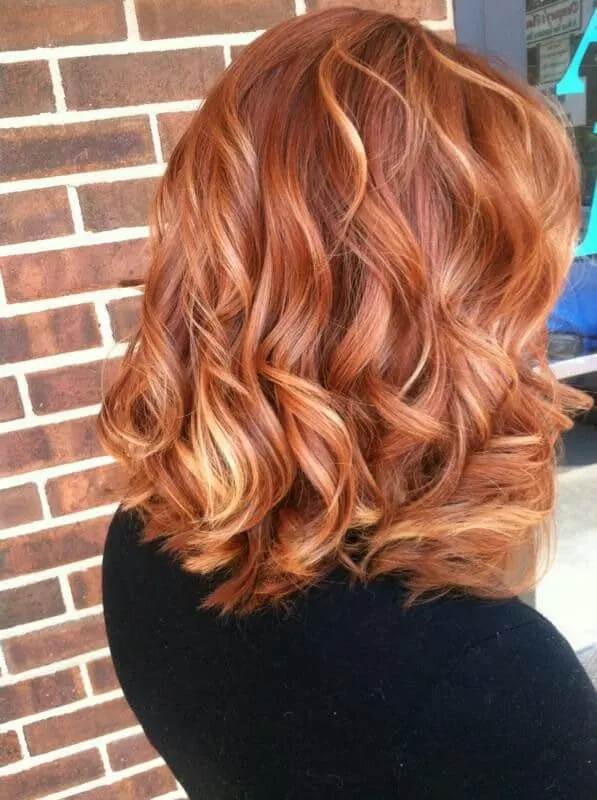 Ginger red highlights on blonde hair look especially interesting when coupled with brown strands. Don't be afraid to experiment with more than 2 colors when it comes to highlights.
25. Reddish ends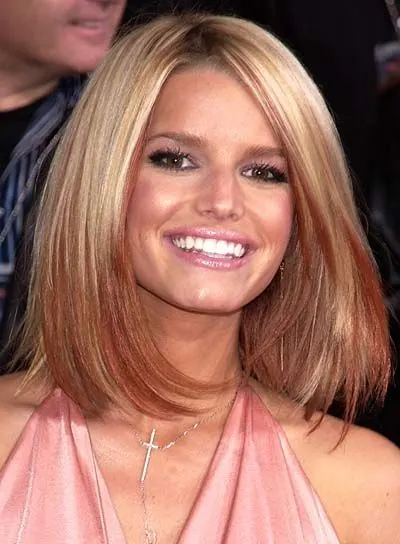 Instead of making full-blown red highlights, you can settle for just the ends. Blonde and red are a perfect mix. So it doesn't really matter where you decide to add a few reddish hues.
26. Interlacing strand
If you are looking for beautiful red highlights on blonde hair but are not ready to take a big risk, try hair extensions. Interlace them with your own tresses to get a feeling for what it's really like to have red locks.
27. Wine red and gray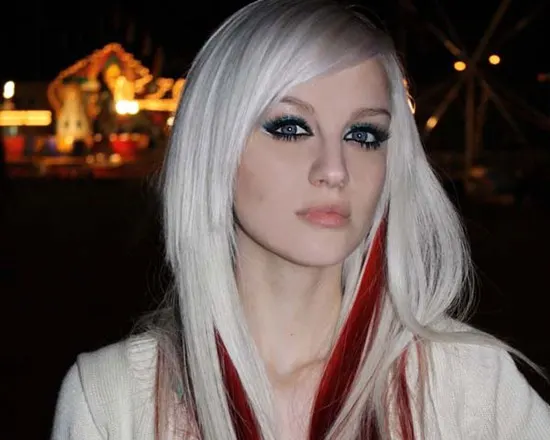 Wine red strands look exceptional when done on gray hair. Silver and gray locks are gaining popularity at the speed of light but many girls are looking for new ways to give them that extra twist.
28. Strawberry blond
If you've always wanted to have a strawberry blond but the color was hard to achieve, consider adding some red highlights to get an even better look. These colors are wonderful together.
29. Schoolgirl experiments
If your high school time is far behind, it doesn't mean you can't go through with girlish experiments. Consider combining different shades of blonde with various red hues. You'll love the way you look.
30. Subtle blonde and fiery red
If you are a fiery redhead, there is no reason to completely change your look with highlights. Subtle partial highlights will give your hair a great makeover and add extra oomph.
Red Highlights on Black, Brown & Blonde Hair
31. Unusual decisions
Unusual decisions are always welcome when it comes to hair dyeing. Burgundy locks look amazing with blonde highlights on the bottom. Give them a try and you won't regret it!
32. Partial highlights
Partial blonde highlights are a great way to see if you are ready to turn blonde. They will also give your red hair some extra glamor. Perhaps you'll want to keep them instead of becoming full-blown blonde.
33. An extra oomph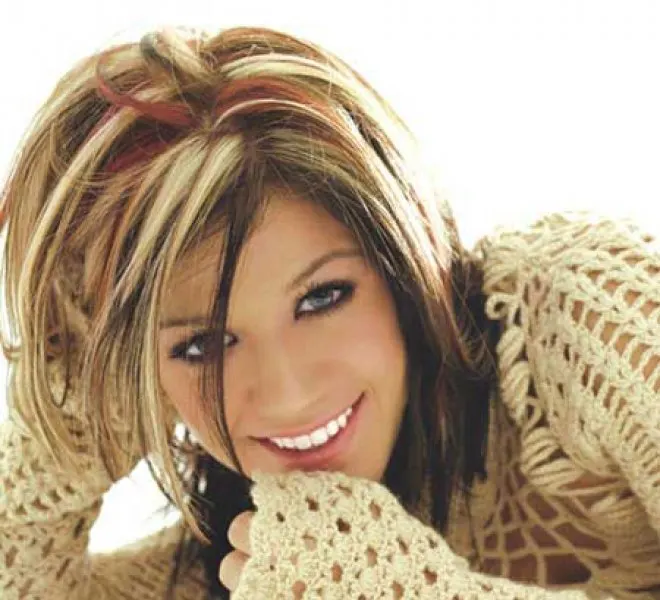 An extra oomph is a major part of your style but some girls are afraid to try it. When highlighting your locks, add one strand of a completely different color.
34. Sun-kissed locks
If you want sun-kissed locks, there is no reason to go blonde. You can just dilute your red tresses with a few golden strands and the result will be the same, only better.
35. Silver strands
Silver strands look amazing on burgundy hair but only if you are bold enough to go all the way. You will definitely keep all the heads turning your way.
Brown Hairstyles With Caramel Highlights
36. Soft image
A soft image is not easy to create with hair color. You will need to do some careful consideration of your natural shade and hair dye. It's better to get professional advice to reach the best results.
Red Highlights on Black, Brown & Blonde Hair
37. Patching
If you are looking for a hairstyle that will really make a statement, you should consider patch-dyeing your red locks with a golden or honey-blonde hue. The result will be fiery!
38. Bangs power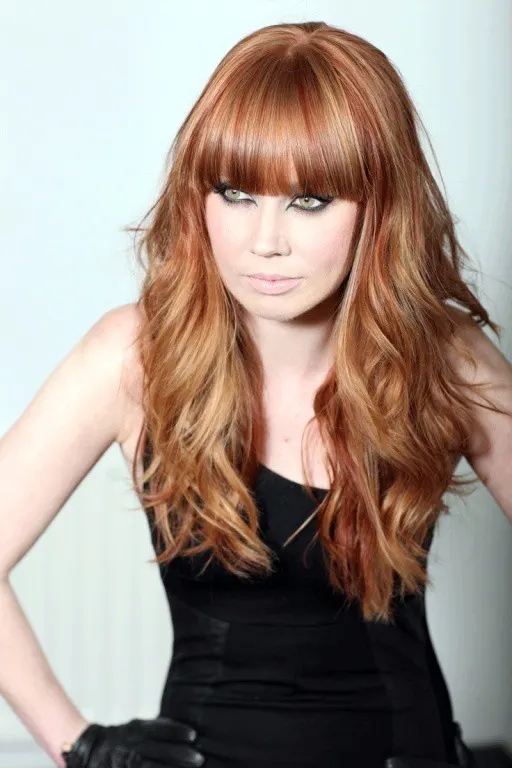 If you have straight, blunt bangs, you need to be very careful about highlighting it. A real professional will make the highlights appear fantastic, and your fringe will get all the attention.
39. Blonde and red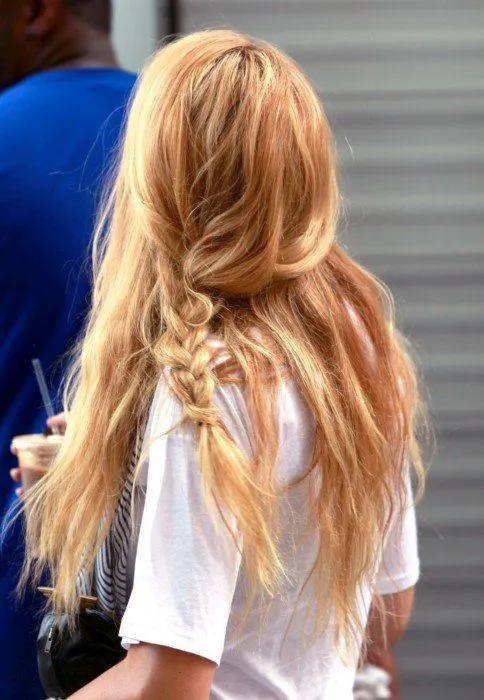 Blonde highlights on red hair look amazing whichever way you decide to go about them. Don't want to make a full image change, go for at least a few blonde strands to check out the result.
40. Freshen up
Blonde highlights can be a great way to freshen up your overall appearance regardless the color of your hair. Just don't overdo the dyeing. Add a few subtle blonde strands to change the image.
41. A couple of shades
When highlighting your red hair with blonde dye, consider using several different shades of blonde. The darker the hues you choose, the more natural your overall image will be.
42. Blonde flames
In order to reach a flame effect using blonde highlights on red hair, you need to go for an ombre-styled highlighting and dye just the bottom strands. The result will be unbelievable.
43. Sunflecks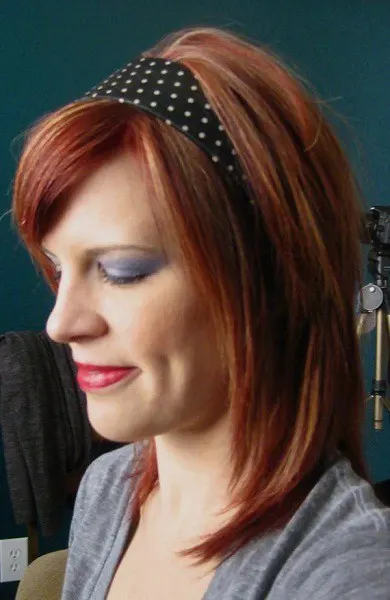 Make your red hair glisten with sun flecks by adding a few strawberry blonde strands. You can enjoy an overall shiny appearance without spending too much money and time on highlighting.
44. Burgundy and blonde
Burgundy and blonde look especially great together, so if you are considering blonde highlights on red hair, you should think about this interesting color combination. You will love it!
45. Frontal strands
Partial highlighting is a great technique that can brighten up your face without damaging your hair with too many dyes. This is especially great when you just want a slight change.
46. Just the top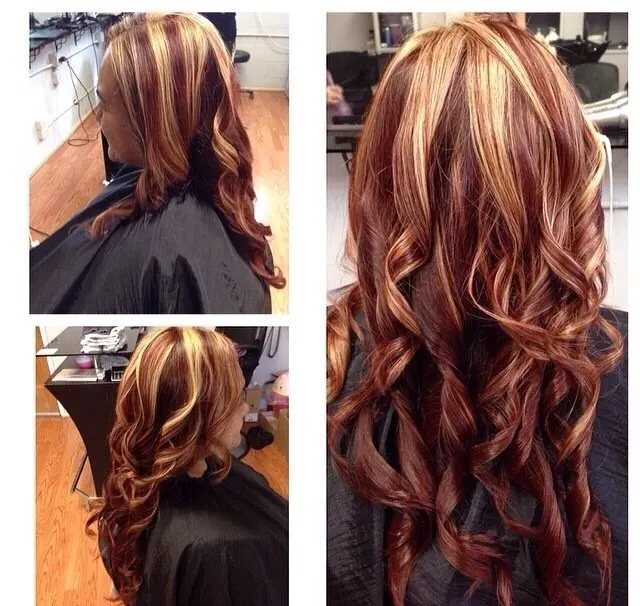 If you want an unusual hairstyle, consider creating highlights just on the top part of your hair in an ombre style. Leave the bottom part red. The overall impression will be priceless.
47. Make a statement
If your hair is naturally red and you don't want to change it, you can make a bold statement by adding a few platinum blonde strands in front to create a regal appearance.
48. Blonde and red
Blonde highlights look great on both dark and light red hair. If your hair is light, you can add less blonde strands to brighten up the look. Dark hair will warrant more effort to get the same effect.
Short Hairstyles for Women With Thick Hair
49. Reddish blonde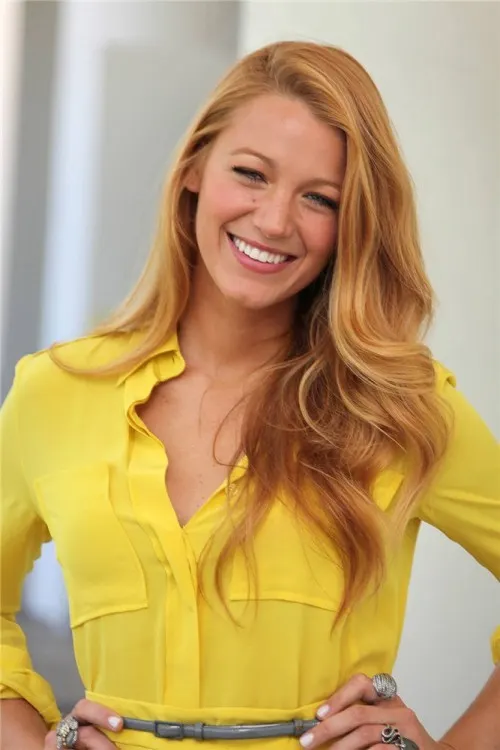 Reddish blonde hair is hard to find. So if you can create this look, you'll definitely have a unique image. Ask your hairstylist for a natural look.
50. Auburn and honey blonde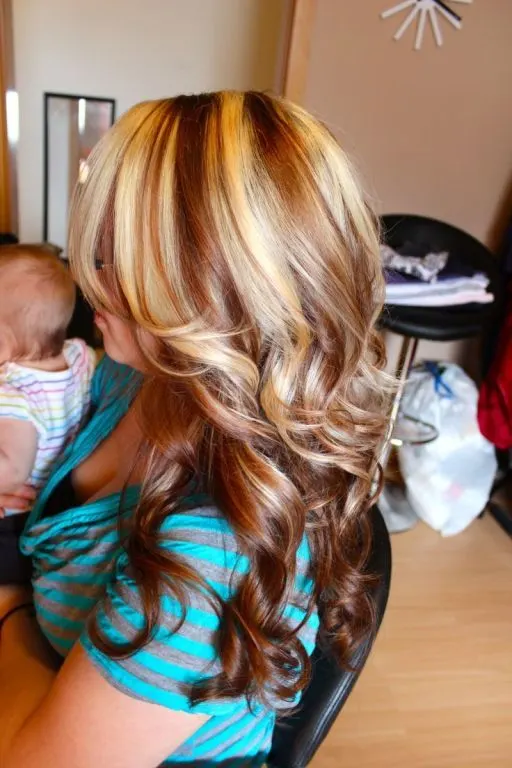 An auburn brown and honey blonde mix is an amazing way to go about the highlights. You are keeping the dark-light contrast while making your locks look as close to natural as possible.
Blonde highlights are a wonderful weapon that can either completely change your image or just brighten it up a bit. Learn to wield it and you will always love the way you look and the change will be at your fingertips.