Flat twist hairstyles have been a huge fashion style, haven't they? Now they are back with a bang and it is hard not to fall for them all over. The flat twists are easy to make and even easier to rock around and impress people with. No matter if you have long hair or short hair, sleek and polished twists are there to help you uplift your style game this season.
The flat twists style can be made in the hair of all colors and lengths which is why they are loved so much. They have a certain African hair vibe around them, but anyone can have them and look ultimately stylish.
How to Flat Twist Natural Hair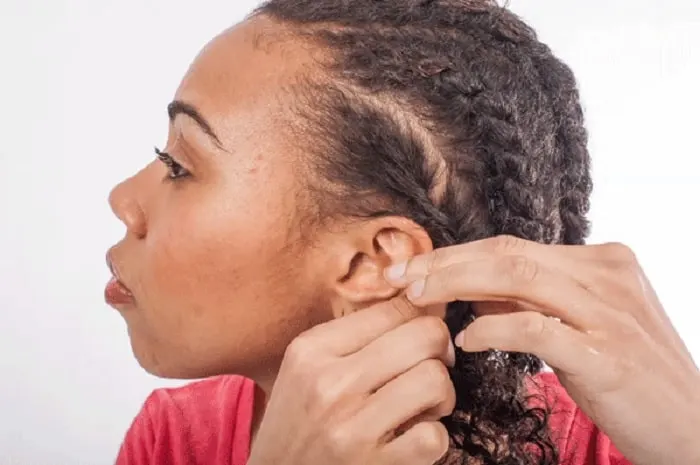 If you have been impressed by the lovely flat twists of your colleague or friend and want to learn how to do it then this is the right place for you. Let's see how to do flat twisting for your hair.
First, part your hair at the hairline from a point that you want your flat twists to initiate from.
Use a rat-tail comb and extend your part all the way back to the nape of your neck. Make sure that there are no hairy patches along the line of your part to give it a neat look.
Take a small section of your hair at the point you began your part on the hairline. Now carefully divide this section into two parts which are equal.
Now begin twisting these two parts and make sure that there are equal gentle twists there. Then continue twisting your hair while adding small sections of hair in the twist.
This way keep twisting the hair unless you reach the very end of the strands and then secure the flat twist with a hair tie or clip.
Now repeat this process with the rest of your hair unless all of it is tied up in neat flat twists.
Then fasten them in a ponytail or a bun or in any way that you like and you are all set to impress everyone with your fashion sense.
Watch The Following Video to Learn How to Do Flat Twist Hairstyle
How to Keep Flat Twists Tight
Flat twisting your hair is not that hard to master, but keeping the flat twists tight takes real effort. Nobody likes to have loose twists or the ones which have split up or have some strands of hair poking out of them. Therefore, it is so important to have your twists tight all the time, which needs some additional efforts. However, we have made the process easy for you and here are some tips to help you keep your flat twists tight.
To keep the flat twists tighter and firmer you should twist your hair while it is wet. This way it will get a stronger grip and no loose ends will appear for a long, long time.
You should apply a little gel or wax on your twists to make sure that they stay put in their place.
After you get done with twisting your hair, secure the ends and roots of twists with bobby pins unless your hair dries to help them stay in their place. This way your hair will stay twisted for a long time since the twists will be tighter and firmer.
You can use quality products like heavy hair oil (particularly castor oil) to keep the flat twists tighter and last longer. You can even use any other oil of your preference if you are not a fan of heavy hair oils.
You can rope kinky twist two twists and tie them with a clip and untie them later on. This will make the twists tighter too.
A nice trick is to apply some hair control paste at the roots and ends of your flat twists to make the hair around there stick together for a longer time. This is especially great if your curls are a little loose naturally.
You can also flat twist the roots first and then twist the rest of the hair to make it stay tight for a greater time period.
How to Flat Twist Short Natural Hair
Flat twisting long hair is fun and easy, but doing so on short hair is quite tricky and time taking as it is hard to keep short hair in the twists. However, if you short hair and want to flat twist you do not have to worry. We have simplified the process for you, so follow these steps and have the perfect twists on your short hair.
Section your hair You need to separate all your hair in small sections and tie them separately by clips or bobby pins. This will make it easy for you to twist each section easily later on.
Hydrate your hair short hair is easier to twist when they are damp, so spray a little water on your curls before twisting them.
Moisturize your hair Moisture is the key to perfect flat twists when it comes to short hair. You should lock the moisture in your hair with a moisturizing liquid or oil. You can use lavender oil or castor oil for this.
Twist the sections Now twist the sections that you made at the beginning. Tie the ends and dry your hair so that there are no loose ends from the twists.
Follow these steps carefully and you will be able to style your short hair in the flat twists that you love.
Watch The Following Video to Learn How to Do Flat Twist on Short Natural Hair
Flat Twist Hairstyles
Your hair is something that people notice even before they glance at your face or establish eye contact, so it must be styled in an impressive manner. Flat twist hairstyling can help you greatly in this regard as it makes your personality even more noticeable and likable.
From short funky twists too long wild ones, there are so many options to choose from that you will hardly run out of style guides when it comes to flat twisting your hair. Below are some of the best flat twist hairstyles.
Flat Twist Styles for Short Hair
These are the options to try flat twists on short hair.
1. Cute and Easy Look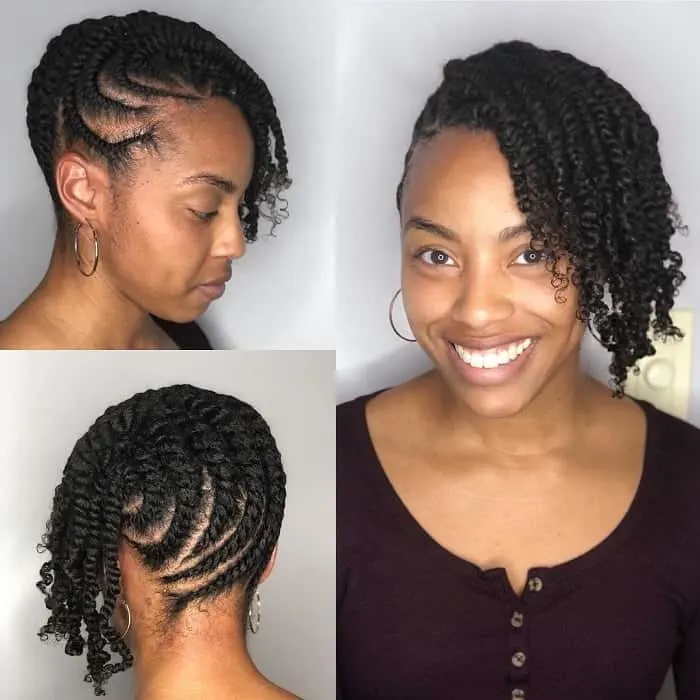 If you are in for an easy and cute look which doesn't much time or effort on your part then this classy style is totally your thing. The sides of the head have thick flat twists running around the edges while the rest of the hair is styled in a bob with side bangs but in a neat assembly.
2. Chic Updo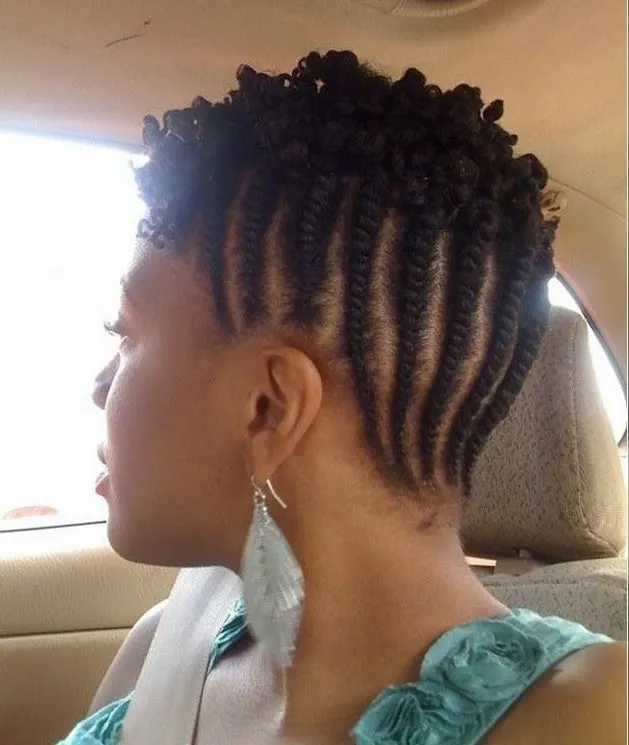 Women with short hair can rock lovely flat twisted updos just as well as the ones who have long hair. You need to pull up the flat twists in a way that they give a fuller and thicker texture at the top of the back of your head. The gentle curls on the top at front complete this updo in just the perfect manner.
3. Flat Twists with A Pompadour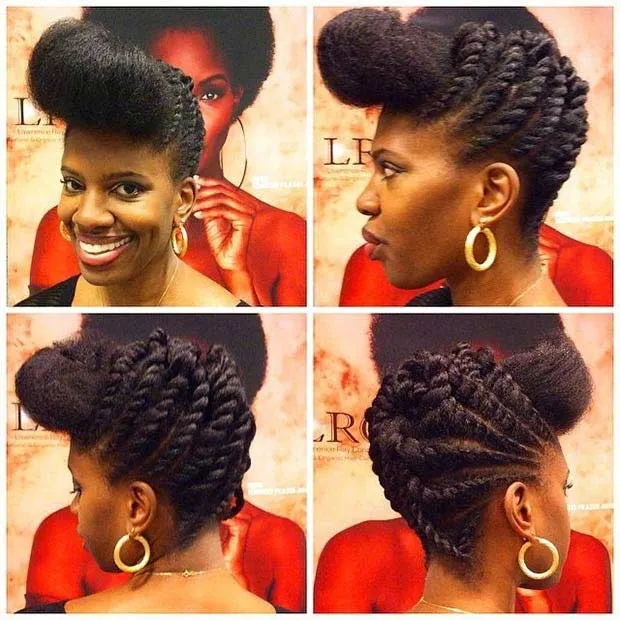 Flat twists look great with short hair so you can pair them up with something fun and bold like a pompadour. A pompadour comes naturally with short hair and you just need some brushing for that. It is easy to make and carry style which you can try to uplift your style game this season. You can even dye your hair in a bold and attractive color if you want as that will make this style look even more appealing.
Flat Twists on Medium Hair
Try these medium flat twist hairstyles for women.
4. Flat Twists Outs at The Front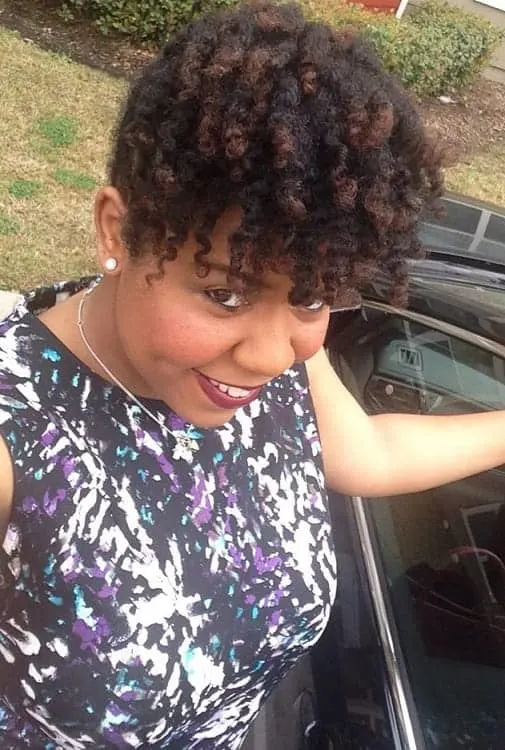 This is a great hairstyle for women who have medium length hair and are worried about how to do flat twists and rock them. You just need to be careful that the twists are tight only to a certain point as excessive twisting will lead to stress and will weaken your hair follicles also. The twist outs at the front are great to add a bit of fun and character to your hairstyle.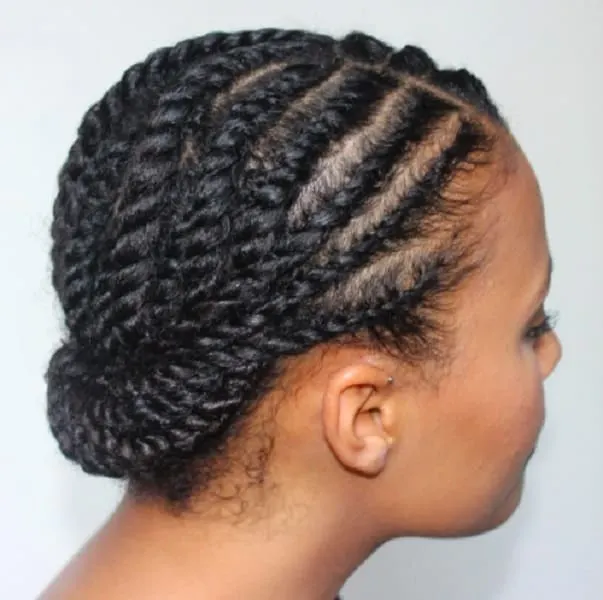 If you have medium length hair and are afraid that a tight bun on top of your flat twist style will not look that good even when you do not have to worry. You can sweep your flat twists to a side and have them neatly tied in a bun at the side of your neck. This will look classier and more sophisticated than that bun on the top.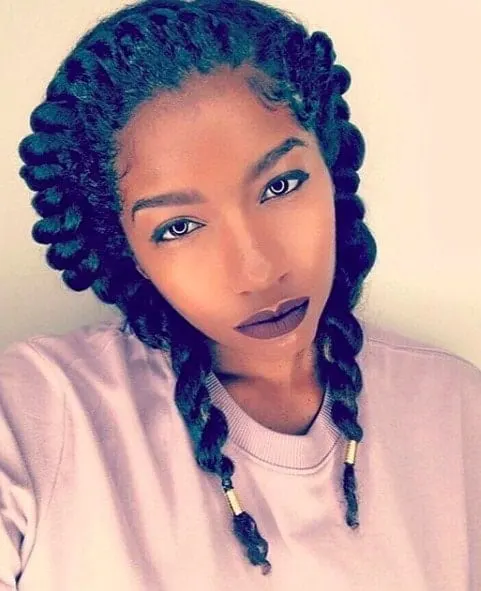 Pigtails are fun and always youthful, aren't they? You can tie up all your flat twists in two pigtails which sweep your shoulders and make your medium length hair prettier than any other style. The thick twists make your hair look fuller and voluminous as well, so it is a win-win style for you.
Flat Twist Hairstyles for Long Hair
Women with long hair also try flat twists hairstyles. Get Inspiration from here.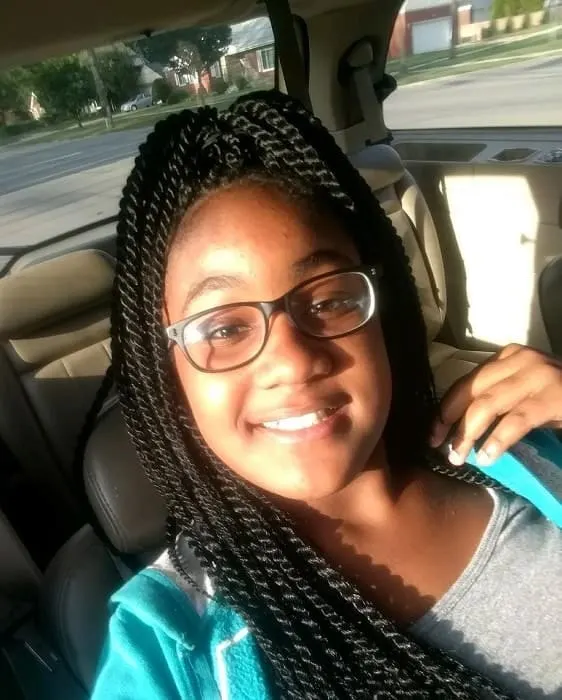 This is a great style for you to go for when your long flat twists start opening. The twist outs can be rocked in a lovely fashion as curls which originate from the wists. You just need to make sure that the flat twists are there close to your scalp while the rest of the hair can be put into a high ponytail.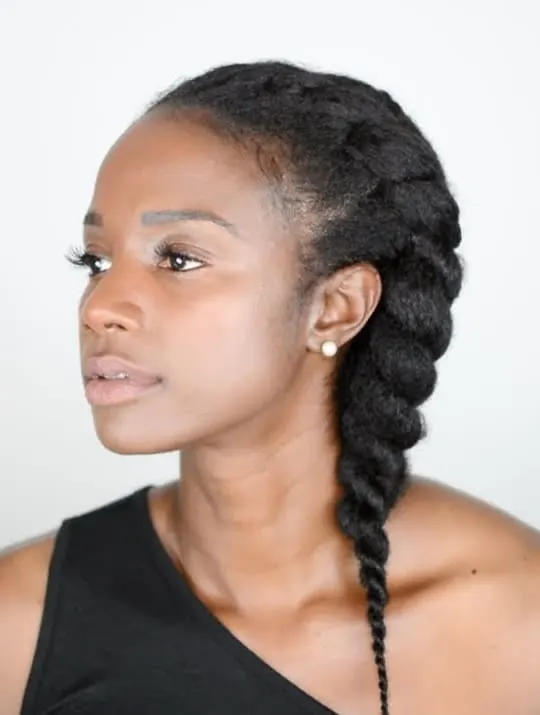 Sometimes we need to have something simple and easy but not too dull, right? This jumbo flat twist hairstyle is going to be your ultimate solution during those times as it is easy to make but still has a classy and to the point vibe to it. You can also sweep your jumbo twist to a side to get a more polished and easygoing feel about your hairstyle.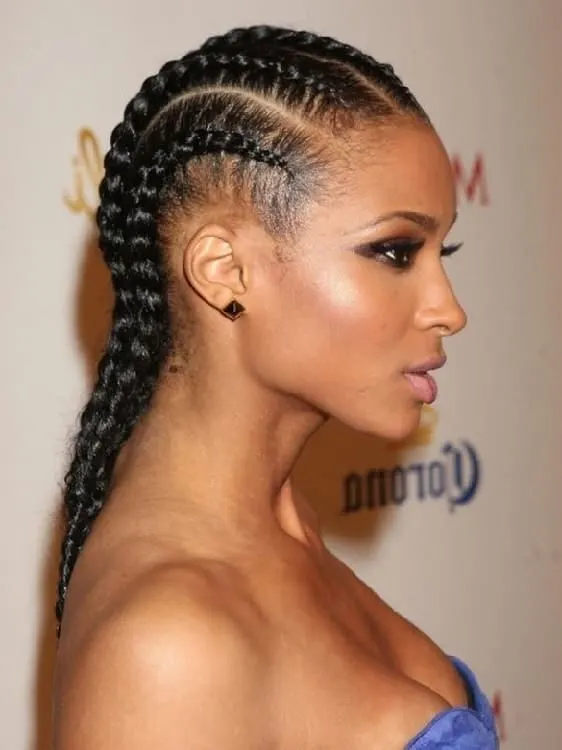 If you are a confident and bold woman who loves going to extremes and showing the world that there is no stopping you then this hairstyle is perfect for you. You can have thin braids and thickly twisted cornrows of your long hair fall down your back and look as confident as you feel. There is such an underlying charm to this style that you can wear it anywhere you go without any inhibitions.
Coolest Flat Twisted Updos
Check these updo hairstyle ideas with flat twists.
10. Sophisticated Updo
If you have long and thick hair which has texture and volume to it then why not flaunt it with a sophisticated updo? You can have your hair styled in thin flat twists all around the boundaries and then have some thicker twists to add some variety to this style.
Then pull up the hair in this elegant manner to get the perfect stylish flat twisted updo that is shown hair. The style is more appealing with the overlapping thick and thin twists, so make sure that you give this character to your hair while going for this updo.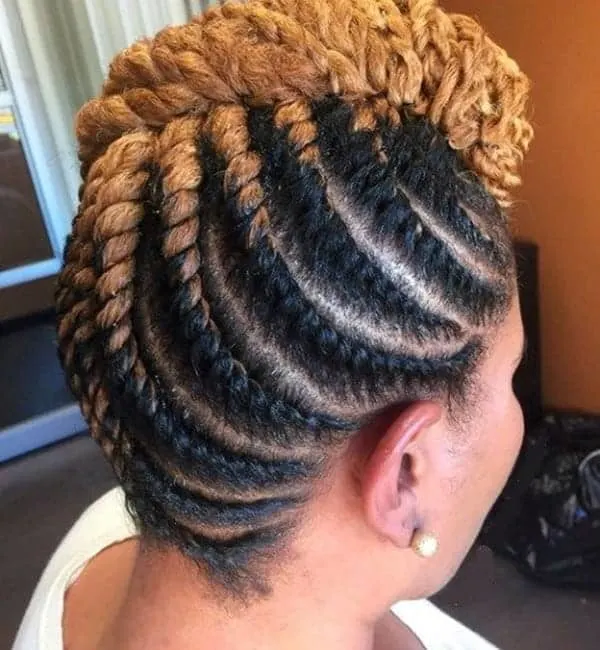 Flat twist styles are not meant to be boring, so they can have a pop of color added to them. If you have naturally shiny black hair and want to add a bit of color to it since you want to keep your lovely natural hair color too then this is something that you should try. You can add a dab of golden to your flat twisted updo just like the one here.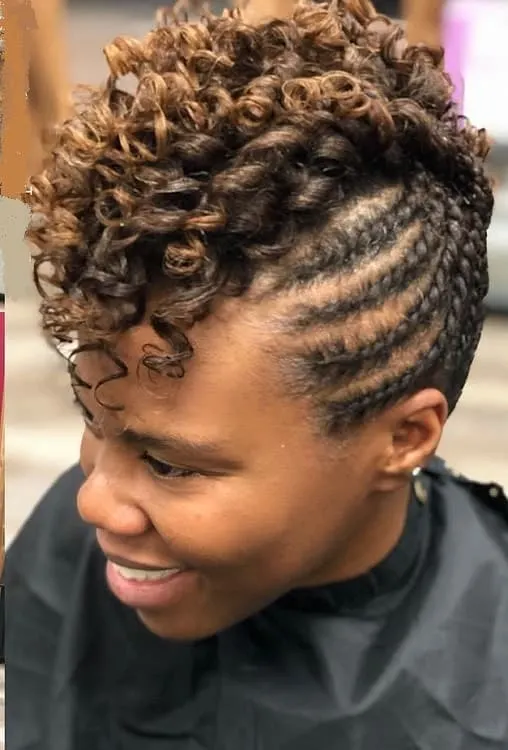 Life is too short for boring hair, isn't it? So try this creative and fun style to put together your flat twists in an imaginative updo. You can alter the pattern here to add your own personal touch to this updo as there are no hard and fast rules when it comes to putting up your hair in an updo.
Best Flat Twist Hairstyles for Natural Hair
You can try flat twist on your natural hair too. These are how!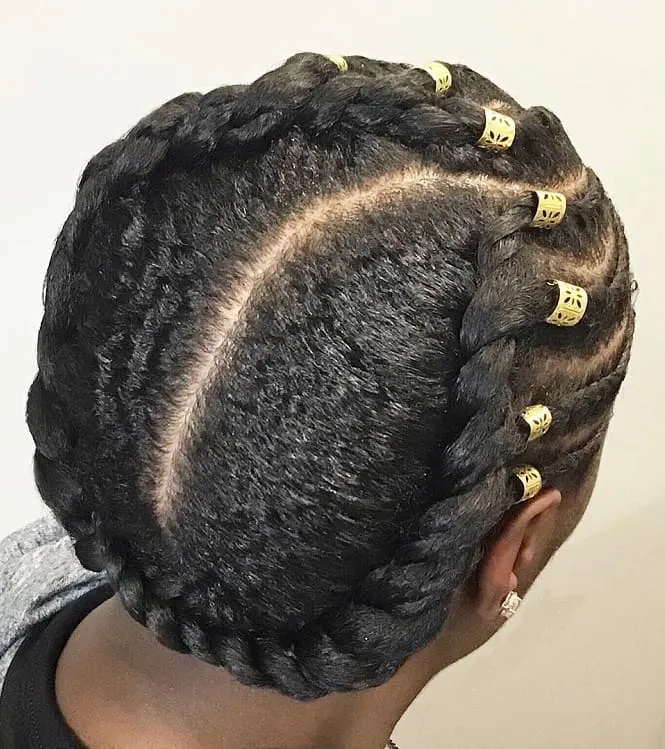 If you have naturally curly hair and want to have a nice updo with flat twists then you should go for this one. This is a decent and sophisticated hairstyle with which you do not have to worry about using any hair products to keep the flat twists in their place. You just need to give some time to them and they will turn out to be simple and elegant in just the way that you want them to.
14. Pulled Back Style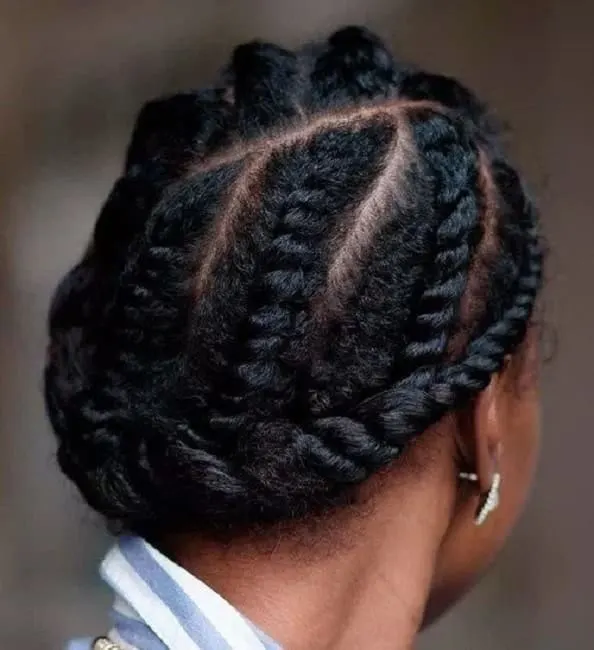 This lovely natural hairstyle for flat Havana twists comes with many great perks. The foremost of them is that you do not have to untwist and re-twist them every time that you shampoo your hair. This will easily last for up to 6 weeks, so you can go for this one if you do not have a lot of time to spend on your hair.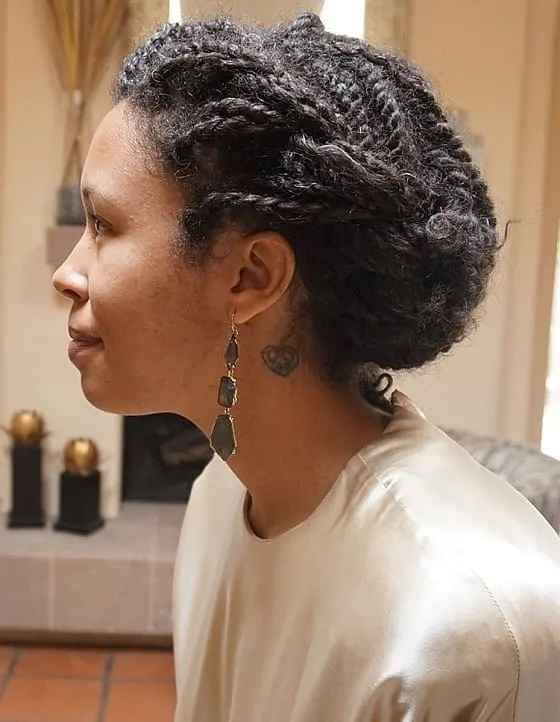 There are days when there is some time to play around with your hair too. You can go for some lovely intricate patterns of your naturally curly hair in flat twists. They can be interweaved or styled in a fashion that each one of them is separate, it all comes down to your preferences and the amount of time that you have.
Best Flat Twist Bun Styles
Flat twists and bun are a classic combo. Don't believe? See for yourself here.
16. Multiple Flat Twists in A Bun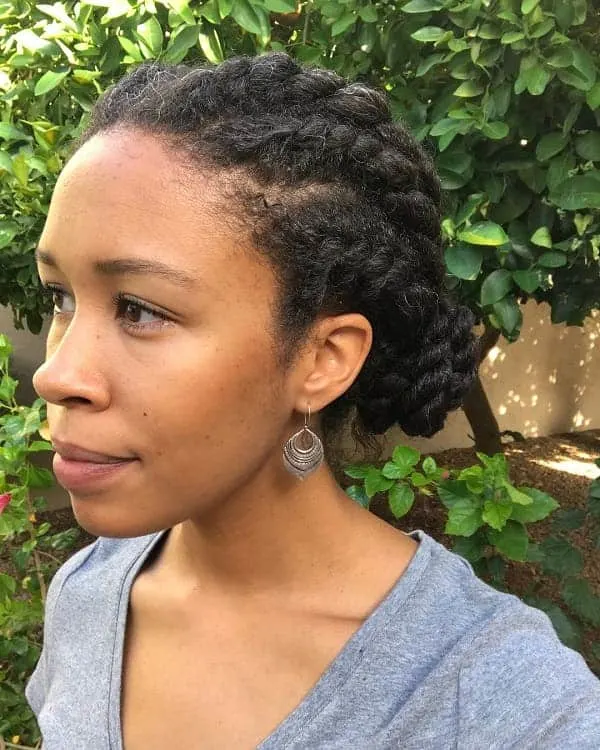 You can go for some simple and stylish flat twisted bun styles too since curly hair looks great in a sleek bun. For this curly bun style, you need to have multiple thick flat twists running around the sides of your head and then tied in an elegant bun. The resulting hairstyle will be so good that you will want to go for it every time you want a formal and professional look.
17. Tiny Twists into Chunky Bun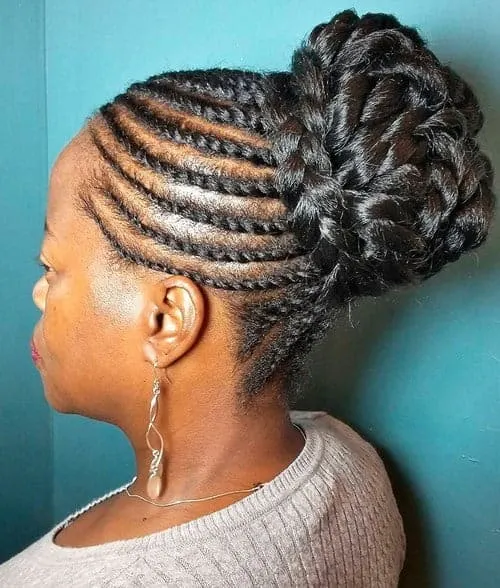 For an ultimate stylish and lovely intricate Senegalese twisted hairdo, you can opt this chic style. The tiny flat twist hairstyles are running naturally along the scalp and then all of them are pulled into a chunky bun, which accentuates all the twists separately. This one for the times when you have some time to spare.
18. Big and Bold High Bun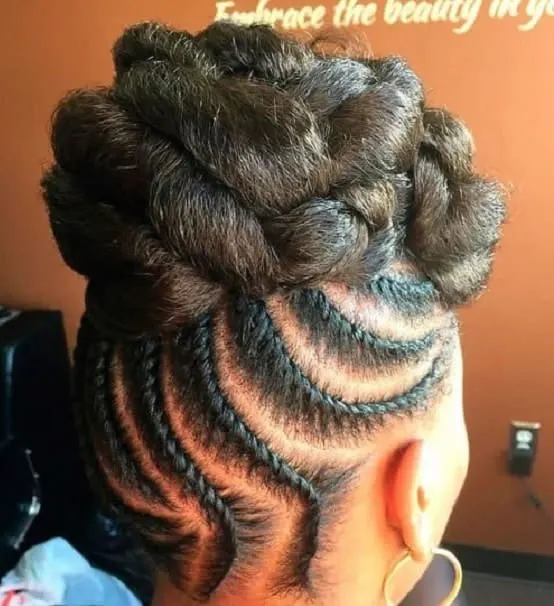 This big and bold high bun is for the women who know they are confident and beautiful. This bold style is going to make sure that everyone pays attention to you in a gathering. The sections of thin flat twists around the base and the thick voluminous sections at the top pulled into a bun that can go a long way in making you look like a diva.
Trendy Two Strand Flat Twist Hairstyles
Following are the two strand flat twist hairstyles that girls can try this season.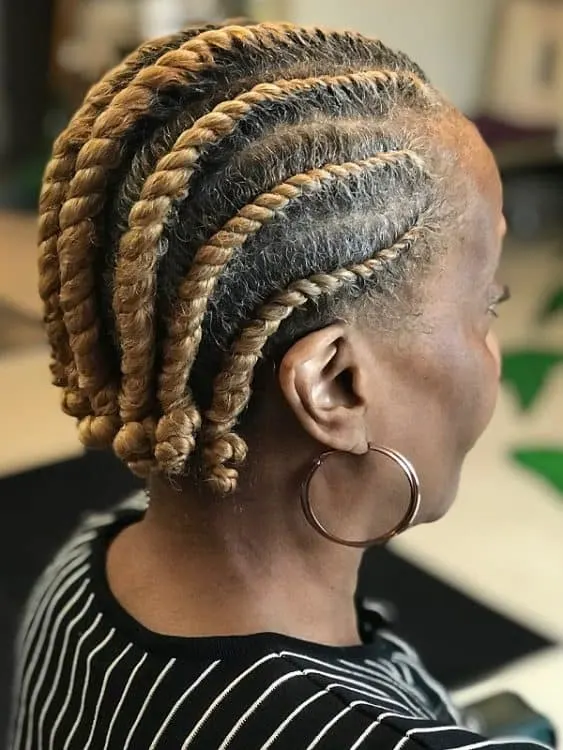 The flat twist hairstyle here makes a soft crown and covers the boundary of your head in a soft and delicate yet elegant manner.
20. Sleek Two Strand Twists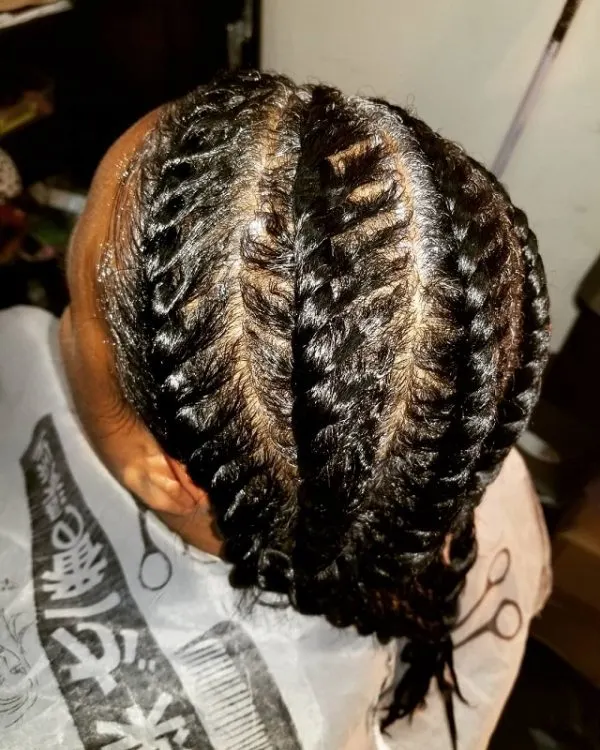 This sleek flat twist style here is intense as they give off a very polished and refined look. You can rock this hairstyle especially if you have short or medium length hair.
21. Sleek Intricate Patterned Bun
These two strand flat twists can be made in a neat and intricate pattern around the head and then tied in a kind of a bun at the front of the head. This gives you a very confident and bold feel especially when the hair is dyed in some bold color.
These flat twist hairstyles are hot in fashion nowadays so make sure that you try them and impress people with your choice of hairstyling.