If you've tried twist braids before and liked them, then Nubian twists are one type that you'd want to give a go, once you see how natural looking and comfortable they are. These twists are usually worn by women in winter since they don't require much styling and can last long. Not to mention they can be styled to fit for special occasions as well, so you don't have to worry much about that.
The Best Nubian Twists for 2023
The only thing required from you to do is to keep the twists moisturized so they'd last longer. Here are 35 seductive Nubian twists that will illustrate a variation of styles to wear with your hair.
#1: Side Swept Nubian Twists
A seemingly simple and beautiful style to go with is letting your long Nubian twists loose. Tease the roots by sweeping your hair to the side and attain a humble yet seductive look.
#2: Cornrowed Faux Hawk
As we demonstrate some hairstyles, a faux hawk is bound to occur in one of the options. With Nubian twist hair, create cornrows on one side of your head and let the rest of your twists fall freely on their own accord. This combo of cornrows and twists will give you a catchy look, fit for not so casual occasions.
#3: Double Top Knots
Part your Nubian twists in half to two parts, then create a top knot on each side. This hairstyle is an upright way of exposing your fun side especially that the twists look bubbly and lively on their own.
#4: Side Magenta Mohawk
You can easily create a side Mohawk by shaving one side of your head. But it's the details that make one look different from the other. Craft some geometric patterns or simply parallel lines on the shaved side, and add some color like magenta to your long loose hair for a glamorous outcome.
#5: Nubian Twist Updo
One of the styles to go with when you've gotten bored of loose hair is an updo. Depending on which style of updos you're aiming for, the difficulty of creating it and the skills needed vary. But all in all, updos are a fancy way of representing your twists and attaining a feminine look. Know the difference between Senegalese twists and box braids.
#6: Berets and Twists
We can't deny that twists always look good even on their own. But adding the right accessories also gives a good look if not a better one. This simple beret hat transformed a humble look into an attractive one in seconds.
#7: Nubian Twist: Shades of Blonde
Sometimes blonde looks off when seen over a dark skin complexion, but the problem lies in which shade of blonde you're using not in the blonde-hair brown-skin combination. Choosing a variety of blonde shades altering between dark blonde and light brown, blending into each other will give you a glamorous look you'll want to sport all the time.
100 Black Braiding Hairstyles for 2023
#8: Cut It Short
Summer is right around the corner, which means the shorter the hair, the better. Add style to your Nubian twist by cutting off some length. This is the perfect hairstyle for every occasion.
#9: Tinge of Red
A little bit of color can do a lot. Red is one of those colors that will go on any skin tone. So if you want to change it up, add some red highlights to your Nubian twists.
#10: Sleek Side Parted Nubian Twist
Don't ever underestimate what a side part can do for your hair. Changing up your part can change a lot. To add a little more of change, highlight your twist with auburn brown and honey brown alternately.
#11: Twisted Half Updo
This hairstyle is perfect for a more formal night out. All you have to do is bring the twist from your crown upwards and pin them back.
#12: The High Bun
Another perfect style for those seductive Nubian Twists. All you have to do is pull all the hair back into a high bun, and then ends of the hair fall forward to create a fringe inspired look.
#13: Honey Brown Twist
This hair color is just perfect with Nubian twist. It's not too loud, but at the same time, it's not too subtle. The honey brown is perfect for all skin tones and will compliment you fabulously.
#14: High Up Ponytail
This hairstyle is just amazing, it can be worn at any event, and it will still look completely chic. All you have to do is get your hair in a high pony and then wrap a few strands around it to hide the hair tie.
#15: Side Fringe Twist
This hairstyle is perfect for you if you are blessed with a broad forehead. Cut a few Nubian twists as a side fringe and cut the rest of your hair shoulder length.
#16: Purple Nubian Twists
Purple is one of the colors that has been trending a lot. And who said women with Nubian twists could not have it. Color your hair purple with a hint of pink.
#17: The Blonde Mohawk
There is something empowering about women with Mohawks. Dye your Nubian twist blonde, and cut the hair in Mohawk style.
#18: Side Shaved Long Pony
If you aren't prepared for a traditional Mohawk yet want something around the same lines, this haircut is a perfect substitute. Take your crown hair and tie it in a pony and then shave the sides of your hair off.
#19: Slay With Grey
While you look around for new inspiration you will that grey is one color that is everywhere. Hence it is the best time to embrace it. Let your greys grown and tie them into Nubian twists with a side parting.
#20: Simple Mid Pony
Ponies is such an underrated hairstyle. This hairdo will never go out of style and can be worn at any occasion and still be considered appropriate. All you have to do is get all your twisted hair up in a medium-high pony and leave a few strands at the side to frame your face.
#21: Nubian Twisted Crown
There are multiple ways to achieve this seductive Nubian Twist crown. One of them is getting an elastic band around your hair after putting all your hair forward and then tuck each twist inside the elastic band. This hairstyle looks like it takes a lot of effort, but really it is quick and easy.
#22: Light Brown Twisted Hair
Get your Nubian twist colored a light brown color to add a little dimension. And then part all of them to one side. It is the perfect length for the summer.
#23: Side Swept Highlighted Nubian Twist
This is one of the sexiest sides sweep hairstyles ever. All you have to do is make a harsh side parting and twist the hair close to the scalp on one side. To add a little more change color your hair with red highlights.
#24: Half Braid Half Twist
This is a variation for the hairstyle above. The only difference there really is the length of the hair and color of the hair. All you have to do is side part and then braid one side of the hair, and if red is not your color, then you can opt for a blonde. This hair is perfect for the summer.
#25: Long Twisted Mohawk
All you have to do to achieve this look is to take make multiple small buns of your Nubian Twists focusing towards the center of your head. As you reach the bottoms the hair will get lesser, and the buns will get smaller. This is a great way to achieve a Mohawk inspired look with short hair.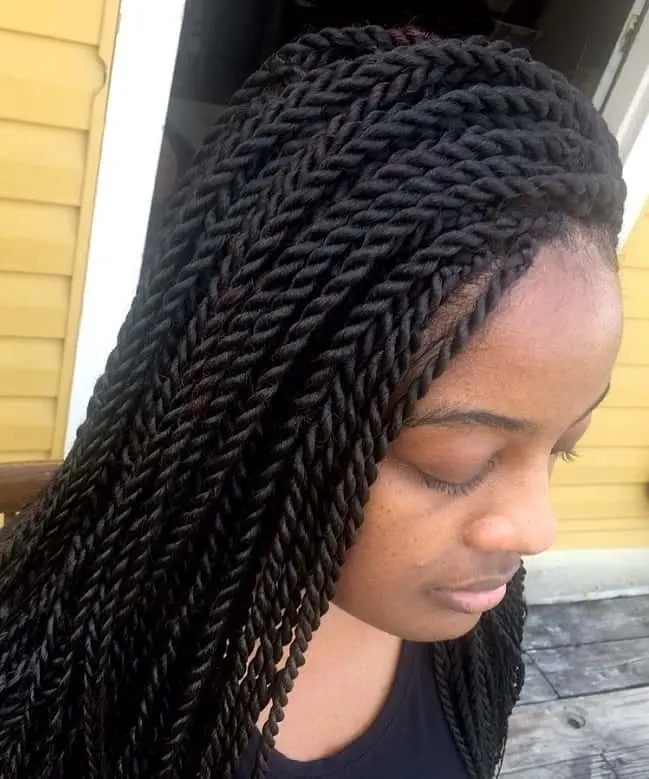 With all the gorgeous Nubian twist styles, how could someone possibly not want to try them? Those twists can go with updos, down dos, Mohawks, hair accessories and different ombre and still manage to look fancy and extravagant.
It's like an auction over style, comfort and durability all for a minimum amount of cash. So don't think twice before giving them a try, for they are totally worth it.