The variety of amazing short bob haircuts for black women is truly breathtaking. If you're an African American woman looking for the best way to change your hairstyle, a bob can be a great way out.
Short hairstyles can help Black women deal with their unruly and curly hair. If you're a fan of straightening your hair, it will be much easier to do with a short mane.
Trendy Black Bob Cuts
If you're brave enough to go for a style change, there are amazing short bob hairstyles for you to try. Black women look good with all types of bobs. A dark skin tone helps in experimenting with all kinds of shades. Blonde and red bobs are popular, but natural black curly bobs are in style as well.
We've collected 45 fabulous short bob hairstyles for you to try and enjoy. Consider your face type and go on to choosing the right bob for you.
#1. Black Short Blunt Bob Cut
Incorporating a blunt cut on a short black bob gives your style a bit of edge. Depending on the thickness of your hair, it will also add built-in texture you can play with.
#2. Black Short Weave Bob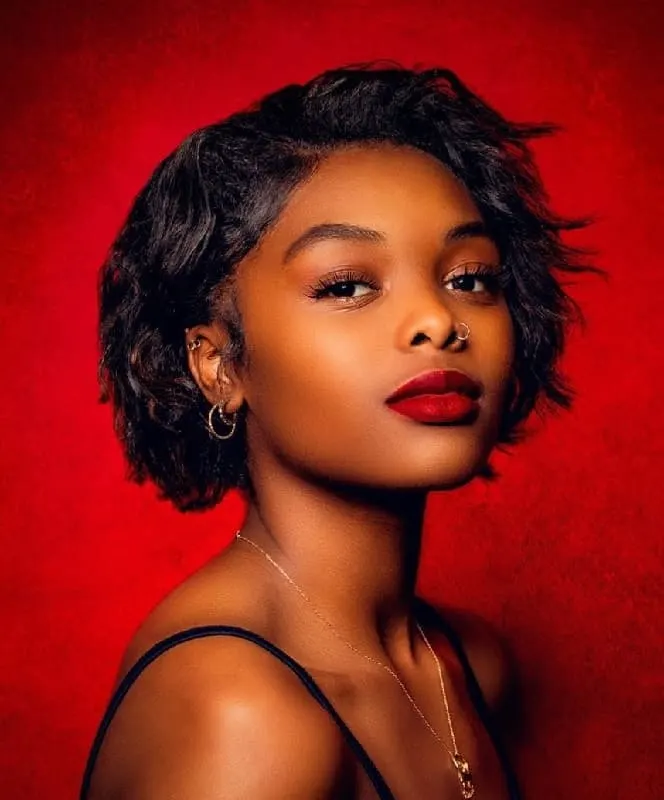 Style up your short bob with a wavy weave. These soft waves are super feminine and flirty. If you like the appearance of thicker hair, waves also make the hair look more voluminous.
#3. Short Bob for Fine Black Hair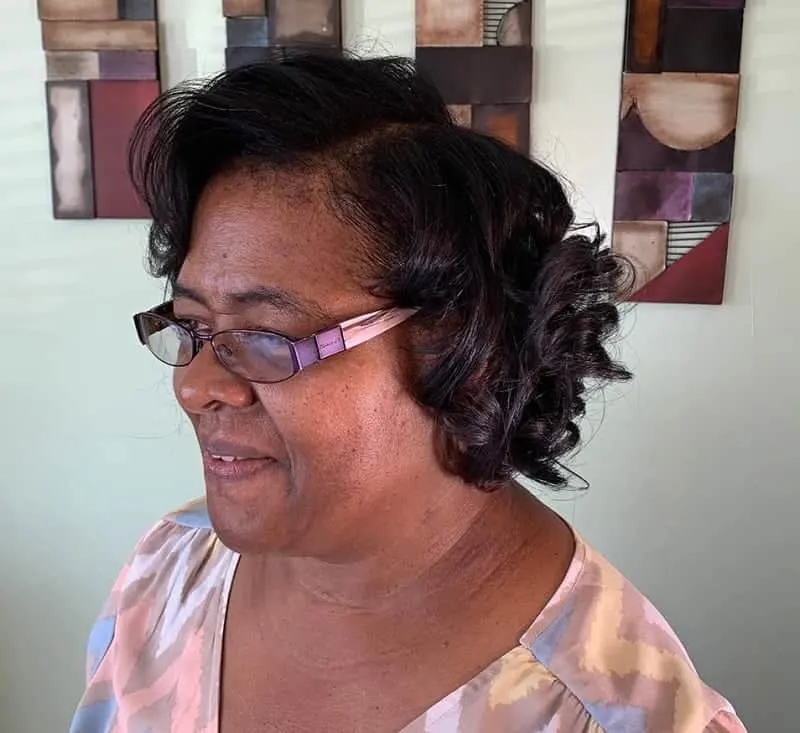 For women with fine black hair, go with this chin-length curly bob. Use a curling iron to add in large waves which will create shape and texture.
#4. Pixie Bob for Black Women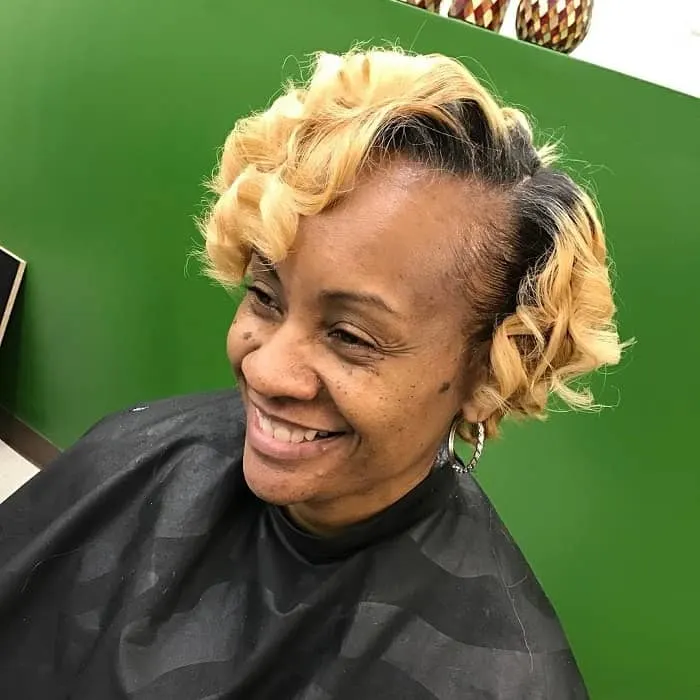 On almost every face shape, a pixie bob is a flattering hairstyle. Its playful vibe is easily accentuated with springy curls. Platinum hair color will lighten up the look and flatter your dark skin tone.
#5. Short Messy Black Bob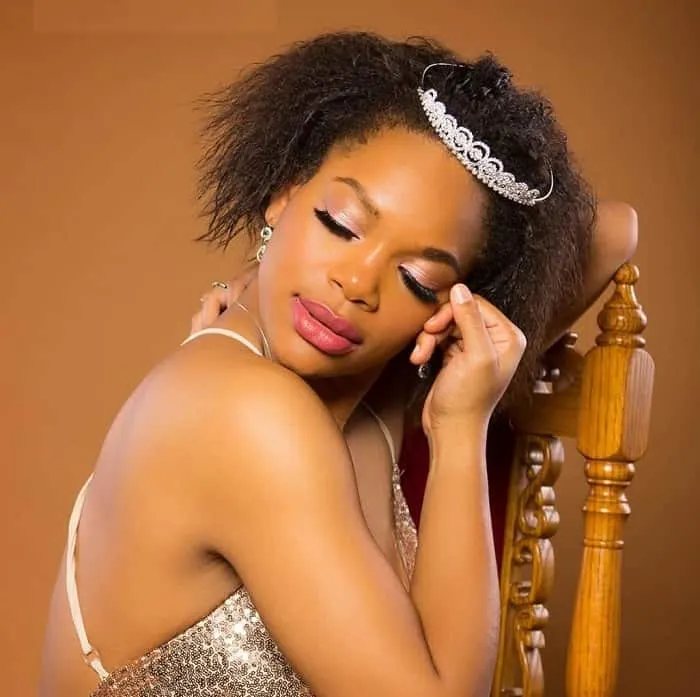 Pair any hair accessory, like a tiara or sparkly hair clips, with a messy short bob to play up curls or waves. To get the messy bob, ask for short layers and use product to shape locks.
#6. Tiny Twists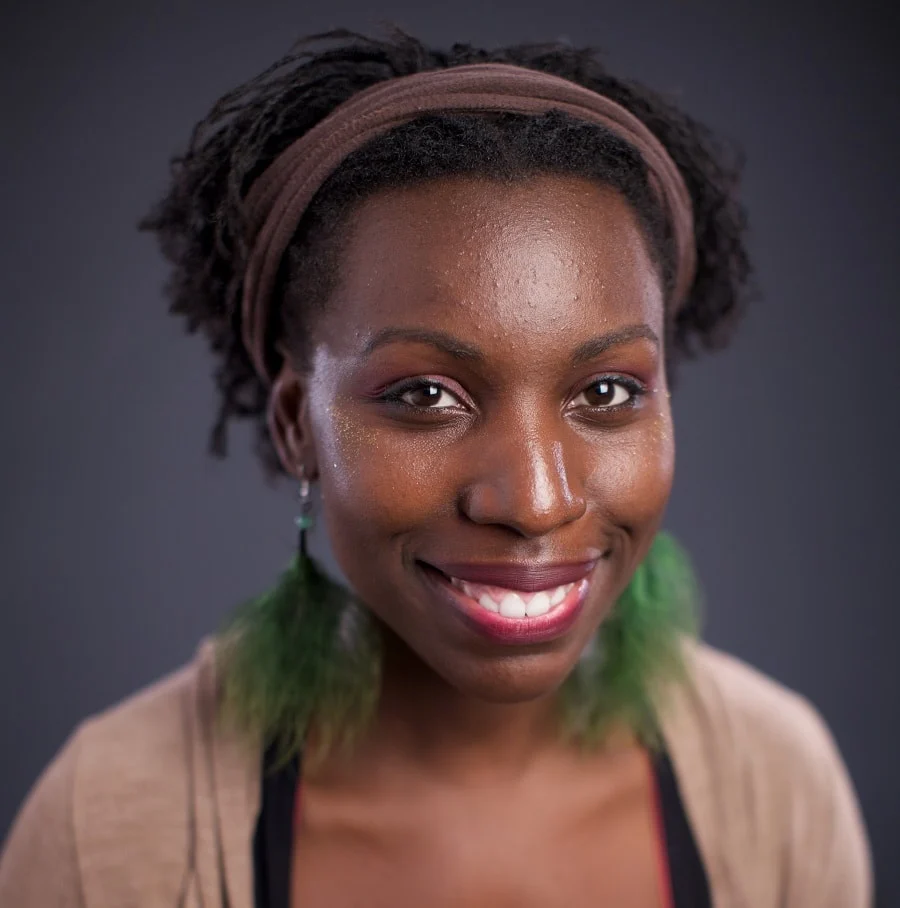 If you're looking for a beautiful protective hairstyle for your natural black hair, we love the look of thin, tiny twists. Fill a bob with them and top with a brightly colored headband or wrap for a pop of color.
#7. Wavy Short Layers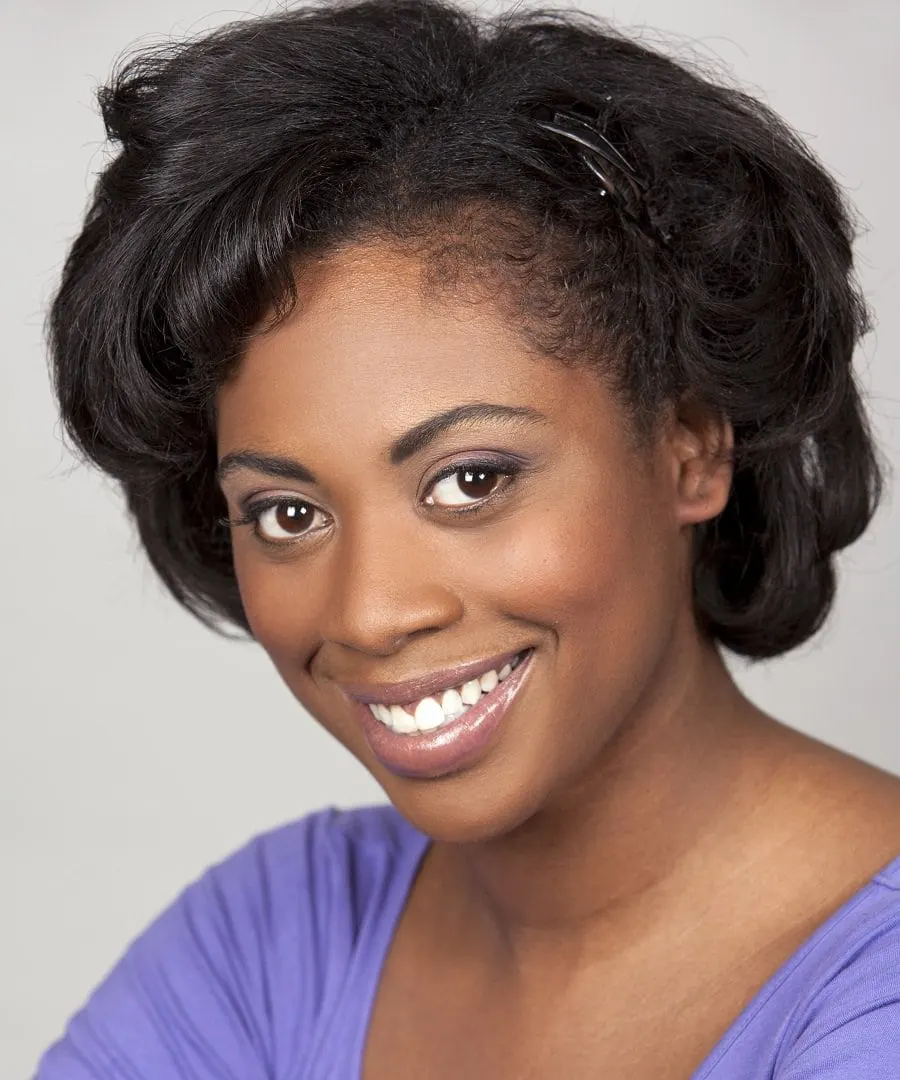 Love the look of softer hairstyles? Ask your stylist for lots of short layers that you can add waves to with a hot styling tool. You can make them varying sizes for cool contrast. Insert a hair clip near the scalp to pin back one side for the final touch.
#8. Layered Spirals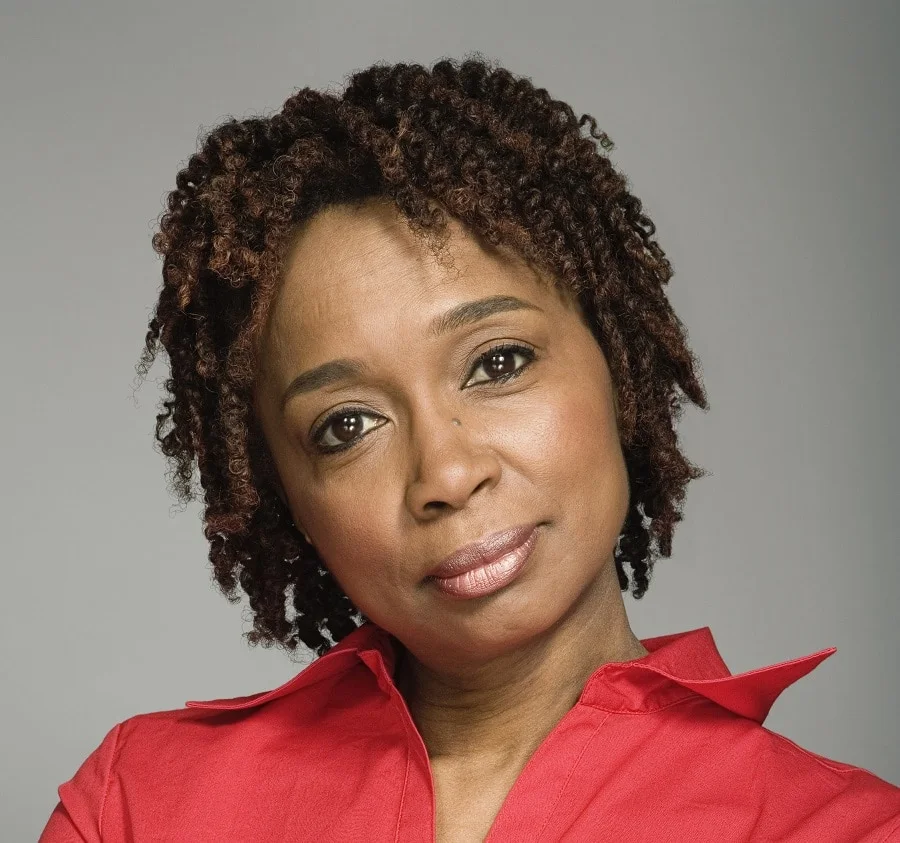 A short bob instantly has more shape when short layers are added. Make the shortest pieces at the bang area so you can create a multitude of looks with or without side bangs. Your beautiful spiral curls will look gorgeous.
#9. Straight with Thin Bangs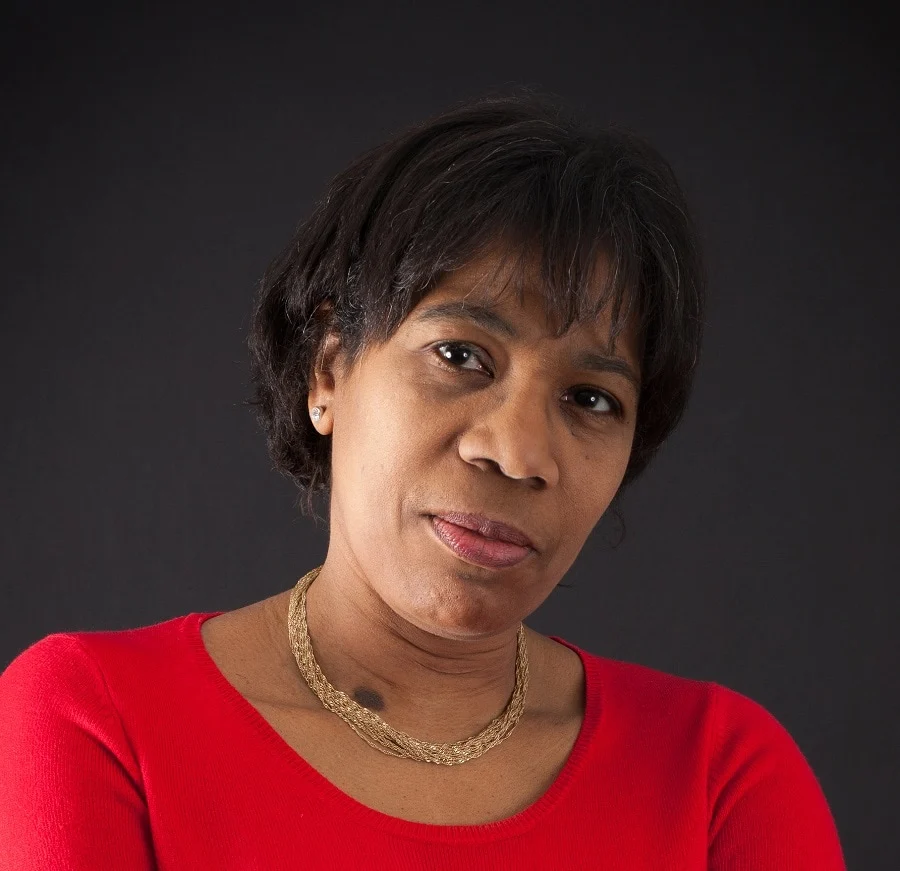 If you are a black woman who prefers wearing your hair straight, at least give your mane shape with varying lengths. This short haircut will help to prevent a 'rounded' bob shape, as will cutting in thin, wispy bangs.
#10. Caramel Curls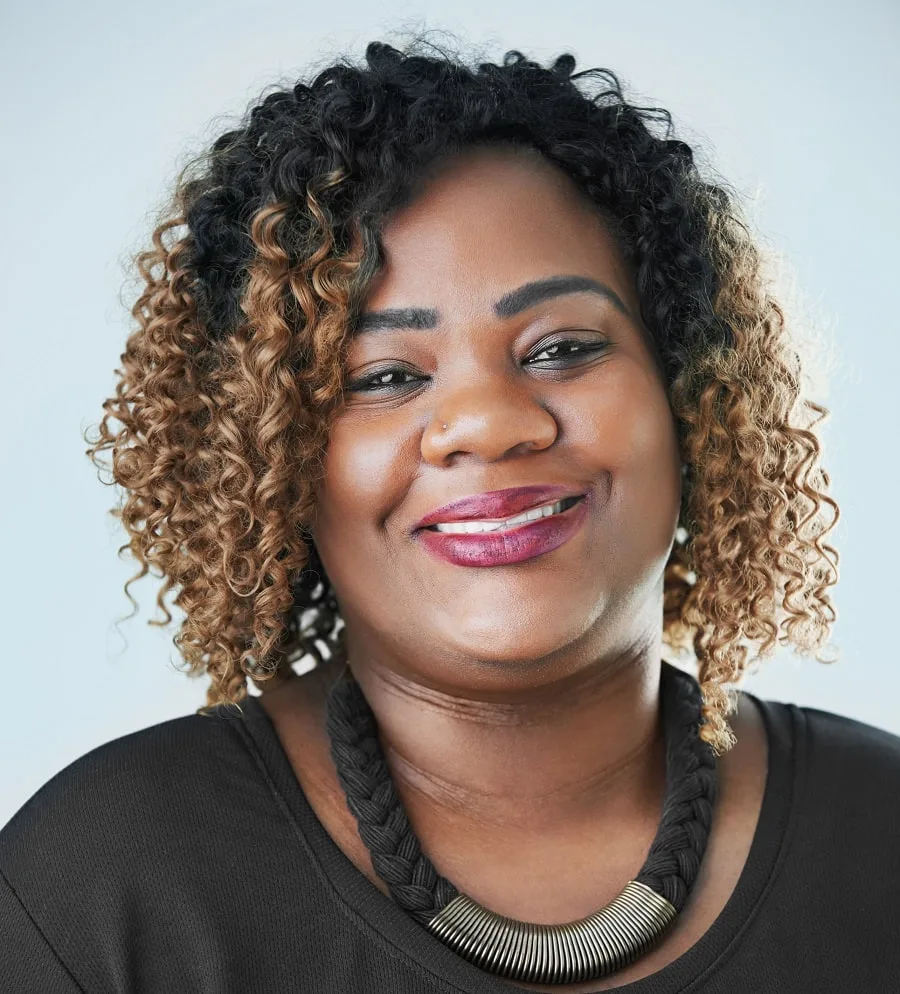 Black women effortlessly pull off caramel color in their hair, so you should definitely use it to highlight your hair's natural texture. This short curly bob is parted slightly off center and features black roots with rich caramel from about three-quarters of the way down.
#11. Straight with Highlights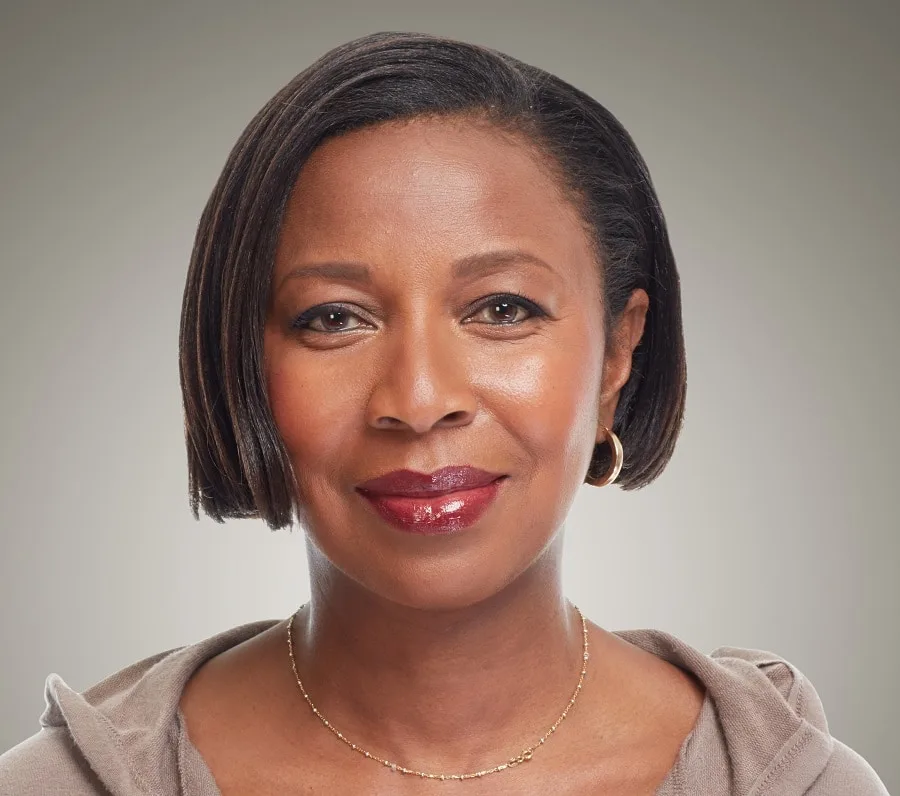 For the minimalist lady we recommend a simple, straight bob. You can help to prevent it from looking to plain Jane by giving it a deep off center part and adding thin blonde or caramel highlights.
#12. Short Ponytail
When you're wanting to switch up your daily look, gather your short bobbed natural hair into a low ponytail. The soft style for black girls is inviting and can even be worn with a neutral or brightly colored headband.
#13. Choppy Bob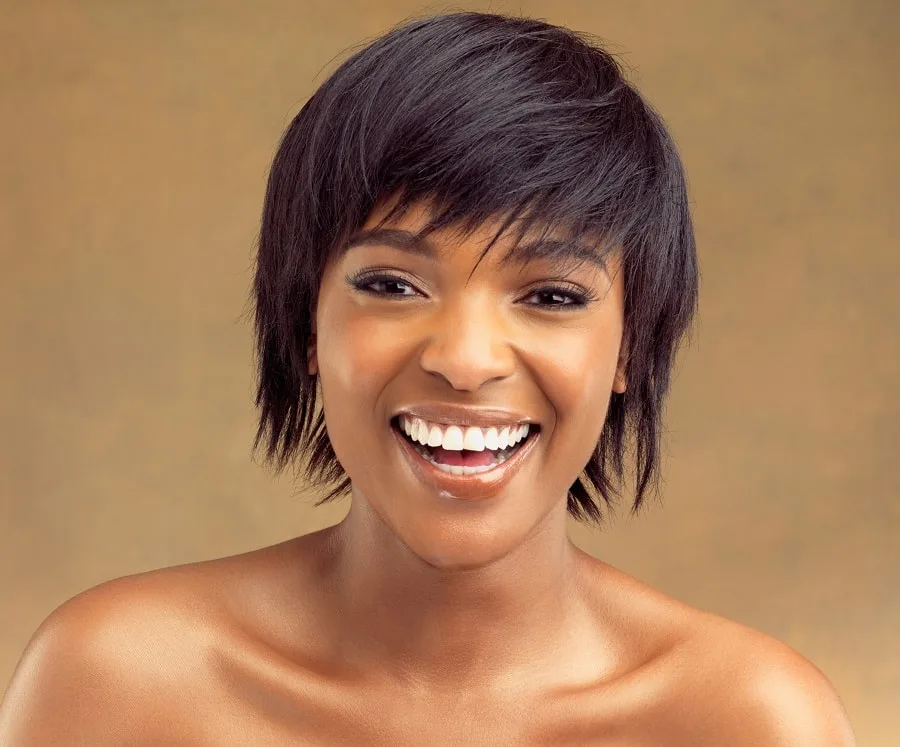 This bob will make any Black woman with short hair look good. Side bangs and angled ends are a great choice for any girl who wants to look neat and stylish.
#14. Sleek Bob for Round Face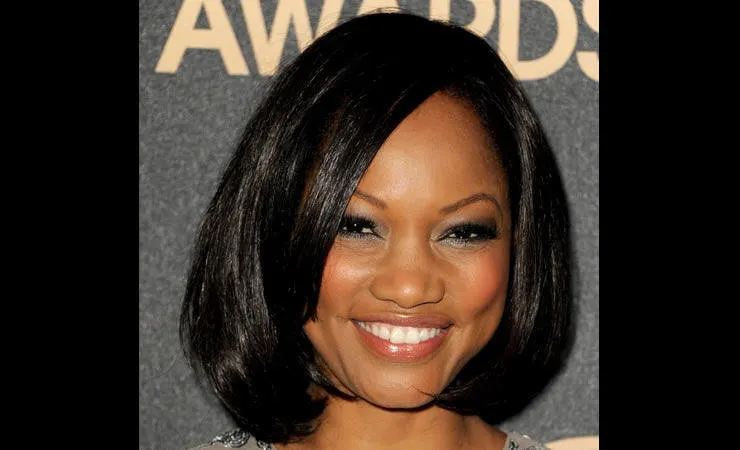 This cute short bob with inverted ends will be a great choice for black women with round faces who want to look younger. Long side-swept bangs are perfect for making the face look more oval.
#15. Asymmetrical Bob with Short Side-Swept Bangs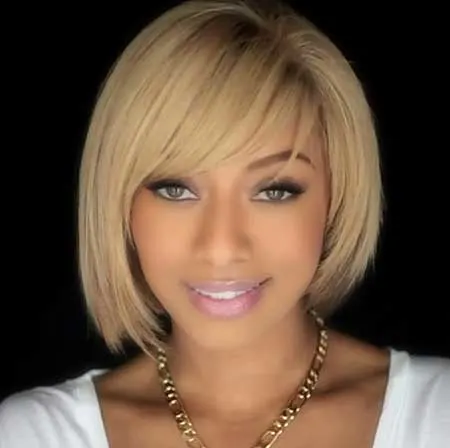 Asymmetry is in style. So if you are ready to keep your blunt bob neat, make the sides different in length. Short side-swept bangs will make this bob even prettier.
#16. Wavy Bob for Short Hair

The short bob hairstyle looks charming because of the short and neat waves. Add some light brown highlights to complete the look.
#17. Asymmetrical bob with wispy ends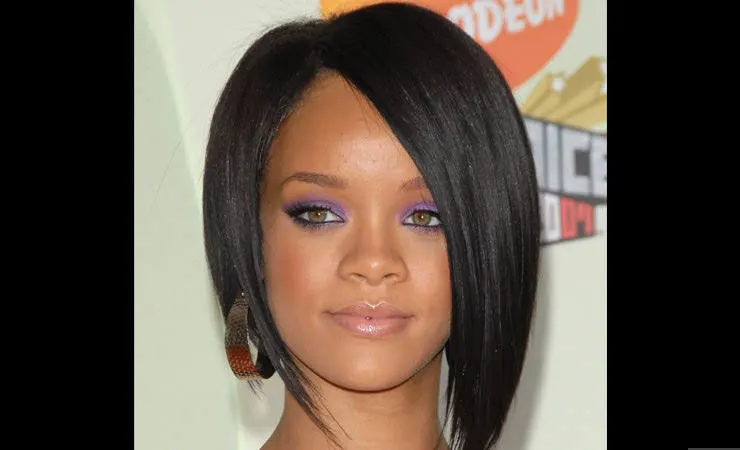 In this black short bob hairstyle, one side of the hair ends near the chin area and the other one reaches your shoulders. It looks perfect when straight but you can try curls as well.
#18. Very short bob haircut for black women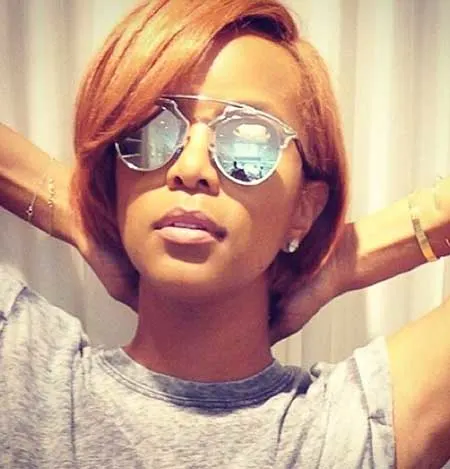 If you are a fan of short haircuts but are not ready for a pixie just yet, this amazing bob is for you. Side swept long bangs add in a lot of styles.
#19. Short Sew in bob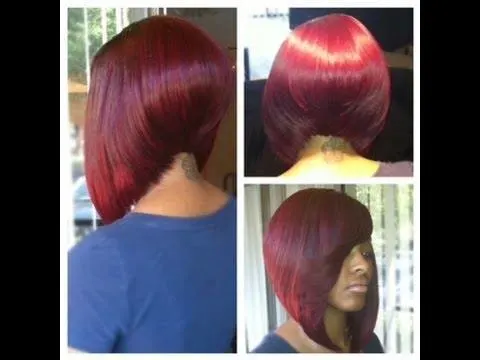 If you need to give your bob some volume and even more style, go for sew-in hair extensions. They can make a simple hairstyle look truly fashionable.
#20. Diva bob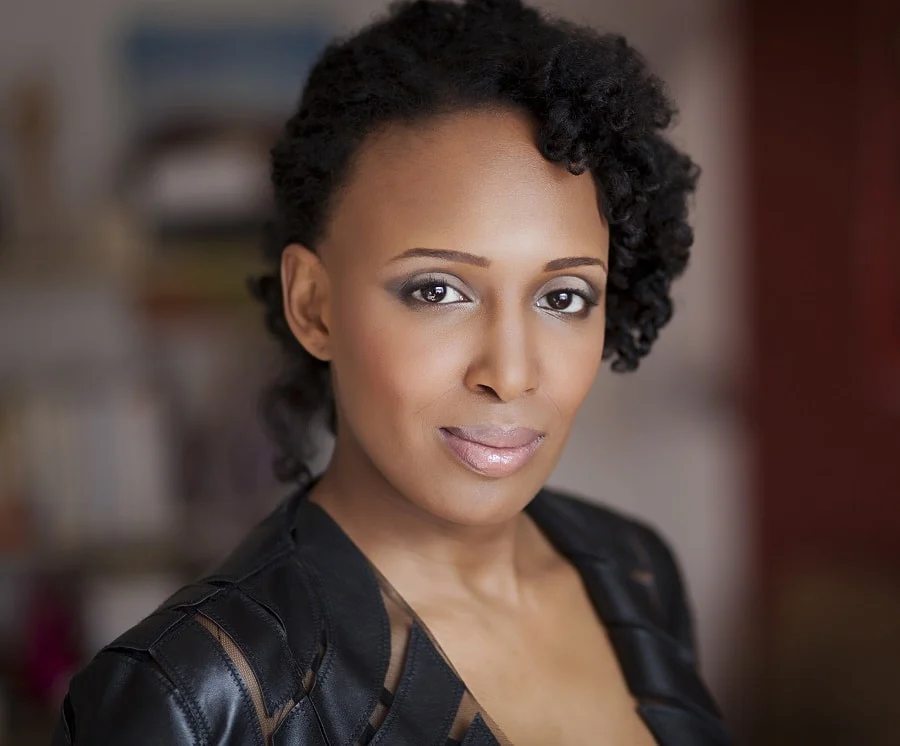 This messy yet stylish bob will give you a confident look. It's a good hairstyle for oval faces.
#21. Asymmetrical Bob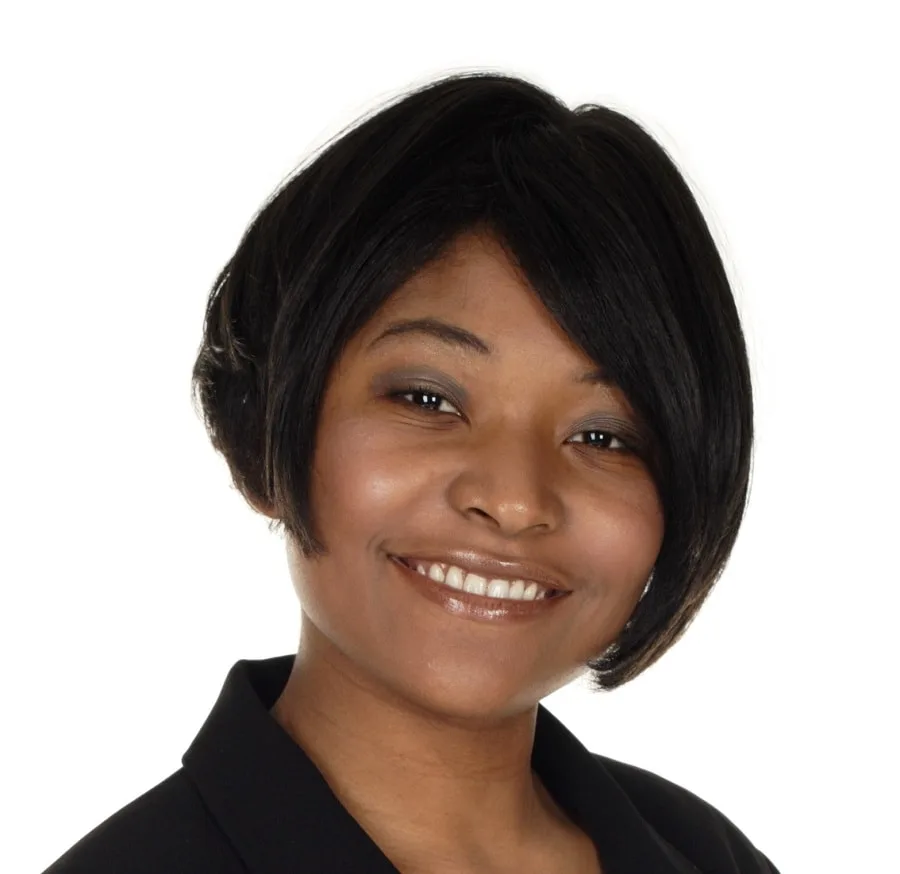 This voluminous short bob hairstyle is perfect for women who like to keep their curls intact and aren't ready for daily straightening.
Most Popular Short Haircuts for Black Women
#22. Cropped bob with short bangs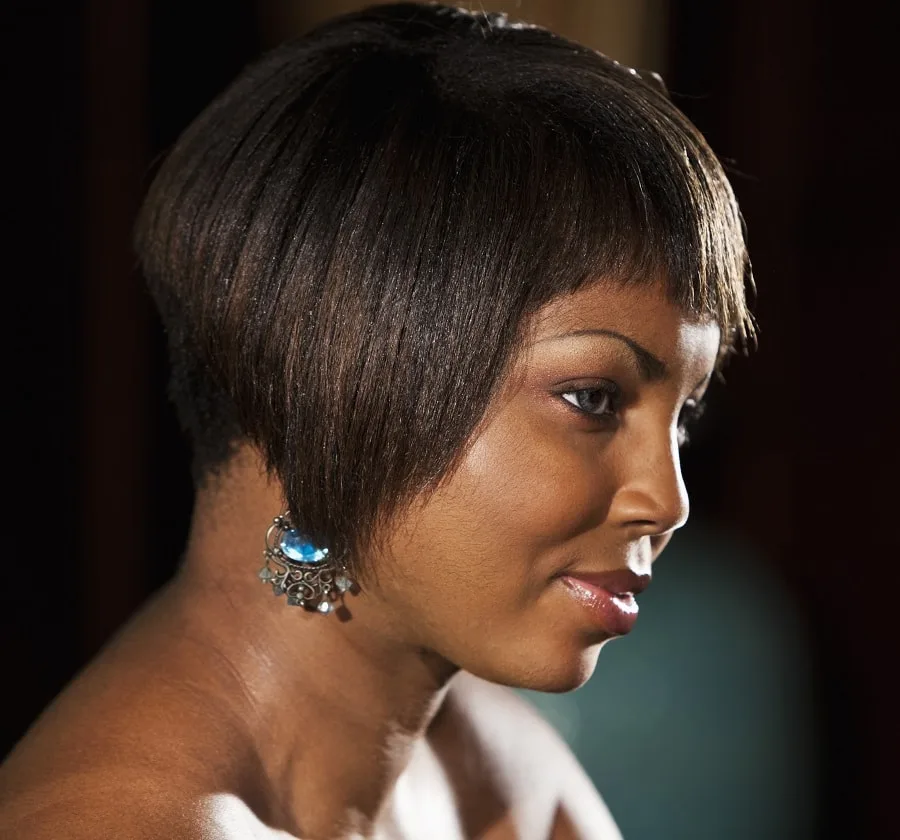 This is a perfect short bob for girls with oval or long faces. It looks very neat but will require some work on your part. You will need to straighten it out on a regular basis and keep the bangs short and neat.
#23. Short bob with curls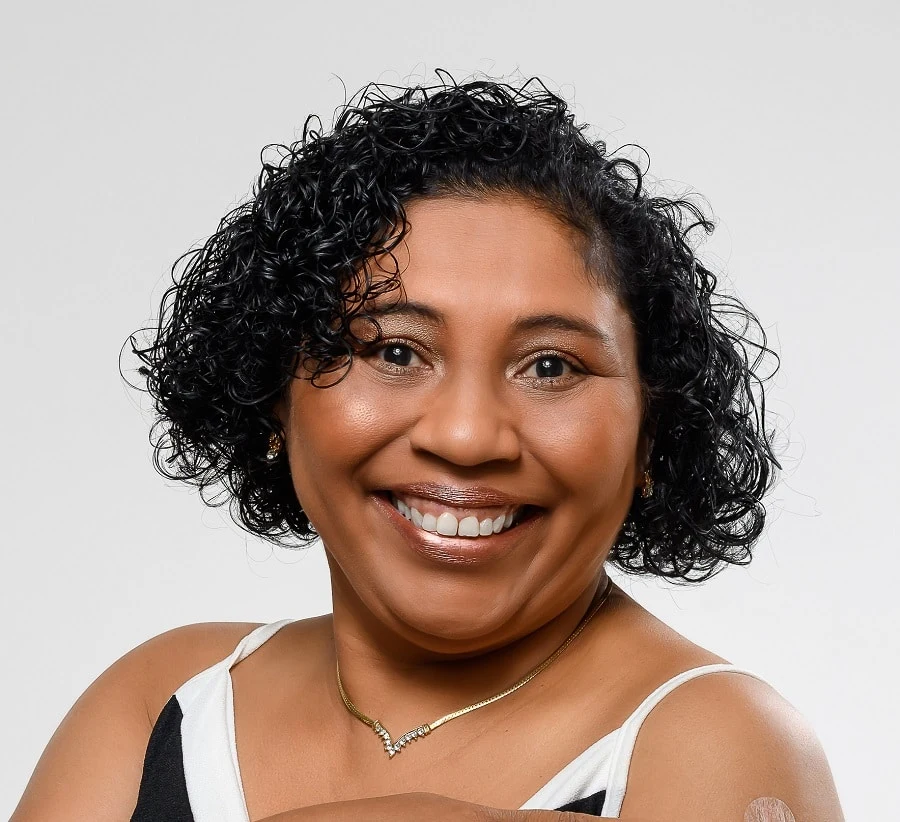 Curls are something many black women love to flaunt. There is no reason to get rid of them if you want a bob. Just keep the curls neat and fluffy to give the bob some shape.
#24. Short and Lightly Curled Bob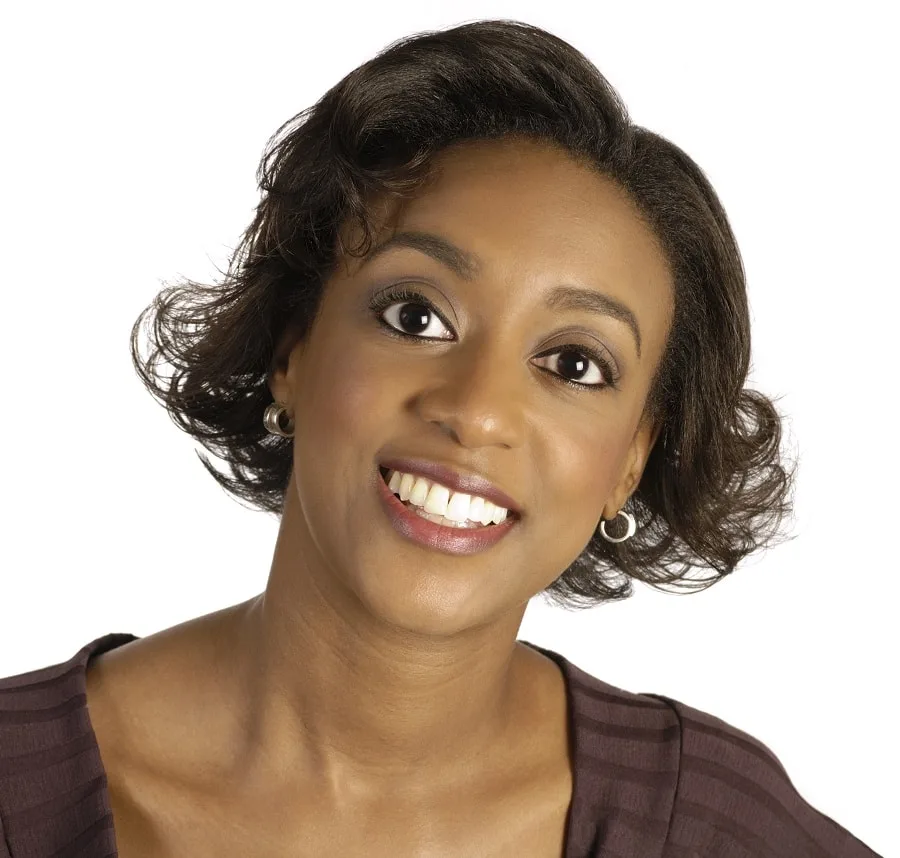 This soft bob will look especially well on girls with oval or long faces. This hairstyle will make you look sweet and sexy at the same time.
#25. Chin length bob haircut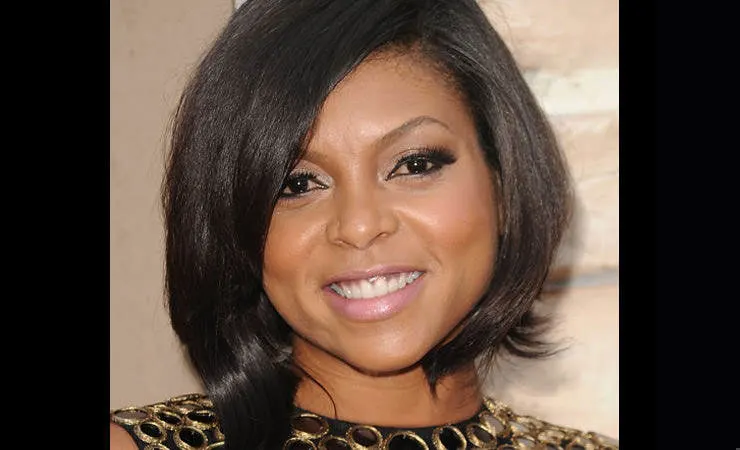 This simple yet elegant short bob haircut for Black women makes a long face look more round.
#26. Highlights bob hairstyle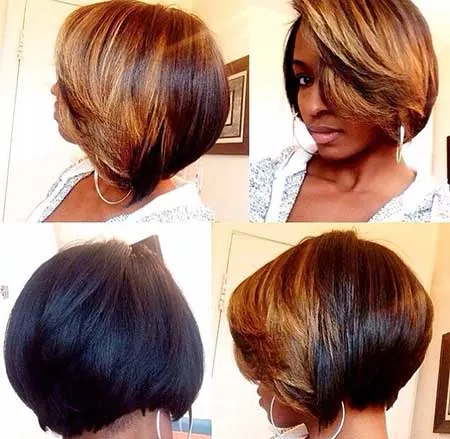 If you already have a short bob and are looking for a change, dye it a different color. Black women look great with light hair, so start with some dark blonde highlights.
#27. Mixed style

Straight hair on top and wavy on the bottom is great for special occasions. This hairstyle will be easier to accomplish if your locks are layered.
#28. Sleek straight bob with side-swept bangs

Consider making this stylish bob with side-swept bangs if you have big forehead.
#29. Layered Bob

A layered bob is a great choice for Black women with thin hair. It will make the top part of your locks look voluminous while the asymmetrical bangs will appear very stylish.
#30. Stylish bob with asymmetrical bangs

An asymmetrical bob with diagonal bangs will make you the star of any dance floor while still giving you a respectable appearance in the office.
31. Curly Side Bangs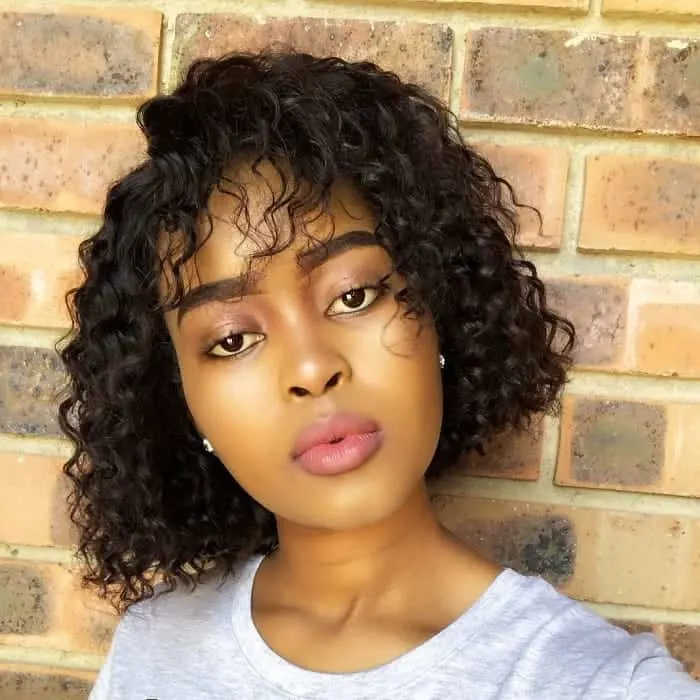 Whether you have a wide forehead or you just like the way side bangs look, they're the perfect addition to a short curly bob for flattering face framing.
32. Teal and Straight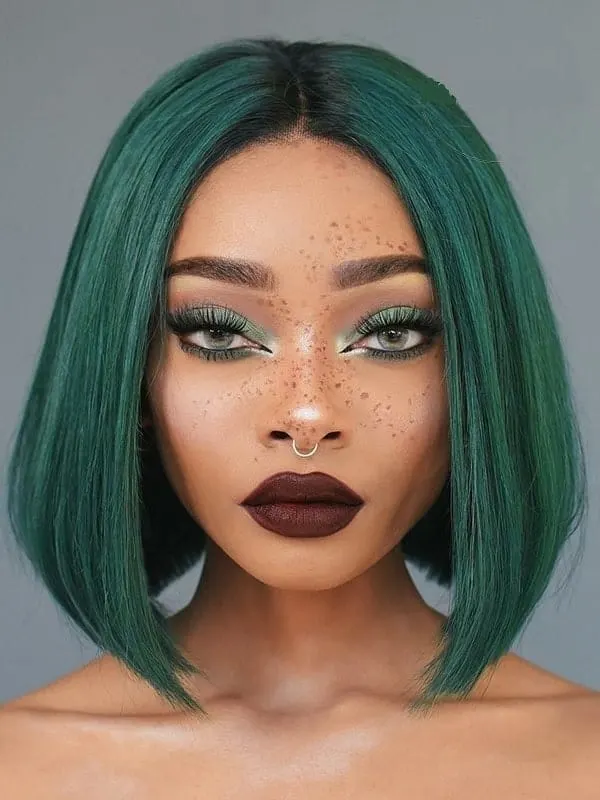 A sea green or teal color is quite beautiful against dark skin tones. We love the vibe it gives to a straightened bob parted in the middle.
33. Voluminous Bob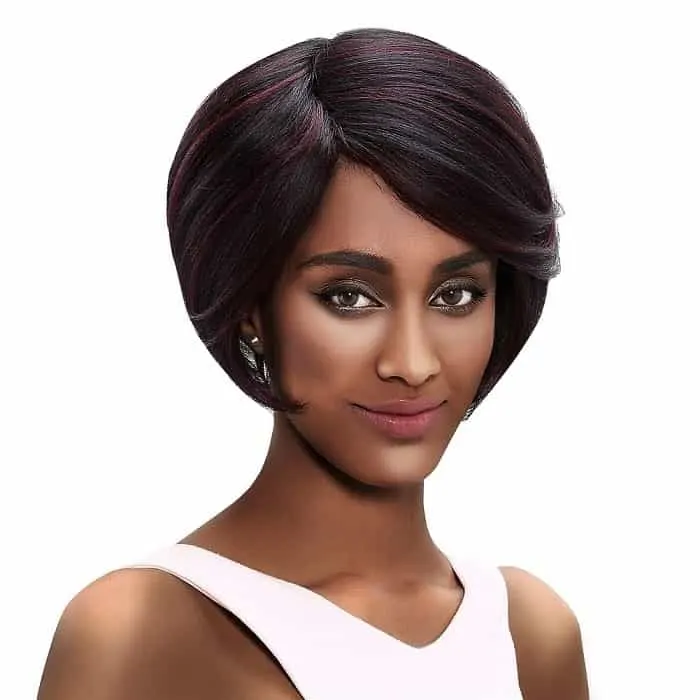 Maroon or burgundy highlights give black hair a touch of edgy beauty. They'll look great on a sleek, voluminous bob that has face-framing layers. For extra height, spritz in hairspray at the crown and tease with a comb.
34. Light Pink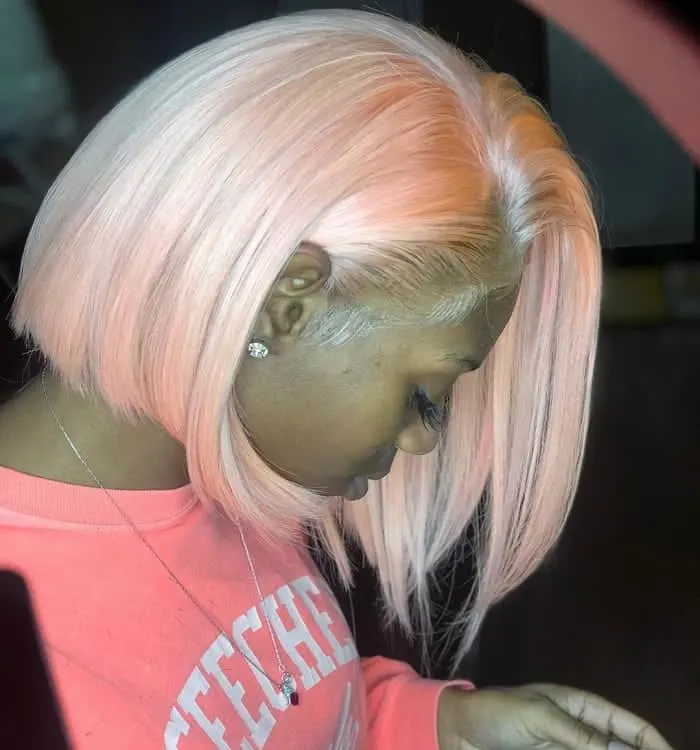 For Black women who love fierce statement hairstyles, a light pink or light peach will easily set apart your bob from anyone else's. Rock it straight with a side part or add a few waves to dress it up.
35. Ombre Dreads
Dreads and twists are a favorite hairstyle for Black women and it's easy to see why. With a bit of color in ombre or highlights, you can create a chic short hairdo.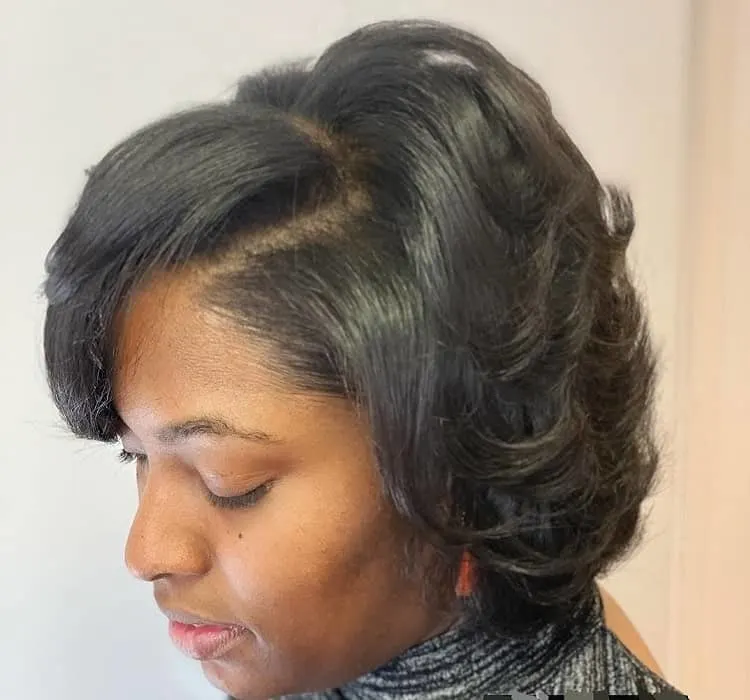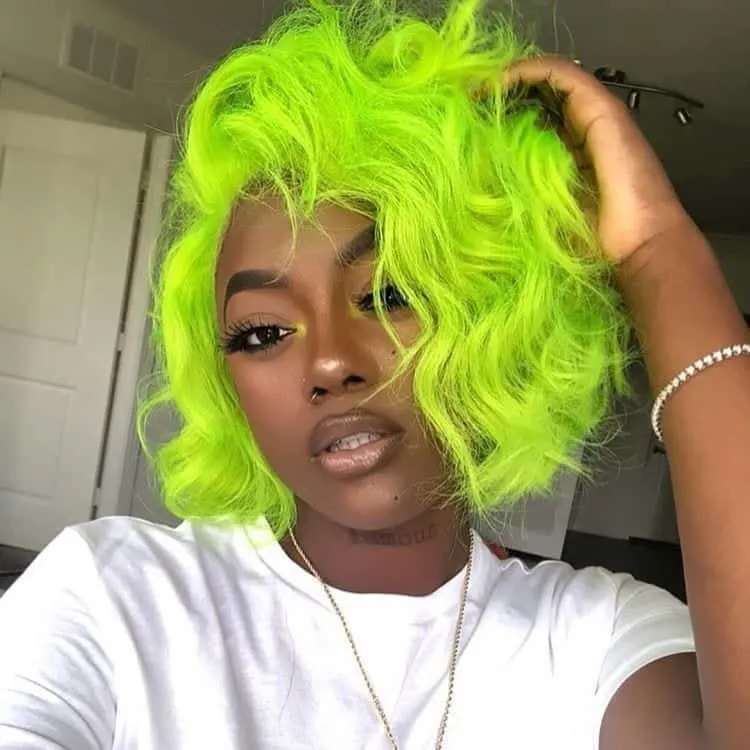 Finding the right short bob cut for Black women may be a struggle, but choosing one of the styles above is a guaranteed win.