Havana twist hairstyles are a wonderful way to diversify your image. This type of hair extensions can make your hair look truly impressive without any effort. These twists are made of manmade fiber but look and feel just like real hair.
By attaching a Havana twist, you are driving into the whole new world of beautiful hairstyles and hassle-free hair care. If your own curls are unmanageable and you are looking for something smooth, the Havana twists are for you.
Whether you already purchased the hair extensions or are just contemplating the new style, these 30 options can definitely inspire you.
Havana Twist Hairstyles for Worry-Free Hair Care
When you finally try the Havana twist hairstyles, you might decide to forget about the rest of the haircuts for a long time. The smooth and neat way your hair will look with these hair extensions is truly indescribable.
We came up with a collection of hairstyles you can create when you get the Havana twists attached. From elegant buns to wild ponytails, the Havana twist will definitely lift your spirits. If you are tired of your own hair but dying seems unattractive, the hair extensions can help you change your image fast.
1. High bun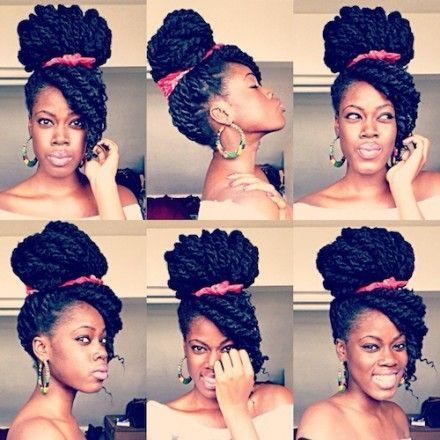 The first and foremost thing that the Havana twists do with your hair is to add the volume. While your own natural locks would stick out from such a large bun, the Havana twist looks neat and attractive.
2. Regal buns
When you are satiated with wearing your beautiful Havana twists down, the time will come to experiment. Making two symmetrical regal buns on top will make you look like a 16th-century lady.
The main advantage of all Havana twist hairstyles is that the hair is very manageable and you can do whatever you want with it. Clip your long locks behind to create an appearance of the side swept bangs.
4. Bow bun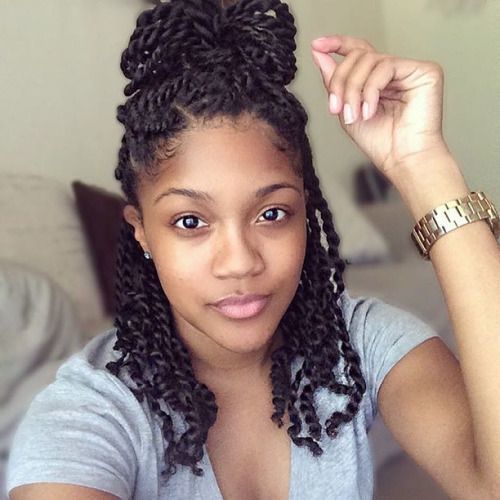 Havana twists will make your dream about a manageable bun come true. You can create a bun on top and then divide it into two parts with another strand to make an appearance of a bow. Check the best chignon bun hairstyles.
5. Medium-length hair
Havana twists can be of any length. If you don't like long hair, you can get the medium-length hair extensions and create many different hairstyles with their help. For example, a high voluminous bun.
Learn how to do Havana Marley twists like professionals:
6. Let it down
Your Havana twist hairstyle doesn't need to be complicated. You can enjoy simply wearing your hair down without constant worrying about fizziness, sticking out and other problems.
The Havana twists can be arranged into cornrows. You will need to make cornrow with your own hair and then attached the Havana twist hair extensions. The overall results will be truly magnificent.
8. Rings
You can create impressive hairstyles with the help of special hair accessories. The rings are created not to keep the hair intact but to give your hairstyle a regal appearance.
9. Wild colors
When it comes to hair extensions, you need to take full advantage of outrageous Havana twist hairstyles by experimenting with wild colors. Try something that looks great combined with raven black locks, such as burgundy.
10. Dreadlocks
If you are a real dread fan but are afraid of ruining your hair with such experiments, the Havana twists will become your best friends. Ask your hairstylist to create dreadlocks on your hair extensions.
Senegalese Twists Vs. Box Braids
These Havana twists hairstyles are created to help you get inspired. In fact, whatever you come up with will look good on these hair extensions. So if you are ready to attach them, get ready for the fun ride!