Havana twist hairstyles are a wonderful way to diversify your image. This type of hair extensions can make your hair look truly impressive without any effort. These twists are made of manmade fiber but look and feel just like real hair.
By attaching a Havana twist, you are driving into the whole new world of beautiful hairstyles and hassle-free hair care. If your own curls are unmanageable and you are looking for something smooth, the Havana twists are for you.
Whether you already purchased the hair extensions or are just contemplating the new style, these 45 options can definitely inspire you.
Havana Twist Hairstyles
When you finally try the Havana twist hairstyles, you might decide to forget about the rest of the haircuts for a long time. The smooth and neat way your hair will look with these hair extensions is truly indescribable.
We came up with a collection of hairstyles you can create when you get the Havana twists attached. From elegant buns to wild ponytails, the Havana twist will definitely lift your spirits. If you are tired of your own hair but dying seems unattractive, the hair extensions can help you change your image fast.
1. High bun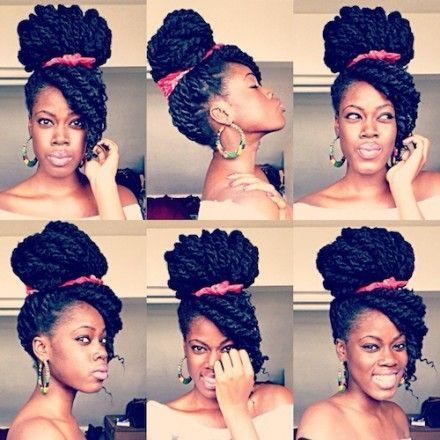 The first and foremost thing that the Havana twists do with your hair is to add the volume. While your own natural locks would stick out from such a large bun, the Havana twist looks neat and attractive.
2. Regal buns
When you are satiated with wearing your beautiful Havana twists down, the time will come to experiment. Making two symmetrical regal buns on top will make you look like a 16th-century lady.
The main advantage of all Havana twist hairstyles is that the hair is very manageable and you can do whatever you want with it. Clip your long locks behind to create an appearance of the side swept bangs.
4. Bow bun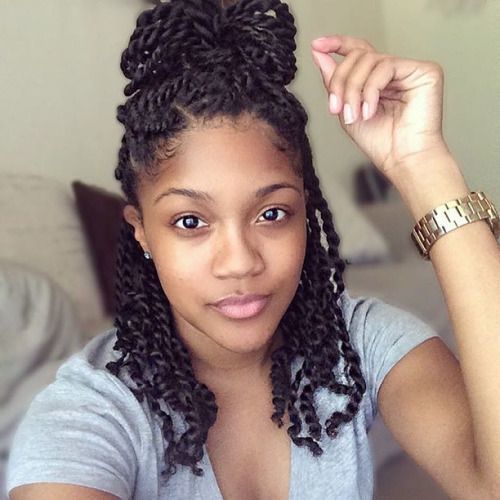 Havana twists will make your dream about a manageable bun come true. You can create a bun on top and then divide it into two parts with another strand to make an appearance of a bow. Check the best chignon bun hairstyles.
5. Medium-length hair
Havana twists can be of any length. If you don't like long hair, you can get the medium-length hair extensions and create many different hairstyles with their help. For example, a high voluminous bun.
Learn how to do Havana Marley twists like professionals:
6. Let it down
Your Havana twist hairstyle doesn't need to be complicated. You can enjoy simply wearing your hair down without constant worrying about fizziness, sticking out and other problems.
The Havana twists can be arranged into cornrows. You will need to make cornrow with your own hair and then attached the Havana twist hair extensions. The overall results will be truly magnificent.
8. Rings
You can create impressive hairstyles with the help of special hair accessories. The rings are created not to keep the hair intact but to give your hairstyle a regal appearance.
9. Wild colors
When it comes to hair extensions, you need to take full advantage of outrageous Havana twist hairstyles by experimenting with wild colors. Try something that looks great combined with raven black locks, such as burgundy.
10. Dreadlocks
If you are a real dread fan but are afraid of ruining your hair with such experiments, the Havana twists will become your best friends. Ask your hairstylist to create dreadlocks on your hair extensions.
Senegalese Twists Vs. Box Braids
Havana Twists with Marley Hair Styles
Marley braiding hair is a fantastic artificial hair type that really closely resembles the texture and behavior of natural hair. It can be used for all sorts of different hairstyles, but Havana twists with Marley's hair is one of the most popular options. This is because it is so easy to style Havana twists with Marley's hair.
There are lots of different options for women who want twists. There are long styles and short styles, and some styles that blend both long and short hair. Because Marley's hair is artificial, it is also very easy to give yourself a hairstyle that diverges from your natural color. These Havana twists with Marley's hair can be a natural color like caramel or an unusual color like purple.
Long Havana Twists
One of the beautiful things about putting long Havana twists into your hair with Marley hair is that you can get your hair as long as you want. A long hairstyle is traditionally very feminine.
Havana twists in Marley hair are available in a whole range of different shades. Maroon and purple colors are always very popular because they go well with African-American skin tones.
Thin Havana Twists
Thin Marley twists look really good on ladies who have more petite features. These twists tend to be more delicate and have a lot more movement to them.
Free Flowing Chunky Twists
If you are free-spirited and bohemian, just toss your hair back and enjoy yourself. Havana twists with Marley and other twist hairstyle are great when you are rocking out to music.
Chunky High Bun
Long Marley hair can be pulled up into a real high rise bun. Twist your extensions around in a messy twist and then secure them in place.
Thick & Twisted Bob
Shorter hairstyles still look great with Havana twists. Chin length styles and shoulder-length styles are very popular for women who prefer mid-length hairstyles.
Two Top Knots
Why just have one top knot when you could have two? Two topknots is a very youthful and playful style which has become much more popular in recent times.
Double Knots with Long Twists
Long hair looks fantastic with big double top knots. Pull your hair up into the knots and then let the rest of your hair flow freely from underneath the knots.
Perfect Purple
Thick twists look great in purple because the color is subtle but still different enough to get you noticed. Thicker Marley hair with Havana twists carries the color really well.
Pulling a knot up at the front of your hair is a modern take on the retro quiff style. It helps to give your hair the look of extra volume and beefs up your style.
Mix and Match
Marley hair can be mixed and matched with lots of different accessories and alterations. Style in some classic features such as colored thread and beads.
Thin Caramel Braids
Caramel is a very popular color for Marley hair braids. Caramel colored hair is soft and regal, so it is chosen by a lot of women who want to look their best.
Twist in Short Hair
A short cropped style looks really cute and fashionable for women. You can enhance your look by adding some color to it.
Side Swept Style
Give your twisted look a bit of attitude by styling in an extreme side parting. Pull all of your hair over from one side to the other to create looks that mean "no-nonsense".
Mid Thickness Caramel Braids
Choose caramel-colored braids for a gorgeous new look. You can darken the caramel color of your Havana Marley twists by mixing it up with a few strands of black or dark brown color.
These Havana twists hairstyles are created to help you get inspired. In fact, whatever you come up with will look good on these hair extensions. So if you are ready to attach them, get ready for the fun ride!