Are you getting ready for a themed event, gala, a killer party, or even a wedding? You will discover here 20 fancy hairstyles that can save you in any situation.
Outfits play an essential role in looking marvelous for these occasions, make-up must be flawless, and the hairstyle should not look like a cuckoo's nest on top of your head. With that being said, you are in the right place!
Fancy Hairstyles
Our selection of fancy hairstyles includes all sorts of full buns, stylish braids, and ponytails that can be truly ravishing.
1. Retro Look With Headband
Opt for a retro fancy hairstyle for short hair by using a simple headband. When creating a glamorous hairdo, all you need is to use your imagination, and the outcome will be highly satisfying. Place the headband and start rolling your strands on it for a vintage look.
2. Chunky Braids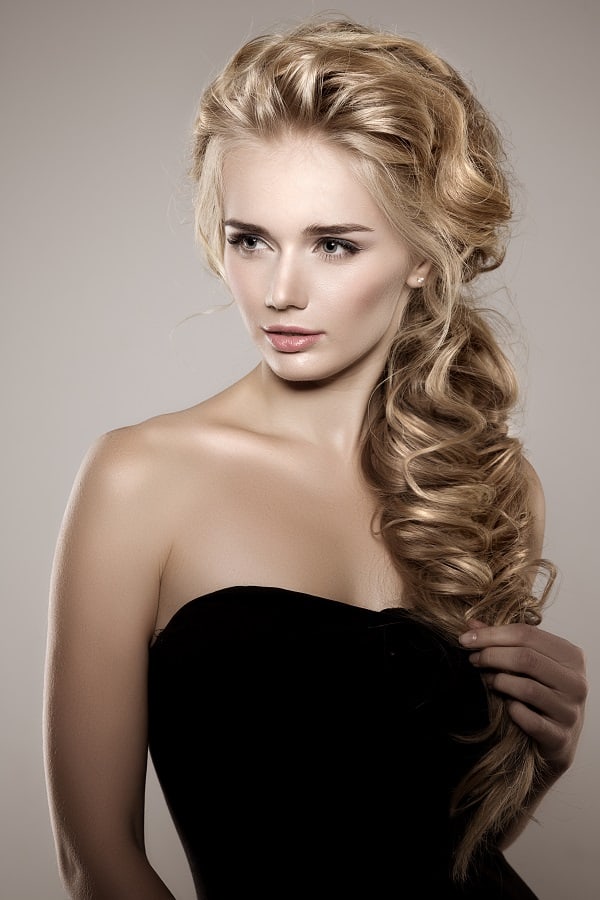 Build a lot of volume for the top by creating small little bumps of hair. Gather your mane on one side. Also, opt for a fancy long hairstyle with some help from a fishtail braiding technique. Once you are done knitting, pull off the edges to obtain that chunky effect.
3. Fancy Braid
A fancy braided hair like the one presented above can be easily reproduced. Create a slightly sided part for the bangs and let them fall on the corners to create that beautiful framing. Create a messy braid and wear it on one side, you will look remarkable!
4. Fancy Blonde Bun
A fancy bun hairstyle is ideal for elegant parties, especially for glamorous anniversaries or weddings. Create a low bun in the back and pull off a few strands from the forehead. Let them fall on the face and use a shiny black decoration for the bun.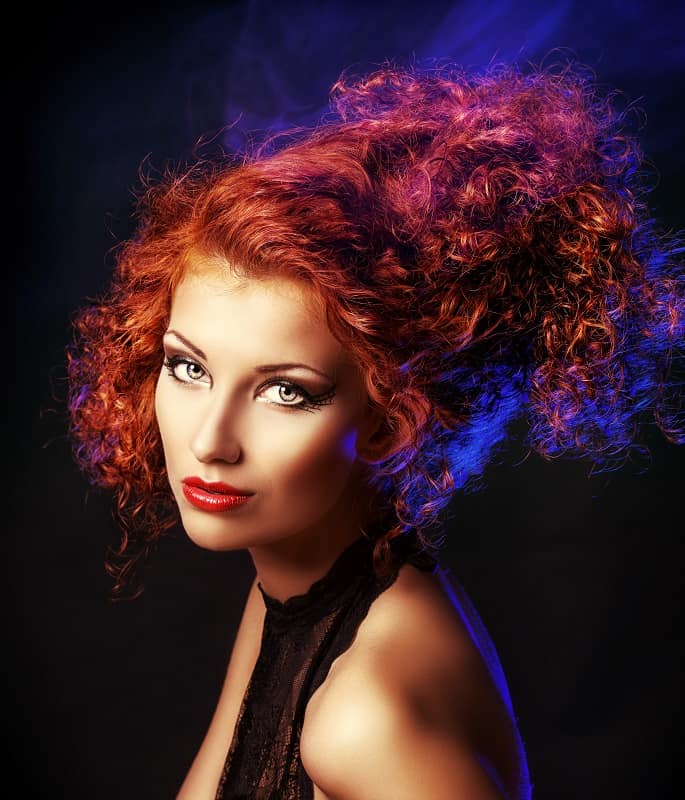 If you want to obtain a magnificent fancy curly hairstyle, toss the bangs on one side and build an enormous bun on top of the head. Make it look messy and you are ready to rock any party. You go, girl!
6. Fancy Hairstyle for Weddings
This sleek fancy updo is gorgeous and will make any bride happy, glamorous, and astonishing. Nobody will be able to take their eyes away from you thanks to that beautiful bun. To obtain a royal look, place a diadem on top of your head.
7. Fancy Hairstyle with One Bun
When you want a crazy hairdo that is ideal for themed parties or even Halloween, this medium length fancy hairstyle with a single bun styled on one side is a gorgeous pick. Place a micro hat near the bun and use make-up to build your look.
8. Twisted Braid
A fancy half up half down twisted ponytail can't go unnoticed, no matter the event you are attending. Take the top hair and split it into two sections. Roll and gather them in the back of the head, in a ponytail. Repeat the procedure for the pony.
9. Fancy Top Bun for Kids
When you are searching for a fancy hairstyle for little girls, this half up half down hairdo will make her jump because of joy. Use the top hair to build a bun and secure it with a strand wrapped around it. Style her a few curls without damaging the hair with the iron by using styling rods.
10. Fancy Space Buns
This natural fancy bun hairstyle is ideal for women with pale faces. Take the top hair and split it into two sections. Style two buns and create curls for the rest of your hair. You will look mesmerizing, and everybody will seek your attention.
11. Fancy Cornrow Braids
This fancy ponytail hairstyle will make you look utterly ravishing. Start creating cornrow braids and tie them in the back, in a low ponytail. Spare a few strands and let them fall on the forehead.
12. Fancy 70s Hairstyle
This 70s fancy hairstyle is ideal for you if you love high bangs, curls and pin-up looks. As a headband, use a red scarf and tie it on one side, so the knot gets to be visible. Complete the look with red lipstick and black eyeliner.
13. Fancy Braided Hairstyle for Black Women
When you are a woman whats to look fabulous, this hairdo was invented for you. If you have box braids, use them to build a big bun on top of the head and use a few braids that you can place on the forehead. This way, you will create a  fancy hairstyle for black women that everyone will love.
14. Fancy Braided Updo
Every time you are craving for a bun that is out of the ordinary, braided bun can come to rescue you. Opt for a French spiral braid that turns into a knitted bun, and you'll get a fancy hairstyle with twists.
15. Fancy Dinner Hairstyle for Blonde Hair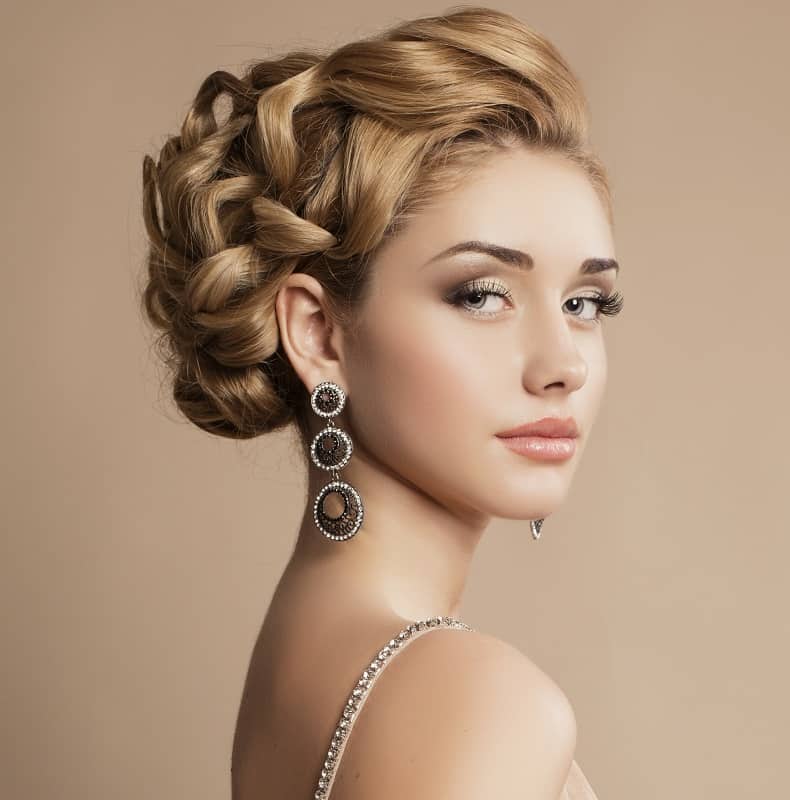 This fancy dinner hairstyle is ideal for a night when your husband takes you out to an expensive restaurant and says he wants to spend some quality time with you. Well, you don't want to look dull and unnoticeable in this fabulous moment, right?
16. Fancy Curly Low Ponytail
A fancy hairstyle for thick hair will undoubtedly give you an unforgettable appearance wherever you go. Your outfit won't even matter because everybody will be starring at this chunky curly long beautiful hairdo.
17. Fancy Big Bridal Bun
Opting for a fancy bridal hairstyle is never an easy thing to do. So many options… and they all look marvelous. But we are sure this one will stand out because it has all the perks: it looks ravishing and will not get in your way while dancing.
18. Braided Crown
It is so easy to style a fancy crown braid! Use the French knit and start from one side, making the braid around your head. Use bobby pins to secure the hairdo, and if your hair is too long, tuck it under the crown.
19. Fancy Hairstyle with Locs
Create an unforgettable look for an upcoming party or outside the festival, using some fancy dreadlocks. If you also want to add length, use silver hair extensions to build the locks. Tie the all in a bun and use white paint to create a design on your face.
20. Fancy Super Thin Box Braids
If you want to add value to your hairstyle, box braids will help you get a striking look. Use thin white and purple hair extensions to build the braids and part the mane into two sections. Style two fancy space buns on top of your head and you will have a stunning appearance.
Fancy hairstyles are ideal for essential moments in your life where you need to look your best. Besides the outfit that needs to look stunning, a haircut will complete the look and make you feel like a princess. The examples above are truly fascinating, and we'd love to hear from you to know your favorite hairdos. So tell us about your picks in the comment section!