Are you in the mood to update your look with dark hair color? Whether it's a classic choice like dark blonde or black, or something more punchy like violet or burgundy, dark hair colors have a way of classing up any hairstyle.
With no particular texture or hair length required, there's no reason you can't try out one of the below colors ASAP!
Dark Hair Color Ideas For Women
Below are 50 dark hair color ideas you can't go wrong with!
1. Dark Brown Hair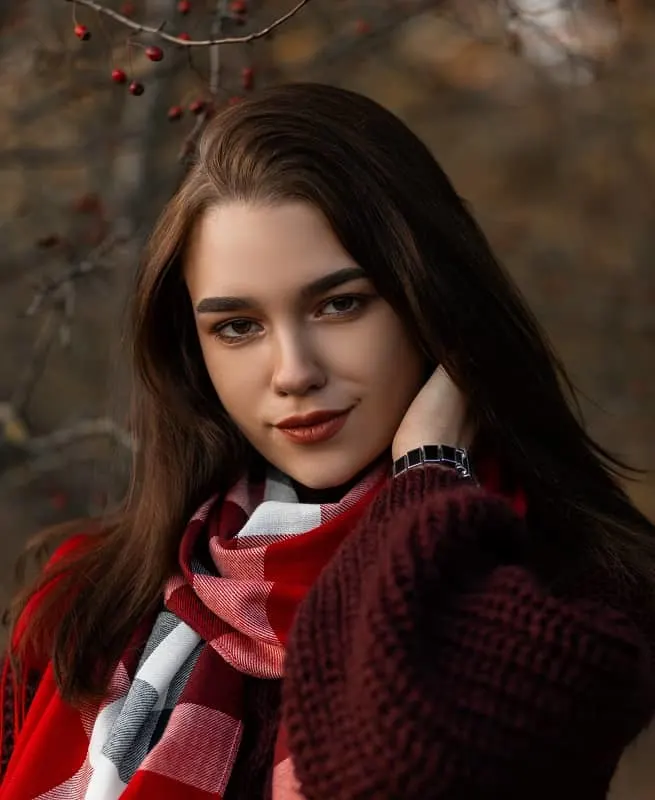 Dark brown hair looks beautiful against medium and light skin tones. The chestnut color is perfect for fall but looks great any time of year. Wear your hair long to show off the color!
2. Dark Hair with Highlights
One beautiful way to lighten up your dark hair is with highlights. On dark brown hair, caramel highlights pop and look super pretty when displayed in a crown braid.
3. Balayage on Dark Hair
Add some style to your long dark hair with blonde balayage. This color will start a little below the roots and go through to tips for natural color and effortless style.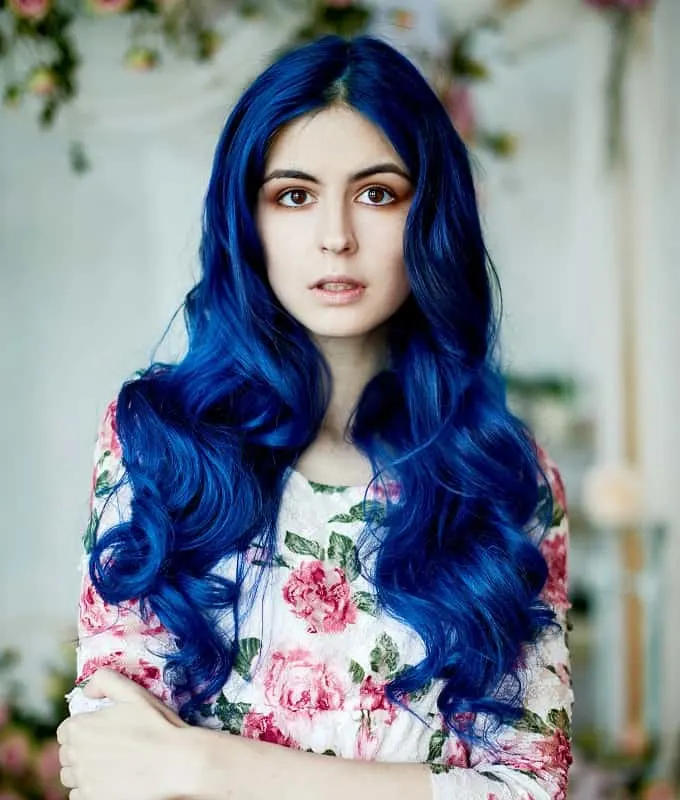 Why go for traditional dark hair colors like brown and black when dark blue looks stunning and stands out? Color like this will stay for a couple of months before needing to be touched up if you look after it well. Using products that are sulfate free will help you achieve this goal.
5. Dark Purple Hair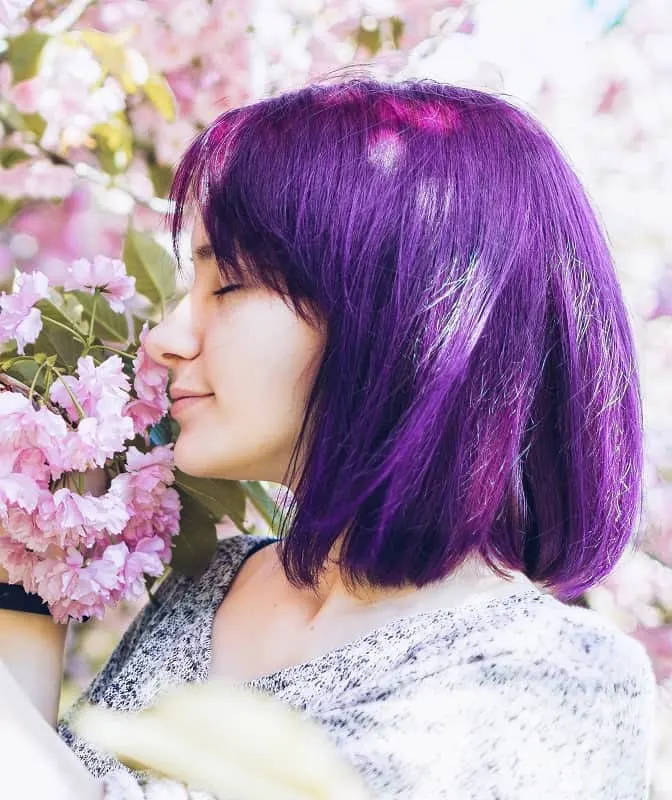 Another great dark hair color to try is purple. The deep shade is especially flattering on light skin tones. Wear it on long hair or this cute bob with straight bangs.
6. Dark Red Hair
Dark red hair is truly sexy and somewhat vixen-ish. It's another great color to rock for fall but wear it anytime of the year for a beautiful addition of color to any length of hair.
7. Dark Blonde Hair
This shade of dark blonde contains a rich and beautiful touch of caramel. On a long curly hairstyle parted at the side, you'll always look chic with this shade.
8. Dark Auburn Hair
Auburn is a mix of brown and red. If a natural hair color is what you want, this is a great color to choose. Let it gloss over your thick hair for luscious style.
9. Dark Burgundy Hair
Depending on where you get your color done, burgundy will look a little bit purple, but it's the perfect color choice if your work is less lenient with hairstyles and you want to stay professional looking.
10. Dark Green Hair
Dark green helps the body of a wavy bob full of texture stand out. The straight bangs are covered with magenta for a look that borders edgy and feminine.
11. Caramel Afro Hair
Women of color who have naturally brown or black afro hair can play it up with caramel or warm blonde highlights. The warm shades will pick up on the warm tones in your skin.
12. Chocolate Brown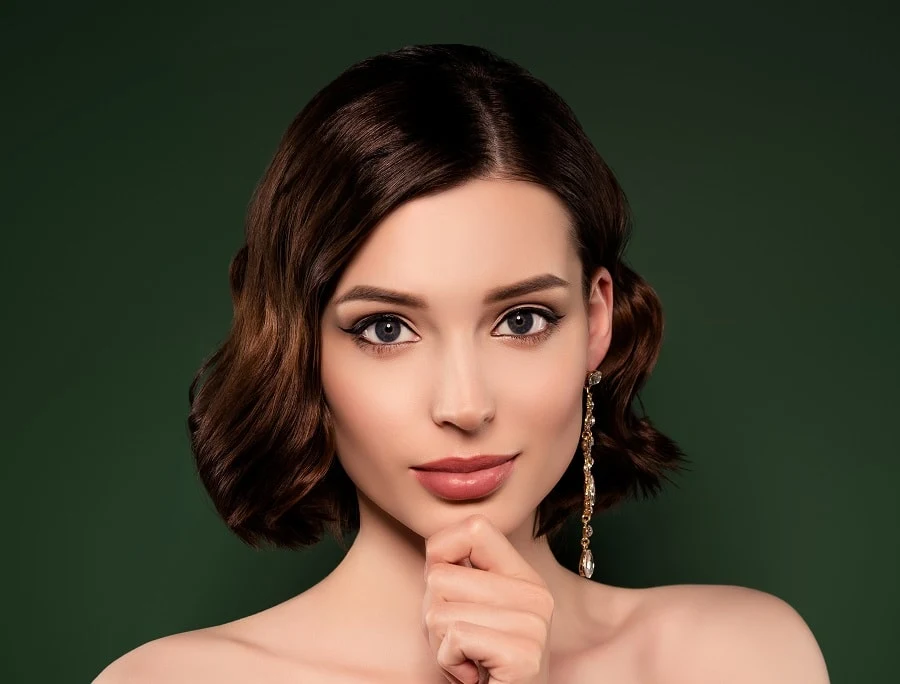 Chocolate brown is a beautiful dark hair color for any skin tone, but on women with light or pale skin tones, the shade is a bit more lovely because of the contrast. You can even add a lighter brown in highlights.
13. Dark Pink Hair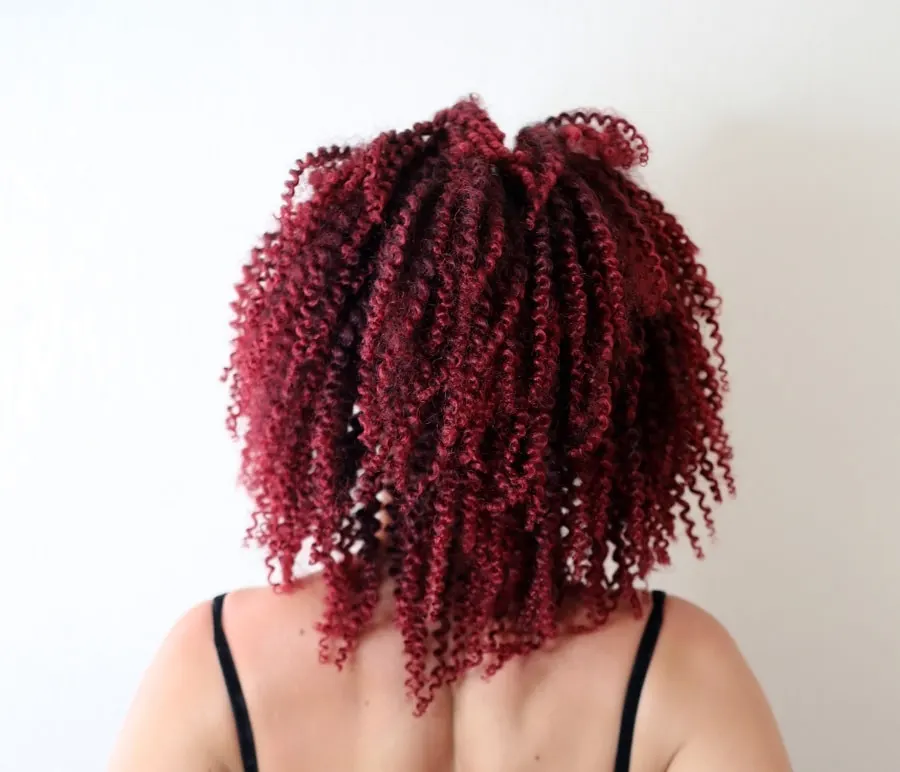 When your hair has curls this coiled and springy, it's practically a disservice not to use a bold color, such as dark pink, to accentuate them.
14. Light Brown
For a more natural look on your curly hair and light skin tone, choose light brown, which will most closely match your eyebrow color. These long curls shine with both light and dark brown.
15. Dark Brown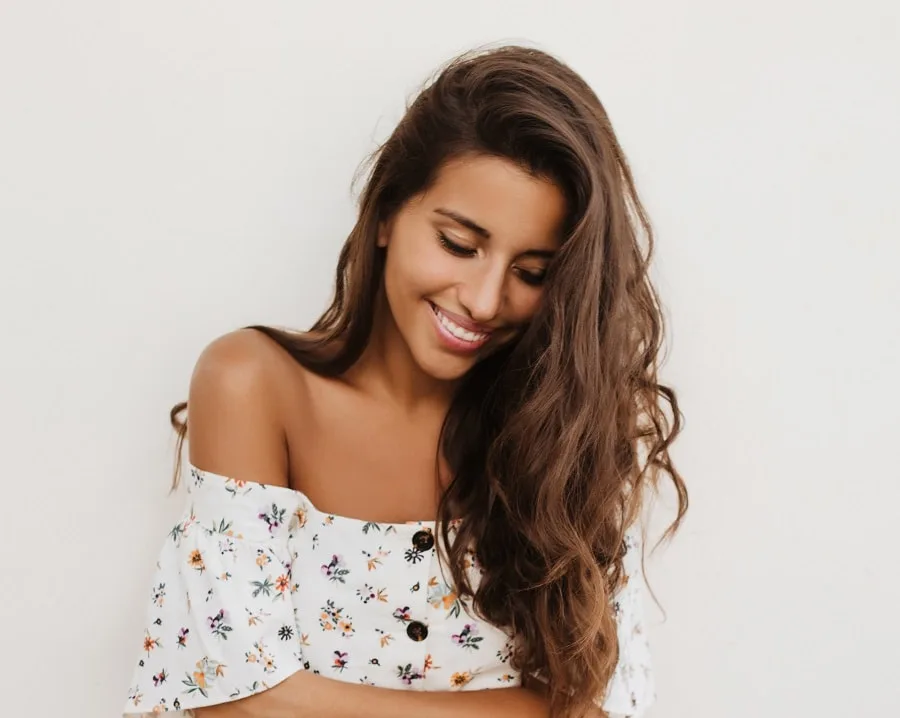 For ladies who prefer a neutral shade and have medium or olive skin tones, opt for a dark brown. These long wavy locks prove how gorgeous the color is.
16. Medium Red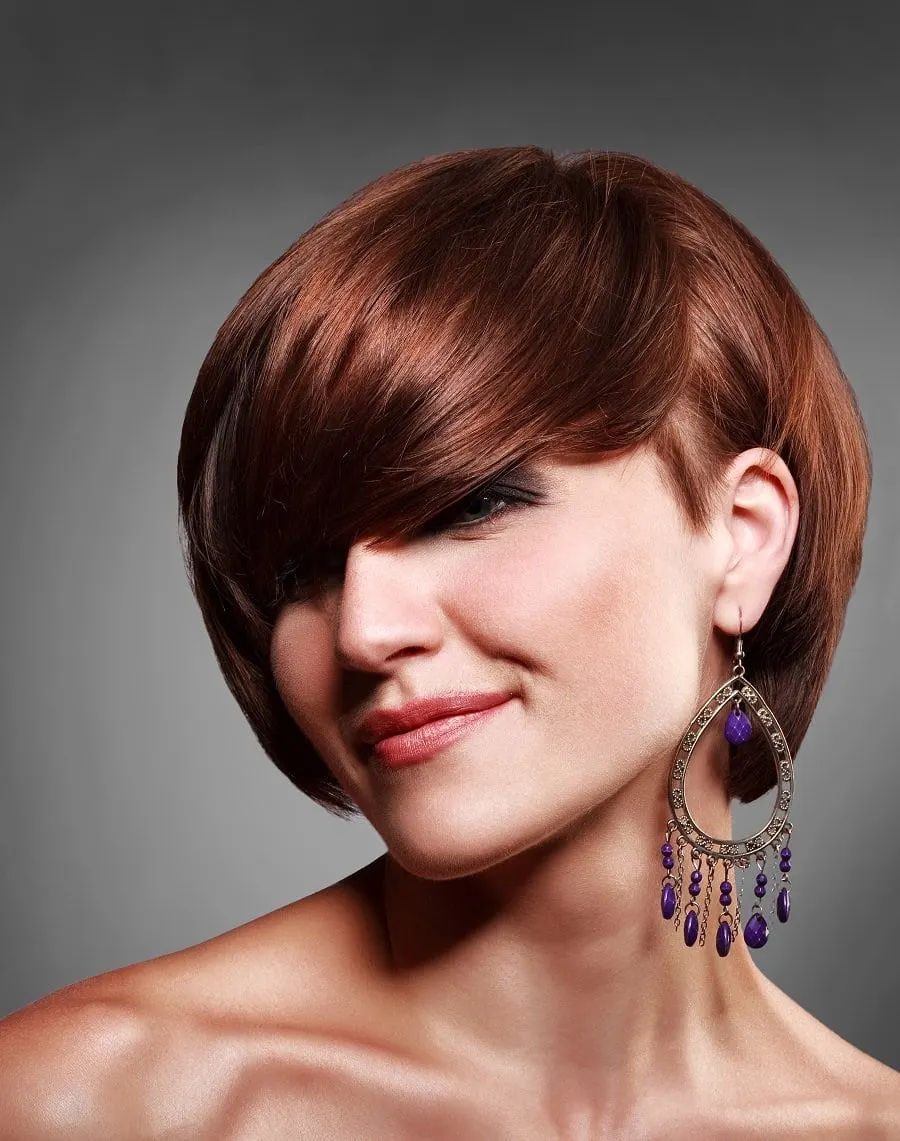 A snazzy haircut like a layered pixie deserves an equally snazzy hair color. Pale or neutral skin tones with a cool undertone are best for dark red.
17. Light Brown Bayalage
Balayage is a great technique for creating natural-looking dark hair color. When you have light brown hair, you can take your look up a notch easily with a dark blonde balayage.
18. Dark Blonde Highlights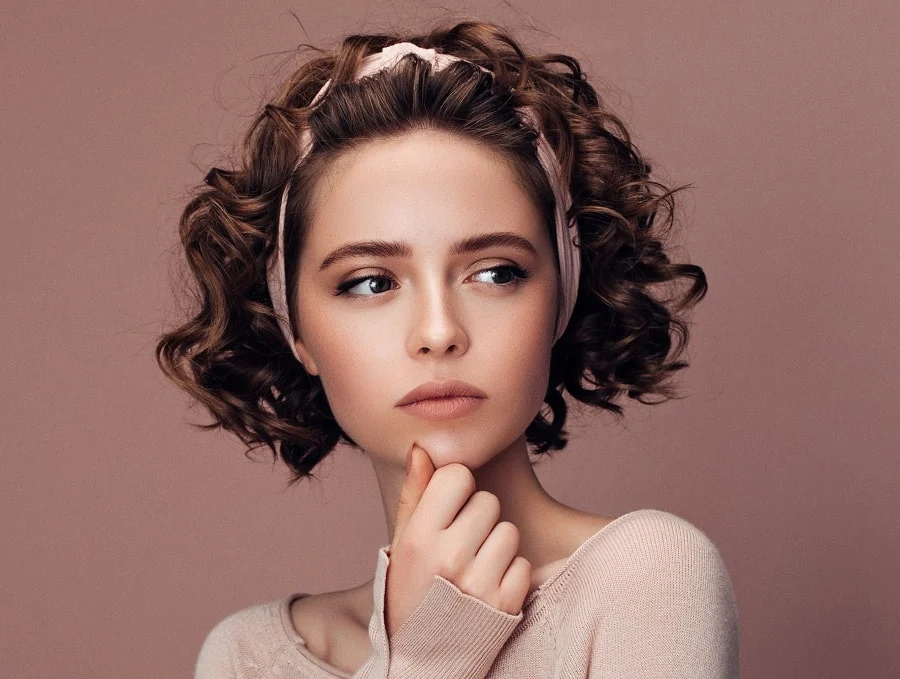 This short curly bob is adorable with its pink headband and chic with dark blonde highlights. The shape of your ringlets will seem even more defined with the addition of color. You can also check these highlights perfect for dark hair.
19. Copper Red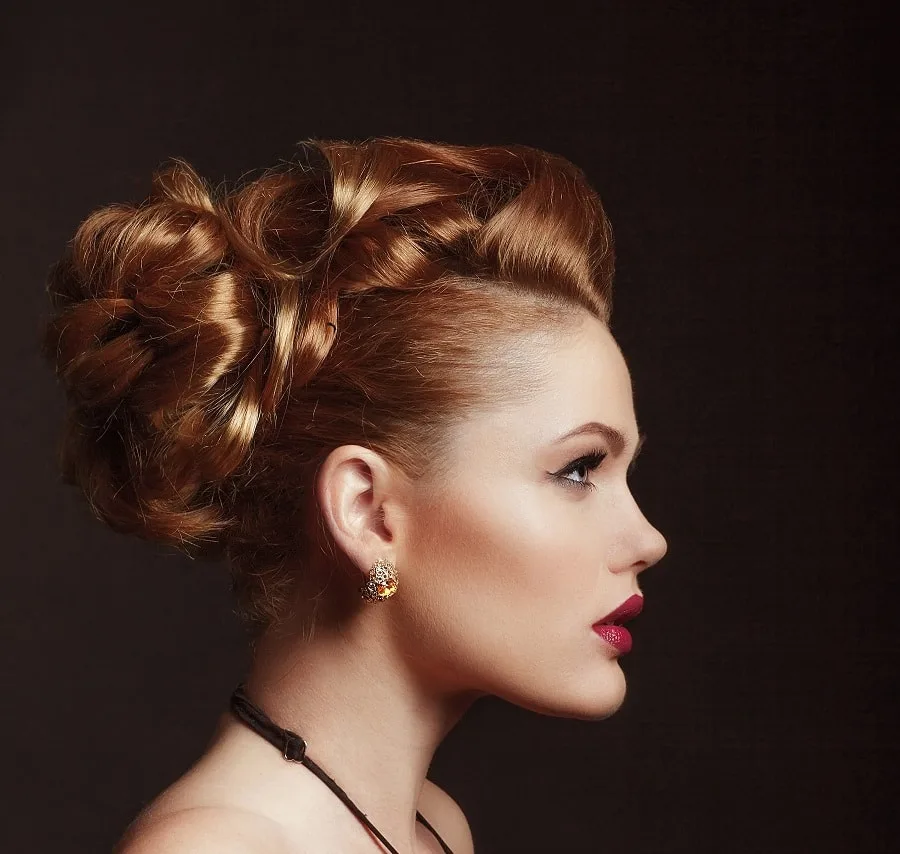 If you have freckles or pale skin, you'll easily be able to pull off a copper color with a tinge of red in your hair. Gather it up in an elegant updo on fancy occasions and outings.
20. Mahogany Ombre
Getting bored with your dark brown hair? Freshen it up with a unique mahogany ombre! No matter your hair texture or length, this shade is sultry.
21. Light Pink Highlights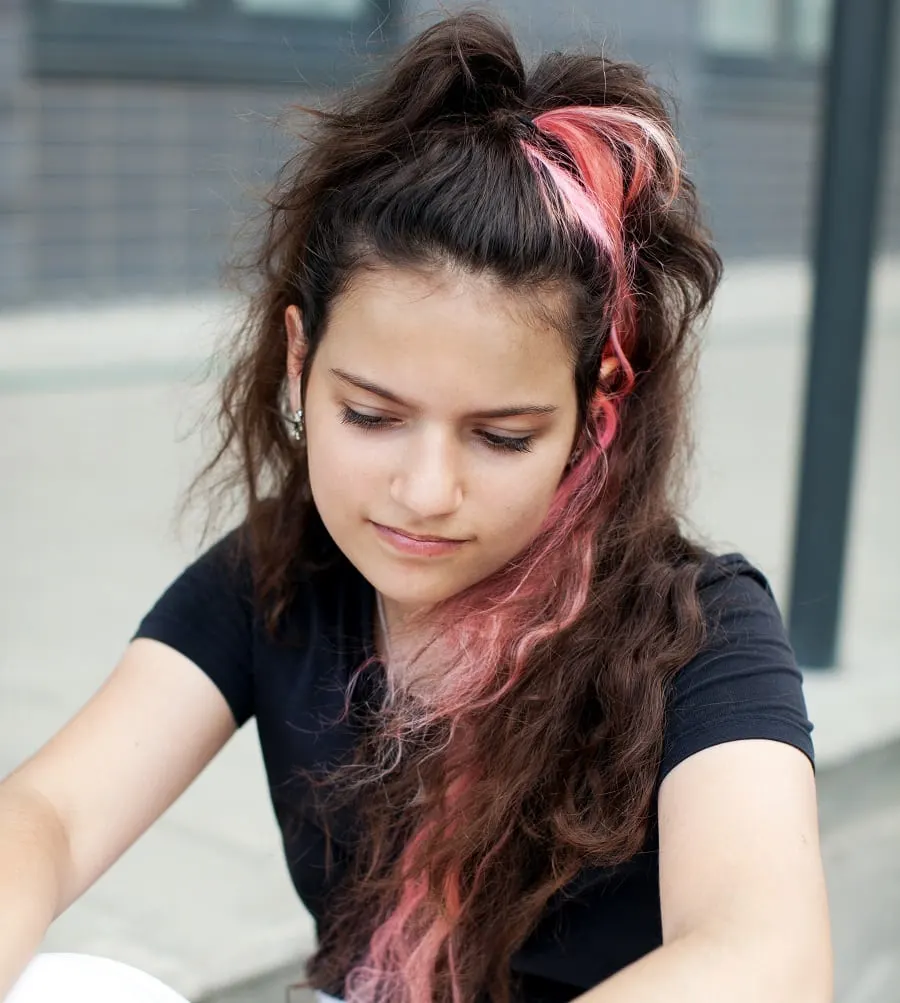 You don't need to apply color to your entire head for a hair update. Light pink highlights make a beautiful, youthful pop of color on dark brown hair.
22. Dark Red Hair With Copper Ends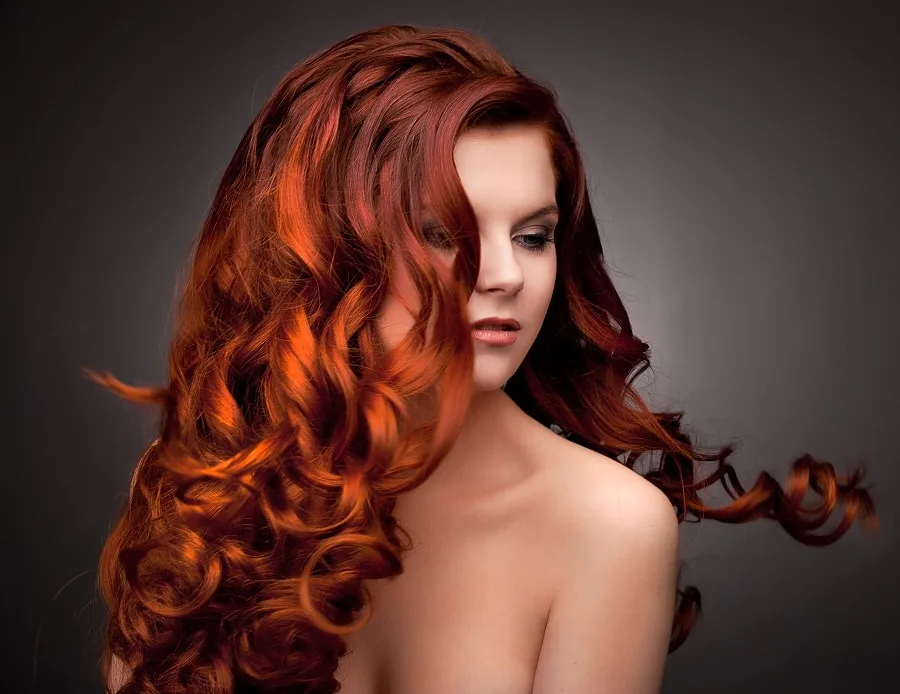 These perfectly sculpted dark red curls shine brighter with light copper to offset them. You can't ever go wrong with adding these two shades together.
23. Dark Brown Ombre
One of the best things about color is that it can make hair look thicker. This long wavy hairstyle looks fuller thanks to an ombre of dark brown that nicely transitions to light brown.
24. Chestnut Brown
Two hair colors that will always be a winner together are dark brown and chestnut. Try chestnut highlights on medium-length dark hair with face-framing layers.
25. Caramel on Black
For high contrast on black hair and to get an instant statement hairstyle, opt for caramel highlights. If you wear your hair parted off center, consider adding more highlights to the side with more lift.
26. Dark Brown With Light Red Highlight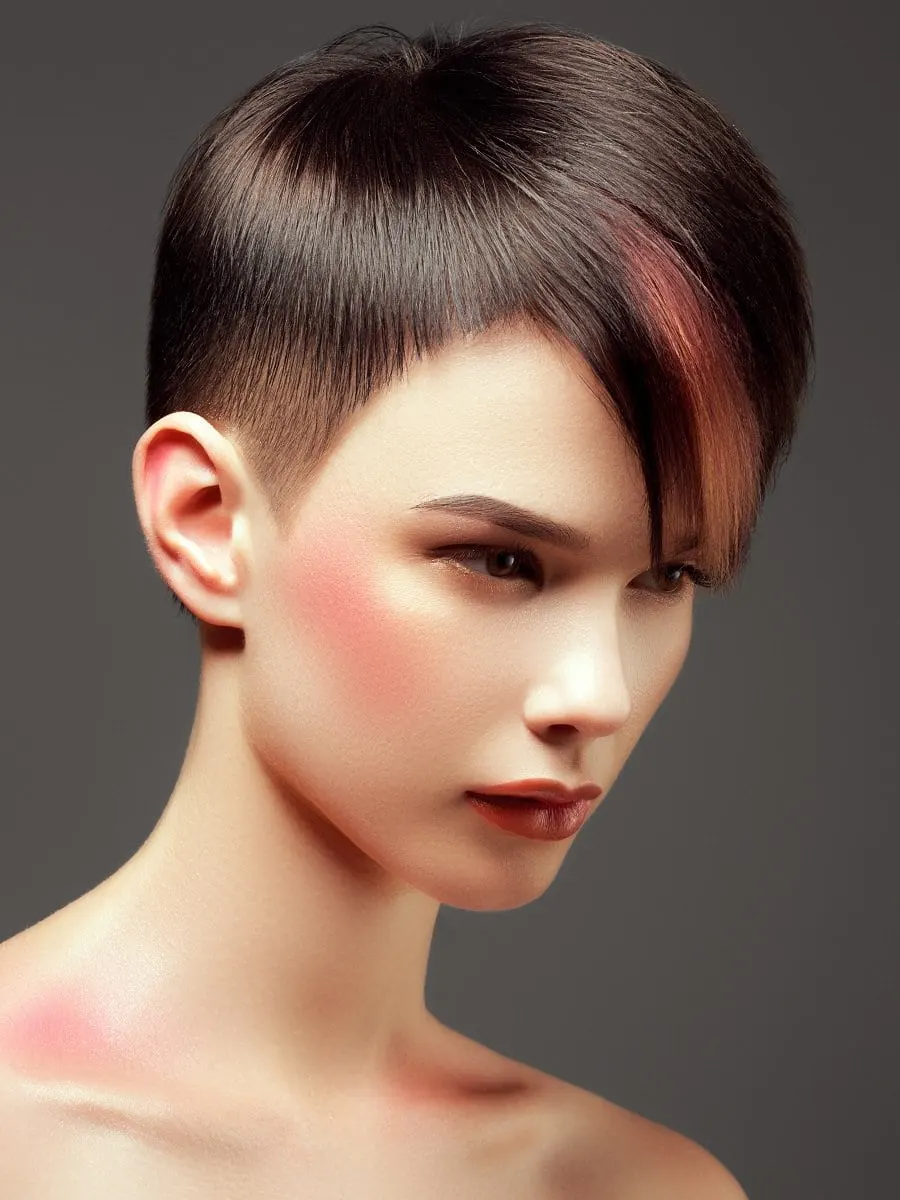 For an edgy touch of color on dark brown hair, consider one fierce light red highlight close to your face. This one is strategically placed to accentuate the unusual pixie cut.
27. Dark Pink Balayage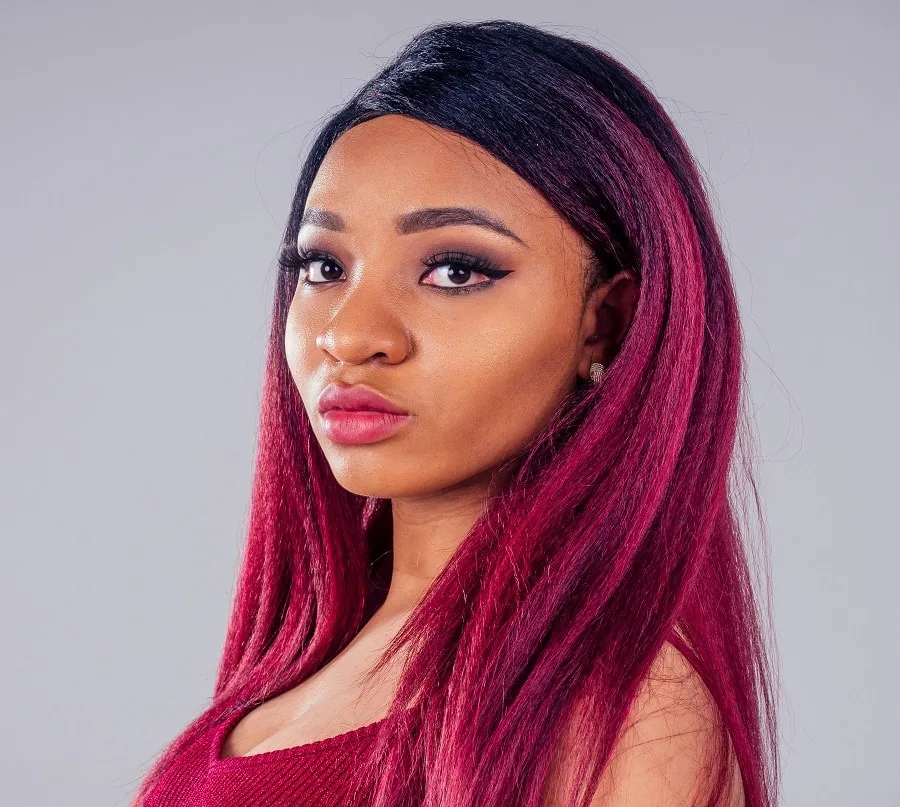 Ladies who love experimenting with bold hair colors will fall in love with the way dark pink works wonders on brown or black hair. Use it to bring out your playful and creative side.
28. Ash Blonde Balayage
Medium and light skin tones beautifully pull off the hair that is colored in a dark ash blonde. You can either flaunt the color on its own or with a medium- to dark blonde balayage.
29. Auburn Hair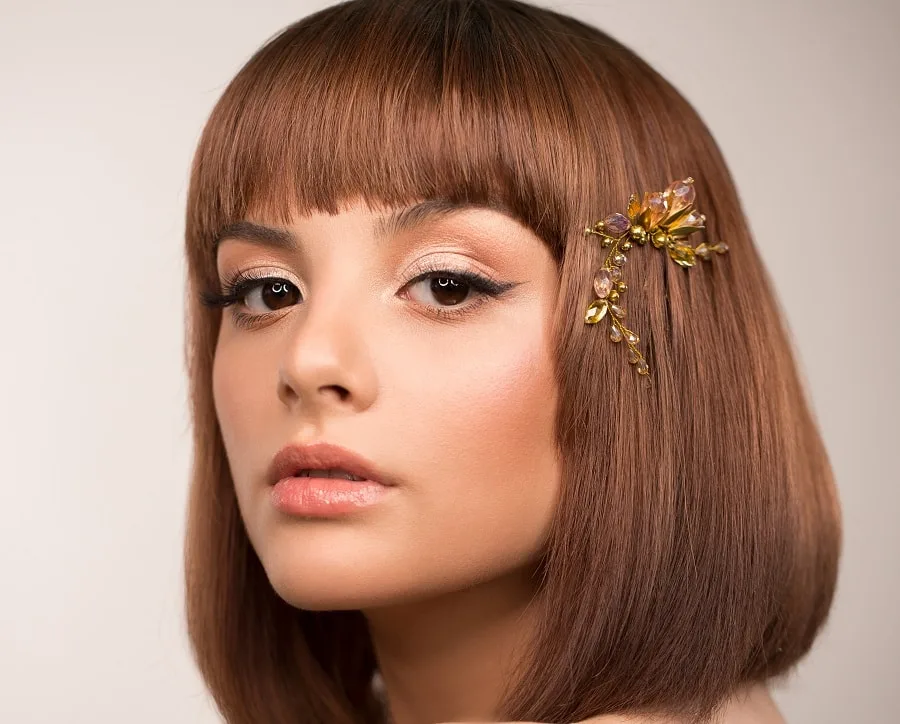 A short straightened bob with bangs is both sleek and modern in auburn. If you have an olive or dark skin tone, try this dark color to warm up your complexion.
30. Dark with Light Blonde
Using complementing shades of blonde in a hairstyle is not a new thing, but it's certainly trendy. These beautiful darker colors are versatile and work for any skin tone.
31. Dark Hair with Blonde Highlights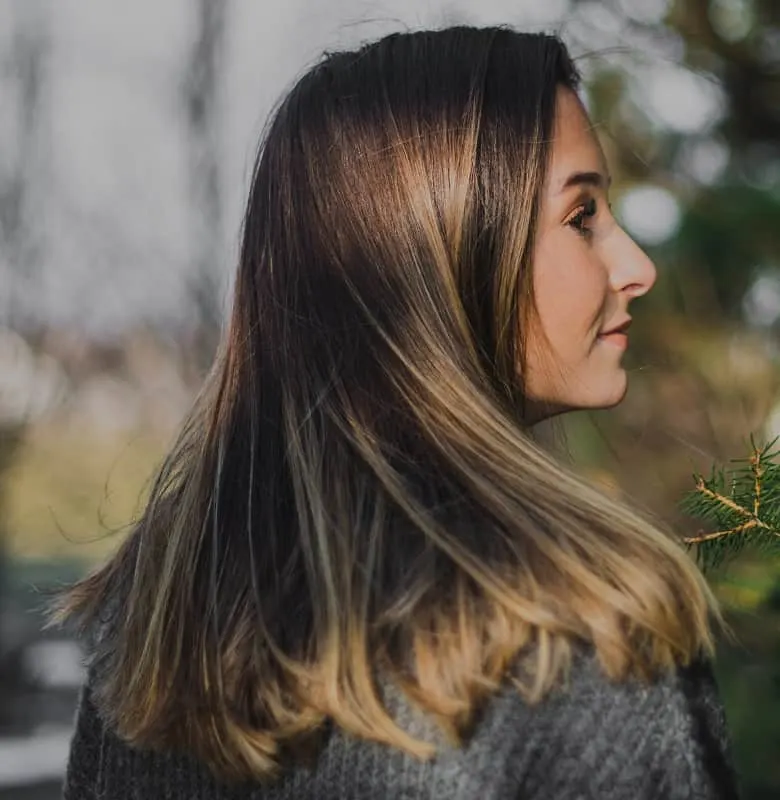 Adding blonde highlights to dark hair is a common choice of hairstyles nowadays. Highlights stand out against dark hair and are much easier to maintain and less expensive.
32. Dark Ombre Hairstyle
When you aren't ready to color your hair all over with a dark shade, try an ombre, which starts halfway down the hair. The blue black fades into brown on this long straight style.
33. Dark Grey Hair
While grey is a very uncommon color to actually want to try for younger women, it's quickly becoming popular. Blend it with silver highlights for a gorgeous style addition on long hair.
34. Dark Pink Hair
Are you looking for a head-turning hairstyle? Deep magenta is fierce with a dark base behind it. Wear your hair up in two low side buns for flirty and fun vibes.
35. Dark Rose Gold Hair
To truly make a statement with your hair color, you need to choose rose gold. It's taking Instagram photos by storm with its flirty, feminine feels on long wavy hair.
36. Dark Short Hair
When all else fails, you can't go wrong with short dark black hair color. The hair color looks great on a chic and angle-flattering straight pixie with tons of texture.
37. Dark Silver Hair Color
Long wavy hair looks regal with silver hair color. Wear the hair sleek and straight up to the ends, then use a hair curler to get soft waves.
38. Dark Brunette Hair
For older women looking to try something different with their look, dark brown is a classic. Short straight hair with piecey bangs rocks it and will look equally pretty pulled back in a pony or bun.
39. Dark Teal Hair
Another regal color, dark teal is for the woman who wants beach babe mixed with mermaid vibes. Try it on a layered side parted hairstyle.
The color will flatter any skin tone and eye color so you'll always feel confident and beautiful.
40. Long Dark Hair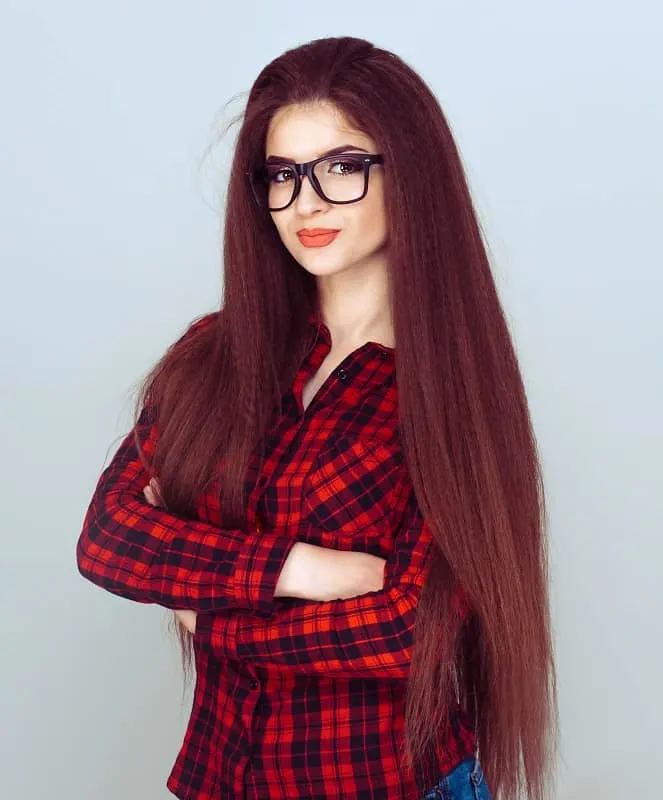 If your hair is waist-length, count yourself lucky! You can wear it down with a long dark color, such as red, gracing locks or pull it up in a high ponytail for drama.
41. Natural Dark Hair
Natural dark hair can be flat-ironed to be pin straight or braided over night so you wake up with lush curls. For work, form an off center part for a simple yet chic style.
42. Dark Copper Hair
Under your vanity lights or out in the sunshine, copper hair shines! Trim it into a short textured pixie for those summer months and wear it shoulder length or longer the rest of the year.
43. Dark Cherry Hair Color
Dark cherry color, similar to burgundy, looks amazing against light or pale skin tones. If your eyebrows are light, you'll want to tint them darker to match. This shoulder-length haircut is packed full of voluminous waves.
44. Black Hair With A Hint Of Ash
Not totally black to the ends, ash is a good color choice for women who like dark colors but do not want the harshness of pitch black.
To create a soft look, keep the roots down to the mid-shaft dark, but add subtle hints of ash to the ends.
45. Dark Ginger Hair
Dark ginger equals a fiery, fierce red-ish copper, another color that flatters pale or light skin tones. On this slightly wavy pixie parted off center with a subtle side bang, the look is flirty.
46. Dark Chestnut Hair
Dark chestnut hair is one of the most flattering colors a woman can choose. It flatters a variety of skin tones and looks gorgeous on a long bob with soft-cut ends.
47. Chocolate Brown Hair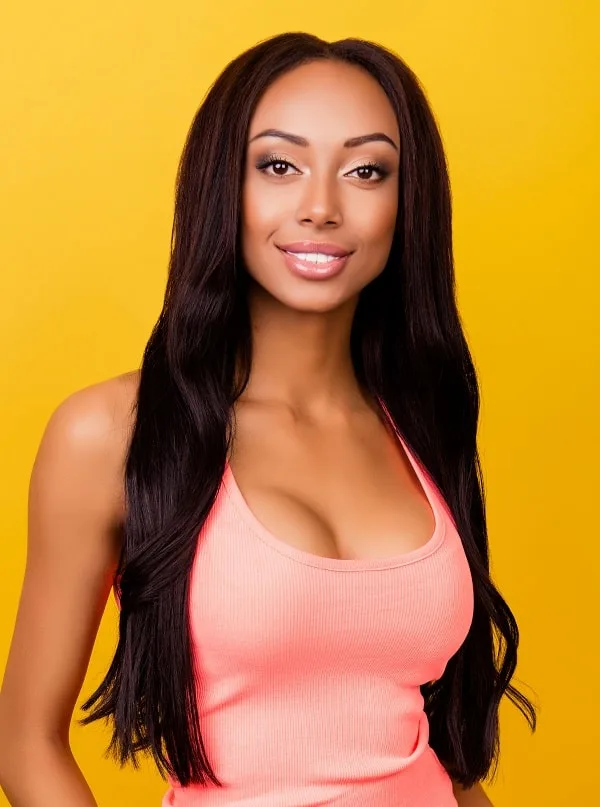 Black women typically choose black for a weave or braids but a beautiful chocolate brown color can also look chic.
On a long waist-length hairstyle, you'll get major drama and glam vibes going. The color also looks great when hair is pulled up into a high pony.
48. Dark Plum Hair
If you like dark hair colors but don't want to go with black, try dark plum which is several shades darker than red mixed with purple.
Gloss your hair over with it before cutting it to shoulder length or longer and straightening or curling it.
49. Dark Violet Hair Color
Talk about a color not often chosen: violet! Fun hair colors aren't just for Halloween anymore, as seen on this curly lob. Wear with your favorite shade of lipstick for a statement look.
50. Dark Curly Hair
On a curly hairstyle, you can pick any dark hair color from brown to black or even a dark blonde. Try pairing caramel highlights with dark brown hair for a gorgeous style.
Frequently Asked Questions
What hair colors are suitable for dark hair?
Many hair dye colors will work well with dark hair. The easiest color options are shades that are darker than your natural hair color since it decreases the odds that you'll need to use bleach.

If you want to dye your hair a light color, be prepared for multiple sessions of gradually lightening your hair—otherwise, you could damage your hair by using too much bleach.
Can I dye dark hair bright colors without bleaching?
No. It is unlikely that you can successfully dye your dark hair a bright color without using bleach. If you don't use bleach on your hair first, there is a good chance that a bright color won't come through with such a dark shade underneath.
Brunette or dark brown – which is darker?
Brunette is usually used as an umbrella term for any shade of brown hair. The word for brunette comes from a feminine French word for brown, referring to any woman with brown hair. Brown hair comes in a variety of shades, ranging from light to dark with varying levels of warm and cool undertones.
Does dark hair color make me look older?
No. Dark hair can look unnatural and unflattering when you are older. As you age, your hair naturally lightens by going gray, so if your hair is unnaturally dark, it can look strange paired with older facial features. Additionally, darker hair can draw excessive attention to wrinkles and under-eye circles.
Can I dye my hair dark for summer?
Yes, you can dye your hair dark for the summer, but it may require more maintenance. Sunlight fades hair color, and the powerful summer sun can cause your dark hair dye to rapidly fade. You can protect your dark hair color by covering your hair when you're outside and using toning hair treatments in the shower.
Which skin tone is most suited for dark hair?
Any skin tone can look good with dark hair. The key is to find a shade of dark hair that matches the cool or warm undertones of your skin. If you have warm skin, look for dark chestnuts and deep auburn. If you have cool skin, opt for dark and ashy browns.
So, which dark hair color style will you choose? Remember that if you weren't born with dark hair color, you'll need to regularly maintain it with visits to the salon. The conditioner will keep your locks looking lovely and shiny.