Want to try a gorgeous braided hairstyle but not sure which one? Cornrows braids are a great choice for both women with natural black hair and Caucasian women. The technique involves forming braids tight and close to the scalp.
For short and long hair, cornrow braids add beautiful detail. Choose to braid them all the way down to the ends or stop halfway and leave the rest of your hair loose.
The cornrows are generally perfect for women looking for a low-maintenance hairstyle.
What Are Cornrows?
Cornrows are a series of braids that are as tight as possible. This hairstyle has braids lying flat against the scalp. While these braids look good on people with most hair types, the hairstyle was originally for coarse, curled hair.
How To Do Cornrow Braids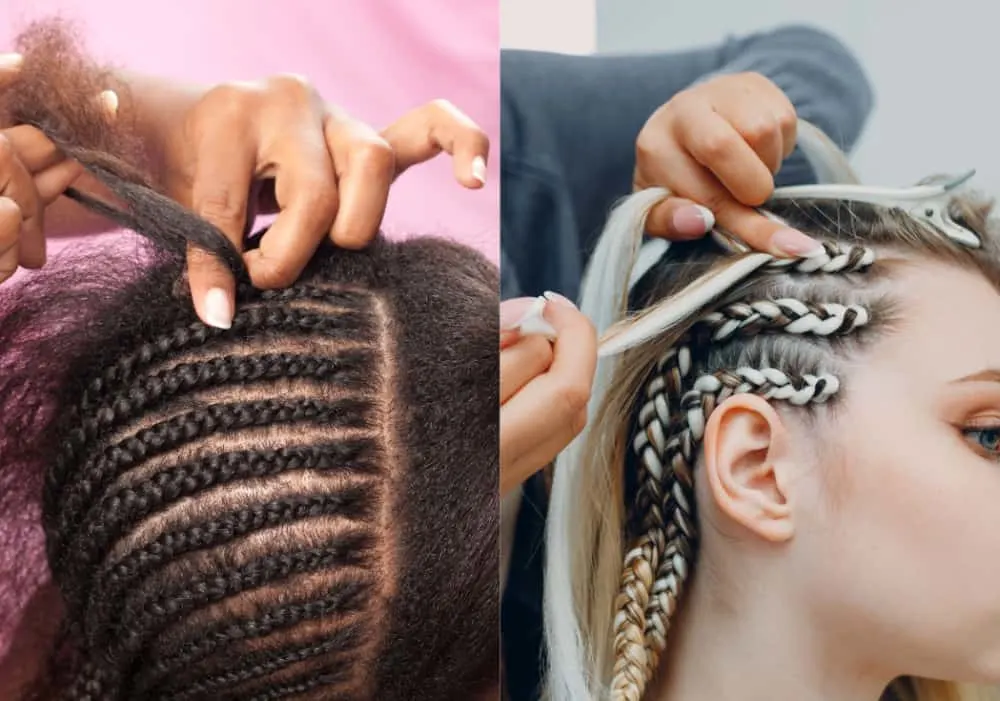 If you want to do cornrow braids on your hair, follow these steps:
Wash and dry your hair.
Moisturize your hair with oil or a leave-in conditioner.
Using a rat-tail comb, part your hair in sections from the front to the back (for uniformity, you may want to begin in the center of your head, but this is not necessary).
Take the first section you wish to braid, and split that section into three even, smaller units.
Take one of the side units and place it over the middle section letting go of the piece you were holding and picking up the middle section instead.
Take the opposite side unit and place it over the middle section, making the opposite side unit the new middle section.
Once you have done each side unit once, pull in slightly more hair from the overall hair you will cornrow into the smaller sections.
Repeat the process of weaving in side sections and pulling in loose hair until you have worked your way down the entire scalp.
Once you reach the bottom of your scalp, braid any remaining hair length like usual.
Repeat this process for each braid.
Note: Braiding a cornrow is similar to creating many small French braids of even size across the scalp. To know the process in detail, read our step-by-step guide to cornrow braiding.
How Much Do Cornrow Braids Cost?
The cost of cornrow braids varies heavily depending on the location and prestige of the salon that you go to. If you have a friend that can do cornrows, the only cost is the hair ties. Going to a high-end salon might cost upwards of $300 for a full head of braids. Typical costs at an average salon are around $100.
Cornrow Braids
If you want to try a stunning braided hairstyle, try cornrow braids! We've handpicked a list of gorgeous cornrow braids that are trendy in 2023.
1. Half Cornrows Half Box Braids
If you like the look of both cornrows and box braids, mix them together! Start the braids and cornrows at the edge of the head and braid them up to eventually wind around a cute bun updo.
2. African Cornrow Braids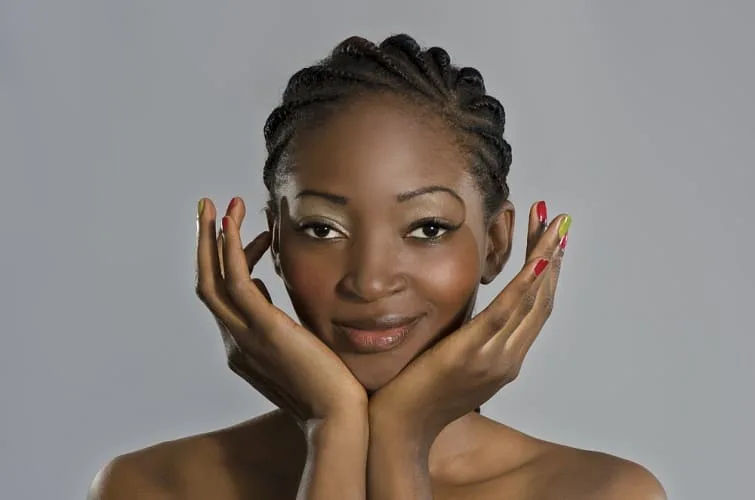 These African cornrow braids feature a more ridged look. Instead of being flat against the head, their raised edge creates a cool pattern. Braid them at an angle toward the back of the head and form a low updo.
3. Side Cornrow Braids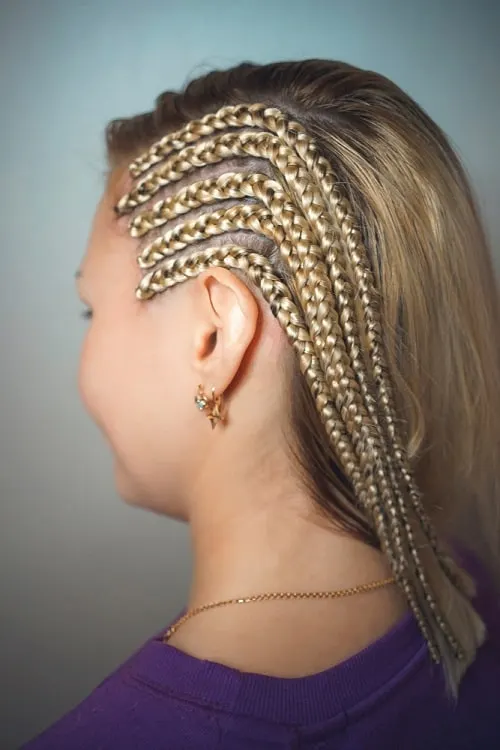 Need a new idea for your long blonde hair? Instead of one simple side braid, try five cornrow braids. Start them at the temple and down to the ear, then braid back to the ends.
4. Middle Parted Cornrow Braids
Maintain the symmetry of your face with a center part and cornrow braids. Your stylist will part hair in the center, then add the cornrows and form one braid on either side. These braids will combine into a low bun above the neck.
5. 4 Cornrow Braids
If you have thick hair, braided the hair into four cornrows is great hairstyle option for you. Not only do the middle two braids look thick, but by having the side braids smaller and thinner, you create a cool balance across the head.
6. Cornrow Braided Ponytail
To make a dramatic statement with your hairstyle, go for a ponytail with cornrow braids. Tiny braids start at the hairline to create wavy designs that are gathered into a ponytail. Wind several of the braids around the ponytail instead of using a hair tie.
7. Cornrow Feed in Braids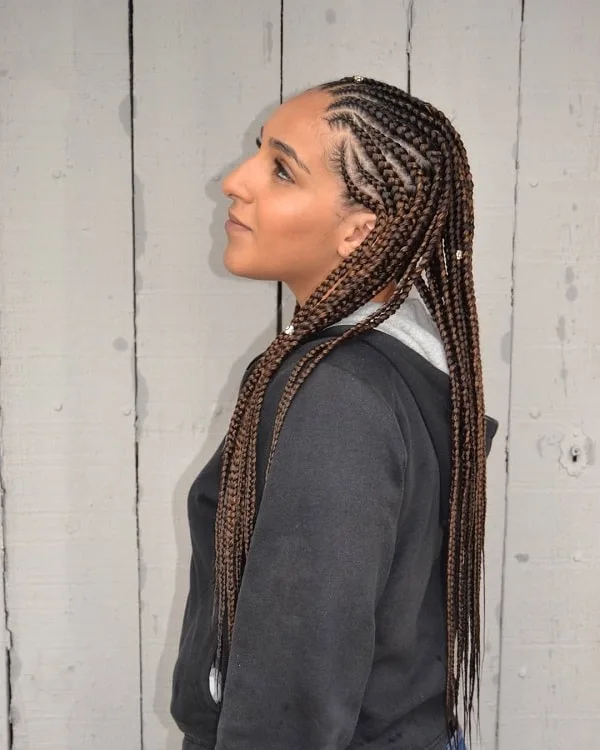 Is your natural hair still growing out? These long cornrow braids are feed-ins and are a great protective hairstyle. They'll combine with your natural hair to form a gorgeous lengthy look no one will realize isn't your real hair!
8. Cornrow Braids with Straight Back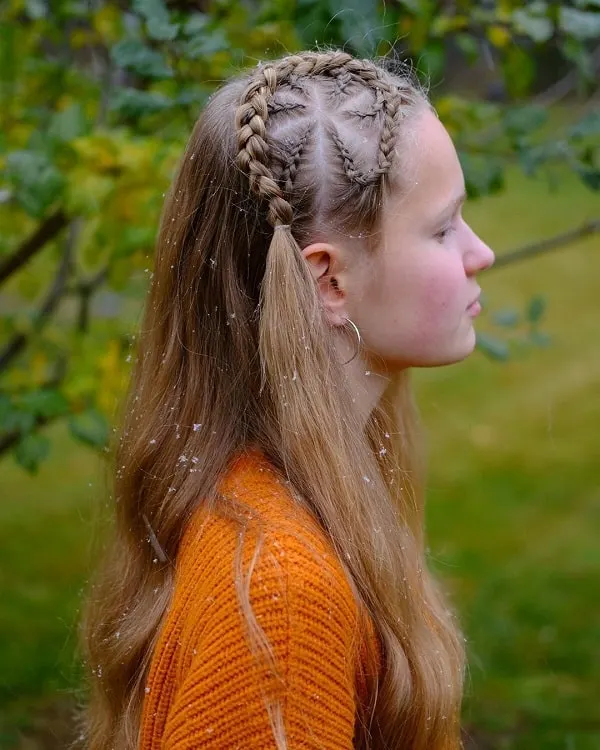 Your eyes won't know where to look with this crazy beautiful braided hairdo. The back is long and loose with soft waves while the top of the head all the way to the hairline is braided into cornrows. A cool star shape makes this hairstyle a must-try.
9. Cornrow Braids for Kids
If your child is active and needs a break from messing with her hair, treat them to this adorable child's hairstyle with cornrows and braids. The cornrow front acts as a headband, while the rest of the hair is braided and capped with colorful beads.
10. Cornrow Lemonade Braids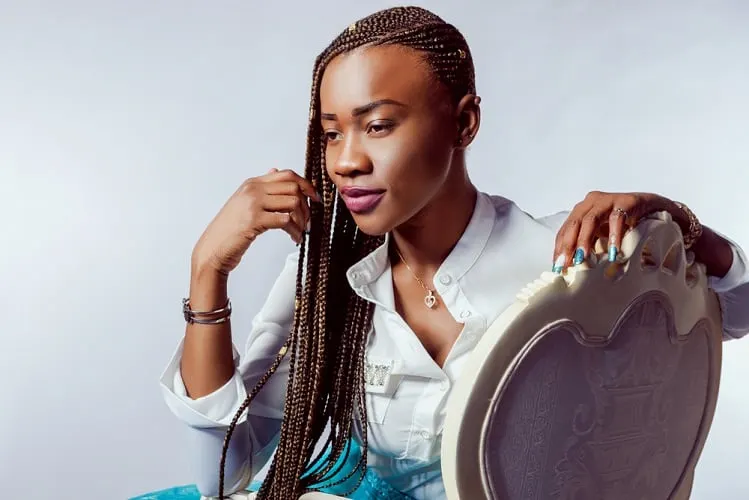 The lemonade braid hairstyle was first made popular by Beyonce. This look is cornrows and braids directed toward one side for a mix up in dimension. If you have an oval face, this is a chic look you'll love wearing for the way it flatters your angles.
11. Side Cornrows
There are so many ways you can transform straight, dull hair into an extravagant look. Firstly, get a crimping iron to build that texture. On one side, instead of braiding the cornrows starting from the hairline, choose a point and weave towards it.
12. African Braids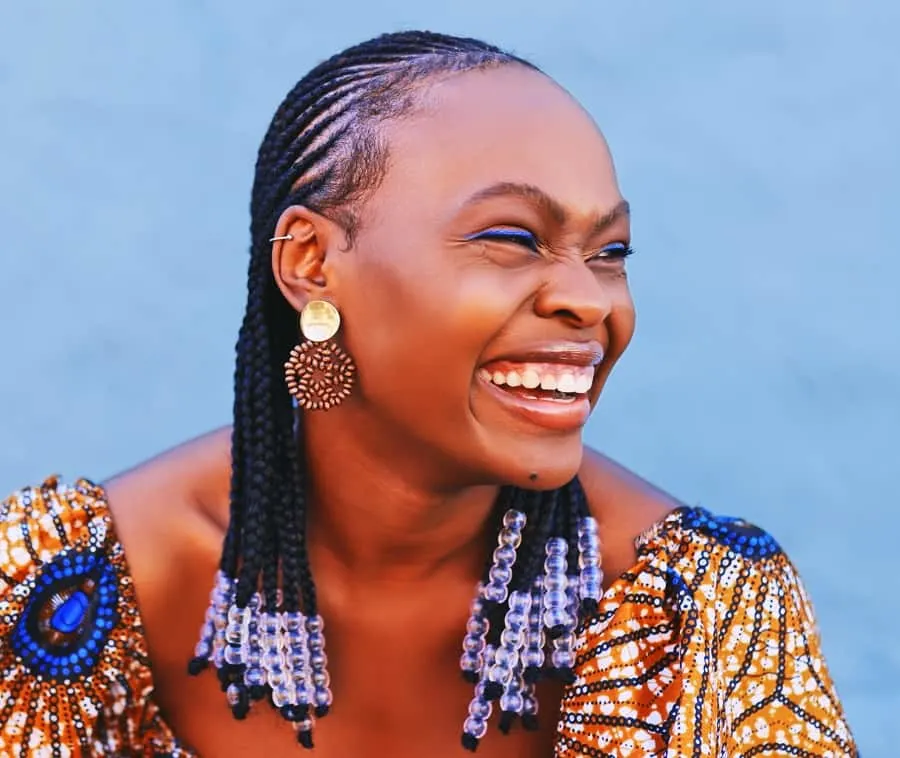 African braids are absolutely fabulous, especially when they all have the same length and thickness. Keep them slightly in the same length and decorate each knit with translucent beads.
13. Cornrows with Straight Bangs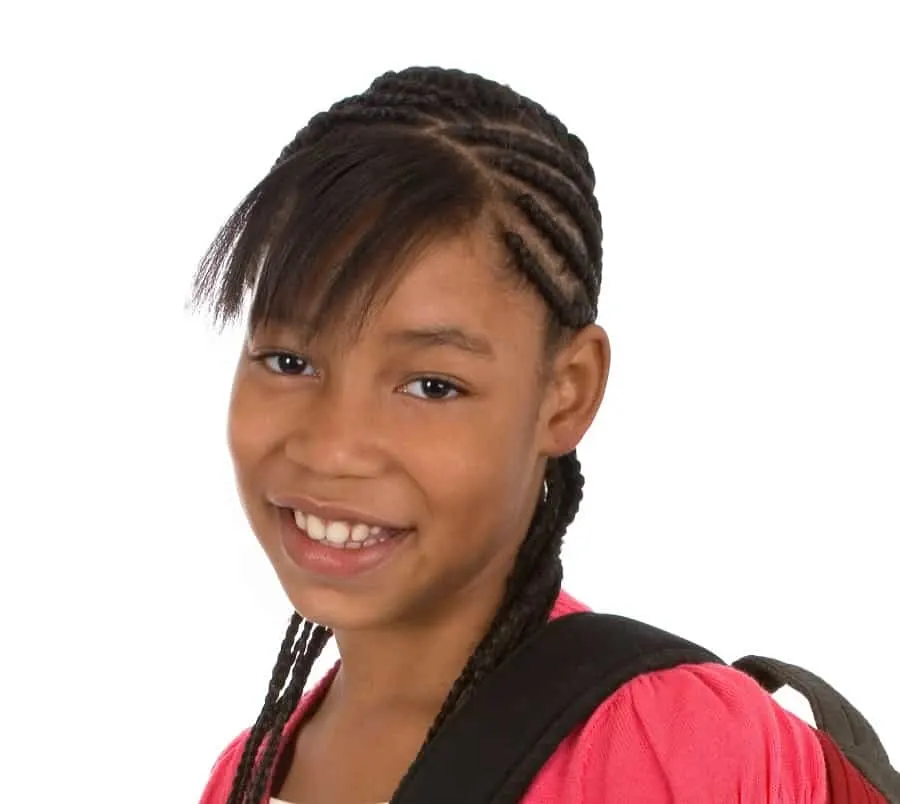 Kids love cornrow braids, mostly because they are fun and cool, but also very practical for school days. To spice them up a little bit, you should create a side part and knit the braids to the sides. Spare the bangs and keep them straightened.
14. Silver Half Braids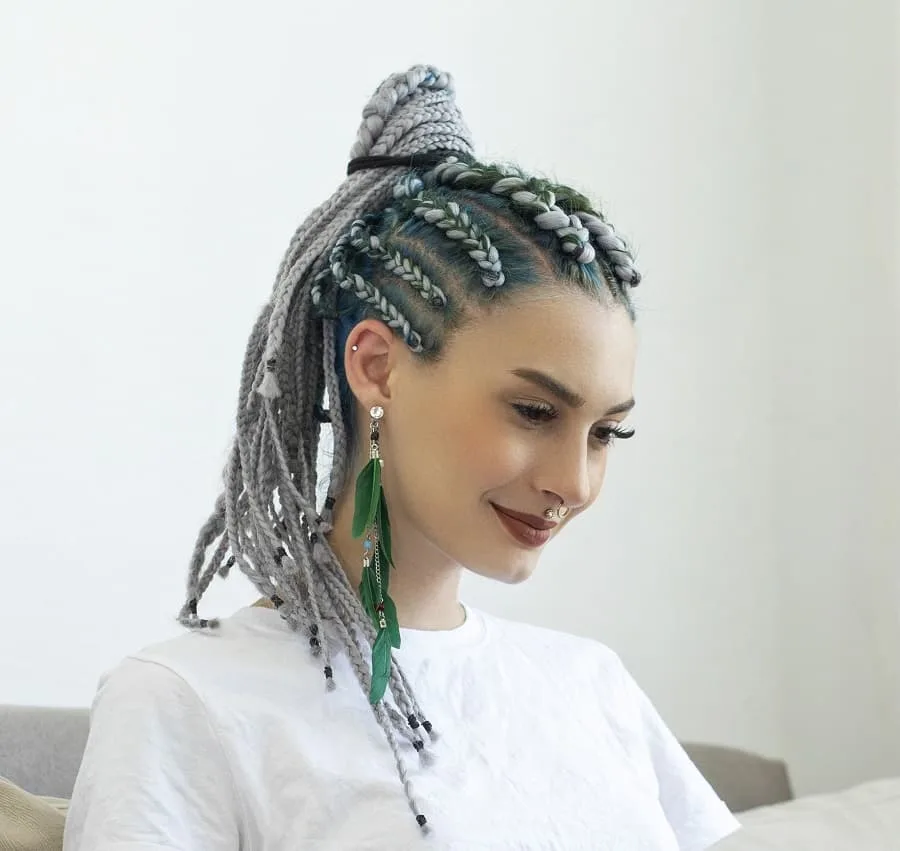 You must know that you will need various bundles for your knits when you love such ecstatic looks. Firstly, dye the roots in a green-blue color and part your hat in rows. Create the braids and ensure these knits are thicker on the crown section and thinner for the pony.
15. Braided Low Pony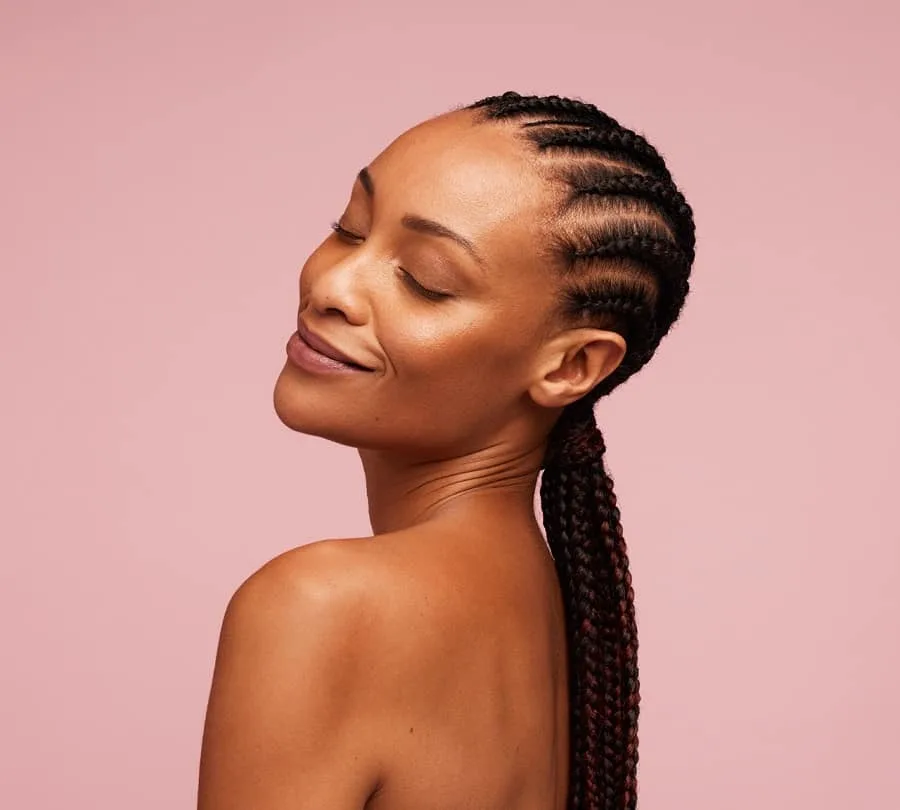 If you don't want those cornrows hanging on your back and shoulders, you can always opt for an elegant cute hairstyle like a low ponytail. It looks fabulous for both short and long hair, and you can use a braid to wrap it around the base.
16. Micro Braids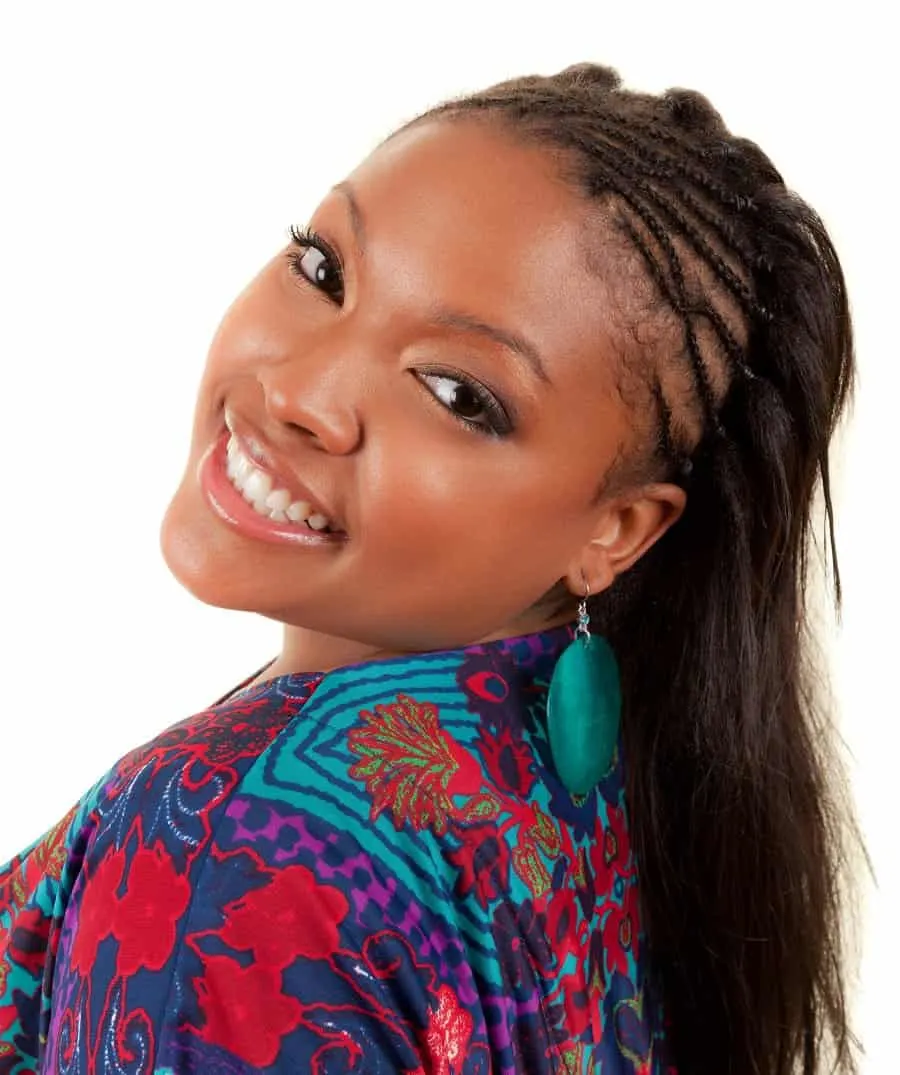 You don't have to braid your whole mane. You might consider creating multiple micro braids if you have thin and rare hair. Orient them to the side and back and tie them with small rubber band elastics. Wear your hair on your back and do your fav makeup to draw all the attention to your face.
17. Toddler Hairstyle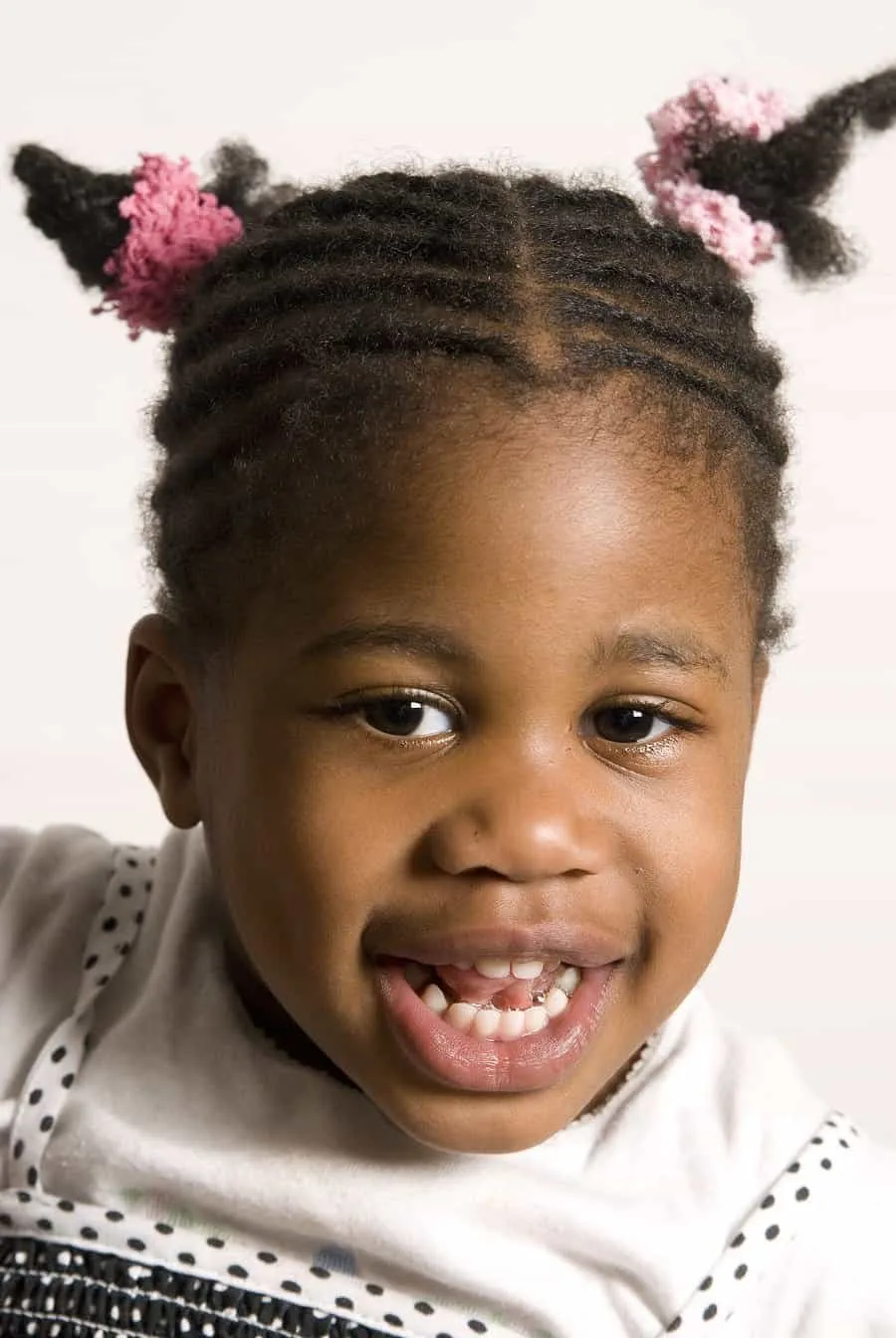 It can be so hard to keep your toddler still each morning, especially when you need to comb their hair. So opt for a hairstyle that lasts, but that's also cute and proper for her age. Once you're done with the braids, create two small space buns.
18. Tomboy Look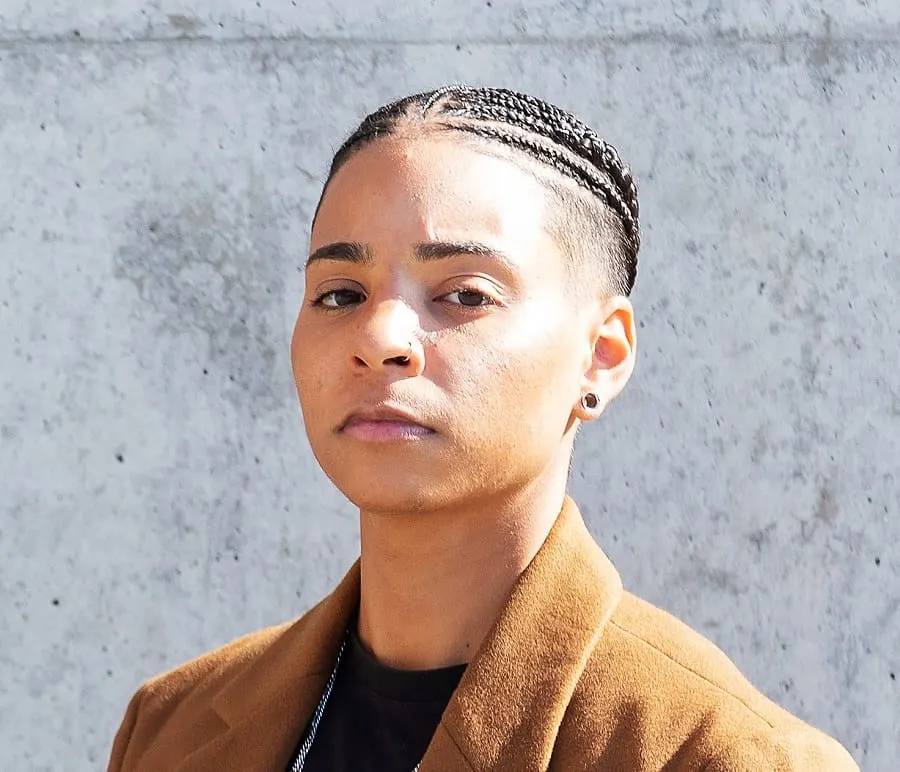 Love a casual tomboy look? The best way to get it is to opt for a short hairstyle with a fade on the sides. As for the top crown, get a middle part and do your cornrows on the side and towards the back. You can even use one knit as a middle parting.
19. Furlani Braids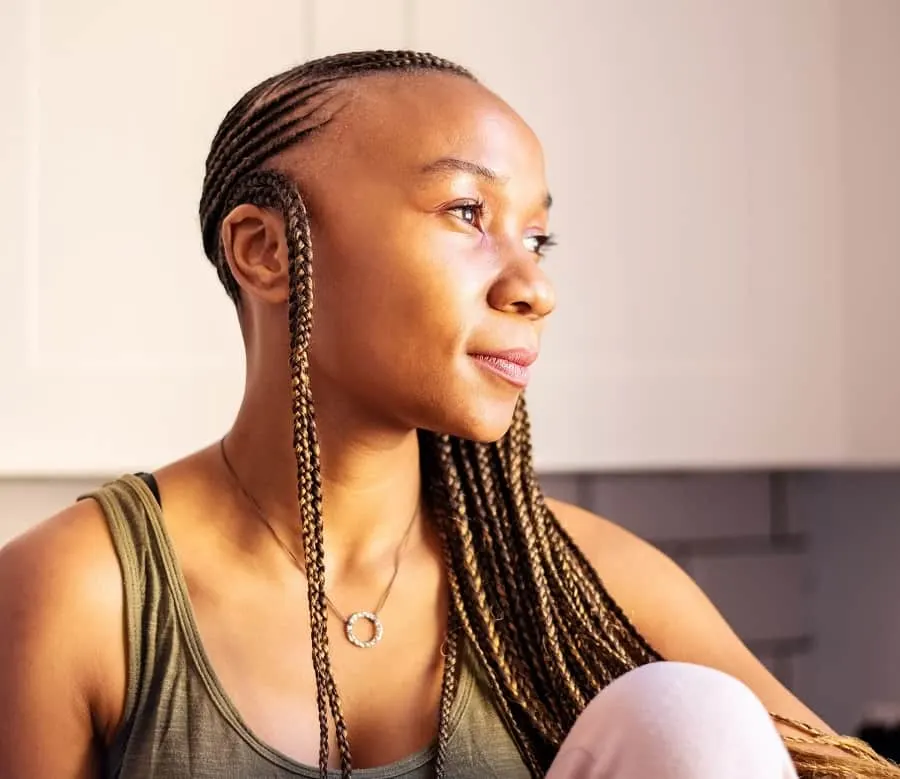 These types of cornrow braids are eye-catching, especially because they involve a different technique. While you keep most of your hair tightly braided to the back, you will need to spare some hair around the ears. Start knitting the pieces from the place behind the ear and go towards the sideburns.
20. Crisscrossed Braids
These braids look so intricate and fashionable! Instead of maintaining the direction of the braid in a straight line that goes to the back, cross over some of the braids to get that amazing design. Spare the tips, roll them on rods and dip the hair into hot water to get that curl. Tie them with elastic rubber bands.
21. Squares and Triangles
Ghana braids with triangle partings that create little squares for the top can't be done at home. They are way too complicated to get them to look as perfect as the ones presented above. They involve crossovers and you might need a few hair bundles to create that impressive length.
22. Side Part
Do a side part and feed in your braids with extensions that match your initial hair color. If your natural hair is this long, you're in luck because your cornrow braids will look more realistic than ever. Keep them knotless for a more relaxed look.
23. Chunky Cornrows
If you want to make a statement with your cornrow braids, this is the best way to do it! Choose two colored bundles with dark and neon green hair. Keep them long and tight and get a sleeping cap to preserve their shape.
24. Heart-Shaped Braids
If you go for regular cornrows for the top, you can spice things up with a design on the sides. Go for two curved-shaped braids that meet into a single knit and create a thicker piece. Also, you can purposely miss some strands and not knit them, creating a mix with the braids.
25. Feed In Braids
Choose a center pointing to the middle of your forehead line, and starting from there, build your cornrow braids. Feed them in with hair extensions so they'll look chunkier towards the back. Using your sideburns, style two braids and wear them in front of your ears.
26. Cornrow Braided Bun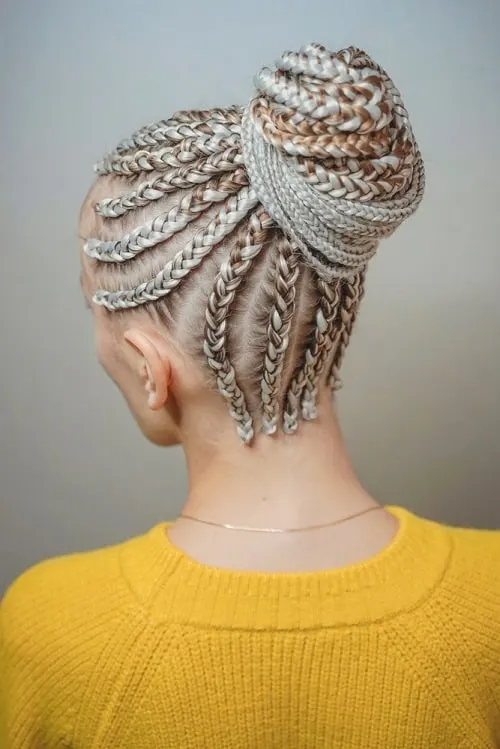 A beautiful blonde ombre hairstyle stuns with its braided cornrows. While the braids are thick to start with, the ends are thin and stand out when wound up into a thick bun.
27. Cornrow Crochet Braids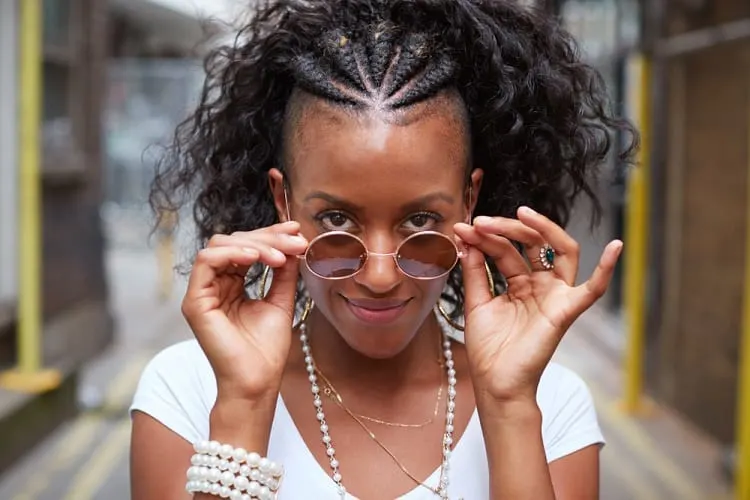 Get the best of both cornrows and loose waves with this thick ponytail. Start off with five cornrow braids that are crocheted into your natural black hair, but stop at the middle of the head and comb them into a ponytail. Curl the hair for more waves or use products to emphasize your current texture.
28. Twisted Cornrows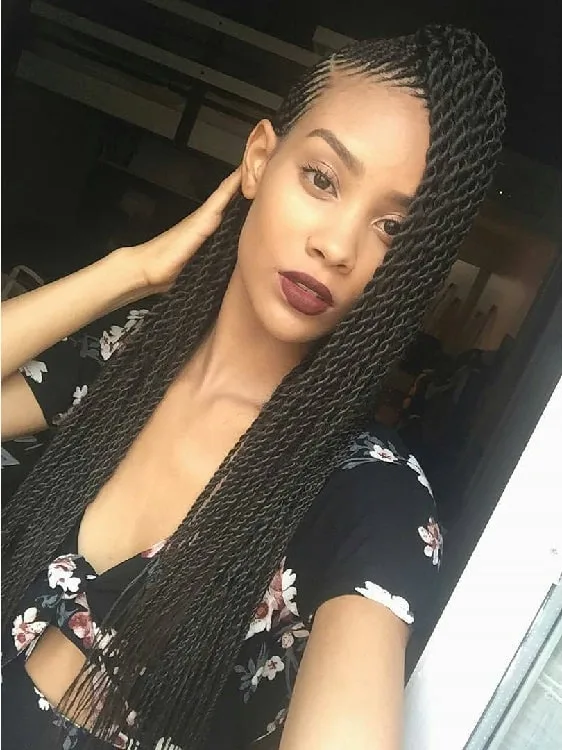 From far away, these cornrows might look like regular braids, but up close you'll see they're actually twisted. They're created by only using two small sections of hair and winding them around each other down to the ends.
29. Cornrow Braids for Caucasian Women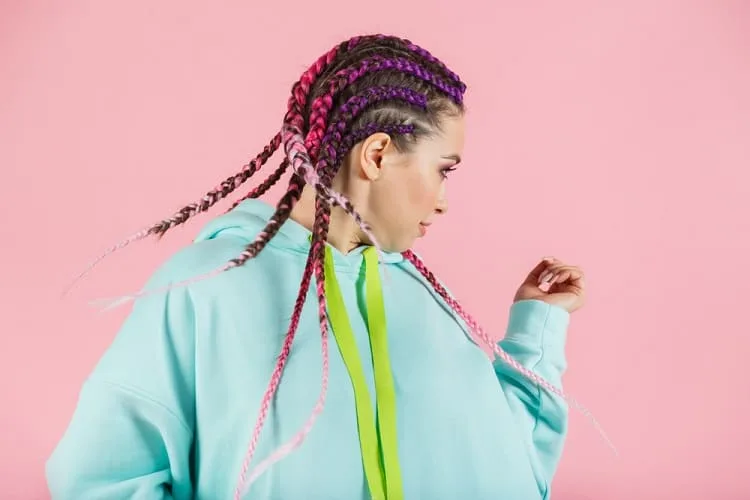 If you're a Caucasian woman, you can still rock cornrow braids. Thick hair will create these jumbo cornrow braids, accented with purples and pinks.
30. Asian Cornrow Braids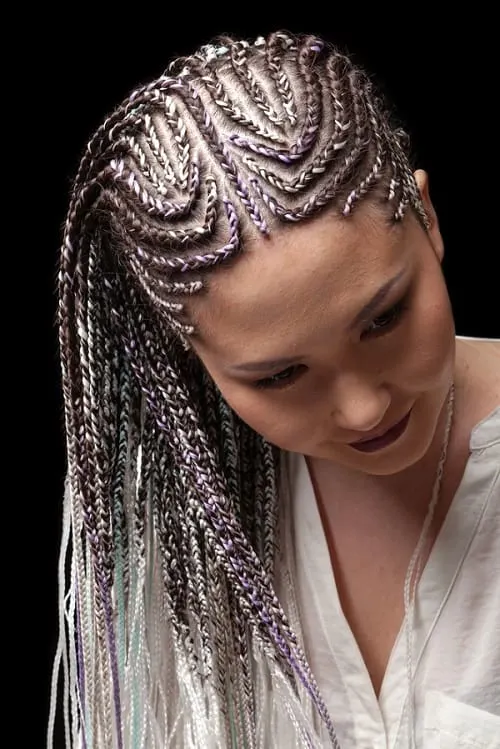 We're sure Asian women get bored with their typical straight hairstyles. This is one great reason to try a cornrow braided hairstyle. The front of this look features shapely braids in brunette and purple.
31. Braid mix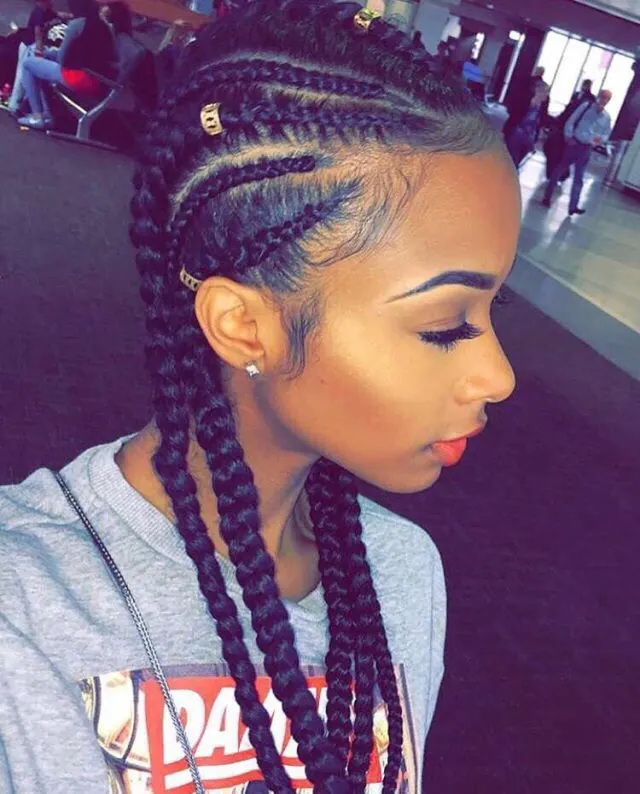 Mixing different types of braids is a wonderful way to make an impression while reducing the hassle of styling. Start with cornrow braids on top and go on to create the classical braid on the bottom. Check braided updo styles.
32. Small Cornrows
Creating cornrows on long hair can be a lengthy and complicated process. Some girls opt for just making them on top of their heads and twisting the rest of the hair to make nice and neat curls.
When you make cornrow braids, you don't lose an opportunity to create the same hairstyles you did without them. This high bun looks especially appealing when coupled with some bright accessories.
34. Cornrow Mohawk
If you've always wanted to make a statement with your hair, but shaving it or dyeing an outrageous color was out of the questions, cornrows can help you. Create a wonderful fohawk by braiding the side strands.
35. Long hair extensions
If you've always dreamed about long hair, you can easily get it by attaching a cornrow weave. Start by braiding your own hair and weaving in the faux strands. The result will be unbelievable.
36. A weave
If you want your hairstyle to look stunning, consider weaving in some differently colored hair extensions into your cornrows. It's a great opportunity to check out the way a certain hair color suits you. Check braids with weave hairstyles here.
37. Thick cornrows
If you have thick and voluminous hair, thick cornrow braids are exactly what you are looking for. They are a great way to tame your mane and give your image a neat and respectable look. Give them a try!
38. Unique approach
The uniqueness of your cornrow style fully depends on your imagination. If you have someone who does these braids professionally, you can come up with a truly amazing hairstyle and enjoy it for days.
39. Cornrows for short hair
If your hair is shoulder-length or shorter, you can still enjoy cornrow braids. If you want to add some length, then you can use hair extensions. Cornrow braids look fantastic no matter how short your hair is.
40. Cornrow style imitation
While most of the cornrow styles are available to black women, white girls with thin hair can do an imitation. Take a look at how simple and appealing this small braid looks. It takes just a few seconds to make.
41. The classics
Simple braids are exactly what every girl needs to try at least once in her lifetime. If you are black, have long and thick hair and are dreaming about perfectly neat cornrows, the classical approach is for you.
42. Partial cornrows
Partial cornrows are a great choice for women who want to make a statement with their hair. Just look at how amazing this hairstyle is. Only the top part of the hair is braided. It makes a good contrast with the rest of the voluminous locks.
43. Cornrows with Havana twists
This combination hairstyle is something to envy and desire. The bangs and a couple of side strands are arranged into cornrows. Then the upper part of the hair is braided into Havana twists and the rest stays soft and curly.
Hair Color Trends for This Year
44. High ponytail
These cornrow braids are arranged in a way to make the high ponytail seem natural. There is no brushing, tying, or twisting. Your ponytail is half-ready. All you have to do is sweep the rest of your hair up.
45. African patterns
Using cornrow braids to create amazing designs is a popular approach to the African hairstyling. Take advantage of your cornrows and make whatever patterns you can come up with. A professional hairdresser can follow even the wildest dream.
46. Asymmetry
Use cornrows to create wonderful asymmetry with your hair. You can use them to make a side ponytail with the cornrow braids created just on one side of your head. This is a no hassle hairstyle many women will like.
47. Wild weave
Looking for a wild hairstyle? This amazing cornrow weave can do the job. Just take a look at how stunning it is! This hairstyle can become a great choice for a special occasion, including a beauty pageant.
48. Spike it up
Cornrows can do a great job lifting your hair up and keeping it neat and out of your face. Take a look at how only one part of the strands is braided, while the rest of the hair stays free and available for more styling.
49. Sunny dyes
Cornrow braids are a wonderful opportunity to dye your hair a lighter color. If you are tired of your black locks, light brown and blond shades are waiting for you. Do some experimenting and you'll love the result!
50. Criss-cross patterns
Playing around with cornrow patterns is fun. If you can't do it on your own, ask for the help of your best hairdresser. Wonderful patterns on top coupled with long braids on the bottom make up a great image.
51. Cornbraid variety
There is no absolute rule for making great cornrow braids. You can practice any style you like, including these large braids that surely can make an impression. The idea is the same while the result is magnificent.
52. Minnie Mouse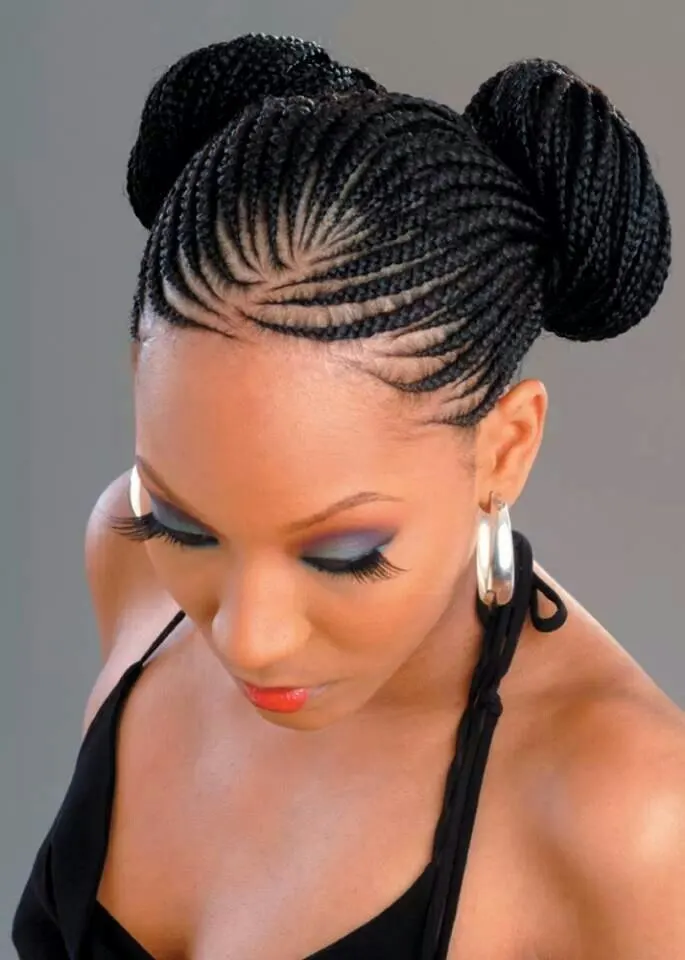 This Minnie Mouse hairstyle is available to women with long and thick hair who like standard cornrows. Just look at how amazing this hairstyle is. The best part about it is that there is not too much hassle.
53. Braiding extravaganza
Using various types of braids for one hairstyle is becoming more and more popular. Whether you have thick and long hair or opt for a weave, the result will be stunning. It's a perfect choice for a special occasion.
54. Two cornrows
Not all women are patient enough to handle the full blown cornrow hairstyles. That's why you can use your imagination to come up with partial braids. Take a look at how well the cornrows are incorporated into this simple hairstyle.
55. Mature hairstyle
One of the greatest benefits of cornrows is that they are suitable for women of any age. Sometimes the hair gets thinner with age, but thanks to hair extensions it won't be noticeable.
56. Asymmetrical undercut
The modern approach to the shaved asymmetrical undercut is great but not all women are brave enough to try it. Cornrow braids can easily save the day by offering you this asymmetrical wonder. Don't be afraid to use it!
57. Burgundy and glamourous
Dyeing your cornrows a new color is exactly what you need to lift your spirits. If your hair is not too thick, consider creating partial cornrows. New hairstyle coupled with a new color is the way to success!
58. Neat braids
The neater you make the cornrows, the less hassle you'll have with them in the future. If you are not sure that your skills are good enough to make these braids, ask a friend or hairdresser for help.
59. Mohawk
What's a better way to create a stunning hairstyle than doing it with cornrows? No mohawk in the world looks as stylish and creative as the hairstyle you can come up with using the braids. Give it a go!
60. High and away
High hair hairstyles are always trendy. Even if you decide to get cornrows, there is no reason to opt just for buns and ponytails. You can arrange your hair any way you like regardless of the cornrow type.
61. Alternative choice
Alternating the size and the position of cornrows on your head is exactly what you need to create a unique hairstyle. Consider using prominent dyes to make highlights before braiding the cornrows.
62. Distanced Cornrows
Here's a new approach for your cornrows! Instead of making them very close to each other, consider making the spaces between them larger. This way, each row will stand out and you can style a very fashionable hairdo by creating a low-rolled bun in the back.
63. French Braid With Cornrows
For the center, build more dimension by styling a French Knit. On the sides, create a curved cornrow and another braid that enters the curve. Repeat the procedure on the other side and style a low bun.
64. Pigtails
Using a fine tooth comb, create two parts for the center hair pieces. Build two tight cornrows that stand one next to each other. Tie them with translucent rubber bands to create those childish pigtails.
65. Inverted braids
When you have naturally curly hair, make sure the braids are not too tight. Treat your hair with some jam to highlight the texture and do your braids. Go for a larger centerpiece and tho smaller knits on the sides.
66. Wavy Pony
On each side, you will build three cornrows, while for the top, you should pick a chunkier construct that elongates your face. Meet them in a ponytail and decorate some of the braids with metallic hair rings.
67. Metallic Blue
When you have such a spectacular hair color, it would be such a shame not to go for braids that add so much value to your look. They are very cool, and you can even style a nape undercut to get that rebel vibe.
68. Braided Bangs
This is probably the best approach when you want something extravagant for your new look. Use hair extensions to make your hair longer and to obtain the same thickness for each braid. Get knitted bangs and decorate each with beads.
69. Multiple Triangles
Some love to sport their designs on the sides, but here's a better option. Starting from the center back, do triangle partings and cornrows that you will use to feed in tho French braids on the sides.
70. Braids With Undercut
Low-back undercuts are still trendy. They look impressive and are a great way to complete your look. Do the design for half of your back head. The longer pieces you will use to create cornrows that start at the end of your undercut and go towards the top. Pin them in bun.
There are so many cornrow braiding styles for women that the above ones are just the tip of the iceberg. Use your imagination to create real masterpieces. Your hairstylist can show you the way or you can experiment in the comfort of your own home.
FAQs
Read these frequently asked questions to learn more about cornrow braids.
How long will cornrow braids last?
It depends on your hair type and how well you take care of your cornrows. Finer hair will become loose more quickly, whereas coarser or curlier hair will hold its shape for longer.

Excessive washing will limit the lifespan of your rows. Extensive activities that put pressure on your hair and scalp can also decrease the life of your braids. Most people can easily make cornrows last for two weeks. With proper care, some can make them last upwards of eight weeks.
Can I wash my cornrow braids?
Yes, you can wash your scalp with cornrow braids, but you should not vigorously wash the braids themselves. You can massage the shampoo into your scalp like usual. But you should squeeze and scrunch the shampoo on and off your braids without rubbing or too much friction.
How long does it take to do cornrow braids?
Generally, it takes between one and four hours to do cornrows. If you give yourself cornrows for the first time and have thick, coarse, long hair, it may take significantly longer. The less hair and more skill you have, the quicker you can do these braids.
How long should you keep cornrow braids?
You should keep cornrow braids as long as they are healthy, your hair hasn't grown to the point that they no longer look good, and they aren't giving you a headache.

Some people find that the tightness of the braids against their heads can give them headaches after a couple of weeks. If you find that to be the case, removing the braids should eliminate the headache.

You should never keep them for longer than 10-12 weeks because, eventually, the stress can damage your hair. Depending on your hair and scalp, you may choose to remove your cornrows at the 6-week mark.
Are cornrows bad for my hair?
Cornrows can be bad for your hair. If your cornrows are too tight and you keep them for too long, the pulling at your scalp can cause hair damage. However, if you don't do cornrows often and don't keep them for too long, the braids will not greatly impact your hair's health.
How can I take out cornrow braids?
How hard it is to take out your cornrows depends on your hair type. Straight, caucasian hair may be able to be unbraided without any additional steps. However, if you have coarser hair, you will want to wet and deep condition your hair before you remove the braids one at a time.
Are cornrow braids unprofessional?
This is a topic that many people debate. Historically, many institutions have claimed that cornrows are unprofessional, but the idea is quickly changing in many industries. For example, some branches of the U.S. military have begun to allow cornrows.

Cornrows are a neat, clean, tight hairstyle, and many historical stigmas against cornrows come from racist practices. While not every business and company considers cornrows professional, times quickly change.
Are cornrows hard to maintain?
No. You don't have to do much to your hair to maintain them, but you will have to avoid plenty of things. For cornrows, you should take care not to apply too much friction to your braids when you shower or when you sleep. You may need to remove dandruff if it appears between your braids.
What's the difference between cornrows and box braids?
They are very similar, but cornrows continue all the way down the scalp while box braids hang freely off the head.
Does cornrow braiding aid in hair growth?
No, cornrow braiding does not aid in hair growth. In fact, this type of braiding can damage hair growth if you keep them for too long.