When you buy through links on our site, we may earn an affiliate commission.
Dandruff is bad news for sure, but you know what's worse? Having dandruff and colored hair!
Nothing ruins newly colored hair than those stubborn white flakes dusting your evening black dress and killing your confidence within seconds.
We all know treating dandruff is such a challenging task, which becomes so much harder when you have colored hair. This is mainly because you have to find a way to kill dandruff without washing your hair color out.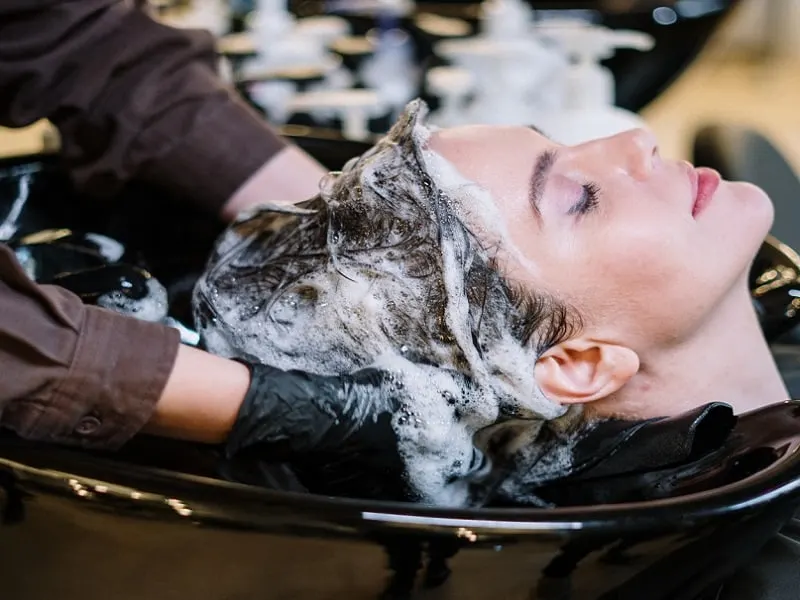 However, there's nothing to worry about because there are some truly amazing color safe dandruff shampoos with active ingredients that fight all your dandruff and prevent color fading.
Best Dandruff Shampoos for Colored Hair
If you happen to be dealing with an impossible case of dandruff and colored hair, we've rounded up a list of 13 best dandruff shampoos for colored hair that will help fight those white flakes in no time!
With a promise to start working from the very first use, Nizoral Anti-Dandruff Shampoo brings you the ultimate relief that you need from the stubborn kind of dandruff.
The formula of this shampoo contains ketoconazole 1%, which is a highly potent, effective chemically-tested anti-fungal that has largely been proven to control flaking, itching and scaling. It also helps combat sudden dandruff outbreaks.
This shampoo has especially been formulated to be super gentle on the hair and is extremely safe to be used on chemically processed, color-treated, and gray hair.
It comprises of a thick, rich consistency that relieves an itchy scalp, prevents flaking and leaves your hair smelling really fresh and nice.
This shampoo features the best therapeutic formula for dandruff with a sulfate-free treatment for colored hair, making it one of the most effective color safe dandruff shampoos out there.
The anti-dandruff quality of this shampoo balances the flakiness of the scalp by gently cleansing the dirt and oils that clog the hair follicles.
It is formulated with a wonderful combination of jojoba oil, Moroccan argan oil, and peach kernel oil, together which replenish vibrancy in the hair, provide adequate moisture and prevent your hair color from washing out.
Since this shampoo is sulfate-free, you can use it knowing that it won't cause your hair any damage.
As the name suggests, this shampoo comes with a 'scalp revival' formula with natural ingredients that are super safe for color-treated hair, and they help ensure effective removal of product buildup as well as dead skin cells from your scalp.
What makes Briogeo Scalp Revival Charcoal and Coconut Oil Micro-Exfoliating Shampoo one of the best dandruff shampoos for colored hair is the fact that it features vegetable-derived micro-exfoliators that promote a healthy, clean, dandruff-free scalp by removing all the deal skin cells.
The biotin in the formula, on the other hand, makes the hair super soft, healthy and strong.
Another key ingredient is charcoal that has significantly grown in popularity over the years as one of the most effective ingredients for hair and skin. It has natural cleansing properties that eliminate product buildup, boost scalp health, and offer optimal absorption of impurities and oils.
If you are looking for a gently yet effective solution for dandruff, this shampoo is your best option.
It is free of silicone, parabens and other harmful ingredients, making it completely safe for color-treated and chemically-processed hair.
Furthermore, it has been formulated with active plant concentrates and unique amino acids such as garlic bulbs, together which help boost circulation in the scalp, prevent flaking and dryness, and improve the overall moisture levels.
Its signature and the key ingredient is bee propolis that contains highly effective antiseptic properties that work towards preventing other scalp conditions. Another thing you should know about this shampoo is that it is vegan with UV filters, which suggests that you can easily use it on color-treated hair.
You've probably used L'Oréal hair products before, given how it's one of the most popular names in the market. So, there are no surprises that L'Oréal Paris EverFresh Anti-dandruff Sulfate Free Shampoo is one of the best color safe dandruff shampoos.
This shampoo comes with 1% pyrithione zinc that stops an itchy scalp, prevents flaking, and restores the balance in your scalp. It has been clinically tested to prove that it has one of the best formulae for treating shampoo and also how it doesn't strip your hair or fade its color.
One of the many features of this shampoo is that it comes with the EverFresh anti-dandruff system that provides increased nourishment to the hair ensures good health.
Made with mint leaves and zinc pyrithione, this shampoo features incredible calming and antibacterial properties.
The mint provides great relief and a soothing sensation to an irritated scalp. Zinc pyrithione, on the other hand, targets your dandruff, controls the appearance of visible white flakes, prevents irritation and adds moisture to a dry, itchy scalp.
More than that, it offers increased protection to color-treated hair from sun damage, doesn't fade the hair and effectively maintains your hair color.
If you are fond of tea tree-based hair and skin products and they suit you, you will absolutely love the Maple Holistics Tea Tree Shampoo!
It is made with pure tea tree essential oil that with antibacterial properties that greatly moisturize dry scalp, prevents dandruff and flakiness, and also balances the amount of oil in the hair.
The formula of this shampoo is not only cruelty-free but also free of parabens, sulfates, and silicones, making it one of the most color safe dandruff shampoos.
Furthermore, it contains large amounts of antioxidants, minerals and vitamins that improve your scalp health, offer revitalization, and add a great amount of bounce and shine to the hair.
Made with argan oil and Manuka honey, Head and Shoulders Supreme Color Protect Hair & Scalp Shampoo offers an effective, gentle, pH-balanced formulation that combats dryness, provides moisture to a flaky scalp and offers increased protection to color-treated and chemically processed hair.
It comes with an advanced technology that moisturizes the hair all the way from the roots to the tip to bring out the best in your hair!
Additionally, it's void of harmful ingredients and is totally free of phthalates, phosphates, parabens, dyes, and ethanol.
The best part about this shampoo is that it has been designed for regular use, which allows you to include it in your color-treated hair care routine without worrying about any damage or side effects.
No products found.
This is another shampoo rated as one of the best dandruff shampoos for colored hair and has been called just the right shampoo for flaky and itchy scalps, fighting dandruff scalp, and psoriasis.
It is perfectly suitable for a variety of hair types, including normal hair, dry hair, oily hair, curly hair, and color-treated hair.
It is formulated with zinc, rosemary extract, and mulberry root that prevent dry and dull hair, eliminate flakiness and greasiness from the hair, and also stop hair thinning and hair loss.
It's more like an all-in-one hair care solution that caters to a number of hair related problems and issues!
This is a popular premium range color-safe and dandruff-fighting shampoo with an extremely lightweight formula that combats flakiness and itchiness in the scalp.
The formula of this shampoo contains active ingredients like zinc omadine as well as pure plant extracts, including tea tee oil, sage, aloe vera, chamomile, and juniper berry. This helps minimizes microbial activity on the scalp, restore balance, and promote healthy hair.
This shampoo is completely keratin treatment-safe as well as color-safe, which is what makes it one of the best dandruff shampoos for colored hair.
It's incredibly lightweight and gentle, and you won't feel a thing while applying it to your hair and scalp.
The T'zikal Deep Hydrating Shampoo combines the power of 30 plant-based, natural ingredients that all contain protective and reparative abilities. Take advantage of this cruelty-free, hypoallergenic, pH-balanced shampoo perfect for those with dandruff and colored hair.
The inclusion of lavender creates a super-fresh aroma in addition to its antiseptic properties to help keep your scalp feeling refreshed and soothed.
Sodium Coco-Sulfate is biodegradable and an excellent alternative to harsh sulfates. Potent essential oils and botanical extracts combine to keep your cuticles healthy, your scalp moisturized, and your hair soft.
If you're a fan of a vegan lifestyle, then this Wonder Seed Hemp Shampoo is for you. The formula consists of cocoa butter, ginseng extract, coconut oil, aloe vera from organic sources, and hemp seed oil.
Combine anti-inflammatory properties to help stop hair loss and a high-quality green tea extract to lower free radicals to get a formula that strengthens your follicles and creates a healthy bounce.
This shampoo, which is safe for colored hair, is hypoallergenic and free from toxins. Choose this anti-dandruff shampoo if you're looking for a solution to psoriasis, eczema, flaky scalp, and dandruff that's free from sulfates and parabens.
Redken's Scalp Relief Dandruff Control Shampoo includes glycerin to assist in the hydration of your hair and scalp, reducing flakes and general irritation. Zinc pyrithione is also part of the formula, a safe choice for colored hair even after multiple uses.
You'll enjoy this shampoo if you want a lightweight formula designed to leave your hair feeling incredibly soft, bouncy, shiny, and clean. This shampoo will hydrate and nourish each hair strand from root to tip. Plus, this shampoo comes dermatologist tested for safety.
Things To Look For and Avoid While Choosing Color Safe Dandruff Shampoo
It's a tricky line to walk when looking for shampoo strong enough to get rid of your dandruff but not so harsh that it will strip the color from your hair.
It's essential to take a look at the ingredients list. Some ingredients are great for removing dandruff and won't harm your color, while other components will wreak havoc on your hair. Look for some of the ingredients below before you buy!
Color Safe Dandruff Ingredients:
Keratin
Tea Tree Oil
Lavender
Rosemary Oil
Oatmeal
Coconut Oil
NOT Color Safe Dandruff Ingredients:
Sulfur
Selenium Sulfide
Piroctone Olamine
Anything containing "Sulfide."
Anything containing "Sulfate."
How Often Should You Use a Dandruff Shampoo on Dyed Hair?
The general rule is that you shouldn't use dandruff shampoo on color-treated hair more than twice weekly. Depending on the color of your dye, the texture of your hair, and the severity of your dandruff, you may be able to do more or less. It is unlikely that the number will stray too far from twice per week.
Additionally, if you are using a dandruff shampoo that is specifically for color-treated hair, you should be able to follow the instructions on the bottle without any negative consequences.
Say Goodbye to Dandruff!
While there's definitely nothing worse than dealing with dandruff-filled colored hair, you can heave a sigh of relief knowing that there are many color safe dandruff shampoos out there that help combat dandruff without stripping the color of your hair.
However, make sure that you first read the ingredients on the shampoo label and also determine that it's meant for your hair type. Some shampoos are all-rounders and cater to every hair type, but some are for specific hair types, and it is best that you keep that in mind before purchasing one.
We hope that our list of the best dandruff shampoos for colored hair helps you choose the right shampoo for your color-treated hair and allow you to say goodbye to dandruff forever!