Be courageous and embrace some of the stunning bob haircuts for thick hair in 2020. Yes, different bob hairstyles with thick hair can be a great source of inspiration for your new look. Thick hair is gorgeous to look at. It has a unique way of appearing so healthy and fuller. Besides, being so voluminous, thick hair can look great in almost all styles (a glamorous haircut).
That is the reason we want to give you some of the most gorgeous bob haircuts for women with thick hair. Whether you have tried a bob before or you are looking for some great ideas to upgrade your current hairstyle, we guarantee you that one or two of these bob haircuts & hairstyles will inspire you.
1. Brunette Choppy Bob with A Side Part
If you are a style enthusiast, undoubtedly you have heard a lot about choppy bobs. If you have heard about it and you don't know how it looks like, here is a classic example of this haircut. The choppy cuts are so crucial in this hairstyle as you don't have to waste a lot of your time applying heating tools on your hair.
2. Silver Thick Bob with Natural Roots and Extended Bangs
Recently, colors such as violet, dark blue and red have won the media attention. But does that mean silver is on its way to step out? No, many ladies are finding it chic. Our advice is that: let some of your natural roots reveal, and if you cannot make it with Bob, consider long bangs.
3. Messy Brown Thick Hair Bob with Brown and Lowlights
Stylish bob for thick hair: are you a natural brunette enthusiast and that is how you do it? That is right. But just to throw some dimension to your tresses, consider getting some low lights or highlights.
4. Choppy Graduated Lob for Thick Hair
This is lob with layered layers and some blonde strikes. It may seem like the length is all the same, but if you carefully inspect it at the back, you will notice some kind of a 'slope'. It doesn't resemble an A-line bob, but the subtle difference gives it some asymmetry which is ideal if you are looking for a choppy or messy updo.
5. Brown Ombre with Wavy Bob
This beautiful bob haircut for thick hair has an almost center part. It is a kind of star-studded bob look. It is a sensual and transverse from the curls to the ombre hue combo.
6. Brown Wavy A-Line Bob with Blonde Highlights
Sometimes you may find yourself in a self-doubt-you love natural brown, and at the same time, you are attracted to blonde hair. No problem. Just include blonde highlights to you're A-Line Bob. You will enjoy both worlds in the most exciting way you can imagine of.
Various types of Bob Haircuts:
7. Platinum Highlighted Wavy Bob
Are you a beach girl? This is one style that pops into our mind when we see this hairstyle. The weaves look so healthy. Also, the platinum shade is incorporated into the hair in exceptional and lovely ways.
8. Wavy Violet Lob with Extended Layers
This is one of the trendiest colors in this season, but can you guess why? You will need some courage to wear this hairstyle. However, if you are bold enough to try a color like this, it may be the most daring and monumental decision you might make in your styling. You will not regret this. It is royal and good-looking still giving you an edge.
If you don't want to go too short, this bob cut is for women with thick hair. Just remember to choose a killer hue to set everything on the truck. Aren't these platinum styles fantastic? Deep down our hearts we know we can't get enough of these designs!
10. A-Line Bob for Thick Hair with Three Shades
Side-swept bangs are great ways to make any lady look sexy. It is also a perfect complement to an A-line bob as this. The light brown, dark brown and platinum complement each other very well. It is that type of haircut that work to make an impression-quick and in a hurry!
This bob cut is just perfect. When you have a thick hair, and you add extended layers to it, you get much movement and fullness. However, do not underestimate the impression that color can have on this style. Whew! Amongst all reds you might have seen in the red color niche, this is the HOTTEST!
12. Ombre Lob for Thick and Straight Hair
Has the idea of considering ombre ever cross your mind? Hopefully, this picture will impact on your thinking about the ombre and at least give it a shot. Ombre is undoubtedly one of the most preferred hair hues by most ladies. If this doesn't impress you, you can opt for a mix to match various colors.
13. Loose Waves Blonde Ombre Bob
Another impeccable way to rock ombre. Just add some blonde to your hue treatment, and you are good for that night out.
14. Wavy Lob with Streaks for Women With Thick Hair
This look shows you before and after the shots. This shows a perfect trim all-out haircut can do magic on your hair and your appearance altogether. The extra length that changes into a lob makes the hair to look thicker. So, do the blonde streaks.
15. Wavy Ombre Angled Lob
This beautiful bob hairstyle for thick hair is admired because it is stylish and it can be worn in several ways. Whether wavy or straight, it will ever look gorgeous.
16. Asymmetrical Lob with Blonde Colour
This is African-American bob haircuts for thick hair. It is any hairstyle that will turn many heads, and many love you for it. It is admired because of its artistic style-half lob and half bob in the front with dark blonde and caramel still at the front. Thick. Classy.
17. Platinum and Blonde Curly Bob for Thick Hair
Ok. Don't worry about anything if you cannot achieve this look because your hair is not naturally curly. With a curling iron, you can seamlessly accomplish this look. Wrap some sections of your hair on the barrel and pull it downwards. Platinum alone may not much impress you, but when augmented with blonde, you will love the results.
18. Razor Cut Bob
If you don't want your hairstyle to look too blunt, you can always ask your stylist to trim it using a razor. You will get the expected results as these shown here.
Here is a classic way you can use a razor to trim the ends of the hair if you want the lob-or merely an A-line bob rather than an even ob. You get a great look especially if you have a naturally wavy hair.
20. Straight A-Line Bob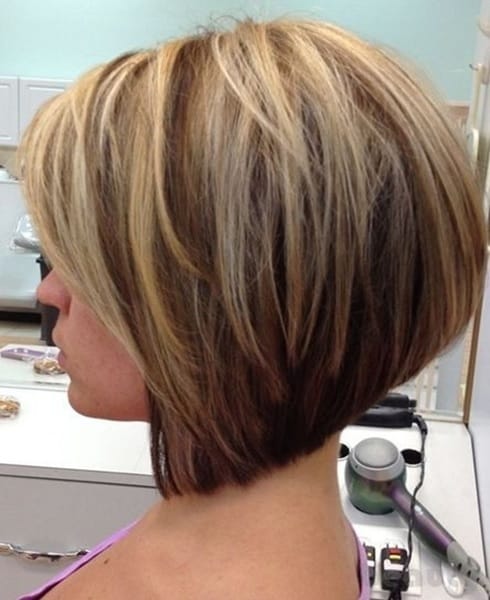 A pretty haircut especially for ladies with very thick hair. With so many layers all over, the blonde reduces the heaviness.
In conclusion, bob haircuts can help women with thick hair to achieve that diva look effortlessly. These bobs are some of the seamless ways to handle your thick hair.