Can't decide whether to try a bob with your thick hair? Just do it! A bob is the most popular short haircut these days and if you have thick hair, you're already set up for styling one!
Classy Bobs for Thick Hair
Whether you have tried a bob before or you are looking for some great ideas to upgrade your current hairstyle, you'll surely find a gorgeous bob haircut to flaunt with your thick hair.
1. Platinum with Waves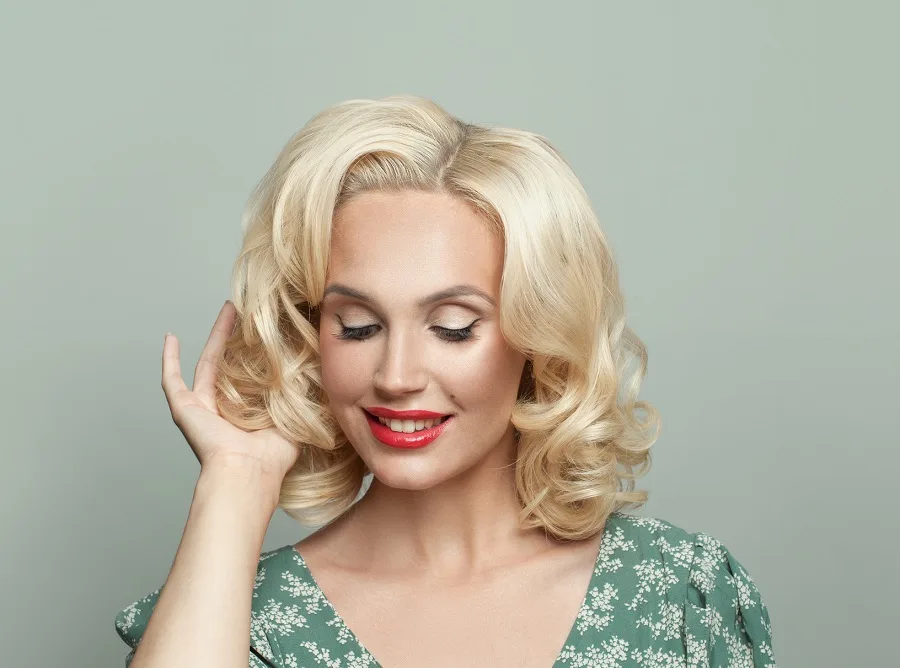 Take a trip back to the 50's when many women with thick hair wore a bob hairstyle with soft waves. Go with a bright but flattering platinum blonde to show off your locks.
2. The Extra Curly Bob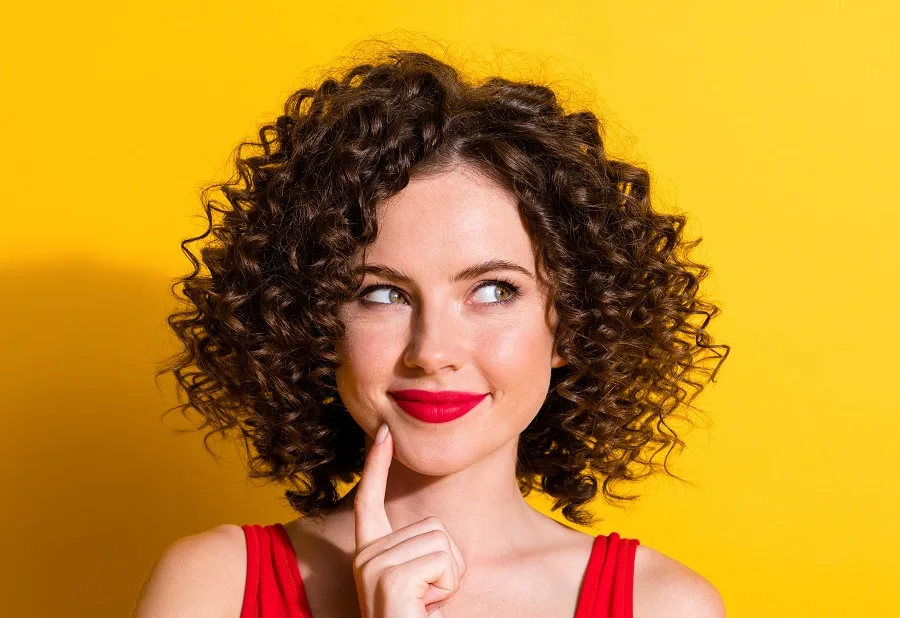 Whether your curls are naturally tight and springy or you're okay with getting a perm, cut your hair to a short bob to control your thick hair. It will help the curl shape stand out beautifully.
3. Straight with Blunt Bangs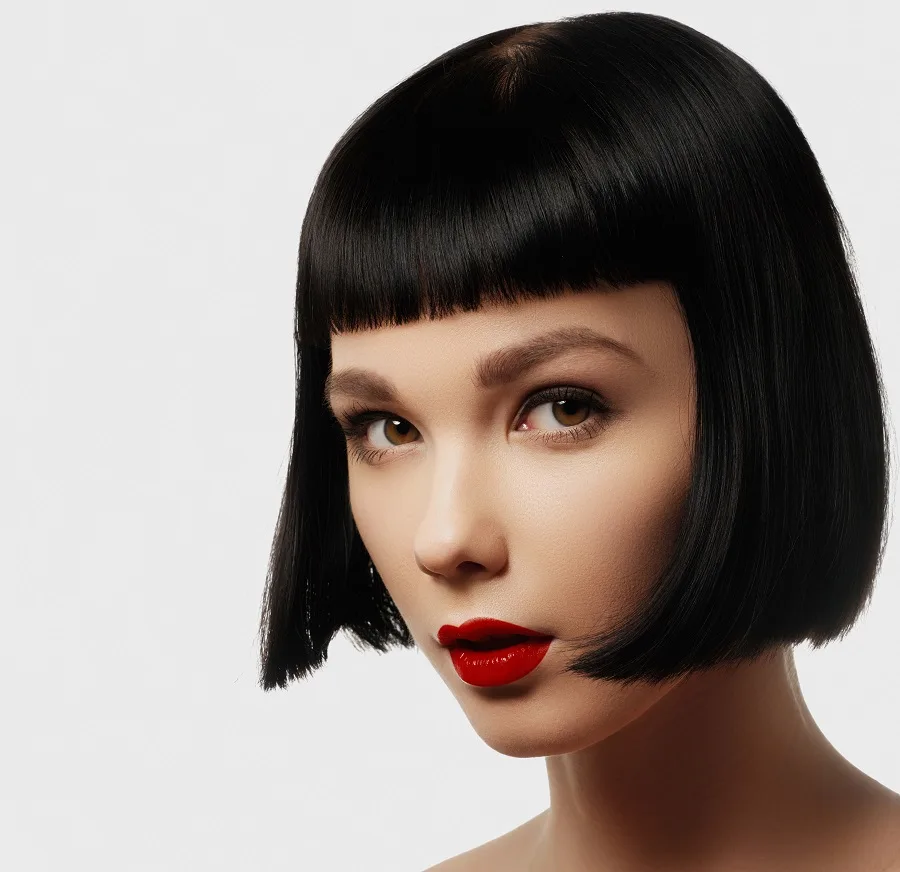 This pitch black short bob is giving us major Pulp Fiction vibes! Get the sleek bob on your thick hair by chopping locks to chin-length, straightening, and cutting fringe very short and very bluntly.
4. Reverse Ombre with Layers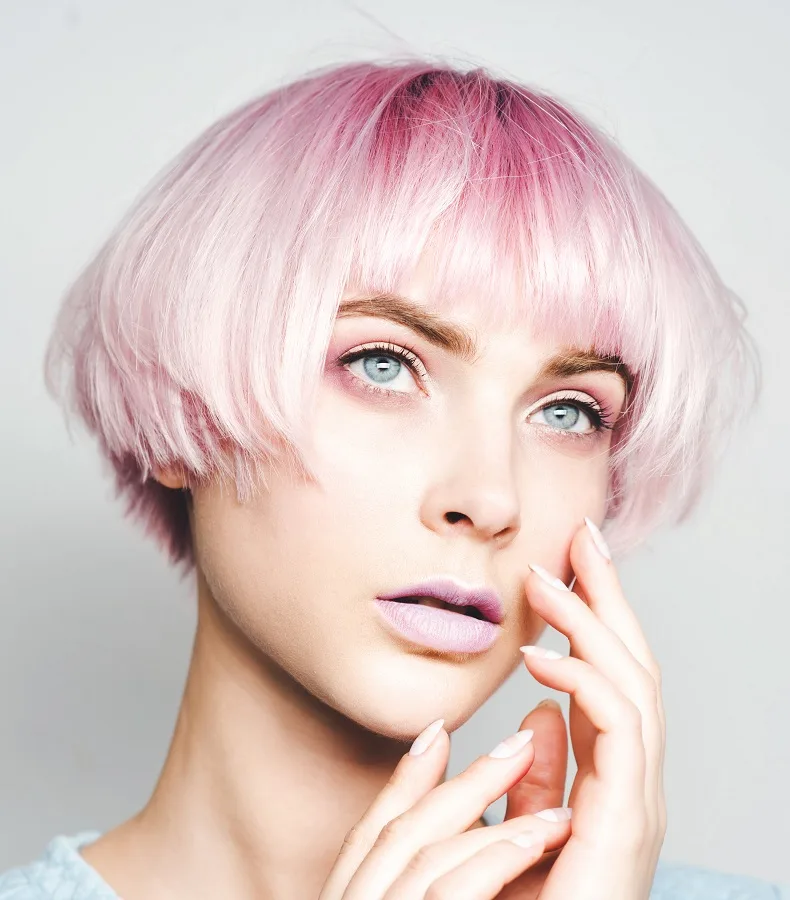 If you love playing with color, let your thick hair be the canvas! After cutting in short layers on your bob, choose your base color – in this case, it's dark pink – and watch as it beautifully melts into a lighter shade.
5. Blonde Ombre with Waves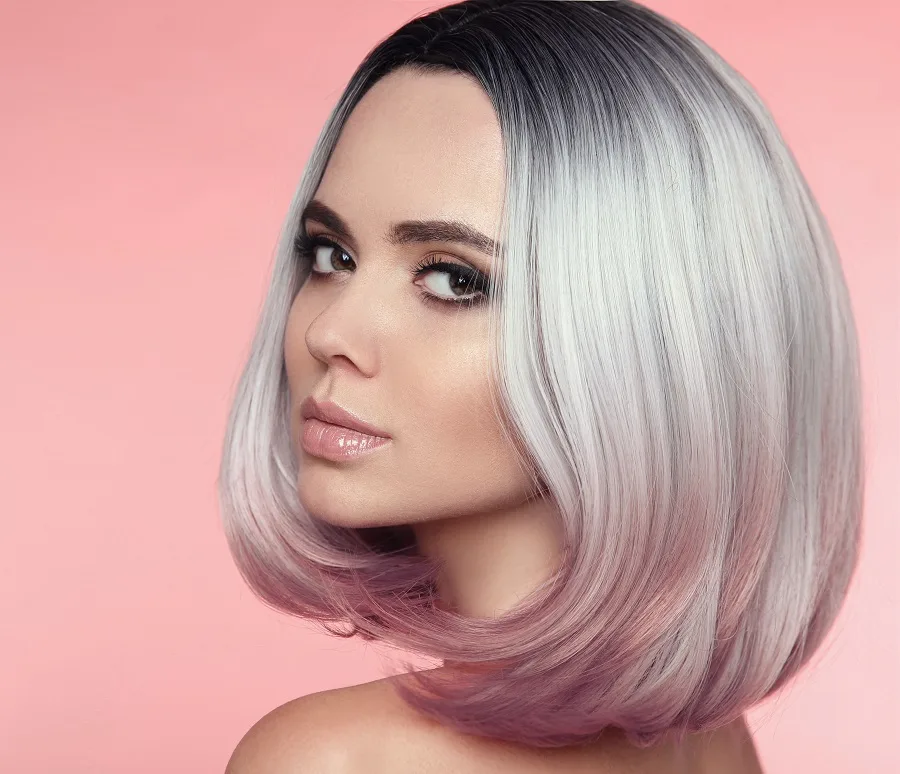 These soft and subtle glamorous waves accompany a long bob whose ends are tipped in a medium pink. While roots are noticeably darker than the light blonde in the rest of the hair, the color clashes work stunningly well for an ombre.
6. Asymmetrical Bob with Fade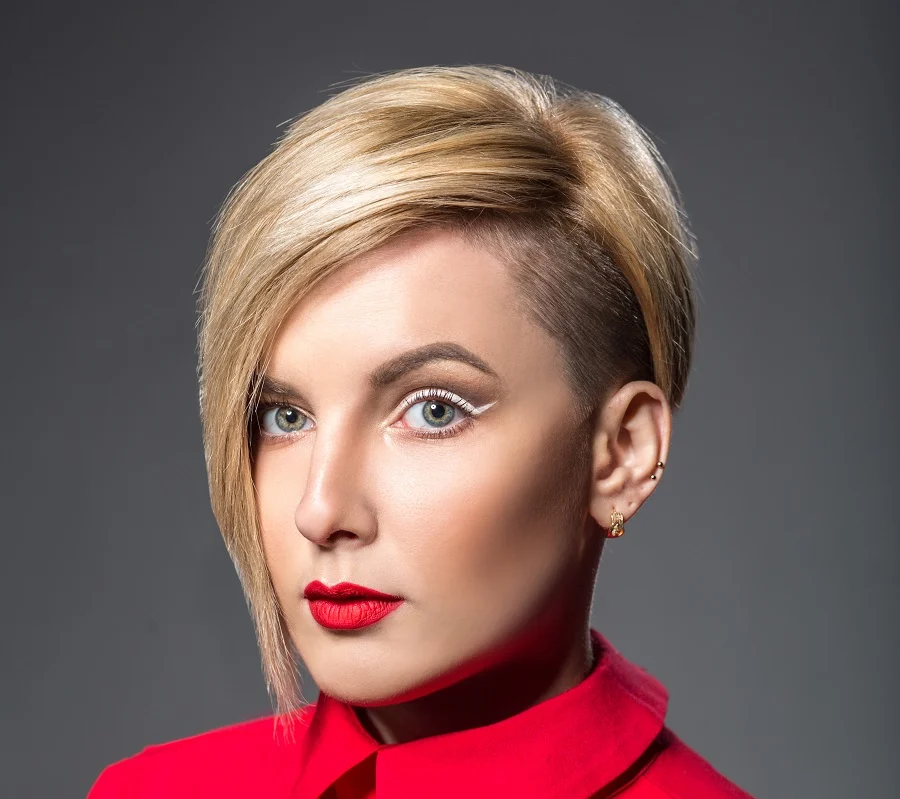 Do you prefer haircuts with a little more edge to them? An asymmetrical bob with an edgy fade on one side will make your thick hair into an enviable work of art. Straighten it for a day at the office or add a few waves or curls for a night out!
7. Long Bob for Grey Hair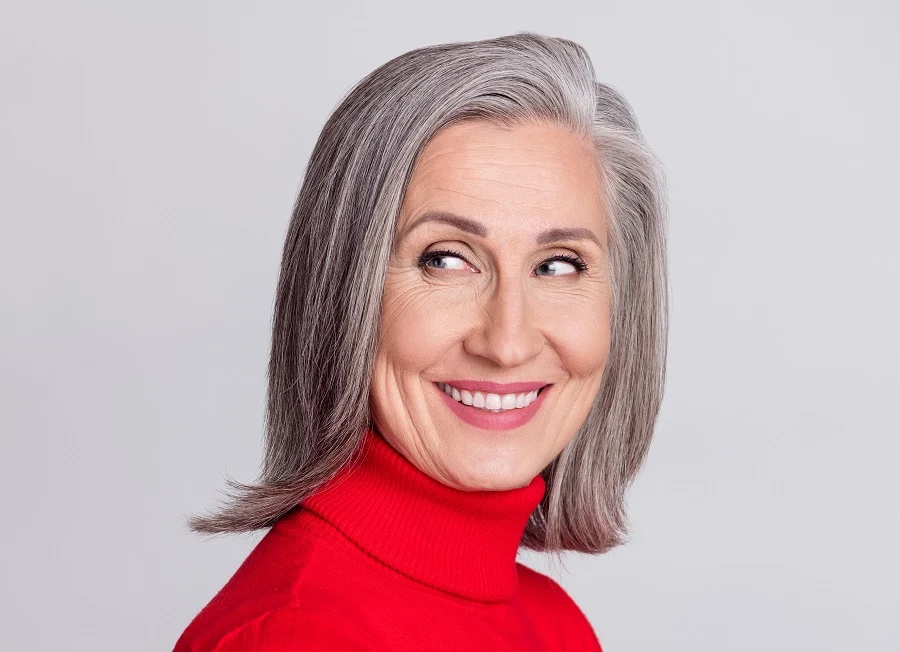 If you're an older woman with thick hair, a long bob will keep you feeling youthful! This cut allows you to keep your long hair but wear it in a stylish bob that flaunts those grey hairs.
8. Textured Curls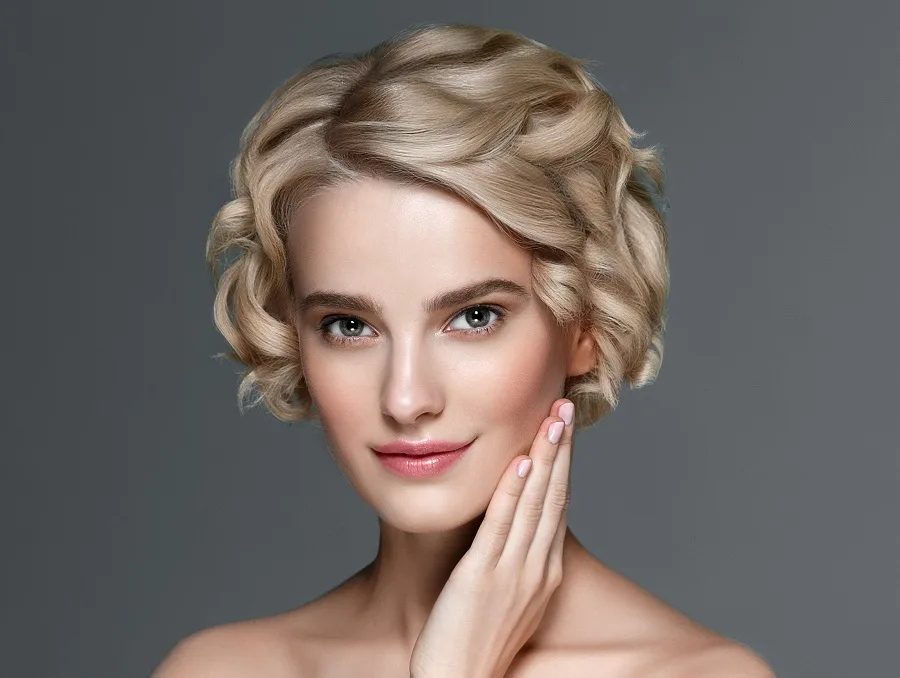 You'll need a lot of hair spray to make sure layered curls stay looking this gorgeous, but the resulting bob on your thick hair will be worth it!
9. Asymmetrical with Choppy Bangs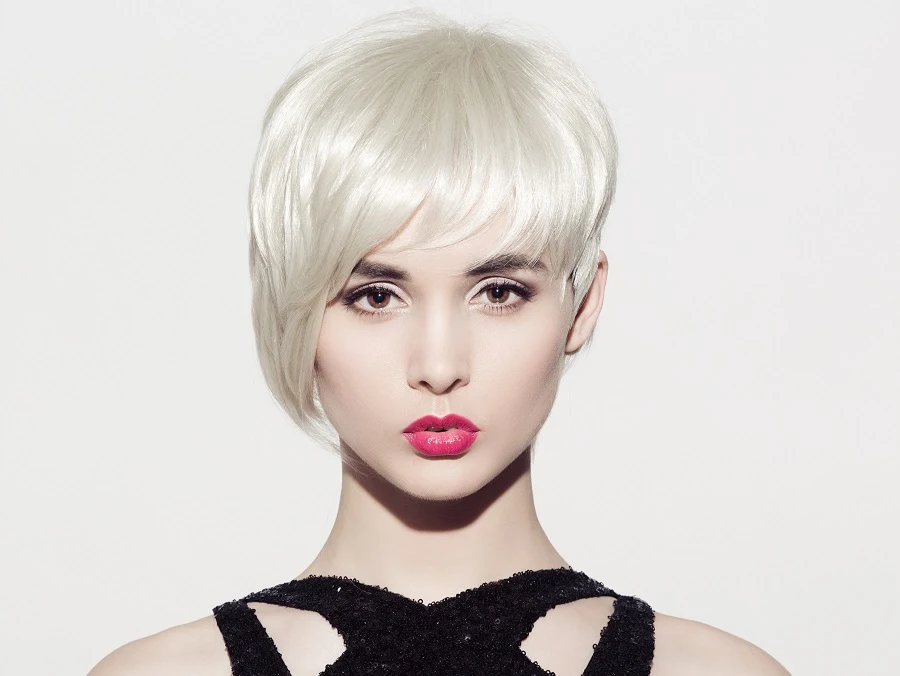 Put a classy twist on an asymmetrical bob by coloring it completely platinum blonde and adding in choppy bangs. You can use your fingers to arrange them softly across your forehead.
10. Short Blunt Bob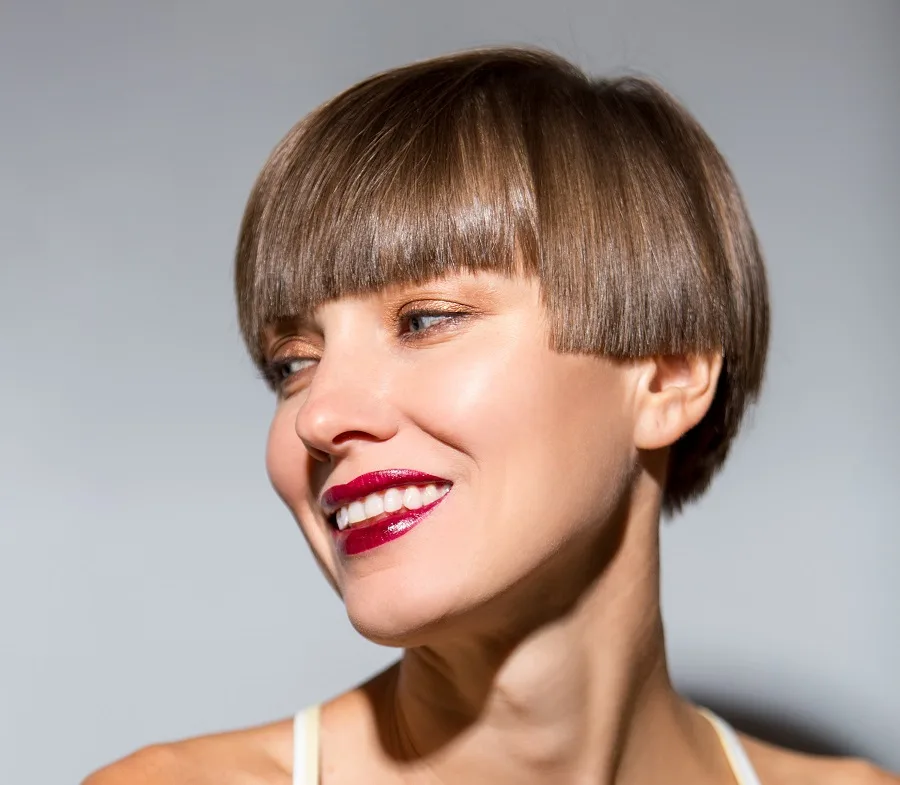 There are a couple bluntly cut levels to this bob for thick hair. The first features long sharply cut bangs, followed by another section of bluntly cut face-framing pieces. Wear the hair straight to make this a sophisticated, chic style suitable for office work or weekends out!
11. Thick Layered Bob
Thick strands of hair have that full, luxurious look that all women crave for and if you design super-thin blonde highlights, your stands will get mesmerizing definition. Also, style a wide wave for your side bangs.
12. Inverted Bob for Thick Hair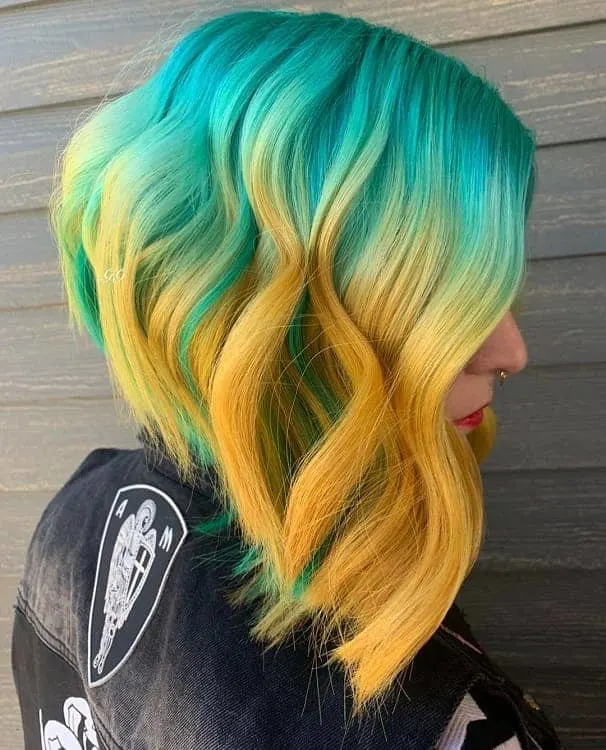 Ombres look truly mesmerizing when having thick hair. Create an inverted bob hairstyle and a stunning color blend that uses teal for the roots and transits into a stunning yellow. Wide waves will make the color stand out, and your creativity will not pass unnoticed.
13. Medium Thick Bob Cut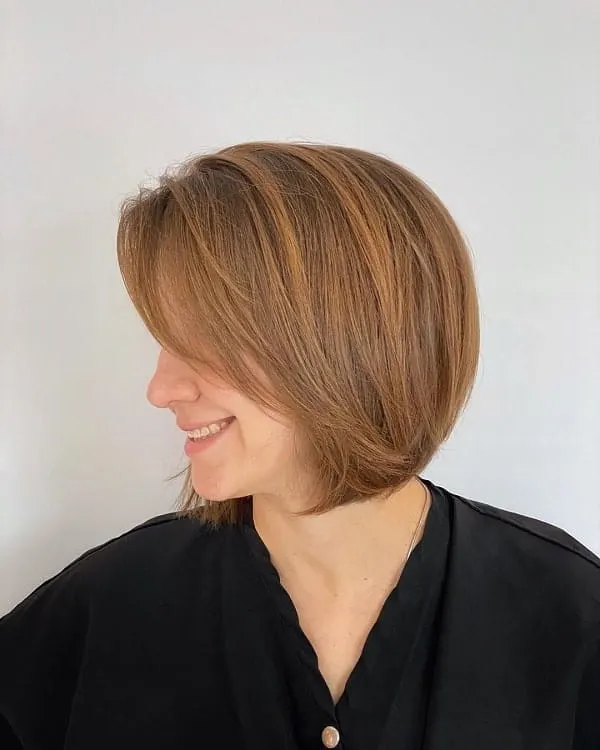 When your hair is as thick as yours, a layered hairstyle will add a lot of value to your hairstyle. Get a classic bob with bangs tossed on one side and twists for the tips.
14. Pixie Bob Haircut for Thick Hair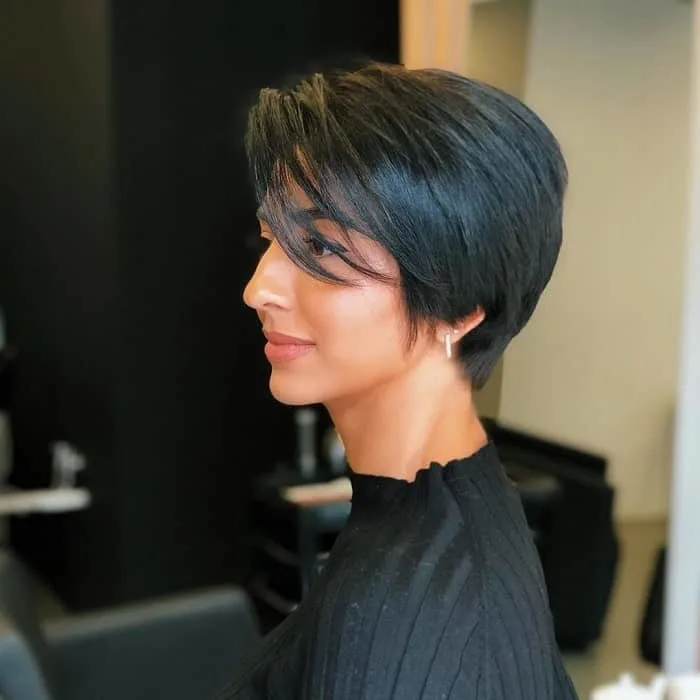 Give your hair a remarkable shine by choosing a dark shade for your thick strands. A medium pixie haircut will emphasize the effect of your bangs, and you will have a lot of volume in the crown area thanks to all those stacked layers.
15. Stacked Bob on Thick Hair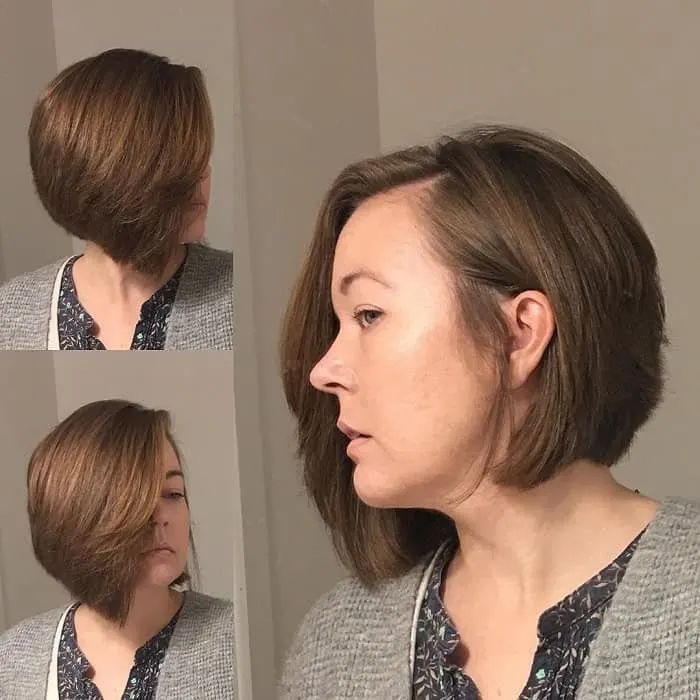 Stacked bobs give a lot of volume to any type of hair. If your case, they will do more than that, they will create an incredible hairdo that has plenty of dimension and glam. A quick comb through your hair, and you have a sublime look that is ideal for days at the office.
16. Undercut Bob for Thick Hair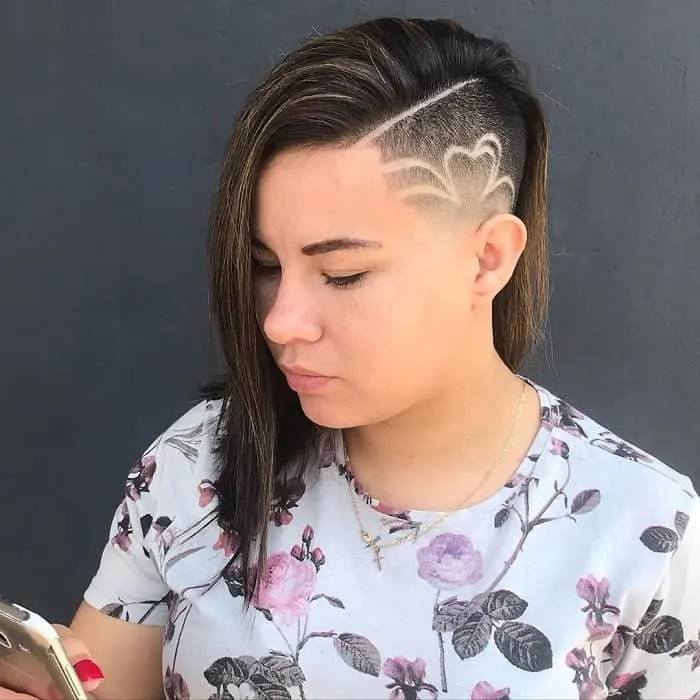 Undercuts give you tremendous possibilities to style fabulous designs. Shave one side of your head and razor a half-heart. Part the trimmed area from the rest of your hair with a razored thick line and flip your hair on the other side.
17. Thick Chin Length Bob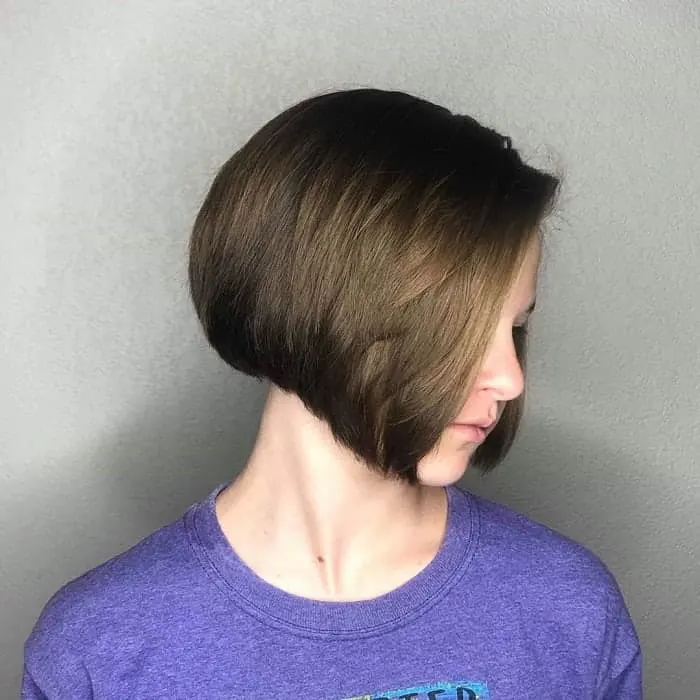 An inverted bob that reaches your chin can look fabulous if you style some layers for more volume. To give your hairstyle a glamorous air, create an ombre for your bangs. This way, it will fusion with the rest of your strands and create an adorable look.
18. Thick Bob Cut for Round Faces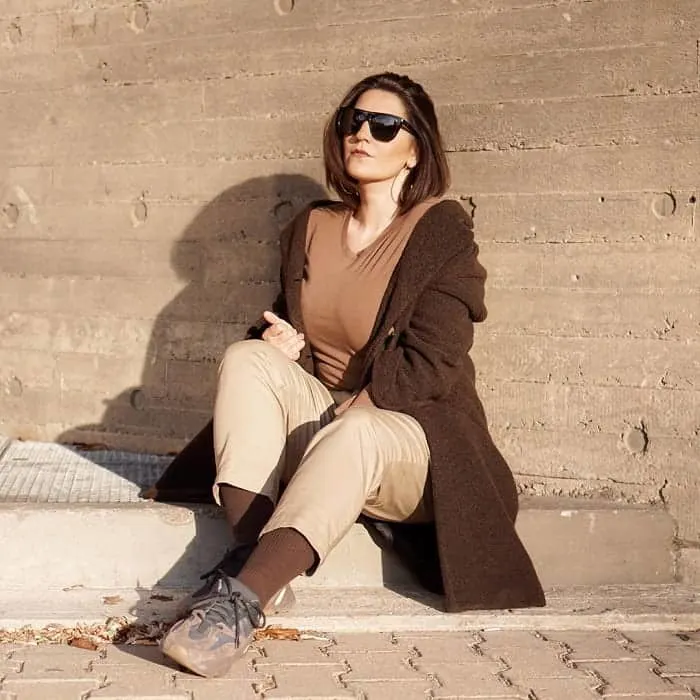 If you have a round shape, a bob hairstyle for thick hair that will frame your face is the best option you have. A medium-length haircut will do the trick, and you should wear your bangs parted in the middle.
19. Textured Thick Bob Haircut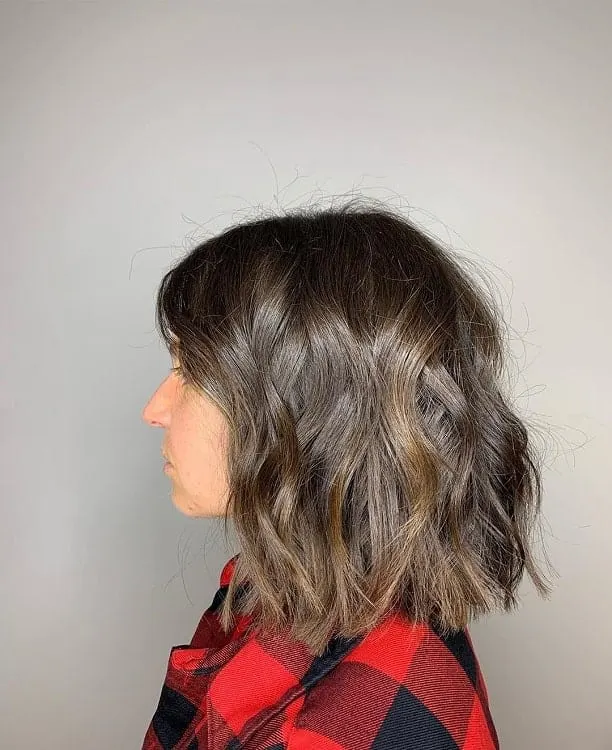 Archive that most wanted texture and shine with a straight bob hairstyle for thick hair. Some faded blonde highlights for the tips will shine in the light, and styling some waves will give your hair that excellent texture.
20. Thick Blunt Bob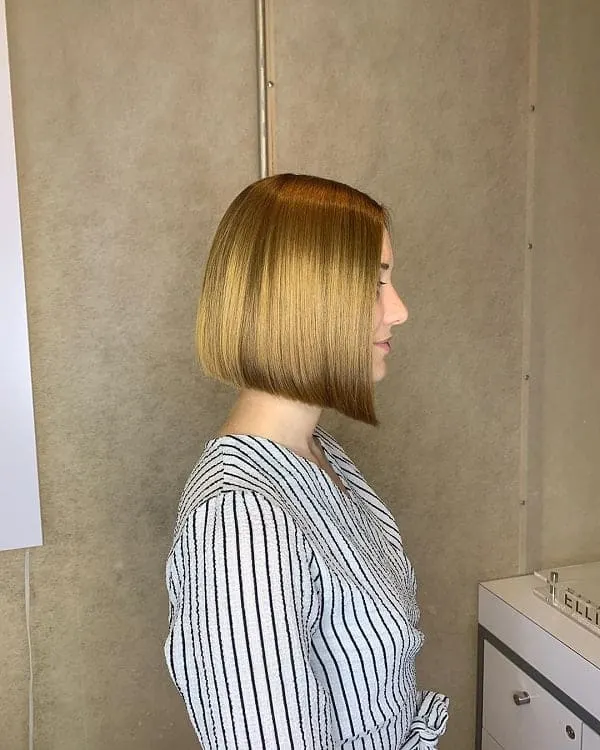 Blunt bob hairstyles will make you fall in love with them if you are a perfectionist that loves symmetry. Get a perfectly straight cut and give your har a glossy look with a warm grain blonde hair dye.
21. Thick Lob with Bangs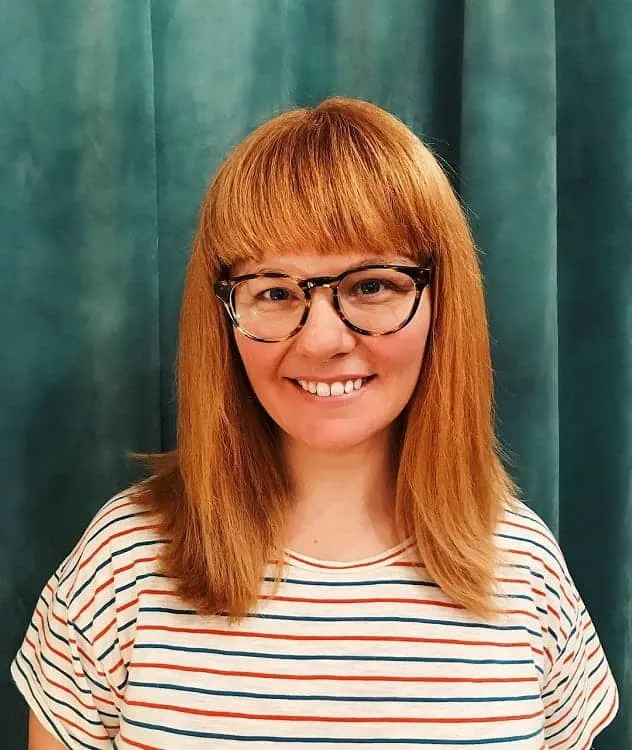 A ginger blonde hair color and a long bob hairstyle with bangs will make your face brighter and will outstandingly suit your glasses. The combination of the two is ideal for casual outfits and relaxed weekends.
22. Shaggy Bob on Thick Hair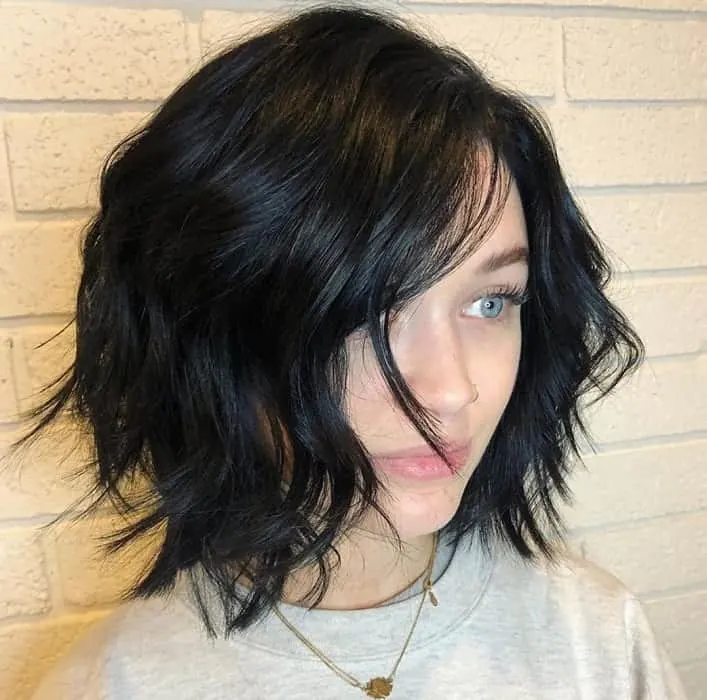 Shaggy bobs for thick hair can make a spectacular face frame, especially if you choose black color for your stands. Your eyes will gain all the attention, and your bangs will fabulously fall on one side of your forehead.
23. Thick Bob with Fringe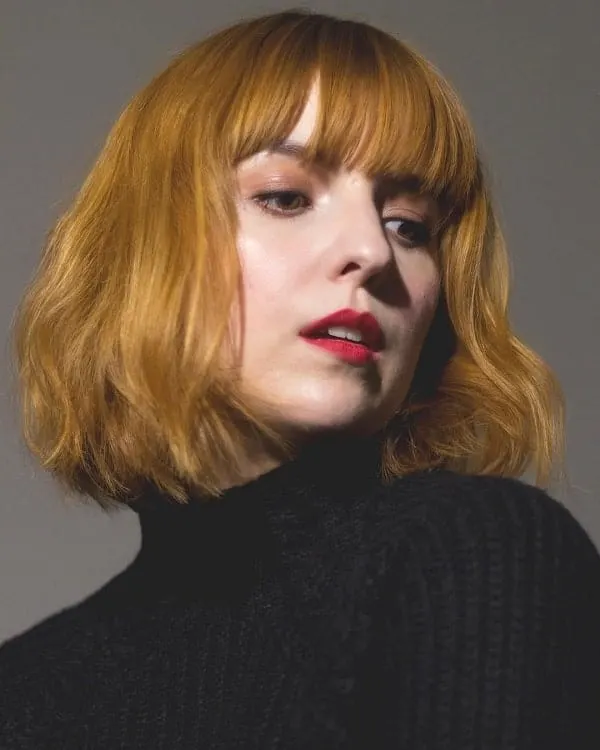 Bold women are never afraid of colors that make them stick out in any crowd. If you love being admired, opt for a medium bob with bangs in a bright brown blonde color. Style some messy waves for the tips.
24. Thick Box Braided Bob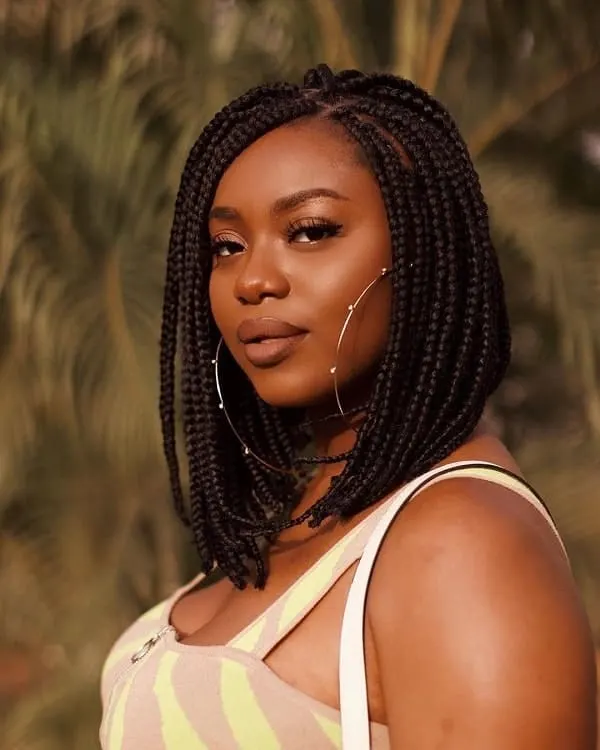 You love bobs so much, but you don't have the needed length to style one? No need to worry, box braids can help you achieve that. Braid them and cut them in an extended inverted bob hairstyle and wear a big rounded pair of earrings to accessorize the hairstyle.
25. Thick Straight Hair Bob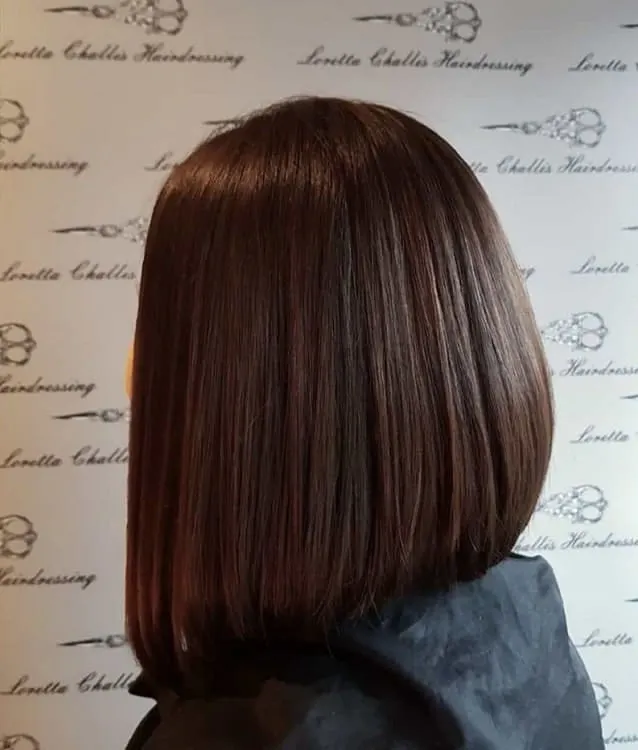 A flawless look can easily be mastered with a long bob hairstyle for thick hair. A dark brown burgundy color that is breath-taking will look stunning if you choose to straighten your hair to achieve that pitch-perfect hairdo.
26. Brunette Choppy Bob with A Side Part
If you are a style enthusiast, undoubtedly you have heard a lot about choppy bobs. If you have heard about it and you don't know how it looks like, here is a classic example of this haircut.
The choppy cuts are so crucial in this hairstyle as you don't have to waste a lot of your time applying heating tools on your hair.
27. Messy Thick Bob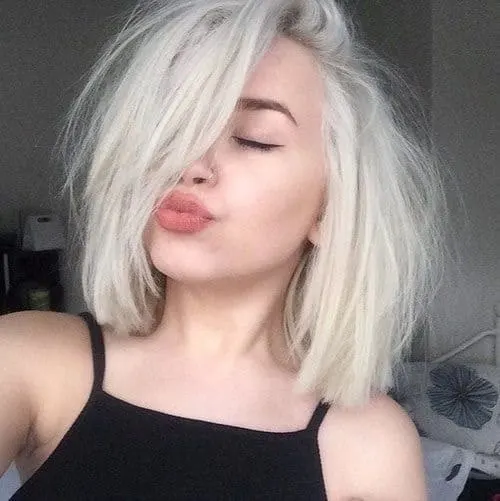 Recently, colors such as violet, dark blue and red have won the media attention. But does that mean silver is on its way to step out? No, many ladies are finding it chic. Our advice is that: let some of your natural roots reveal, and if you cannot make it with Bob, consider long bangs.
28. Messy Brown Thick Hair Bob with Lowlights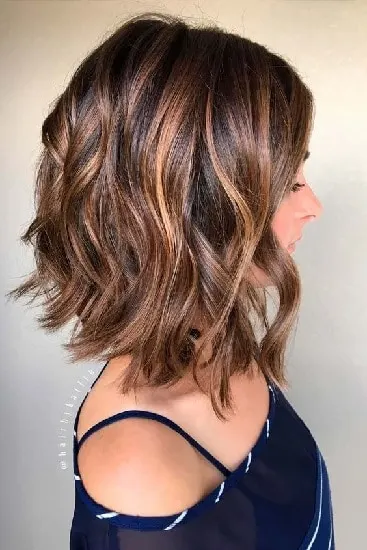 Stylish bob for thick hair: are you a natural brunette enthusiast and that is how you do it? That is right. But just to throw some dimension to your tresses, consider getting some low lights or highlights.
29. Choppy Graduated Lob for Thick Hair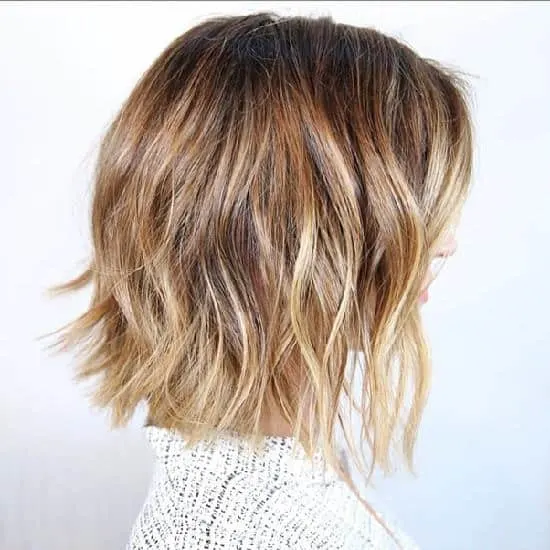 This is lob with layered layers and some blonde strikes. It may seem like the length is all the same, but if you carefully inspect it at the back, you will notice some kind of a 'slope'. It doesn't resemble an A-line bob, but the subtle difference gives it some asymmetry which is ideal if you are looking for a choppy or messy updo.
30. Brown Ombre with Wavy Bob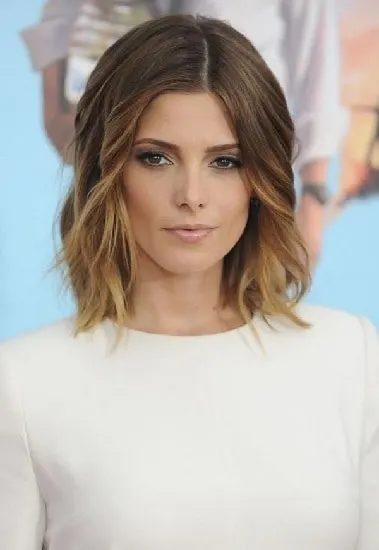 This beautiful bob haircut for thick hair has an almost center part. It is a kind of star-studded bob look. It is a sensual and transverse from the curls to the ombre hue combo.
31. Brown Wavy A-Line Bob with Blonde Highlights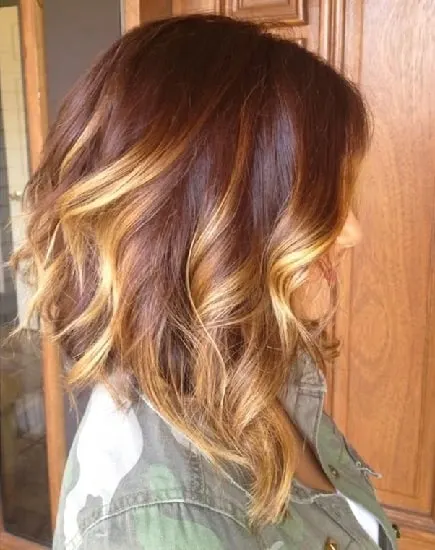 Sometimes you may find yourself in a self-doubt-you love natural brown, and at the same time, you are attracted to blonde hair. No problem. Just include blonde highlights to you're A-Line Bob. You will enjoy both worlds in the most exciting way you can imagine of.
Various types of Bob Haircuts:
32. Platinum Highlighted Wavy Bob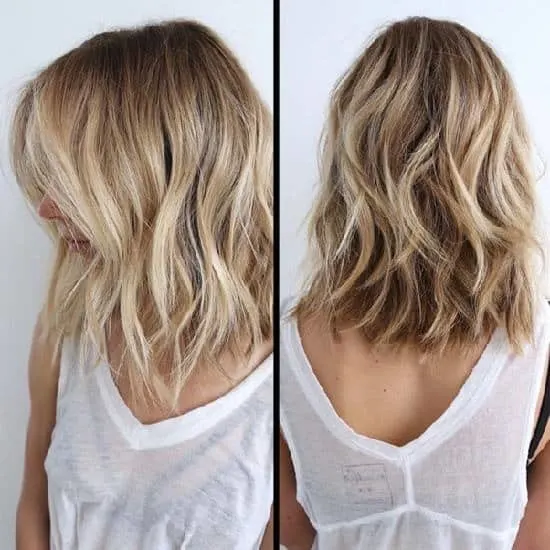 Are you a beach girl? This is one style that pops into our mind when we see this hairstyle. The weaves look so healthy. Also, the platinum shade is incorporated into the hair in exceptional and lovely ways.
33. Wavy Violet Lob with Extended Layers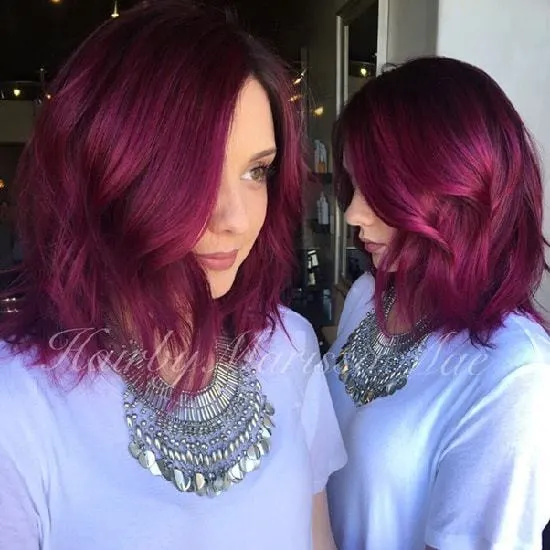 This is one of the trendiest colors in this season, but can you guess why? You will need some courage to wear this hairstyle. However, if you are bold enough to try a color like this, it may be the most daring and monumental decision you might make in your styling. You will not regret this. It is royal and good-looking still giving you an edge.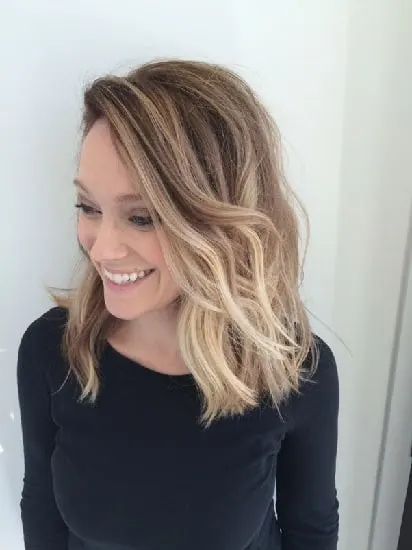 If you don't want to go too short, this bob cut is for women with thick hair. Just remember to choose a killer hue to set everything on the truck. Aren't these platinum styles fantastic? Deep down our hearts we know we can't get enough of these designs!
35. A-Line Bob for Thick Hair with Three Shades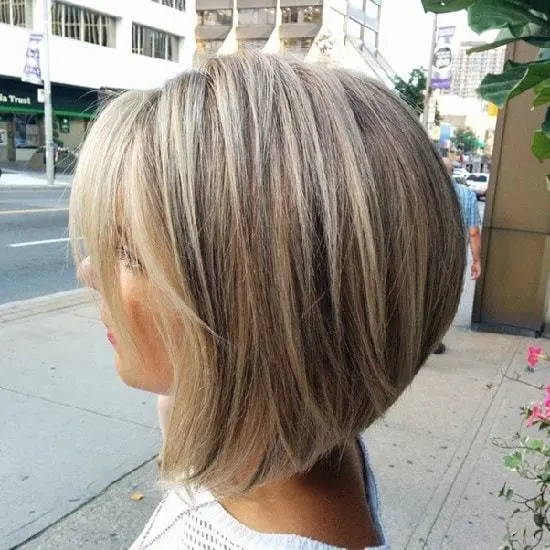 Side-swept bangs are great ways to make any lady look sexy. It is also a perfect complement to an A-line bob as this. The light brown, dark brown and platinum complement each other very well. It is that type of haircut that make an impression instantly!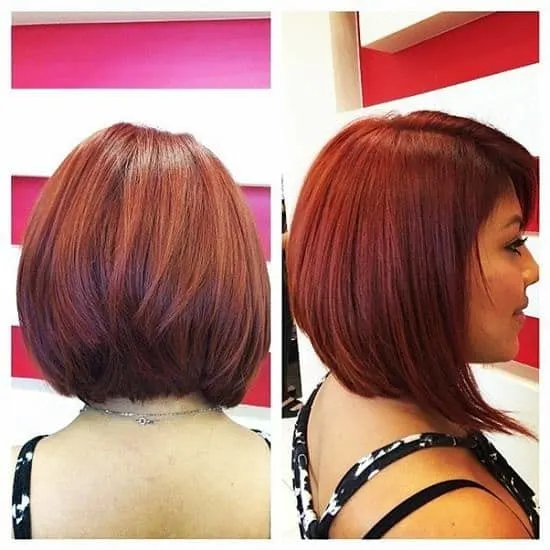 This bob cut is just perfect. When you have a thick hair, and you add extended layers to it, you get much movement and fullness. However, do not underestimate the impression that color can have on this style. Whew! Amongst all reds you might have seen in the red color niche, this is the HOTTEST!
37. Balayage Lob for Thick Hair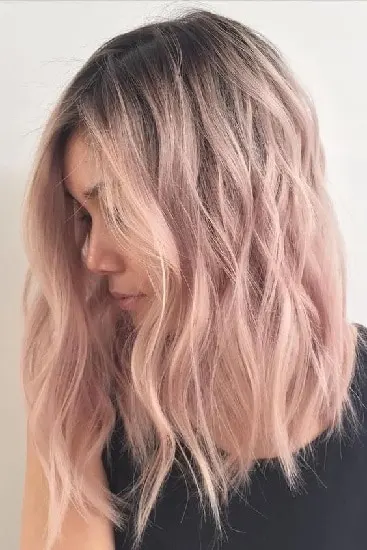 Has the idea of considering ombre ever cross your mind? Hopefully, this picture will impact on your thinking about the balayage and at least give it a shot. Balayage is undoubtedly one of the most preferred hair hues by most ladies. If this doesn't impress you, you can opt for a mix to match various colors.
38. Loose Waves Blonde Ombre Bob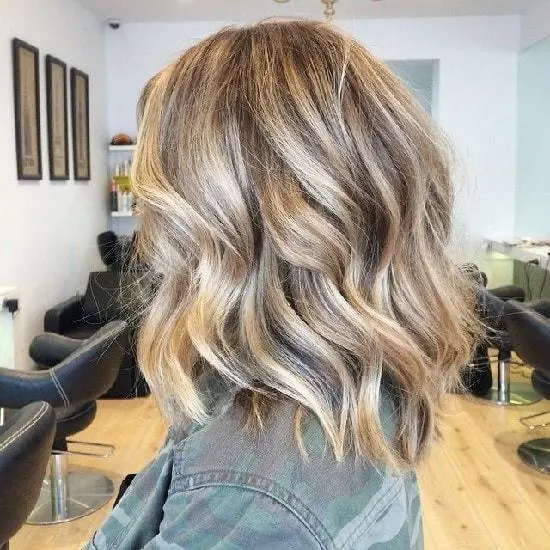 Another impeccable way to rock ombre. Just add some blonde to your hue treatment, and you are good for that night out.
39. Wavy Lob for Thick Hair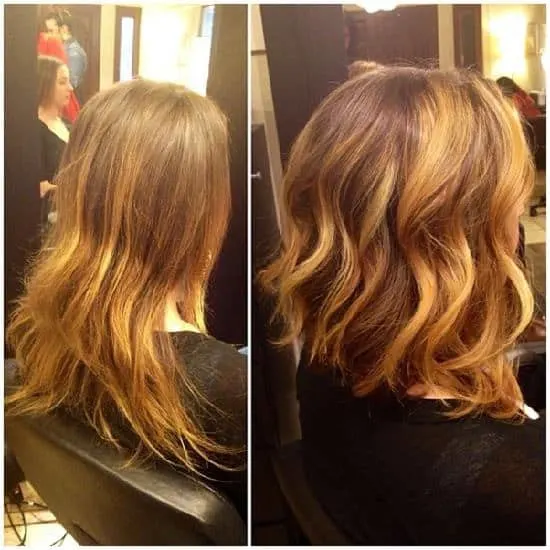 This look shows you before and after the shots. This shows a perfect trim all-out haircut can do magic on your hair and your appearance altogether. The extra length that changes into a lob makes the hair to look thicker. So, do the blonde streaks.
40. Wavy Ombre Angled Lob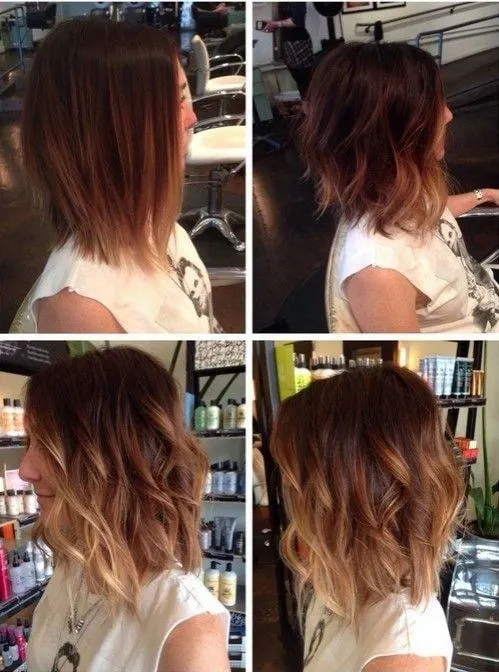 This beautiful bob hairstyle for thick hair is admired because it is stylish and it can be worn in several ways. Whether wavy or straight, it will ever look gorgeous.
41. Blonde Asymmetrical Lob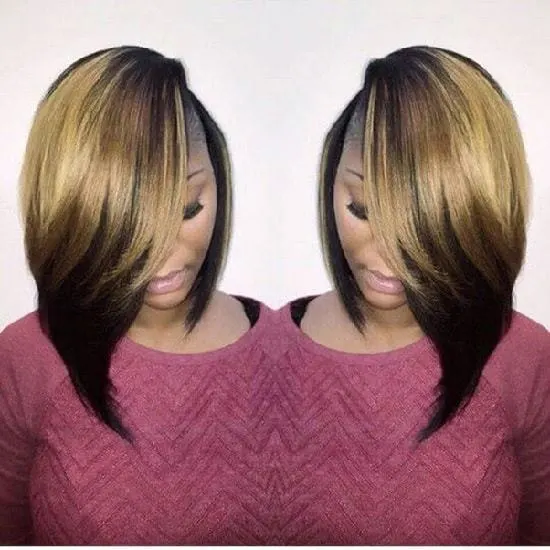 This is African-American bob haircuts for thick hair. It is any hairstyle that will turn many heads, and many love you for it. It is admired because of its artistic style-half lob and half bob in the front with dark blonde and caramel still at the front. Thick. Classy.
42. Blonde Curly Bob for Thick Hair
Ok. Don't worry about anything if you cannot achieve this look because your hair is not naturally curly. With a curling iron, you can seamlessly accomplish this look. Wrap some sections of your hair on the barrel and pull it downwards. Platinum alone may not much impress you, but when augmented with blonde, you will love the results.
43. Razor Cut Bob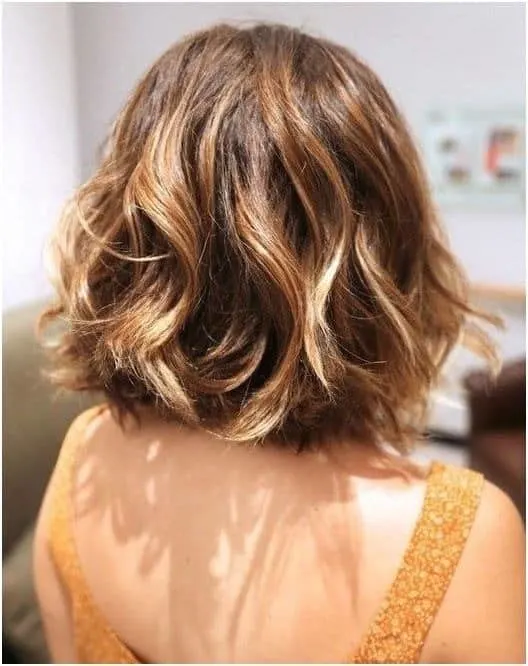 If you don't want your hairstyle to look too blunt, you can always ask your stylist to trim it using a razor. You will get the expected results as shown here.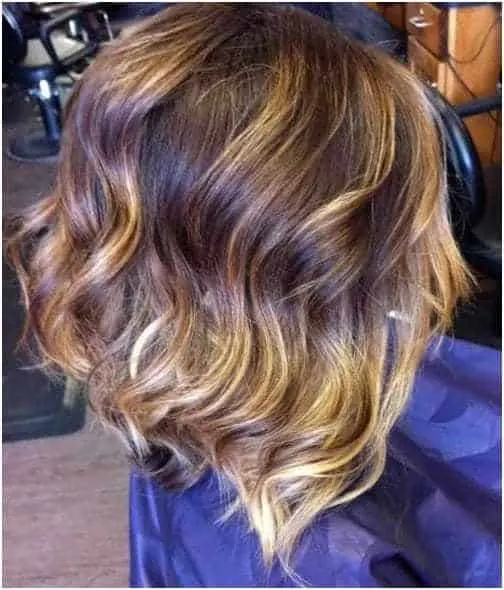 Here is a classic way you can use a razor to trim the ends of the hair if you want the lob-or merely an A-line bob rather than an even ob. You get a great look especially if you have naturally wavy hair.
45. Thick Short Bob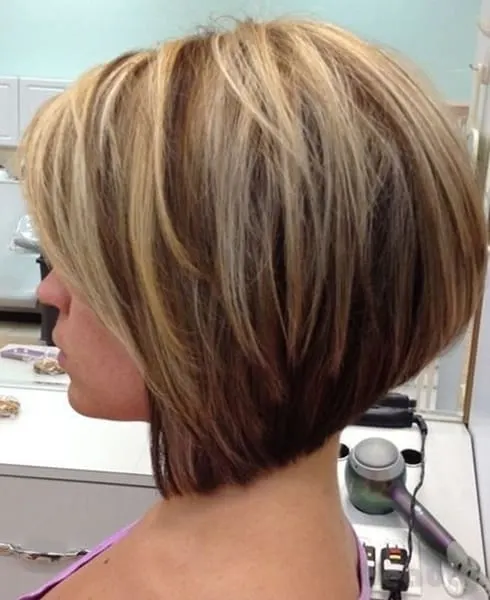 A pretty haircut especially for ladies with very thick hair. With so many layers all over, the blonde reduces the heaviness.
46. Shaggy Messy Bob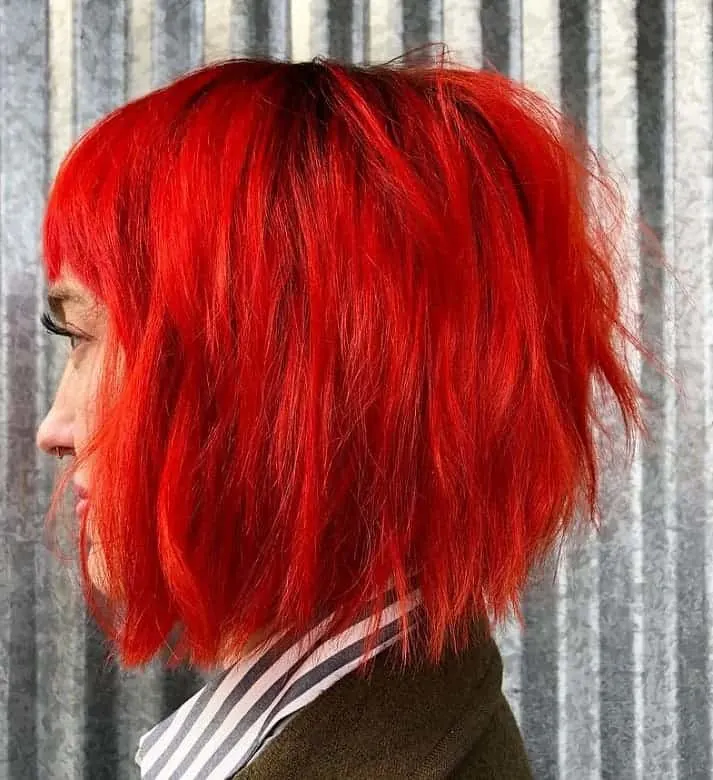 This is an all-time favorite cut off ours. It has a neat yet messy look, simply perfect for the office as well as casual wear. The style is daring but you can make it look cute at the same time!
We recommend this cut for small and delicate face cuts. The style is ideal for women looking for an easy, bold cut that doesn't need management.
This is one of the easy short bob haircuts for thick hair. All you need to do is shower and blow dry your hair. The layers fall in place by themselves, giving you a seamless look without any hassles.
47. Bob Weave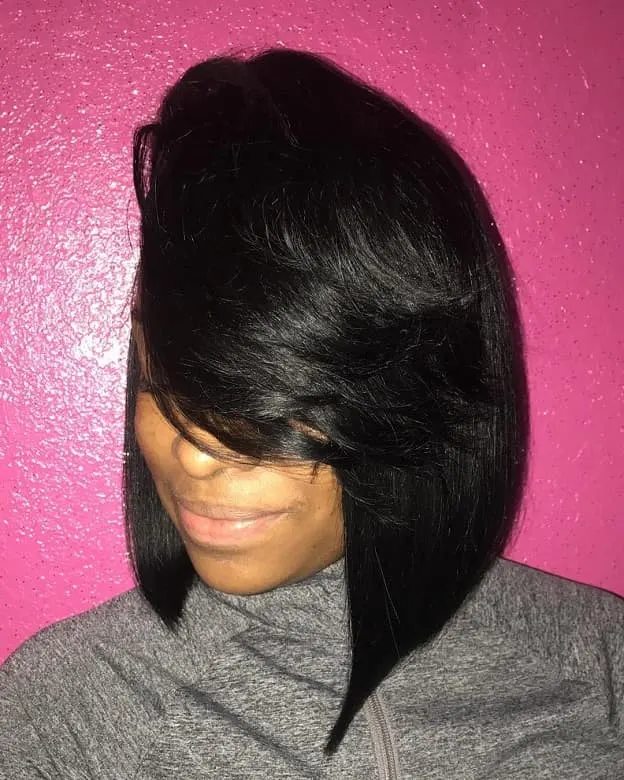 Manage your thick hair with a short bob cut. The feathered look takes away some volume, making your hair manageable.
The cut has a romantic look and pairs perfectly with most women. We don't recommend the style for moms though as the style needs some effort and maintenance.
The cut makes most of the task easy. Add in some hair gel and start ruling your hair with a curling iron. Add in some messy curls for that wavy, curly look.
48. Braids and Waves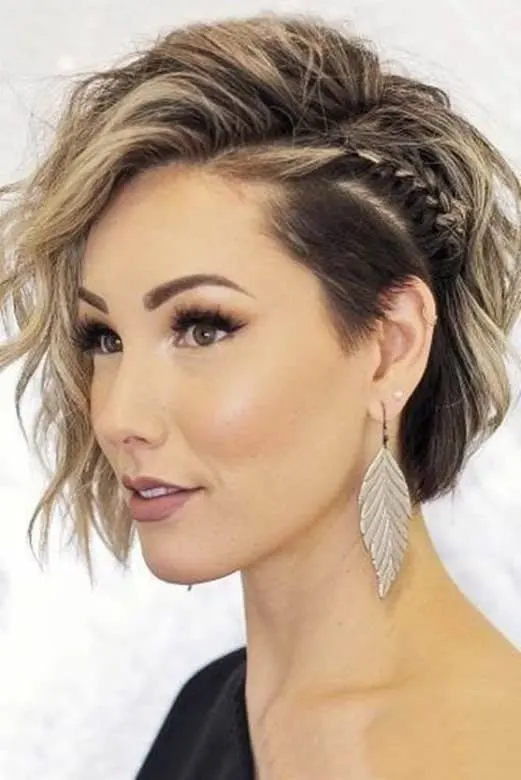 If you wish to take your hairstyle up a notch trying adding some cute elements. We are in love with these short bobs for thick hair. They are both bold and festive, perfect for when you want to doll up.
We are recommending this hairstyle for festive occasions. It is trendy, iconic and simple. Moreover, it shifts your hairstyle into a festive hairdo with minimum effort.
Add volume in your hair with hairspray and blow dry. Side part your bob and add loose waves with a curling iron. On one side, make a side French braid, starting from the part and going down behind your ear. Secure under your hair.
49. Short Curly Bob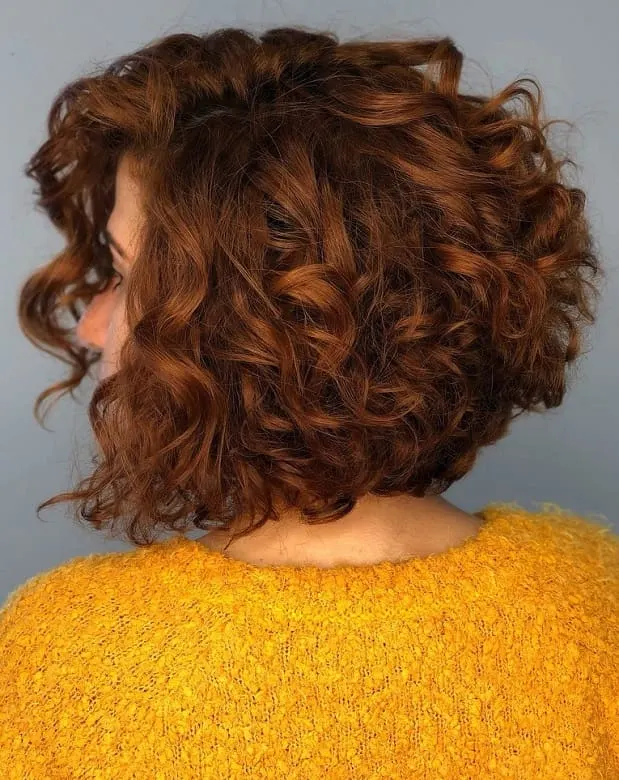 Thick hair gives way to luscious curls that you can enjoy. The rogue look is not for everybody but you may find it hard to leave once it suits you!
The short bob haircuts for thick hair are perfect for students and fashionistas wanting to stand out. The messy curls are a lot to take in but look adorable when managed with care.
To add in long-lasting curls, start with some hair gel and create tight curls with a curling iron. You can also use non-heat curlers and sleep on your curls for a night. The messy curls really transform your look!
50. Short Stacked Bob with Highlights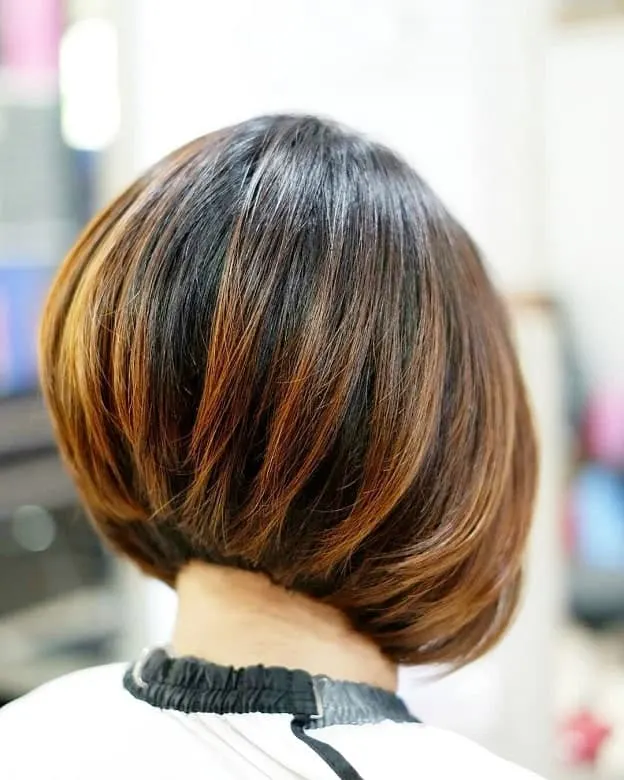 At times it is best to pull your hair up to manage them. However, this thick short bob is one stylish way to do it. The bob also manages to thin out your hair so they become more manageable.
In conclusion, bob haircuts can help women with thick hair to achieve that diva look effortlessly. These bobs are some of the seamless ways to handle your thick hair.