Being over 50 years old doesn't mean you have to look like a boring dad; that's why there are many hairstyles for men over 50 out there that can help you look good and in style.
If you feel that your age limits you when it comes to having your own personal style, then think again! There are many options out there for you, from short to medium to long hairstyles, and they're all stylish and flattering.
There's a hairstyle out there for you no matter what's going on with your hair, whether you have white or gray hair, thinning hair or even receding hairline, there's always something you can do to look your very best with what you have.
Classic Hairstyles for Men over 50
Today we bring you the best hairstyles for men over 50. All of these options are trendy and don't require much work to style or maintain. Take a look to find the one that will best suit your style tastes!
1. Side Swept White Hair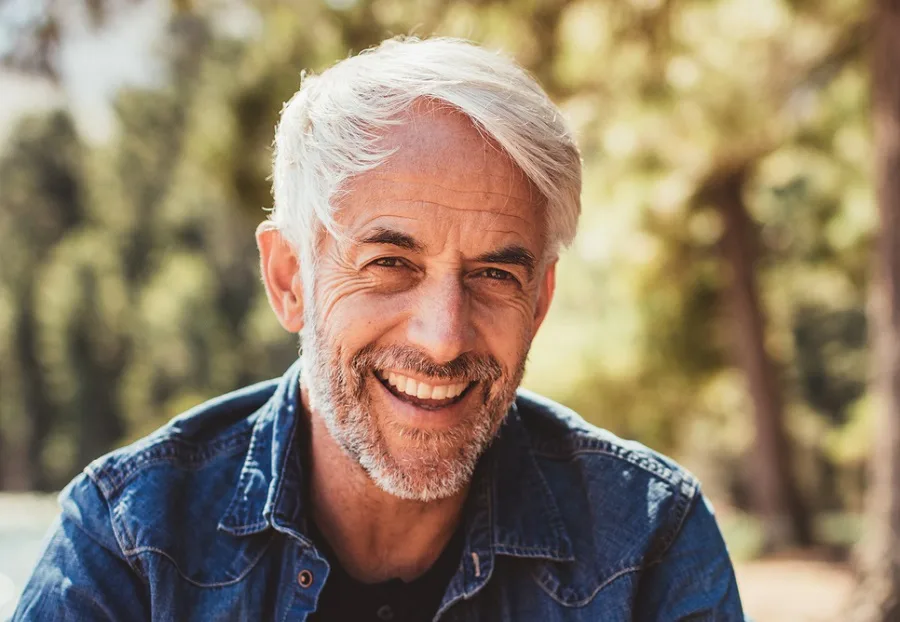 If you're a man over 50, keep your short white hair from looking old by styling it into something flattering! Add short layers to your white hair and use your fingers, not a comb, to brush it to the side.
2. Twists for Natural Hair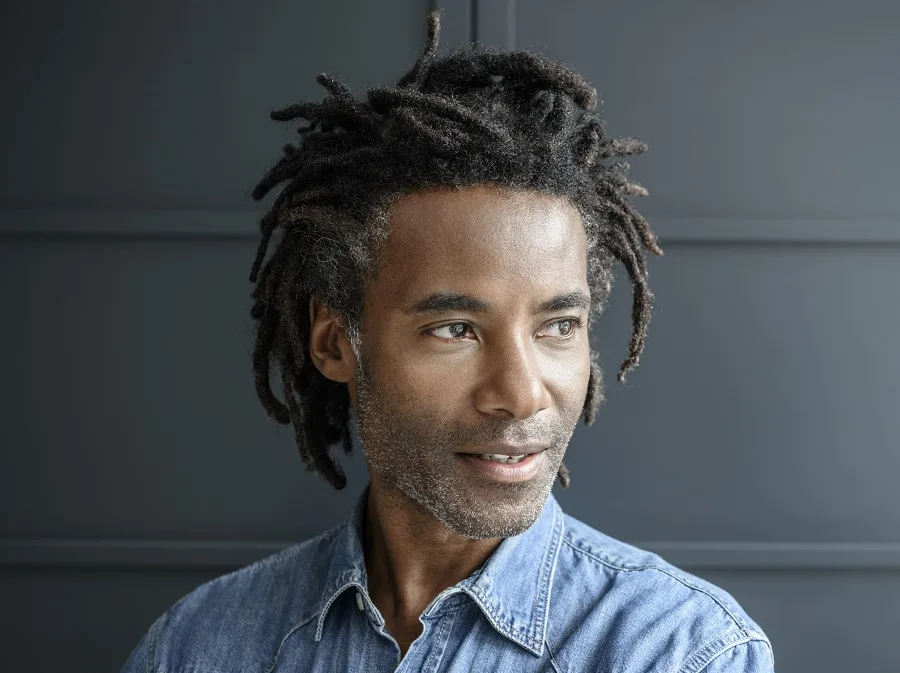 Don't let your age make you feel like you have to chop your hair off! If you're over 50 and your natural hair is a medium length, ask a stylist to shape lots of twists. It's more flattering if they're all roughly the same size and width, but feel free to make the style your own!
3. Short Sides, Long Top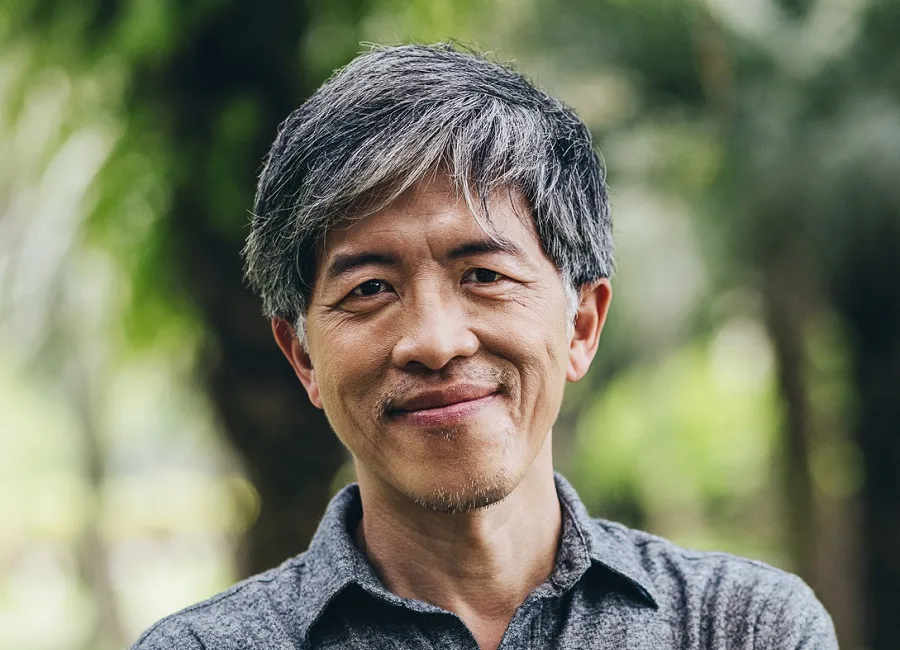 No matter what age you are, a haircut featuring short sides and a long top is never a bad choice! For men over 50 with thick hair, this style is a great option because it allows you to keep the length and show off your texture while rocking a handsome cut.
4. Round Afro Cut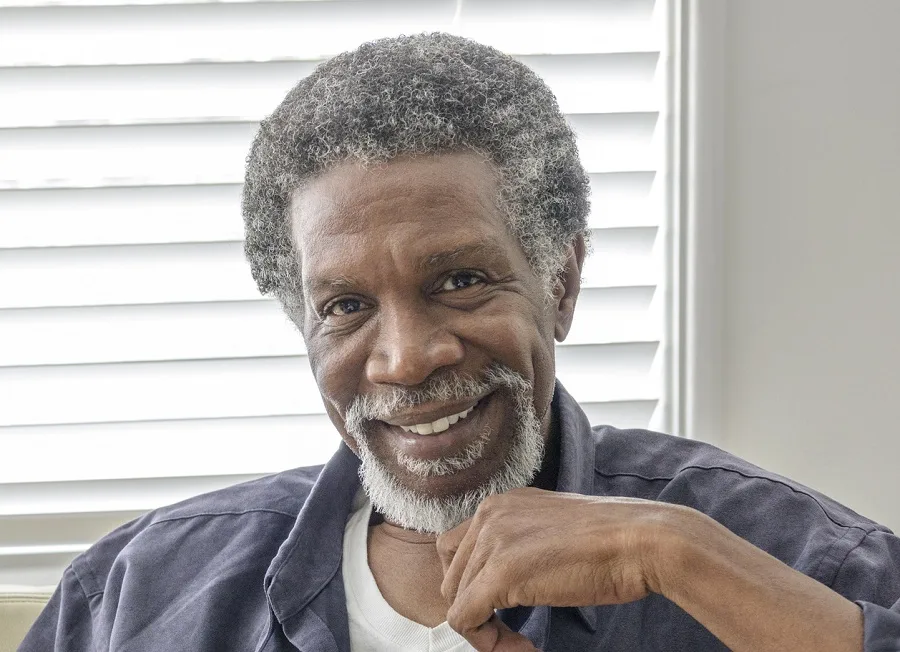 Another handsome hairstyle for men over 50 with natural hair is a rounded afro. Flaunt that salt and pepper hair in just a couple inches of length. If you have an oval shaped face, this style will be particularly flattering.
5. The Wild and Curly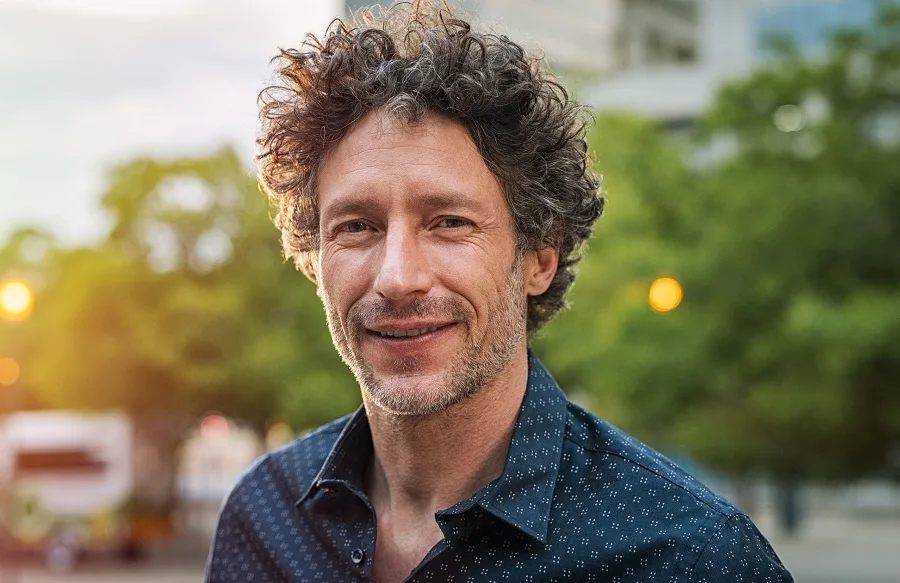 For older men with medium to long hair, show off your beautiful thick locks by wearing. itslightly messy or wind-blown. A little bit of mousse will help your wavy or curly hair look purposely shaggy, not sloppy.
6. Man Bun with Beard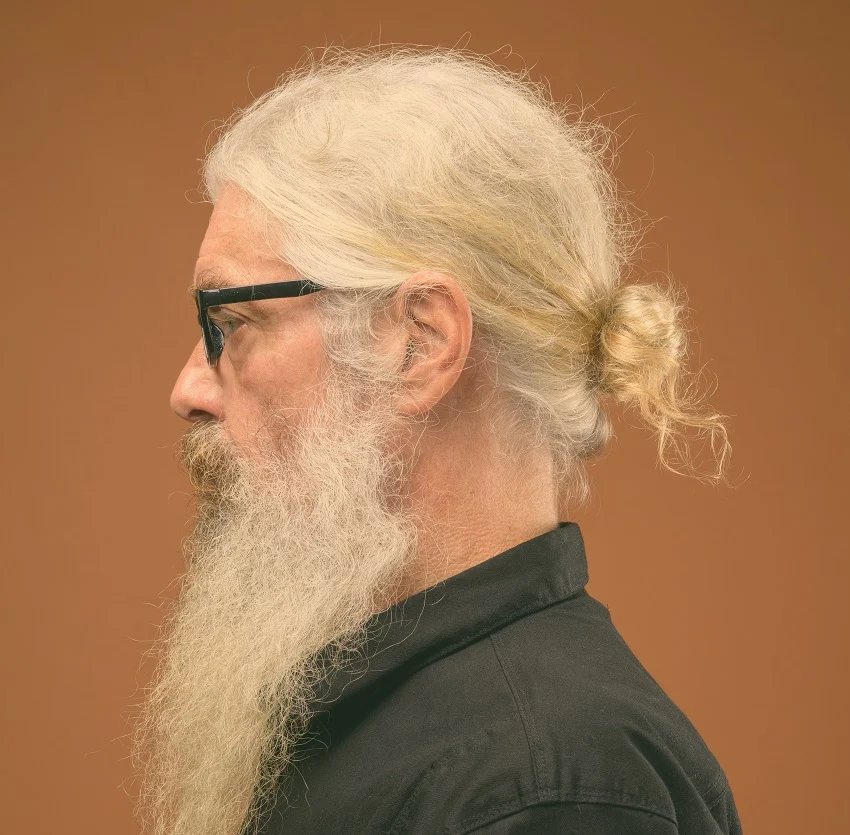 With or without a long beard, a man bun makes older men over 50 look just a little more youthful. Unless you're going to a fancy occasion, you can just use your fingers to comb hair back from the face and secure in a low bun.
7. Long Twists with Undercut Fade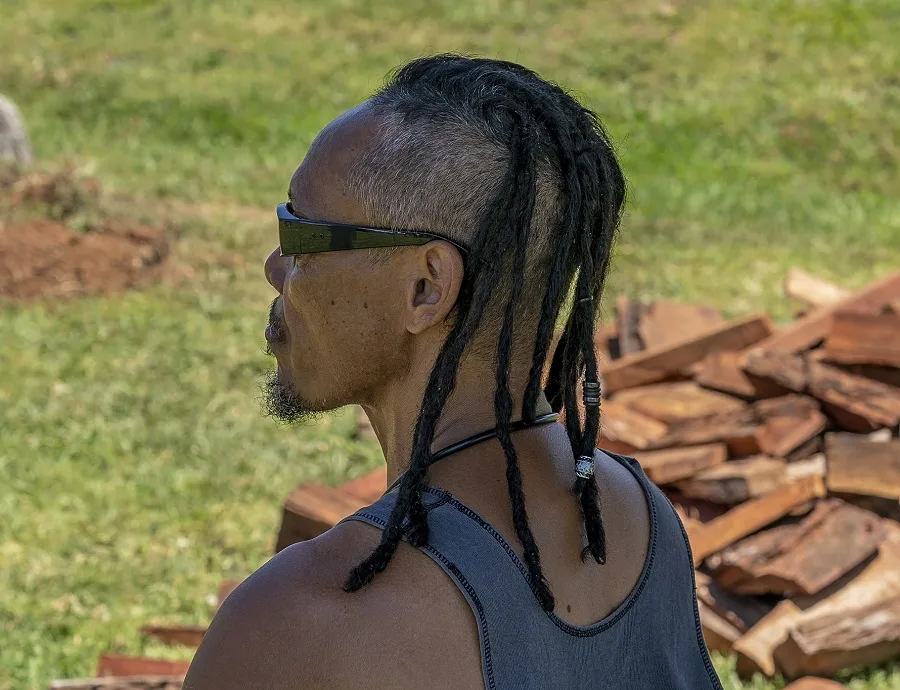 An edgy hairstyle is another way to make your over 50 self feel young again! Clip the sides and back to an undercut fade, leaving the top middle long – about shoulder-length – to form twists with. You can even add a few colorful beads to the ends of the twists.
8. Bald Fade Mohawk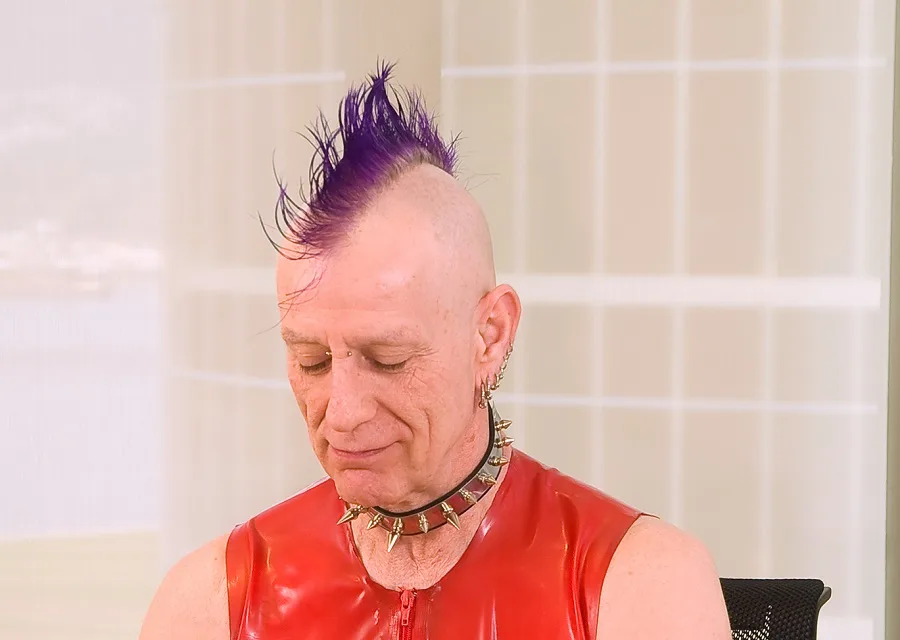 For men over 50 who desire a bold hairstyle, be truly brave with a punk bald fade mohawk! Spike up the middle with hair gel and use a vibrant temporary (or permanent) hair color for another style detail.
9. Thick Hair with Heavy Part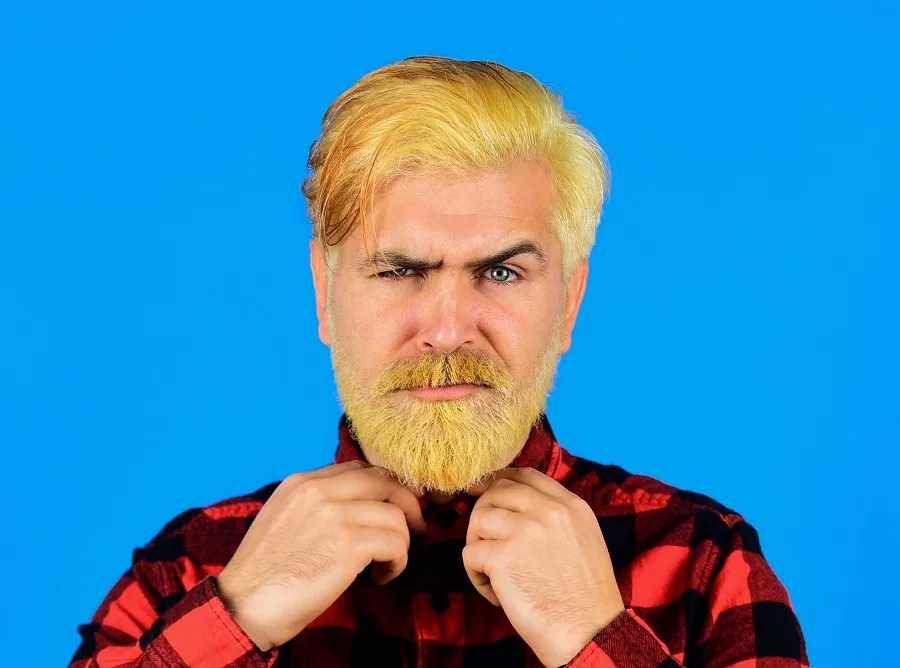 If you're over 50 and lucky enough to still have thick hair, your duty is to rock it! Go with a heavy hard or soft part to separate one thick side and one short side. Use a blow dryer to get the blown out look and seal the style with a little hair product.
10. Medium Length Hair with Center Part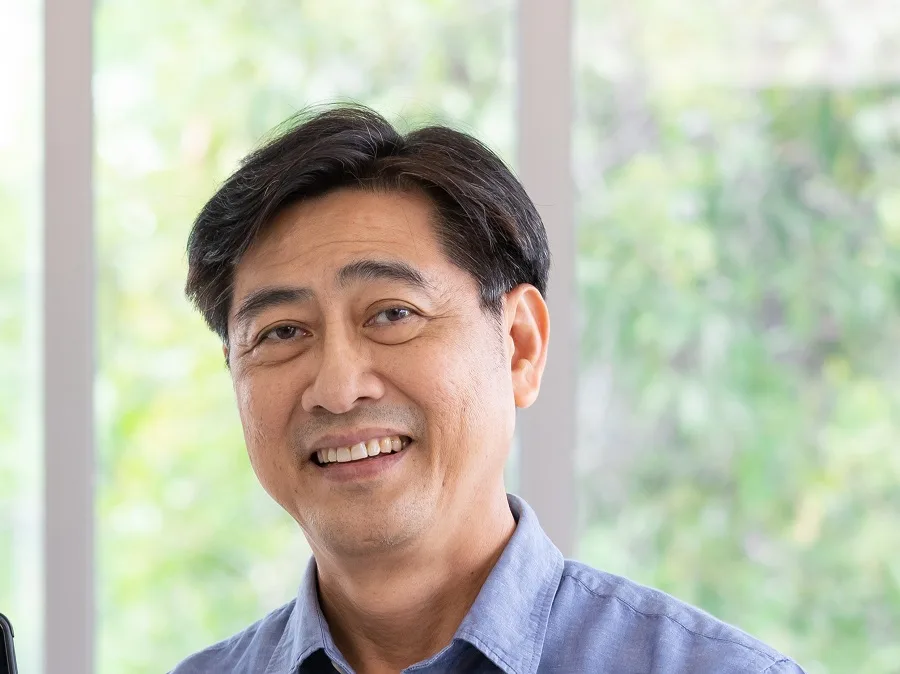 If you're still in the work world, a professional hairstyle for men over 50 can just be parting medium length hair in the center. It's low maintenance and will take less than a minute to style in the mornings.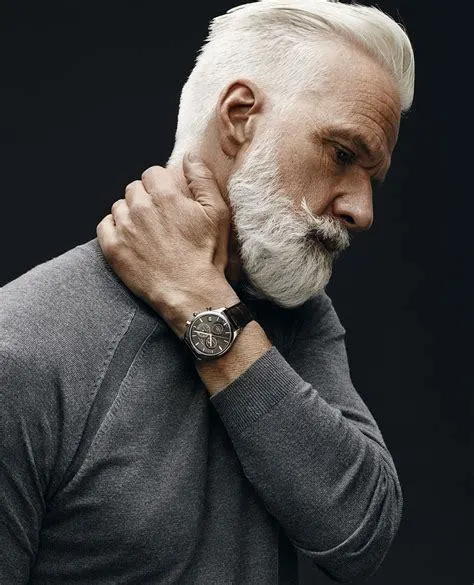 The men undercut is one of the most popular haircuts of the year and it looks great on men of all ages. By leaving the top medium or long you will be able to slick your hair back and show off both your hair and your natural gray or white coloring. This hairstyle is classy, elegant and it's well-balanced.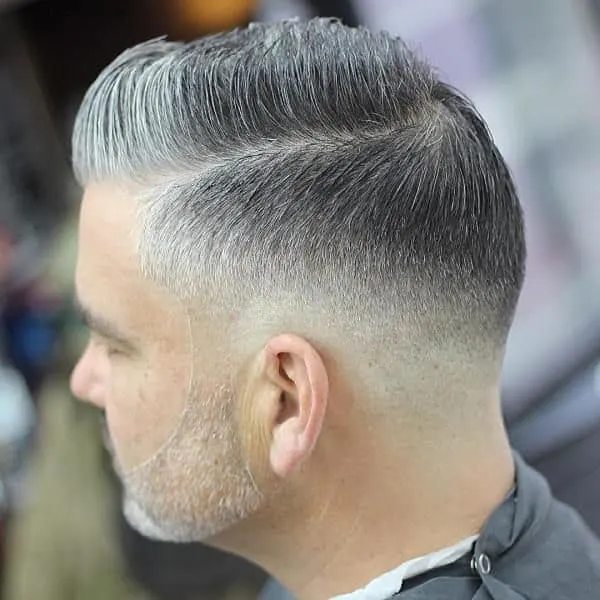 The side part is a classic and if you combine it with a low skin fade, you'll be adding that extra touch of modern. The side part can be as long or short as you're comfortable with and the low fade will look amazing. This hairstyle is super easy to style and it will look clean, elegant and sober on over 50 year old men.
13. Textured Side Swept Hair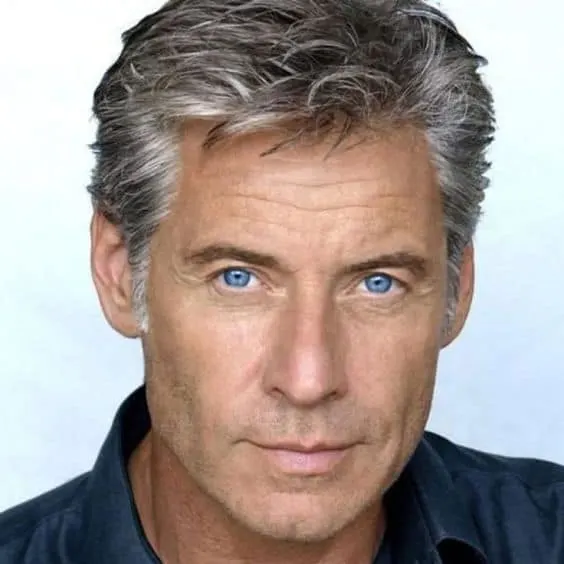 This textured, wavy, side-swept look is very easy to style, it's perfect to hide a receding hairline and it will allow you to keep your hair medium length if that's what you like. The layers are what make this hairstyle so textured and they give your hair a lot more body and movement. This men over 50 hairdos are simple, cool and elegant.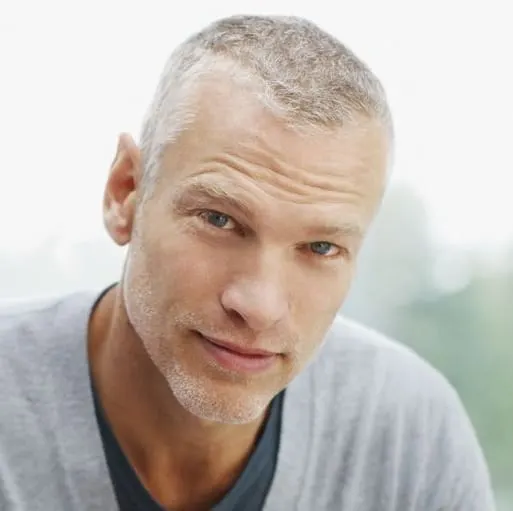 The buzz cut is one of the go-to options for men of many different ages and personal styles. It's easy to maintain, it doesn't make a big fuzz and it looks nice and clean. This is the perfect hairstyles for men over 50 who don't want to experiment too much with their hair but who still want to look great.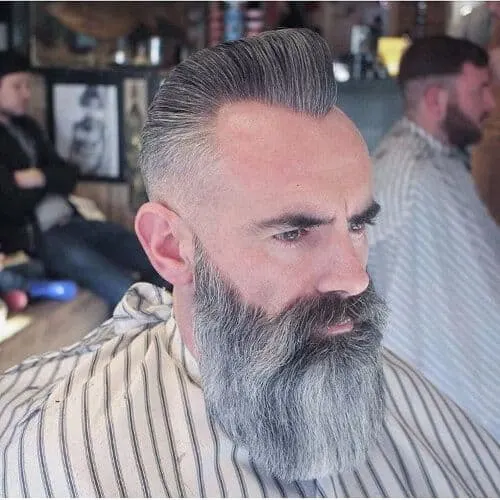 The pompadour is perhaps one of the most popular hairstyles in recent years and it looks amazing in older men over 50. As you can see, it works for thinning hair as much as it does for thick hair and the addition of the fade makes it more complex and clean. Overall, the pompadour is elegant, classy and very handsome.
The Caesar haircut is another one of the classics that never go out of style so you can't go wrong with this one. It allows you to keep your hair nice and short and it looks great with white and gray hair as well. The Caesar is very easy to keep, casual yet stylish and very simple hairstyles for men in their 50's.
17. Swept Back Hair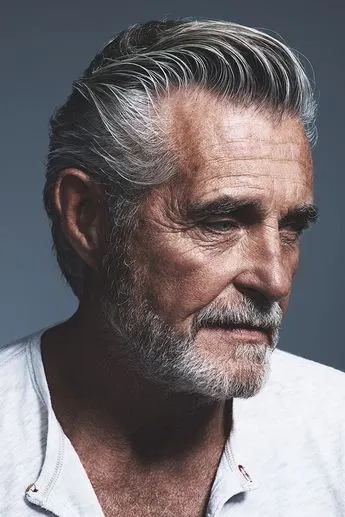 If you like to keep your hair medium length, this is a nice way to do it. The swept-back hairstyle is very easy to style and it looks elegant and cool. If you have thick hair, this will look particularly good on you and it will compliment you nicely. It's carefree and simple, so you won't have any issues with this.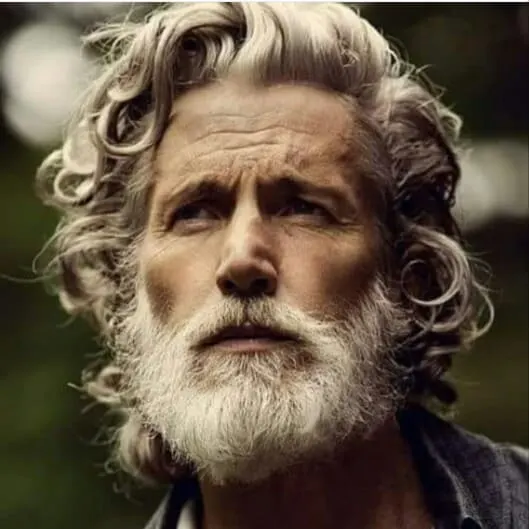 If you are a man with curly hair, you can let it grow out a bit to get this awesome look. Not many over 50 years old men dare to grow out their hair, but if that's something you like and can do, then I recommend you give it a try. This kind of hairstyle is messy but very stylish and carefree. It's also easy to style, but you will have to take care of your curls.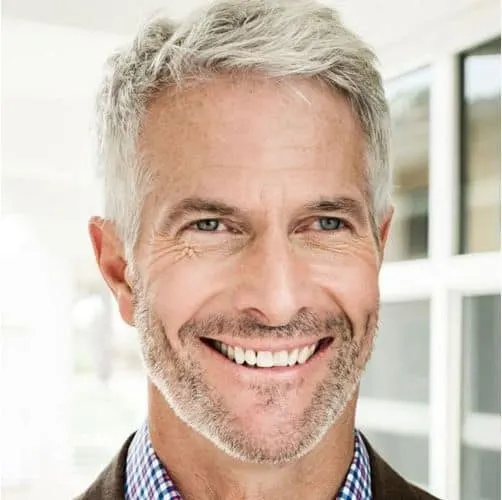 Short messy hair is one of the classic options and it's super simple. Anyone can pull this off and it's easy to maintain, so you won't have any issues. You owe this kind of structured messiness to layers and the same layers add a lot of body, texture and, a movement to your hair even if it's short.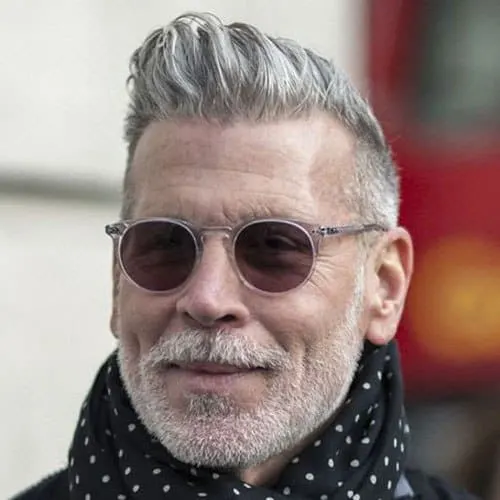 The quiff is yet another popular hairstyle for men in 50's in recent years and it's definitely a stylish, cool and elegant option. It will compliment your personal style very well and it will allow you to show off your hair while still keeping it short and clean.
21. Messy Hair With Beard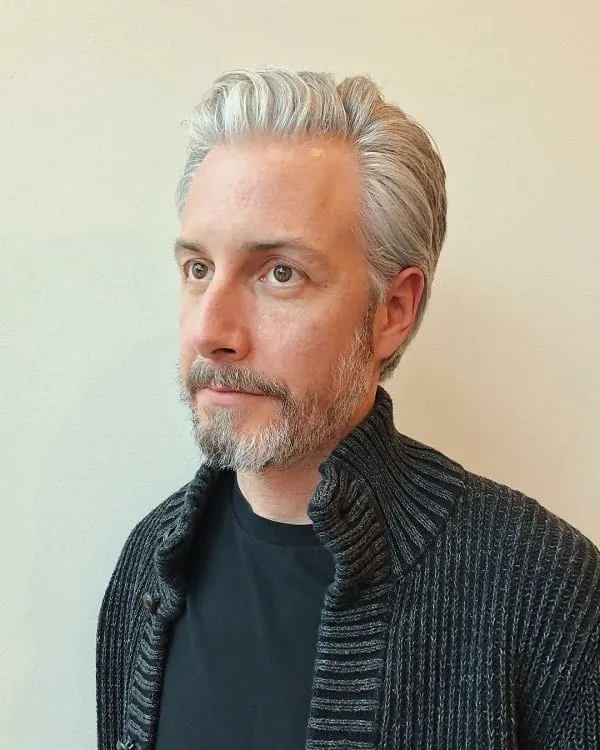 No one wants to spend a lot of time getting the perfect mane. With this messy comb-over, you will feel like a new person. Great for when you need a quick fix. It's most flattering for medium hair lengths.
The best thing about a messy hairdo is that you don't have to style it to perfection. This means that you can do it with your fingers and a good hair product that will hold it in place. You can opt for a side part or no part at all.
22. Comb Over with Short Sides and Side Part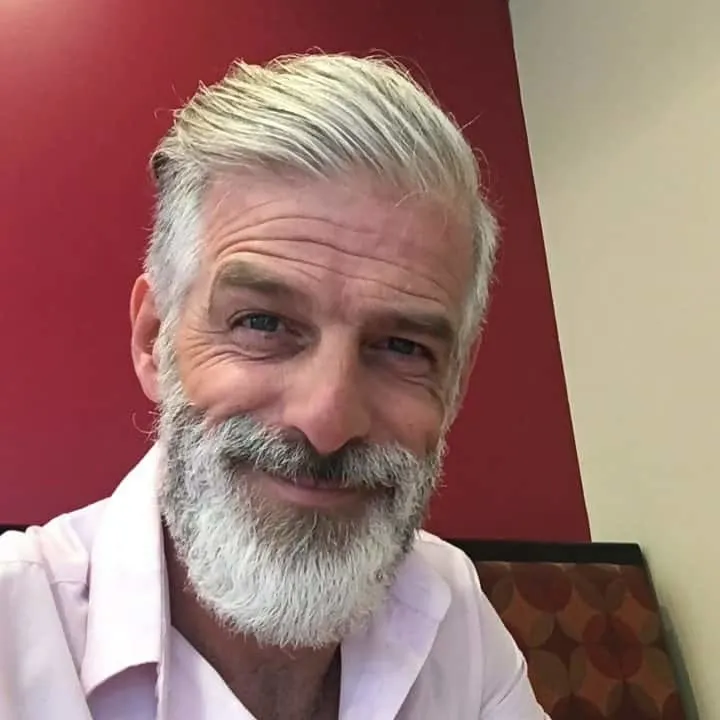 A comb-over doesn't always have to be the same. You can now add an interesting twist to your favorite hairstyle with a side part. It's great for all men who are looking for a subtle change. Add wax or pomade on your fingers to comb the hair to the back.
23. Side-Swept Hairstyle with A Low Fade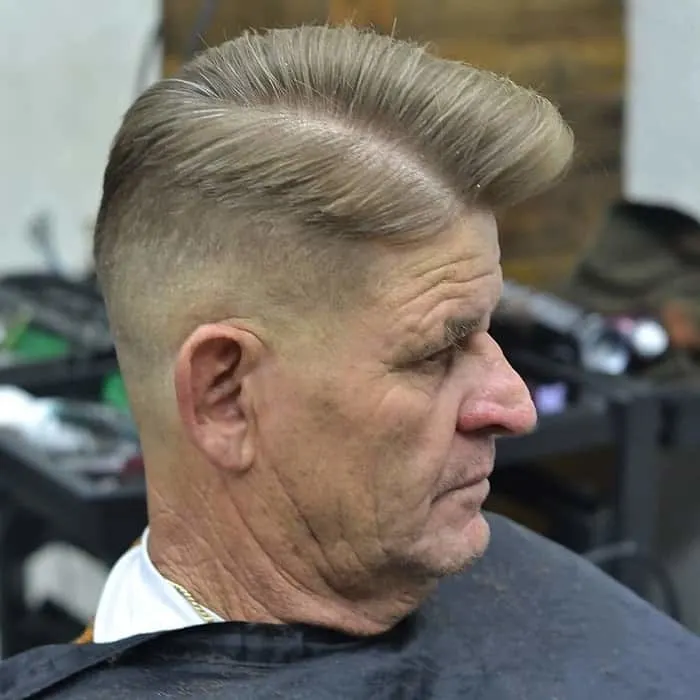 Even men who are older than 50 can opt for a fade hairstyle. To really accent a low fade, you can try out a side-swept mane. This look is great for when you're attending events or weddings. Ask for a side part paired with a low fade on both sides.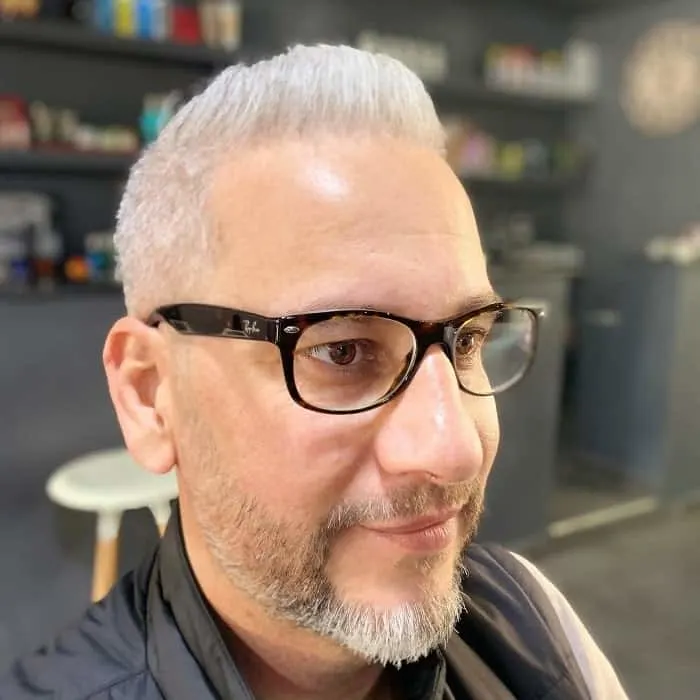 Things are sometimes better when they're simpler. It's the best option for older gentlemen who want to keep their hair short but still want to try a pompadour.
Since this 50-year-old man haircut is a hairstyle with the shorter length you will find it very easy to style it. All you need is pomade or a little bit of wax and a comb.
25. Long Messy Comb Over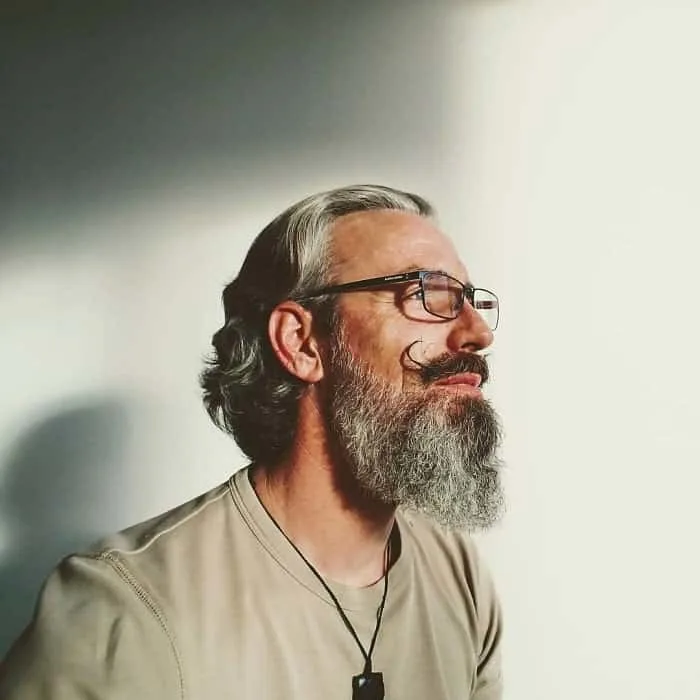 A long and messy comb-over is so easy to have. Great for gents with long hair who want to have their hairdo done in only minutes. Comb the hair to the back and use a product to style it like that. You can also use your fingers for a messy finish.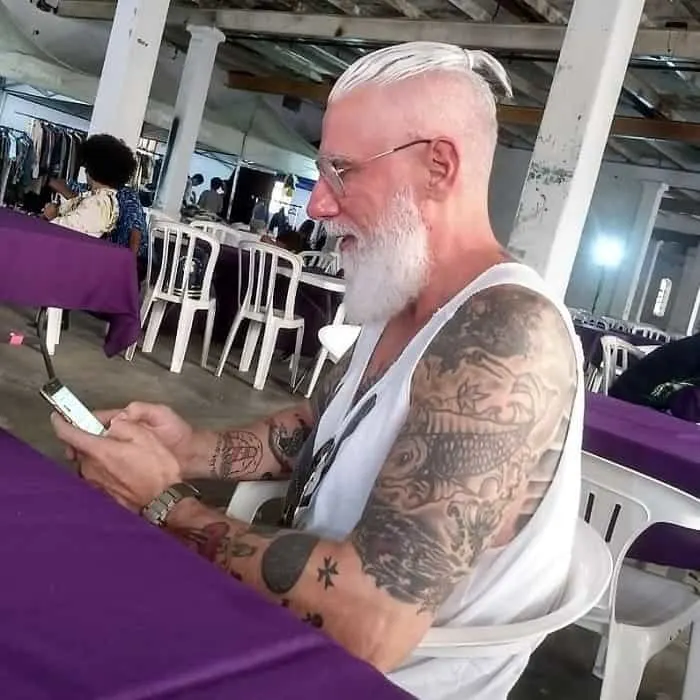 A half-up is what you can do if you are really ready to experiment with the chicest hairstyles for men over 50. Great for when you don't have time to style your hair. The sides should be short, while the top part should be long. Grab a tie and tie the hair in a ponytail.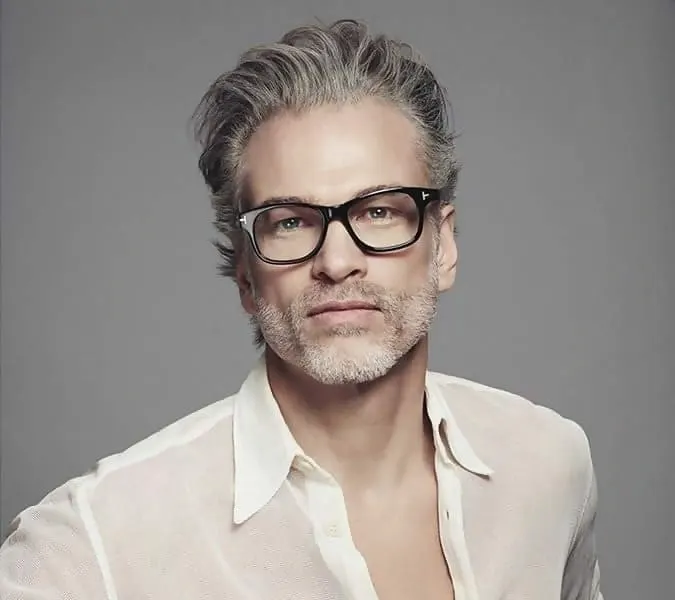 There is something so alluring about a comb-over paired with a short beard. This is one of those hairstyles that look good on almost everyone. Get a pomade with a natural finish and use your fingers to comb the hair to the back.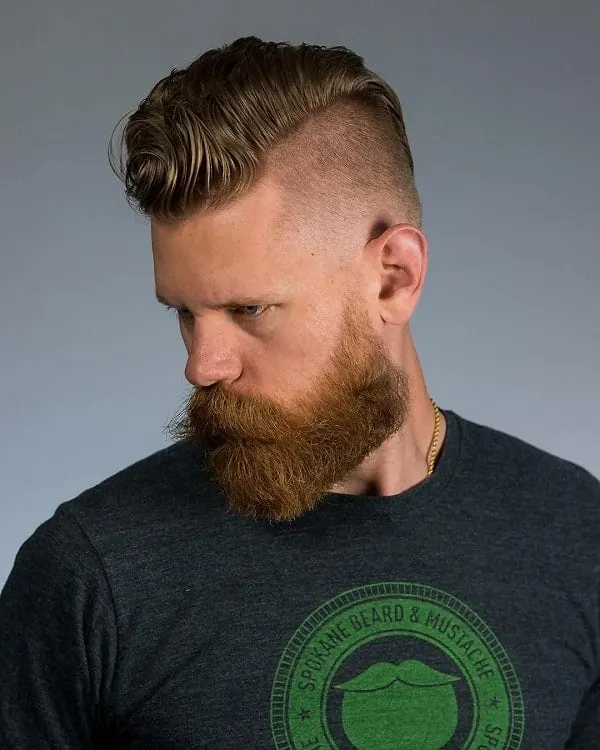 A Mohawk looks even better if your sides are short. That way everyone will be able to see the contrast in the hairdo. This hairdo is a great idea for all over 50 gentlemen who prefer short sides. Use hair product for the Mohawk.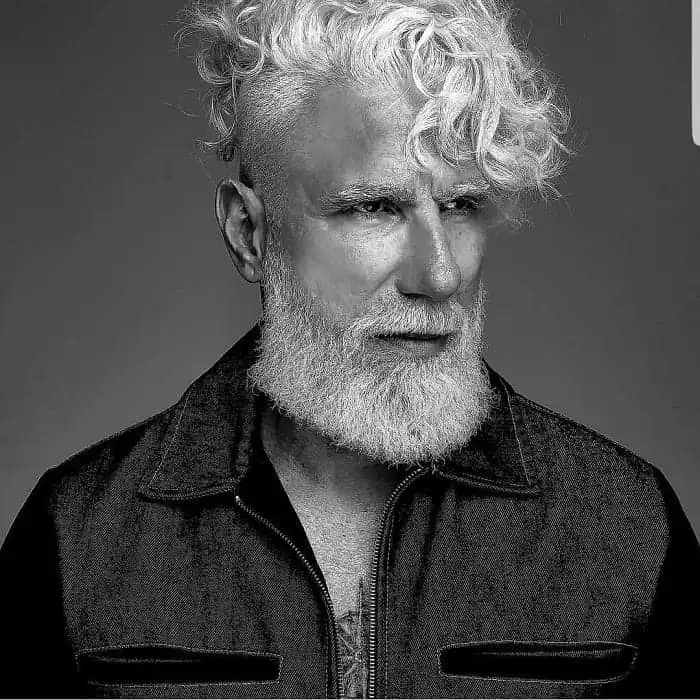 Men that are over 50 can still show off their curly hair and make it chic. Grow out your curls and add an undercut on one side at least.
30. Hairstyle with Colorful Tips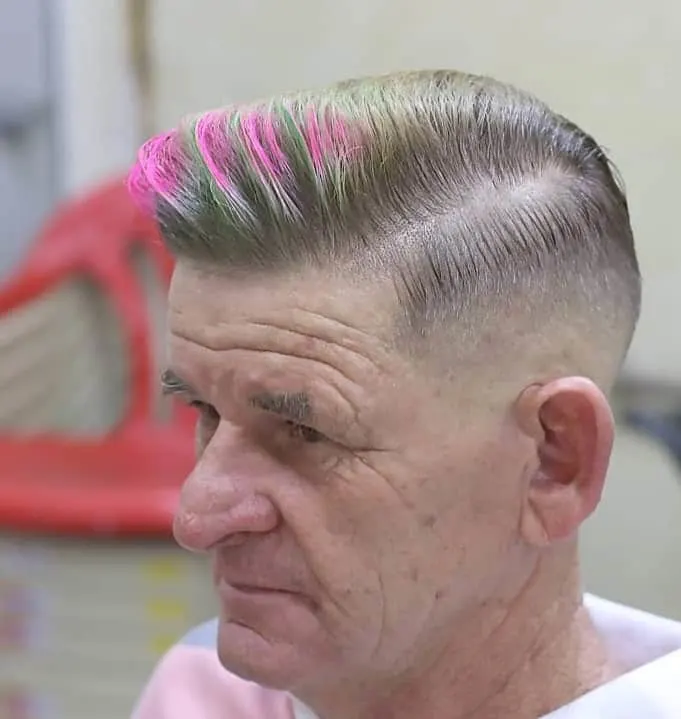 Stop whatever you're doing, this is the coolest summer look. Perfect for men over 50 because it can make them feel younger. Keep the sides shorter and style the hair with a side part. You can opt for any colors that bring you joy.
31. Sleek Hair with Beard And Mustache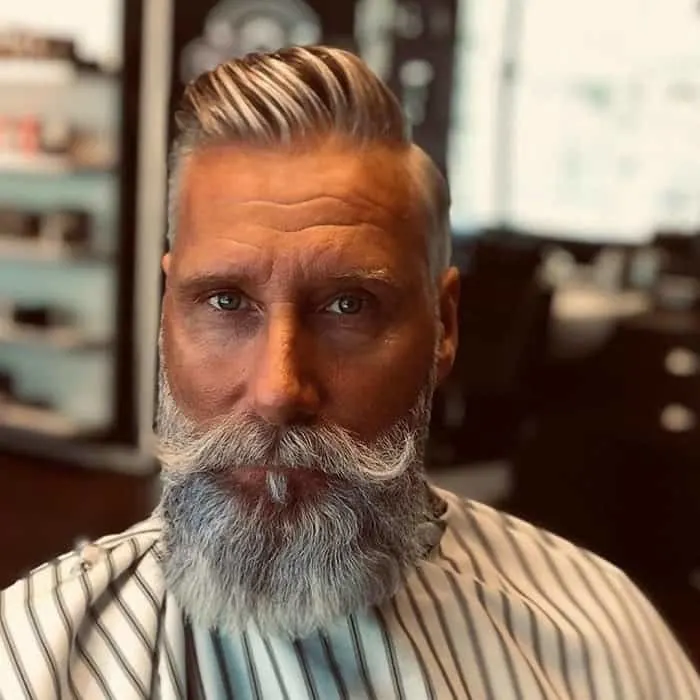 Men think that sleek hairdos are only meant for special events. That's not the case at all. A very trendy hairstyle perfect for men with beard and long mustache. Comb the hair then sleek it. Trim the beard to keep it fresh.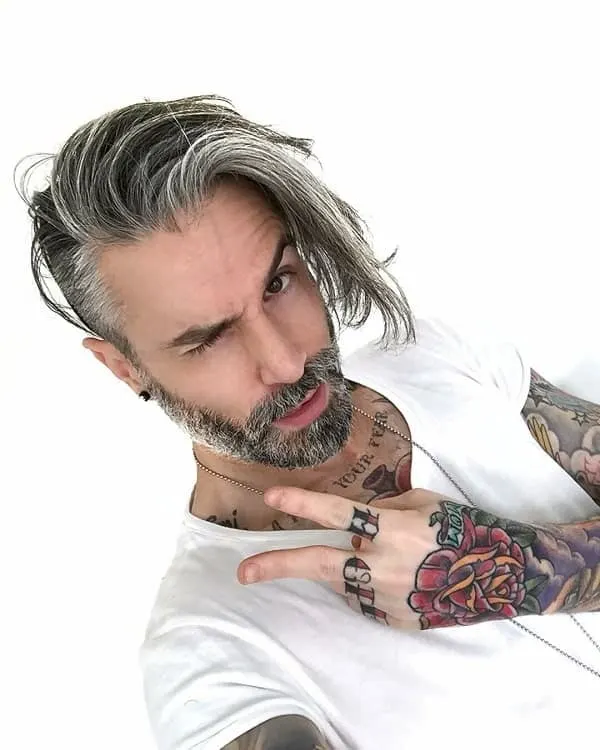 If you are tired of the same old, already-seen haircuts for men over 50, this is a great way to stand out. Great for everyone who's not afraid to try new things. Keep the hair long, and add an undercut on one side.
33. Slick Back Hair with Very Long Beard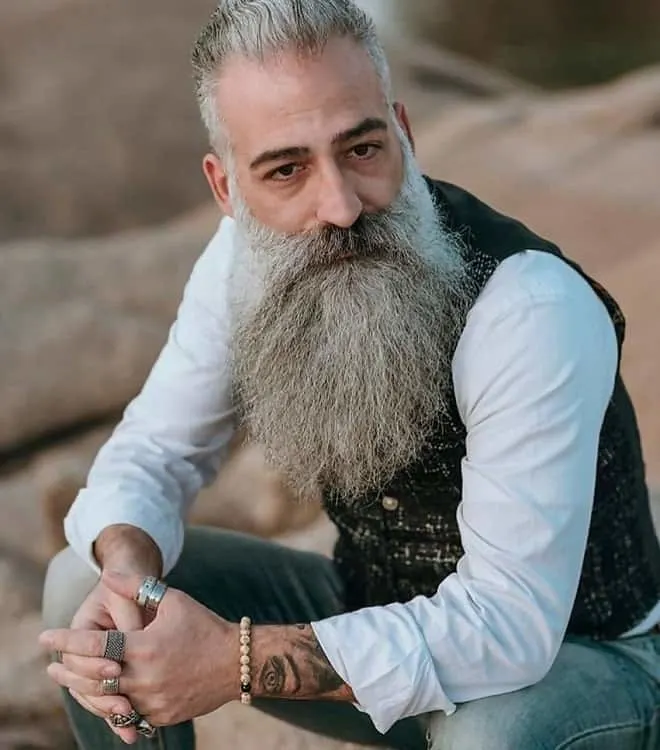 The long beard adds a cool touch to the look. Great for men that like long beards. Grow out your beard and trim it regularly. Comb the hair and add some wax.
34. Short Sleeked Back Hair With A Side Part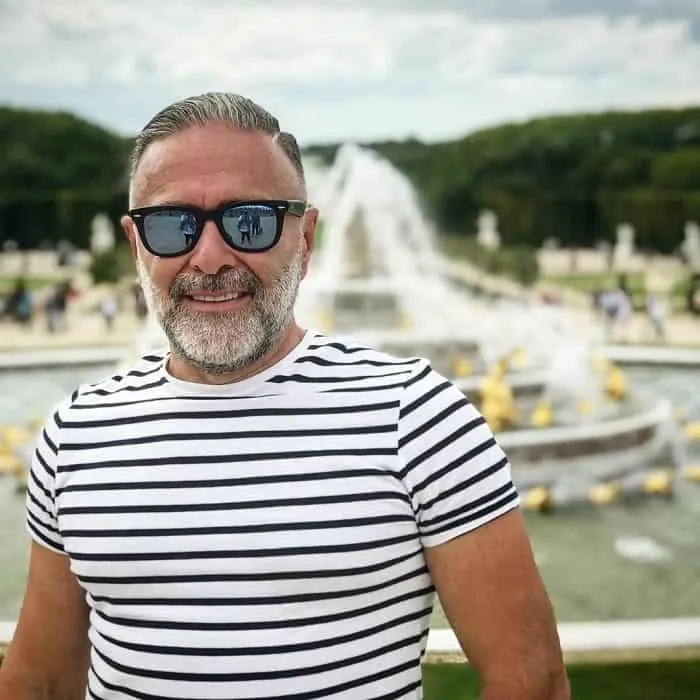 Short is sometimes better, especially if you want to fight the summer heat. This is a hairstyle meant for everyone. It will be so easy to style this grey hairdo for men over 50. Do the side part, then sleek it with a comb.
35. Messy Silver Waves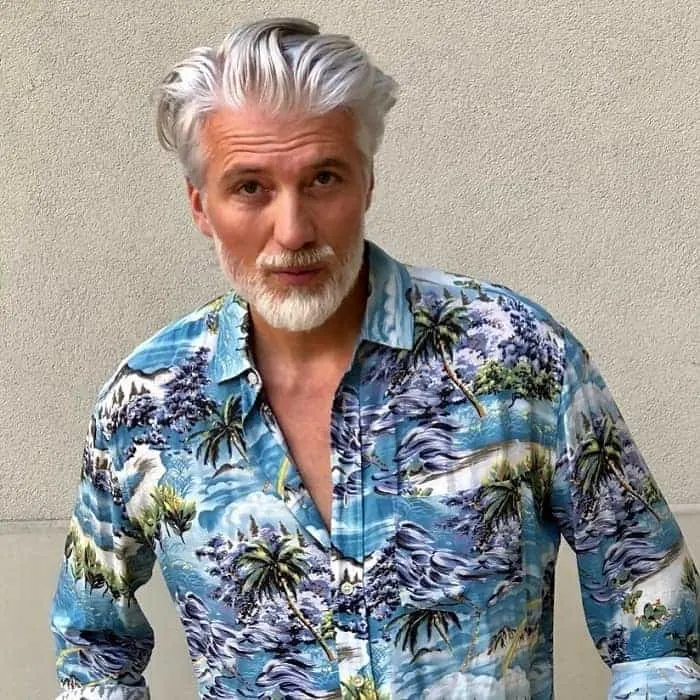 Silver is the hair color of the future. If you've been blessed with a silver mane, keep it and make it a fashion statement. It's ideal for men with long hair. Your natural waves are now more popular than ever.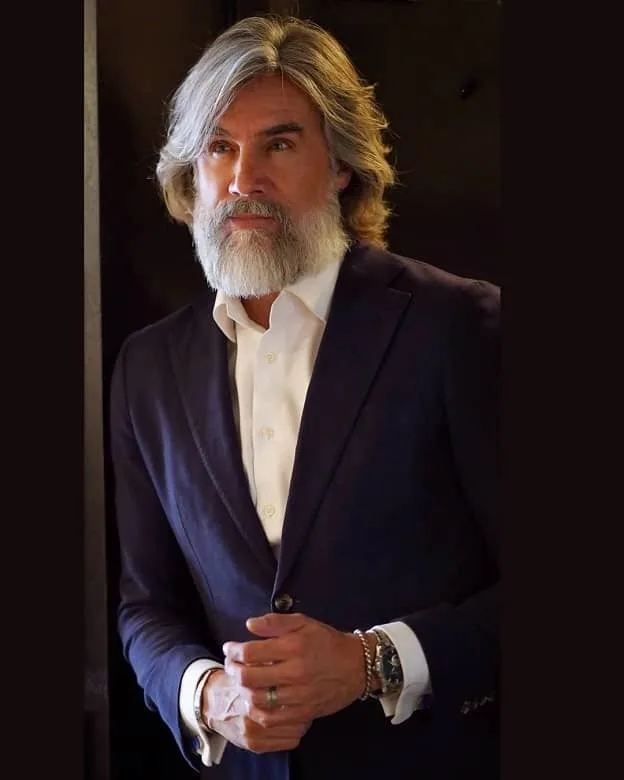 Keep the hair long and you will be one of the trendiest men around. Great for everyone who loves experiments and also doesn't mind growing their hair out. Do a side part, then comb the hair. That's all you need to do for this long hairstyle for old men over 50.
37. Sleeked Pompadour with A Twist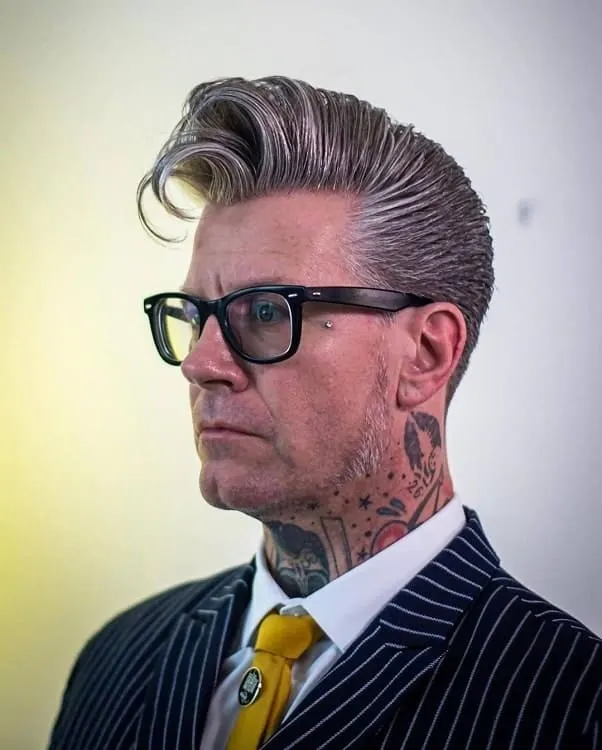 Add a fun twist to your pompadour with an actual twist in the front. Perfect for the dapper gentlemen who also have a rockstar living in them. You will need a product that delivers a wet look with a stronghold. Sleek it to perfection with a fine-tooth comb.
38. Hard Part and Medium Fade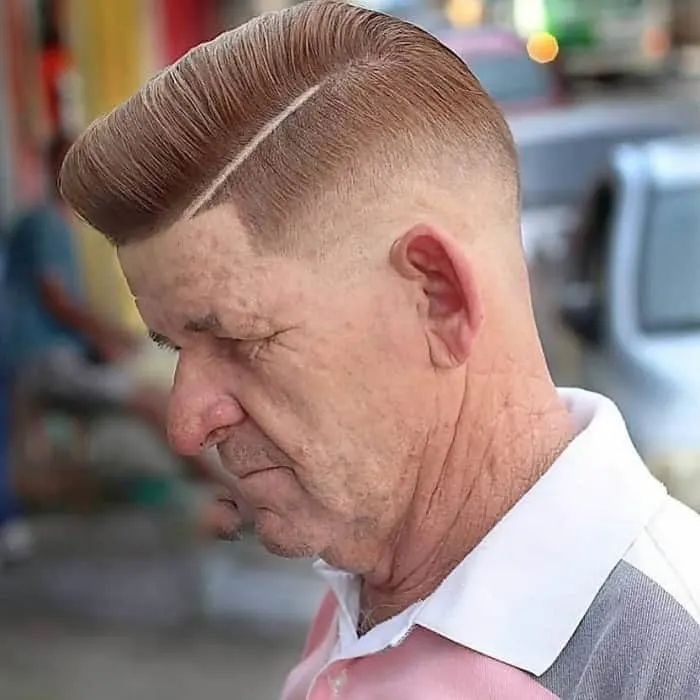 This is the perfect proof that hairstyles for over 50 men don't have to be boring or old-fashioned. Even men who don't like haircuts which are too complicated will love this one.
Great for events, especially weddings and other classy happenings. Grab a fine-tooth comb, then use pomade with a stronghold to create a sleek effect. Go for a deep side part.
39. High Pompadour with Beard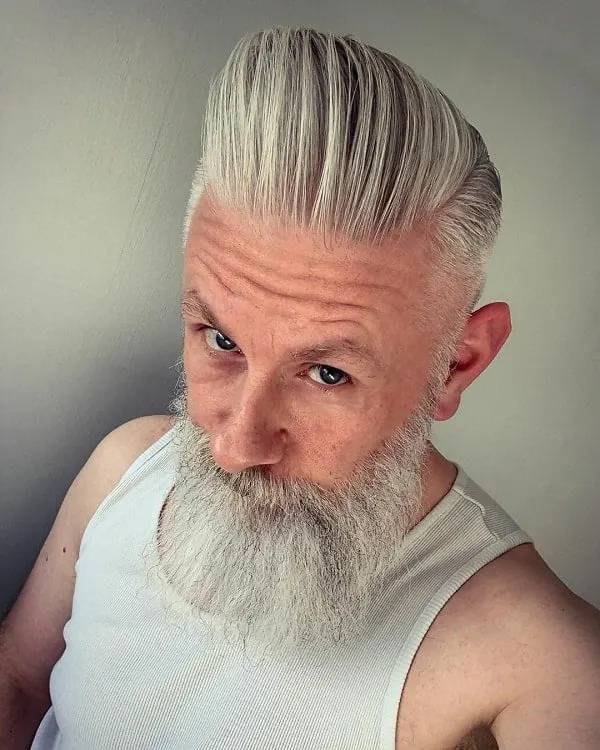 The higher the hair the cooler you will be. It's perfect for medium-long hair and men over 50 who have a grey beard. Style the hair with wax or pomade so that it stays up in a high pompadour. Go for short sides.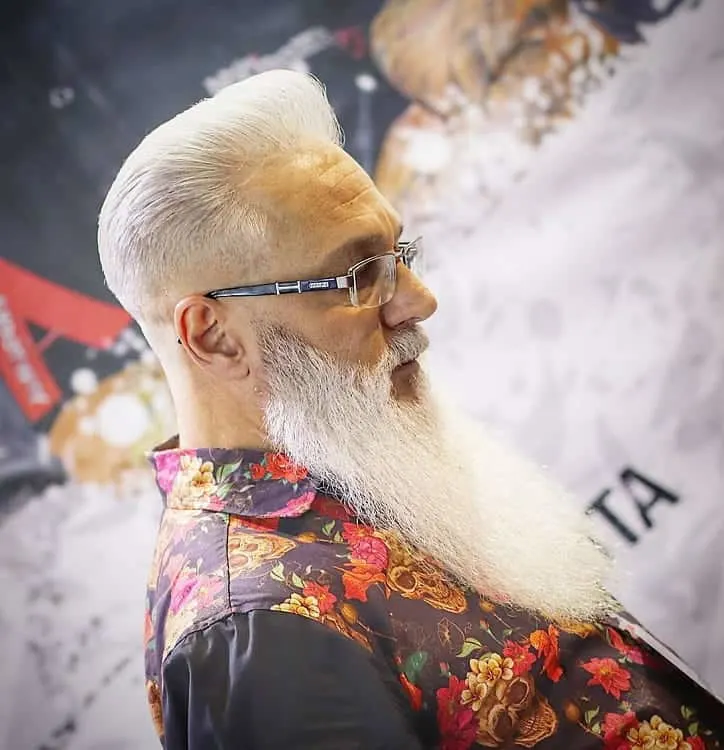 If you love mixing a fierce mane with a beard, this might be the best look for you. Pompadours are meant for men with style who don't mind spending 10 minutes in the morning on their hair. Keep the beard fresh-looking with regular trims. Style the pompadour with pomade.
41. Colorful Side-Swept Hairstyle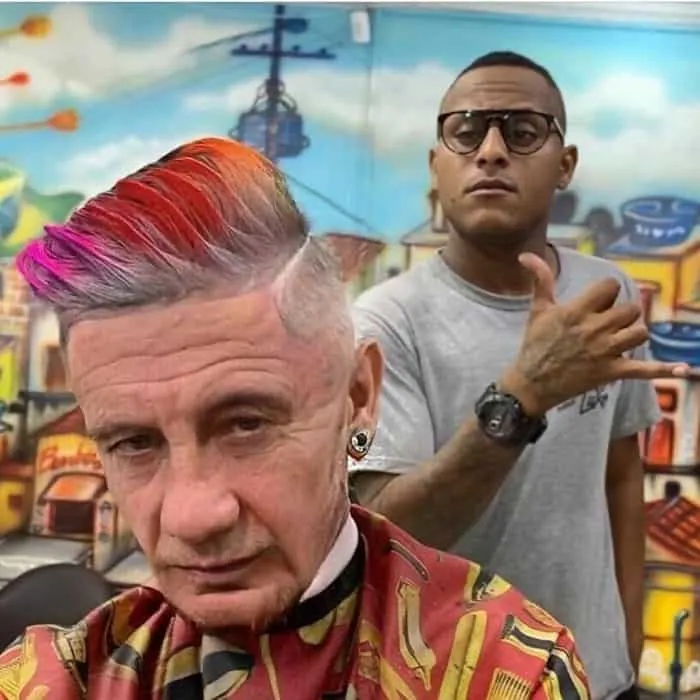 Yes, men over 50 can include bold colors in their hairstyles. This is the perfect hairdo for gents who are never afraid to experiment with their appearance. Visit your hairstylist and let them know which colors you're opting for. You can sleek the hair with pomade and a fine-tooth comb.
42. Short Hair for Receding Hairline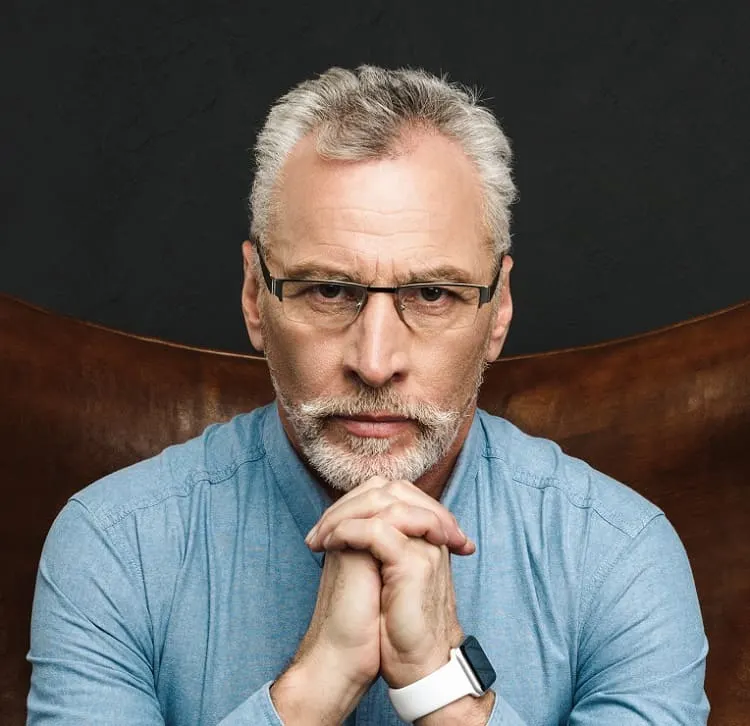 Don't limit yourself when choosing a hairstyle for balding man over 50. Receding hairlines can still look distinguished with short locks. In fact, this length is great for minimizing contrast from any bald spots.
43. Short Cut for Thin Hair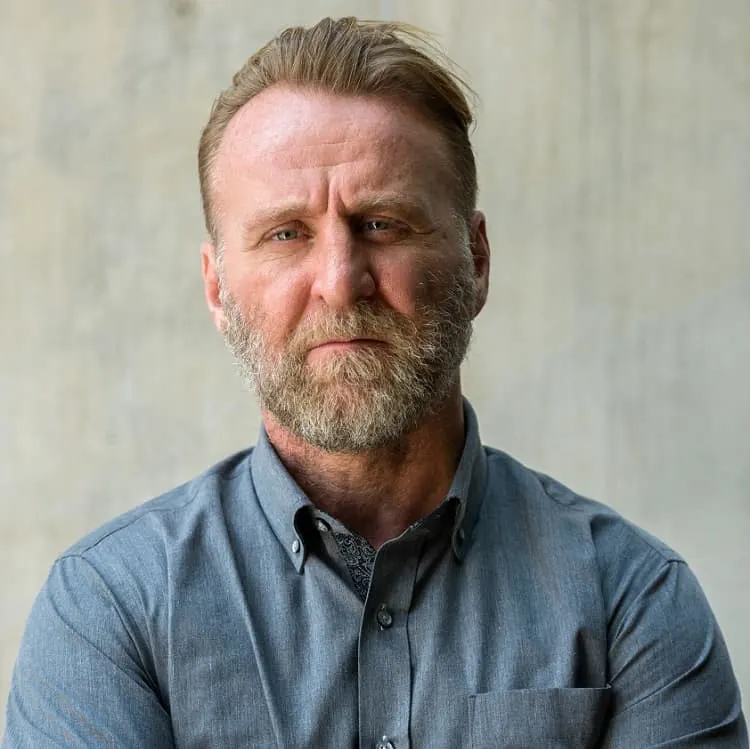 Even though this sides of this thin hairstyle for man over 50 are short, hair on top of the head should be a few inches longer. This way, hair can be lifted at the root and swept back for an illusion of thicker hair.
44. Layers for Thick Hair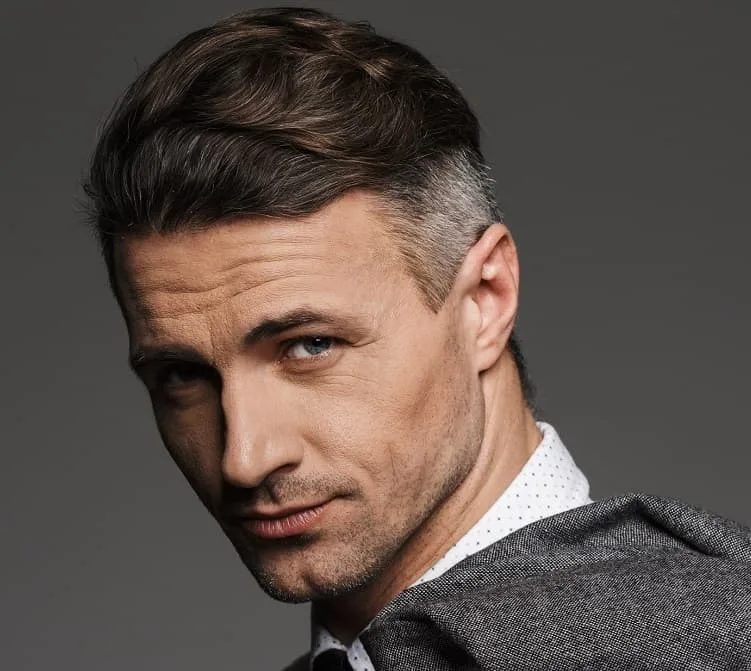 Older men with thick hair know how fortunate they are. To deal with all that texture, hair should be short and layered up top but the sides of the hair should be buzzed clean for freshness. Plus, we love the color contrast that it highlights.
45. Feathery Bangs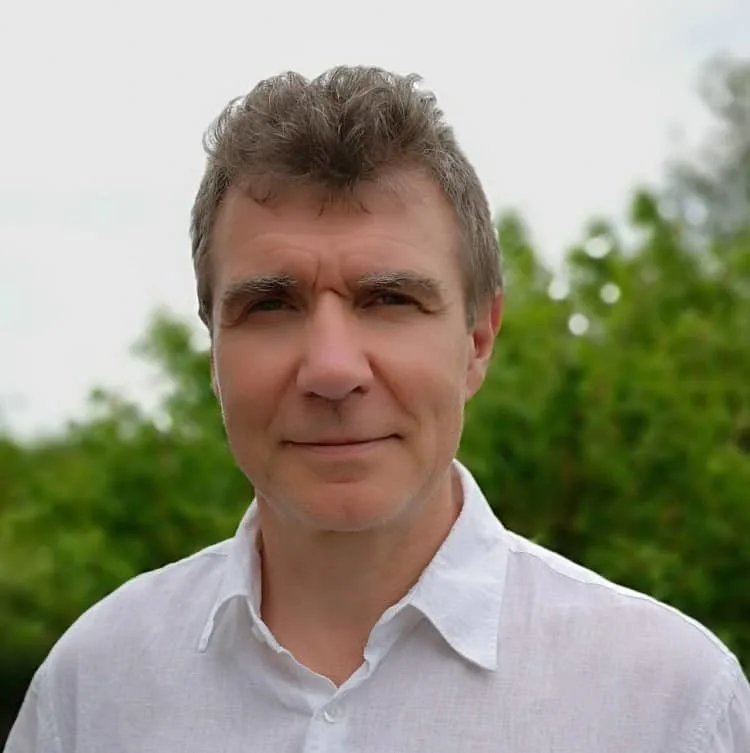 Creating volume is essential for mature men who know about hair loss all too well. Short layers enhance the feathery nature of these bangs. The look also draws the eye in and upward for an instantly youthful lift.
46. Soft Side Part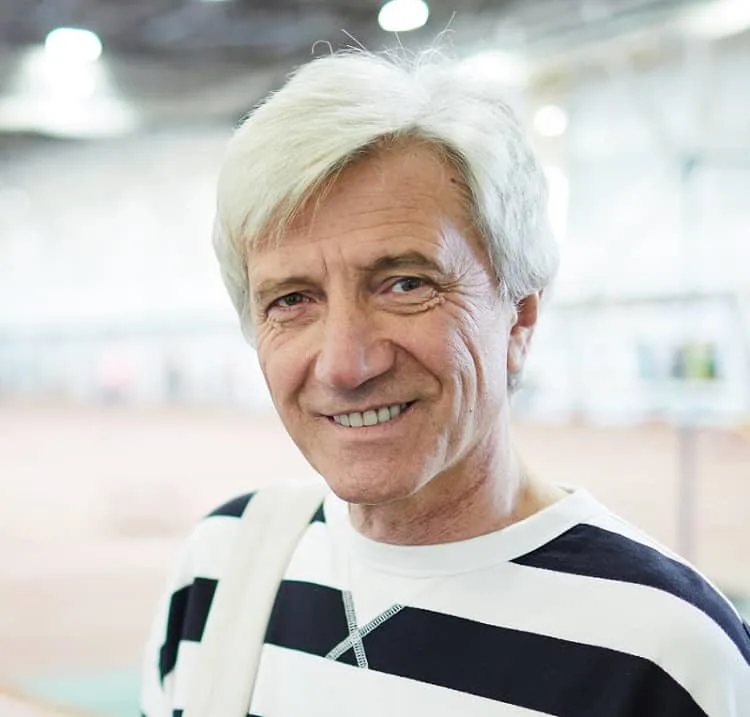 If your face shape is round, a soft side part may be your best new feature. It works with hair that is a little bit longer. Don't be afraid to add side bangs with some layers for added texture.
47. Long Locks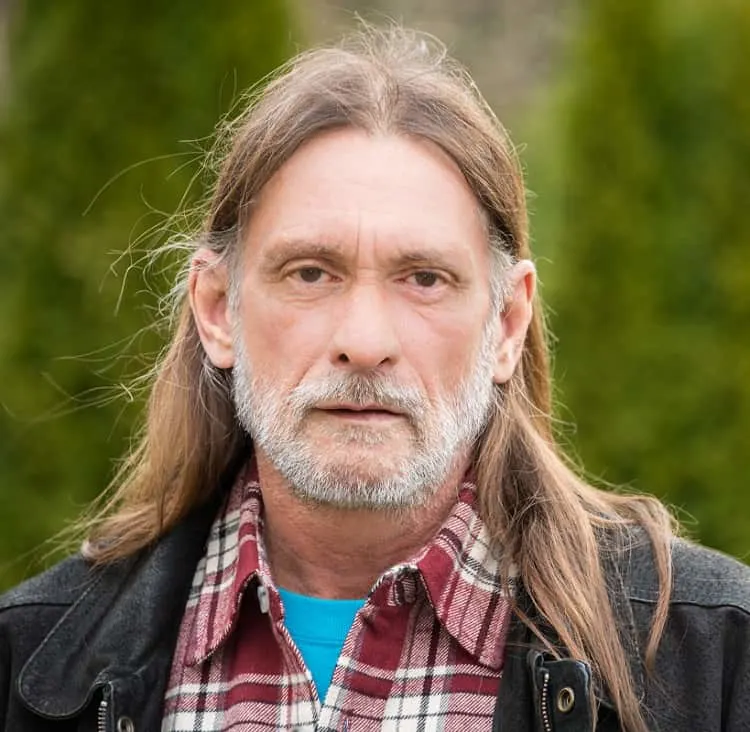 It's easy and safe to wear short hair for older men, but long tresses are interesting and unique. If you have enough body and can commit to the extra maintenance that long hair requires, then go for it! A center part conveys confidence and will define your beautiful eyes.
48. Medium Hair with Texture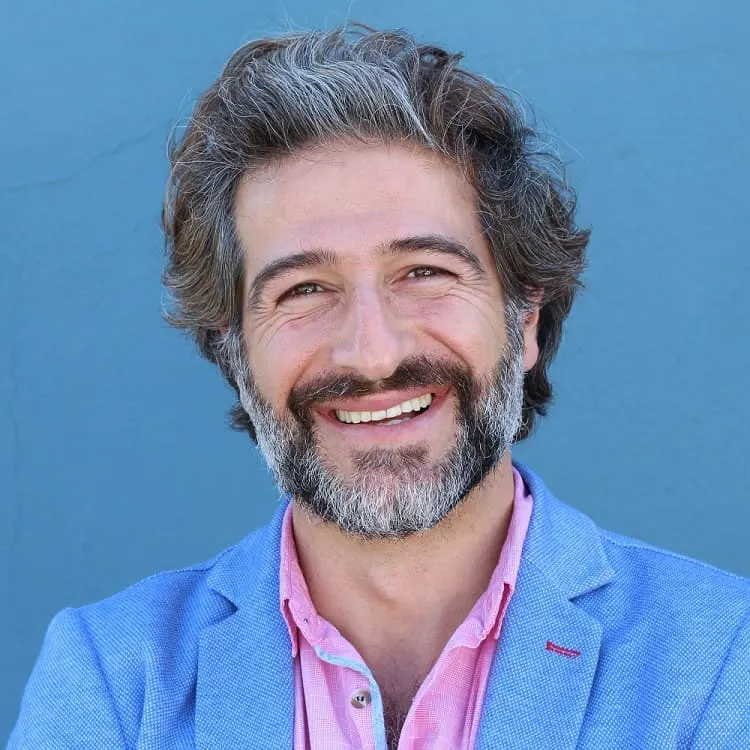 So many short styles use fades to create a high and tight look, but this style embraces a round shape. Created by longer hair on the sides of the head, it's great for an oval face shape and works if you have lots of body.
49. Round Layers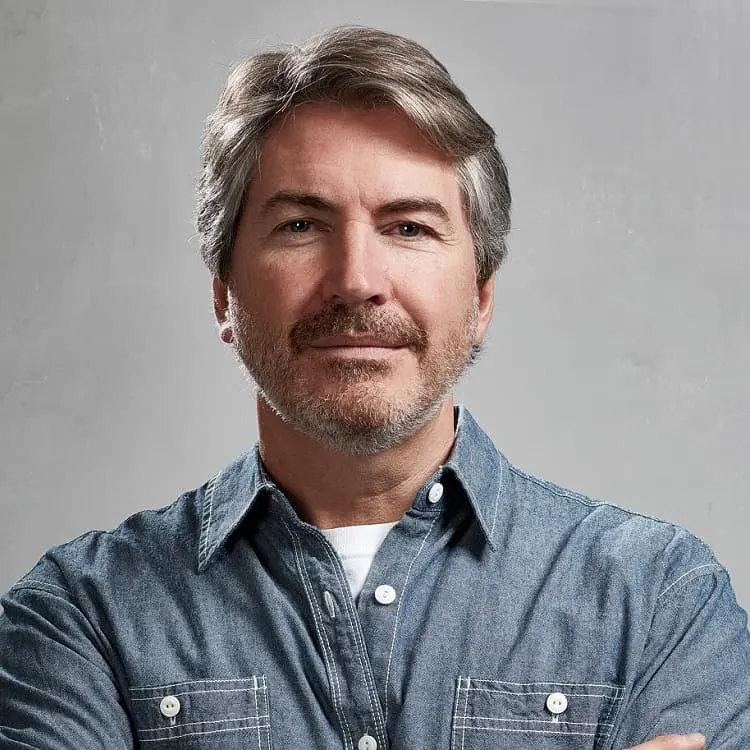 Looking for a subtle cut that conveys that business causal flair? This look for mature men uses soft layers to convey a tidy round shape. Go for a slightly off center part to add balance to your features.
50. Short Hair with Salt and Pepper Beard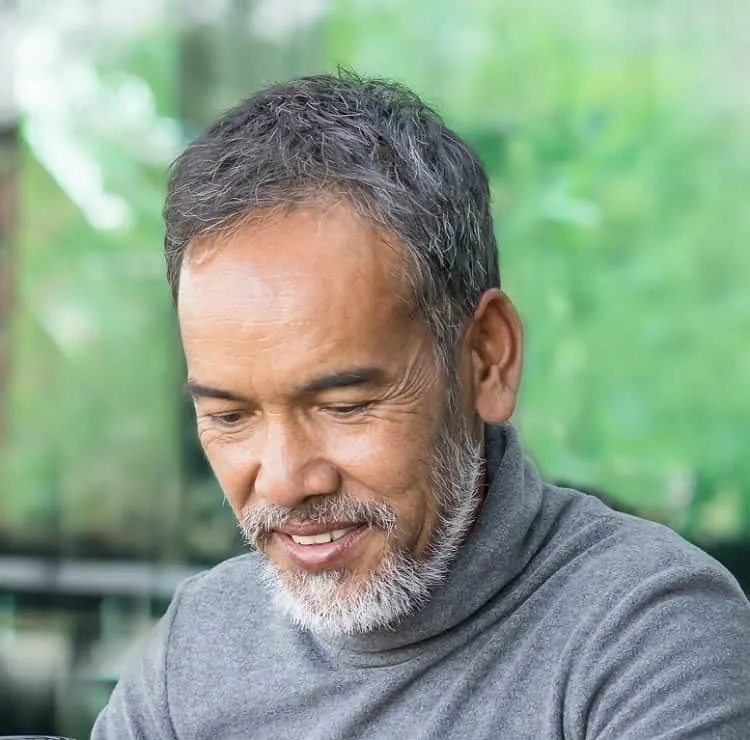 If your beard has beautiful salt and pepper color, then let it be the focus of your style. This means a simple short haircut is all you need up top. All this look requires is a gentle tousle with the fingertips.
51. Buzz Cut with Baby Bangs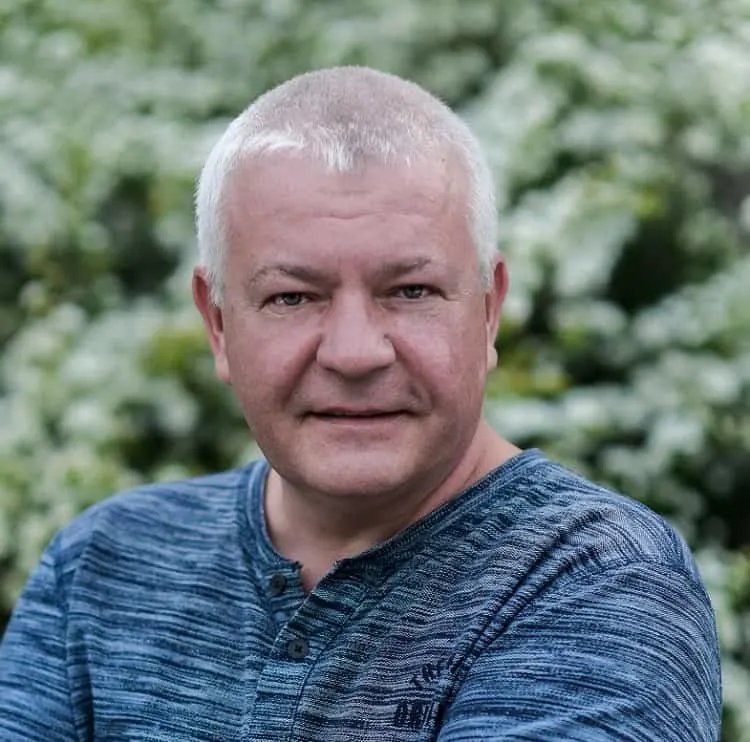 Without these small bangs and longer hair around the ears, this cut would look very different and lack substance. Even if you prefer that 'nearly there' look, a few substantial features are all you need to frame and define your face.
52. Short Cut for Thick and Curly Hair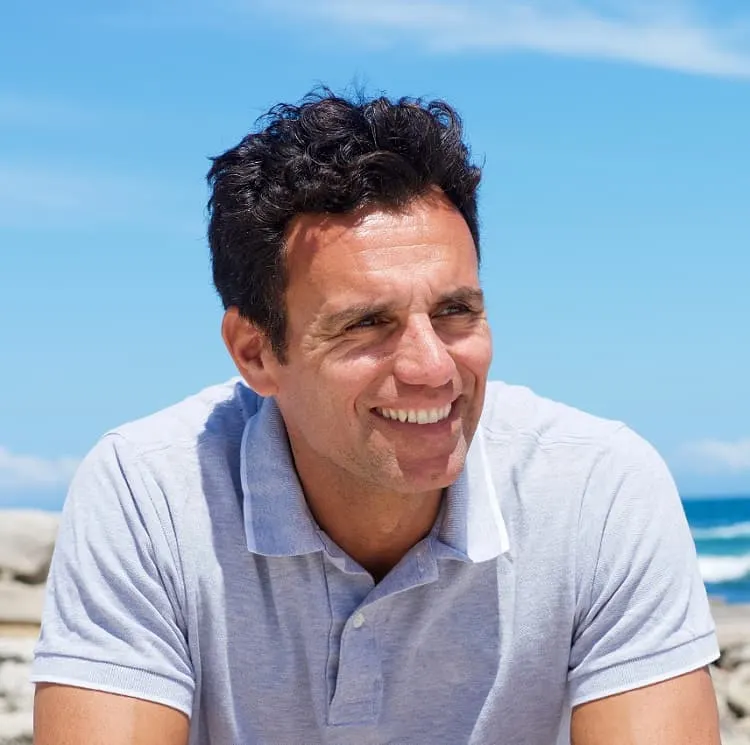 Reveal beautiful texture with little sacrifice with this classic short cut. Hair should be longer up top while the hair on the sides of the head should be done in a high and tight style. The difference in lengths between the two is up to you.
53. Medium Cut for Fine Hair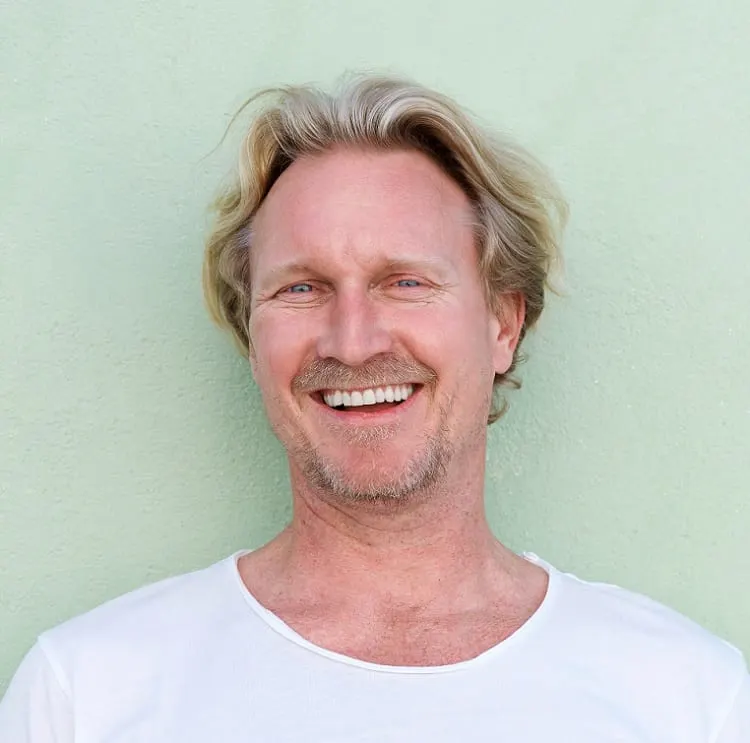 Fine hair can fall flat in a medium style, but this hair type has just enough wave to add body. If you have trouble achieving this texture on your own, run a lightweight pomade and separate hair with your fingertips.
54. Clean Cut Layers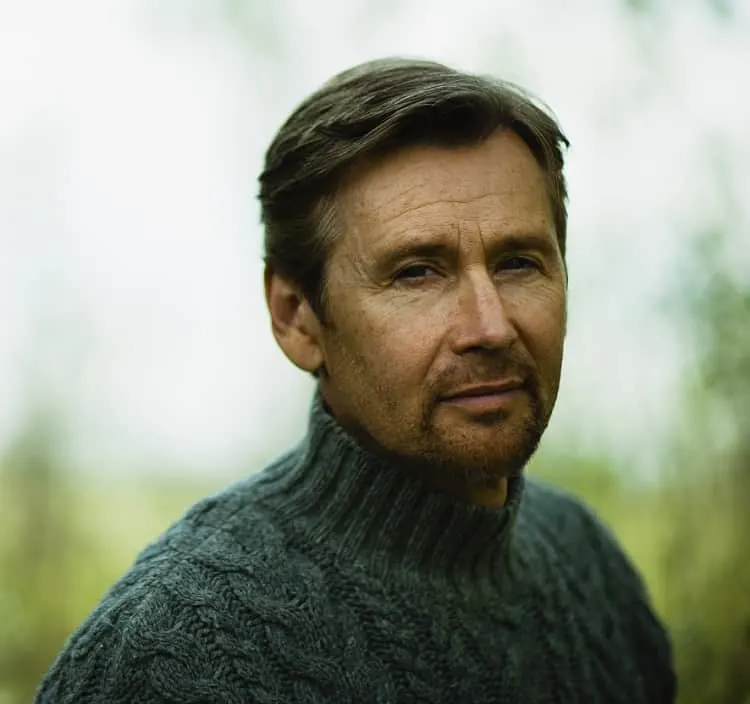 A timeless style will always be sophisticated, that is why this polished cut has endured throughout the ages. Razor-cut layers will eliminate bulk and a quality pomade will help you maintain shape.
55. Disconnected Undercut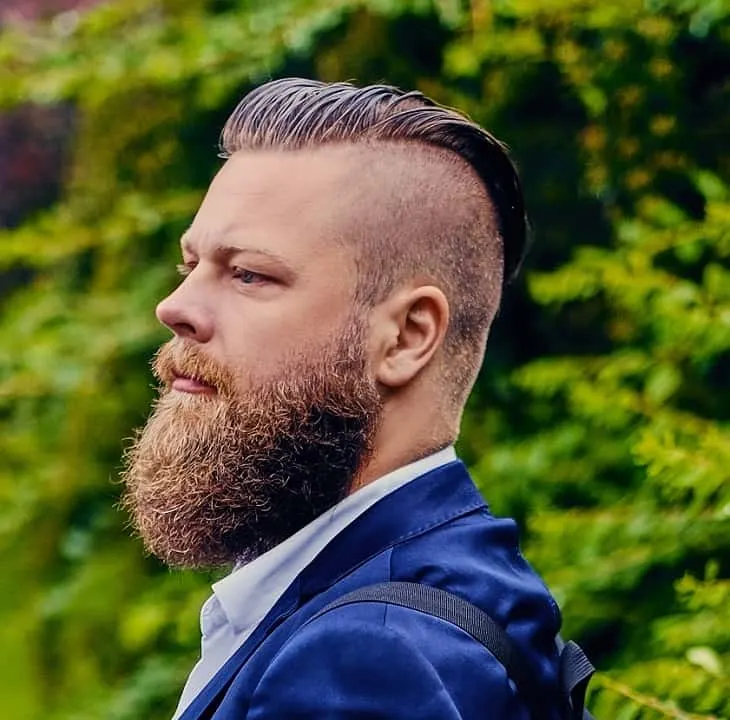 Undercuts are all the rage these days, so let the world know you're with the times and try it out. Buzz hair all around the sides and on the back of the head while creating a long and sleek comb over style up top.
56. Easy Short Cut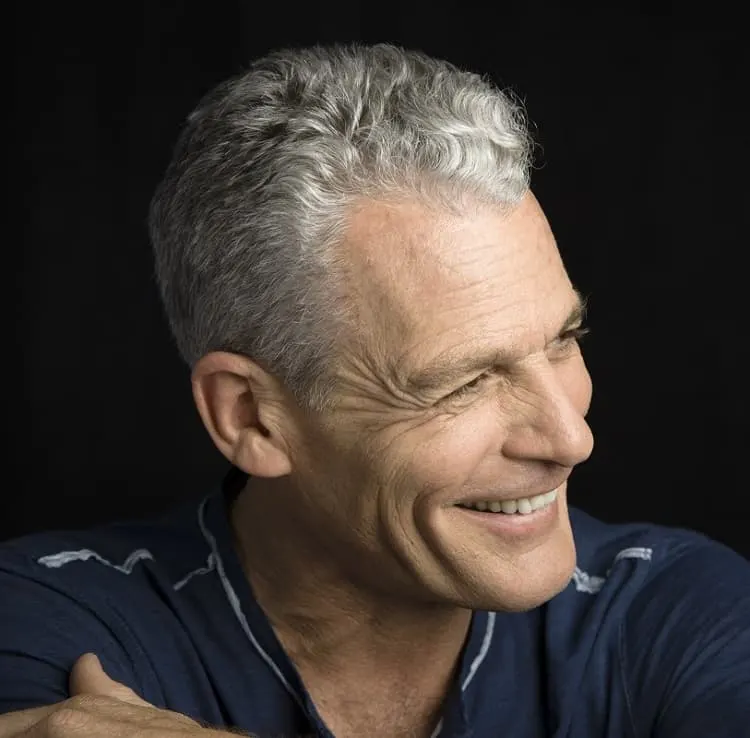 If this style isn't a classic for older men, then I don't know what is. If you're uninterested in anything too trendy or complicated, then a neatly groomed cropped style is certainly the look for you.
57. Long Frizzy Texture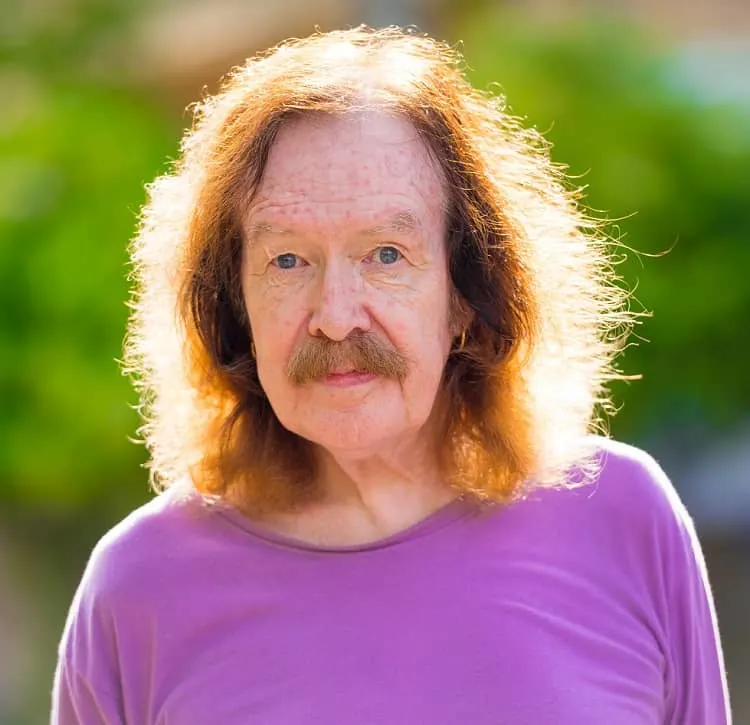 They say frizzy hair is a problem, but nothing about natural texture is ever bad. So long as you properly condition your long hair, then playing up the frizz and giving hair a tease is liberating and fun.
58. Short Voluminous Cut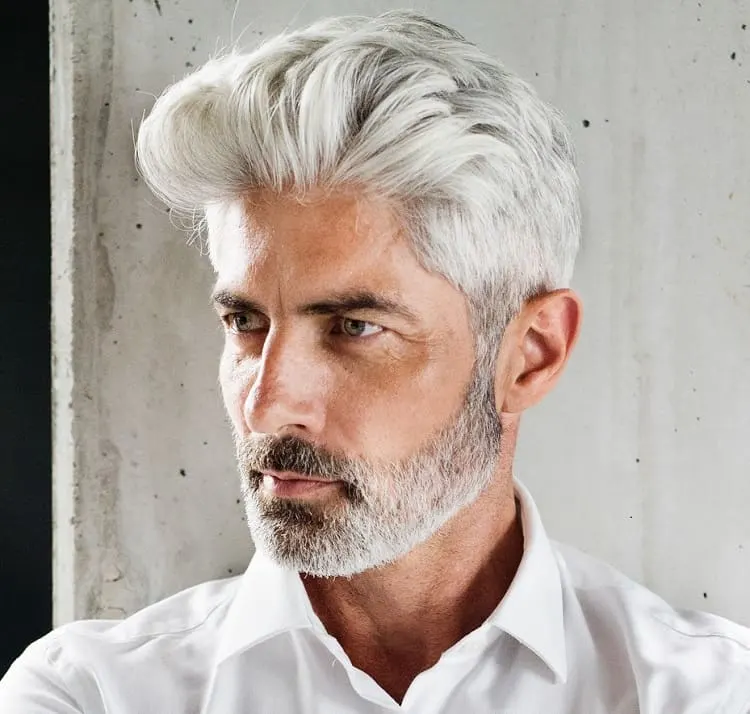 If you've got it, flaunt it, especially when it comes to envious hair. To keep it feeling neat and under control, especially if you have a beard as well, hair should be shortly cropped on the sides and back of the head.
59. Natural Curly Texture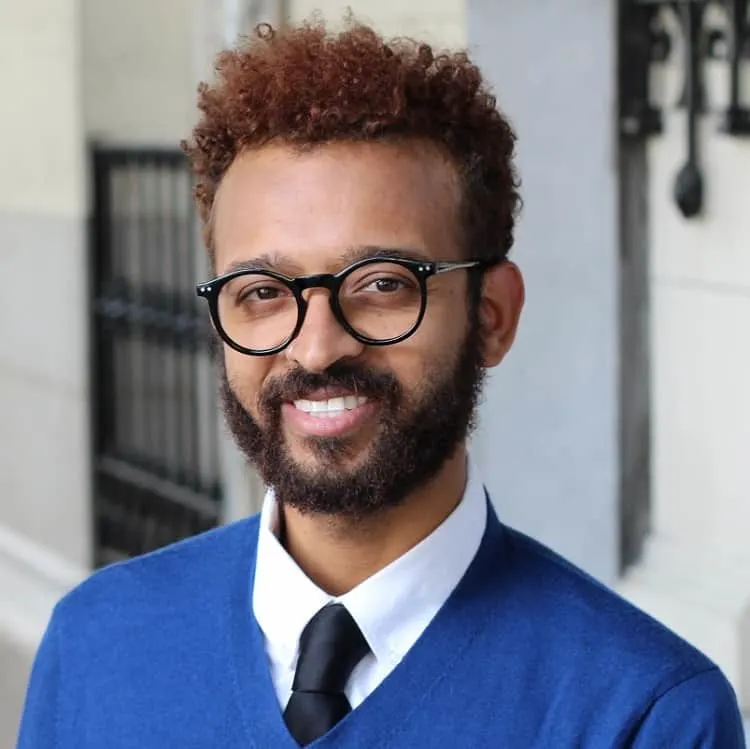 Let your curly hair be the focus of your mature look. Rounded Afro styles are a great option, but this high and tight style doesn't sacrifice any texture and communicates a professional style that business men typically prefer.
60. Medium Grey Curls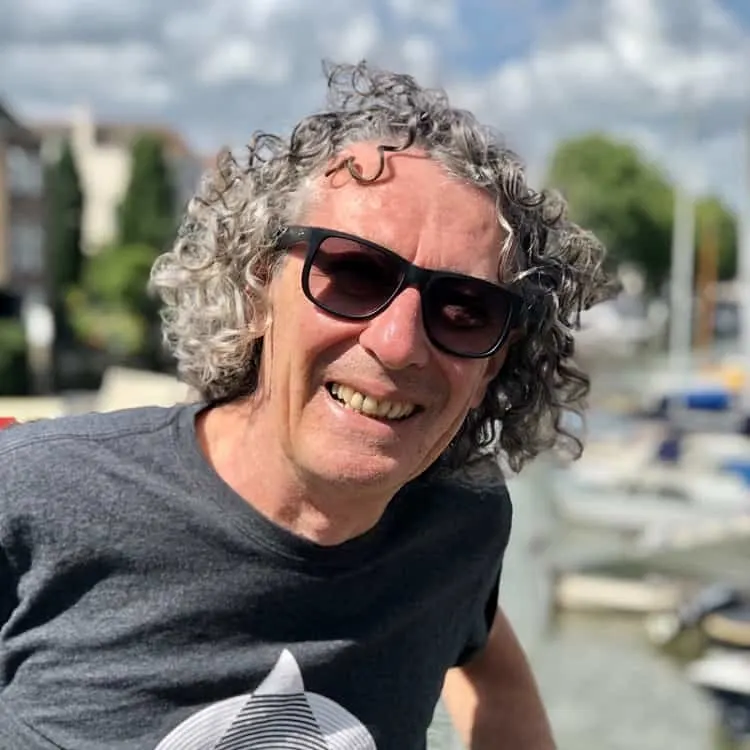 What's better than beautiful salt and pepper curls? If you've got medium to thick hair, then you can handle a longer style with ease. To make styling a breeze, get your hands on a good curl-defining creme.
All these hairstyles for men over 50 can be your inspiration for either a minor or a huge change that will take years off your appearance. If you are one of those gents who love trying out new trends, there is definitely more than one looks for you on the list.
We also made sure to include some classic hairdos that never get old. Let the hairstyle be the best and coolest feature about you. Spend entirely on your hair type and condition, as well as your personal style, but whichever you choose will look incredible.