Hello, grad! You've just achieved a major accomplishment and it's time to celebrate. A big day like this means you'll want to look and feel your best, so start with the perfect graduation hairstyle!
There are plenty of fabulous looks to choose from, whether your hair is long or short. Consider a low updo with a side braid, long waves with highlights, or perhaps a fun hair color that pops under your graduation cap,
We've chosen the trendiest women's hairstyles for graduation day. All you have to worry about is finding your favorite!
Perfect Graduation Hairstyles for Women
Remember your special day and feel like your most beautiful self by choosing one of these 23 hairstyles for graduation.
1. Two Tone Hair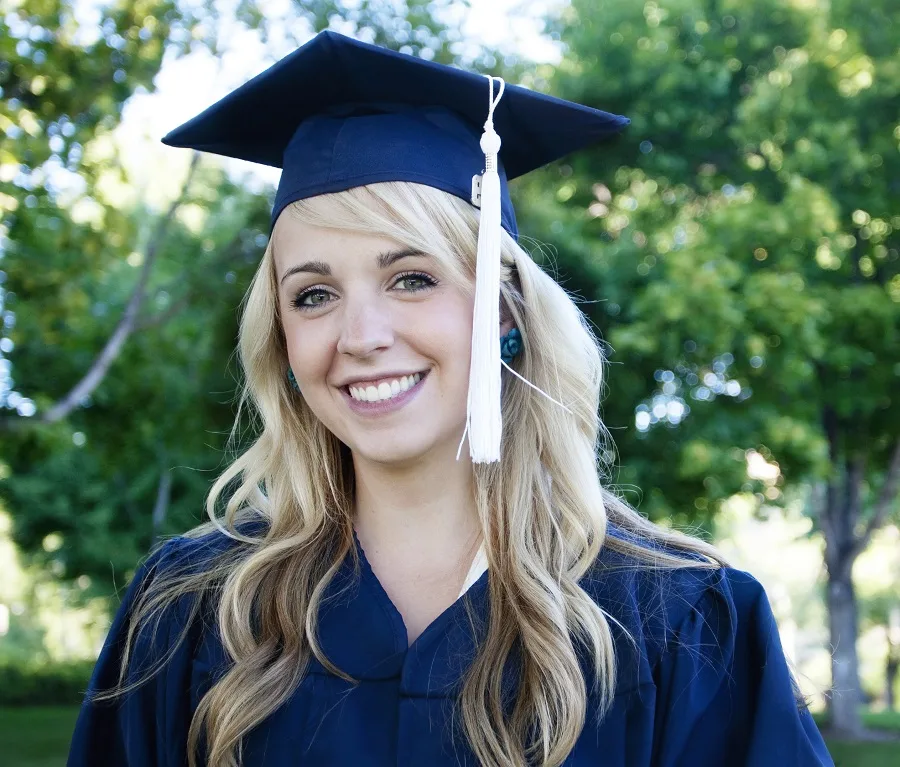 Look your best on your big day with a two-tone graduation hairstyle! This one is easy for natural blondes to do since all you have to add is a lighter shade on top. Finish the look off by adding soft waves.
2. Braided Updo Graduation Hairstyle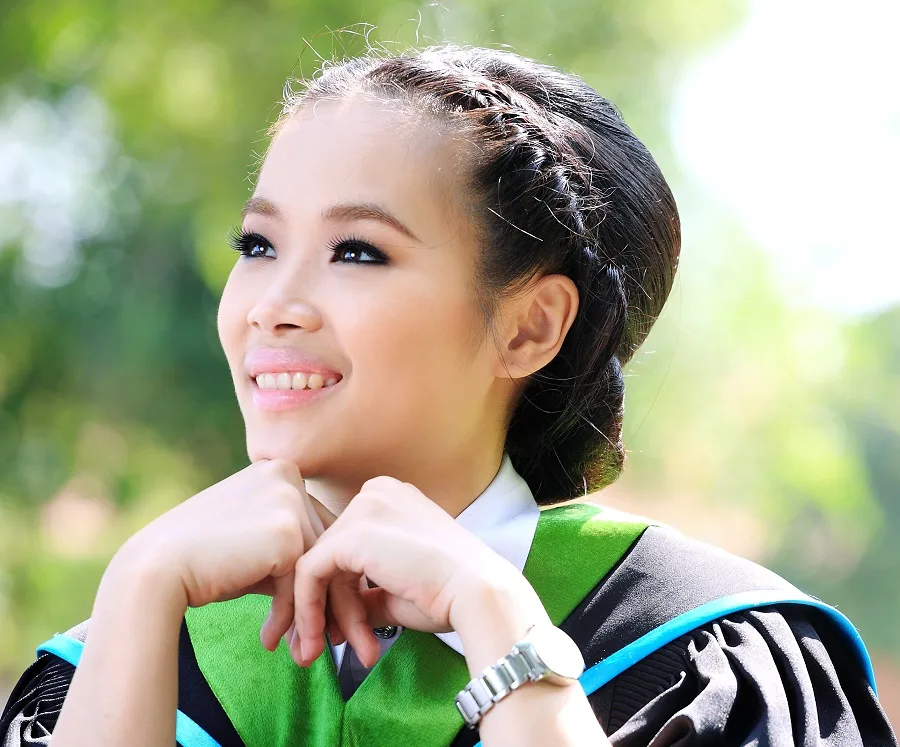 Be ready for evening celebrations after your graduation by having the perfect updo ready to go the minute you take your cap off. We love this side-parted low updo with a tucked-in side braid.
3. Natural Curly Bob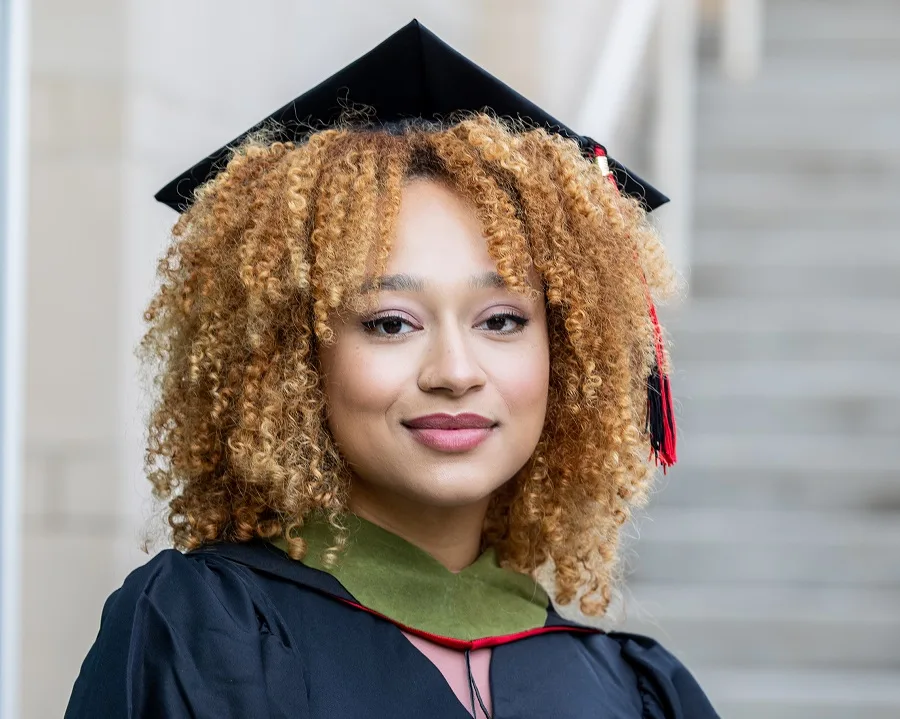 For women with naturally curly hair, have your stylist cut it into a chic bob. Instead of leaving it black, choose to add caramel or blonde highlights, or a mix of both, for a warm glow.
4. Low Half Updo with Bangs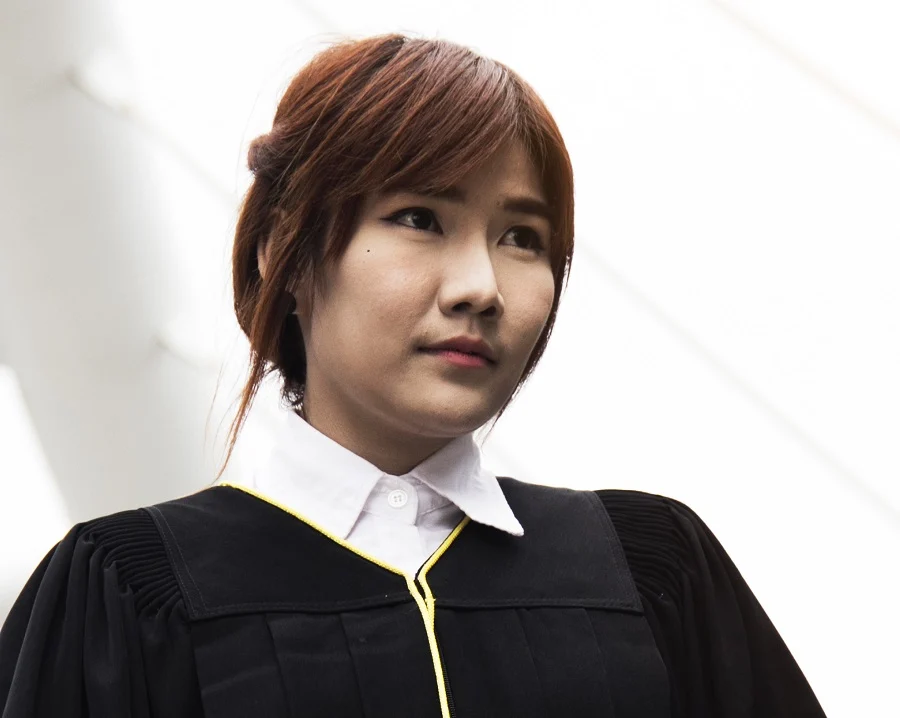 If your hair is mostly straight in texture, try this low updo which only takes minutes to style.
Gather a small section of hair from either side of your head and secure it together in the back. Leave out a chunk of your bangs and straighten them to the side.
5. Short Spiral Curls and Bangs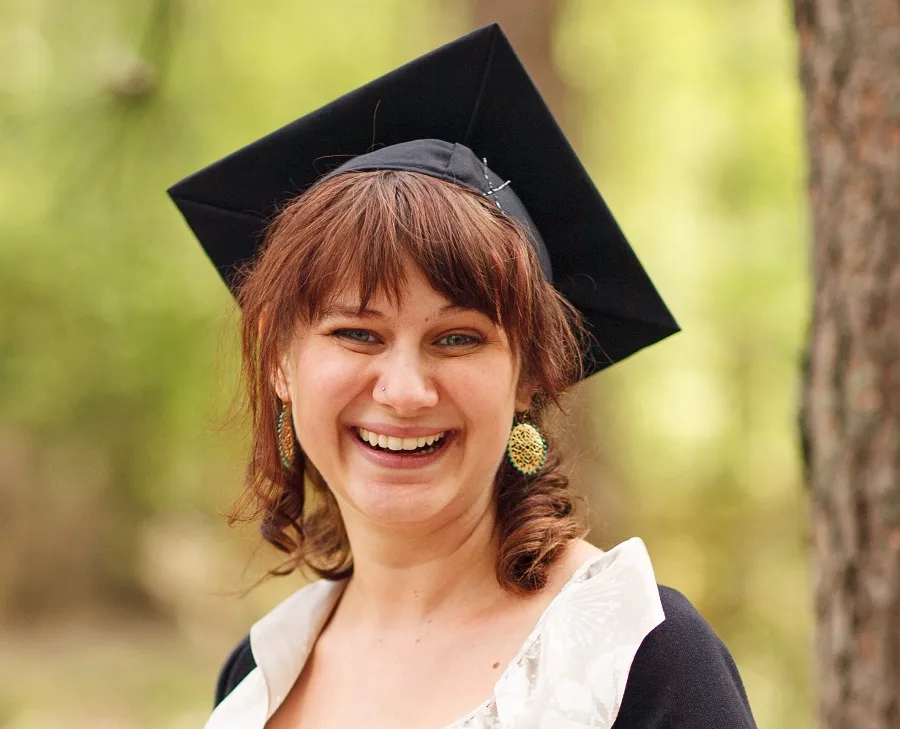 One of the easiest ways to transform short hair into a graduation hairstyle is by curling the ends. Use a smaller barrel to get these perfect spirals. Brush out bangs or style with fingers for a piecey look.
6. Bubble Ponytail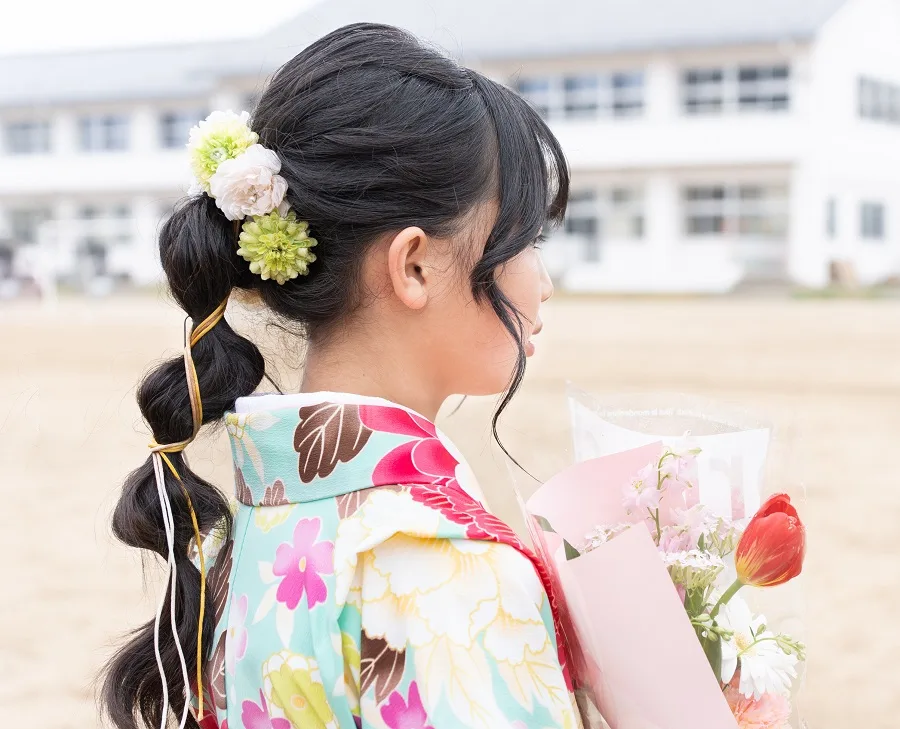 Bubble ponytails with loose tendrils are stunning and they'll go perfectly with a graduation cap if you keep the ponytail low.
Extensions will give longer lengths on short hair, and using colorful ribbon or string is a cute idea to cover up plain hair ties.
7. Black and Blonde Box Braids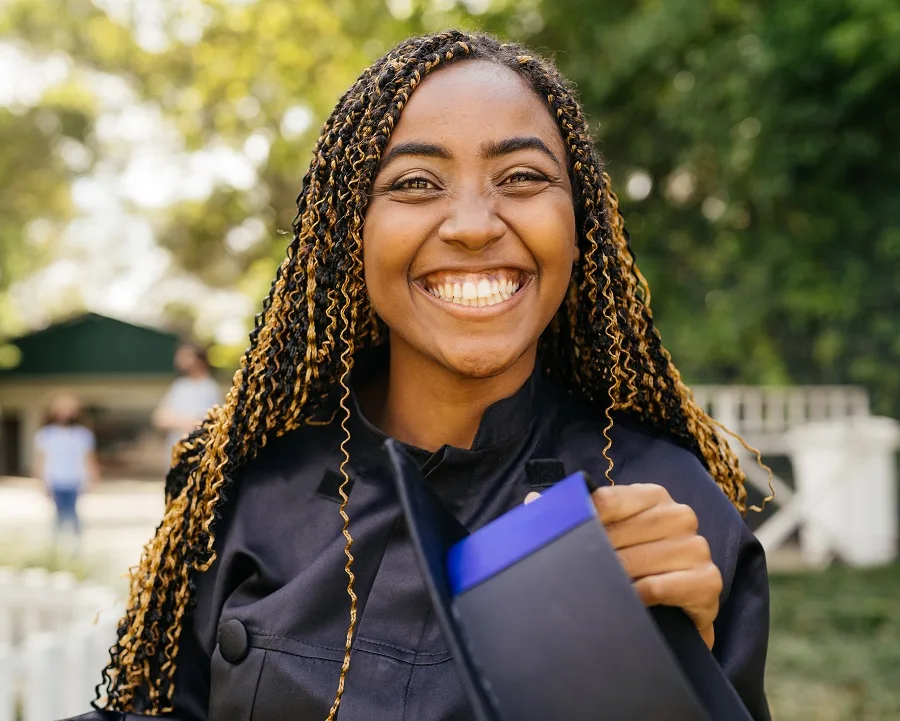 Box braids are a popular hairstyle for Black women. They can be styled in any number of ways, including with contrasting colors, like the blonde and black seen here. Wear yours down with an off-center part.
8. French Braided Pigtails
The pigtails don't have to stay home on your big day just because they might seem a little childish.
Secure them so that there are a couple of inches of unbraided hair at the ends. Tuck in flowers or ribbons in your school colors to dress them up.
9. Long Half-Braided Ponytail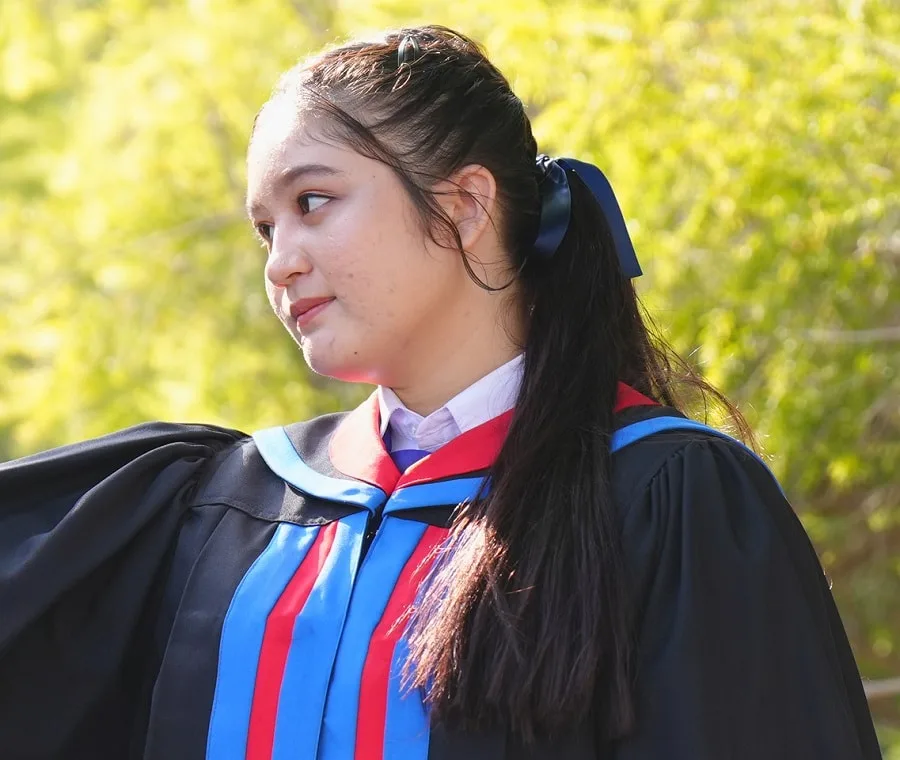 Another way to rock a braid in your grad hairstyle is by braiding only the top half.
Secure it right above your neck so it allows you to wear your graduation cap comfortably, but can be pulled over your shoulder for photos.
10. Long Bob with Bangs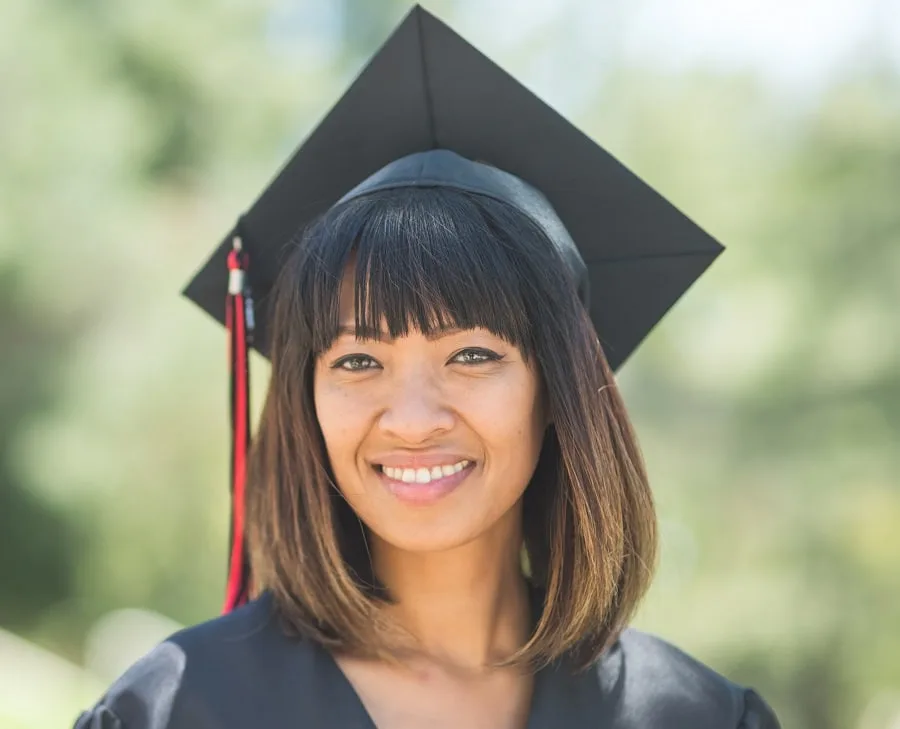 Looking for a sleeker hairstyle? Ask your hairstylist for a lob and straighten your hair so it's free of frizz and flyaways.
This shoulder-length bob is absolutely adorable with its bluntly cut straightened bangs to help with framing the face.
11. Burgundy Red Hair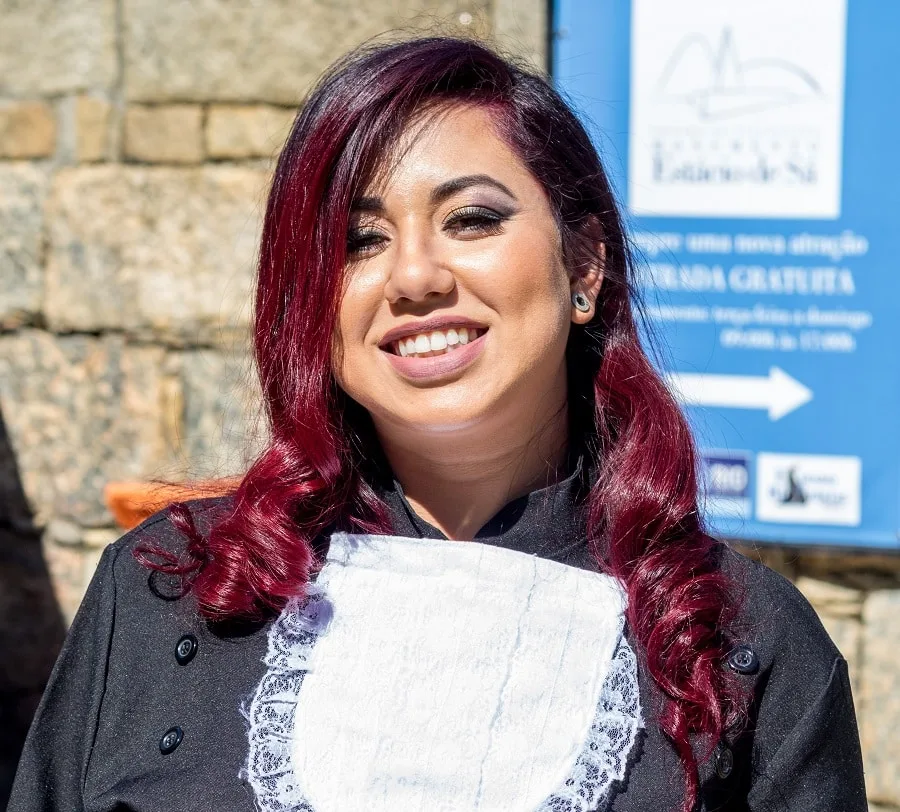 Between the deep burgundy hair color and the large spiral curls at the ends of this graduation hairstyle, it's clearly a winner. We recommend the color for women with a medium to dark skin tone.
12. Black Braids
If you're already rocking long box braids, all you have to do to get this style is gather about three-quarters of your hair in a low-rounded bun up top (flat enough that your graduation cap fits over it).
Then leave a good section of braids loose to fall over the opposite shoulder.
13. Short Bob with Middle Part
Asian women or those with naturally straight hair and an oval face shape would do well with a stylish short bob. It's super low maintenance in that all it requires is a simple middle part to be ready to go.
14. Two Low Ponytails
Be the sexy (former) student at graduation with two long and low ponytails.
Comb and straighten your long hair before parting it in the middle, pulling each section of hair over the shoulders, and securing your two ponytails at the neckline.
15. Short Ponytail Graduation Hairstyle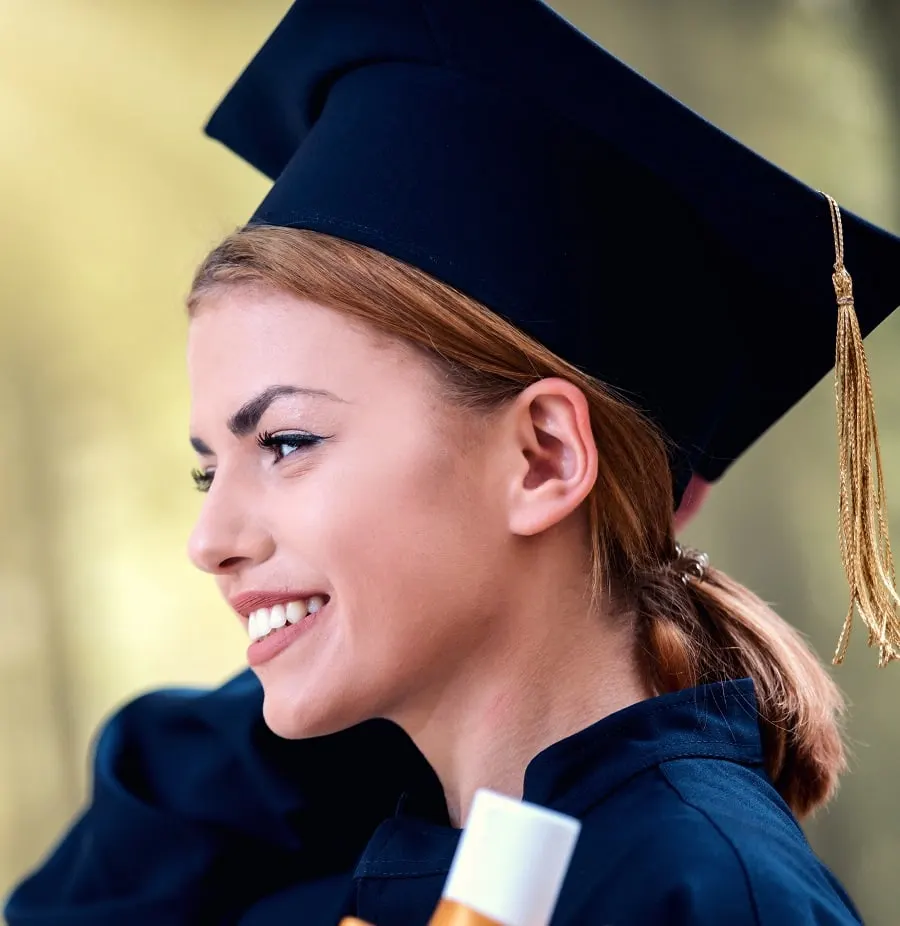 A low ponytail makes for an easy, no-fuss hairstyle for women with short hair. You can part the hair in the middle or off-center, and use a neutral or colorful hair tie to secure it at the nape of your neck.
16. Low Twisty Bun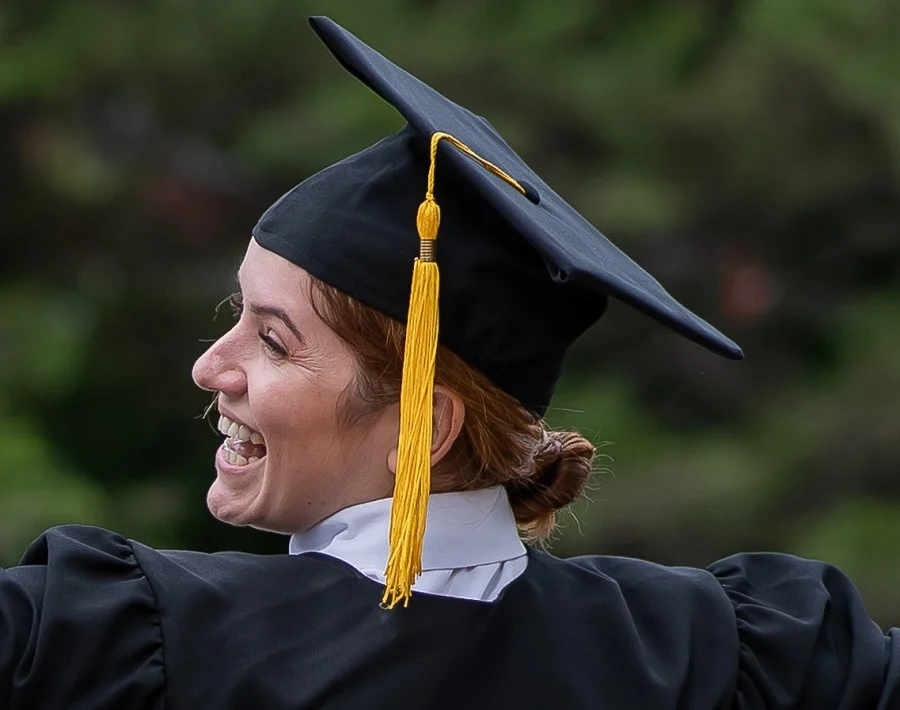 If your hair is medium-length or long, but thin or fine, try working in a little mousse to fluff it up before finger-combing it into a low ponytail and twisting it to make this easy, cute bun.
17. Relaxed Graduation Hair
One option for Black women wanting to wear their hair differently than braids for graduation day is to get it professionally relaxed.
You'll end up with fuller-bodied hair that looks just gorgeous brushed out, parted off center, and left down.
18. Pinned Back Updo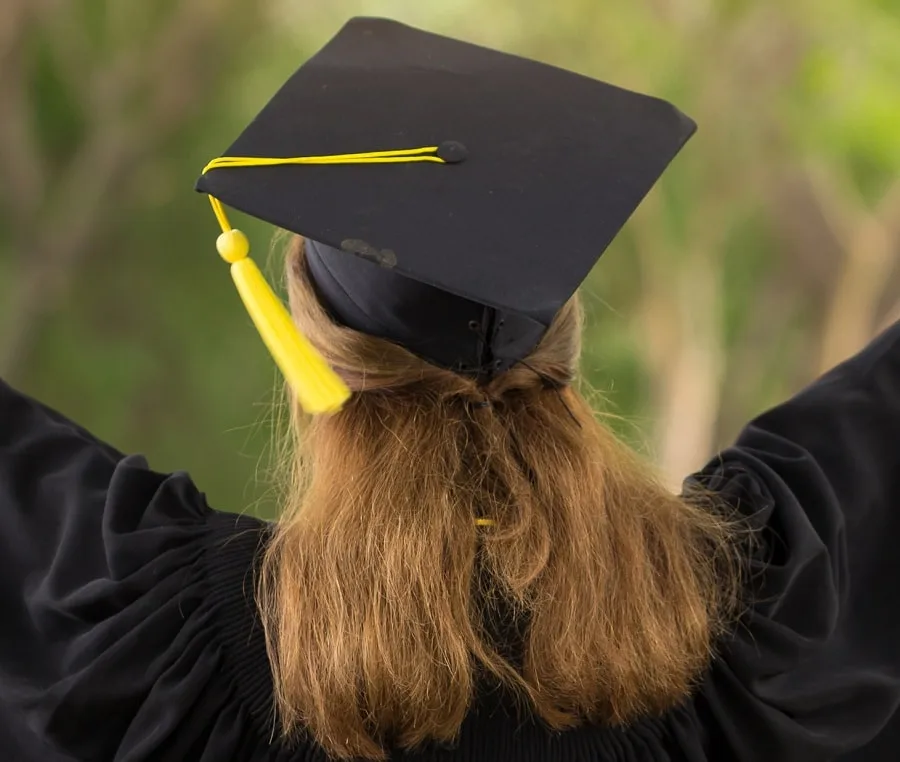 For medium or long hair, cut down on styling time by choosing this pinned back hairstyle for graduation.
Take a small section of hair from either side of your face, twist it, and pin it in the back below your graduation cap.
19. Long Balayage
To treat yourself to something really nice, try a beautiful balayage which will give your look depth and dimension.
It works best if your hair is already naturally dark. Then you can just wear it down and straighten or with waves.
20. Graduation Updo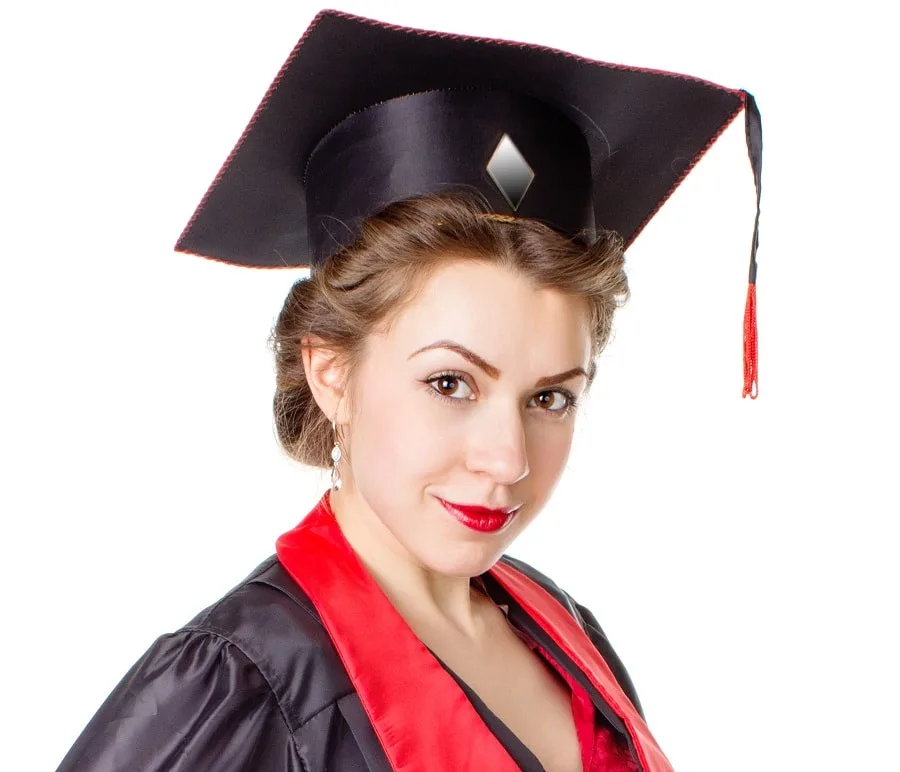 If elegant and sophisticated is what you're after in a graduation hairstyle, then you'll want to opt for this voluminous updo.
Loosely gather your hair into a high or mid-height bun and gently pull out small sections of hair all over to give it more texture and body.
21. Straightened Half Updo
For women with bangs who are set on wearing their hair straight on the big day, we recommend a classy half updo. Use a fancy hairpin or ribbon to clip your hair back instead of a boring hair tie.
22. Beachy Waves
Sultry beachy mermaid waves are never a bad choice of hairstyle, especially for graduation. Use a sea salt spray or braid your hair overnight and undo it in the morning to get the gorgeous texture in your locks.
23. Braided Pigtails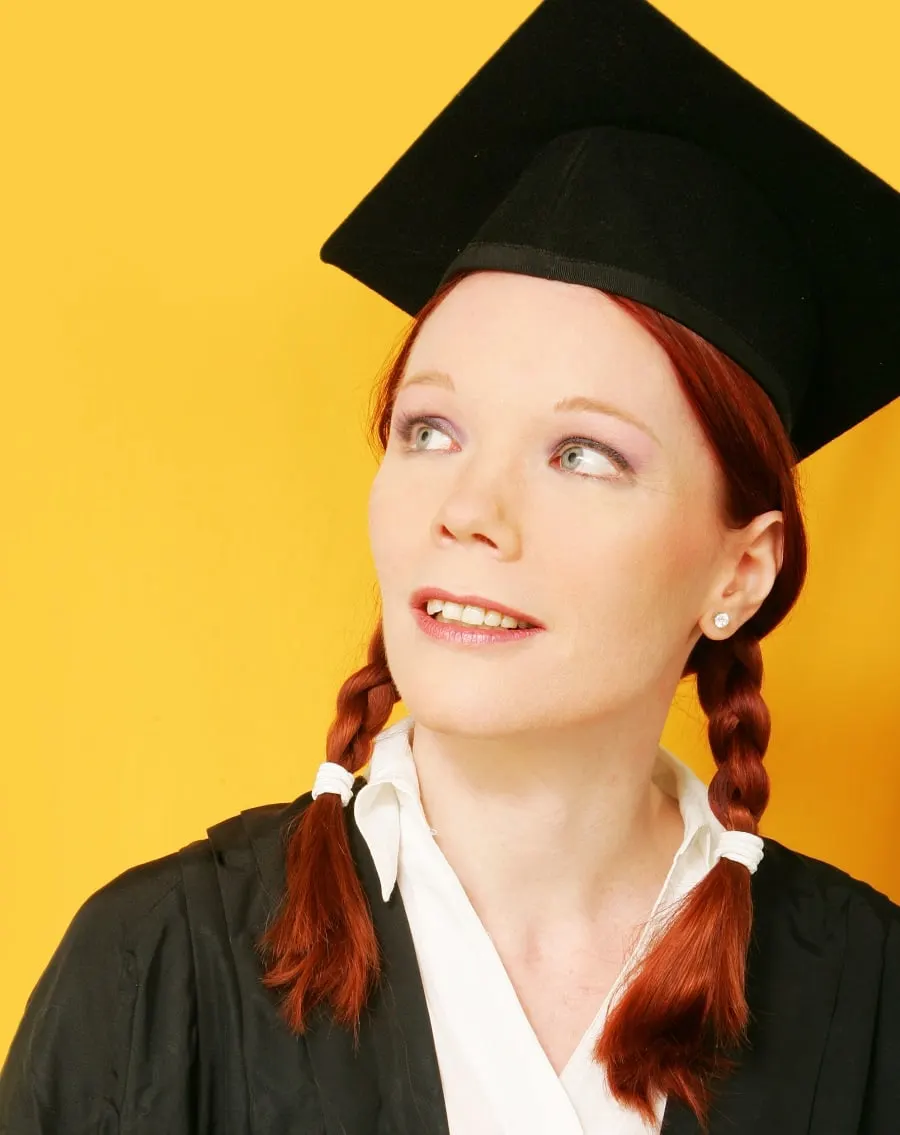 Braided pigtails are another low-maintenance hairstyle for women with medium to long hair that literally takes three minutes to do.
Part your hair in the middle or off-center and add a soft side bang. Secure the pigtails with a white hair tie to contrast and match your black gown.
So, which graduation hairstyle is your favorite? If you're having trouble deciding, we highly recommend practicing at least 2 or 3 styles before your big day.
That way you'll have time to decide, you'll know for sure how long it'll take to style, and you'll have time to pick up the right accessories if your look calls for them!