Grey hair color is gaining popularity fast. Just a few years ago women were fighting to cover up their silver locks any way they possibly could. Nowadays even the young girls are trying to add some silvery shine to their tresses. The main rule about dyeing your hair gray is not overdoing it. It looks stylish on younger women while older gals shouldn't always consider it. If you are over 40, the silver hair color will make you look older. However, if you still want a few silver stands, no one can stop you. There are plenty of ways to incorporate gray into different hairstyles. You can try subtle highlights or three-level ombre. Grey hair can look soft, appealing, extravagant, and respectable. So if you decide to dye your hair silver/grey, watch the below video that'll help you along.
Creative Grey Hair Color Ideas
Dyeing your hair gray can be outright scary. What if you start looking like an old lady? If you find a professional hairstylist, there is no way gray hair color can make you look worse unless you are over 40 and choose the wrong shade. There are many ways you can approach this color while still looking young and fabulous. It's a special shade that can make some women look amazing while others might hate it. We have made a list of 40 interesting ideas to gray hair color that can help you decide whether or not you are brave enough to try it for yourself.
1. Grandma grey color
This gray hair color is suitable for young girls only. Beware of this choice if you are nearing 30. The outright gray looks appealing and inviting on a young woman but will make an older one look like a grandma.
2. Purplish grey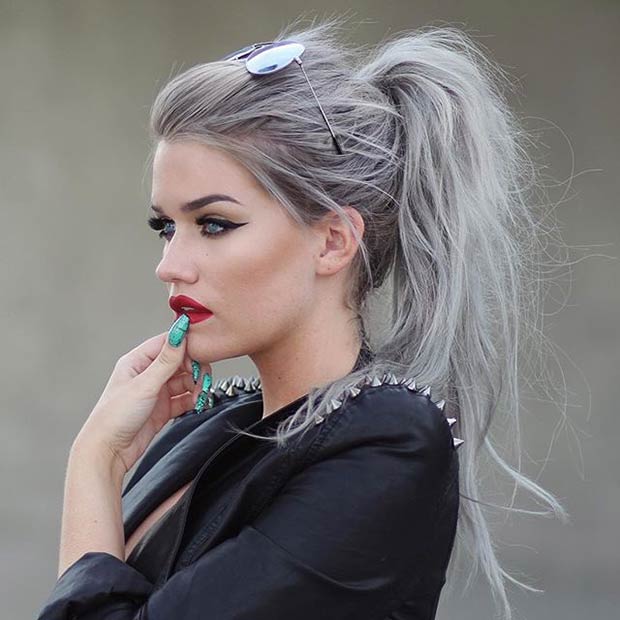 Adding a little purple into your gray locks will make them look special and will take the age out. Consider making purplish highlights on gray hair or gray highlights on purplish hair.
Balayage Plus Ombre Hair Color Inspirations
3. Blue moon
Blue moon gray shade will make you look as if you just stepped down from a black and white portrait. It's suitable for all girls up to about 40 years of age who have long locks. Short hair won't look as impressive.
4. Moonstone grey
Moonstone gray hair color is close to ash blonde. It can be a great choice for girls who want to make a statement. It looks especially appealing on long and wavy tresses with a touch of purple.
5. Grey highlights
Diversify your blonde hair with a few gray highlights. Make sure not to start dyeing near the roots or you'll achieve the grandma effect. Make a few on the sides and in front. Light blonde and gray go well together.