If you are in the middle of transitioning to grey hair, it's a great idea to go for some ombre highlights. Grey ombre looks stunning no matter what your age is! We are going to list some amazing examples to help you pick the right hair color.
Grey Ombre Hair
We have compiled a list of 32 grey ombre hairstyles for women to try in 2023.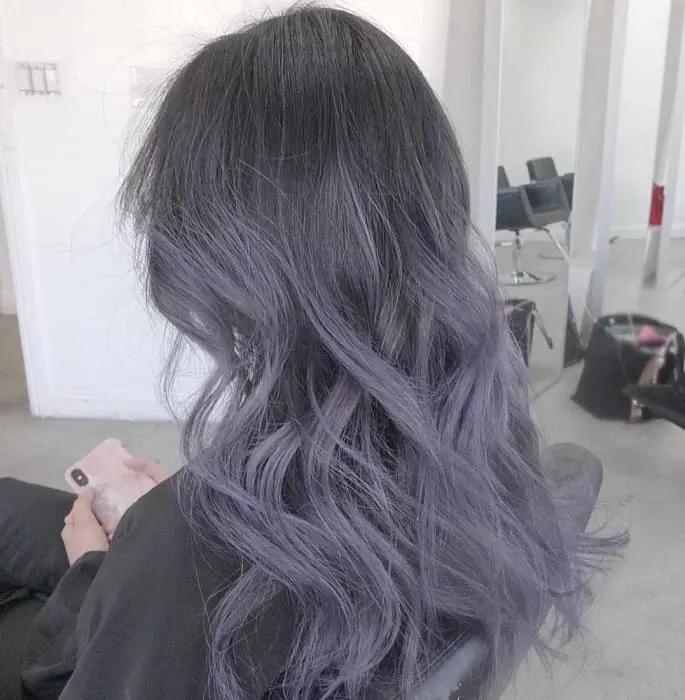 There are two shades of grey hair: dark and light grey. If you want your grey hair to point more towards the purple/blue under colour, just ask your stylist to give you a dark ombre hairstyle! Also, don't forget to curl it with a flat iron to get this exact same wave effect you're seeing.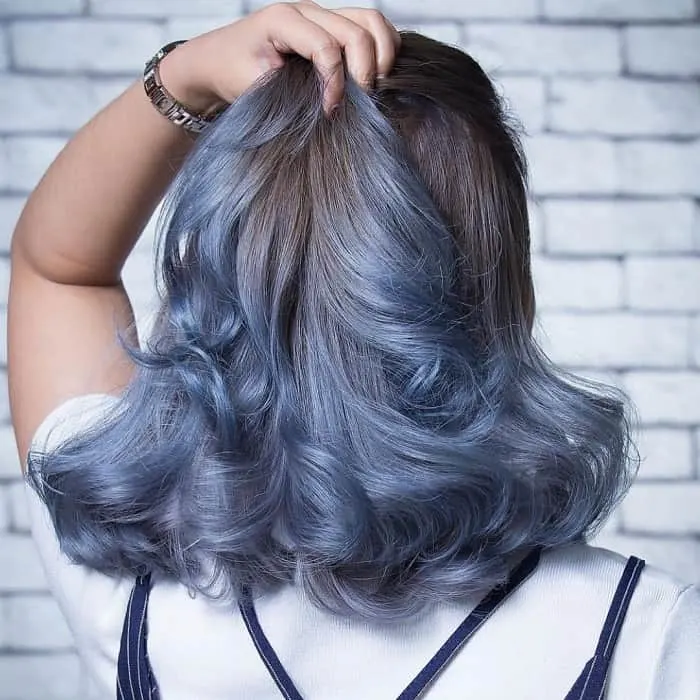 Getting this blue undertone on your grey ombre is actually quite easy. Of course, you'll have to bleach it and then dye it grey like you would do with any ombre of this hairstyle.
However, you will need to neutralize it with a purple shampoo (yes, the same you use when colouring your hair blonde!) Just make sure to leave it a little bit longer than necessary to stain the hair with a purple/blue tone and you're done! Then all you'll have to do is curl it with a big curling iron to get the chunky curls.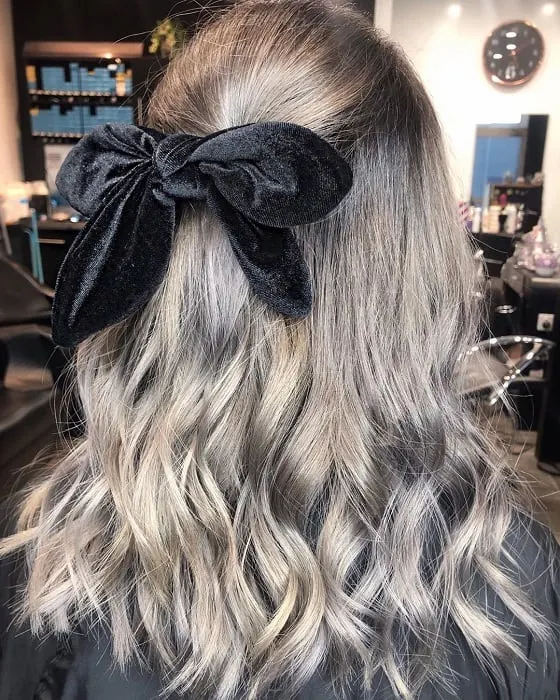 If you already have grey hair and you're looking for ways to style it, this is a great way to do so! First, make sure to curl with a flat iron and run your fingers through it to break them apart a little bit.
After then, comb the very top part of your hair to the back, just like in the picture. Finally, tie it up with a hairband and put a little hair bow accessory on top and you're done.
4. Wavy Ombre + Gray Highlights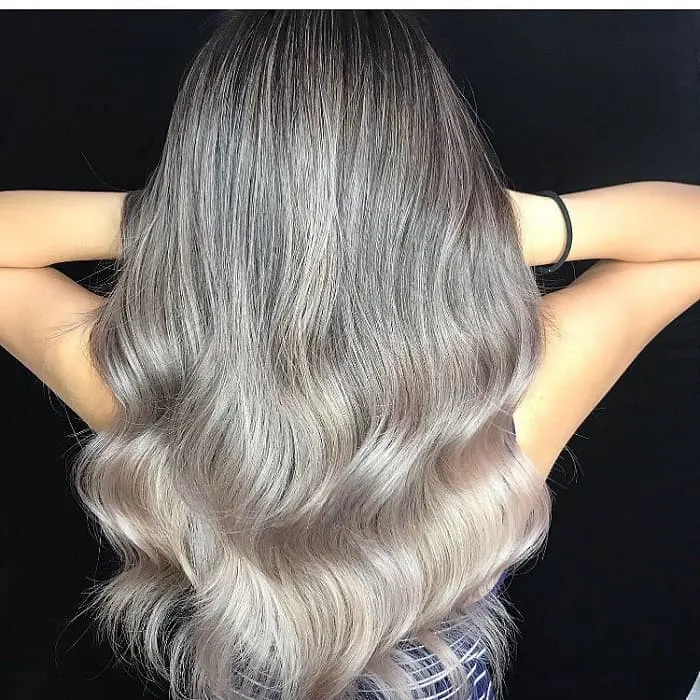 This is a classic gray ombre hairstyle! You need to ask your stylist to go lighter with the grey as they reach the tip of your hair to get this same hairstyle. Also, don't forget to ask for babylights that blend into the top part of your hair to make the whole look come together easily.
5. Grey Ombre On Dark Hair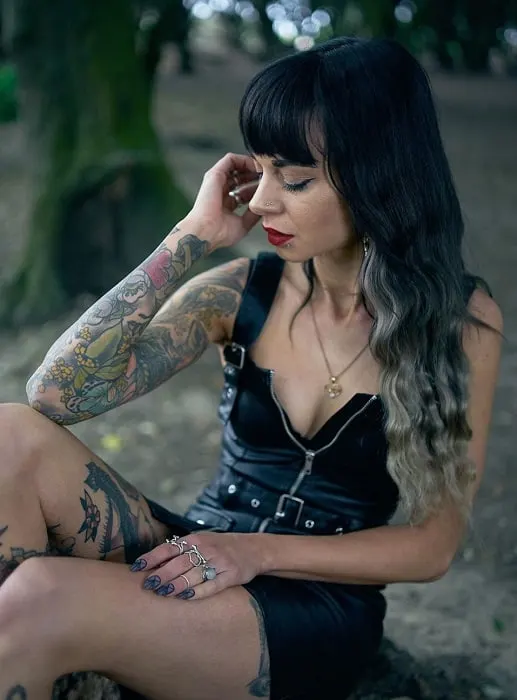 Don't wosomif you don't have naturally dark hair, you can dye it black (without touching the tips!) and then bleach it and dye the parts where the ombre will be, which means, the middle and bottom part of your hair.
Of course, you'll have to ask your stylist to cut down some blunt bangs that go across your forehead to go with the look. You might even add some grey bits to your bangs, but it isn't necessary.
Believe it or not your ombre -no matter the color- can still show off wearing braids, and this is an example! Of course, you'll have to dye your hair BEFORE getting braids, but other than that, it's a very simple hairstyle.
7. Classic Gray Ombre + Very Dark Roots
This is another classic ombre hairstyle which is very low maintenance and easy to get. You should dye your hair from the middle to the bottom going all the way with a very light grey hair color.
Once you're done with that simply curl your hair with heated curling rolls, let sit for thirty minutes, remove and it's ready!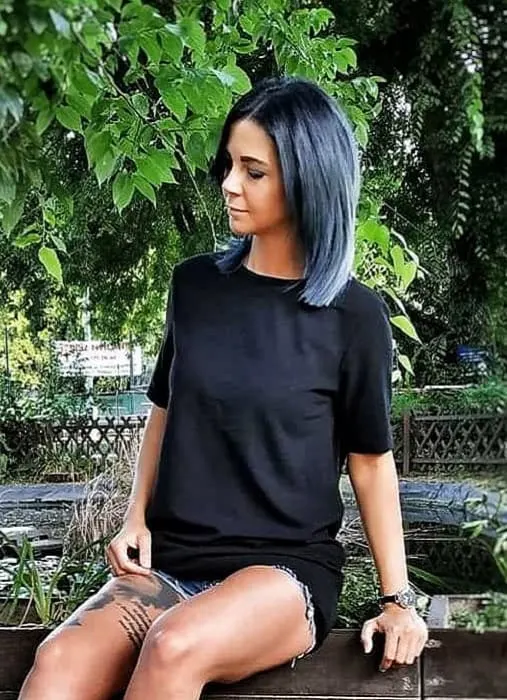 Grey ombre hairstyle doesn't look good only with long hair, but in short as well! You'll have to cut your hair down to your shoulders, bleach it and dye it grey (remember, this is an ombre, so you don't want to dye your WHOLE hair grey)!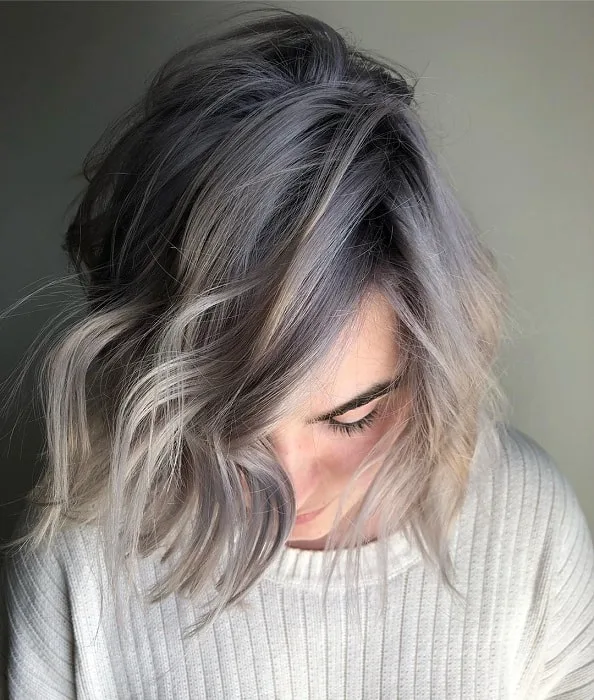 Believe it or not, you can get a very light, subtle ombre on your already mostly grey hair. To do this, you'll have to ask your stylist to really bleach and apply a very light subtle grey on the very tips of your hair so the contrast between the two shades of the same color can actually be seen.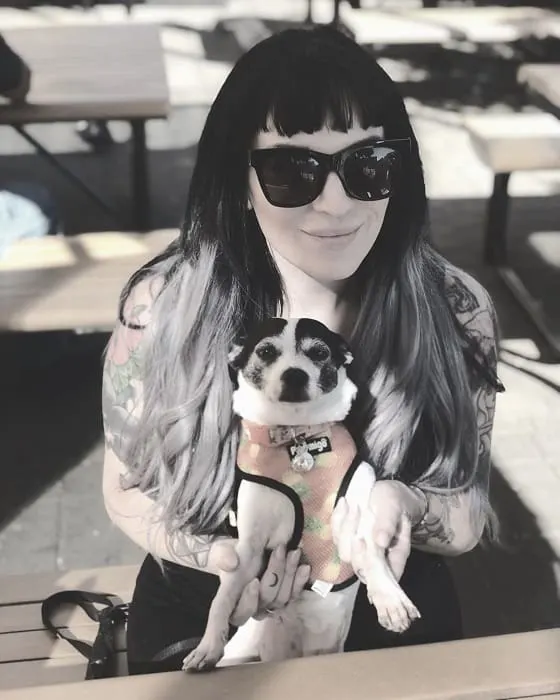 This is similar to the previous style, however, this time the grey part of your hair -meaning, the ombre- should reach past your shoulders and, instead of getting blunt bangs get some baby bangs (above your eyebrows) to go with your look.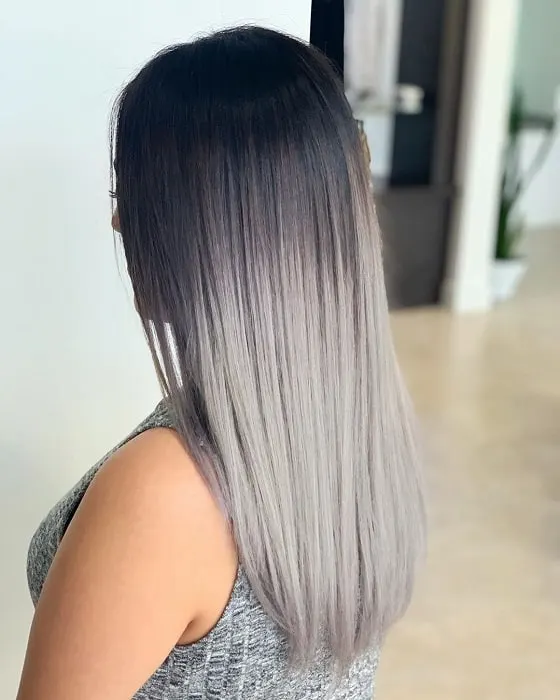 Another great way to let your gray color ombre hairdo shine through is by simply straighten your hair down! Of course, you'll have to do this with a straightening iron and apply some hair serum at the end to make sure your hair still looks healthy and shiny.
12. Mid-Parted Straight Ombre Hair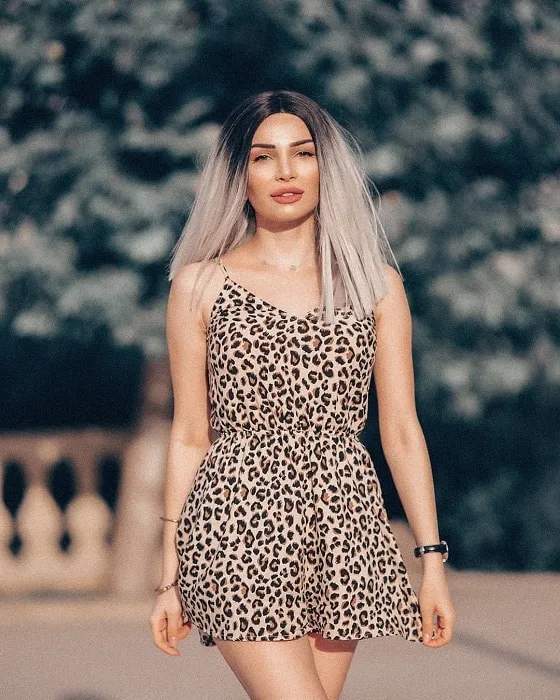 Again, this middle part hairstyle will work just fine even if you don't naturally hair dark hair. Just ask your stylist to keep the gray ombre low enough that your natural color is still showing so the contrast can be seen and then simply part your hair down the middle and straightening it down.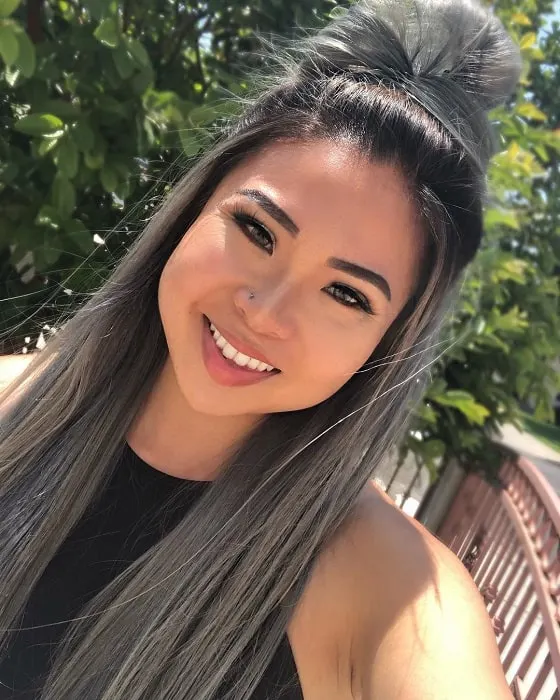 If you really, really want to show off the contrast between your grey and natural hair you can grab the top part of your hair, put it up into a messy bun and shake it up a little bit so you can let some strands of hair fall naturally into your face as well!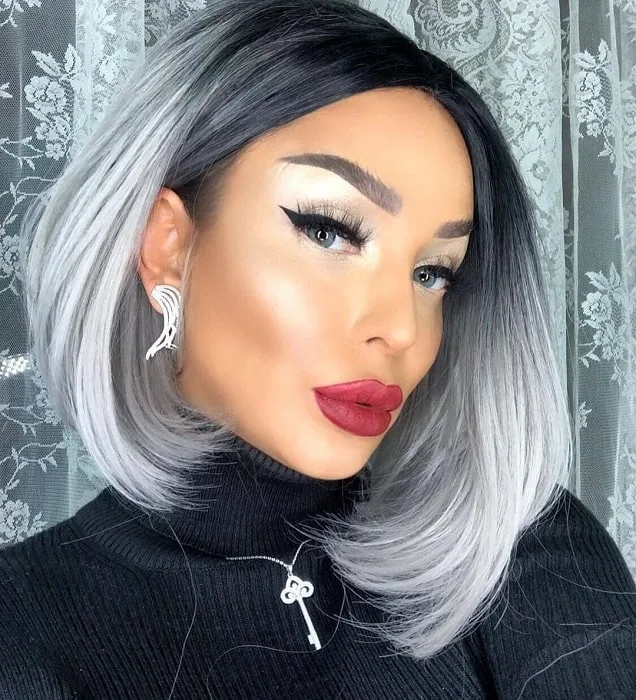 To get this hairstyle you'll have to cut down your hair past your shoulders and then bleach it and dye it grey to get the ombre! Last, but not least, separated down the middle and straighten it with the tips going inwards towards your face. Make sure to tuck one side of your hair behind your ear and you're done.
15. Wavy Short Gray Ombre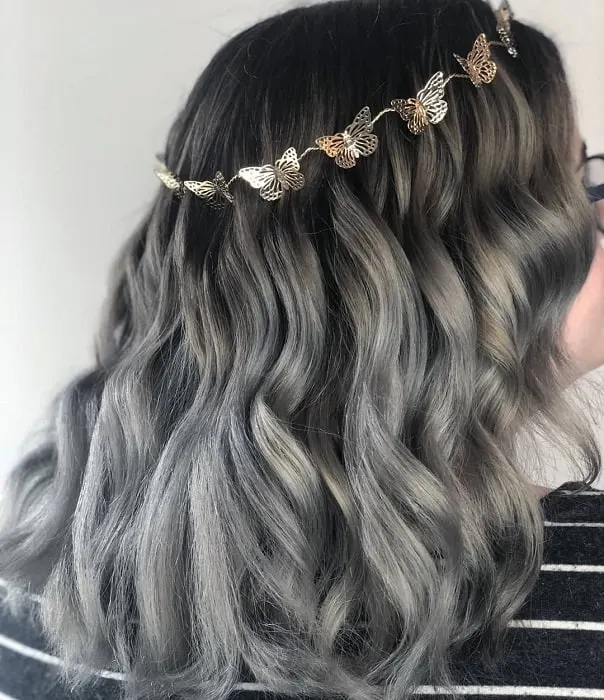 This hairstyle is extremely easy to do and looks great! All you gotta do is 'curl' your hair with a thin curling iron to get these waves. Also, add a little hair crown on top to really give it the final touch.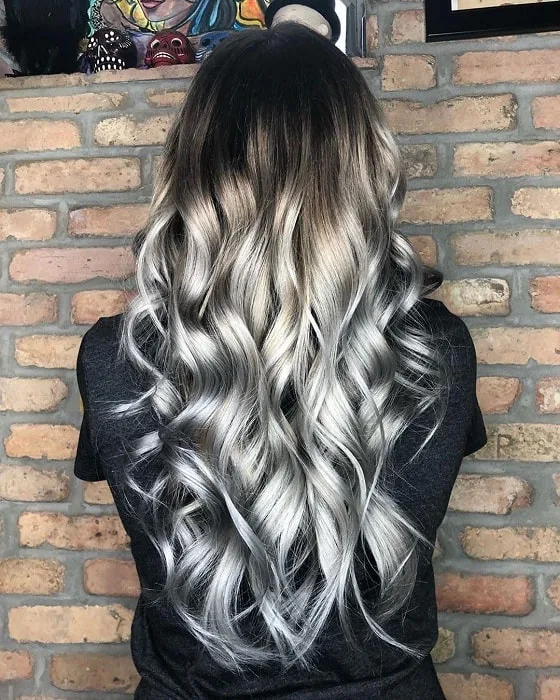 This is a simple yet classic gray hairstyle for women with long hair. Just ask your stylists to make sure the ombre slowly reaches almost the top of your head, with the lightest tone of grey on the bottom. Of course, ask for them to curl it so the colors can be appreciated.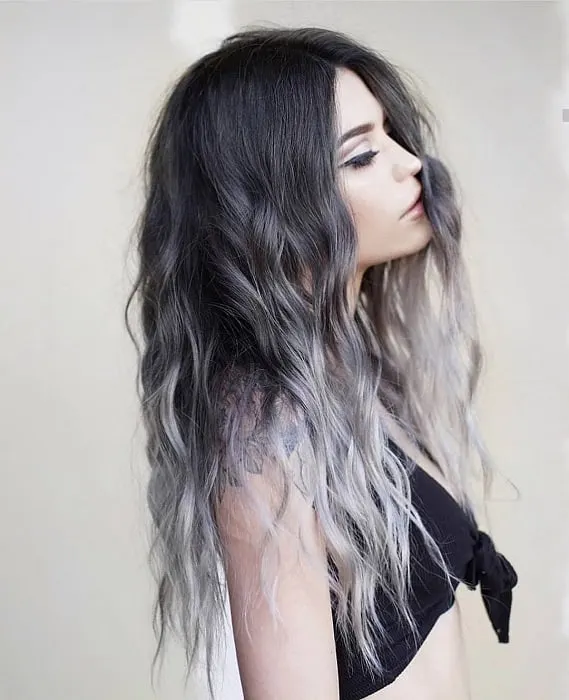 Another great way to bring out the contrast between the top and bottom part of your ombre hair is to get very soft beachy waves done with a regular flat iron, always remembering to run your fingers through to break them up apart a little bit.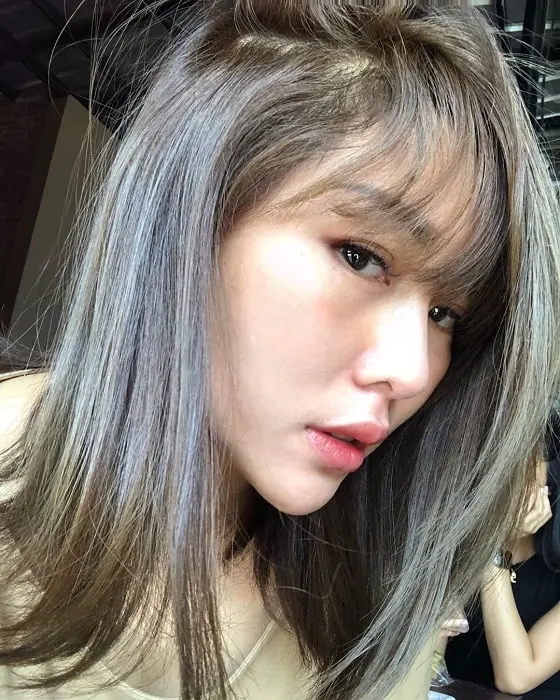 You could say this hairstyle is for those girls who want a subtle change. This ombre is done with a very light shade of grey and has gray highlights to blend with your natural hair. Don't forget to style to the side to go for that 'messy' look.
19. Middle Parted Ombre Hair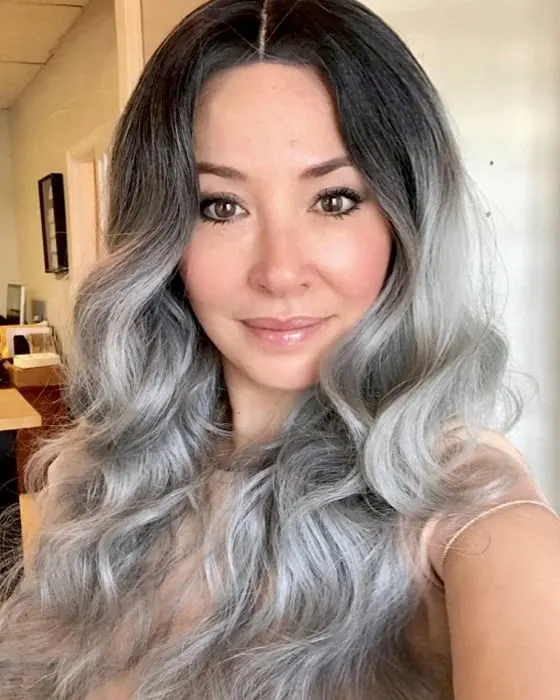 Continuing with the classic hairstyles with grey ombre, it's this one. First thing you should do is make sure the contrast between the top and bottom part is wide enough to show. Then simply curl it and part it down!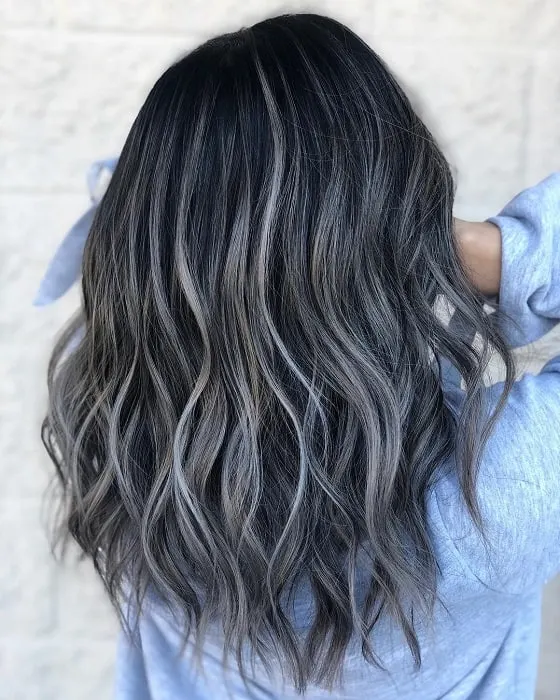 This is another grey hairstyle for girls who want a grey ombre but don't want a radical change. All you have to do is ask your stylist to go for a darker grey tone and then wave out your hair to help blend the colors.
21. Dark Gray Ombre Hair + Top Knot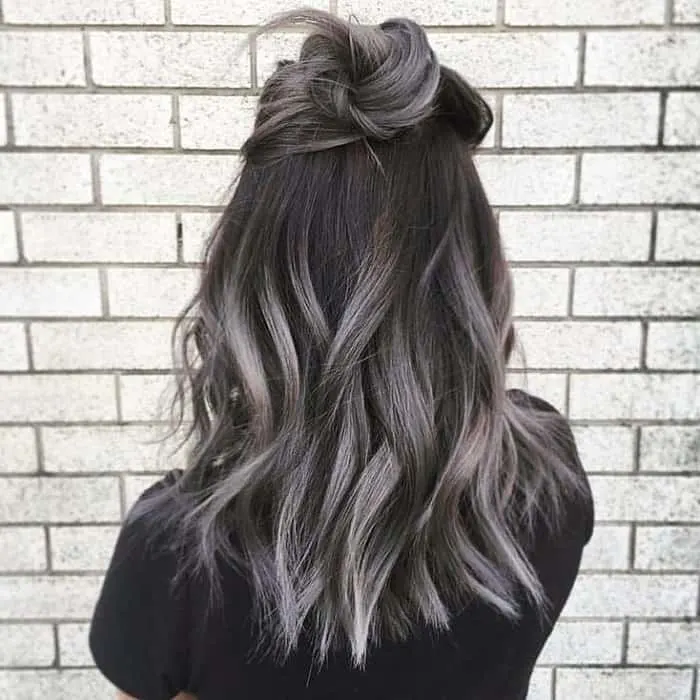 Getting this messy top knot hairstyle for women is really easy. Once you get your ombre done (with a darker grey tone), part it in half, and twist the top part into a top knot, securing it with a little hairband. You can also curl down the bottom part for some extra texture.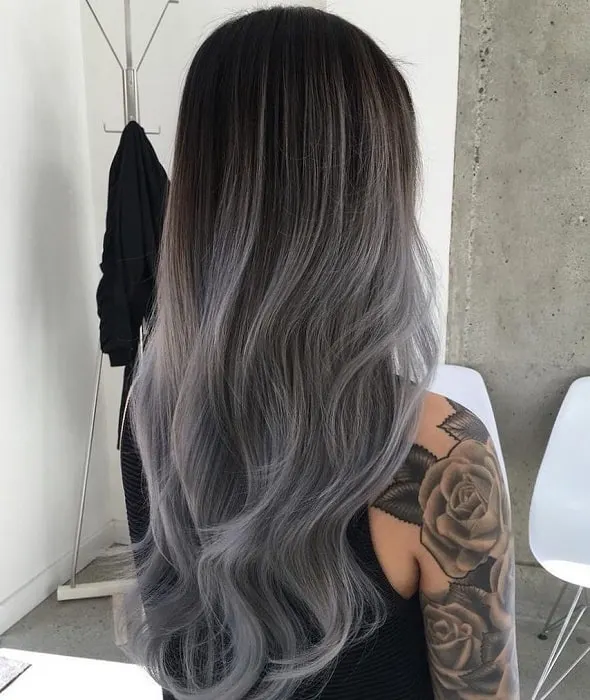 This is basically a light ombre hair but instead of straight it or curling it down, you can blow it with a blow dryer and a very wide round comb to get this exact same effect.
You can also ask your hairstylist to give you some grey highlights that go up the top part of your hair so it will help make the transition between your regular hair color and the grey color easier.
Amazing Grey Hairstyles for Women with Round Faces
23. Straight Dark Hair With Ombre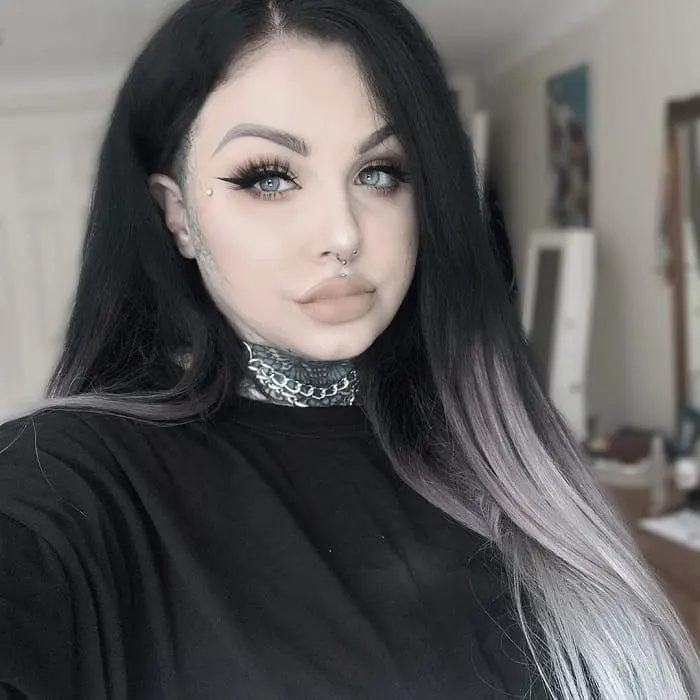 To get this hairstyle, your ombre should be done with a very light grey tone to really bring out the contrast between the two parts, remember not to use purple shampoo because you don't want the grey color with any under color. Straightened it all down and tuck one side behind your ear and you're done.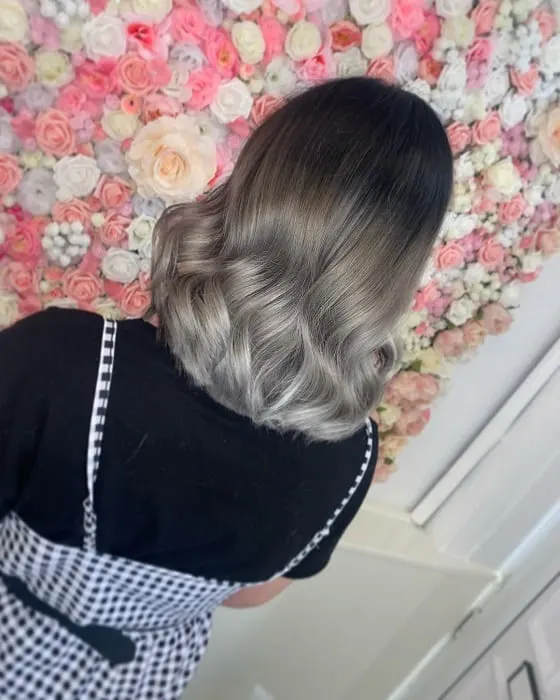 If you want this particular hairstyle, make sure to first cut down your hair up to your shoulders and then get the grey ombre done.
Again, the contrast between the ombre and your natural hair should be very visible. Last, but not least, blow it with a blow dryer and a round comb and push it back.
Last, but not least, this girl's short grey hairstyle is very easy to do! Once you get the ombre done you'll have to curl the tips of your hair with a flat iron and style one side to the back, securing it with a little hairpin of your choice and that's it!
If you want to go for the subtle bluish tone that's present in the picture you can do what we told you earlier and simply apply some purple shampoo and leave it a little bit longer than necessary so the color really sticks to it!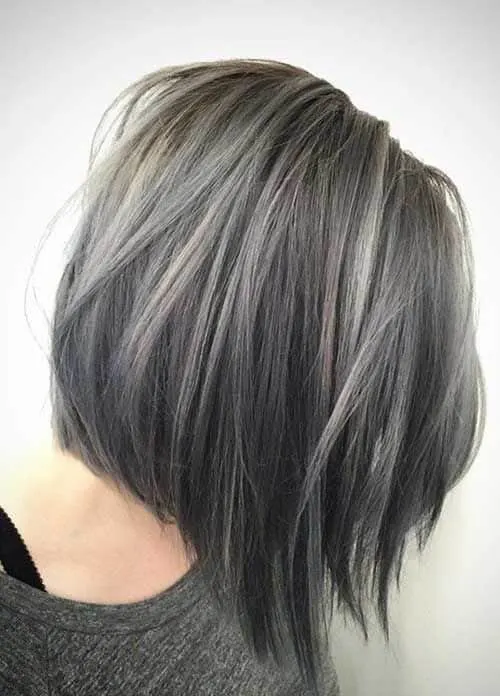 This short grey ombre hairstyle has lovely bangs to one side. The hair is short but not too short and seems fuller. It adds more detail and sharpness to your facial features as the hair falls along the side of your face very nicely.
The hair goes shorter towards the back of the head and there are distinct layers that make the overall look even cooler. It is a must-try for a perfectly stylish look.
Pixie short hair looks perfect with grey ombre as all the details appear more vividly. The hair flying about in every which way looks stylish, young and carefree. The ethereal touch to the hair by grey ombre makes you look straight out of the pages of a fairyland book.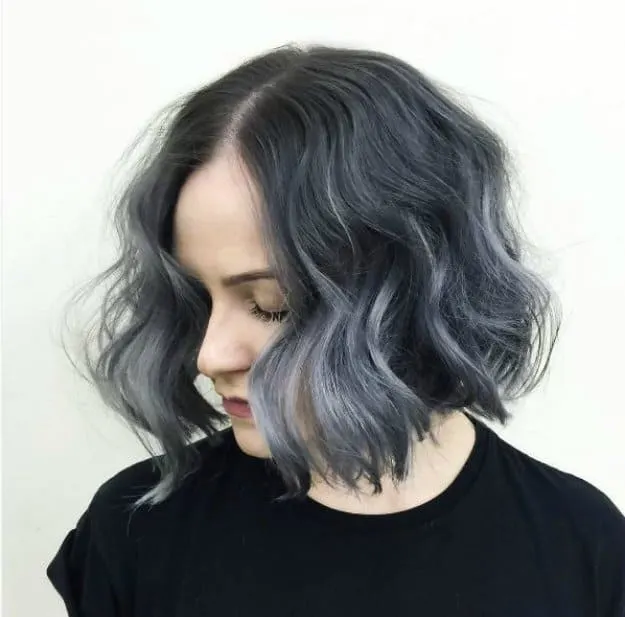 This short grey ombre bob is perfect for ladies over 50 who want to look sophisticated yet fashionable. The hair has natural bangs and gets longer as you go backward. The overall look is very gentle, simple and elegant.
If you want to have short grey ombre hair, but want to keep a hint of your natural black hair too, this is the best choice for you. The side bangs fall below the neck and merely touch the shoulders. The front is chopped short and the face is framed perfectly.
30. Half Shaved Short Grey
This grey ombre is particularly great for older women with short hair as they can look great with the sides of their heads shaved. You can even add a bit of pixie styling to it to avoid looking too intimidating. This one is an absolute stunner as it has so many details and features to it.
31. Shadow-Root Hairstyle
This shadow root hairstyle for short hair looks amazing with grey ombre as the front of the hair is slightly longer. Towards the back, the hair starts getting shorter and there are a lot of layers to it.
The lazy waves of this shadow root style are perfect for girls who love trying new and cool fashion trends. You can even add a dab of some other color to this one and look epic.
32. Grunge Style
This grey ombre with short hair is a fun yet simple and gentle look that is perfect for young women. The hair falls down the sides of the face in gentle waves and has a darker shade of grey which helps in bringing out the eyes and other facial features more.
And that's it! If you have been thinking about getting grey ombre hair, this is your opportunity to do so. You've got 25 different ideas to try this in 2023, just pick the one you like the most and get going!