Grey hair used to be the scraggly, drab domain of bad witches and frumpy old neighbors, but now it's a style trend for women of all ages. Some young ladies with oval faces even clamor to hairdressers begging for greyish tresses. Well, if you have an oval face, you're so lucky that you'll be able to sport almost every hairstyle out there.
Though many people turn grey with age, it's possible to speed things up with the help of a skilled colorist. Grey can add depth and interest to create a glamorous new look.
If you have an oval face and wonder if you can pull off something new, check out these grey hairstyles!
Hairstyles for Women With Grey Hair & Oval Faces
Shaggy cuts, layers, and bangs can work wonders for women with longer, narrower faces. If you're unsure what that looks like, check out these grey hairstyles for oval faces.
1. Grey Hair With Headband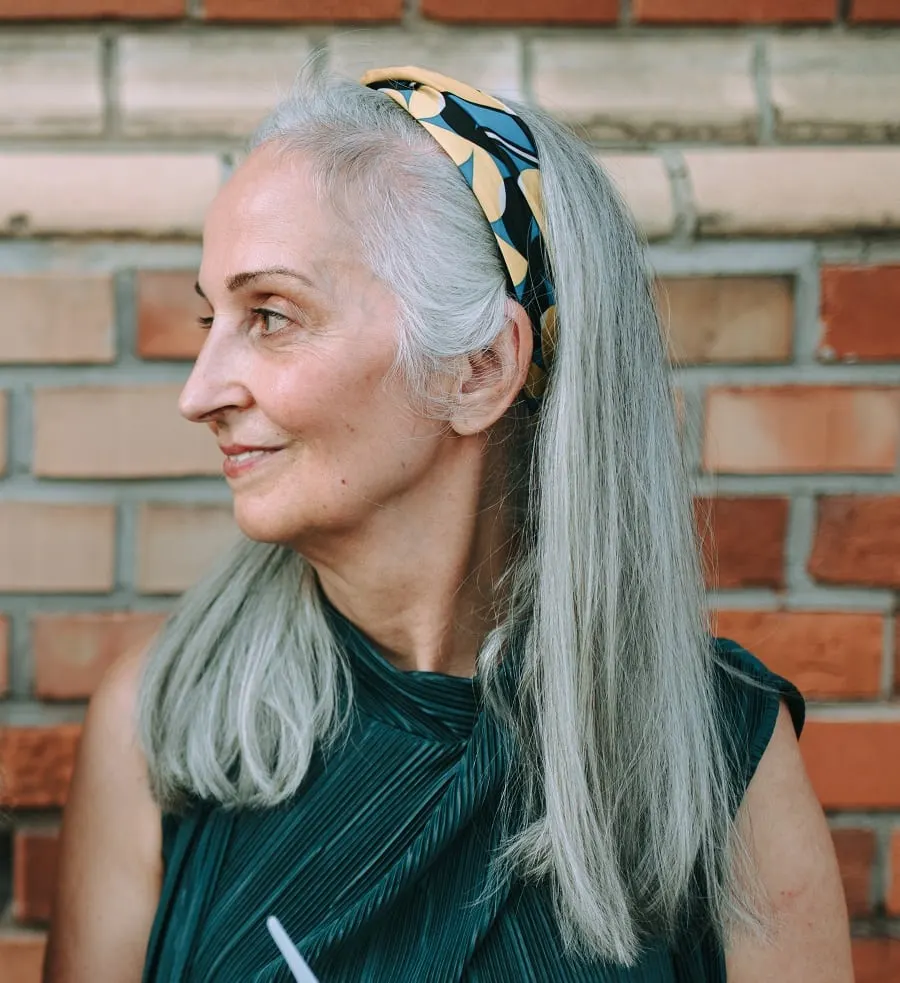 Pairing your grey hairstyle with a soft blue undertone gives you the highlighted effect you always wanted. In addition, your long hair can be pushed out of your face with a trendy headband to complete the look.
Make sure you take care of the blue undertones with purple shampoo not to let the color start fading to green.
2. Grey High Bun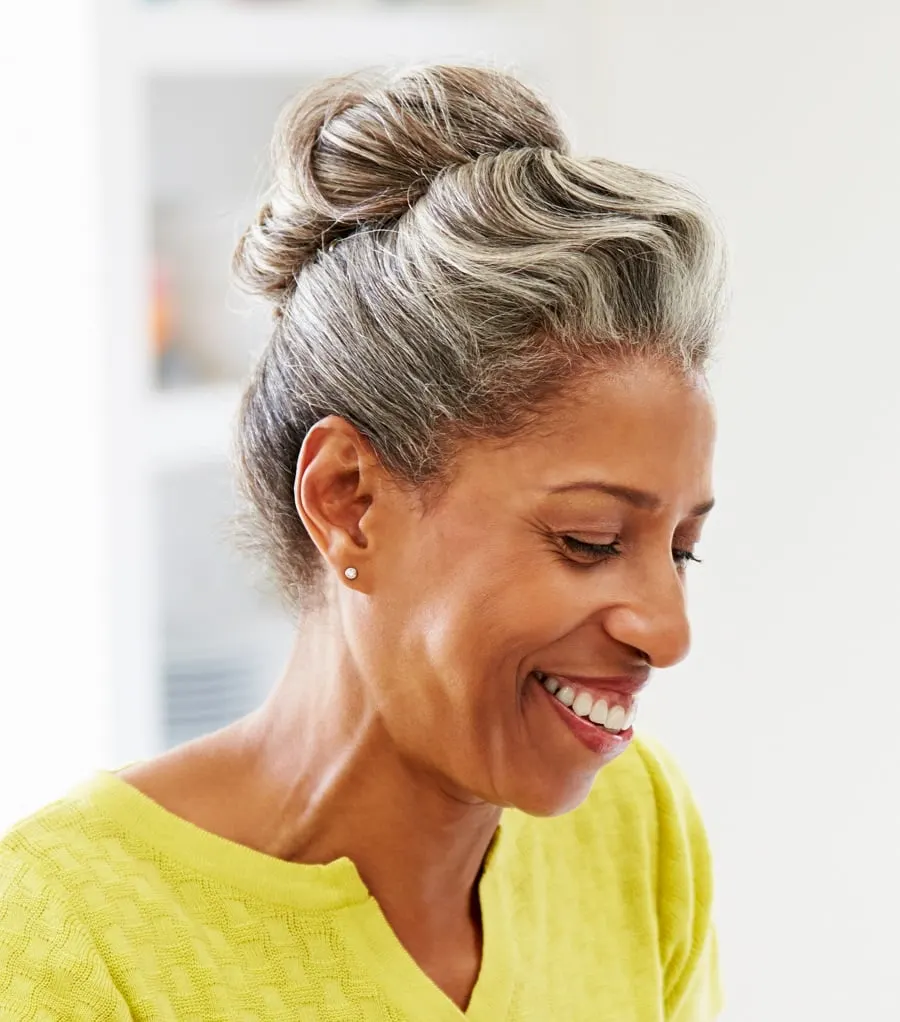 Whether you have medium-length or long grey hair, you can put a drastic bun on the top of your head.
A bun is unusual for women with oval faces, but adding a little volume around the crown can make this trendy style work for anyone who wants the hair out of their face.
3. Grey Curls With Bangs
Grey hair and side bangs can give your curls a unique look that stands out. Women with shoulder-length grey hair would love adding a side bangs to their hair. Pairing your curly hair with sweeping side bangs will give your look some dimension.
You can also use a hair dryer to make bangs wavy to add volume.
4. Bouffant Ponytail
Bouffants offer a classy look while setting off your oval-shaped face. This grey ponytail paired with curtain bangs frames your face to give you an elegant look.
Achieve this look by teasing the back up of your hair to add height.
5. Long Straight Hair and Bangs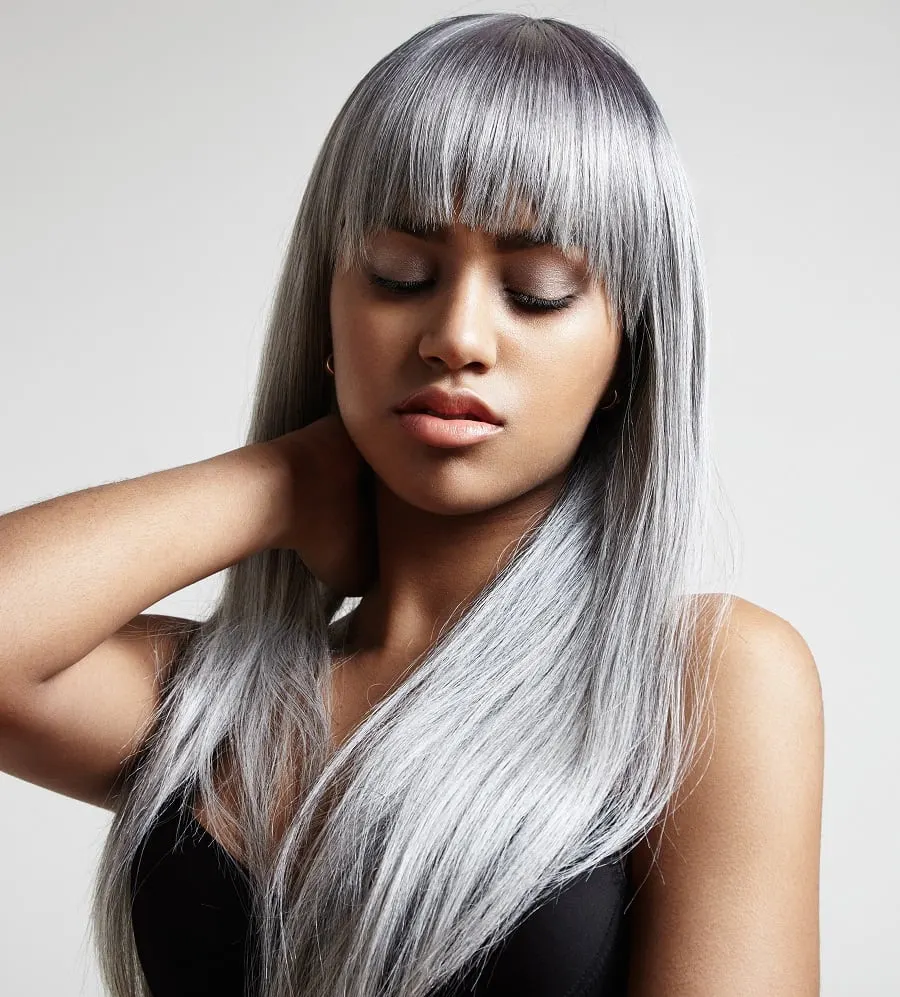 Bangs are the perfect style to get if you have an oval face. Women of any age can pull off bangs because they create balance and shorten your forehead to make your face look a little rounder.
Pairing it with silver grey color is the perfect balance for your hairstyle.
6. Box Braids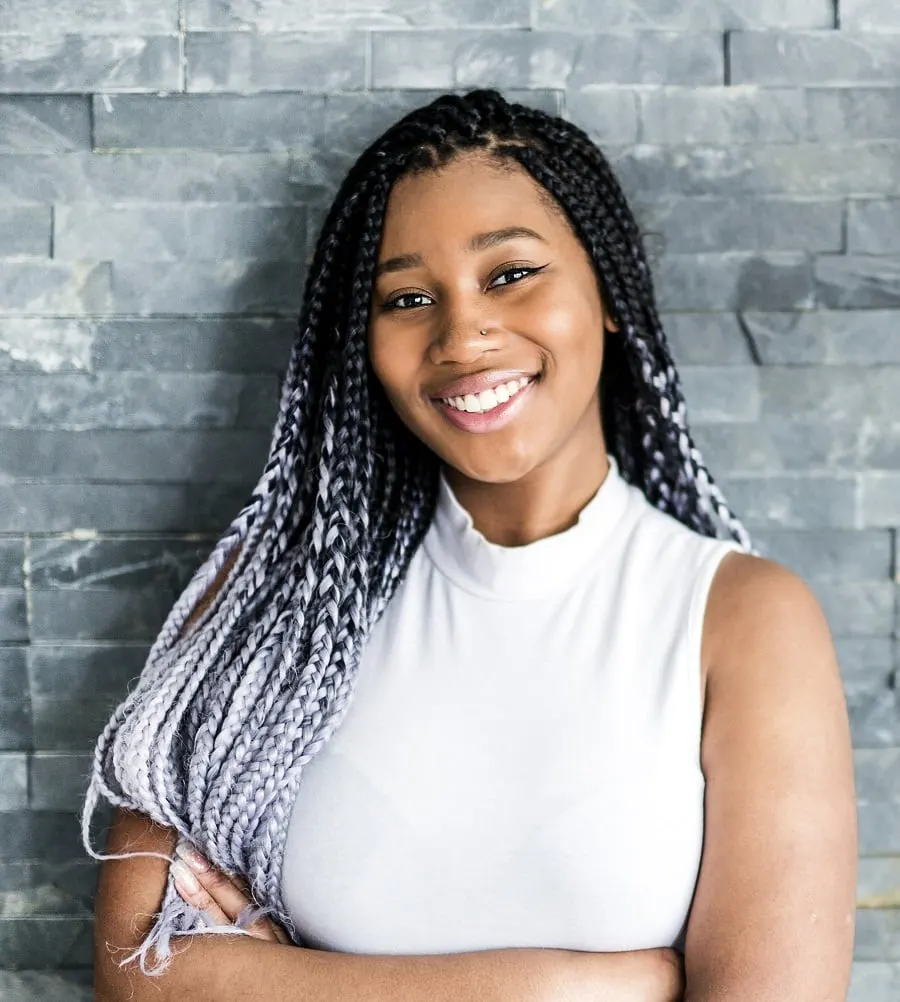 Many young people are dyeing the ends of their hair grey or adding extensions to create an ombre effect. This style is optimal for people who have long, thick hair.
In addition, long box braids are the best style to flatter darker skin tones.
7. Short Pixie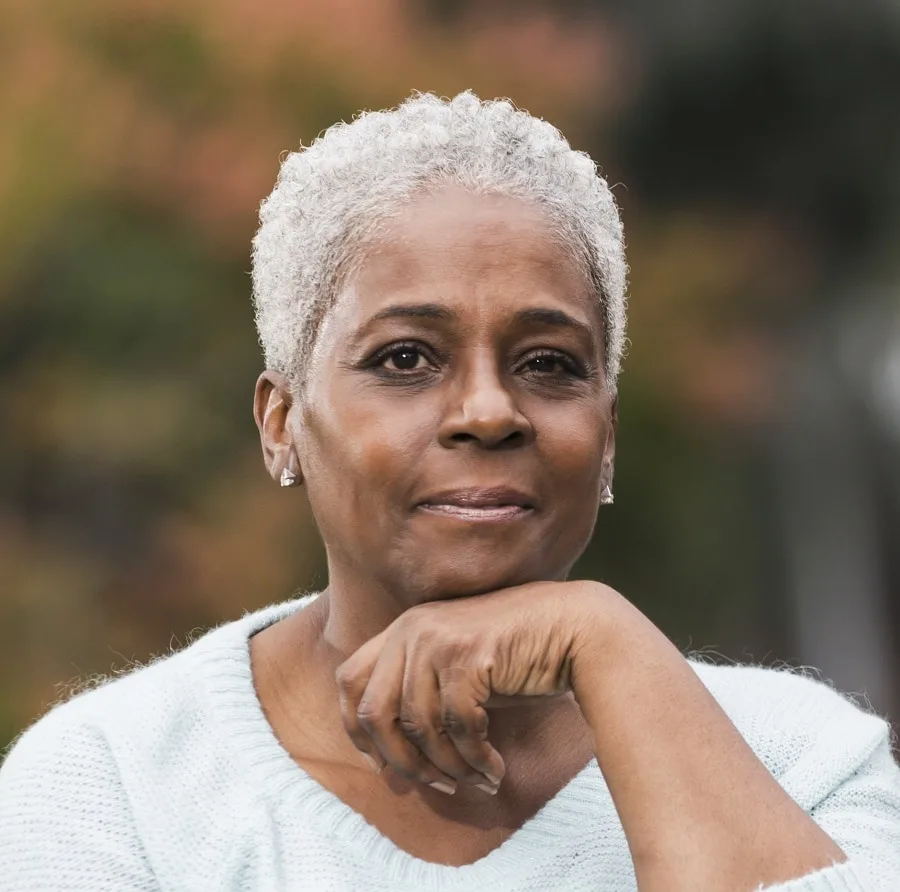 This short grey hairstyle will be a bold pick for any woman willing to go super short. Embrace your natural greys and whites by showing them off in a stunning pixie.
You can even leave some texture on top to create an edgier feel.
8. Layered Curly Hair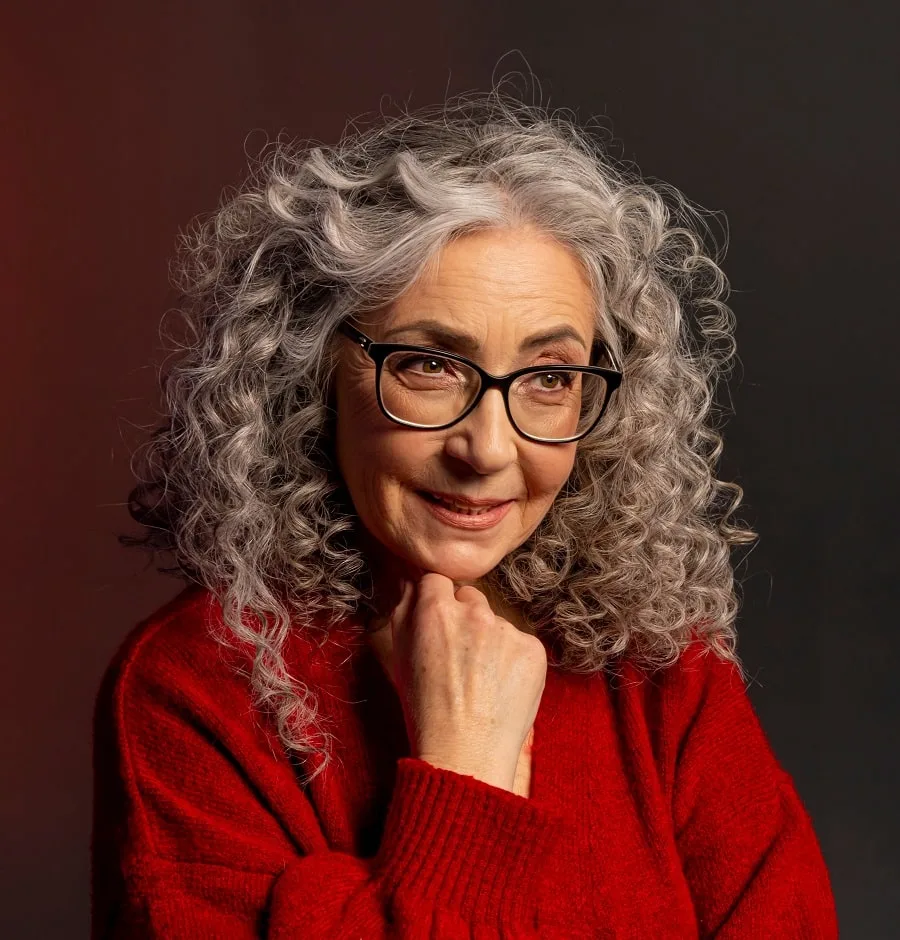 Layers make curly hair easier to manage for any length of hair, especially when you wear it longer. Women with oval faces get the volume boost from layered bouncing curls.
Try a crooked part to add extra volume at the top of the head for a more balanced look.
9. Curly Bixie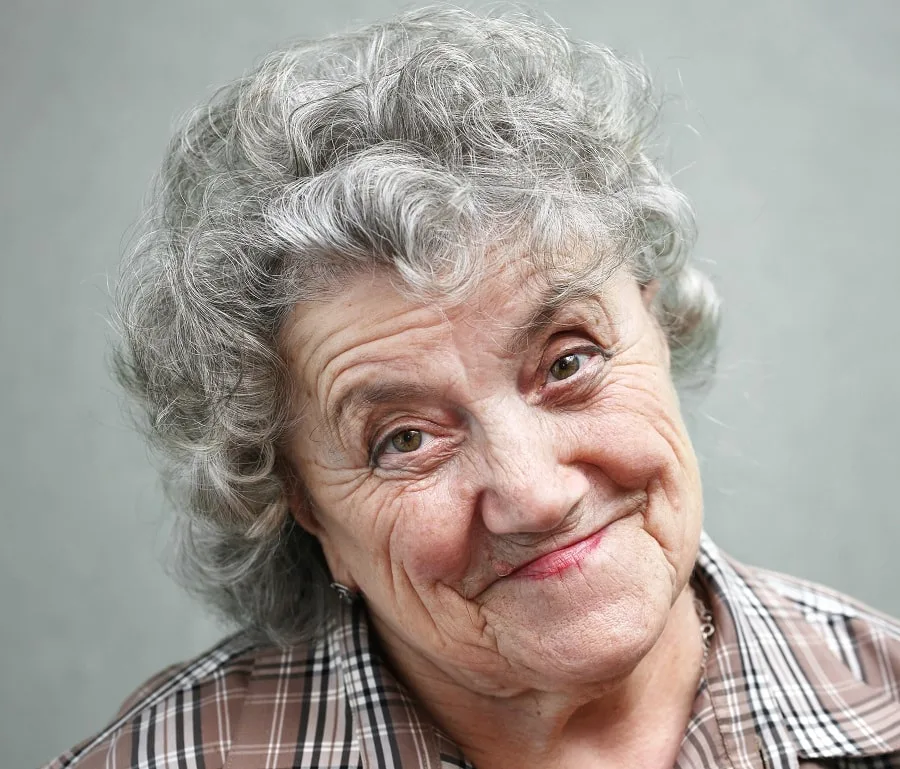 A curly bixie cut is suitable for women that don't want to spend a lot of time on their hair. Use limited products to create a touchable look with silky curls that frame your oval face.
You can get this grey look by layering your curls on the top and sides but cutting them close at the nape of your neck.
10. Choppy Pixie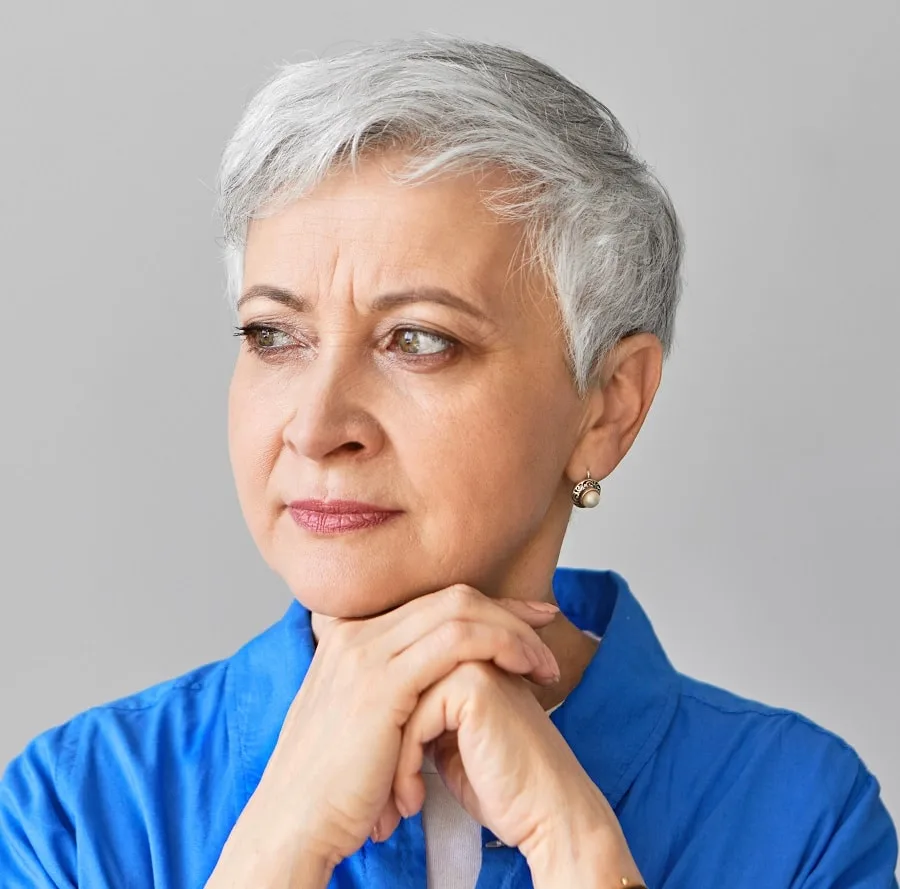 Short, choppy layers sounds like a nightmare for women with oval faces and grey hair. However, keeping the top a little longer than the sides creates a volume that works.
Consider sweeping hair towards the front in wispy bangs and trimming it closer around the ears.
Whether you're young and dyeing your hair, or you're older and embracing your transition to grey hair, there's a fitting style for everyone.
As you can see above, there are many grey hairstyles for women with oval faces that can help you stand out from the crowd. Start experimenting with different styles and take advantage of those that look lovely with an oval face.