The grey hair trend has captured fashionistas' attention, including the brides. So no one is surprised to see both young and mature females with grey hair today. But the grey hair craze has also inspired many older women to embrace their grey hair.
The shades of grey hair that are most attractive today range from ash blonde to silver; we love it!
So, if you're rocking grey locks and need a little inspiration for wedding hairstyles for grey hair, we've got you covered.
Stunning Wedding Hairstyles for Brides with Grey Hair
What we love most about trendy grey hair color is its compatibility with any cool-tone hair color, including pastel shades, natural blondes, and brown shades.
And don't worry; grey wedding hairstyles can be pretty simple to achieve – soft curls, light waves, straight strands, or a classy updo will do just fine. Keeping it simple won't distract from your eye-catching, trendy hair color.
No matter your age, if you love grey hair, this is your ultimate resource for wedding hairstyle inspiration!
1. Grey Ombre Wedding Hairstyle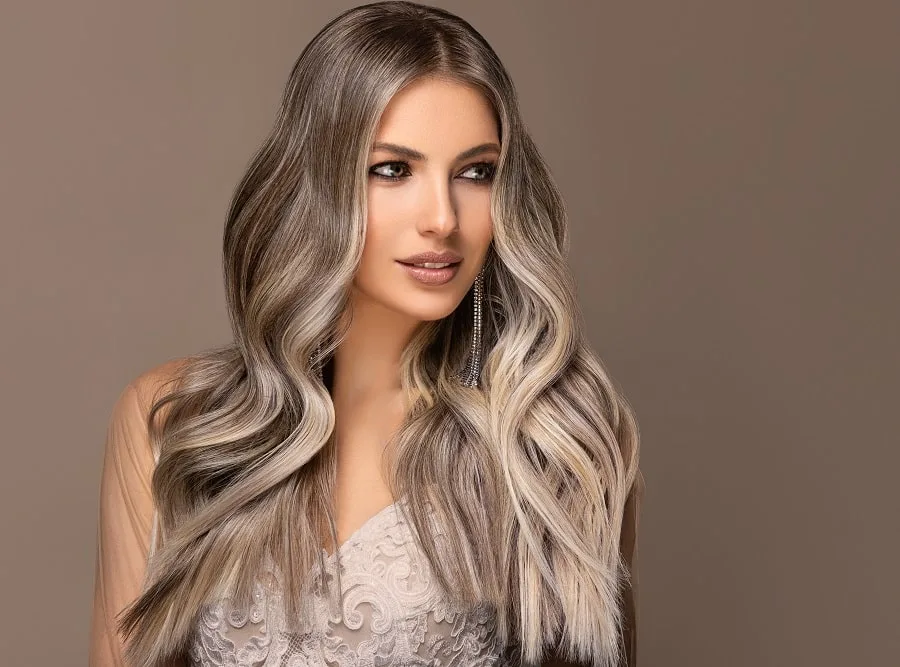 Iconic grey hair colors can be an eye-catching match to naturally dark hair colors, whether as highlights or Ombre. There's something glamorous about long hair with soft curls and the prettiest Ombre grey hair. It's the perfect wedding hairstyle.
2. A Classic Bridal Updo With Tiara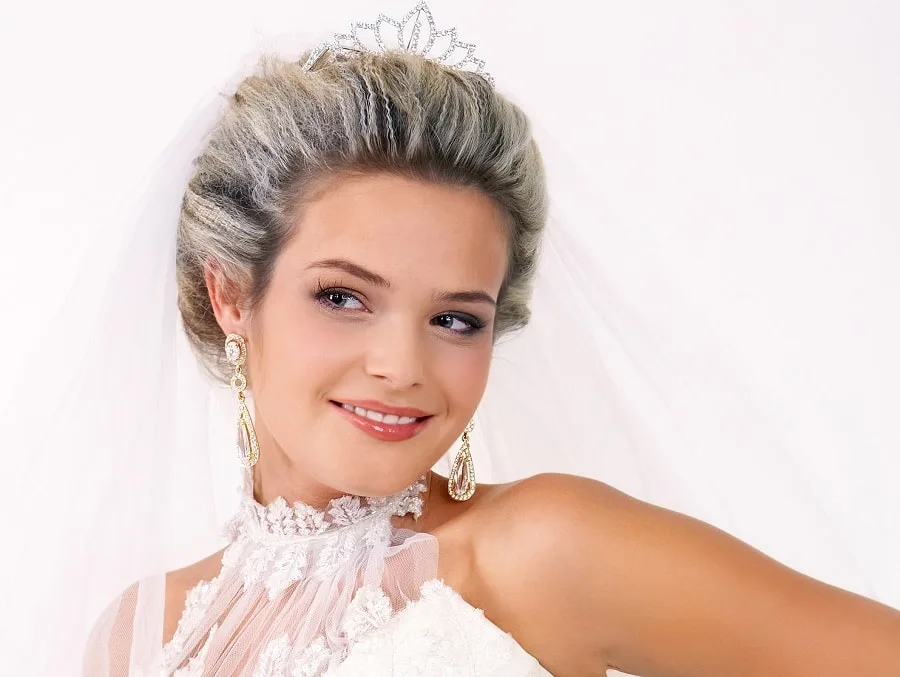 If you're wearing a wedding dress with a high or decorative neckline, a classic updo is the way to go. We love how this hairstyle has lots of volume, creating an elegant look and topped off with a beautiful rhinestone tiara and glamorous chandelier earrings.
3. Traditional Wedding Updo
Another glamorous grey hairstyle for brides is a bouffant style updo with soft blonde highlights. This elegant wedding hairstyle has the bride's wispy bangs swept away from the face to the side, allowing her natural beauty to shine.
4. Ultra-Glam Sleek Wedding Up For Grey Hair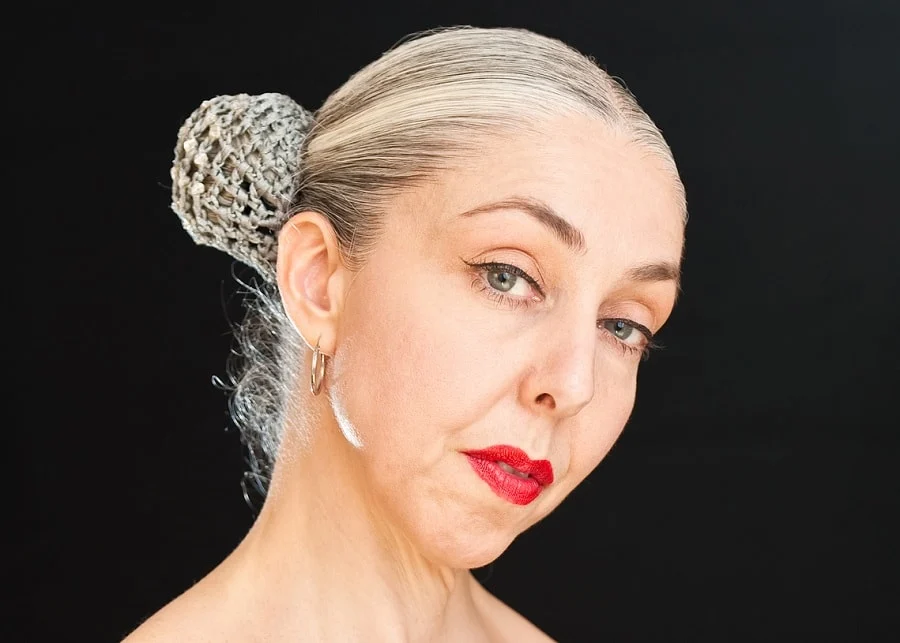 A sleek, pulled, back updo is perfect when you have attractive features such as high brow and cheekbones, beautiful eyes, and stunning salt and pepper hair. We love how this bride added a silver net over her bun as her wedding accessory, and of course, the red lips complete the look.
5. Natural Curly, Long Grey Hair
When you have naturally curly grey hair, celebrate it on your wedding day—no need to have a fancy bridal hairstyle when your locks are soft and curly. So, on your day, let those curls and your soft grey hair flow.
6. Grey Pickie Bridal Hairstyle
If you love a short and sassy hairstyle, rock it on your wedding day. Silvery hair, short bangs, and a delightful pixie cut are beautiful.
Top it off with a delicate flower in your hair and fun earrings, and you're done. Easy, peasy, and effortless, allowing you to be your natural self.
7. A Dark Silvery 1920s Wedding Hairstyle
Now, if you want to channel your inner vintage vixen, you can rock an updo with large pin curls. This is a glamorous wedding hairstyle for salt and pepper hair, but what we love most is the dark silvery color.
Paired with a dramatic smoky eye, this bride will have all eyes on her!
8. Dramatic Black & Silver Ombre Wedding Hairstyle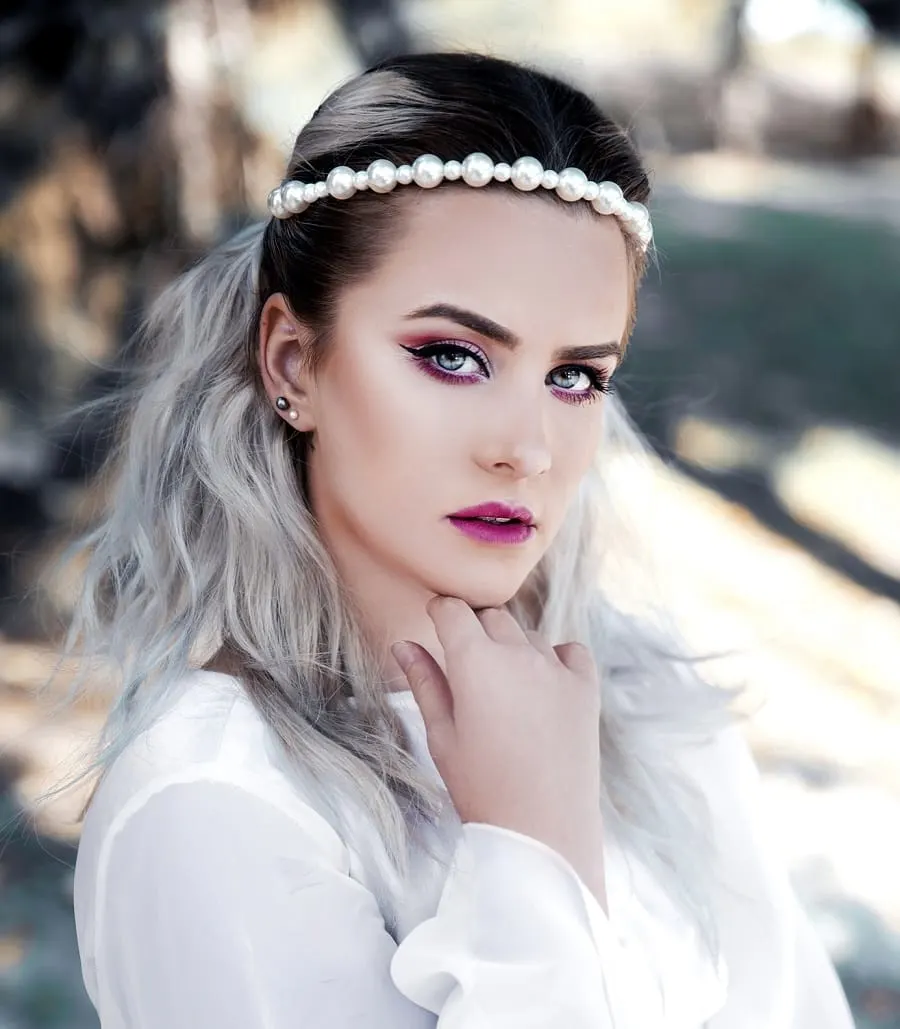 If you want a dramatic and glamorous wedding hairstyle, this is it! We love how the bride's hair on her head is black, and then it transitions to beautiful soft wavy grey hair. It creates a romantic yet dramatic grey hairstyle.
9. A Loose A Messy Updo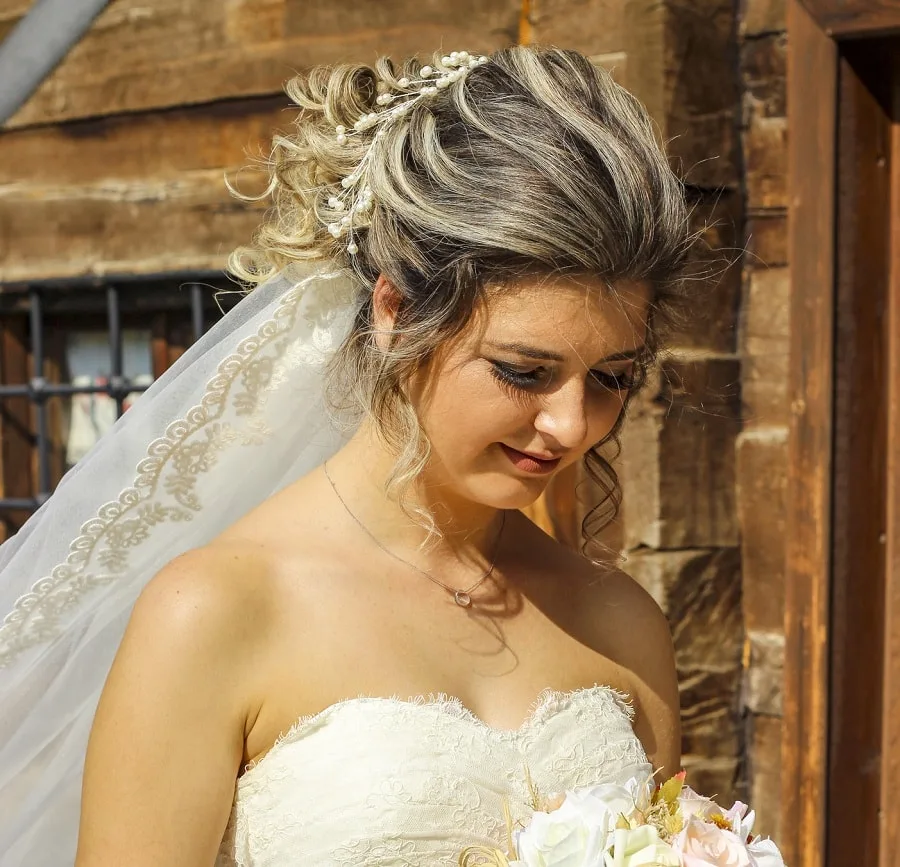 We love this traditional grey wedding hairstyle that's loosely pinned up. Her hair is pulled up and away from her face in a loose updo, with tendrils of soft curls and a pearl barrette at the back with flowing curls and a beautiful veil pinned under her curls. It's a classic wedding look that will never go out of style.
10. Grey Ombre Fishtail Braid Wedding Hairstyle
Soft grey hair that transitions into a light brown and then blonde is trendy and stylish. It's a beautiful grey fishtail braid hairstyle for the wedding day that has been styled with some volume on top and a glamorous fishtail braid. It's classy and elegant and will indeed WOW your guests.
11. Ethereal Grey Wedding Hairstyle With Grecian Headband
This beautifully ethereal wedding hairstyle is perfect for outdoor or garden weddings. The bride has her hair color in a stunning shade of light grey that gently blends into a soft blonde color at the ends.
It's a simple straight hairstyle with a gentle curl at the end and a metallic gold Grecian-inspired leaf headband.
12. Romantic Grey Bob
There is something so pretty about a soft and light grey hair color, and this bride is indeed radiating.
Her hair is loosely styled with wispy pieces around her face. It's ethereal and looks stunning with her soft makeup. This is one of our favorite wedding hairstyles for grey hair.
13. Grey Wedding Updo With Pin Curls And Pearls
If you want a whimsical grey bridal hairstyle, go with a full updo with pin curls and delicate hair accessories.
This stunning wedding hairstyle for grey hair offers a romantic look with messy pin curls, pearl ball hairpins, and wispy tendrils of hair around the face. It's a classic look that brides around the globe love.
14. Ombre Silver & Dark Grey Hair With Ringlets
When your natural hairstyle is tight ringlets, and your staple look, embrace it on your wedding day. We love how this over 60 bride embodies pure love and emotion with her natural grey hair and curls.
Her beautiful grey hair is light on top and gets darker as it goes down. A beautiful wedding hairstyle that allows her to be herself.
15. Long Grey Wedding Hairstyle
Last but not least, we love this grey wedding hairstyle. Long, beautiful locks with soft curls created the most romantic bridal hairstyle. Nothing fancy about it, just the perfect grey hair color, a slight wave, and a decorative twist to hold her hair away from her face. It's stunning!