Ash gray hair is officially the trend you need to have your eyes on for 2020. While silver was one of the most popular hues last year, with the beginning of a new season we're ready to embrace the darker tone in the spectrum of grey.
How to Get Ash Grey Hair
The always recommended method to achieve this color is definitely visiting a professional. There is always the option to do it at home. The process is not easy, and you will have to be very careful to properly use all the products. Start with the bleaching. This is a step that takes away the natural color, using chemicals.
It comes in different forms in stores, and it's your choice which one you'll choose. Ladies with naturally brighter colors will achieve ash grey hair much faster than the ones with brown or black. The lighter tones require only one bleaching, while the other ones might need to repeat it.
Once the bleaching is done, you will need to apply the toner. It's a product that removes the yellow tones, which can cause the hair to be brassy. It usually has to stay on for 15-20 minutes, but make sure to follow the product instructions.
The final step is to apply the ash grey hair dye and wait. Shortly after, wash your hair and the brand new color will be amazing. A secret tip you might want to know is the red gold corrector. Add just a little bit to the bleach to achieve white color faster.
Watch The Following Video to Learn How to Dye Your Hair into Ash Grey Hair
How to Maintain Ash Grey Hair
The maintenance is not as simple as with natural hair color. The first thing you have to think of is that you will need to get regular touchups. If your hair is in a completely different hue, once it starts growing it will immediately show in the roots. The touchups can include a little refreshment in that area.
If you are willing to go through the whole ash grey hair color experience, make sure to get a shampoo and conditioner specifically meant for colored hair. Stay away from extremely hot water, because it can cause alterations in the hue.
Super-Chic Ash Grey Hairstyles to Try
Below are 20 trendy ash grey hairstyles for women to try this season.
1.
grey ash blonde hair
2.
3.
ash grey highlights
4.
ash grey and purple hair
5.
Half-up hairstyles are so easy that literally, every woman can do them at home. Plus, they perfectly fit with the trendy ash grey hair dye.
Ideal for: You'll be so happy to hear that ladies with all hair lengths can flaunt this fabulous half-up hairdo.
How to Style: There are so many ways to style it, starting with messy irregular waves, to a straight effortless topknot.
Putting your hair back in a fishtail braid is one of the best ideas you'll ever see. The stunning multidimensional ash grey hairstyle also features hints of blue and silver hair, which makes it even better.
Ideal for: It's great for short, medium and long hairdos.
How to Style: You might need help from a friend or a hairstylist to achieve the look. You can definitely try and do it by yourself if you're skilled enough.
8. Slick Ash Grey Bob
Bobs are the most popular hairstyle at the moment, beloved by celebrities and beauty bloggers. The ash gray hair color will really elevate a simple and short bob such as this one.
Ideal for: Perfect for women who love a very simple, and easy to maintain mane.
How to Style: You will only need to dry your short grey hair with a large round brush in order to curl the ends to the inside. Ladies with straight hair can feel free to let it air dry.
9. Accessorize The Ash Grey Hair
Every single ashy gray hairstyle that you can think of becomes much more interesting and eye-catching by adding a single accessory.
Ideal for: Perfect for so many occasions. For an everyday look, you can opt for cute headbands, while for weddings and other glamorous happenings embellished bobby pins will do the job. Once spring comes, take out your floral headpieces.
How to Style: It doesn't matter if your hair is long and straight or curly, as long as you have that statement accessory. Floral headbands look extremely cute with voluminous locks.
10. Ash Grey Ombre
Ombre will never get old! This coloring job is the perfect proof of it. The super-dark grey roots combined with an ash grey hair transition and light grey tips is what hair heaven looks like.
Ideal for: It's a fun hairstyle that is great for women with black hair. They won't have to touch up their roots as often. You can try ashy grey ombre on short hair too.
How to Style: Schedule regular visits to the hair salon to keep the ash grey hair vibrant and good-looking at all times.
11.
12.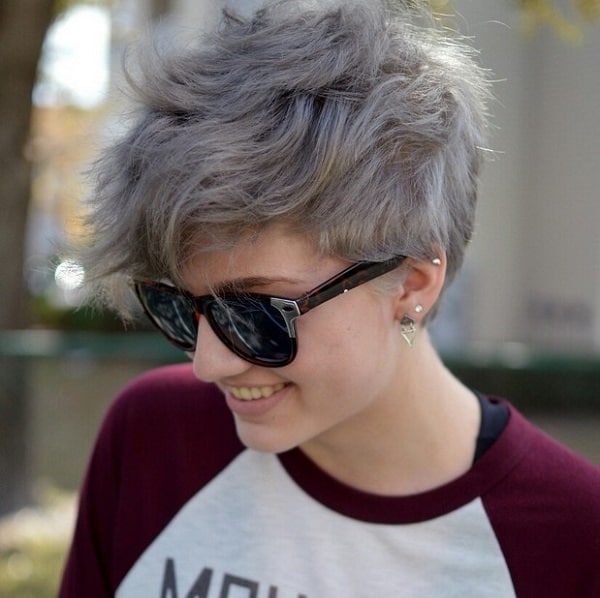 13.
ash grey balayage
14.
short ash grey hair
15.
Edgy short hairstyles can make your life so much easier. Just take a look at this layered ash grey haircut. So chic and easy to rock.
Ideal for: If you are a fan of short haircuts, this is the best option for you. The layers give a fine dimension to the grey highlights.
How to Style: You will literally only need to wash and dry your hair with this hairdo.
This season oversized braids are among the biggest trends in the hair department. The ash gray hair dye starts out with much darker roots and gradually becomes brighter.
Ideal for: Great for busy women who want to do something with their hair, but also want it to be fast and efficient.
How to Style: Place the braid wherever you like, the only thing that matters is that it's big.
18. Messy Fishtail Half-Up
The French fishtail braid is one of our favorites because it's so easy to make. Even if you are not a hair pro you will be able to do one on your own hair. This ash grey hairstyle looks much more interesting when it's imperfect and messy.
Ideal for: We recommend this hairstyle for women on the go who still want to rock a fun, easy mane.
How to Style: Get two larger strands of hair from the front and start braiding them into a fishtail. Once you're done add a cute hair tie and you're ready to go.
Highlights are so amazing because you can use them to upgrade every single hair color. If you feel like the regular ash grey hair dye is too boring for you, this is a very versatile option.
Ideal for: Great for women who are always interested in experimenting with new trends.
How to Style: Style the voluminous curls so that the ash gray hair highlights will really stand out.
20. Blue Undertones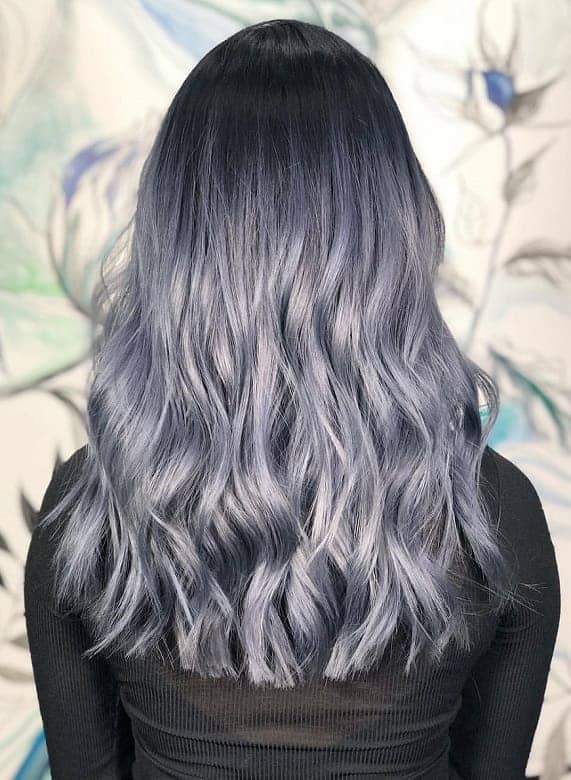 There is always the option to escape a regular pattern and take the ash grey hair color trend to a whole new level. Aside from highlights, you can add hints of dark blue hair color, which will only be noticeable once the light hits your hair.
Ideal for: If you are not a big fan of basic hairdos, you will be in love with this mane.
How to Style: Style it whichever way you like, the coloring job is so gorgeous that you can display it in many ways.
FAQs on Ash Grey Hairstyles
Q. Is ash grey hair the same as silver hair?
Ans: Although there are many different shades of ash grey, it is not the same hair color as silver. The lighter versions do remind of it, but silver is much brighter and at times even glossier.
Q. How to stop ash grey hair from fading?
Ans: The smartest way to do it is by using the proper shampoo and conditioner recommended by professionals. Also, don't forget about getting an ash glaze from time to time.
Ash grey hair is such a trending dye for so many reasons. Aside from the fact that celebrities love it, the shade looks luxurious and unique. If you're in love with it as much as we are, start out with a darker tone, and you can even upgrade it with highlights in time.