For women over 40, a trendy hairstyle is still a desire. But it can be difficult finding a style that suits your personal style. Fortunately, we've gathered 80 of the best hairstyles for women over 40. Whether your hair is straight or curly, there's a style for you that you'll love.
Hairstyles for Women Over 40
Here are the 80 trendiest hairstyles for women over 40 – we're sure you'll love all of them!
1. Loose Ponytail
Whether you're out for a jog or running errands, the loose ponytail is a go-to hairstyle that women over 40 should keep in their back pocket.
2. Hairstyle for Black Women over 40
Are you a black woman over 40 and growing out your natural hair? Shape those curls into healthy spirals on a jaw-length haircut. Use a bit of gel to tame the hair back or wear a cute headband.
3. Short Hair for Women with Round Faces
If you're a woman over 40 with a round face, the best cut for you is something with smooth locks, like a straight layered hairstyle with a side bang.
4. Low Updo
A low updo chignon is a popular hairdo for women over 40 looking for a fancy hairstyle. Both short and long hair can be gathered up into this smooth elegant look.
5. Short Twisted Curls
For black women over 40 in the middle of growing out their hair, try these pretty twists. They're set at different lengths around the head for a chic short hairstyle option.
6. Auburn Hair
If gray is creeping into your beautiful tresses, consider dyeing your locks a natural color. Auburn is a great choice of dye for women with dark hair. Don't forget the regular touch-ups.
7. Long Blonde Bob
Forget about long braids and ponytails. Say hello to elegant pixies and stunning bobs. If your hair is getting a little thin, the time has come to cut it shorter and enjoy a nice long blonde bob. Blonde girls often look much younger than the dark-haired one. Try it out!
8. Curly Ends
A short red bob is a wonderful hairstyle for women over 40. If you want to make it stand out, curl up the ends. You can even get a partial perm in order not to bother with a curling iron.
9. Asymmetrical Bangs
Want to look young again? Go for young and beautiful hairstyles. One of them is asymmetrical bangs. Being over 40 doesn't mean you shouldn't follow fashion. Embrace it!
10. Windblown Pixie
A pixie is always a choice of a winner. It will make your hair more voluminous while keeping the maintenance to a minimum. Consider leaving long bangs and making them a bit asymmetrical.
11. Perfect Style
Don't forget that when you turn 40, you become a real sophisticated lady. So don't be afraid of solid fashionable decisions. This simple yet very stylish bob can be a terrific choice.
12. Raven Black
If you have large facial features and thick hair, you can go for a raven black pixie with wispy bangs. This hairstyle will especially suit women with round faces and dark eyes.
13. Stacked Bob for women over 40
This is a great hairstyle for women over 40 who want to add some volume to their hair. This bob will need a bit of your attention in the morning but it is really worth it.
14. Red Highlights
When your hair is becoming grey, you get a great chance to experiment with different hair colors. If your natural locks are dark, consider getting red or burgundy highlights to hide the silver strands.
15. Round Bob
A round bob is a wonderful decision for women with thick hair. You will need to spend a few minutes each day styling it, though. Remember, the greatest hairstyles come at a price.
16. The Right Hair Dye
Choosing the right hair dye to color your graying hair is not an easy job. It's not recommended to do it at home. Ask your stylist for a professional opinion since a mistake will be hard to fix.
Aged Over 50? Don't worry… Check these hairstyles
17. Elegant Highlights
Women over 40 definitely try these elegant zebra highlights. The secret is the well-chosen colors. Show your stylist this picture and get ready to look fantastic.
18. A Perm
If you've always dreamed about curly hair but were always afraid to try a perm, the time has come. Women over 40 have a wide array of different hairstyle possibilities. No reason to skip any of them.
19. An Ombre
Start experimenting with different hairstyles as well as hair colors. Ombres, sombres and such will become your best friends. Don't stay in the shade. Allow yourself to shine!
20. Wispy Ends
This amazing bob is an absolute must-have hairstyle for women over 40. It will look perfect if styled every morning but won't lose its zest even if you skip one styling session.
21. A-line Bob
An A-line bob is a wonderful choice for women with straight hair. The elongated ends will make an impression of a long hairstyle while the stacked back will add volume.
22. Wispy Bangs
If you are over 40 and are dealing with annoying fine lines on your forehead, wispy bangs will save your day. Whatever hairstyle you choose, make sure to add a fringe.
23. Red Highlights
Different shades of red will give your image a lot of styles and plenty of mystery. Try the most natural dyes first and add some blond tresses. You will definitely stand out of the crowd.
24. Be Cute
Turning 40 or even 50 doesn't mean that you can't look cute. If you have a small round face and delicate features, you can go for this simple yet very cute bob to add your image extra youth.
25. Eye Covering Bangs
Get back that sexy look by growing long eye-covering bangs. You will need to spend some time choosing the right makeup to suit this hairstyle but the result will be truly stunning.
Respectful Haircuts for Women Over 70
26. Go Burgundy
Burgundy bobs look fantastic on women of all ages. It is never too early or too late to get a spunky burgundy bob with asymmetrical bangs. You will immediately feel young and fresh.
27. Nice Waves
If your hair is not too thin, consider creating nice and cute waves on your bob. It is a great hairstyle for the women who are aged over 40 and don't like to do a lot of styling. Give it a try.
28. Hair Extensions

If you still want to sport long tresses, but yours are growing too slowly, consider getting hair extensions. A well-chosen weave can become a wonderful solution for a girl of any age.
29. Wild Colors

If you are over 40, it doesn't mean that the fun and wild times are over. Consider dyeing your hair with an outrageous color and you will feel as if you are at least 20 years younger.
30. Windblown Locks

If you are not a fan of too much styling, you will appreciate a simple long bob that looks great when it's not too neat. Experiment with the length and enjoy the result.
31. Spunky Bob

A bob is the most popular hairstyle for women over 40. But a simple bob might become a little boring. So add some spunky variety by creating flashy highlights and a windblown appearance.
32. Natural and Shiny

Many women like to experiment with hair color but the natural look still stays the most appealing. If your stylist is professional enough to choose the right dye for you, your image will be truly impressive.
33. Long Blonde Hairstyles for Women Above 40

If after turning 40 your hair is still looking young and fresh, there is no reason to go for short haircuts. Sport your beautiful long tresses for as long as you wish. Make them blond for a youthful effect.
34. Asymmetrical Bob

Asymmetrical hairstyles are gaining popularity every year. So if you go for an a-line bob, consider making it asymmetrical. Leave one side longer than the other.
35. Natural Curls

Natural curls don't always go away with age. Frequent dyeing and heavy styling can make them look dull. Keep the dyeing to a minimum and allow your natural curls and waves to shine.
36. Platinum Blond

It's no secret that women with blond hair look younger than girls who settle for very dark tresses. So for the best effect consider dyeing your hair blond. The length can vary.
37. Tapered Pixie for Elder Women

A tapered pixie is a wonderful idea for girls between 40 and 50. It's easy to take care of and it always looks fresh and impressive. Long bangs are recommended to hide the fine lines on your forehead.
38. Over 40 Women With Layered Hairstyle

A layered haircut is always a great choice for women with thin hair. It doesn't just make the mane look more voluminous, it also makes the hair easy to manage. This is especially true for a wavy look.
39. Straight Forward

If you don't feel up to high-maintenance hairstyle, you can go for a simple and very straight forward stacked bob. All you need to make sure is that it looks neat by brushing it.
40. Get Red

When you are choosing a hairstyle for women over 40, don't forget about fun color experiments. If you've always wanted to be a redhead, this is the time to become one.
41. Pixie with Long Bangs

If you decided to opt for a pixie, don't forget about long bangs. You can also allow some hair to stay over your ears. This is a great choice for women with round faces.
42. Partial Highlights

If you are not ready to test the way some colors look on your hair, consider getting partial highlights. They are usually created to lighten up the front hair strands but you can use them as a color test.
43. Fluffy and Wild

Got a simple pixie but want something more interesting? Learn how to style it! There are myriads of ways to turn even the dullest pixie into a work of art. Take out that hair gel!
44. Long Cropped Bob

This long cropped bob is a wonderful hairstyle for women over 40 who like a soft and glowing look. It looks perfect for any occasion but will need some effort to be kept neat.
45. Pageant Curls

Getting ready for a special occasion? Turn your simple haircut into a pageant hairstyle. Large and blond curls are all you need to make a really special impression and upstage all the girls around you.
46. Feathered Layers

Feathered layers are a great way to diversify your simple bob and make your thin hairstyle appear fuller. This is a great change from a simple medium-length bob.
47. Alluring Highlights

If you are considering making highlights, you can think about doing them with several colors. Well-chosen dye collection can turn your dull simple bob into a new windblown and voluminous hairstyle.
48. Messy Hair

You can allow yourself to go around with messy hair only if you are as popular as Cameron Diaz. If not, think about keeping your tresses as neat as possible.
49. Complicated Hairstyles

If you have long locks, you can allow yourself to experiment with all types of complicated hairstyles. Allow yourself to make all your styling dreams come true.
50. High Windblown Pixie

This is a hairstyle for women over 40 that any girl can appreciate. If your hair is thick enough to create this high pixie that will look amazing when windblown, you should give it a try.
51. Gray Hair

Most women try to hide their great locks for as long as possible while others like to flaunt them. In fact, silver hair can be considered stylish when a young woman sports it. But older women should avoid it.
52. High Bangs

If you have thick and healthy hair, consider creating a hairstyle with high bangs. You will need plenty of hair gel but the result will look very sophisticated.
53. Very Short Pixie

If you have prominent facial features, such as large eyes and long eyelashes, you can consider creating a very short pixie with a short fringe. This is a good hairstyle for women with long faces.
54. Side Part

Wearing your long tresses in a side part will make your hair look more voluminous and stylish. Don't forget to get some help from the hair gel to style the bangs.
55. Reverse Ombre
A reverse ombre is a wonderful idea for a hairstyle for women over 40 and even 50. It's a unique style that will make you look fantastic.
56. Shaggy cut with Bangs
Halle Berry is really giving serious hairstyle goals to women over 40's. Shaggy cut accompanying feathery bangs and caramel balayage is making a heart-throbbing combination ever! Ladies with oval or heart face shape can try this hairstyle without a second thought.
57. Mid Parted Short Hairstyle
Short layered haircut when styled through blow drying, it gives women's hair this graceful textured look. If you have a rounder face shape, avoid mid partition and choose side parting with side swept bangs.
58. Sleek and Straight

A hairstyle that does not need extra-styling because of the way you carry your natural hair makes a huge difference. If you can carry yourself sophisticatedly, even a simple side part hairstyle can create an aura around you that no one can beat your class!
59. Elegant Ponytail
The ponytails always look incredible on women over 40 when styled elegantly. It looks ravishing on smooth and straight hair. To achieve this hairstyle, side part the hair and tie it into a loose ponytail. Sweep the ponytail to one side of shoulder.
60. Blunt Bangs Hairstyle
This hairstyle is absolutely a stunner which gives women over 40 a young look. To achieve the exact style, you must have sleek straight hair. If you do not have the desired hair texture, you can go for a keratin treatment to get this look.
61. Copper Red Shoulder Length Hair
If you are looking for a fetching change in your appearance, you can opt for this hair color makeover. Keep the haircut a tad bit fluffy by blow drying as it will give a definition to the layered hair tips.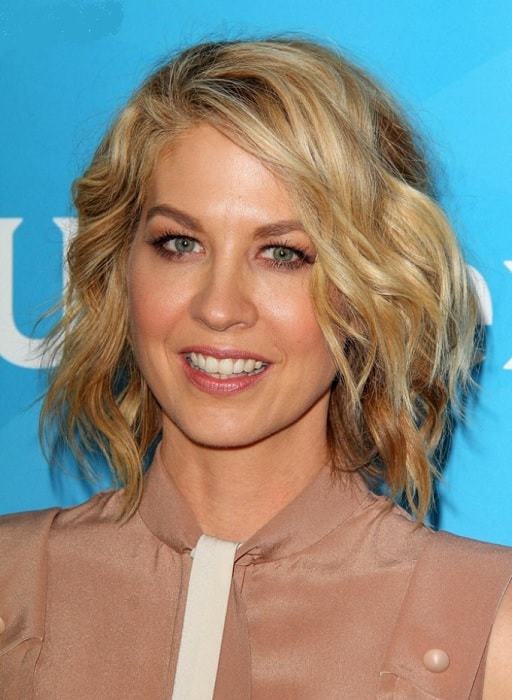 If you want to add texture to your thin hair, try the wavy bob cut for this purpose. Keep the front hair longer than the backside hair of the head. It looks super modish on ladies with the oval and heart face shape.
63. Tremendous Shaggy Lob Haircut
It is one of the most creative, trendy and distinctive hairstyles that gives women over 40 a resplendent appearance. Accompany the shaggy lob cut with side swept bangs to frame your facial features.
Kate has always carried her long wavy locks pleasingly. The enchanting blonde color looks extraordinary with her skin tone. It is best for those ladies over 40 who do not want to compromise on their long hair. You can choose any blonde shade according to your skin complexion.
65. Side Bun Hairstyle
Want to slay with your looks? Wear a stylish side bun that will absolutely win the heart of people around you. It is easy to achieve and looks well on any face shape.
66. Pastel Pink Graduated Bob Cut
You can bring a lot of radiance and class to your personality with this pastel pink dye and graduated bob cut. Keep it a slightly flatter than the actual graduated bob haircut and style it into an inverted shape toward the chin.
67. Sweet Two Braided Hairstyle
Braids can never disappoint the ladies because of its enormous verities and styling diversity. Here is a two braided hairstyle that women over 40 can carry for vacations to achieve casual attire.
68. Two Toned Hairstyle for Over 40
A simple side part, shoulder length hairstyle with the highlighted bottom will work wonder in giving you charming features. The blond hair tips give more definition to your lower half face and divert people attention from your thin hair texture.
69. Artistic Updo for over 40's
If you are looking for a promising hairstyle to wear for a ceremony or other casual events, you can try this artistic updo for an imperial look. Divide the hair into several sections and twist these sections to turn into mini hair buns.
70. Side Bow and Bun Hairstyle
Bun and updo styles are ideal for over 40's ladies. These hairstyles become uber-charming when styled in unique and creative ways just like the above image. You can wear it for office meetings and other events as well.
71. Chic Twisted Updo
This classic updo gives elegant features to women over 40. It is ideal for working ladies and mums as it is easy to maintain and can be in place throughout the day. Start twisting the hair from one side of the head and tie it into a bun shape on the other side of the head.
72. Pixie Cut with Side Bangs
The professionally cut pixie hairstyle with an angular fringe covering one side of the face is an amazing way to contour your rounder or wider face shape. It suits almost any face shape including diamond and square as well.
Wearing front bangs is an extraordinary way to add texture to your fine hair. The ultimate benefit of bangs hairstyle is that it not only covers the wider forehead but also hides the fine lines on forehead thus giving you a chic look.
Mohawk is the hairstyle that is loved and preferred by both males and females equally. It gives women over 40's a contemporary and urban-like features that hide the signs of their aging phase. Trim the head sides shorter than the top. Golden blonde Mohawk provides an ultra-chic look.
Yes, Beauty undoubtedly lies in simplicity for this particular style. Wear a bandana and tie your hair into a low side bun for thrilling casual vibes.
76. Asymmetrical Pixie Bob with Vibrant Bangs
Add some color to your life by trying this ultra-stylish pixie bob cut that will make you the center of attention in the crowd. It is ideal for oval, heart and oblong face shape. Adorn the angular bangs with vibrant red and blue dye for eccentric features.
What can be more delightful than embracing your natural curls in such a dynamic way! Condition your hair after every wash for a maintained look and easy styling. Side swept the front bangs for a classic appearance.
78. Soft Curls
When you have naturally curly hair, the ideal length to go for is shoulder length or medium length as at this length, these curls become easy to manage and style. A good quality conditioner will help to prevent the curls from being tangled.
79. Updo with Hair Design
Hair tattoo is an exceptional way to give women over 40s a young and composed look. You do not have to cut hair short for a hair tattoo, trim the lower backside hair of the head while keeping the remaining hair longer. Turn the long hair into a high bun shape to make the hair tattoo visible.
80. Classy Layers
Layers are one of the most popular hairstyles among ladies because of its styling versatility. Turn these layers into soft curls or wavy shape for distinct features.
These hairstyles for women over 40 to 50 will give you something to think about when it comes to considering your new image. Hair experiments don't stop at any age, so you have a lot of fun times ahead of you.