Going gray doesn't happen at all at once, so neither should the process of transitioning to gray hair from your regular color. Instead, gray hairs come in subtly over time until you notice a demarcation line between where the color has stopped and gray has started. Removing hair color to go grey should be modeled in the same gradual way.
Below, we discuss all things gray; from highlights or lowlights, and babylights to going gray at a salon vs. doing it on your own. We promise to tell you everything we know so that your journey from color to gray is smooth sailing.
Exercise Patience + Honesty When Transitioning To Gray Hair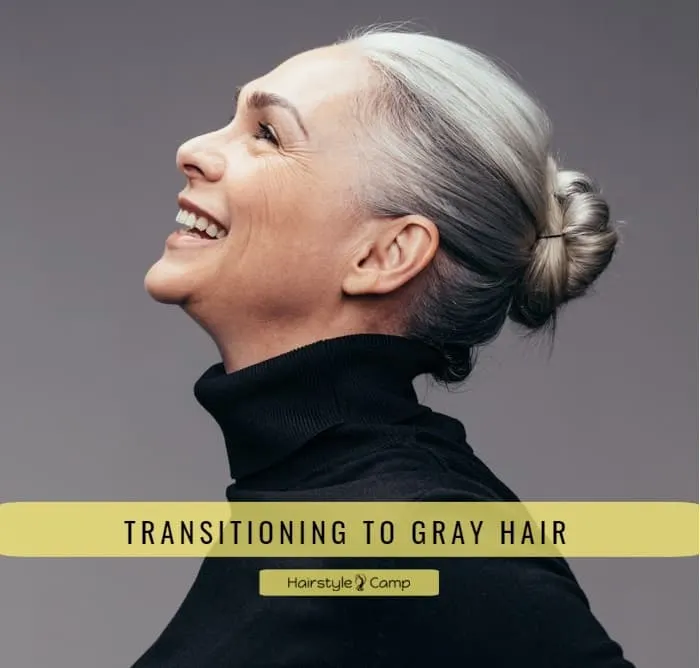 It can take 6 months to 1 year to go fully gray, so keep this time frame in mind when deciding how you want to transition your hair. It's critical to remember that it's called a transition for a reason; to adjust your hair to gray in a healthy yet attractive way.
There are a few rules that never change, regardless of the method you'll be using. First, never try to lighten natural salt and pepper hair color more than three levels in a single process; never apply dark colors and then attempt to lighten them to create gray effects.
Letting your roots grow is cheap and requires less work, but it can be clunky and unstylish. Many of us want to go gray with grace, so it's important to have an honest conversation with your stylist about your skin tone, natural base color, and even eye color. This will help you customize your look, so your needs and wants are fully met.
For starters, you will need at least an inch of gray root growth to work with, regardless of your chosen method, but especially before creating highlights and babylights.
Transition to Gray Hair with Highlights and Babylights

Highlights and babylights are the most expensive and time-intensive way to transition to gray hair. However, highlights ensure a natural-looking blend that is highly customizable. Plus, you can rest assured that you're in the good hands of a professional.
You don't have to retouch your base color to transition to gray hair with highlights. Instead, your stylist can color correct hair to match the growing gray. Foil for highlights or babylights will gently blend all variations of tone in graying hair. Anywhere from three to five appointments will be necessary to complete the transition process fully.
Blondes make it easier to transition from grey hair to dyed hair because it takes a lot longer for the gray to become noticeable. Using a sheer toner for a fully highlighted effect without the legwork. On the other hand, Brunettes should make the switch once more of the salt and pepper look has come in.
You will likely have to head back to the salon once or twice throughout the transition for your stylist to apply a gloss. These treatments add color and shine while giving hair a needed rest between highlighting sessions.
Some examples of transitioning to grey hair with highlights and babylights:
Hint of Purple
If you have decided to transition to gray hair with highlights, why not do it with style? Start fresh with a pixie haircut and add streaks of plum to liven up the gray mane. Also, add a hint of blue or any other color of your choice for a more detailed look.
Brown Babylights
Babylights are handy for those who want a subtle yet noticeable hair change. Ask the hairstylist for a base shading matching the natural grays and incorporating fine streaks of medium brown, adding more depth and dimension to the overall look.
Dove Gray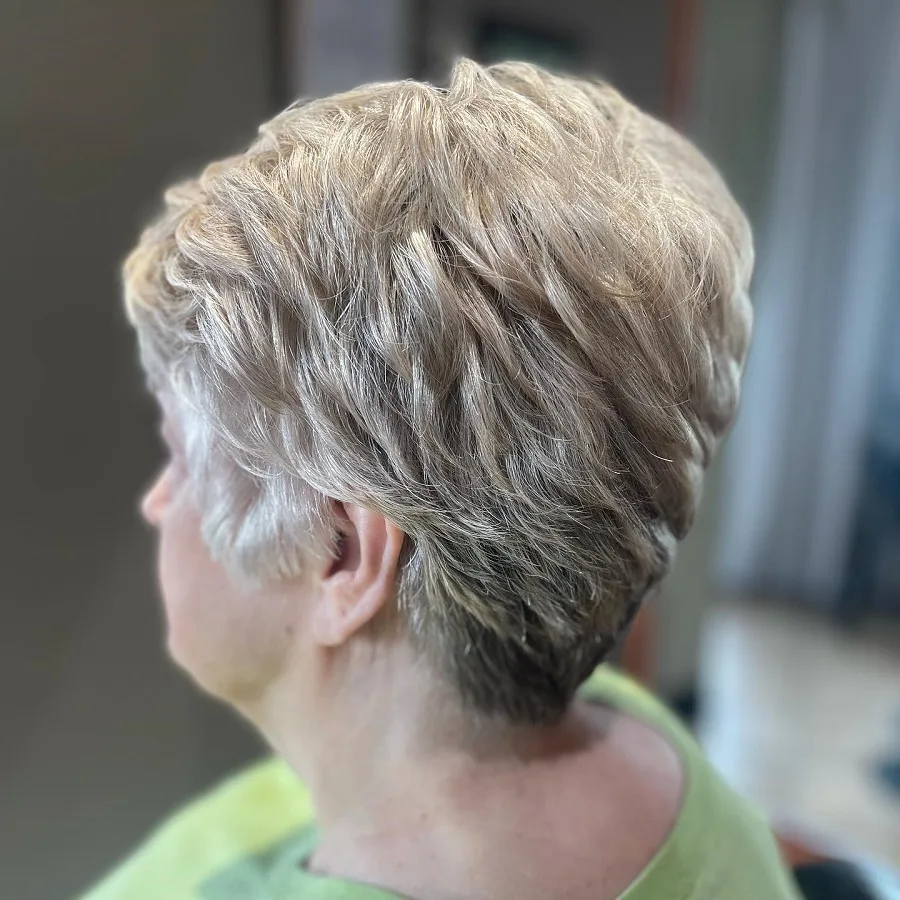 When talking about gray, various shades can be mixed and matched to create an alluring look. First, chop off the hair into short layers and dye them in an ashy gray hue. Finish off with dove gray highlights that are barely there but create a huge difference.
Salt and Pepper Moment
Ladies with brown or black hair can copy this glorious salt and pepper hairstyle when silver strands start peeking through their dark mane. Choose the tone that matches those natural grays the most and add heavy highlights all over the head with just a hint of the dark base left.
Silver Streaks
Get noticed from a distance by adding chunky streaks of silver or blonde gray to stand against the dark gray base shade. Couple the look with a shoulder-length feather haircut and thick bangs covering the forehead to look several years younger, even with those aging tresses.
Transition To Gray Hair With Lowlights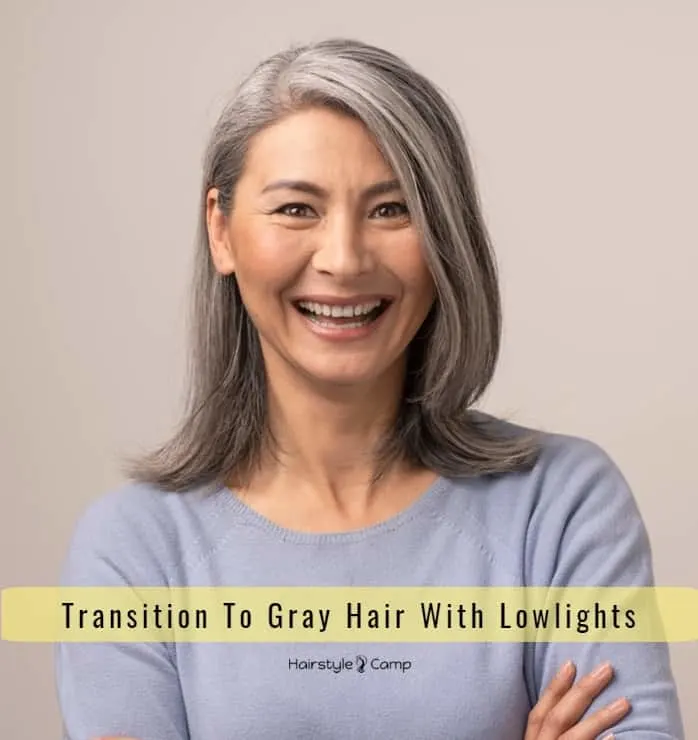 Lowlights are dyed a few shades darker than your base color to add depth and dimension to your overall look. They are perfect for fighting those unwanted yellow and brassy tones that often come from highlighting gray hair.
To create the most natural-looking contrast, the transition to gray hair with lowlights is done by adding streaks of your virgin hair's tone to your look. We also love this method because it's low maintenance and doesn't require as many salon visits as highlights do. While highlights strip hair of color before applying the desired tone, lowlights ask that you simply add in dimension. Gray hair is naturally stripped of color.
For an even gentler solution, try semi-permanent color. Instead of penetrating the hair shaft, semi-permanent coats only the cuticle, giving you the look you need with less damage done to the hair.
Some examples of transitioning to grey hair with lowlights:
Color Contrast
Keep it elegant yet stylish by creating a light and dark color contrast. Go for a pixie-bob haircut and choose an icy gray hue as the base shade. Chunky bits of steel gray contrasting with the lighter strands complete this natural look.
Metallic Violet
Here is another way to transition to gray hair with lowlights in the most seamless manner. Mix a gray hair dye with just a bit of purple to create this gorgeous metallic violet hue that is used as lowlights on a silver-gray base all over the head.
Soft Look
Although a blonde and gray hair color combination seems uncommon, it can create a soft look. Place light blonde lowlights on the ashy gray mane focusing on the sides and back rather than the top. Finish off with a layered bob haircut.
Dirty Blonde Lowlights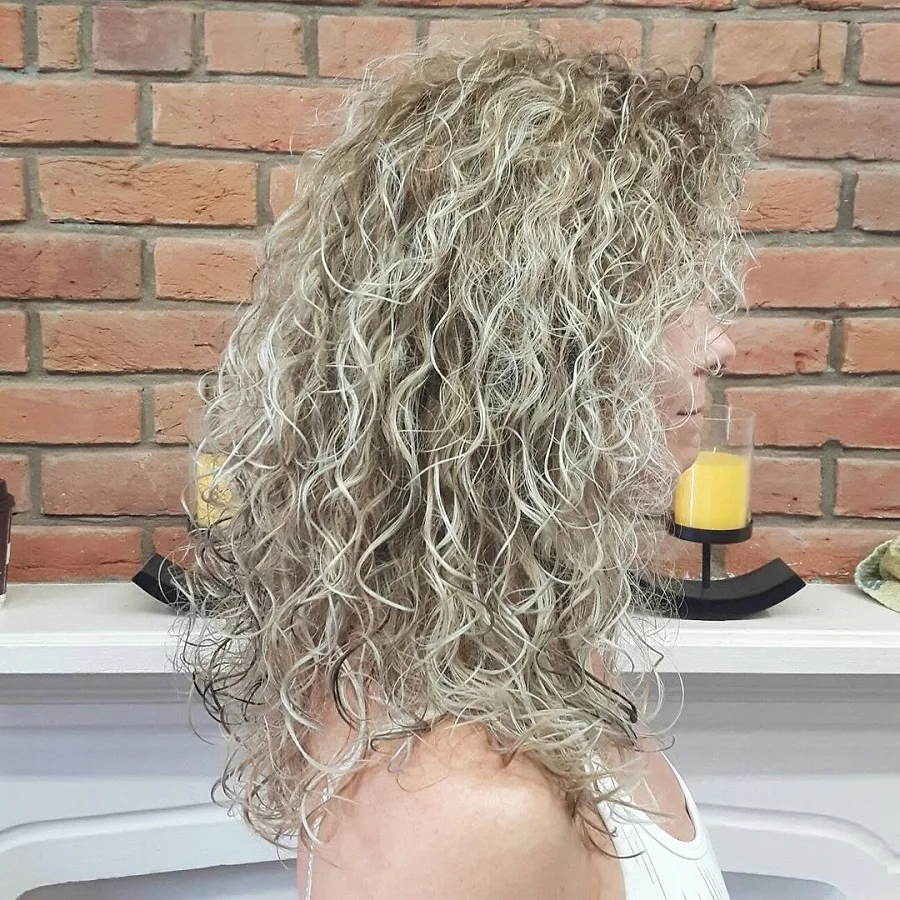 Take part in the gray hair trend of this year while embracing your white strands with confidence. Dye the hair in a shiny silver blonde shade with fine dirty blonde lowlights adding some depth to the look. This style is high maintenance but looks stunning on both straight and curly hair.
Golden Beauty
Gray strands are inevitable; instead of dying them repeatedly, it is better to flaunt them gracefully. The light golden blonde streaks begin just behind the roots and concentrate while reaching the tips creating a flawless grey to golden ombre look. Give off vintage vibes with bangs and a flipped-out bob.
Growing Out Gray Hair From Home
Growing out gray hair without the time and price tag that comes with a salon job is absolutely possible. This way involves growing your gray in an inch or two and then cutting your hair into a short bob or pixie. Not everyone wants to go gray and cut hair super short at the same time, however.
You can cover gray roots as they grow with an at-home root touch-up. This way, you can blend in your roots for 5-6 weeks. A short haircut with regular trims will speed up the transition process. If you're looking to try new hairstyles and thinking you've become too old, here are some classy gray hairstyle ideas for women over 60.
How To Choose the Right Gray Shade For Your Hair?
Whether you want to harmonize with Mother Nature or jump on the latest trend of gray hair color, choosing the perfect gray shade is essential to the transition.
The most important thing to consider with multiple shade options is your skin undertone. Understanding if you have cool or warm undertones will help determine which shades of gray you want to consider.
The easiest way to identify your undertone is to check the color of the veins inside your wrist. If they are bluish, you have cool undertones; if they are green, you have warm undertones. Of course, you may also have a mix of both, making your undertone neutral.
Lighter shades of gray tend to brighten up darker skin tones, whereas darker shades of gray illuminate lighter skin tones. Those with olive tones can wear just about any shade and look great.
Hair Maintenance During Transition
Overall, upkeep when transitioning to gray hair is just as important as the coloring process. To keep gray highlights from getting brassy, use a purple shampoo regularly.
You may have to go back to the salon for more toner and glosses during your transition, but at home, glazes are also great to use. As hair ages and turns gray, it becomes drier, so it's a good idea to incorporate powerful moisturizing conditioners into your haircare routine.
Like aging, transitioning to gray hair takes time, patience, and a little self-love. You can complete the process on your own or work with a stylist to approach the process gently and according to your overall maintenance level. Going gray doesn't have to be dull. In fact, with the proper care, it can be fabulous.
Key Takeaways
Going gray is a month-long process.
Never lighten hair more than three levels in a single process.
At least an inch of gray root growth is required before transitioning.
Highlights and babylights create natural, gentle blends.
Glosses maintain color and give hair a rest between coloring.
Lowlights add depth and dimension.
Lowlights are even more low maintenance than highlights.
Use at-home touch up to cover grays as they grow. Purple shampoos fight brassy tones.
Moisturize dry hair as it ages.
FAQs
Can I use purple shampoo on gray hair?
Yes, it is recommended to use purple shampoo as it counteracts the brassy color often found in gray hair.
When should I start the process of going gray?
Timing is a personal preference and depends on how comfortable you are with growing out gray hairs. Our first recommendation would be to speak with a stylist, especially if you plan to lighten your hair to match the gray.

Most stylists would agree that if you plan to embellish your hair in one way or another, you should let the roots grow out at least an inch. From there, you can either add lowlights or highlights.
Can I transition to gray hair in my 30s?
Yes! It has become quite popular to embrace early gray hairs or color your hair gray, even in your 30s. You can rock gray hair at any age with multiple shades and various cuts.
How long will it take to transition to gray hair fully?
A complete transition depends on your genetics, water, and hair quality. For some, it can take six months, but for others, it can take years. The best way to speed up the transition is to allow the gray to grow, add highlights or lowlights, and get a shorter cut.
How can I remove hair color to go all gray?
There are some tricks you can use at home to help with gradual fading, but if you're looking for a quick transition, we recommend you go to a stylist to help with this process.