Hooded hair dryers have been in the market for a long time and modern small hair dryers have not yet replaced the professional quality hair drying that they do.
Top 5 Hooded Hair Dryers
When we pick a hooded hair dryer we should check certain qualities. Here are the 5 best hooded hair dryers in 2021.
Laila Ali LADR5603 Salon Iconic Dryer is the best professional hair dryer that you can get in the market at present. The hood of the dryer is quite large and can accommodate even wild Alfaro African hair.
The reviews for this hooded hair dryer are quite positive and the users love how its heat level can be easily changed and managed. The dryer has a regular airflow which prevents hair from breaking and helps in retaining the natural moisture of hair.
Pros:
Faster drying
Accommodates hair with jumbo rollers
Collapsible design and compact dimensions
Size is adjustable
Cons:
Slightly loud
Slightly pricey
This hooded hair dryer is perfect for home-based usage as well. The bonnet style is smart and portable. It has a built-in handle to carry it around and has a very spacious hood. It is rather quick to attain the required level of heat.
Pros:
Fast action powerful motor
Drying and styling both
Extra-large bonnet
Easy assembly
Cons:
Can be noisy according to some users
This quick to heat and fast action hooded hair dryer is best for both home and professional use. It has a compact size and the advanced technology makes sure that your hair does not get damaged. It helps with natural retention of moisture and avoids frizz.
Pros:
Tourmaline and ionic technology for faster drying
Adjustable bonnet
Reasonable Expense
Versatility of usage
Cons:
The top is reported as being heavy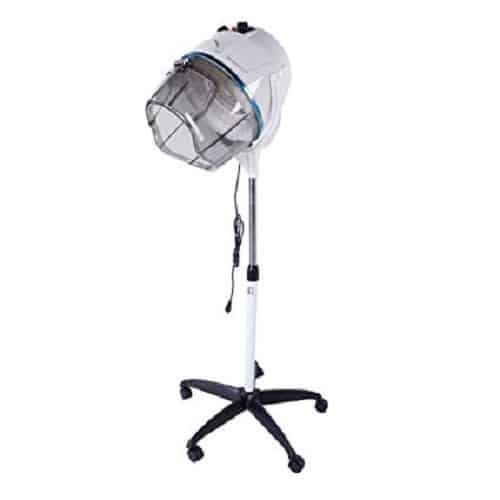 This professional hooded hair dryer is best for curly hair, particularly the black ones. It can serve multiple purposes along with drying as you can employ it for perming of hair. The timer function of 0 to 60 minutes makes it even more efficient.
Pros:
Durable stainless steel
Fast action
Portable due to swivel carters
Cons:
Too Loud
Too hot sometimes
This hooded hair dryer comes with a double heating element system so it is easier to reach and maintain a certain heat level. It is quite fast and comes with a timer as well.
Pros:
Versatile usage
Durable construction and assembly
Cons:
Should be used with a safety hairnet
Difference Between Hair Dryer and Heat Gun
HairstyleCamp is a participant in the Amazon Services LLC Associates Program, an affiliate advertising program designed to provide a means for sites to earn advertising fees by advertising and linking to Amazon.com.