Marine haircuts are always hit and trendy and there's one for every age and personality. With different styles variations, marine haircuts make you look cool, clean and simple.
Best Marine Haircuts
Some people mistake any short haircut to be a marine haircut. But, there are some signature military haircuts that stand out. We have compiled a list of 45 of the best marine haircuts that look cool and suit anyone without much ado.
#1. High and Flat Top

This is a popular variant for those who want a neat marine cut but not too short. Although the sides are cut close to the skin, the hair at the top is left 2-3 inches long and flattened for a more compact look.
#2. High and Tight Raccoon Cut
This is a variation of Crew Cut and is popular among law enforcement and safety personnel. It gives off a very "high and tight" kind of look. It's also called Skin Fade because hair at the top are kept longer while they fade to the back and the side that is shaved almost to the skin.
#3. High and Spiky Cut
If you have spiky hair naturally, don't cut them too short and they will spike in the front. This is a cool marine cut but if you'll cut them too short, your natural spikes will not show. The sides and back of the head are shaved close to the skin to emphasize the high and spiky cut at the top.
#4. The Regulation cut
This is a standard yet popular marine haircut. At least 2 inches of hair are left at the top and are side combed.
Down the sides and back, hair rapidly tapers to a shorter length and are clipped to make them very short near the hairline. Side Parted High Top is its variant for those who like to keep hair a tad bit longer.
#5. High and Tight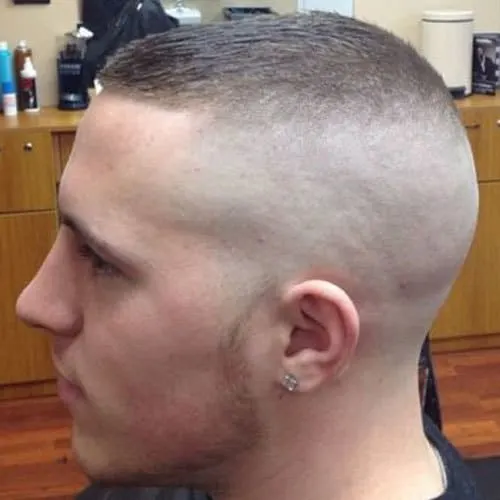 Combine longer hair at the top with closely shaved sides and you get the High and Tight marine haircut. Comb the hair at the top of the forehead. For this very reason, the hair at the top is kept quite long as compared to standard marine haircuts.
#6. Ivy League Cut
Ivy League haircut is also known as Harvard Clip or Princeton cut. The hair length from the top to back and sides is gradually decreased in such a way that it shapes the skull.
The density of the hair is also varied and the hair can be styled according to an individual's preference. This marine haircut offers a lot of diversity and is ideal if you're looking for extensive personalization in your haircut.
#7. Crown Soldier Cut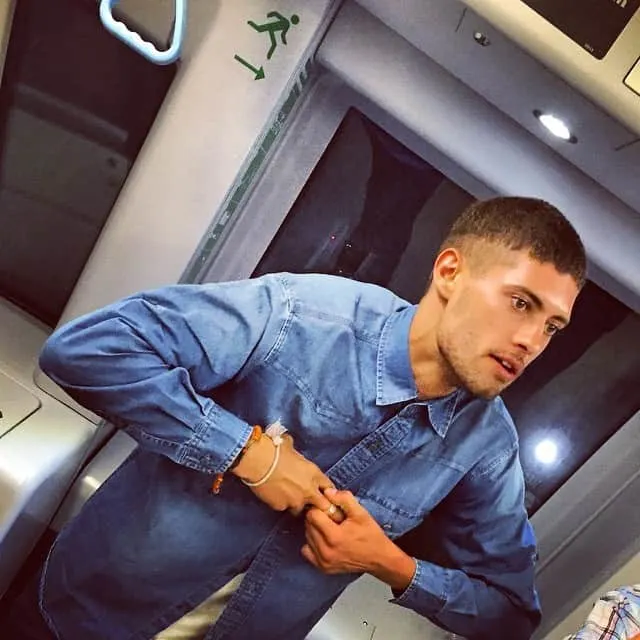 This is a marine cut with some style variation borrowed from regular haircuts. The back and sides are shaved to give the top hair impression of a cap or a crown on the head. Go for an undercut and then style your hair from the centre to achieve this look.
#8. Buzzed Fade
Typically, a marine corps haircut is buzzed very close to the skin with no more than half an inch of hair. Instead, this buzz has been modernized with a medium fade on both sides of the head. Hair is under half an inch tall up top.
#9. Short Marine Crew Cut
Many marine crew cuts have a pomp at the top of the forehead, but this one has the style without all the fuss. Great with facial hair and without, this look works well with a strong, square jaw and thicker textured hair.
#10. Caesar Cut
Inspired by the famed Roman emperor Julius Caesar, the caesar cut for marine corps is characterized by flat hair up top and a short horizontal fringe. The hair on the sides of the head should be kept short while precise bangs help to frame the eyes.
#11. Bristly Mohawk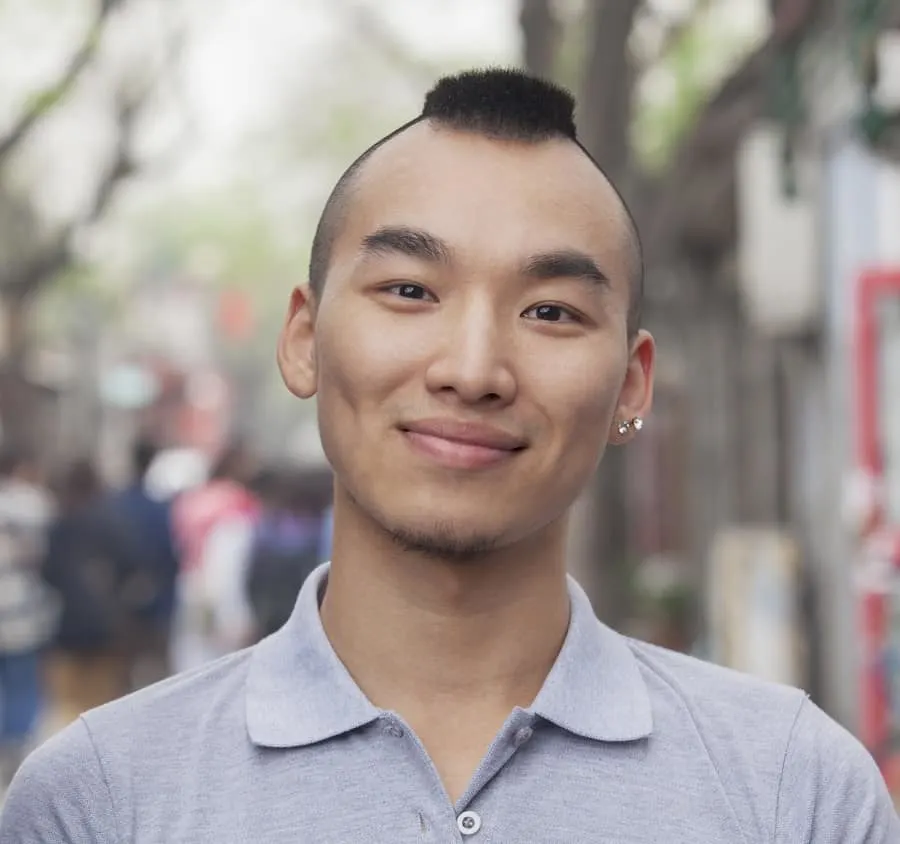 A true mohawk is unprofessional for the marine corpse, but this mohawk-inspired look is definitely acceptable and can be described as a marine haircut.
The sides and back are all shaved to the point of shadow and a single bristly section of hair remains right on top of the head.
#12. Shaved Sides + Beard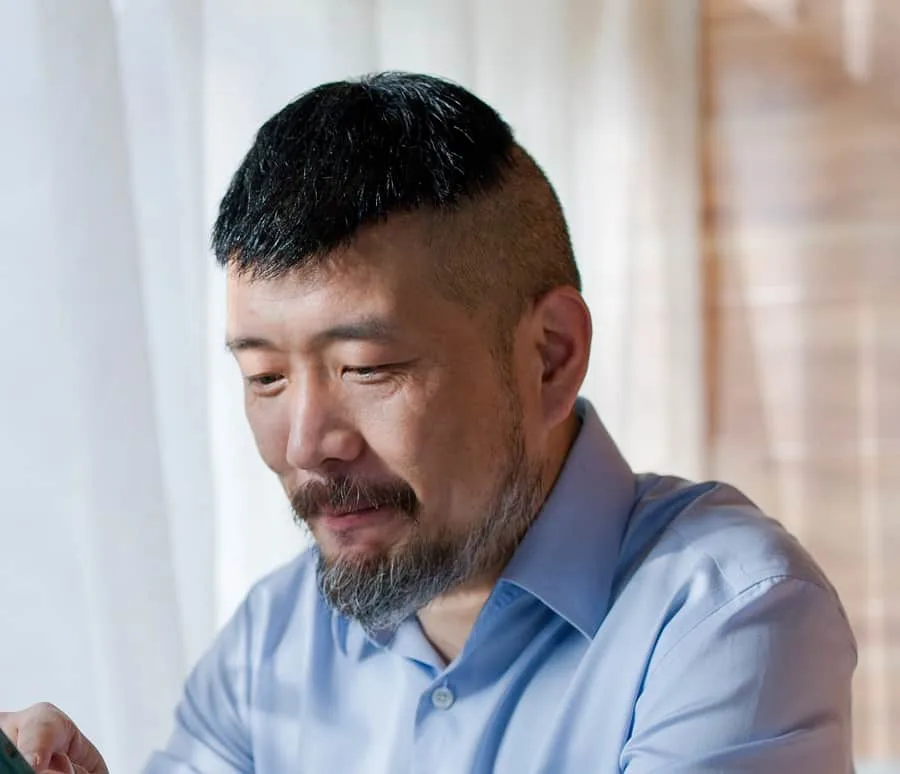 Shaving the sides of your hair is always a good idea if you have thick hair and would like to keep it tame. Have hair only covering the top of your head from the crown to the front hairline, and add texture. Pair it with a beard for a more rounded out look.
#13. Short Curls with Design
Keep your hair super short with your natural hair texture tight. Get a fade on one side and add a couple of stripes to serve as a design on the other side so you stand out more than the average guy.
The side with the design should end in a skin fade to help the designed section stand out more.
#14. High and Tight Spikes
The high and tight is a classic marine look where most of the hair is right on top of the head leaving the sides and back shaved. Get a high fade and use hard set gel to create spikes in the hair on top.
#15. Side Swept Fluffy Locks
Fluffy hairstyles are very desirable, and they make people want to run their hands through them. You can still achieve this fluffiness if you have short hair. A talented barber can create the texture, and sweeping your hair to one side will make it more visible.
#16. Marine Cut + Line Up for Black Men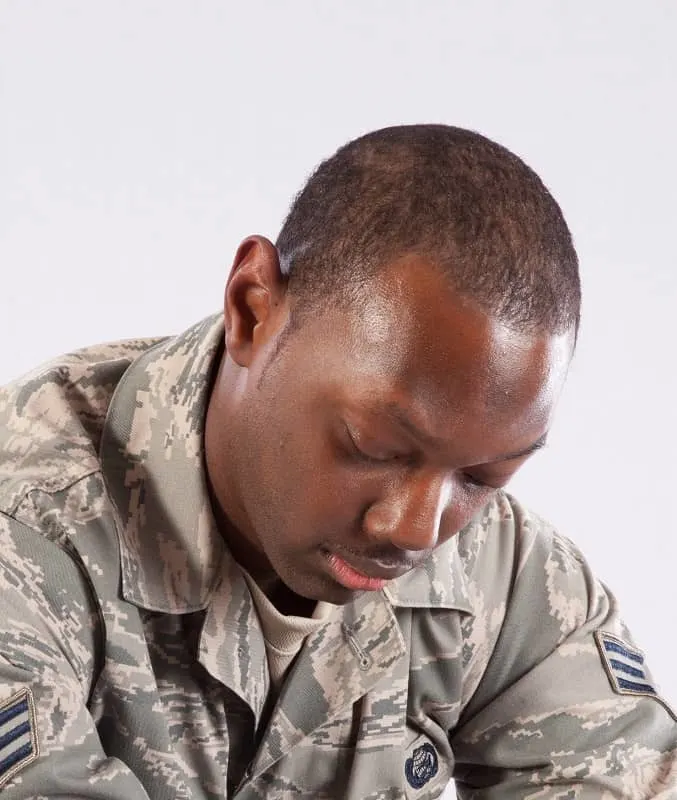 This short and simple Black marine haircut is as fashionable as it functional. Strengthen the appearance of your jaw with a rounded hairline that comes to a point on each temple. A long and thin side burn also helps to define your face shape.
#17. Marine Bald Fade
This short buzzed marine fade haircut is as close as you can get to bald without going all of the way. A small vertical strip of short hair should fade gradually into baldness from the temple to the center back of the head. This look is very masculine but, thanks to the fade, also stylish.
#18. Low Fade
Low fades change from buzzed to longer hair at the top of the neck and just over the ear. This basic cut is perfect for straight hair worn in a simple marine style.
#19. Ginger Marine High Fade
Light ginger hair cut into a short crew cut with a bald fade has a barely there feel. This draws attention to a full beard and artful mustache while still maintaining a fresh feeling.
#20. Marine Cut with Widow's Peak
Don't work against unique features like a widow's peak. Instead, make it work within your hairstyle. Jake Gyllenhaal's short and plain buzz cut is meticulously groomed and looks great when mirrored with a spot of stubble underneath the nose.
#21. Low Fade for Black Hair
A low fade is always fashionable and makes you look appear incredibly well put together. Keeping the hair as short as possible makes maintenance easy. Make sure there are smooth lines around every part of the hairline if you want to stay on trend.
#22. Comb over with Fade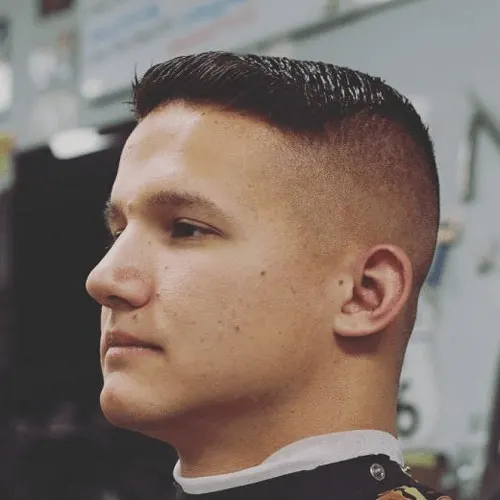 The comb-over isn't just for balding men anymore. It can make you appear slick and gentlemanly as a marine. Modernize it by adding a bald fade on the sides.
#23. Cropped Hair with Medium Fade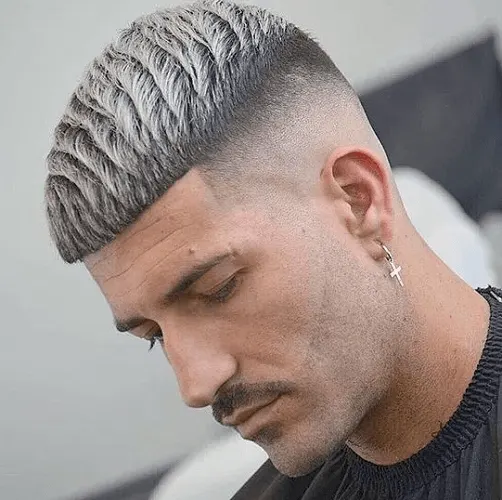 Cropped styles are a great way to add texture to marine haircuts, which otherwise can look very plain. Having a unique texture will enable you to stand out a lot. Get a medium fade on the sides to help you look clean cut.
#24. Long Buzzed Cut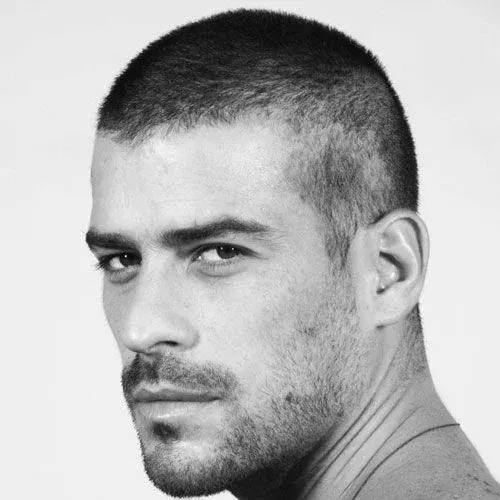 Is a classic buzz cut too short for you? Then get a haircut that's just slightly longer than a total buzz cut. The hair on top should be a little longer than the sides if you'd like to create a nice shape to your head and avoid looking too plain.
#25. Long Hair Up Top
Guys who'd like a little length should opt to keep their hair as short as possible on the sides and grow out the length on top.
Style the hair upwards in a fluffy texture with lots of soft spikes so you can show off all that length without it falling into your face.
#26. Sleek Bald Fade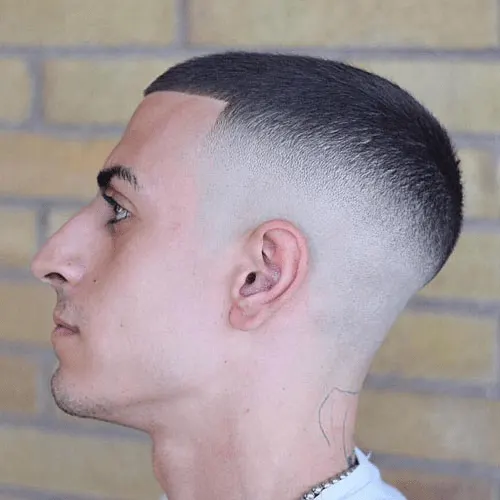 Bald fades look incredible when they're gradual and when the hair on top is sleek. It's easy to make the hair look sleek if you keep it incredibly short. It also cuts down on day-to-day maintenance.
#27. Temple Fade with Beard
These days it's trendy to get a temple fade that gradually blends into your beard around the sideburn area.
Make sure it's also gradual, so the difference between the length on the sides of your head is seamless. On top, opt to keep the hair short and brush forward towards a very straight hairline.
#28. Marine Cut with Pompadour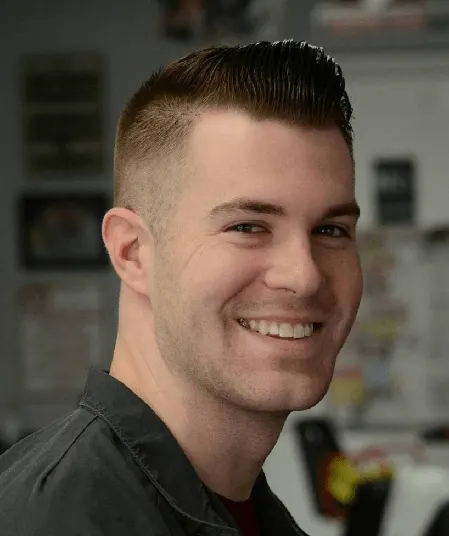 The pompadour look makes you seem like such a total gentleman. The hair should be just long enough to create a little volume that you slick into this classic style. Get a fade on the sides so most people's eyes will go to the top of your style instead.
#29. Celeb Style with Shaved Temples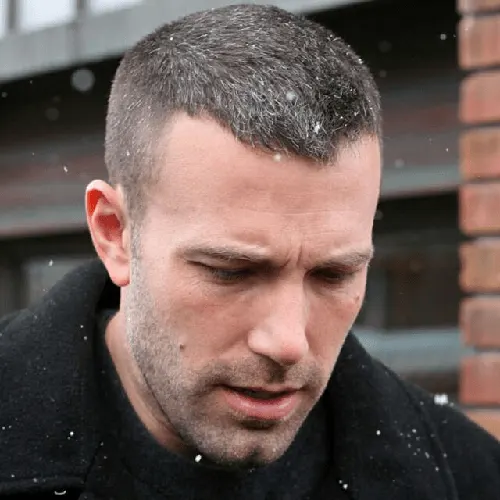 Going celebrity inspired with your marine haircut is always an option. It'll make you appear incredibly on-trend.
Keep the sides shorter than the top and brush all the tops towards the forehead, covering the hairline. The hair should have a somewhat triangular shape as it moves toward your face.
#30. Short and Spiky
Looking for a way to spice up short hair? Add a spiky texture. It adds a youthful vibe and makes you look bold. Focus the spikes towards the top of your head and keep the sides neat.
If you'd like to make maintaining the length easier, then ensure you don't get a fade on the sides.
#31. Stylish Fade for Young Men
Some of the most stylish fades are those very simple ones that have most of the back shaved, too. The longest sections of hair are right on top of your head.
The top shouldn't be long enough to style but it should have a slightly bristly and soft-looking texture.
#32. Bald Fade for Long Bangs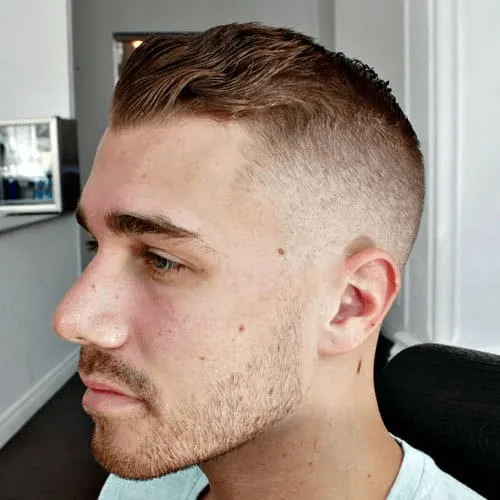 Long bangs obscuring the forehead can look a little messy. Style yours upwards with some soft hold gel, so they stay out of your face.
The hair should get gradually shorter as you go back, and the sides should feature a fade. A nice stubbly beard can enhance the manliness of the look.
#33. Disconnected Contrast
Some guys prefer a lot of contrast in their looks. If that's you, then consider getting the entire top section of your head covered in short bristly hair.
Shave the sides and create no gradual blend between the two different lengths of hair. Add some thick facial hair on your chin and upper lip with stubbly cheeks.
#34. Marine Cut with Faux Hawk
A faux hawk can work really well as part of marine care haircut if you don't let it grow too long.
Gently style the hair towards the forehead and make sure almost the entire top of your head is covered the longest part of your tresses. Keep the sides all the same length all the way through to your sideburns.
#35. Clean Cut with Minimal Facial Hair
Get a uniform-length cut all over your head that's just a gentle covering of hair long enough to see some of your natural texture.
The sideburns should blend into stubble that gradually fades away towards the mid-cheek. Add a very short mustache and soul patch to appear clean cut.
#36. Marine Cut with Pomp Comb over
#37. Bald Fade for Thick Hair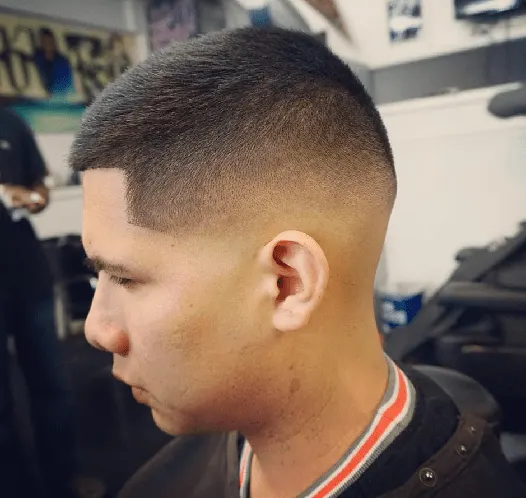 #38. Close Crop with Line Detail
#39. Round Bangs With Gradual Fade
U.S. Air Force Haircut Regulations
#40. Polished Low Fade and Beard
#41. Gradual Fade with Hard Part
#42. Disconnected Undercut
#43. Marine Buzz for Thinning Hair
#44. Middle Part
#45. Short Marine Crew Cut
Marine hairstyles conform to military regulations for grooming that are both practical and logical from a marine's point of view. For all we care, they are cool, stylish and you can never go wrong with a marine haircut.