Marine haircuts are always hit and trendy and there's one for every age and personality. With different styles variations, marine haircuts make you look cool, clean and simple.
Some people mistake any short haircut to be a marine haircut. But, there are some signature military haircuts that stand out. We have compiled a list of seven of the best marine haircuts that look cool and suit anyone without much ado.
Best Marine Haircut #1. High and Flat Top

This is a popular variant for those who want a neat marine cut but not too short. Although the sides are cut close to the skin, the hair at the top is left 2-3 inches long and flattened for a more compact look.
Best Marine Haircut #2. High and Tight Raccoon Cut
This is a variation of Crew Cut and is popular among law enforcement and safety personnel. It gives off a very "high and tight" kind of look. It's also called Skin Fade because hair at the top are kept longer while they fade to the back and the side that is shaved almost to the skin.
Best Marine Haircut #3. High and Spiky Cut
If you have spiky hair naturally, don't cut them too short and they will spike in the front. This is a cool marine cut but if you'll cut them too short, your natural spikes will not show. The sides and back of the head are shaved close to the skin to emphasize the high and spiky cut at the top.
Best Marine Haircut #4. The Regulation cut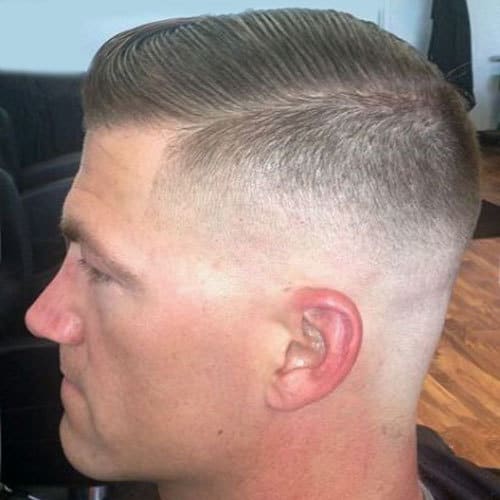 This is a standard yet popular marine haircut. At least 2 inches of hair are left at the top and are side combed. Down the sides and back, hair rapidly tapers to a shorter length and are clipped to make them very short near the hairline. Side Parted High Top is its variant for those who like to keep hair a tad bit longer.
Best Marine Haircut #5. High and Tight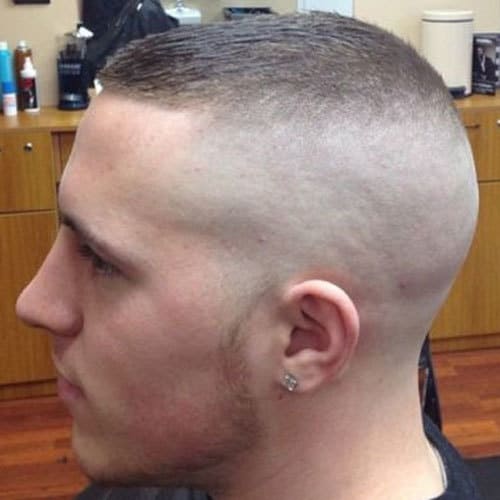 Combine longer hair at the top with closely shaved sides and you get the High and Tight marine haircut. Comb the hair at the top of the forehead. For this very reason, the hair at the top is kept quite long as compared to standard marine haircuts.
Best Marine Haircut #6. Ivy League Cut
Ivy League haircut is also known as Harvard Clip or Princeton cut. The hair length from the top to back and sides is gradually decreased in such a way that it shapes the skull.
The density of the hair is also varied and the hair can be styled according to an individual's preference. This marine haircut offers a lot of diversity and is ideal if you're looking for extensive personalization in your haircut.
Best Marine Haircut #7. Crown Soldier Cut
This is a marine cut with some style variation borrowed from regular haircuts. The back and sides are shaved to give the top hair impression of a cap or a crown on the head. Go for an undercut and then style your hair from the centre to achieve this look.
#8.
marine corps haircut
#9.
marine crew cut
#10.
caesar cut for marine corps
#11.
black marine haircut
#12.
marine fade haircut
#13.
#14.
#15.
Marine hairstyles conform to military regulations for grooming that are both practical and logical from a marine's point of view. For all we care, they are cool, stylish and you can never go wrong with a marine haircut.