Short hairstyles look great on black men. They are perfect for both casual and professional styles. The benefit of wearing your hair in a short hairstyle for black men rather than a long hairstyle is that these styles are really easy to take care of.
Some of these amazing short hairstyles are 'get up and go' looks, whereas others require a little bit more work.
Cool and Trendy Short Haircuts for Black Men
To keep your hair looking great, you will need to wash it regularly using a moisturizer rich shampoo and conditioner. Afro-textured hair can be drier and more brittle than other hair types, so you will need to keep it hydrated if you want it to look great.
Here are 70 trendy short haircuts and hairstyles for black men to try in 2023.
1. Short Tapered Afro
A tapered Afro is the perfect short professional hairstyle for Black men. Rocking this look means wearing hair shorter along the sides of the head without having to sacrifice your natural texture or unique style.
2. Short Mohawk
A short mohawk is actually pretty easy to create because your hair doesn't have to be long. For strong cheekbones and a defined chin, this rounded shape is actually perfect and softens your features immensely.
3. Short Afro with Line Up
A short afro hairstyle for Black men is always a safe choice, but a fade over the ears makes it fresh and relevant. Here, a line up helps to define your face and makes your hairline appear flawless.
4. Super Short Crew Cut
Let's face it, the crew cut is a popular very short haircut for a reason. This buzzed length shows off a handsome face and requires nothing in terms of styling. Wear it on a clean face or with a hint of stubble.
5. Rounded Cut with Line
Another go-to high and tight style, this round shape adds interest and works with the natural texture of your curls. A Black men's short hairstyle with line makes for a stand-out style you're sure to love.
6. Short Twists
Short twists have always been cool, but funkier versions are definitely popular today. Try a round shape if you have defined cheekbones or a long face shape.
7. Drop Fade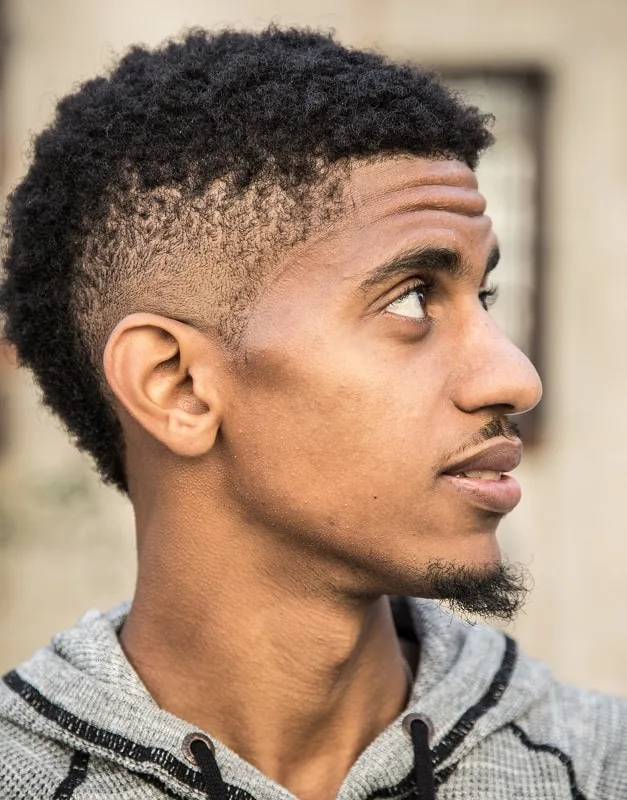 A variation on a low fade, a drop fade means that the fade portion falls behind the ear. This can be cool for creating a mohawk effect or cleaning up the appearance of your curls overall.
8. High Fade
A short high fade is ideal for business professional men that need a haircut to work for them and not the other way around. A fade frames your face while a short cut requires minimal, if any, styling.
9. 360 Waves
360 waves give hair that silky, retro look. This look doesn't happen overnight, as it requires about a month of constant brushing. Once achieved, however, the effect is clearly worth it.
10. Slicked Back Style
Go for something sexy and try this short slick back hairstyle for Black men. Nothing reveals gorgeous cheekbones and eyes quite like this neat and pulled together style. A comb and a dab of gel are all you need.
11. Flat Top Cut with Fade
We love this short flat top haircut because some texture is still apparent. This is perfect for hair as it grows out and doesn't require obsessive and precise styling. A medium fade makes sure it's totally fresh.
12. Beard Fade
For a cool update to a short hair and beard style, try a subtle fade. This look requires buzzing hair around the ears, which is actually ideal for cleaning up thick hair on both your head and your beard.
13. Short Braids
Let's face it, short braids for Black guys are iconic. To frame your face and create a polished look, create a few cornrows on top and buzz the sides of your head. A fresh line up is also key.
14. Short High and Tight Style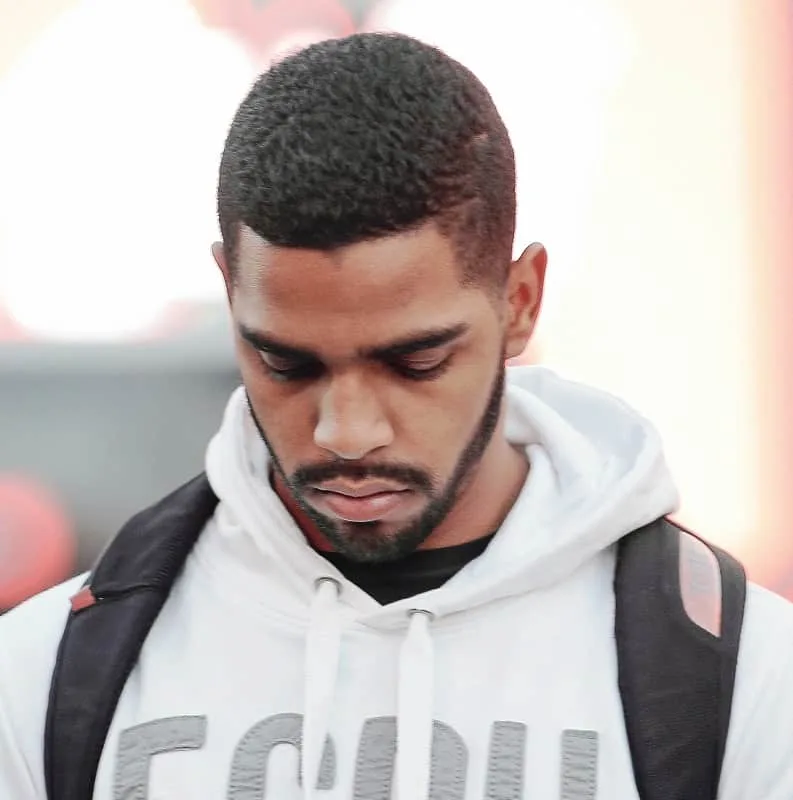 A simple high and tight styles is classic for a reason. This short haircut for young Black guys looks just as great for the workplace as it does while having fun with friends. Rock it on a clean cut face or with a neatly groomed beard.
15. Spiky Texture with Low Fade
Spiky texture is for the funky guy who enjoys having fun with his hair. Keep it neat with a tidy fade style that buzzes hair over the ears. The higher the fade, the less of the spiky curls you'll be able to show off.
16. High taper fade
A high taper fade is easy to make, maintain, and enjoy. The length of the hair on top determines the complexity of the touchups and the intensity of the style.
17. Windblown afro
The variety of afro hairstyles for black men is striking. Take advantage of this more or less short option by keeping the hair about 3 – 4 inches long. Note that the locks are layered.
18. Short drop fade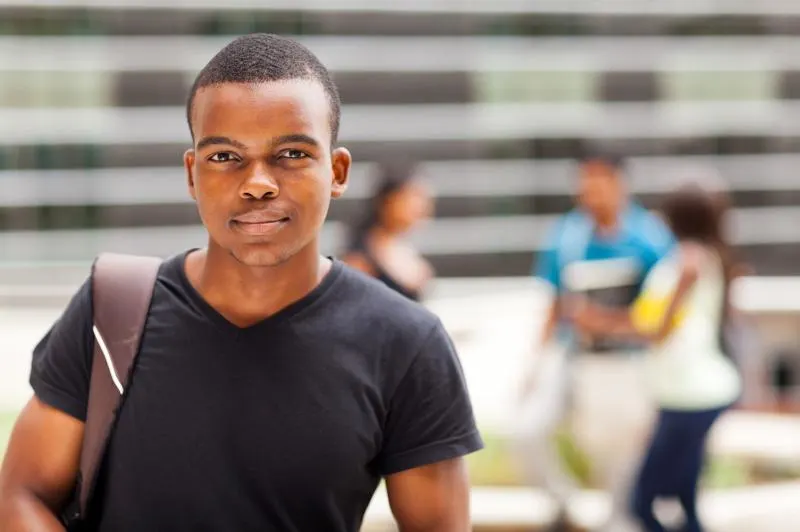 This short haircut for black men is attractive thanks to its simplicity. The drop fade makes the overall image a little more complicated than a military style.
19. Low drop fade
A low drop fade is exactly what you need when you are trying to deal with unruly hair. No hair – no problem. The shorter you trim the locks, the longer you'll wait for the next touch up.
20. High taper fade with ocean waves
While taper fades don't surprise anyone anymore, a smart way to catch the attention is to create ocean waves. They look great on the hair of any length.
21. Small Afro with Line Up
A short Afro style is ideal for black men who are looking for a smart-casual hairstyle. Crisp clean lines and sharp angles look amazing as long as they are kept neat.
#22. Tall Afro
Black men who want to elongate the shape of their face can do so by styling their hair into a high Afro. Rather than growing hair outwards, the edges of the style should be kept neatly trimmed. This encourages upwards growth instead of outward growth.
23. Block Cut
A block cut is a no-nonsense short hairstyle for black men. Trim your hair so that there are no hairs out of place on the sides or across the flat top.
24. Small Afro
Small Afros are a great short hairstyle for black men. Give your hairstyle a softer look by growing the style upwards and outwards. Do not trim your style or you will give your hair a blocky look.
25. Afro Mohawk with Shaved Tramline
Shave your hair at the sides but leave your hair long and curly in the middle. Enhance the definition of your Mohawk by using a razor to cut a thin Tramlines into the style.
26. Short Cut with Line-Up
A close shave haircut with a line-up style creates a really intense short haircut for black men. You can build up the intensity by fading the length between your beard and hairstyle.
27. Tramline Art
You can make any black men's short hairstyle into a work of art by cutting stylistic tramlines into your hair. Choose your own patterns to express your individuality.
28. 80's Cool
Tall boxy haircuts with crisp and sharp lines were a really popular look in the 1980's. Pay homage to the decade by styling your own retro short haircut for black men in the same way.
29. Trainee Afro
Trainee Afros are a very popular choice for black men who want a brilliant new hairstyle. At this length, the haircut is just starting to develop a pleasant Afro texture which is soft to the touch.
30. Blocky Afro with Poker Straight Tramlines
Give yourself a block short haircut for black men – an extra edge by cutting in a super straight Tramline. The precision of the line will help to enhance the blocky angles of your hairstyle.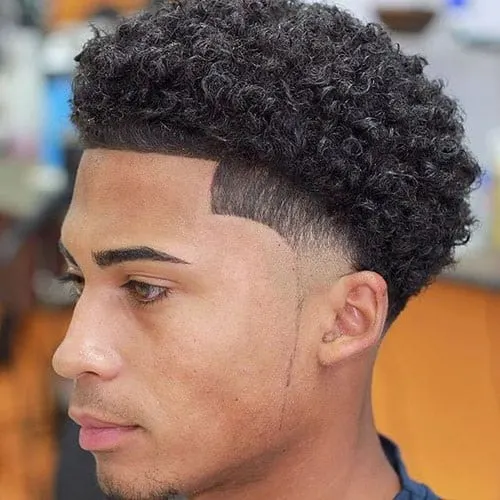 There are so many different short haircuts for black men that we were only able to choose a few of our favorite options. If you are looking for a longer hairstyle for black men, try viewing one of our other lists.