A simple ponytail hairstyle can be easily pulled off with a little attention, and it can be a cool, practical, and even glamorous choice for a party or running errands.
You can add bangs, braid it, curl or wave it, depending on the occasion and your personal style. You only need a hair elastic, maybe a few bobby pins, and heated tools to help you achieve flawless straight hair or bouncy waves.
Quick & Simple Ponytails to Elevate Your Daily Look
Simple ponytail hairstyles are a blessing on busy mornings. They're easy, quick, and stylish. Perfect for anyone who wants to look good effortlessly. Ponytails are perfect when you're in a hurry or want to keep things casual.
Scroll down and find some quick and easy ponytail hairstyles for effortless style that work for fancy occasions or busy days spent running errands!
1. Straight High Ponytail
For this simple ponytail hairstyle, all you need to do is straighten your hair and flawlessly get it on top of the head.
Secure it with a hair elastic, then pick a strand and wrap it around the base to hide the elastic.
2. Messy Low Pony for Asians
If you love a romantic casual look, then a simple ponytail is the hairstyle you need to get.
Keep your bangs on the forehead, and comb all your mane to the back. If you have naturally wavy hair, fluff it to create more volume. Pull some thin strands from the temple area and let them fall, framing the face.
3. Blunt Highlighted Banghs with Simple Pony
Thick blunt bangs that cover your eyebrows are ideal for women with large foreheads. They will look great if you choose a golden brown hair color with creamy highlights.
For the rest of the hair, gather all your tresses in a low ponytail in the back.
4. Pigtails
Everybody loves redheads. However, you must know that this hair color requires a lot of attention. The red pigment washes off easily and requires frequent touch-ups.
However, it is a great idea for women with fair skin who want something new. If you love childish looks, you will love the high pigtails on each side of the head.
5. Thick Braided Ponytail
If you have thick long box braids, your ponytail will have a voluminous aspect. Direct all your braids to the top and secure them into a pony.
Use one or two braids to wrap around the base, giving it the height you want.
6. Glamorous Wavy Low Pony
A simple ponytail hairstyle can be the perfect choice when you want a glamorous look.
Part the hair in the middle and style it with a pomade that makes it look luscious. Do a side ponytail and create bouncy, voluminous waves. If you want a richer mane, use a faux pony.
7. Side Ponytail
For this hairstyle, you should get a side part with asymmetrical bangs that you will flip to one part. On the other side, using a hair elastic, you will pin a ponytail.
8. Ponytail with Braided Strands
To achieve this amazing volume for your ponytail, first, you should crimp your hair with a small iron, then brush the hair.
For each side, style a braid and set them aside. Do a low ponytail and use the braids to wrap them around the base.
9. Messy Top Side Pony
If you want your hairstyle to hold, then it is mandatory to use elastics that don't rip off your hair and that can be stretched properly.
Otherwise, your pony will become loosened and it will not look its best.
10. Curly Ponytail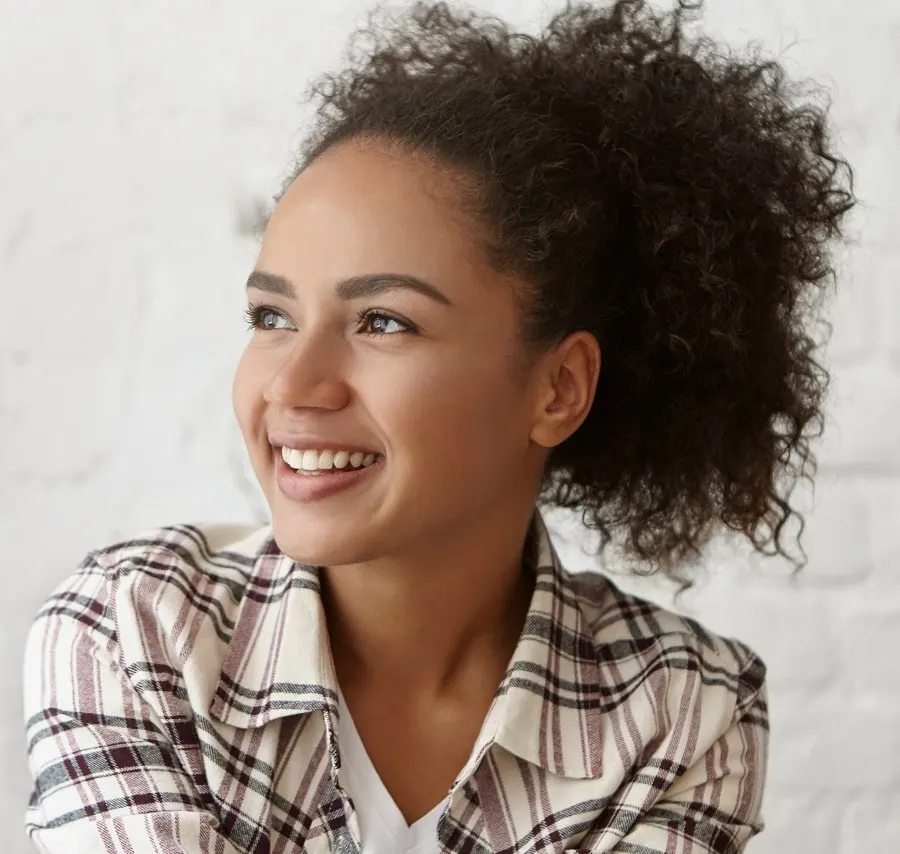 Ponytails are one of the easiest hairstyles to pull off if you have curly hair. Grab a scrunchy that won't damage your hair and comb all your mane with your hands. Pin it in the back, allowing that texture to work its magic.
11. Simple Ponytail with Bow
A simple ponytail can be easily transformed into a coiffure with a French romantic vibe. All you have to do is secure it in the back and use a scarf to create a bow.
Secure the hair again more than one time, depending on the length of your hair.
12. Dreadlock Ponytail
Growing such amazing dreadlocks requires a lot of patience, dedication, and care for your hair. Once they reach such length, you can style them in so many amazing ways.
Moreover, if you want something quick and easy that is also cute, pin all the locks on top of the head and tie them with a scarf.
13. High Pony for Medium Hair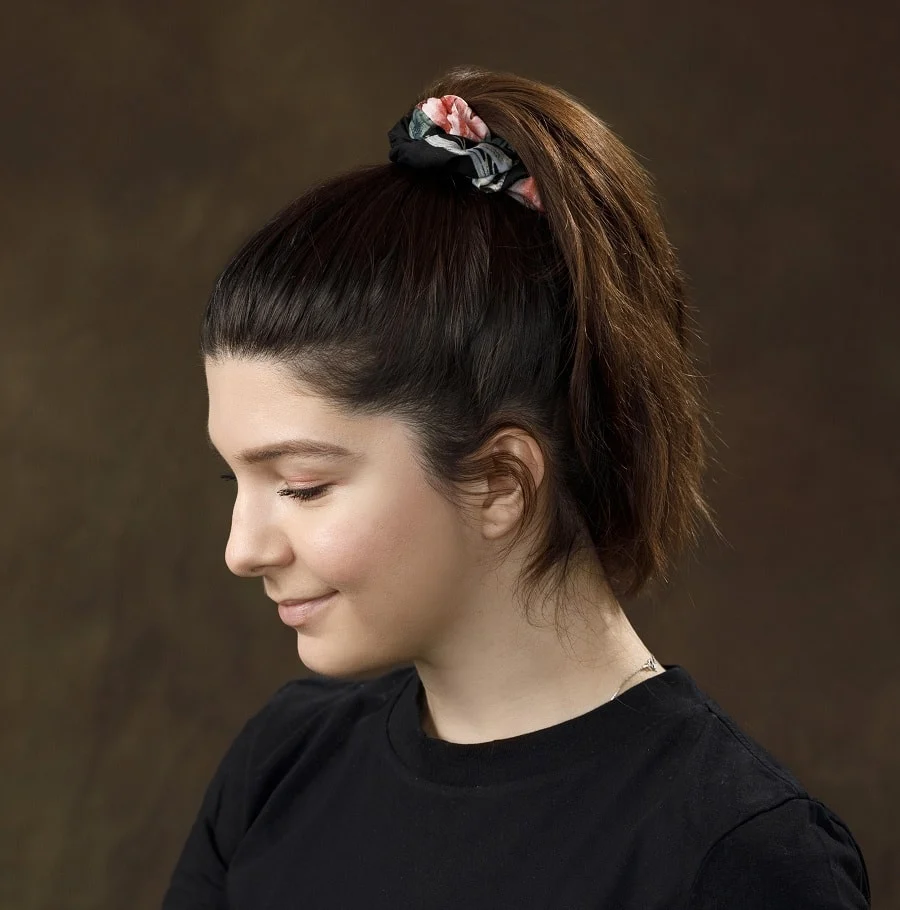 A colorful scrunchie is all you need to add some color to this simple ponytail hairstyle.
However, if you feel the hairdo is missing the glam, you should wave the pony and give it some volume.
14. Pony with Headband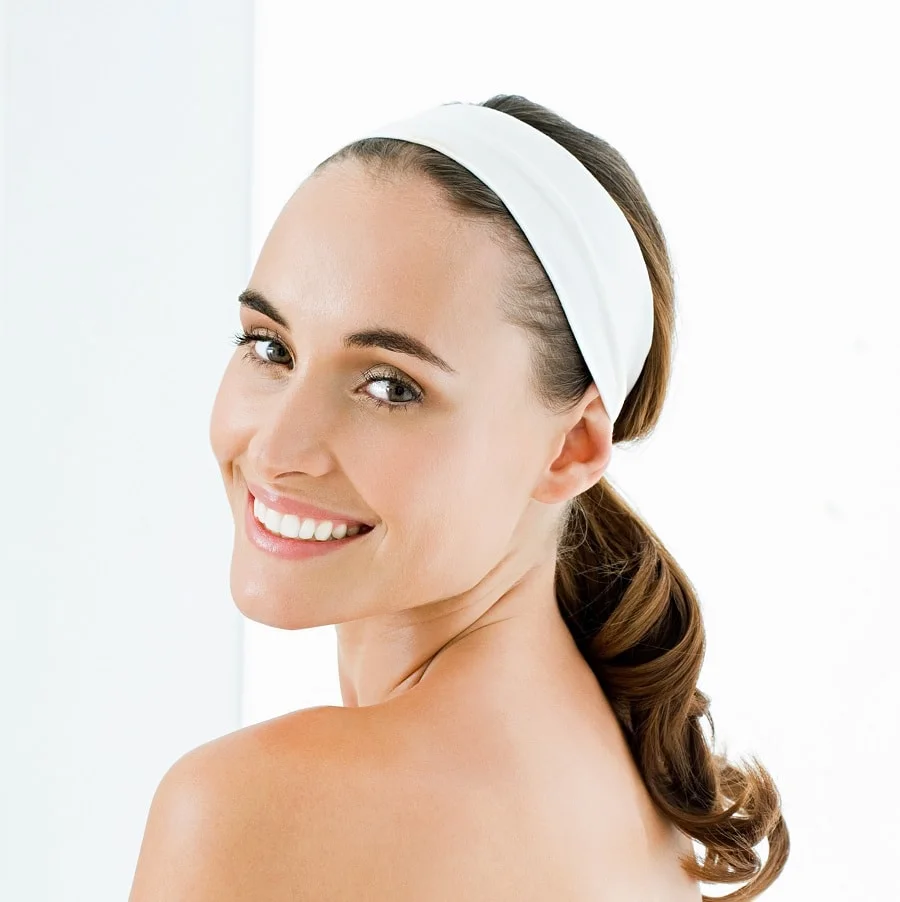 Ideal for busy women who are into sports or need to keep their hair out of their way. A low ponytail will really help with keeping your hair secured. Also, a headband will keep your bangs away from the face, tucked under the material.
15. Fluffed Ponytail with Crown Bump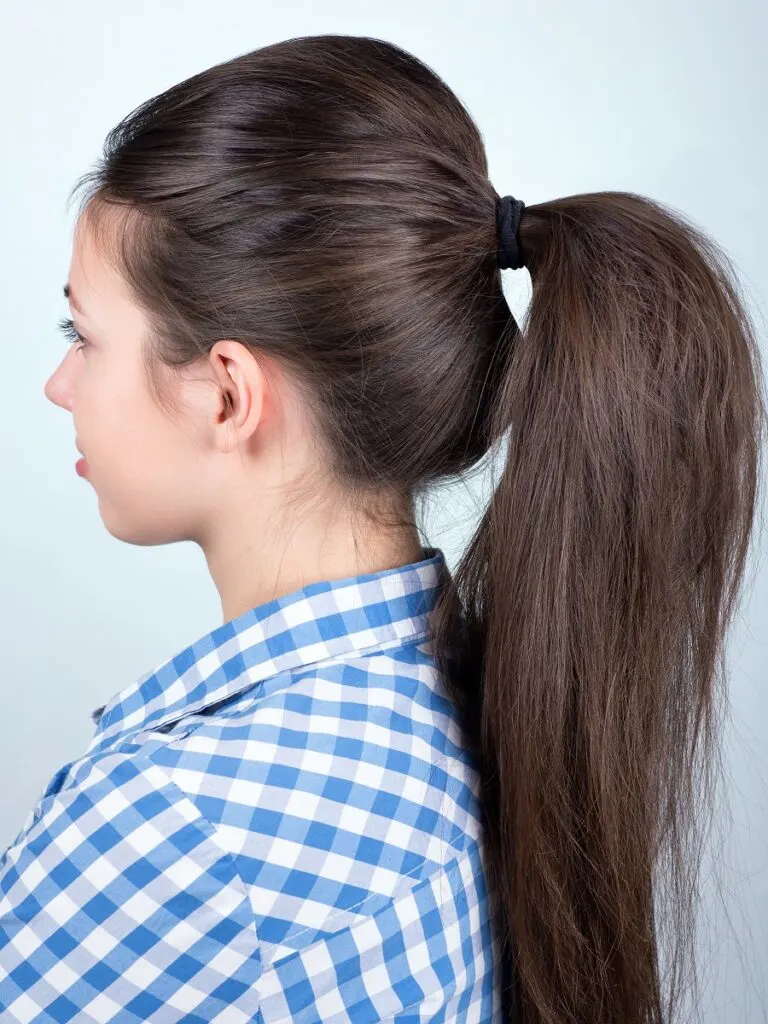 If your hair is not as voluminous as you wish, there are a few alternatives that'll help you gain the dimension you need.
You can use a tiny crimping iron or tease the hair, especially for creating that top bump. The same tips will help you achieve the desired volume for the ponytail.
16. Side Long Simple Ponytail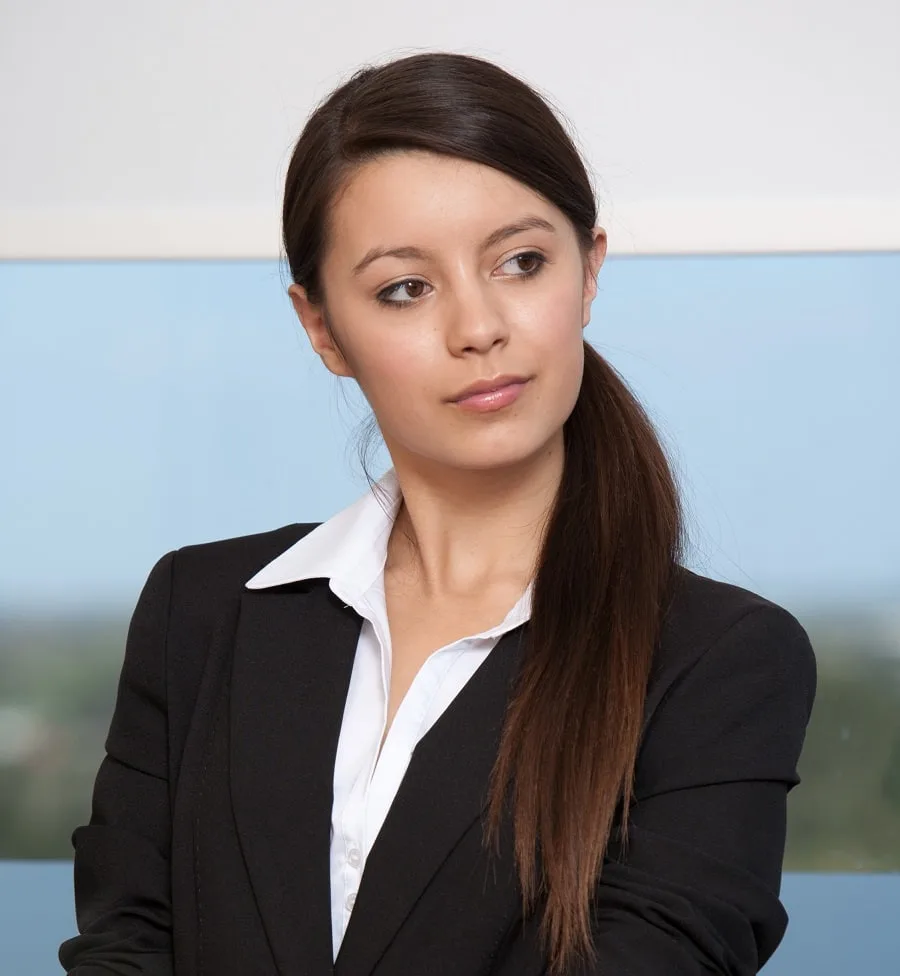 As a businesswoman or white collar, your hairstyles need to be in the same tone as the professional environment you're working.
Opt for a side part with bangs glued to your forehead and a simple ponytail on the other side.
17. Ponytail Tied with Scarf
Feeling romantic and want to show off your girlie side? A simple ponytail with a wave is the right call.
Decorate it with bobby pins with pearls and secure it with a red scarf you tie with a knot.
18. Half Up Half Down Hairstyle with Pigtails
If you adore channeling your inner child, you must get a short blunt bob haircut with two pigtails.
Part the crown in two sections, then secure with hair elastics that have a nuance close to your hair color.
19. Twisted Ponytail
It's not only the ponytail that gets all the attention but also the hairline that is beautifully styled.
Get all the hair up and secure it, then attach your fake pony. Split it into two parts, then twist each side in opposite directions. Twist the pieces again.
20. Ponytail with Side Undercut
This badass look is ideal for women who love to show off their wild side. Moreover, if you need to cover that razor section, you can easily do it by wearing your hair loose.
Shave the temples then secure all your mane in a ponytail.
21. Faux Braided Pony
Jumbo hair or natural faux ponytails are a great way to extend your tresses. Use jam to make your hair look sleek and perfectly tied. Attach the hair then tightly braid your ponytail.
22. Boho Pony with Waves
When your hair has multiple highlights, you can transform it into a real piece of art by curling it and giving it more volume.
Fluff it out and secure it in the back. To highlight the ponytail, use a strand and wrap it around the base.
23. Wavy Top Ponytail
When you have thick hair, you can easily do a half-up half-down hairstyle without worrying that one of the sections will lose volume.
Wave your hair and pull off a few strands from your bangs, leaving them to fall on the forehead.
24. Side Wavy Ponytail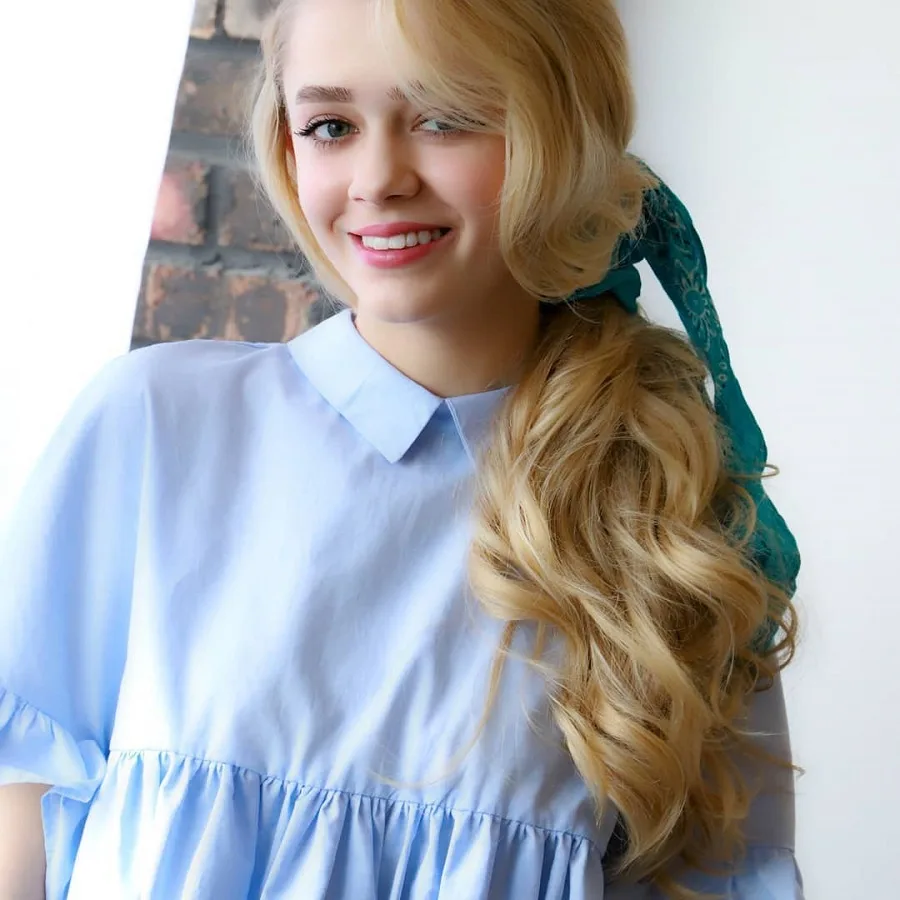 Romantic looks are all about waves, cute accessories, and warm colors.
Create loose waves for your mane and flip your hair on one side. Secure it with a colored scarf. Make sure the hair is not pinned too tight so the waves preserve their shape.
25. Ponytail with Twisted Base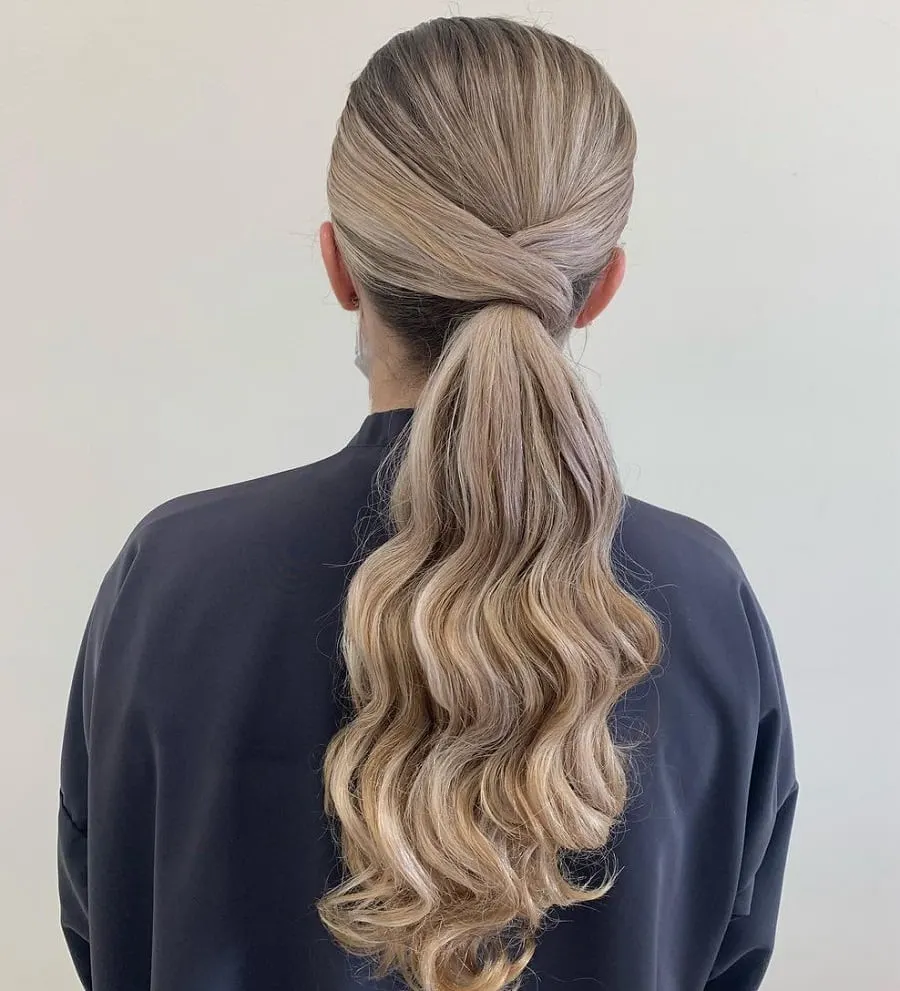 If you adore having a texture and cute, natural-looking waves for your highlighted mane, this is a fabulous way to improve its aspect.
To create that crisscrossed effect, pick a strand from each side and pull it to the other part, hiding the elastic you used to secure your pony.
A simple ponytail can transform a dull look into a glamorous hairstyle. If you have an ombre, multiple colors, braids, or highlights, a pony is a great way to pin your hair without making your hair look boring.