Summer allows you to show off and brag about your gorgeous hair. Most women search for practical summer hairstyles that are easy to handle and don't keep their tresses on the back. Sweat is your biggest enemy during the summer because your locks end up looking sticky. So, you need to find the best approach and adapt your hairstyle for the hot season.
How to Take Care of Your Hair In Summer
Protect hair from sun and UV rays
Use hair oils and leave-in conditioners for added moisture
Use a hair sunscreen to protect hair
Avoid frequent washing and use dry shampoo
Use a hair mask to repair any damage
Avoid heat styling and use heat protectant
Use a hair oil or serum to tame frizz
Protect hair from chlorine and saltwater when swimming
Trim and cut hair regularly
Keep hair hydrated with a water spray bottle.
Should You Cut Hair For Summer?
Take a good look at your hair. There are several parameters you should evaluate before deciding to give yourself up to a stylist.
Slide your hand through your locks and pull it out. Got more than 5 hairs on your palm? Your mane is on its way to a sorry state, so it needs help. The first aid is cutting.
Carefully study the ends. Got split ends that are longer than 1 mm? Go get a cut, NOT a trim – a good cut. Take off some serious length. Opt for a bob or even a pixie.
Take a look at the color. Roots have grown out and look quite unpleasant, the rest of the hair is dull and dehydrated. Time to cut your locks as short as possible and even out the color.
Take one hair in your hand, squeeze the top between two fingers and slightly pull at the end with another hand. Did you break it? Go and make an appointment with a professional hairstylist.
Being upset about a haircut is useless. Hair will grow back. You will be in a much sorrier situation with dull and terrible-looking hair in the summer. Summer offers all kinds of trials for your hair. Constant heat and sweating will do no good to your already damaged mane. So, if you want to go easy on your hair and let it grow thick and healthy, you need to sacrifice the damaged and dehydrated ends.
You'll be pleasantly surprised to hear that there are many wonderful short haircuts out there. You will surely get lost choosing from an amazing variety of bob cuts, pixies, shags, etc.
If you just can't stand the way you look with short hair, you can consider hair extensions. All is fair in a fight for healthy locks.
How to Maintain Healthy Long Hair In The Summer?
Passed the above 4 tests without heading to the hair salon? Congratulations! You are ready to leave your hair long.
However, it doesn't mean you should forget about the barbershop. After you've taken off the hat, make the appointment anyway. Trimming is compulsory for keeping hair healthy in the summer. No need to cut it short. Just take off about half an inch (about 1 – 1.5 cm).
Summer means heat and heat mean hair damage. Long hair is great for flaunting, but it will soon become dull if you don't follow simple rules.
Trendy Summer Hairstyles
1. Blonde Summer Pixie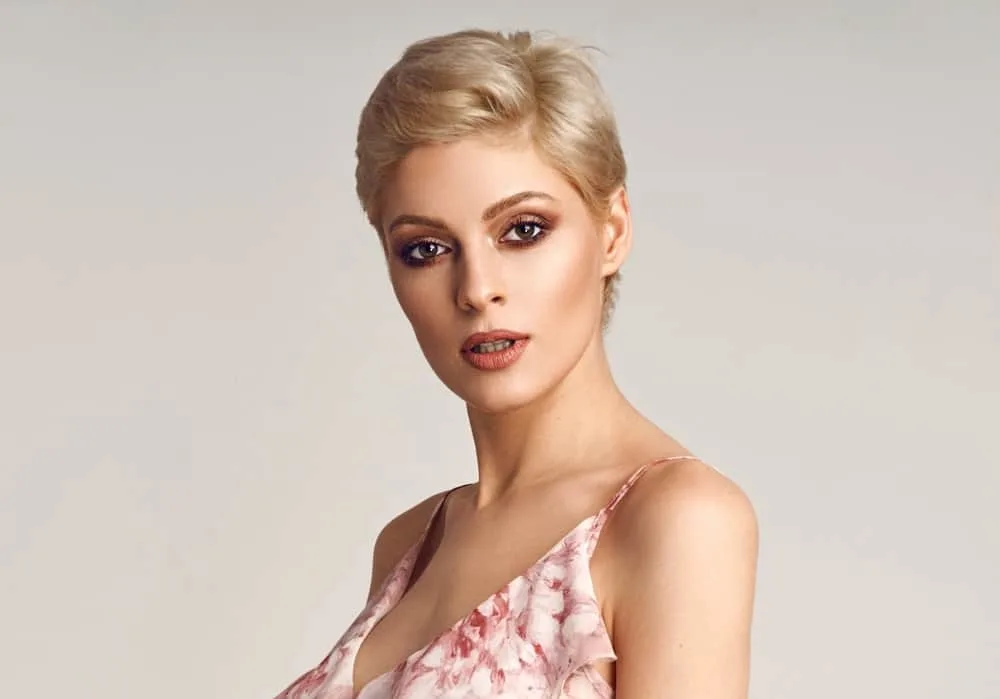 Summer is the season when hair saloons are flooded with women who want to get a dramatic change and get a pixie. So if you're tired of long sticky tresses on your back, especially when outside feels like a sauna, go for a pixie cut.
2. Waves with Highlights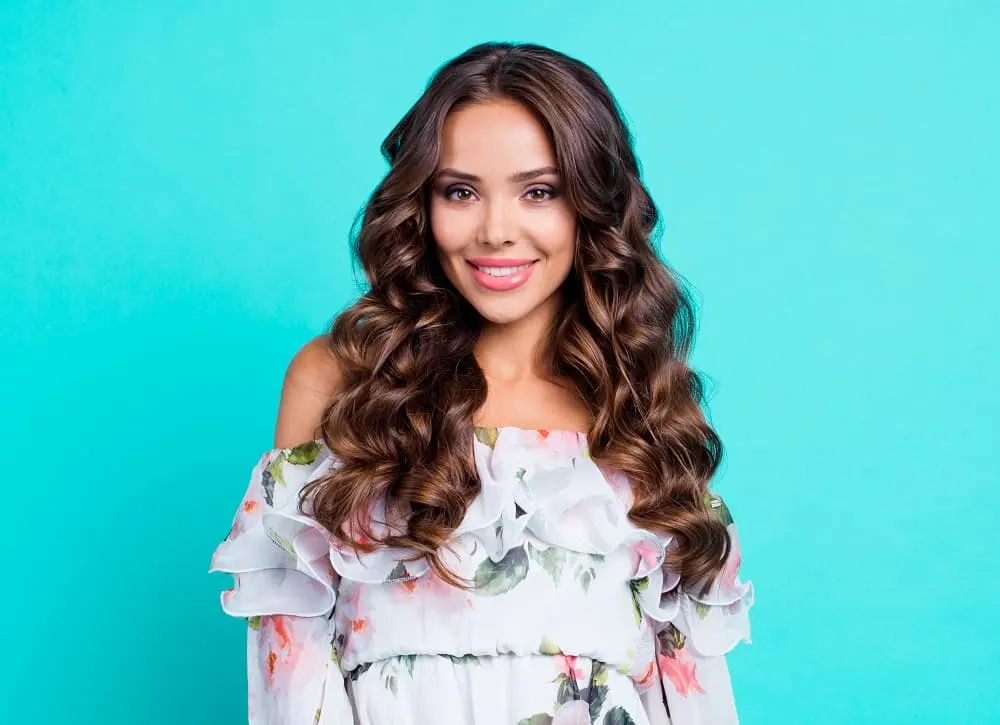 Voluminous waves will probably never fall out of trends. We all crave them and use them to build more dimension. But, instead of using heated tools, remember that you can get the same hair by wrapping your tresses around a cord overnight.
3. Multiple Space Buns
Are you getting ready for a beach party? Girl, you're in the right place! Style multiple small buns all over the head and use a thin strand to build the finger wave. Go for electric makeup, and don't forget about those trendy huge rounded earrings.
4. Hawaiian Look
You can recognize a Hawaiian-inspired look from miles: it's vibrant, fun, colorful, and full of joy. And the same should be your look for the summer! So get the Hawaiian necklace called lei, and use it as a head decoration.
5. Bun and Scarf
Are you going to the beach with your friends? Don't forget your favorite scarf! Use it on your head and wrap it around. It will protect you from the burning sun, and it will also look cool and chic. Go for a messy bun and a pair of glasses to complete the look.
6. Wet Look
Wet looks are the definition of summer. Inspired by the way your hair looks when you get out of the pool, sea, or ocean, this hairstyle is still skyrocketing. It involves a comb back and a pomade and styling spray that gives your hair that wet appearance.
7. Marine Cornrows
When you love color blends as much as we do, you will probably fall in love with these thick cornrows that and up in a blue sky color. Once you're close to the nape, get your bundles and feed in the braids to create those knitted extensions.
8. Messy Beach Hair
Ombres are probably the best dyeing ideas for summer. Even if the sun enlightens your color and creates highlights, all this will magnificently blend with this gradient. And it also suits straight, curly, short or long hair.
9. Two Braids
Two Frech braids are a great hairstyle for summer for little girls and women. Instead of braiding and unbraiding to make them look impeccable, carelessly knit them and mess them up a little bit. But don't mess up in the hair dye chapter.
10. Pale Teal Summer Hair
Summer is the perfect period when you can make a dramatic change and opt for an oceany color like teal. If you don't want it to be eye-popping, go for something pale, and style waves. You'll obtain those amazing reflexes when you step into the sunlight.
11. Classic Pony
A simple high pony never disappointes anybody during summer. So if you want a quick way to style your hair, to avoid sweat and still pull off a fancy look, the pony is here to the rescue.
12. Childish Space Buns
Space buns are so fun and childish and look fabulous on women who adore channeling their youthful selves through their hairdo. To pull off the space buns, part the hair in two and style two half ponytails that you'll roll into buns.
13. Comb Back
Times when short haircuts weren't considered feminine are gone. Now women love a good pixie cut with a shave or an undercut, and that doesn't make them less appealing and glamorous. So don't be afraid to switch to this fantastic summer hairstyle.
14. Messy Water Waves
When you get out of salty water, your hair has great aspects. But that doesn't mean it's healthy for your tresses. So make sure that after each dip in the sea, you wash your hair to take off all that salt.
15. Golden Brown Medium Hair
Sun-kissed hai suits women of all ages. Therefore, when the hot season comes, forget the brunette and join the blondes crew. Opt for a blonde caramel color, get bangs and style some waves.
16. Low Bun
When looking for a summer hairstyle that is elegant and glamorous, the simplest hairstyle might be the best option. You know what they say, sometimes "Less is more!". And if you want to focus on that romantic vibe, spare a few strands from your bangs and sideburns.
17. Horizontal Braid
Braids can be so chic and romantic and can be styled to suit any girl and personality. Simple, yet very sophisticated, this hairdo gives your whole look that most wanted summer vibe. Start braiding from one side of the head and knit till you reach the lateral.
18. Puffy Pony
This is what practicality meets fun hairstyles means! And that amazing ponytail is the best example out there. It keeps the hair tied into a gorgeous pony that has been secured several times. Use hair elastics to pin it and pull off the edges to get that rounded shape.
19. Sharp Cut
Such an edgy and bold summer hairstyle! It doesn't only look so cute, but it's perfect for the hot season. It's so stylish, and it keeps the bangs away from the face and uncovers the nape area.
20. Half Up Half Down
As a woman with fair skin, a blonde color with even lighter highlights will make your hair stand out in any crowd. Messily wave your hair and go for a simple half up half down hairstyle. Get that glam with a pair of rounded glasses with white frames.
21. Sun-Kissed Blonde
Not going to see the ocean or the seaside this year? No problem, that doesn't mean you can't get that sun-kissed look all girls crave. And the trick lies in the blonde nuance you choose to wear. So opt for a caramel tone that suits your skin color.
22. Braided Crown
We all know that during summer, one of the worst experiences is to feel that sweaty hair stuck on your nape. To prevent that from happening, here's a summer hairstyle that will do the trick for all girls with long hair: the halo braid.
23. Vibrant Fuchsia Hair
Summer is the best time of the year to wear vibrant colors and try new things and color combos. So if you're into that and crave a fresh summer look, choose a fuchsia vivid nuance for only some of the tresses. The rest should be painted in pale pink, creating a contrast between the intensities of the same color.
The greatest problem for hair in the summer is dehydration. It's not surprising, as hot sun and wind are its worst enemies during this time of year when people take their vacations by going on vacation to salty sea or ocean waters which can be harmful if they don't drink enough fluids while swimming frequently too!
So, what can you do to have lively and shiny hair in the summer without cutting it short? Take a look at some compulsory tips for hot season hair care. To summarize again:
Hydrate your hair
Before you do anything with your hair, trim the split ends. The second rule for summer hair care is hydration. Sometimes dealing with a dry hair problem is just as easy as buying a proper shampoo for the sunny season. The ingredients of such shampoo should include hydration components, such as coconut oil and aloe.
Products with citrus extracts will additionally freshen up your locks. Many people stop using hair balsam after washing, thinking that contact with sweat and dry wind, will lead to a dull look.
However, hydration after washing is compulsory. All you have to do is change the creamy balsam to a light freshener or a mask, which doesn't need to be washed off.
Do You Wash Your Hair Before Dying? Here's What You Really Should Do
Take proper hair care products on vacation with you
Before going on vacation, make sure to purchase all the necessary hair care products. Here is a "must buy" list:
Special shampoo and balsam
Masks
Jojoba or grape seed oil for hydrating hair ends
Sunscreen for your hair (mousse or cream)
All the products you are buying should have the highest sun protection factor. When the sun is heating up your hair, even its natural color changes. Imagine how damaging it is to your locks. If you are planning to take sunbaths, then make sure to cover your head.
This is especially important for dyed hair. Sun will make any color fade. Some people like the way their hair gets lighter under the sun. However, it would be much less damaging to dye it than to sun-bleach it.
Learn how to style your hair in the summer
When the weather is hot, the sun takes moisture out of your hair. Proper summer hair care implies simple styling, which protects the hair from dangerous ultraviolet rays. Don't use a blow dryer and curling iron. Try to use tools, which don't require contact with heat. You can use hair rollers or make waves by braiding hair overnight. It is very important not to use creamy products and dry your hair naturally.
If your hair is very long, try the fashionable French hairstyle. It will require minimum hair products and just a little time. Start by washing your hair and rinsing it with cool water. Letting your hair down is not the best idea in the summer, but making a tight bun is not a way out either.
The French braided hairstyle is somewhat of a middle ground. After the hair is dry, apply some special styling spray with a sun protection factor. Make a loose bun on top of your head and secure it with pins. Some strands must be let down on both sides of your face.
Such a "mermaid" hairstyle is very popular in the summer since it offers great protection for hair and doesn't require too much time or hair cosmetics.
#4: Learn the DON'TS
Sometimes it is more important to learn what not to do than what should be done. Here are some important don'ts for summer hair care:
Don't leave your head uncovered from 11.00 a.m. until 4 p.m. If you hate hats and caps, choose some light scarfs.
Don't blow dry your hair. Let it dry naturally and give it volume by fluffing with your fingers.
If you are planning a sun-filled vacation, don't dye your hair right before you leave. Dyeing makes the hair drier. Sun and hot wind will make your dyed locks lifeless and dull
Use a swimming cap when going swimming. If caps are not your style, try not to submerge your head into the water. Make a high bun and keep your head above water while swimming. If your hair still got wet, make sure to wash the salt water off as soon as possible.
Don't leave split ends. Trim your hair at the first signs of splitting.
Whatever you decided to do with your hair this summer, don't ever forget to care for it. When you are young, hair care is often minimal. But as you get older, you will notice how your hair absolutely refuses to look as wonderful as before. In order not to face disappointment, start learning how to care for your hair when you are young.
Make a habit out of it. Each season requires different hair care techniques and if you learn how to follow them, next summer you won't be facing a "cutting or flaunting" question. Your hair will be healthy and beautiful regardless of the season.