With 40 shades of hair color to choose from in the world, narrowing down your options can be an overwhelming task. Luckily, if you are leaning towards a dark hue like black, your hair journey may be easier than you have imagined.
Think you want to dye your hair black? Or perhaps you are searching for beautiful extensions or even a wig that will capture the rich hue you desire. Choosing black hair isn't as simple as saying one word.
While there are dozens of hair colors to choose from overall, there are pretty much two options when choosing a black hair color. Enter 1b hair color.
What is 1b Hair Color?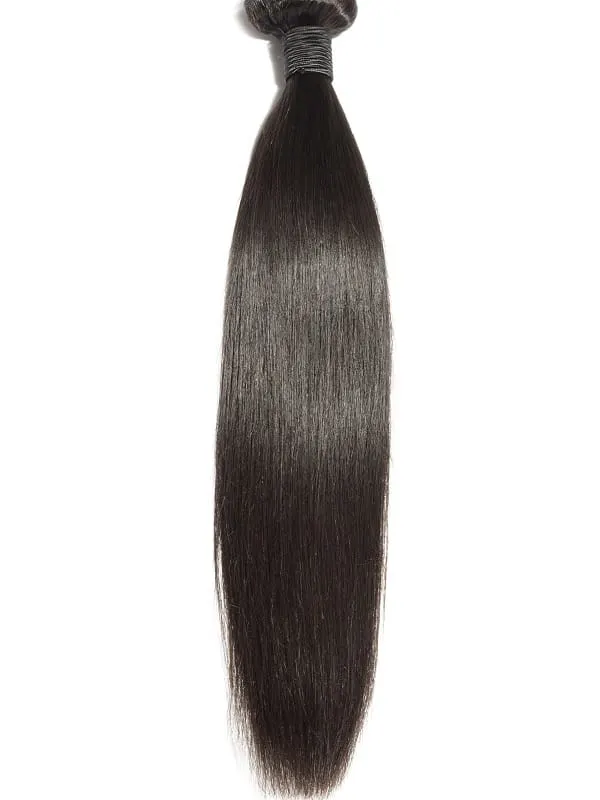 As one might guess, the "b" in 1b indicates black. Compared to jet black, which is very rich in hue and has a dark quality, 1b hair color, also known as off-black, is considered the most natural option.
Jet black hair, also known as #1, is not a natural hair color, so choosing extensions in this color assures you will have to dye your hair in order for them to match.
When it comes to extensions, 1b is more likely to match your natural color than jet black hair. It is also the middle man between this dark color and the shades of dark brown that follow.
While "b" means black, the number "1" reveals that the hair isn't natural. You will find this when shopping for hair extensions and weaves online. Typically, when searching for virgin, unprocessed hair, 1b hair color is going to be your best option.
How Do I Know if 1b Is the Shade for Me?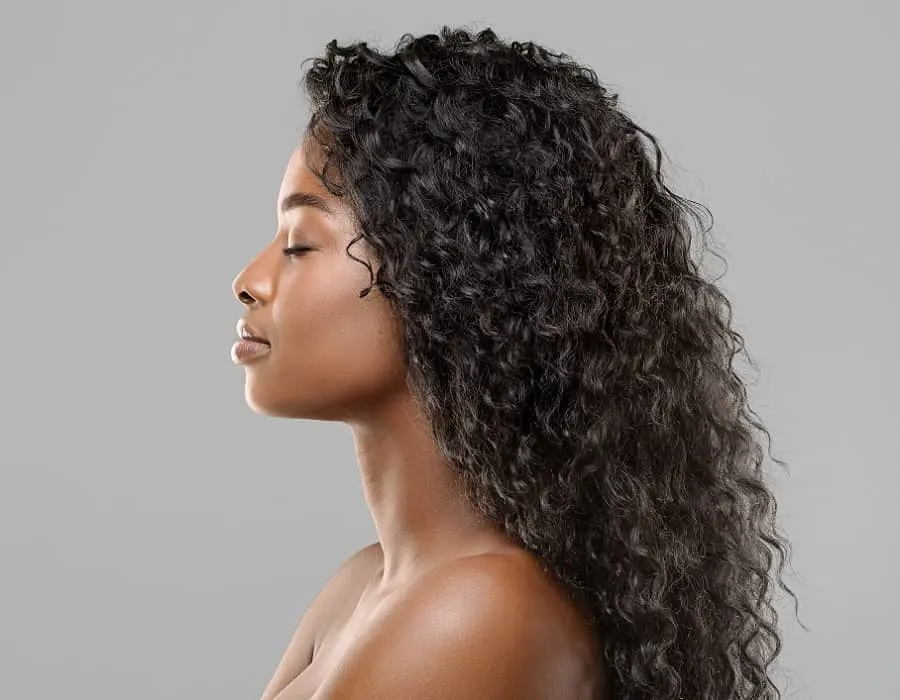 Because they lack warmth, jet black tones can be hard to match with any skin type. 1b hair color is more likely to work with a variety of skin tones, but the most important thing is to pay attention to your eye color and your skin's undertones when choosing the correct black hue.
If you have pale skin, expect a more drastic look when dying your hair black. This color can contrast in an intensely beautiful way if you have light eyes, however.
Ways to Get 1b Hair Color
One of the ways to match your hair to the shade is through dyes. Dyes are available in temporary and permanent options. However, opt for ammonia-free permanent dyes to protect your hair's integrity.
Temporary hair dyes allow you to experiment with different extensions to match your hair color. You can use henna, demi-permanent, or semi-permanent dye types to achieve the 1b color tone.
Remember to go for dyes with minimal chemicals to increase the lifespan of your extensions and/or hair cuticles.
It is easy for people with natural locks to use 1b extensions because natural locks are identical to the 1b colors. Thus, all they need to do is a little touch-up, and the locks and hair extensions match.
Other ways to get the 1b hair color include your eyes, eyebrows, and skin tone. In most cases, your hair products specialist will advise you on the perfect match for your hair.
1 vs. 1b Hair Color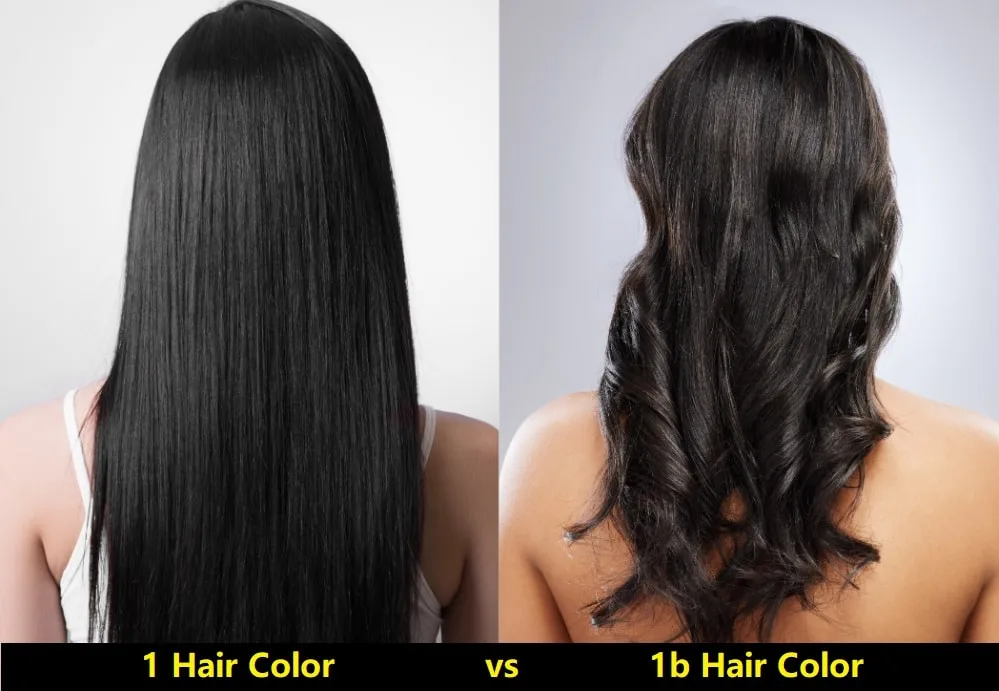 Jet black is the first color when it comes to the hues of black in hair colors. Off black is the second shade. Most people with dark hair prefer off-black to jet black as it offers the most seamless extension.
In addition, the options for 1b hair come unprocessed. Jet black appeals to individuals who want to instill mystery and refinement in their looks. 1 is mighty for people with light skin tones as it contributes to the contrast achieving an artistic look.
However, it often requires additional coloring because it is challenging to have jet black hair color naturally.
What's the Difference Between Hair Color 2 and 1b?
Hair color 2 is dark brown. 1b (off-black) lies between 1 (jet black) and 2 (dark brown). The dark brown hair color has a dark, cool brown color, while off-black is more of a warm brown undertone.
Online shoppers and consumers often confuse colors 2 and 1b. It happens because both set off almost the same brown color in sunlight. However, you can separate them since 2 is lighter than 1b.
Also, 1b is virgin (unprocessed) hair, and 2 gets colored to achieve a uniform look. Similarly, 1b has color variants while dark brown hair doesn't.
How Do I Care for 1b Hair?
Just as with any other hair color, 1b hair color needs to be properly cared for to maintain optimal health, strength, and shine. Wash your hair less, always use conditioner, and brush hair daily to avoid unnecessary tangles and knots.
If you have dyed your hair to match your 1b extensions, concentrate a moisturizing serum or oil onto the ends of hair in particular.
Hopefully, this article represents the end of your black hair journey. Looking for 1b hair color ensures a more natural-looking effect that is more likely to blend with your dark hair's natural tone.
Frequently Asked Questions
Is 1b hair color black or brown?
The "b" in 1b stands for black, and the 1 indicates that the hair isn't natural. It is an off-black hair color characterized by a rich hue and possesses a dark quality to complement your natural hair and skin tone.
Is 1b hair color natural?
Yes. 1b hair color is the most natural hair color you can get. However, jet black hair, often known as 1, often appears as an unnatural hair color. 1b is more likely to match as an extension to your natural hair color.
Is 1b hair color high maintenance?
No! The 1b hair color has relatively low maintenance 1b hair color requires regular care to maintain optimal health, strength, and luster. As a result, you wash your hair less frequently.
Apply conditioner and brush regularly to avoid tangles and knots. Also, If you colored your hair to match your 1b extensions, apply a moisturizing cream or oil to protect the ends of your hair.