If you like the way braids look or if you tend to wear your hair in braided styles, there's a pretty look you should try that you might not be aware of: bob braids. It's the traditional bob hairstyle but with braids.
Women with natural black hair love it for its protective style and all women can agree it's an overall gorgeous look. From box braids and side braids, to teeny-tiny braids and long fishtail braids… there's no limit to what you can do with a braided bob hairstyle.
Flattering Bob Braids
If you've got some time on your hands in the morning and want to spice up your style, you need to see these 18 styles of bob braids!
1. Box Braided Bob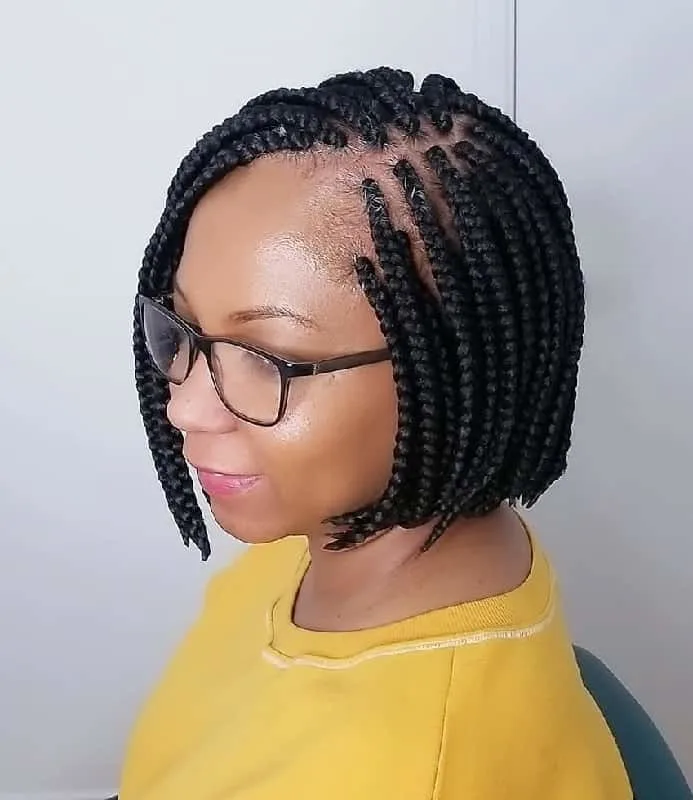 Box braids may take a bit of time to style at first, but the bob is well worth it and lasts several weeks. Secure each braid with a clear, black, or colorful elastic band and you're done!
2. Pixie Bob Braids
A pixie bob with two or three tiny side braids and a sparkly barrette is the perfect updo for a wedding or other formal event. Use a curling wand for more waves and texture.
3. Short Bob Braids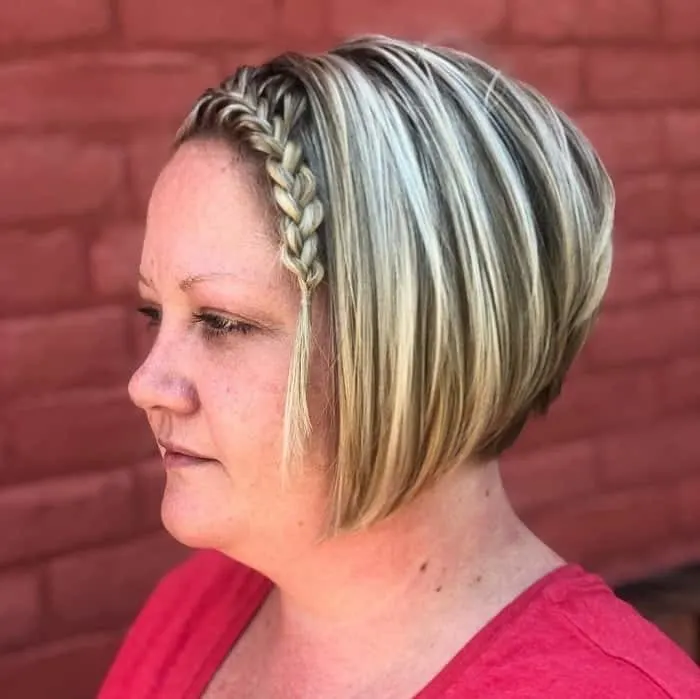 A small side braid is a pretty little detail at the front of a blonde bob. Part hair in the center and then braid or do an off-center part and braid – both are beautiful options.
4. Long Bob Braids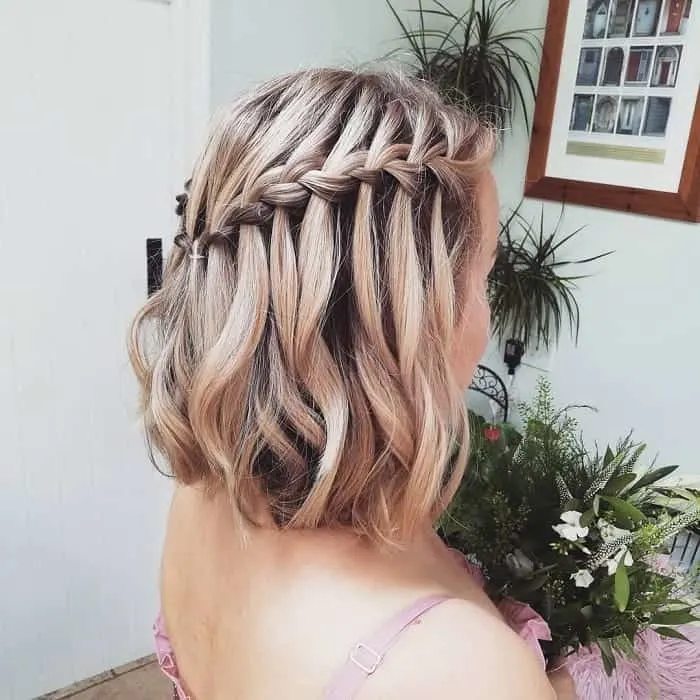 To dress up a long bob or to just feel a little fancier on weekends, put a little wave in your hair with a curling wand and then pull the two strands closest to your face back into waterfall braids and secure them with a barrette or elastic.
5. Medium Bob with Braid
This thick, loose braid is a subtle yet stunning way to add a little glam to your medium ginger bob. A choppy cut with waves all over ensures there's no shortage of volume.
6. Crochet Bob Braids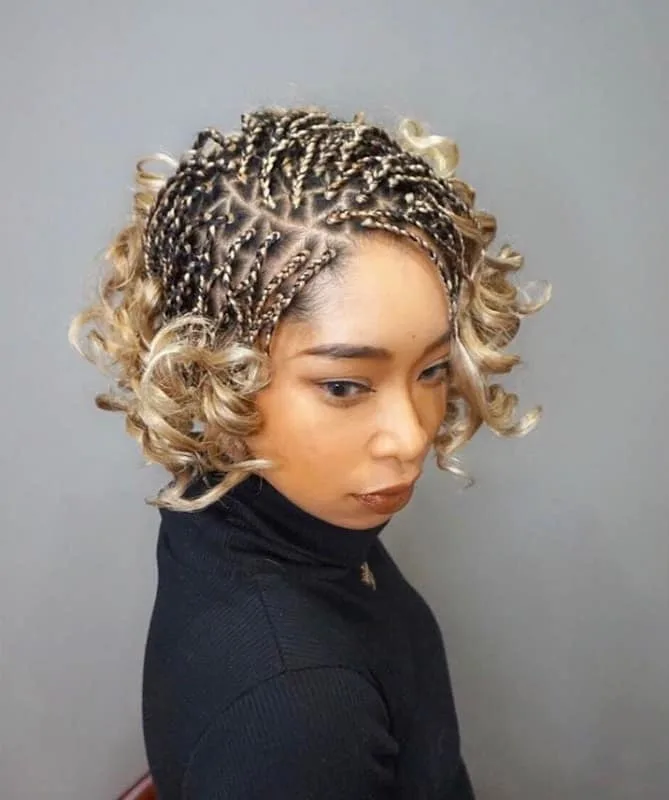 A crochet bob involves weaving in synthetic braids. This is a great option for women who want a protective hairstyle while their natural hair grows out. Add platinum highlights for a beautiful complement to dark skin.
7. Jumbo Braided Bob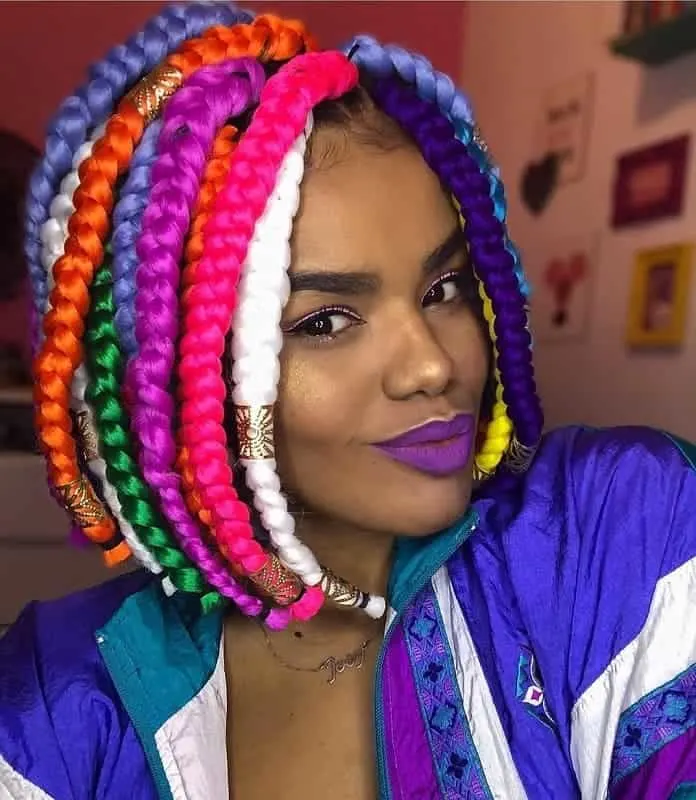 We know you want to stand out, so this colorful jumbo braided bob is just for you! Each braid is accented with a gold or silver bead which, combined with all the colors of the rainbow, means no one will have your look.
8. Bob Twist Braids
Dark eyes and dark skin look naturally stunning with dark green. Go for all over color on your braided twist bob with a center part.
9. Micro Bob Braids
Micro braids are as tiny as you can get and are just the thing for women who want a fuller-looking hairstyle. They'll last about three months, which is perfect if you want low maintenance.
10. Cornrow Bob Braids
Cornrows don't have to be braided in a typical center part style. These are fashioned in a wavy part and facing opposite directions for a fresh take on a braided bob.
11. Black Braided Bob
Remember Brandy? She rocked this stylish A-Line braided bob for years and it's still in style. Pair it with your favorite silver hoops for a gorgeous date night hairstyle.
12. Bob Braids with Curly Ends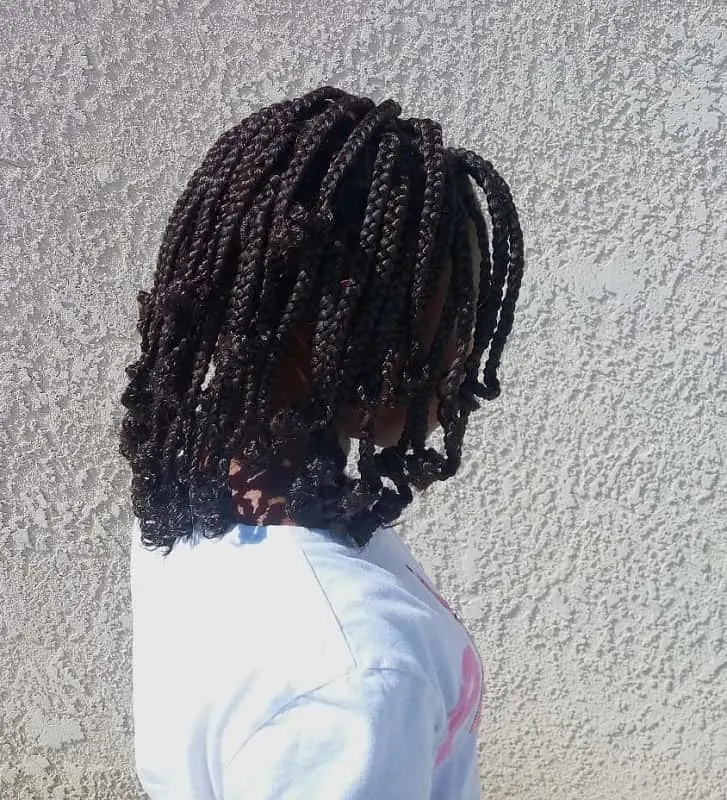 Rest assured, you can have the braided bob hairstyle and still have curls too! To achieve this beauty, braid the hair almost all the way down, leaving about an inch at ends unbraided. Secure with an elastic and that's it!
13. Honey Blonde Bob Braids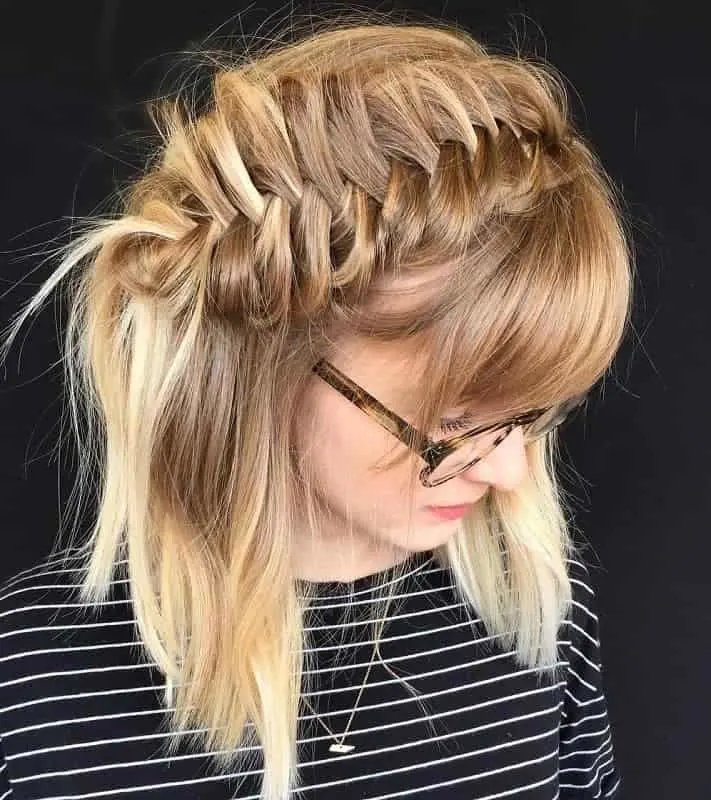 Thick braids are in and on a honey-blonde bob with platinum highlights they're gorgeous as fishtail braids. Pull the braid loose when done to give your hairstyle a bit more volume.
14. Blonde Bob Braid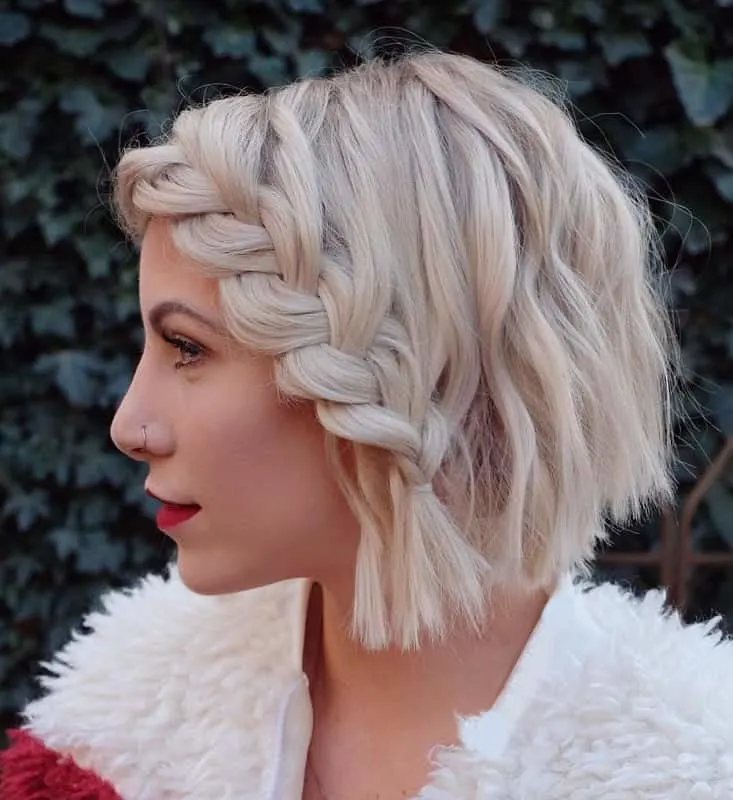 This dreamy platinum blonde bob's side braid draws all the attention to the front of the face, so feel free to wear a bold red lip on date night. Also, the more choppy the cut of your bob and the more waves you have, the better.
15. Asymmetrical Braided Bob
Blues, greens, and pinks give off a mermaid vibe for this straight asymmetrical bob and side braid. A crown of pearled clips decorates the braid, so you'll feel like a princess.
16. Purple Bob Braids
Your braided angled bob deserves some color, so choose a rich purple to complement your dark skin. Whether you sweep hair back at a side part or part in the classic center, it's a beautiful hairstyle.
17. Burgundy Bob Braids
Burgundy is another rich color that flatters dark skin. Braid one side of the hair toward the back of the head and the other side the opposite direction for a different take on a braided bob.
18. French Braid Bob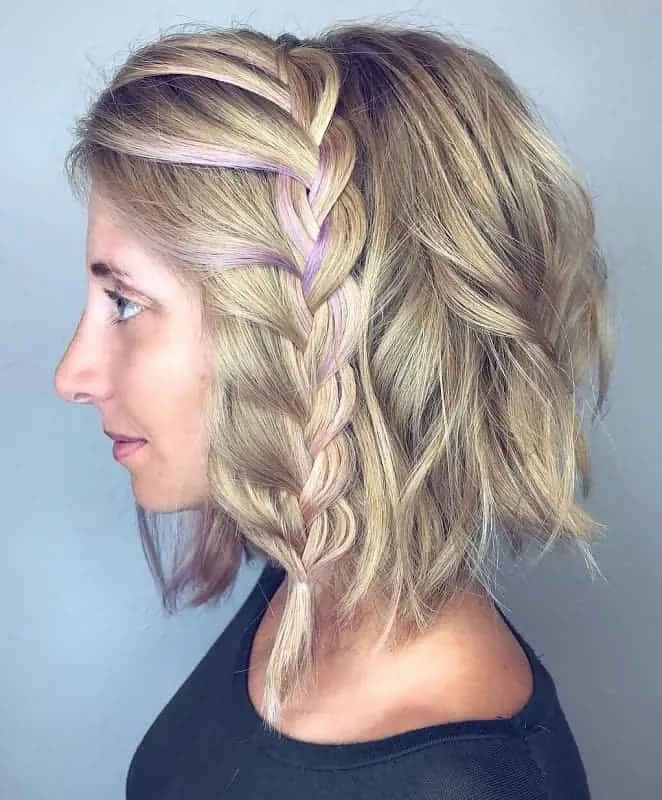 Do blondes really have more fun? Find out with a medium bob colored in rich honey blonde with a special streak of pastel purple you can show off in a side French braid.
All of these braided bobs will be a great choice if you're looking to go shorter or just change up your already short hair. These hairstyles are versatile as well, so your oval, heart, square, or round-shaped face will look awesome. Whatever style you end up with, feel good in knowing you have a trendy new cut!