Brad Pitt's hairstyles are diverse and creative. He has always been the standard for men's style including hairstyle. It's safe to say that Pitt is the guy that many men want to be and every woman wants to be with.
What is it about his style that makes him so desirable? How does one look so effortlessly flawless while still keeping his manhood intact? Here are 12 of our favorite Brad Pitt haircuts and hairstyles:
1. Brad Pitt's Professional Haircut
Brad Pitt is sporting a short haircut that has been slightly spiked. This gives the hair a laid back look that is still professional. If you're a fan of tapered styles that are on the shorter side, then this may be the perfect style to consider.
2. Brad Pitt's Buzz Cut
Brad Pitt can rock a very short haircut just as well as any other style he wears. While this definitely isn't the shortest he's gone, it's admirable to see how great he looks even after such a drastic change.
3. Short and Spiky
If you're not a fan of very short hair, this style is a great option to consider. This Brad Pitt hairstyle features uniform spike with medium short length hair.
4. The Guy Next Door
This look closely mimics the previous one, but the hair is cut more uniform instead of featuring such choppy layers. Comb it down and apply some pomade in order to prevent any flyaways.
5. Perfectly Punk
This Brad Pitt haircut gives off an edgy, punk vibe while still maintaining that much-needed sex appeal. This tapered cut has been shaved around the perimeter but styled messy on top to achieve a more effortless look.
6. Brad Pitt's Edgy Slickback
If you want to keep your edgy look while still looking professional and put together, just slick the longer portion of your tapered cutback.
7. Brad of Asgard
Pitt is definitely channeling his inner Thor with this medium-length cut. The hair is layered so that it doesn't look like a bob, and face-framing highlights are given in order to draw attention to the face.
8. Brad Buzz 2.0
Pitt's hair has been cut into a very low buzz cut, which draws attention to his prominent features. If you're not opposed to very short hair then this could be a great option to consider.
9. Brad's Daddy Haircut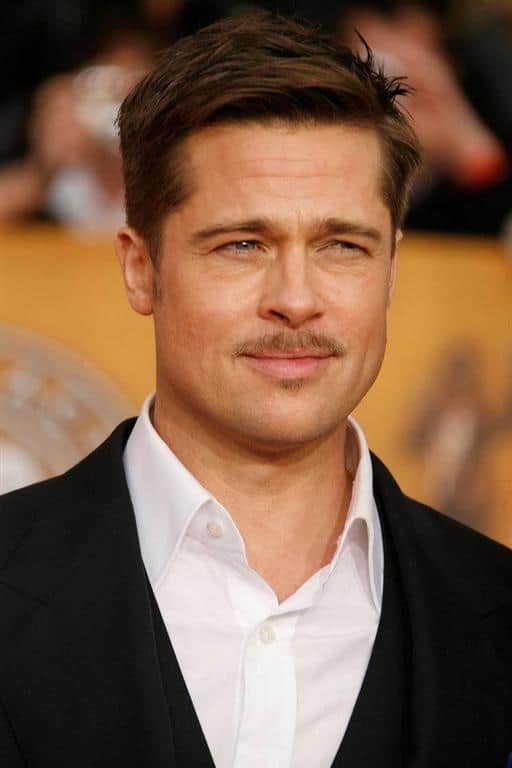 This haircut gives Pitt a fatherly look in all the best ways. Emphasizing his strong jawline, this tapered cut draws attention to all of his best features.
10. Tapered Haircut With Mustache
If you have a tapered cut, here's a great example of the amount of variety it lends you. Pitt's hair has been coiffed so that it stands up off of his face. The deep side part gives the cut a more polished look, but doesn't take away from the edginess you're trying to achieve.
11. Short & Spiked Brad Pitt Haircut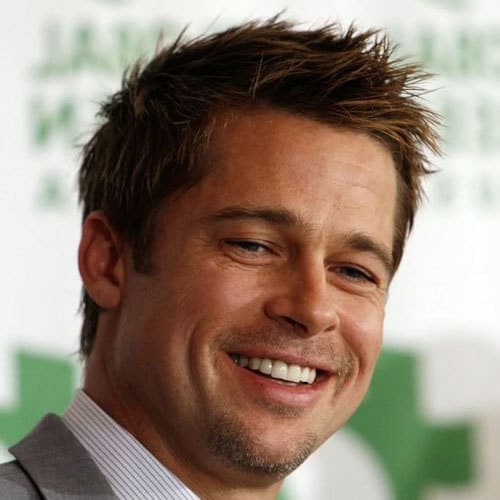 If you're looking for a more playful alternative, try spiking your hair. Pitt's style can be rocked both professionally and casually, which makes it the perfect choice for men who are looking for a mixture of the two.
12. Young Bradley Hairstyle
One of Brad Pitt's most popular hairstyles includes this lengthy tapered cut. The bang is relatively long while the perimeter has been kept ear length. If this style doesn't scream 90s-early 00s then I don't know what does.
Here are some of our favorite hairstyles by Brad Pitt You'll Love to Try
These Brad Pitt hairstyles are perfect for any men, matter is you need to have the confidence too. Choose one and get a new Brad Pitt style today!