Do you want to say bye-lights to your highlights finally?
You've had the time of your life with your highlighted hair, and now you're ready to change things up a bit?
Here's one question you may be asking- can you dye over hair highlights?
Yes, you can dye over hair highlights!
However, it's not as easy as you think it is. Changing your hair color when you have highlighted hair is one of the most challenging things to do since you'll be dealing with multiple hair shades and tones.
But before you throw in the towel, you may want to read this simple guide on how to dye over highlights.
If you're ready, let's get started!
Can I Dye My Hair Over Highlights?
Yes, you can dye your already highlighted hair! You should do so to go for a darker or lighter hair shade or to switch to a solid hair color (covering the highlights).
Keep in mind that each reason would require a different dyeing process. We shared these reasons because it's essential to identify which of these is your goal so you can choose the right way to dye hair over highlights.
How to Dye Hair Over Highlights?
So, what steps do you need to take when dyeing hair over highlights?
The answer will depend on what your goal is. To help you out, we've broken down all the steps for all the potential reasons below.
How to Darken Highlighted Hair?
If you wish to cover your grays or just soften the contrast between your base color and highlighted hair, you can simply darken your hair.
Doing so can help freshen up your roots or delay your next salon visit. And not only is this healthier for your hair than lightening, but it's easier and less complicated to do.
To do that, here are the steps you need to take:
Step 1. Choose your color wisely.
You may already have a color in mind. First, however, you must find a shade that matches the tone of your hair to make it look more natural.
Here are two simple tips:
Choose a shade with auburn or golden tones if the bleached hair has orange or yellowish undertones. This can prevent the development of a greenish tint in your hair.
If the bleached hair has a purple or blue undertone, go for an ashy shade.
Step 2. Apply the color.
It's quite challenging to fully cover bleached hair. However, you can address this by dividing your hair into as many sections as possible to cover as many hair strands as possible. Afterward, apply the hair color as per the instructions in the product's packaging.
Step 3. Rinse with cold or lukewarm water.
As the water is running, run your fingers through your hair to get rid of the excess dye. Then, apply a color-retaining shampoo and conditioner to remove the remaining harsh chemicals from the dye and seal in the color.
It's essential to use only cold or lukewarm water as this will help seal and preserve the dye in your hair.
How to Lighten Already-Bleached Hair?
Lightening your bleached hair is much more damaging and complicated than darkening your bleached hair.
Because of this, you must wait for 6 to 8 weeks after the first bleaching process. During the wait, we recommend you boost hair hydration by applying natural oils, hair masks, and deep conditioning treatments.
Please take note that it's recommended that you visit a professional hairstylist for this kind of service to minimize damage.
But if you plan on bleaching hair at home, here are the steps to take:
Step 1. Check your hair health.
To ensure that your hair can withstand another bleaching process, ensure it's free from any signs of damage like breakage, frizziness, dryness, and dullness.
Step 2. Identify how many bleaching sessions you need to achieve your desired color.
Keep in mind that the darker your current base color is and the lighter the shade you want, the more bleaching sessions you'll need.
Here's a simple guideline:
2 shades lighter: 1 bleaching session
3 shades lighter: 2 bleaching sessions
5 shades lighter: 3 bleaching sessions
Step 3. Proceed with bleaching your hair.
Bleach your hair following the instructions provided in the packaging. Remember that you should wait for 6 to 8 weeks before performing another bleaching treatment.
How to Cover Highlights?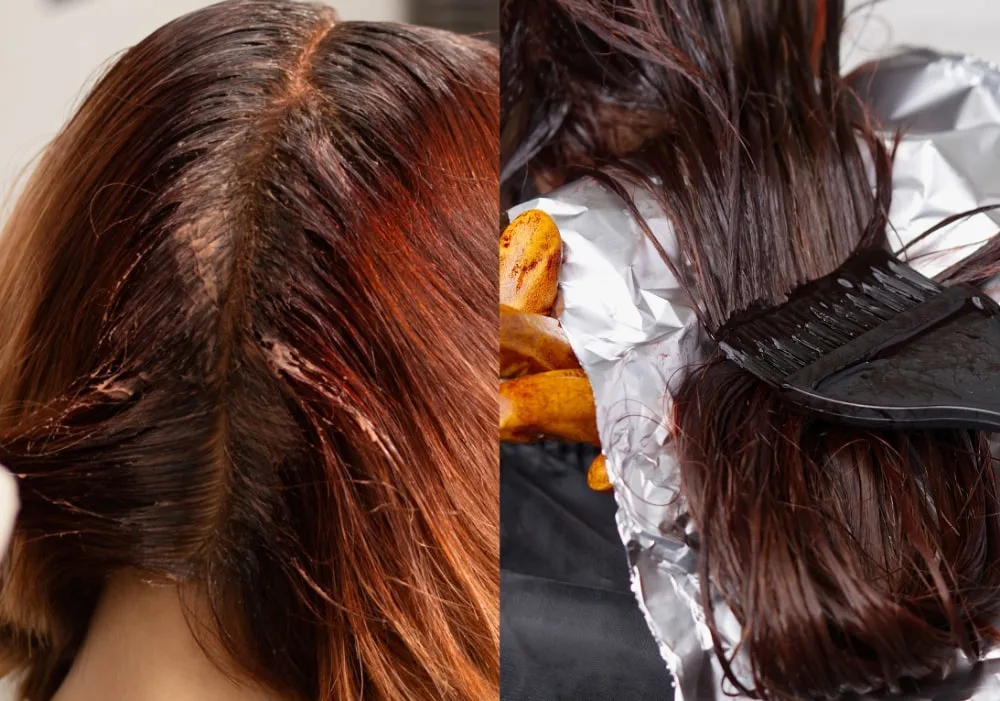 Since you'll be covering two shades—your base color and highlights- this is one of the most challenging things to do. To cover your highlights and create a solid-colored hairstyle, here are the steps to take:
Step 1. Find the right shades.
For this process, you'll need two shades of dye—primary color (base color) and secondary color (highlights).
You must choose your primary color first since you'll base the secondary color on it. Your secondary color should be 2 to 3 shades darker than your primary color.
Step 2. Divide your hair.
Separate your highlighted hair strands from the rest of your hair and wrap them in foil.
Step 3. Apply the hair colors.
Start by applying the primary color to your base. After that, unwrap the foil but don't remove it. Next, apply the secondary color to the highlighted strands following the tinfoil method.
Step 4. Rinse the hair colors.
Can you color highlighted hair at home?
Yes, you can. However, we don't recommend doing so.
Highlighted hair is trickier to work with than natural or colored hair. This is because the bleaching process strips the red, orange, and brassy pigments off the hair.
While these tones are a big no-no for blonde hair, they are naturally found in darker hair shades. Without these undertones, your hair will take on a muddy or darker shade of green when you dye it in a darker tone.
Because of this, you should leave the process of re-dyeing your highlighted hair to the professionals.
How to take care of your hair after applying dye over highlights?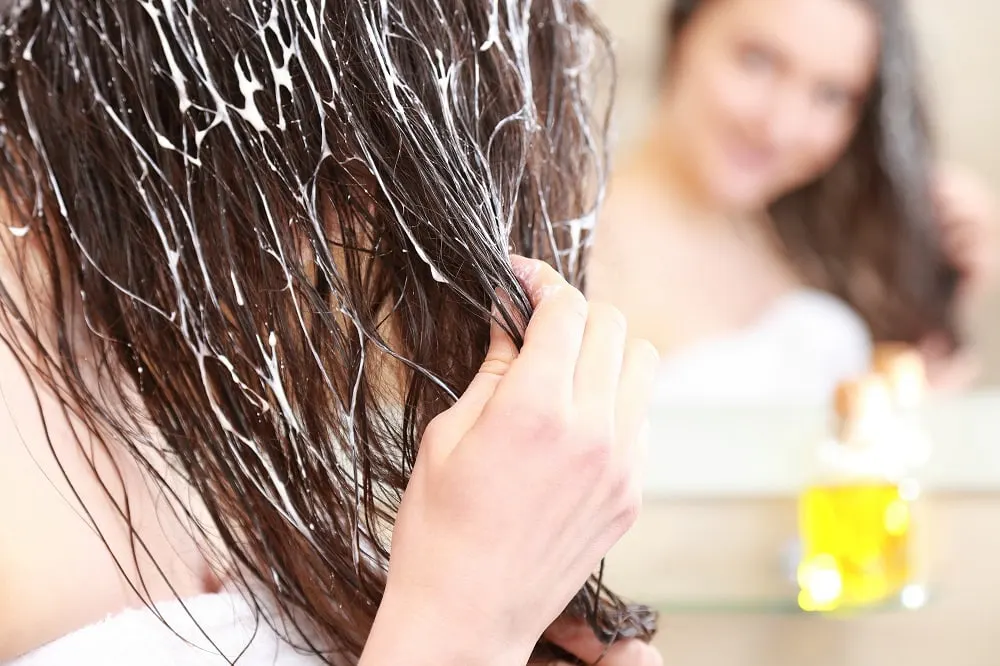 Your hair will need extra care in the subsequent weeks and months following dyeing over highlights. To provide it with the nourishment it needs, we recommend the following:
Deep conditioning it every week.
Minimize exposure to heat.
Avoid chlorinated pools, as the chemicals can become too harsh on your hair.
Use only color-enriched hair products to preserve the vivid color of your hair.
Frequently Asked Questions
How long after highlights can I dye my hair?
Bleaching can dry out and damage the hair. To allow your hair strands to rest and recover, you must wait for at least 4 to 6 weeks before coloring your highlighted hair if it doesn't show any damage.
Can I use box dye over the highlights?
Yes, you can. But once again, we don't encourage you to do so. This is because boxed dyes are more permanent and, therefore, more damaging than custom professional hair dyes.
So, Can You Color Highlighted Hair?
Can you dye hair over highlights? You certainly can! But please keep in mind that this is quite a complicated process to do. You can commit many mistakes along the way, so make sure you work with a professional hairstylist for this kind of service.
If you plan to do this at home, don't forget to follow all the tips we've shared so you can enjoy perfectly colored, healthy hair!