Choosing a layered haircut is probably the best idea when you're dealing with a chubby or rounded face. However, you must know where to do the trim, otherwise, you might end up highlighting unwanted areas and features.
So, if you have a round face, make sure your layers start below the jawline and are well-defined. Use hair-thinning scissors to texturize your hair and get the desired effect for your ends.
Flattering Layered Haircuts for Round Faces
Layers can be beautifully blended, stacked in the back, or edgy, depending on the hairstyle you want to recreate. Learn from this article how to take advantage of them, especially when you have a round face!
1. Smooth Copper Layers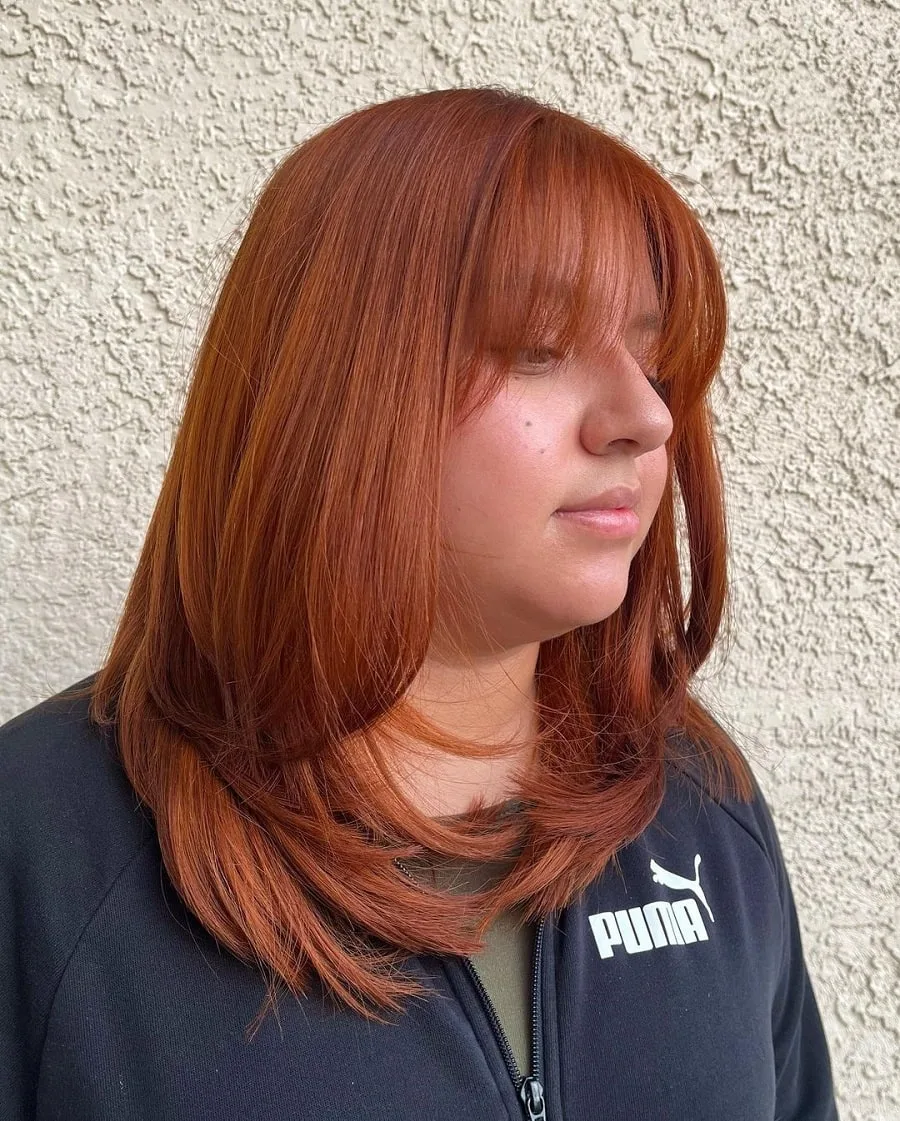 Wispy bangs are glossy and their goal is to smoothen your face figure. Go for prominent layers that stand out.
Straighten your hair and style only the ends with a rotative brush, giving them more definition. Opt for a dark copper red color that matches your skin tone.
2. Wavy Layers for Thin Hair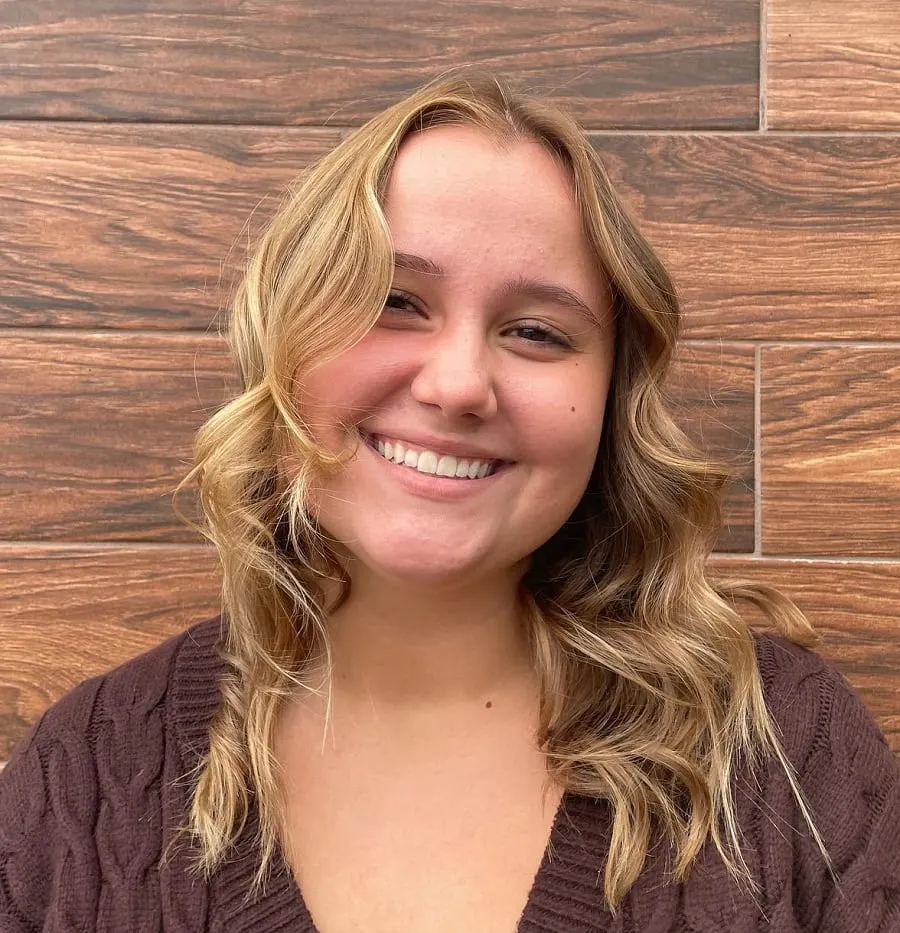 When your hair is thin and you're struggling with prominent cheekbones and jawline, a middle part might be the right choice for you.
Lift up the roots and create waves and curls to gain more texture.
3. Long Layers with Blonde Highlights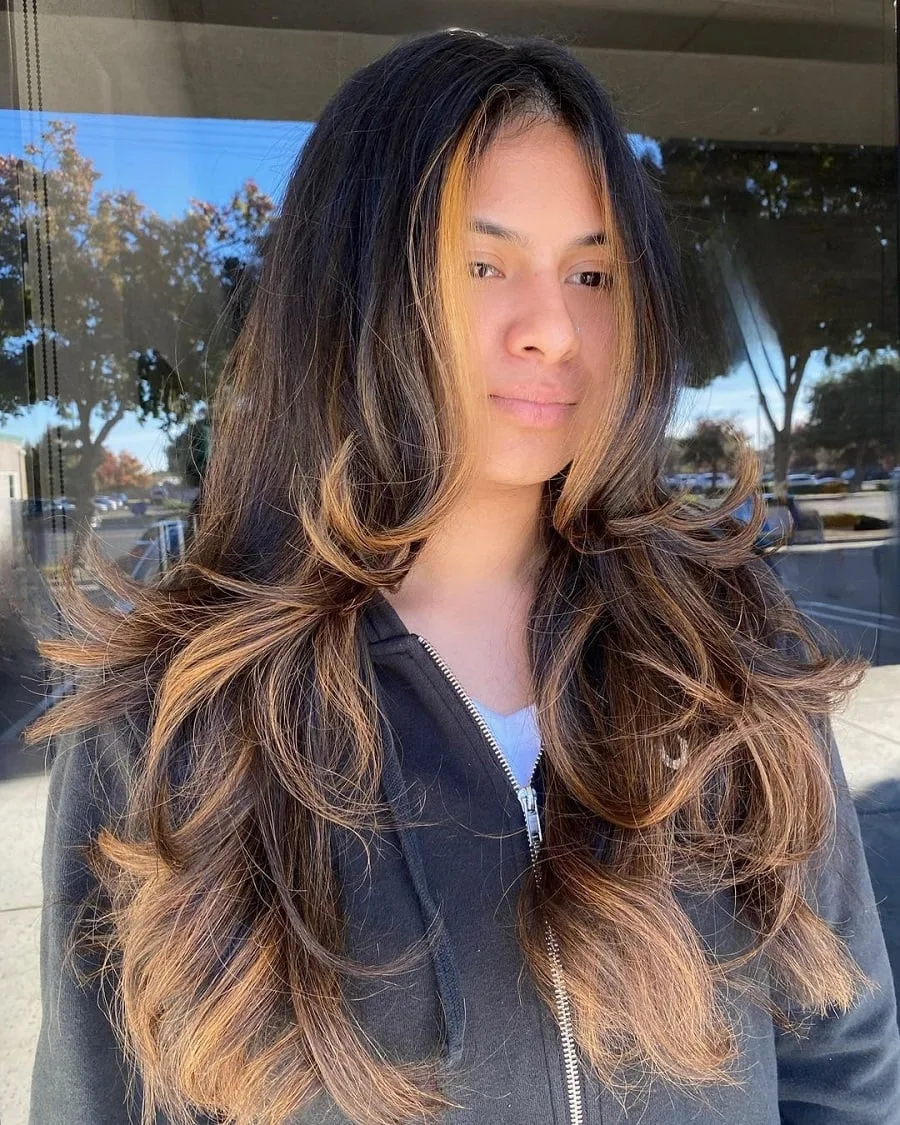 This layered haircut for round faces is truly mind-blowing because the hair has a lot of volume. To take advantage of that incredibly healthy and rich hair, you should give it some texture and create contrast.
Part the apex hair in the middle and get curtain bangs. Dye two small strands in a copper nuance and use the same shade to create highlights for the ends.
4. Caramel Lowlights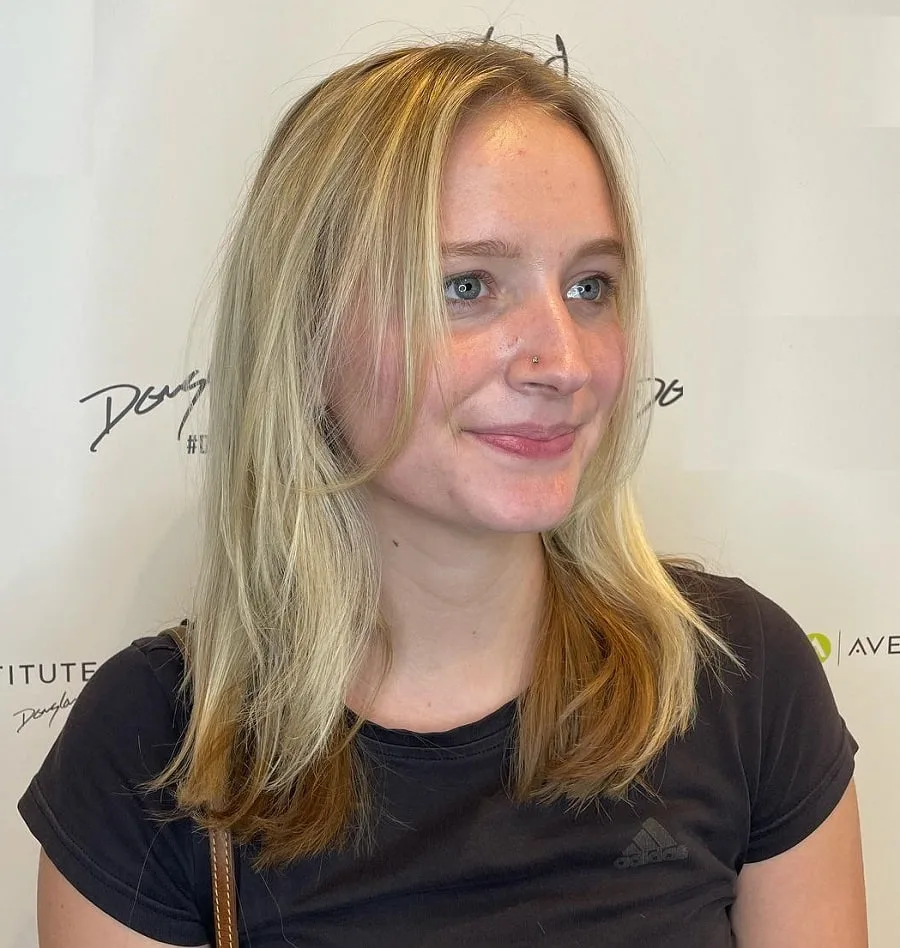 Keep your hair just below your shoulder line, and create a platinum blonde sombre. Your roots should have a caramel color, that gradually transits into a warmer nuance.
To add a pop of color, you can do some peek-a-boo lowlights in the nape area.
5. Black and Red Layers
This trend with black hair and colored bangs is very popular among young women. And the beauty of it is that you can pull it off no matter your face shape.
So opt for curtain bangs, dye them in a vivid red color, and curl their ends. Also, wave the ends of your black mane.
6. Wavy Hair with Curtain Bangs
Black hair colors are well known for their slimming effects and face-framing abilities. Combining this color with layers, and wispy curtain bangs will diminish the aspect of your cheekbones.
If you want volume, never build it in the upper section. Always create waves and curls below the jawline.
7. Dark Red Shag
Shag haircuts are probably some of the best layered haircuts for round faces. And what makes them so suitable is their versatility.
In this case, the copy ends start higher than regular, and the strands are loosely waved and curled, just to create texture.
8. Blonde Layers with Glasses
When you want to look slimmer, keeping your hair long and layered is an amazing idea. Opt for long curtain bangs that are trimmed below the jawline.
Curl your strands and wear them on your shoulders and chest to obtain that elongated look.
9. Vivid Blue and Lime Green Strands
Tired of dull, conventional looks? Then you will love this layered hairstyle with electric colors. Go for asymmetrical bangs that you will swipe to the side.
To achieve this vibrant color, those strands need bleaching. Choose an indigo blue color for your fringe and a lime green nuance for the peek-a-boo tresses.
10. Layered Updo
Layers are quite versatile because you can style them however you please. Opt for curtain bangs that grow longer in the corners of the forehead.
If you want an elegant look, you need to wave and curl your hair, then style an updo in the back. Pull off a few strands and let them messily fall, framing your face.
11. Ashy Blonde Bangs
Concentrate the layers in the lower part, especially when you need to make your face look slimmer. Go for curtain bangs that you will dye in a sandy blonde color.
Style them to the back, flipping out the ends, and bring your mane on the shoulders. Create smooth waves for more definition and volume.
12. Straight Long Red Hair
One of the most popular face-framing layered hairstyles for women with round faces features long straight tresses that are flattened with an iron.
You can build amazing contrast between your curtain bangs and the rest of the hair by choosing a dark red color for your strands and a blonde nuance for the fringe.
13. Dark Blonde Sombre
When you want a more natural look but with a cool twist, you can easily choose a sombre. Keep your roots in their natural dark blonde color and gradually lighten the hair towards the ends.
Moreover, curtain bangs will help you soften your features and add a romantic cool touch.
14. Flipped Out Layered Ends
A layered haircut can look eye-popping, especially when you create contrast. So, choose a dark brown color for your locks, and opt for something warmer in front.
Style some peek-a-boo highlights and dye your bangs in a honey-blonde color. Flip out the ends to create more volume and build some waves and curls.
15. Wavy Curly Layers
If you love a natural look, then you need the right trim that will diminish your cheekbone area. When chopping off your hair, make sure your cut is below the jawline.
Also, opt for a middle part, especially when you want an elongated look.
Some cute face-framing layers for round faces include bangs, flipped-out ends, or involve color blends that will make you noticed. Follow our guidelines and let us know in the comments section which hairstyle you picked!