If you have ever suffered from hair problems such as fine locks, unruly mane or dull tresses, the short layered hairstyles will be your way out. Whoever first created these haircuts truly saved the world. Girls with fine hair got the volume they've been dreaming about, while women with thick manes got a way to finally make them look neat.
Short hairstyles are usually easier to maintain than long ones. They look neater, more fashionable and make women look younger than they would with long locks. These hairstyles gained popularity in the modern world where beauty standards are changing and beautiful hair doesn't mean long and curly.
If you are contemplating a new hairstyle, you should really consider one of the layered options. You will definitely appreciate the quality of your new cut. Keeping such hairstyles touched up is compulsory.
So, the only drawback is frequent hair salon visits. However, some of these layered cuts require touch-ups less frequently than others.
The Best Short Layered Hairstyles for Women
If you are tired of constant hair problems and want to forget about a messy mane, choose one of the short layered haircuts. You will truly be amazed at how your whole image will change after you get out of that hair stylist's chair.
Layered haircuts do a great job keeping your hair neat, regardless of its type. They tame unruly manes and fluff up fine locks. Besides they will always be making you look respectable and will fit women of any profession. Layered cuts are great for both office work and outdoor activities.
Once you try one of the haircuts below, you will definitely become a fan. So why wait?
1. Textured layered bob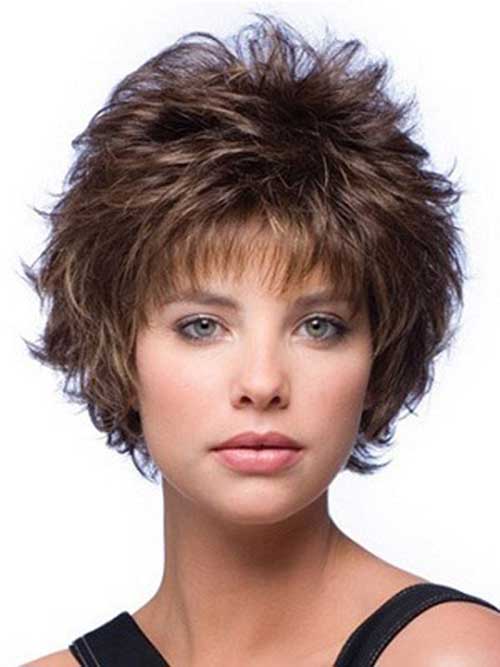 This wonderful hairstyle is perfect for women with thick hair. The textured layers will take all the extra volume out of your locks and will make them look truly amazing. Opt for short bangs to make up your own unique style.
If you want a short haircut, which will have all the properties of a medium length one, opt for this type of bob. The free hanging strands on the side will give an impression of a longer haircut. Pick some bright highlights to make your hairstyle even more impressive.
3. Blond layers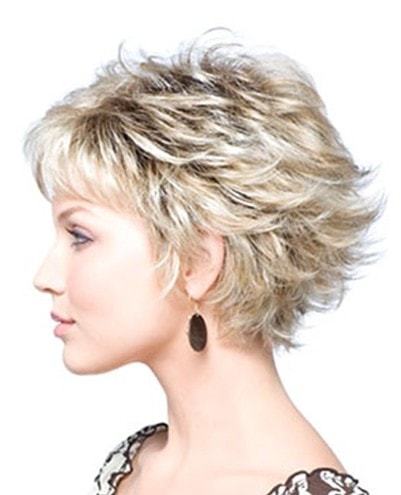 Blond is the most popular color of choice for many women. And there is a good reason for that. A blond layered haircut will look absolutely fantastic on almost any woman. Remember, that the light color adds volume to fine hair.
Stunning Medium Length Layered Haircuts & Hairstyles
4. Neat asymmetrical bob
This neat asymmetrical bob should become a haircut of choice for women with fine hair. The layers are not obvious but they add your haircut a lot of much-needed volume. Add some wispy bangs to complete the fashionable picture.
5. Layered back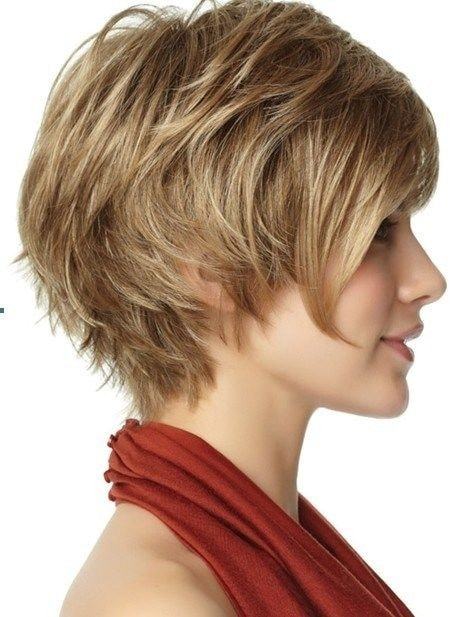 When you are choosing a short layered hairstyle, there is no reason to make all layers the same length. You can ask your hairstylist for shorter layers in the back and longer ones in front. You will definitely be amazed at the result.
6. Textured ombre
If you thought that a great looking ombre is only possible on long hair, you were absolutely wrong. Get an amazing short textured cut and color the ends with a darker shade. The ombre will look just fantastic and you will too.
7. Short length layered hair
If you are after real volume, shoulder-length layers are for you. The layered hairstyle will create an impression of a lot of volume on top, while thinned out hair on the bottom will make a contrast. Choose bright colors for your short cut!
If you are getting a layered cut, then your bangs can be layered too. It is not a compulsory option, but layered bangs look truly amazing. Consider getting a long fringe, which will outline your eyes. Make sure to use appropriate makeup, since your eyes will be in focus now.
If your hair is thick and straight, this stacked bob is for you. The stacked part will add a lot of neatness to your image, while the layered strands will make you look very fashionable. Don't forget about stylish bangs to complete the style.
10. Wavy layers
If your hair is wavy, layers will do wonders for making it finally look neat. Women with wavy hair know how hard it is to make their waves stay in place. A layered cut will subdue the curls and will make your haircut look amazing.
11. Red and beautiful
If you want your layered hairstyle to be bright and impressive, choose the red color. Some women might be afraid of looking too bright, but in reality, red layered bob is the most incredible choice. Long bangs will add even more zest into the picture.
12. Layered bob with blunt ends
This layered bob with blunt ends is perfect for girls with thick hair. The layers are created to be long in order not to increase the volume and the blunt ends give the hairstyle a lot of neatness. Opt for this fashionable cut and you will surely love it.
13. Neat curls
Surprised to see the words "neat" and "curls" in one sentence? Don't be. Medium-length layered bob can mix the two together. You will finally see your unruly curls take shape and become a part of an impressive hairstyle. Time to give it a try!
14. Wild layers
If you are not afraid of a "just out of bed look", you can try this awesome wild layered image. Most of the bob is styled to have a windblown look, while several frontal strands have neat inverted ends. A great style for a special occasion!
15. Finer than fine
Girls with fine hair will love this short layered hairstyle. If you have grown tired of trying to find the volume where there is none, this haircut will save the day. The layers will add volume on top and keep the untidy ends neat.
16. Cute layers
If your hair is short and thin, you can choose this amazing cute option. The long layers are created to make this hairstyle look neat while seeming all the same size. Create long layered bangs to make the image even more stylish.
17. Classical short layered haircut
This hairstyle can be called classical, so it will fit 99% of the girls out there. The hair is cut into a short bob and the layers are created to give it some volume and style. The side part allows side swept bangs to look especially glamorous.
18. Hair extensions
If you are tired of your classical layered look, you can add some hair extensions. If your natural hair is shoulder length, a long straight weave will look absolutely natural. Add several strands to experiment. You might love it even more than just regular long hair.
19. Layered Pixie
Even if your hair is really short, layers are possible. A layered pixie will look truly priceless if the sides are layered and the bangs are long and wispy. Once you grow your hair a little longer, you can make more layered experiments.
20. True fashion
If you want your image to scream "true fashion", opt for this hairstyle. The layers look truly amazing on this long pixie. This hairstyle allows girls, who don't like their ear shape, to cover it, while keeping the hair short.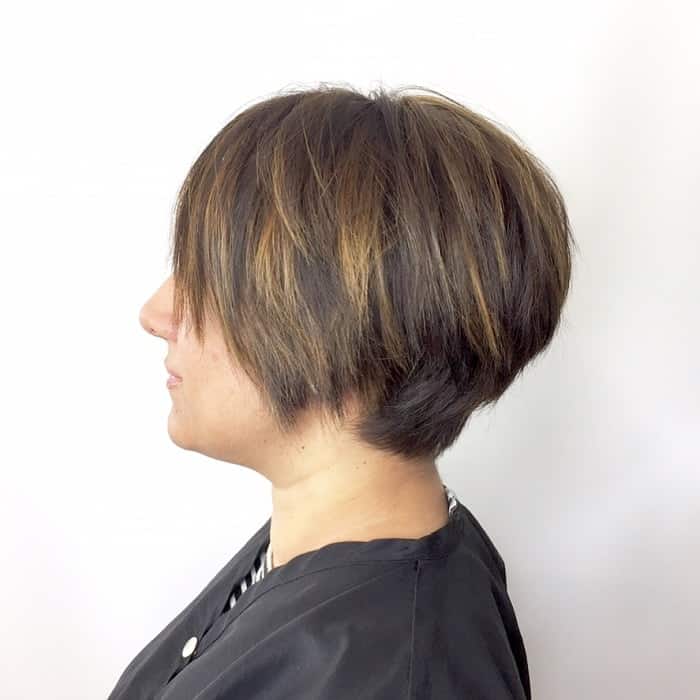 We have offered you the best short layered hairstyles out there. Now you have 45 options to choose from and we are sure you'll find what you are looking for. Browse the above short layered haircuts and pick the style closest to yours. Don't forget to consider the face shape. Most of these hairstyles are not too high in maintenance and will do a great job turning some heads your way. Good luck!