If you've ever suffered from hair problems such as fine locks, an unruly mane or dull tresses, short layered hairstyles could be your way out.
Whoever first created these haircuts truly saved the world. Girls with fine hair got the volume they've been dreaming about, while women with thick manes got a way to finally make it look neat.
Short hairstyles are usually easier to maintain than long ones. They look neater, more fashionable, and make women look younger than they would with long locks.
These hairstyles gained popularity in the modern world where beauty standards are changing and beautiful hair doesn't mean long and curly.
If you're contemplating a new hairstyle, consider a layered look. You'll definitely appreciate your new cut.
While you may have to visit the salon more often, these layered cuts require touch-ups less frequently than others.
The Best Short Layered Hairstyles for Women
If you are tired of constant hair problems and want to forget about a messy mane, choose one of the short layered haircuts. You will truly be amazed at how your whole image will change after you get out of that hair stylist's chair.
Layered haircuts do a great job keeping your hair neat, regardless of its type. They tame unruly manes and fluff up fine locks.
Besides they will always be making you look respectable and will fit women of any profession. Layered cuts are great for both office work and outdoor activities.
Once you try one of the haircuts below, you'll definitely be a fan.
1. Wavy Layers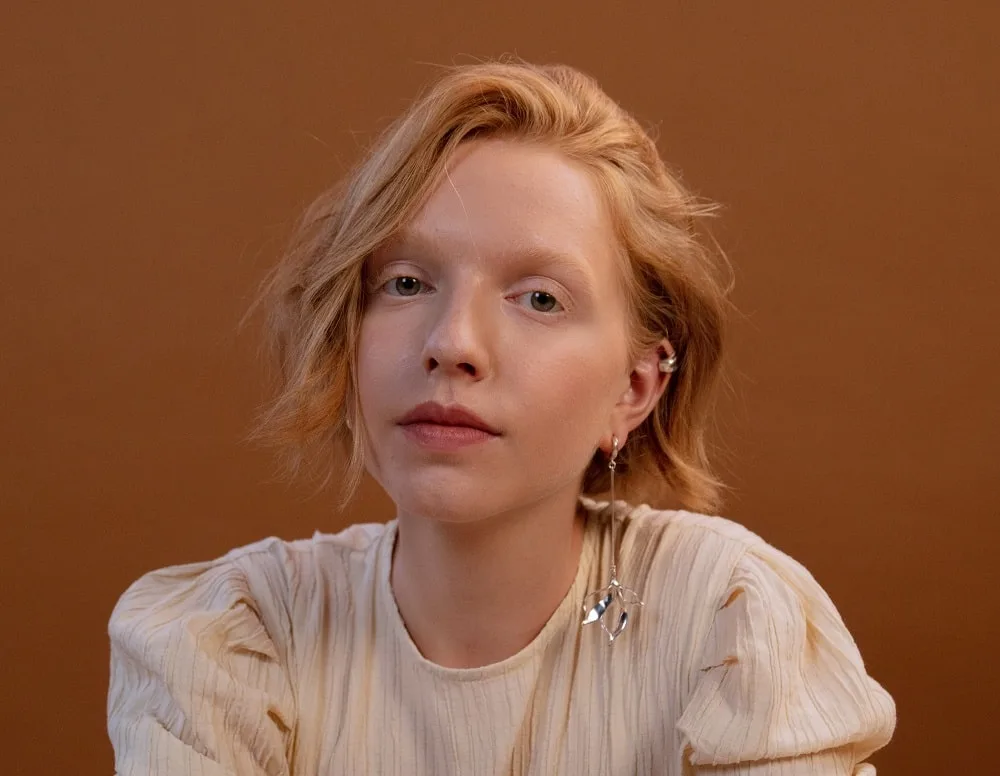 If your biggest struggle is fine or thin hair, put the volume back in your hair with a short layered bob, adding large waves with a curling iron, or by scrunching in product. Part your hair off center to get a beautiful lift.
2. Short Layers with Bangs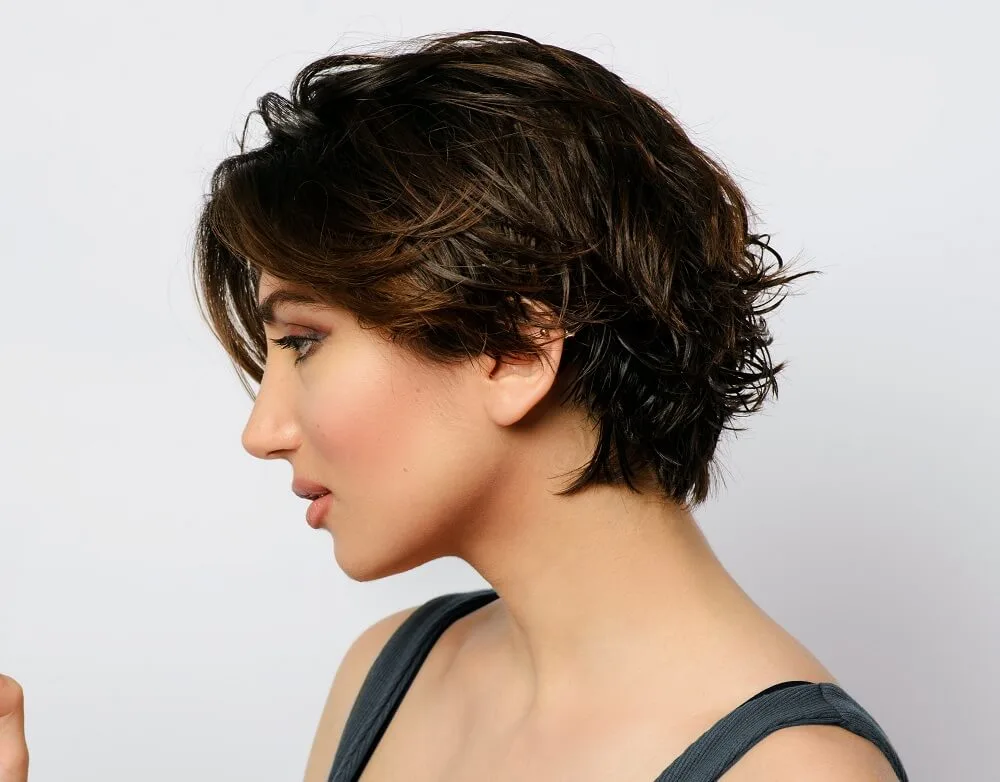 Do you like the way your hair looks with bangs? This hairstyle is nice and full-looking with its layers and the front is styled with a short curtain bang.
3. Side-swept Curls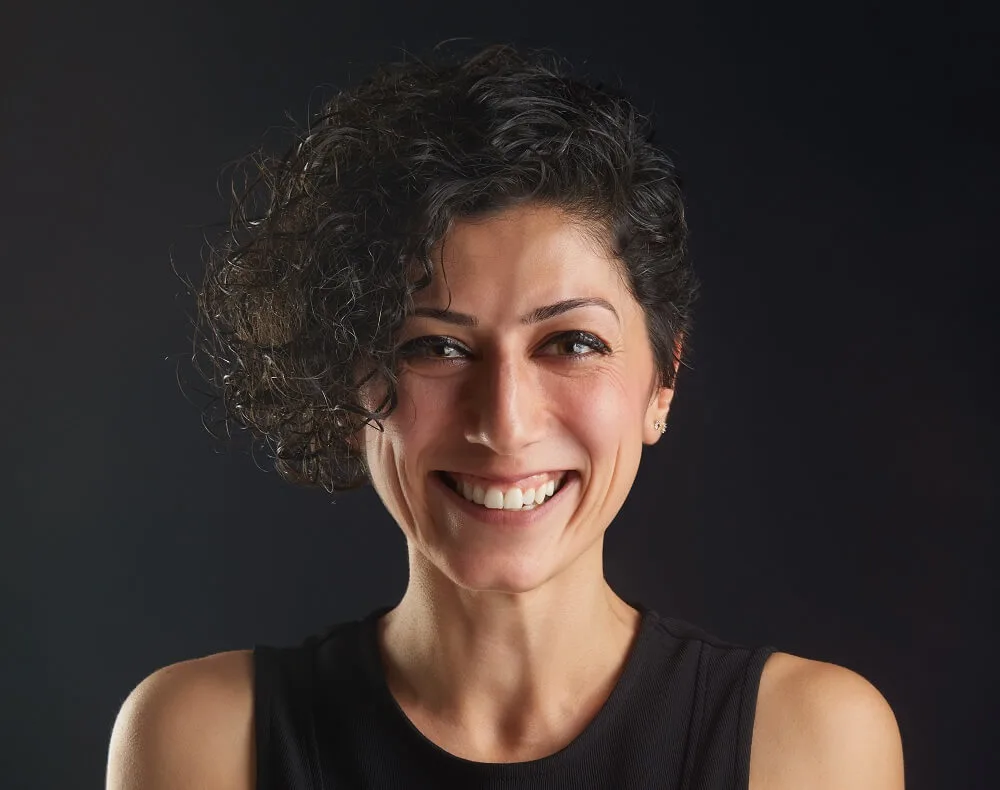 Looking for an edgy, short hairstyle that also works with curly hair? Ask your stylist to cut your hair asymmetrical, with one side of your hair super short and the other side long and curly.
4. Straight Layers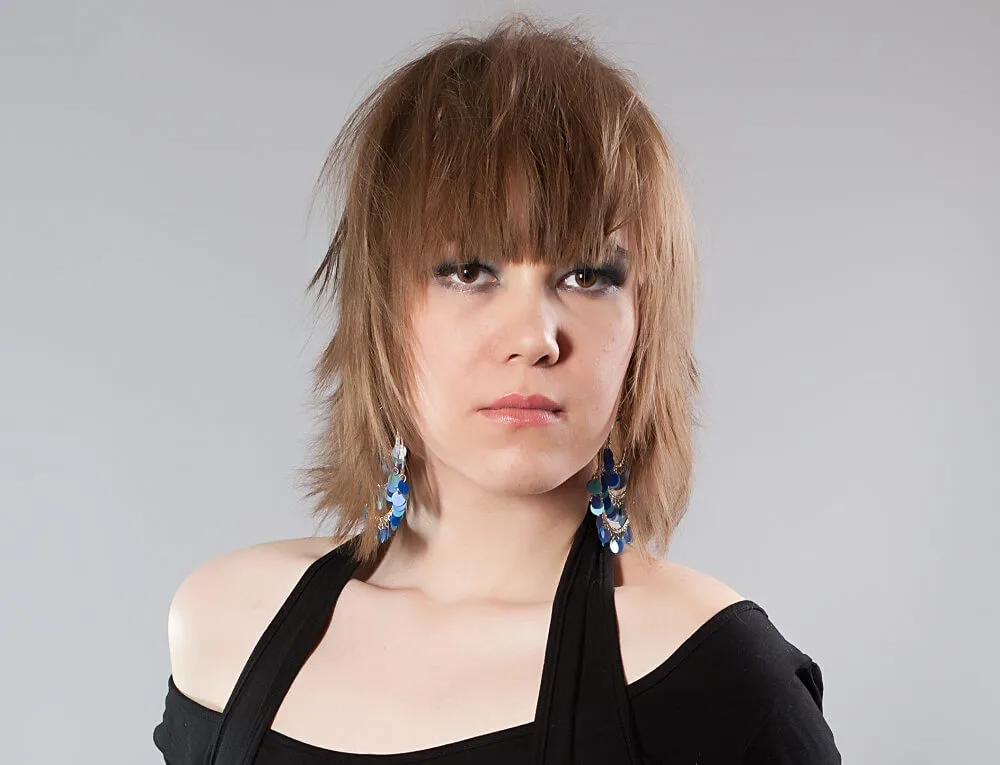 One way to embrace fine and thin hair is by going with straightened layers. With or without the extra long bangs, your final look will be super chic.
5. Shaved Lines & Color
If you're a woman who welcomes a style challenge when it comes to her hair, you'll want to try this half shaved pixie. One side features wavy layers in a beautiful blue shade, while a braid separates it from a buzzed fade with shaved in lines.
6. Layers with Undercut
If your goal is to turn heads with an amazing hairstyle that flaunts your curls, there's no better way to do that than with an undercut. You can even add blonde highlights to your curls to help them shine.
7. Choppy Short Layers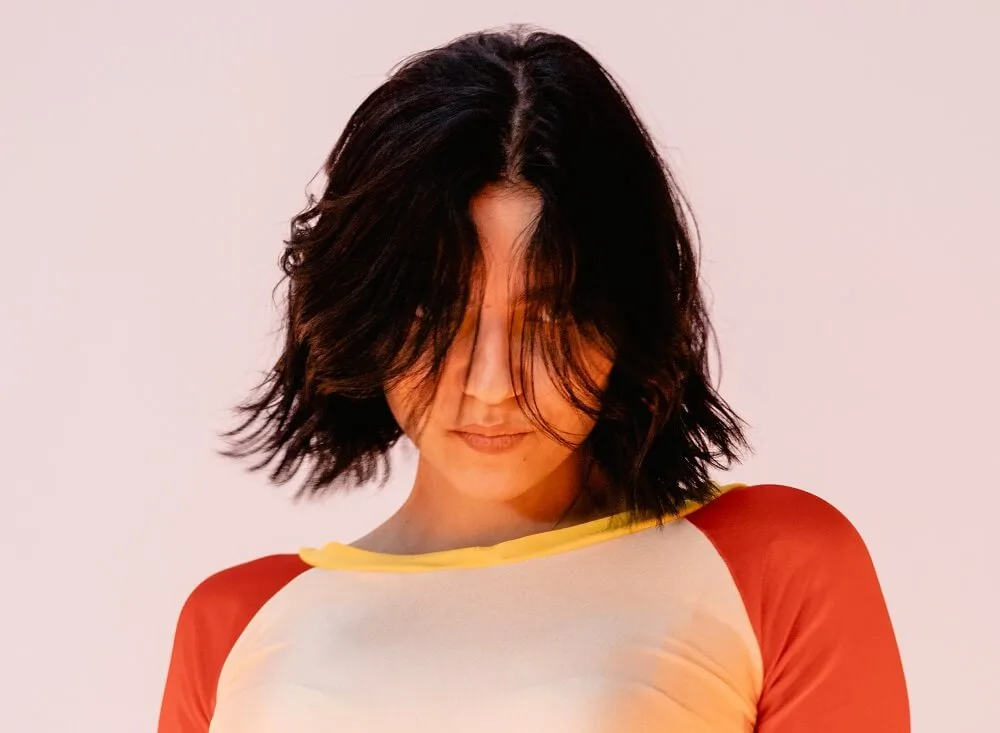 Make your hair a "mood" by adding in choppy short layers. This cut is low maintenance in that it only needs a middle part to be ready for the day. To dress it up, try curling a few sections or rocking a side braid.
8. Tousled Waves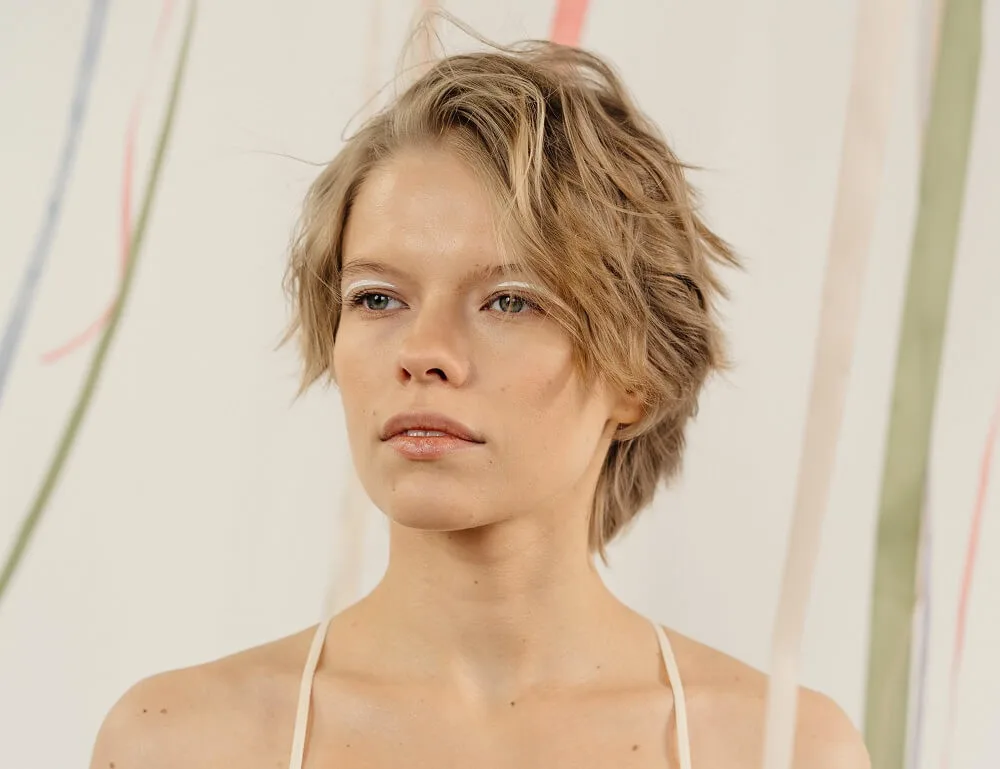 Dress up a short mane by adding soft waves. For summer, go with light blonde to get the beach babe look. Make it date-night ready by parting your hair off center and clipping in a jeweled pin.
9. Short Mullet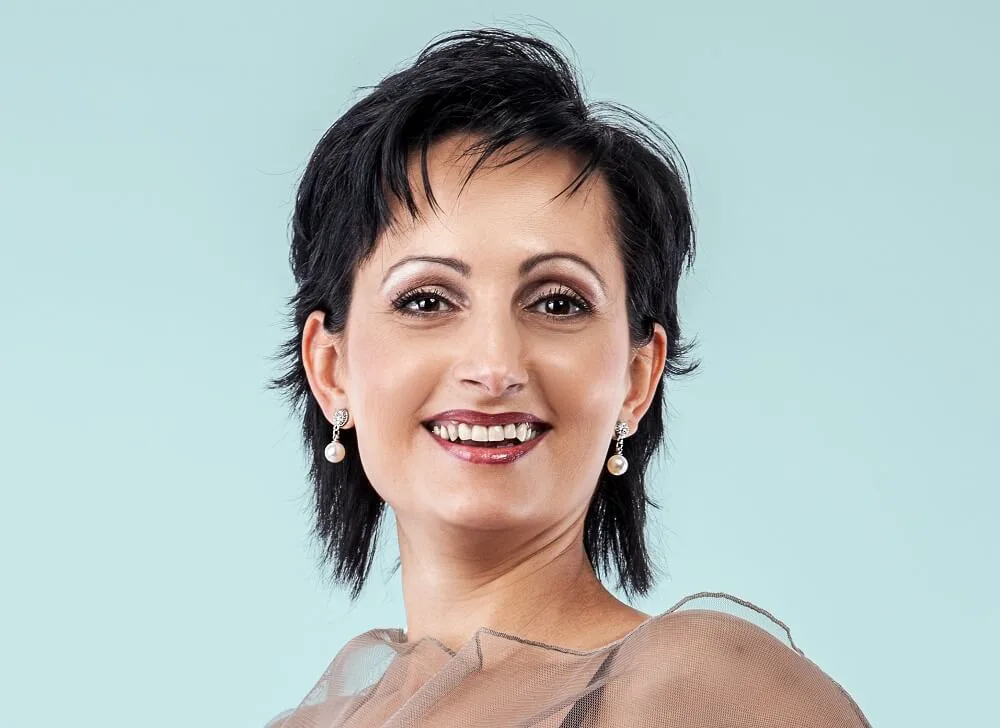 For women who love unique hairstyles, consider a short mullet version with layers. Tons of body up top contrast cooly with a straightened bottom half.
10. Short Layered Twists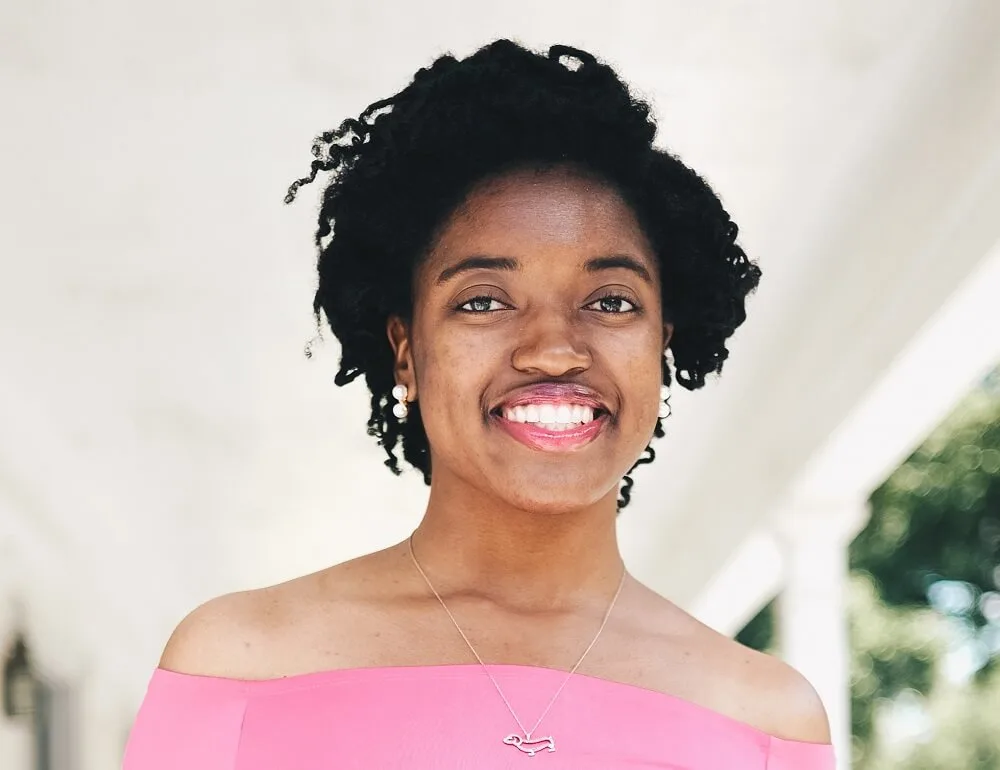 We love how chic and gorgeous short-layered curly twists or locs are on Black women. This style will keep you cool with its off-the-neck length.
11. Textured layered bob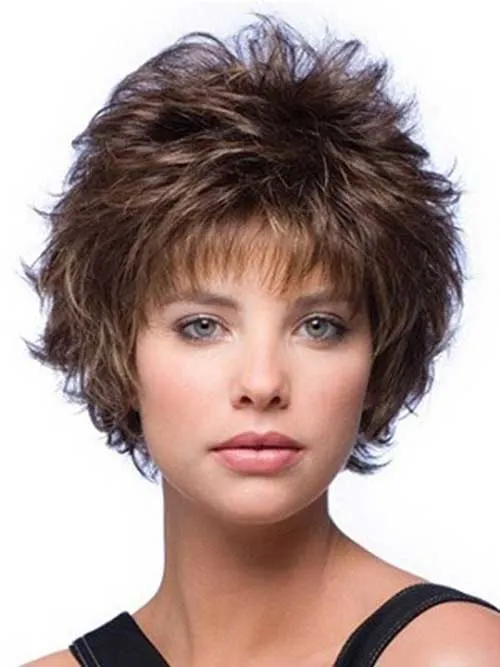 This wonderful hairstyle is perfect for women with thick hair. The textured layers will take all the extra volume out of your locks and will make them look truly amazing. Opt for short bangs to make up your own unique style.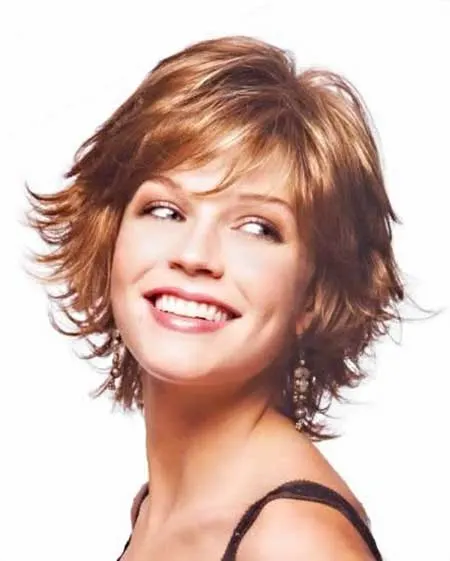 If you want a short haircut, which will have all the properties of a medium-length one, opt for this type of bob. The free-hanging strands on the side will give an impression of a longer haircut. Pick some bright highlights to make your hairstyle even more impressive.
13. Blond layers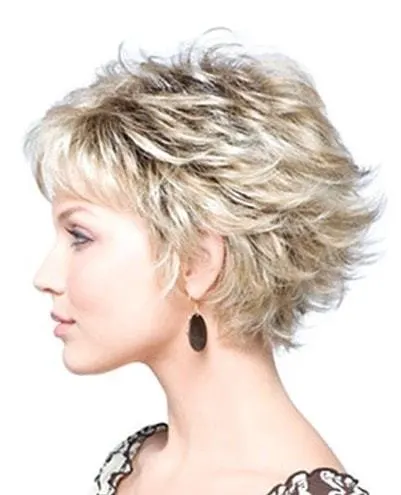 Blond is the most popular color of choice for many women. And there is a good reason for that. A blond layered haircut will look absolutely fantastic on almost any woman. Remember, that the light color adds volume to fine hair.
Stunning Medium Length Layered Haircuts & Hairstyles
14. Neat asymmetrical bob
This neat asymmetrical bob should become the haircut of choice for women with fine hair. The layers are not obvious but they add your haircut a lot of much-needed volumes. Add some wispy bangs to complete the fashionable picture.
15. Layered back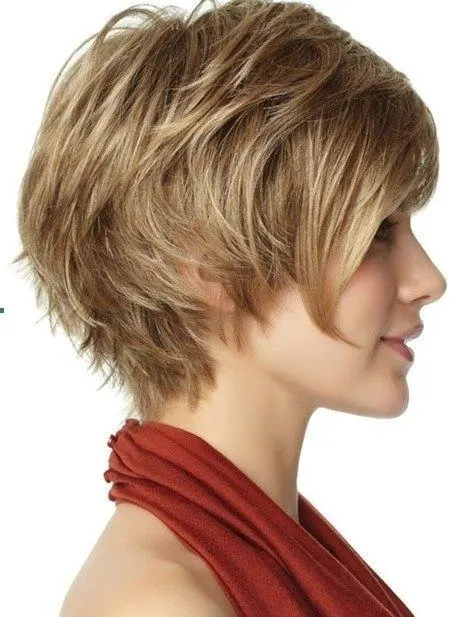 When you are choosing a short layered hairstyle, there is no reason to make all layers the same length. You can ask your hairstylist for shorter layers in the back and longer ones in front. You will definitely be amazed at the result.
16. Textured ombre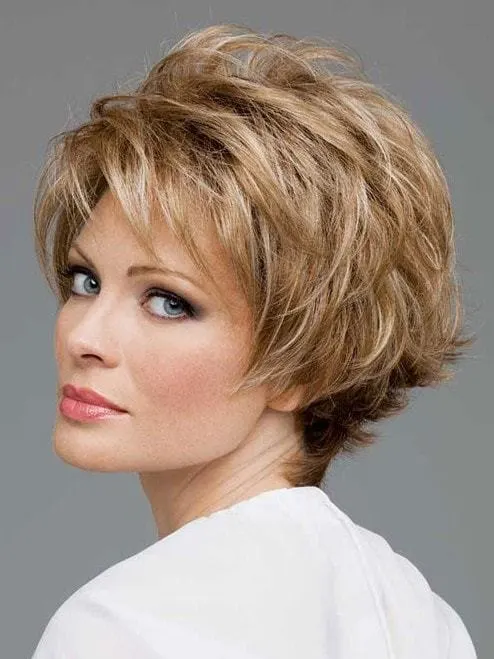 If you thought that a great-looking ombre is only possible on long hair, you were absolutely wrong. Get an amazing short textured cut and color the ends with a darker shade. The ombre will look just fantastic and you will too.
17. Short length layered hair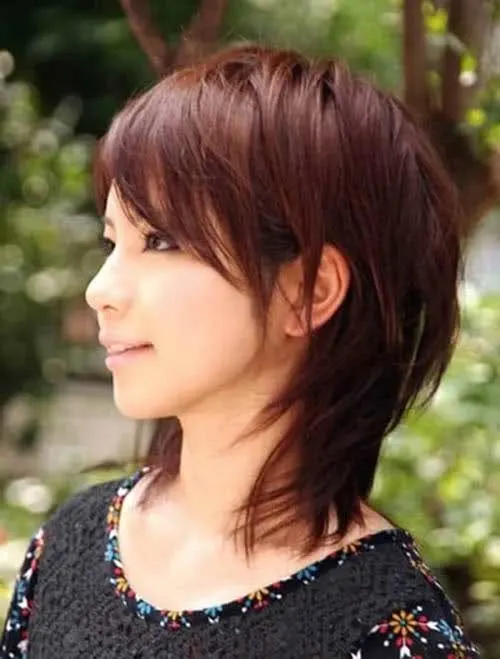 If you are after real volume, shoulder-length layers are for you. The layered hairstyle will create an impression of a lot of volume on top, while thinned-out hair on the bottom will make a contrast. Choose bright colors for your short haircut!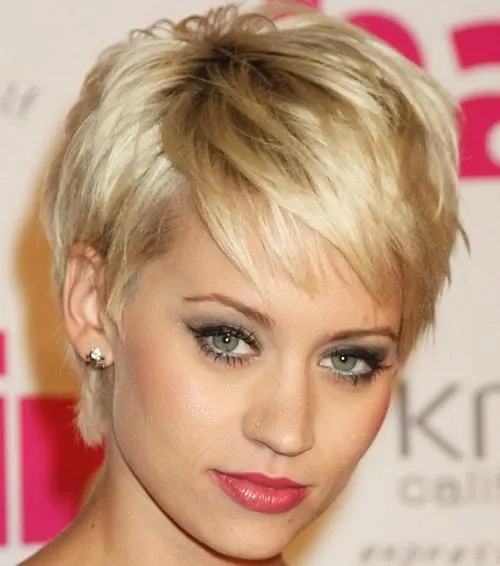 If you are getting a layered cut, then your bangs can be layered too. It is not a compulsory option, but layered bangs look truly amazing. Consider getting a long fringe, which will outline your eyes. Make sure to use appropriate makeup, since your eyes will be in focus now.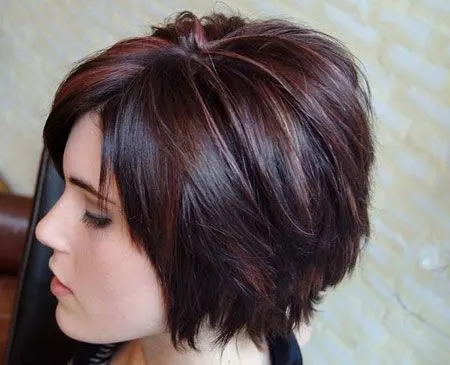 If your hair is thick and straight, this stacked bob is for you. The stacked part will add a lot of neatness to your image, while the layered strands will make you look very fashionable. Don't forget about stylish bangs to complete the style.
20. Wavy layers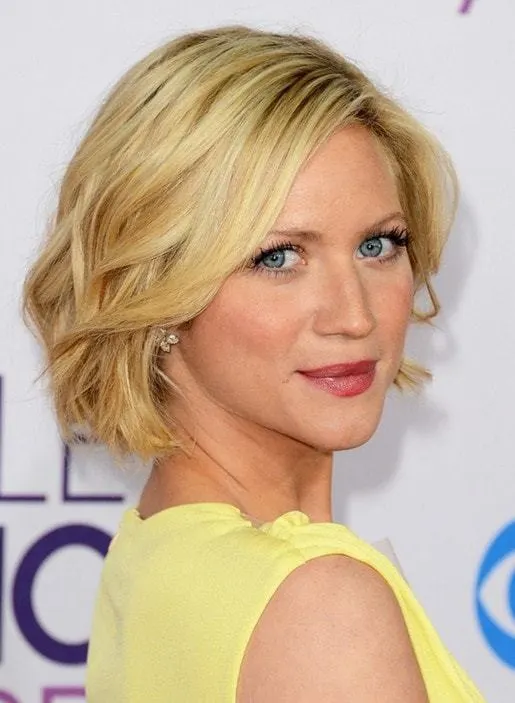 If your hair is wavy, layers will do wonders for making it finally look neat. Women with wavy hair know how hard it is to make their waves stay in place. A layered cut will subdue the curls and will make your haircut look amazing.
21. Red and beautiful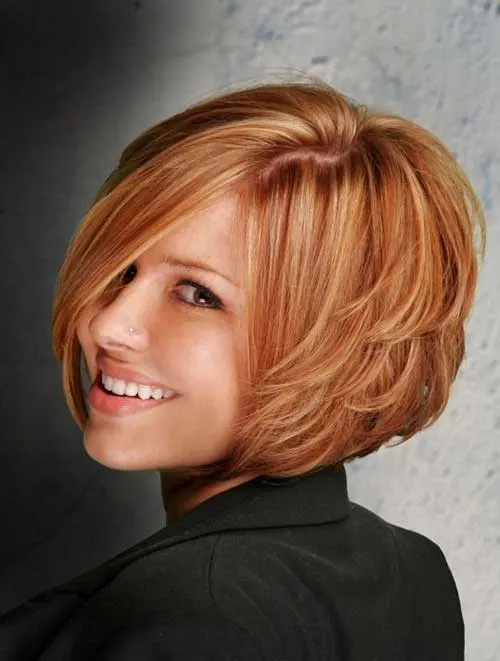 If you want your layered hairstyle to be bright and impressive, choose the red color. Some women might be afraid of looking too bright, but in reality, red layered bob is the most incredible choice. Long bangs will add even more zest into the picture.
22. Layered bob with blunt ends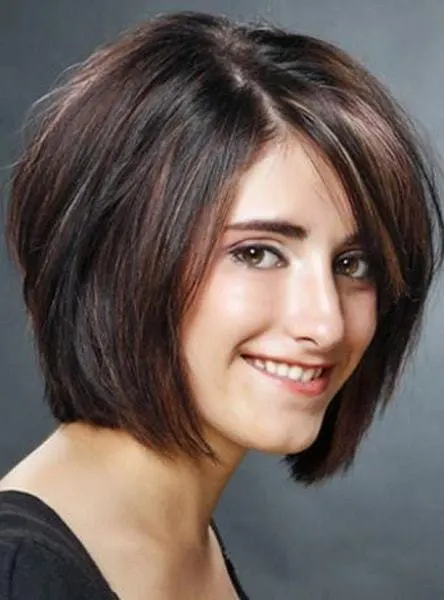 This layered bob with blunt ends is perfect for girls with thick hair. The layers are created to be long in order not to increase the volume and the blunt ends give the hairstyle a lot of neatness. Opt for this fashionable cut and you will surely love it.
23. Neat curls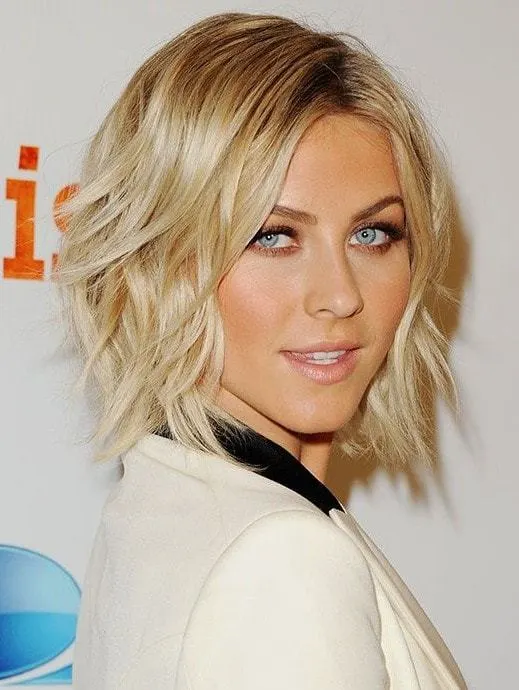 Surprised to see the words "neat" and "curls" in one sentence? Don't be. Medium-length layered bob can mix the two together. You will finally see your unruly curls take shape and become a part of an impressive hairstyle. Time to give it a try!
24. Wild layers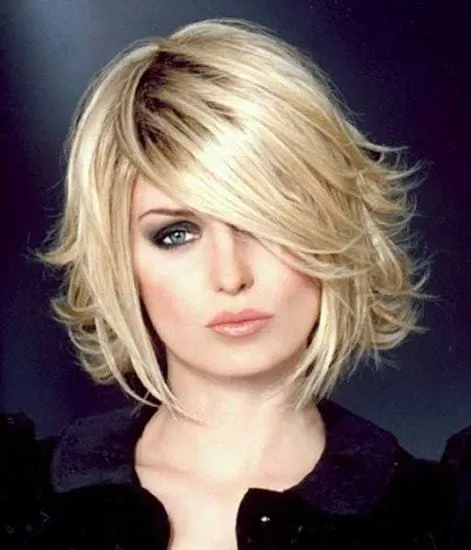 If you are not afraid of a "just out of bed look", you can try this awesome wild layered image. Most of the bob is styled to have a windblown look, while several frontal strands have neat inverted ends. A great style for a special occasion!
25. Finer than fine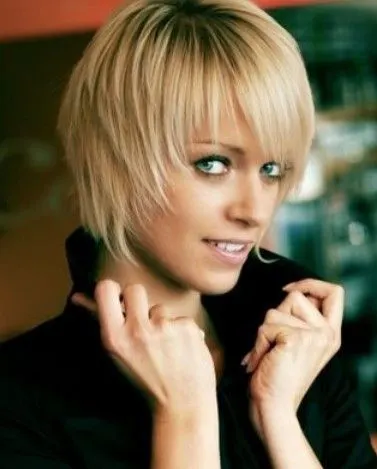 Girls with fine hair will love this short layered hairstyle. If you have grown tired of trying to find the volume where there is none, this haircut will save the day. The layers will add volume on top and keep the untidy ends neat.
26. Cute layers
If your hair is short and thin, you can choose this amazing cute option. The long layers are created to make this hairstyle look neat while seeming all the same size. Create long layered bangs to make the image even more stylish.
27. Classical short layered haircut
This hairstyle can be called classical, so it will fit 99% of the girls out there. The hair is cut into a short bob and the layers are created to give it some volume and style. The side part allows side swept bangs to look especially glamorous.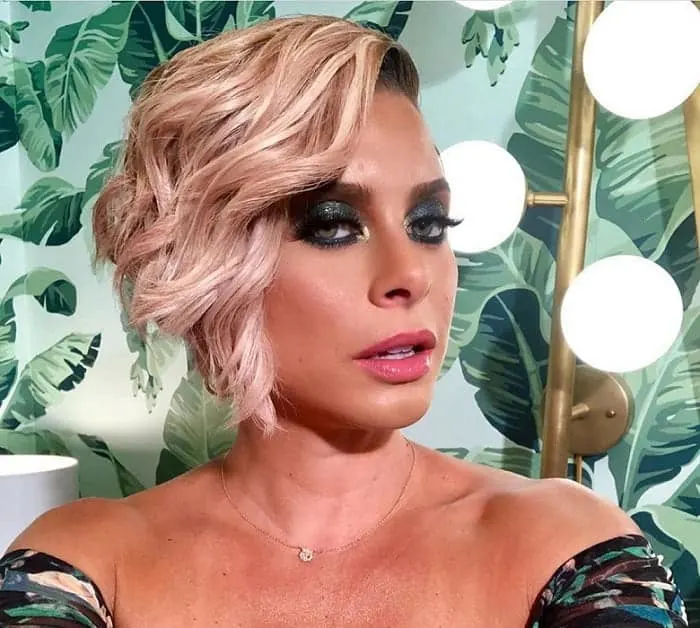 Again, one side of your hair should be completely shaved down, but the other should be long enough to reach your jawline. Remember to ask your stylist to give you some layers on the long side so when you curl it you have more texture and movement on your haircut, with the layers being visible enough!
29. Layered Pixie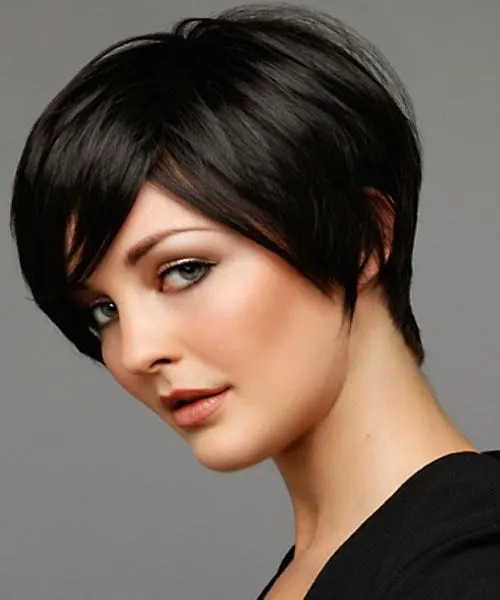 Even if your hair is really short, layers are possible. A layered pixie will look truly priceless if the sides are layered and the bangs are long and wispy. Once you grow your hair a little longer, you can make more layered experiments.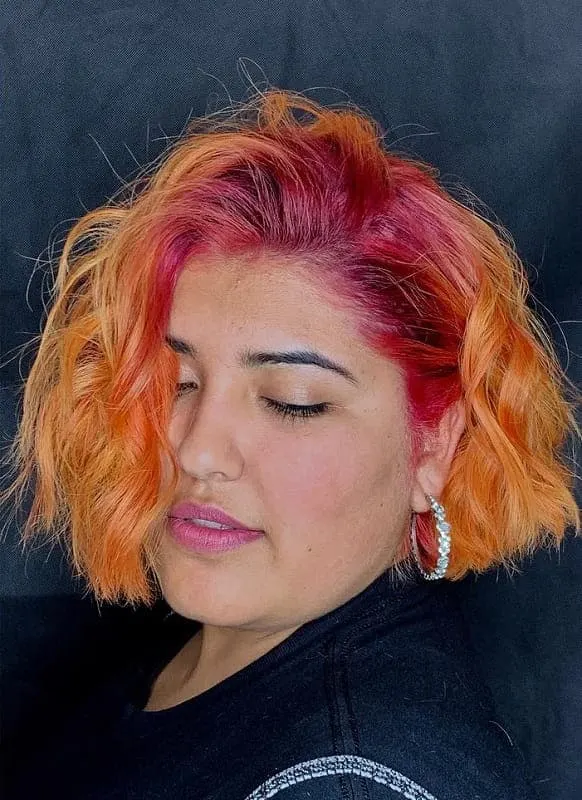 If you're looking for subtle short layered thick hair, then this is the one for you. As you can see, she has a long layer and two shorter ones that make the wavy hair fall around their face naturally. Also, don't forget to style your hair to the side so you can mimic this particular hair.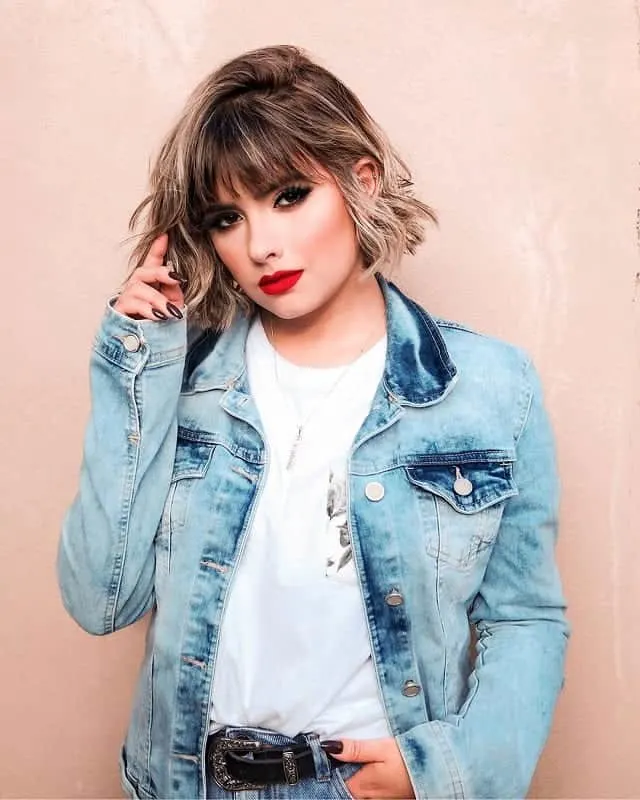 This is one of those classic short haircuts for women with thick hair, and it's very simple to achieve. First, you should cut your hair right where your jawline starts.
After that, make sure your stylist cuts down a subtle layer that is just a bit shorter than the rest of your hair so your haircut can get some movement and texture into it.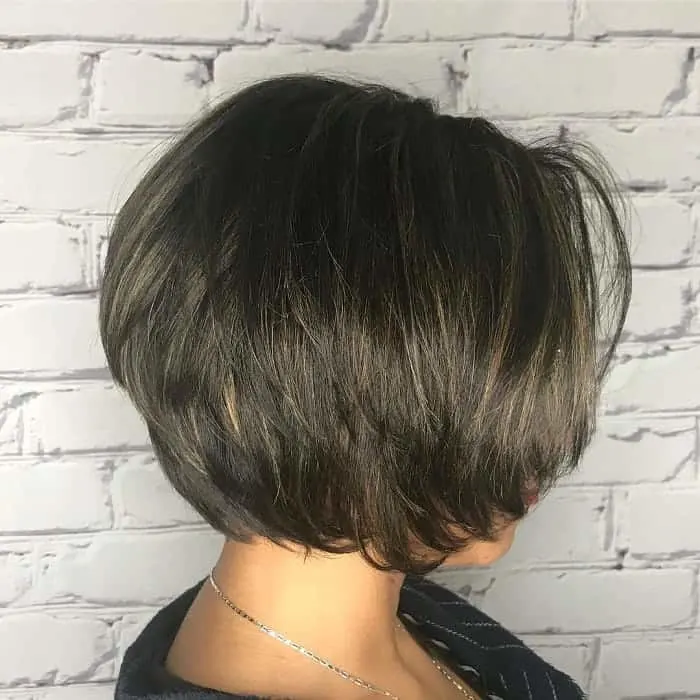 This is another great option for those looking for short layered hair but doesn't necessarily want super short hair. To get this, your thick hair should be cut right on top of your shoulders.
Keep in mind the second layer should fall right on your jawline, framing your face, and a few shorter hairs that help make the transition between the two lengths more blended.
Truth is short layers on thick hair like this one actually help you manage your natural hair better. For this particular haircut, one side of your hair should be longer than the other.
Also, it's very important that the layers are very visible across the shorter part of your hair since it will help give the haircut way more texture and movement.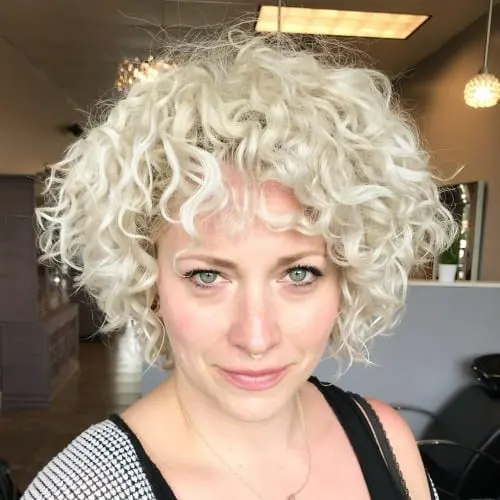 Mix up your regular short layered hair and dye it blonde for a bigger change! Once that's done, make sure to cut down some layers so your hair natural frames your face. Also, don't forget to curl it to get an amazing look.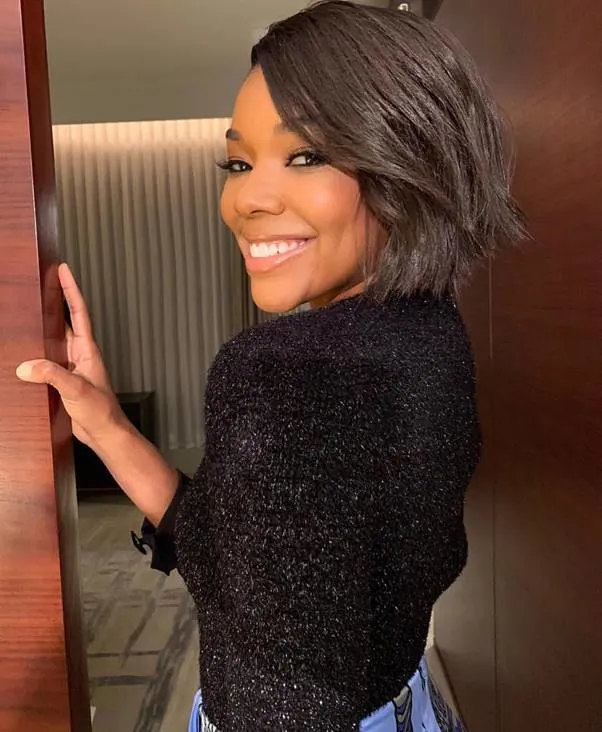 We finish this list with another classic! To get this short layered thick haircut you should cut down your hair above your shoulders and then give it up some layers that help not only add texture to the haircut but also remove some volume and weight off of you!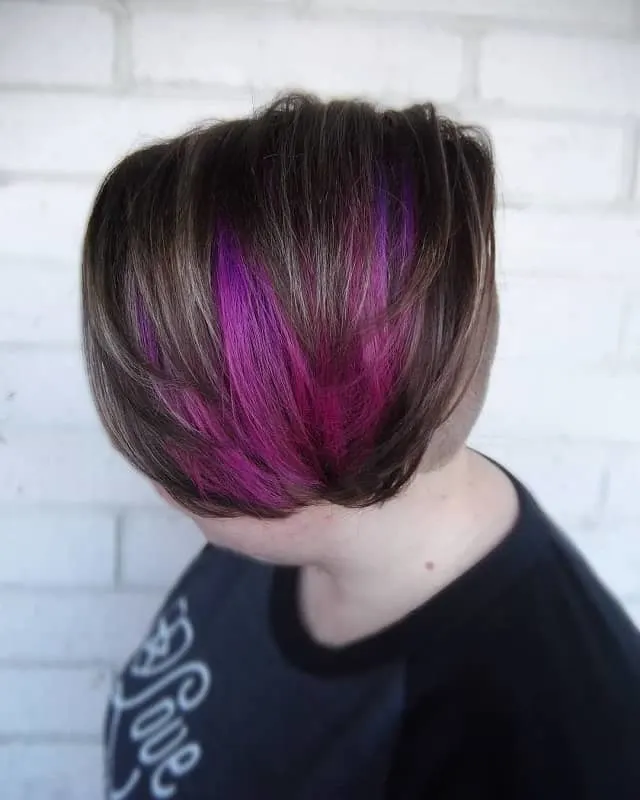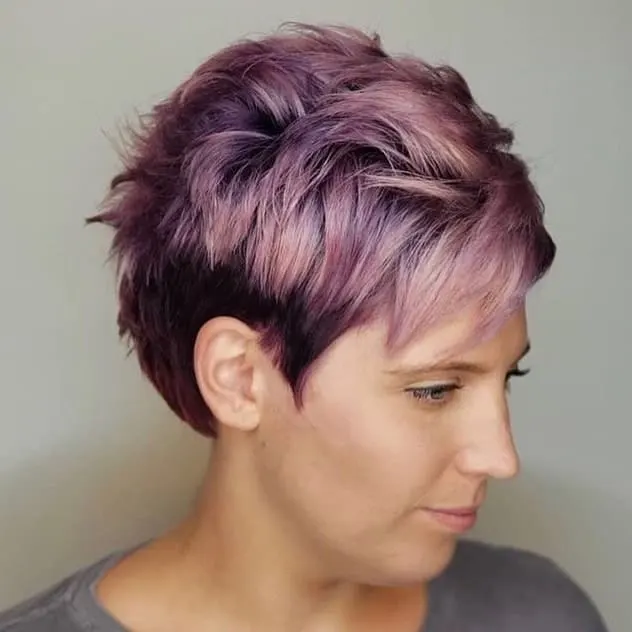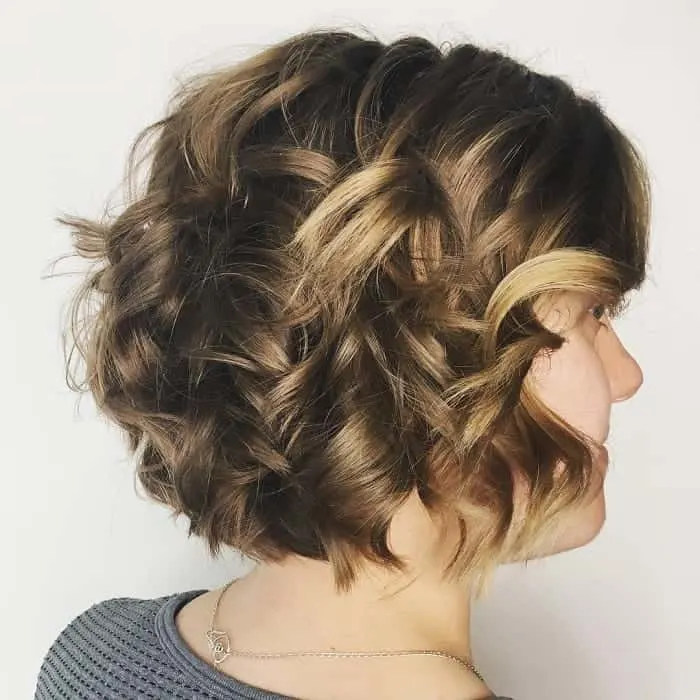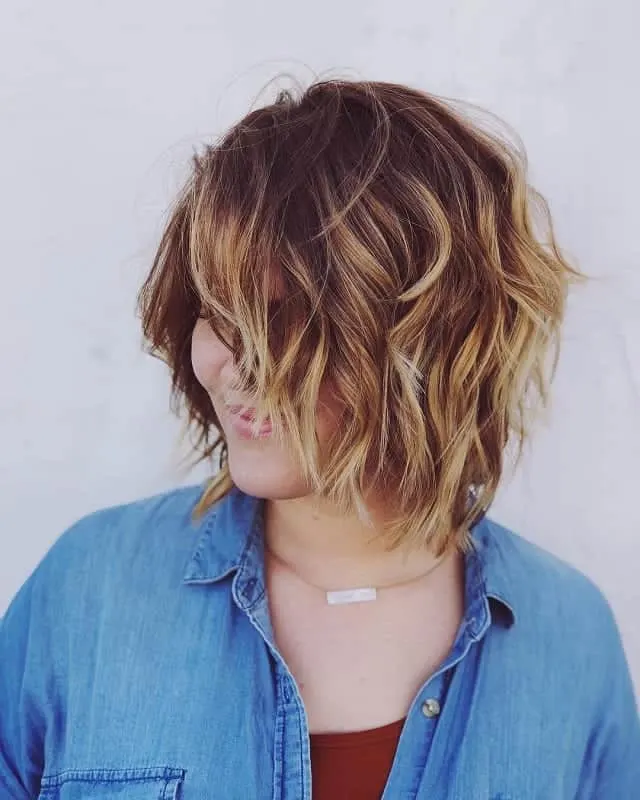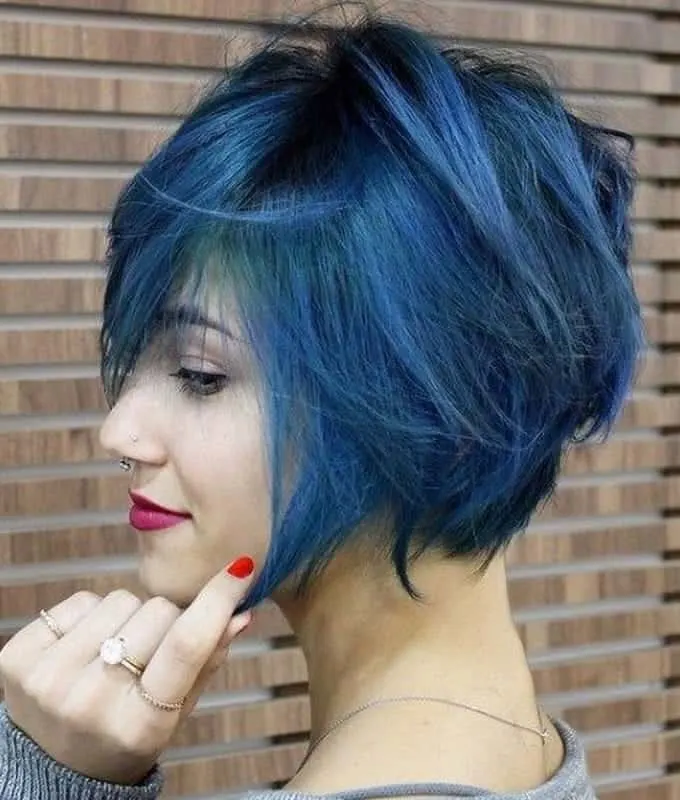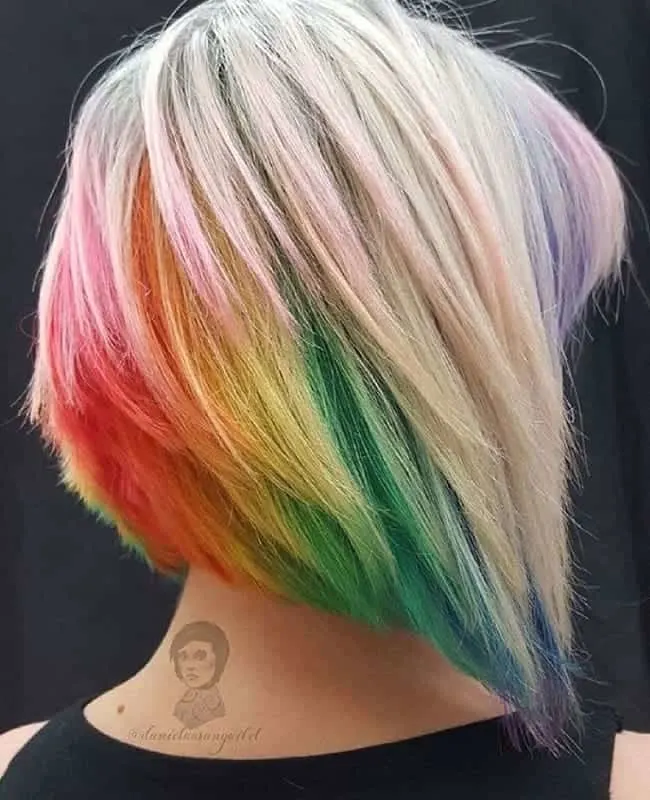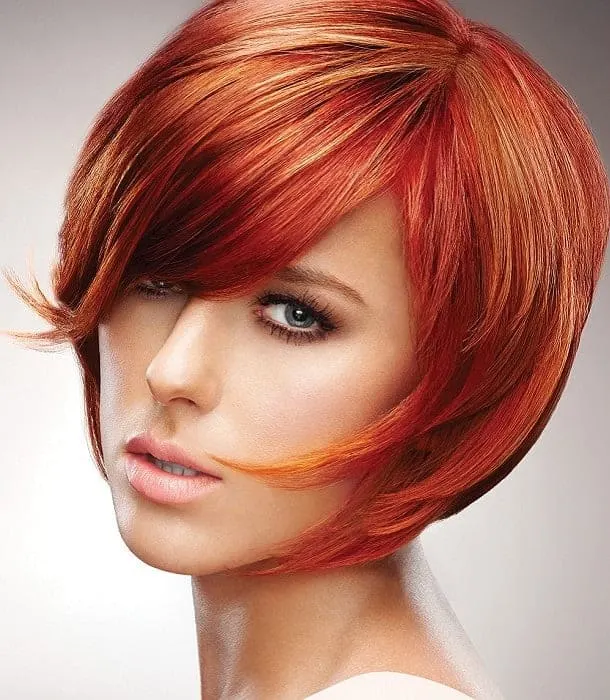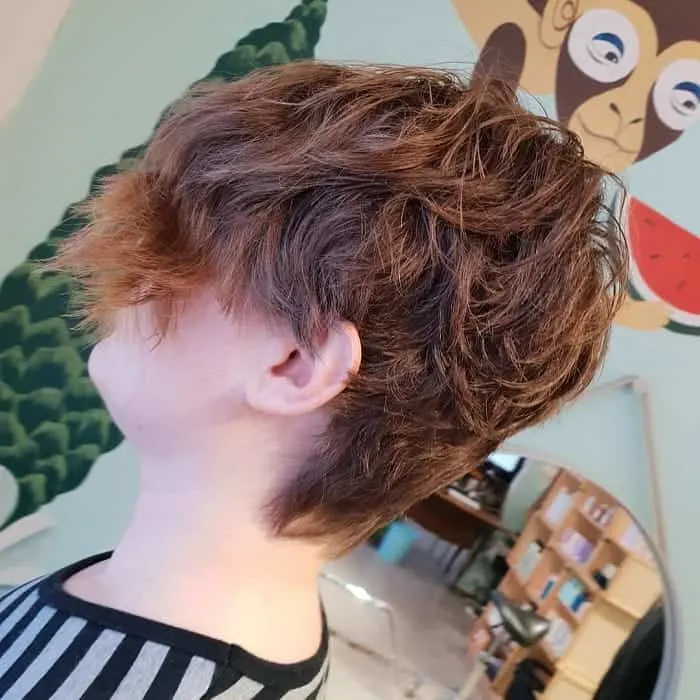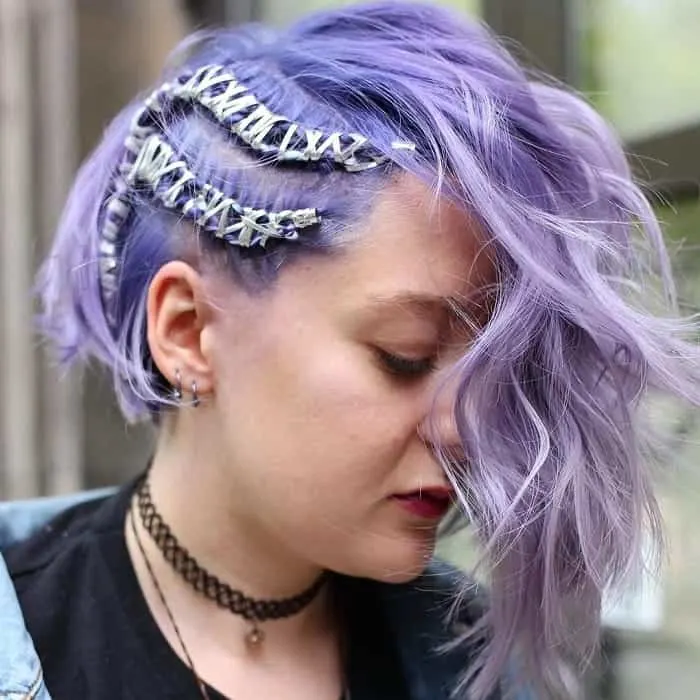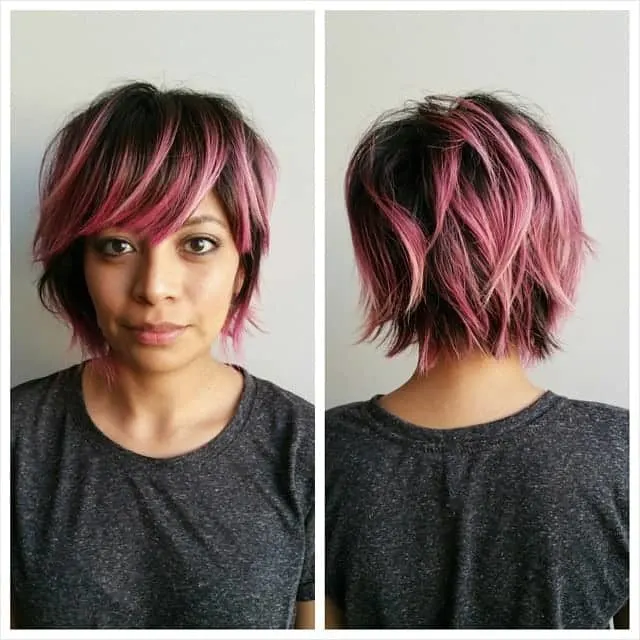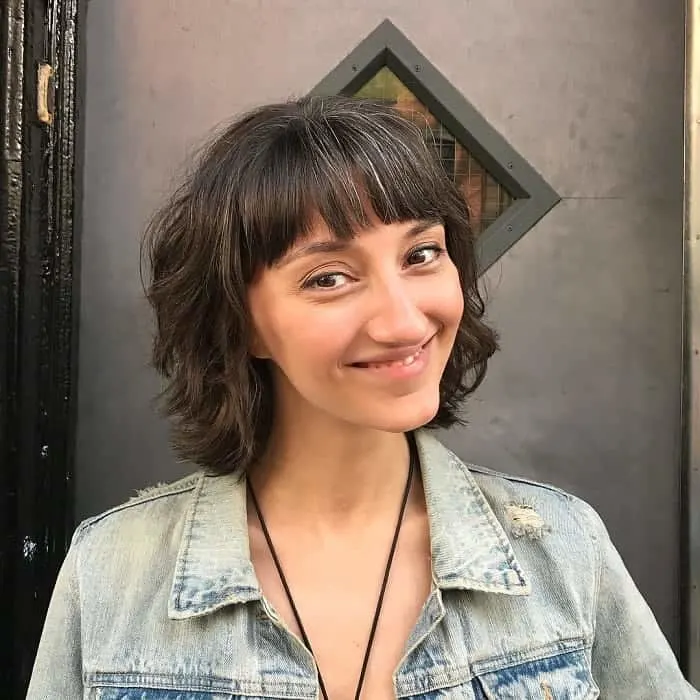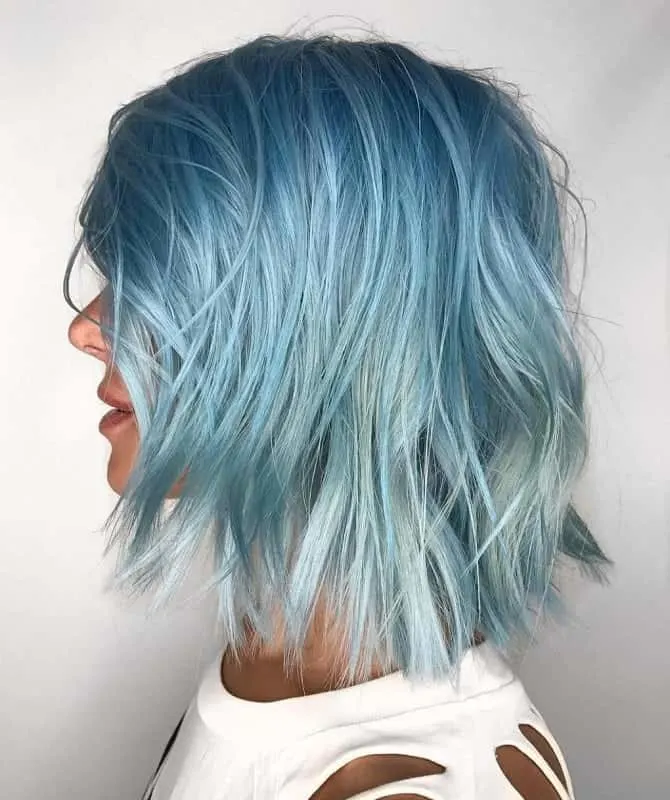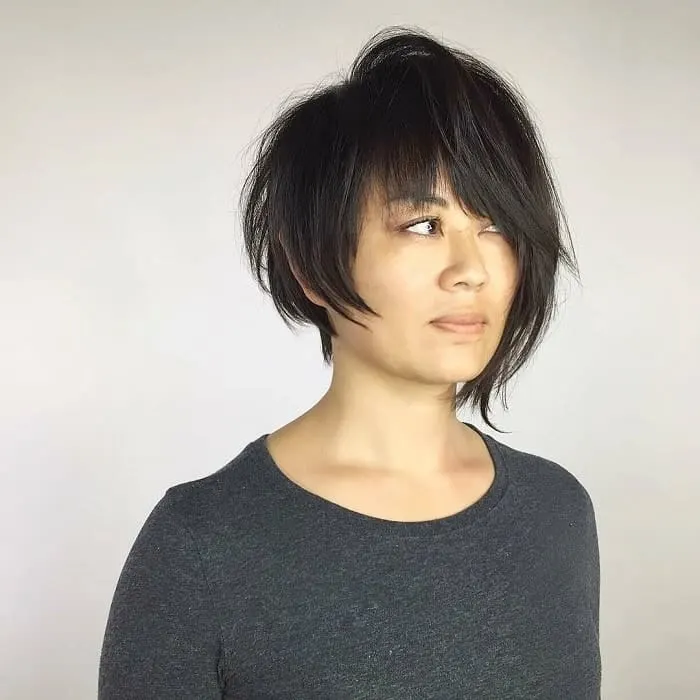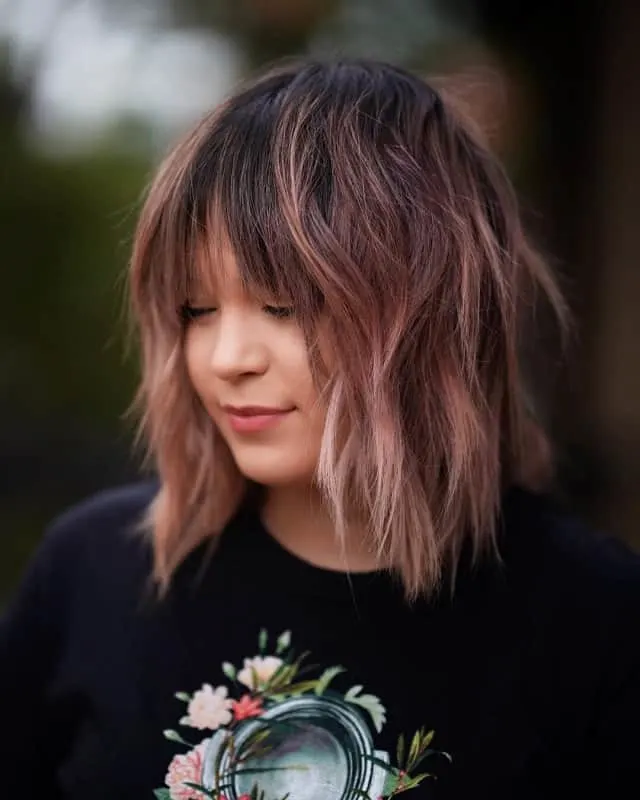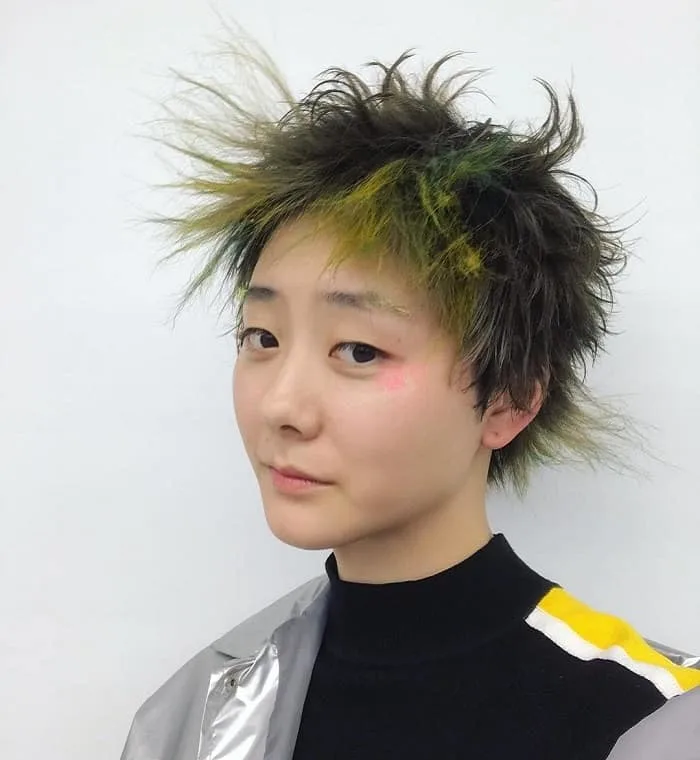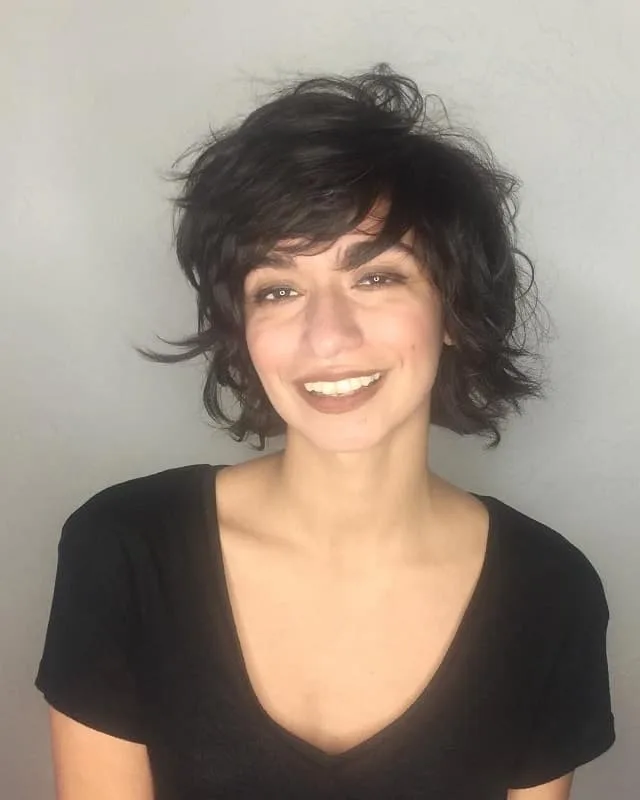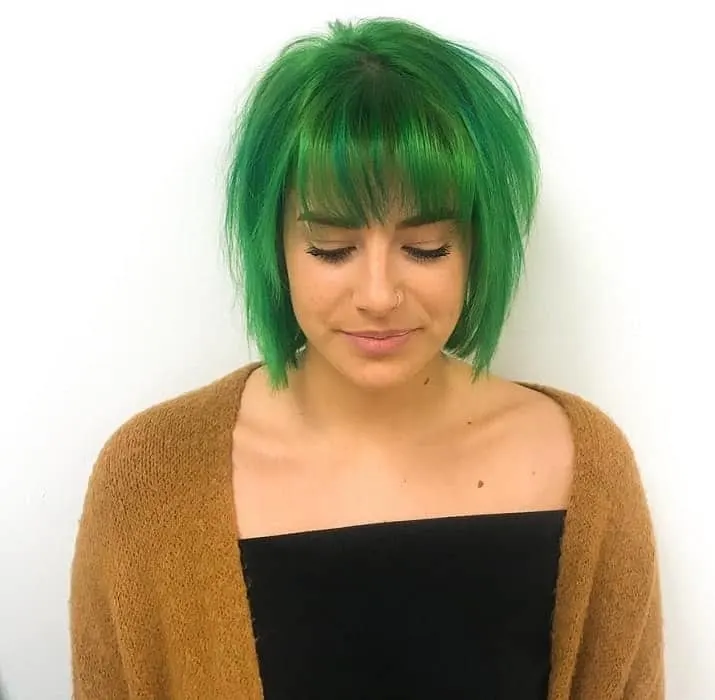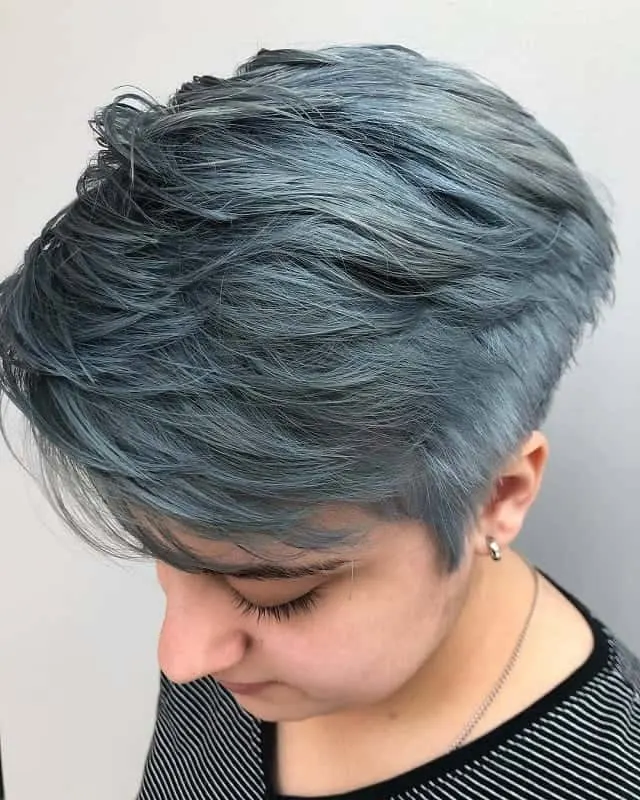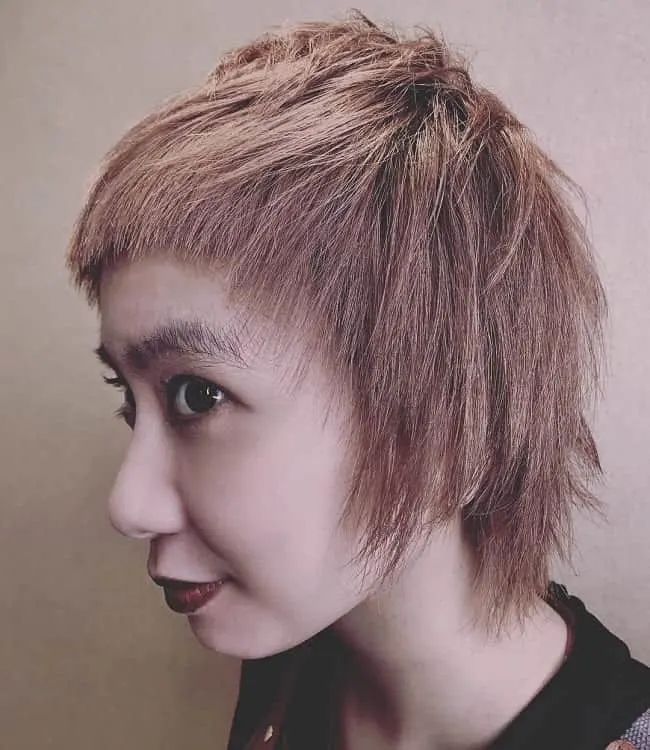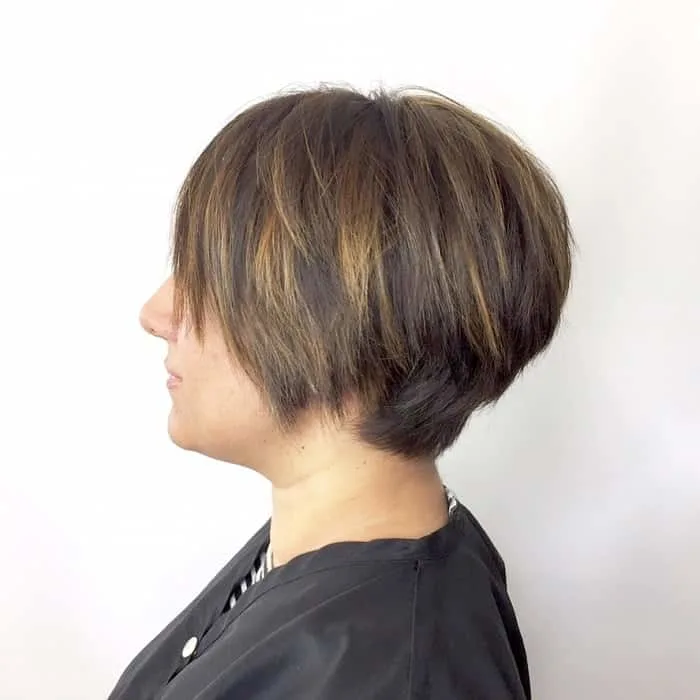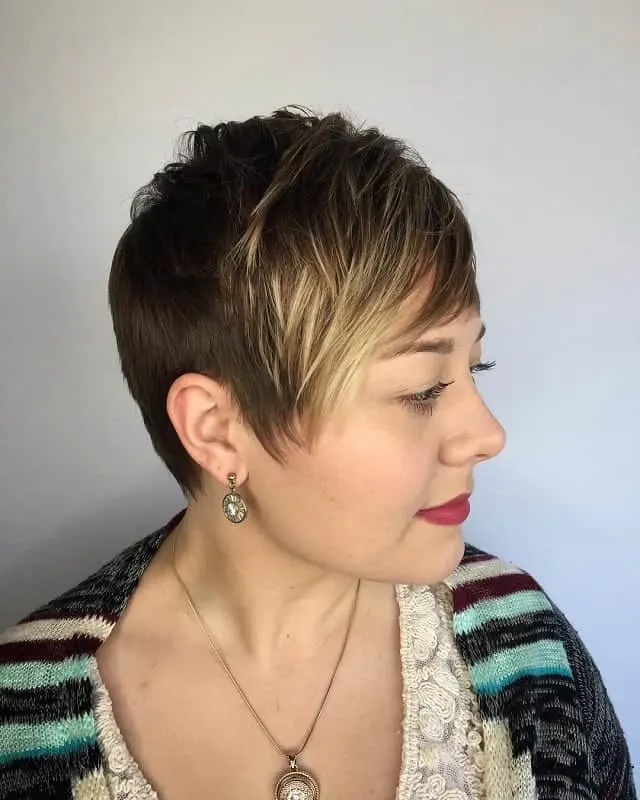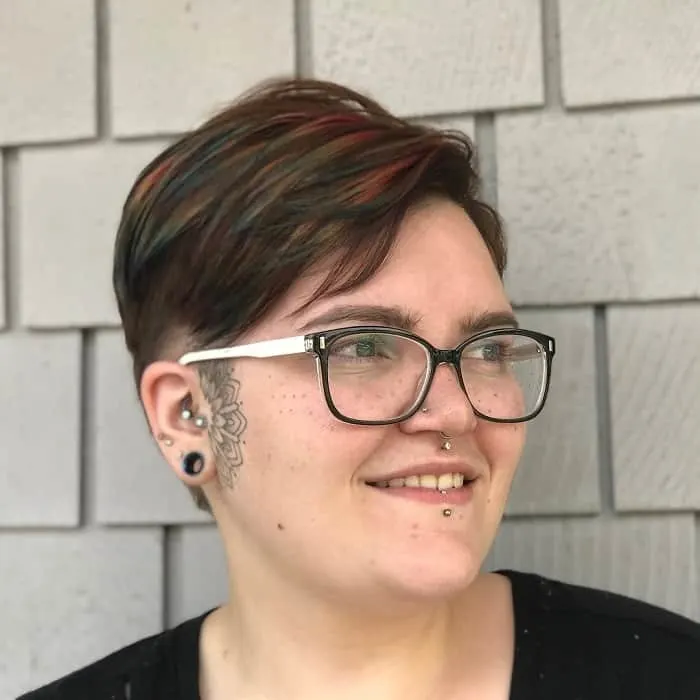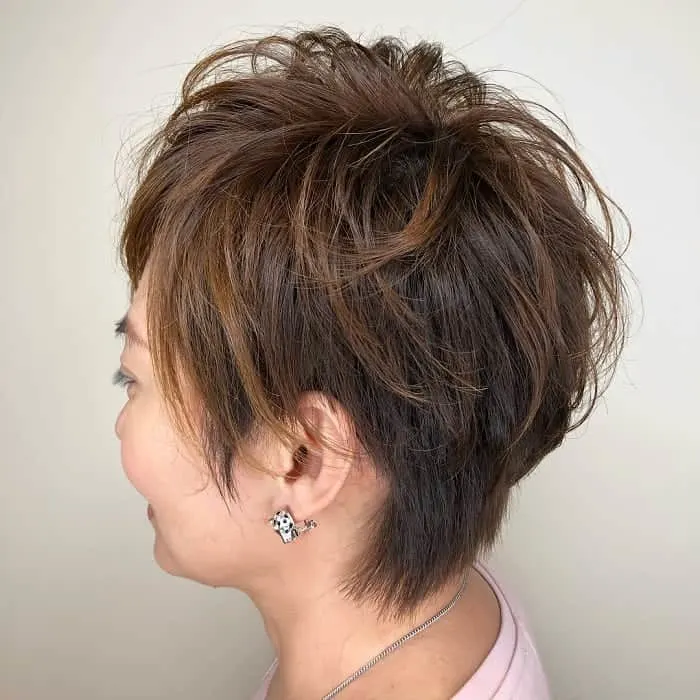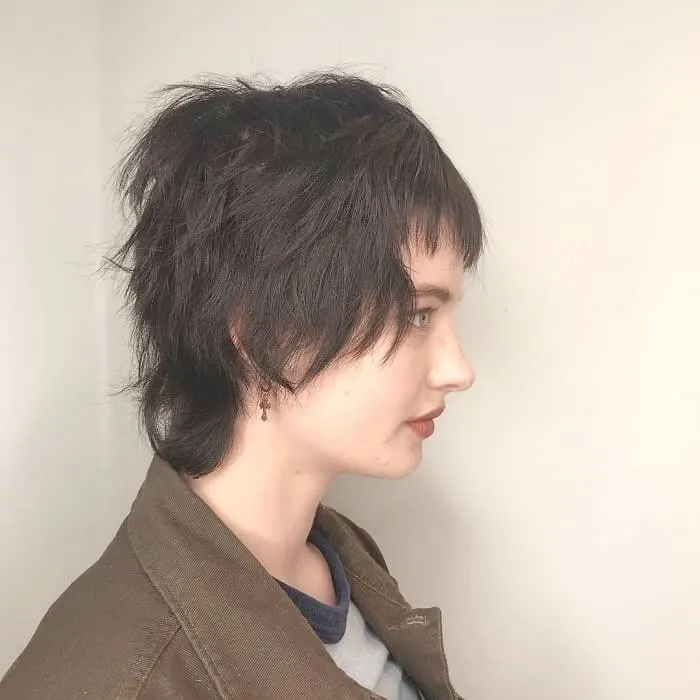 We have offered you the best short layered hairstyles out there. Now you have 60 options to choose from and we are sure you'll find what you are looking for. Browse the above short layered haircuts and pick the style closest to yours. Don't forget to consider the face shape. Most of these hairstyles are not too high in maintenance and will do a great job turning some heads your way. Good luck!