Front bangs and front haircuts for girls are great hairstyles for various reasons: it adds volume to your hair, it hides prominent foreheads, and lastly, it helps you try something new and break from your everyday hairstyles!
Front hairstyles look great on women of all ages and are particularly attractive for girls because they are not regular, and you can be guaranteed to get attention while being unique at the same time.
Stylish Front Haircuts
We have handpicked some of the cutest front hairstyles for women on this list. You can check out to see how elegant and versatile they can be.
1. Curtain Bangs + Ruffled Waves
Long blonde hair looks exceptionally gorgeous when chopped into ruffled layers. Couple these layers with middle-parted curtain bangs at the front that accentuate the face elegantly. Hand-tousle the strands every now and then for a carefree appeal.
2. Deva Cut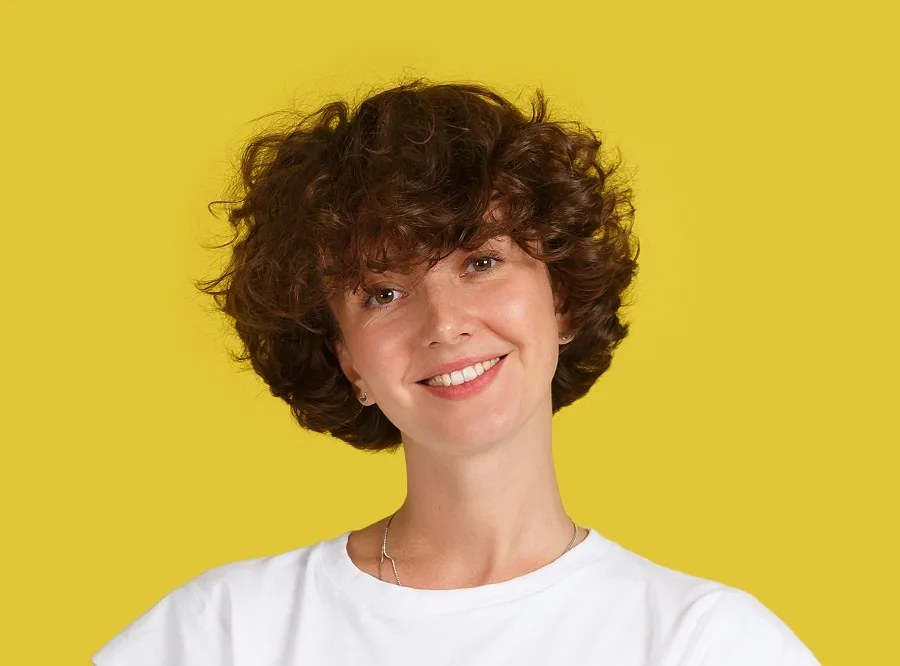 The deva cut is all about styling each curl individually. The curly strands are cut to frame the face beautifully, with the front ones falling over the forehead as tousled bangs. This look is an ideal way to wear your curly mess with confidence.
3. Side-Tousled Pixie
Go for a futuristic look by combining platinum blonde hair with a short pixie haircut. The sides are choppy and layered, while the longer top is smooth and swept on one side, covering an eye for chic appeal.
4. Jaw-Length Fringe
A jaw-length front fringe looks undoubtedly elegant and is the go-to look for those who don't like short bangs.
Ask the hairstylist to trim the front strands in a slightly diagonal direction. Style the hair in a simple top bun to keep all the attention on the face.
5. Two-Toned Hair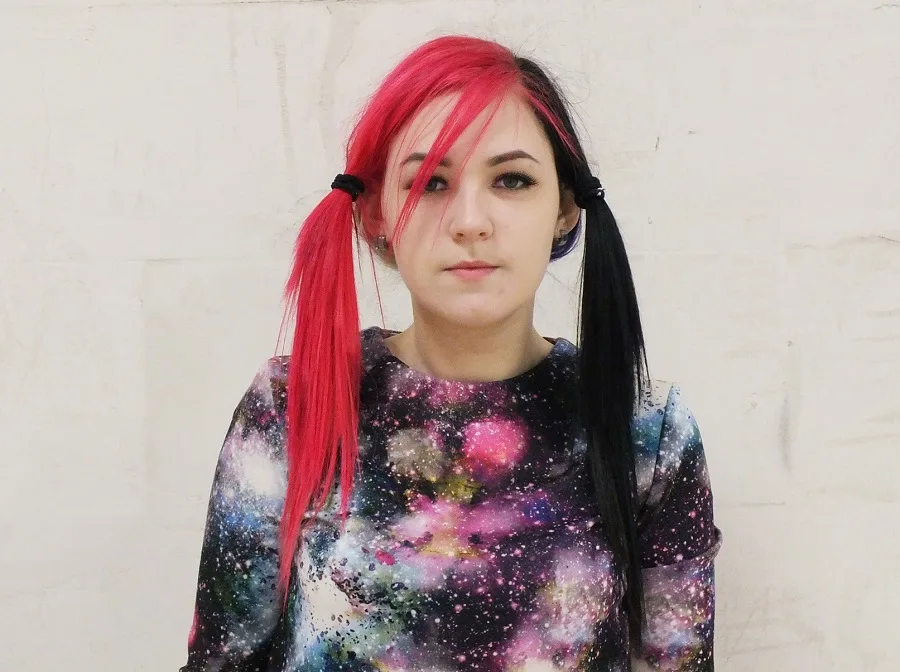 Show your wild side by going for a two-toned hair look. Half of the hair is dyed in a vivid red hue while the remaining is pitch black.
Compliment the hair color with a choppy front haircut and style it into two low ponytails falling at the front.
6. Super Short Pixie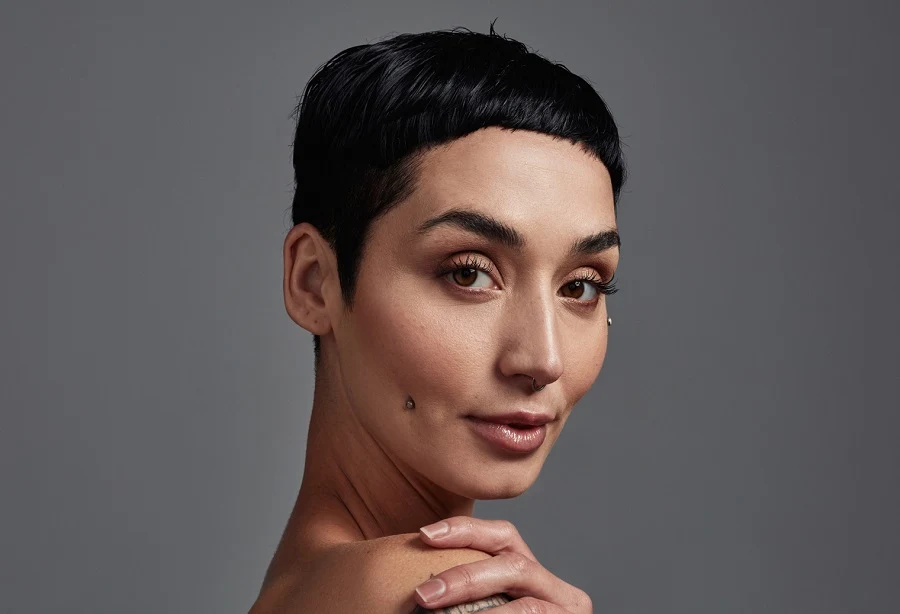 Make a bold move this year and clip the hair into a super short pixie with a slightly longer top standing against the almost buzzed sides. Brush the strands forward and trim them along the hairline for a blunt and edgy look.
7. Straight-Cut Bangs
Straight-cut bangs are chic and timeless and are an ideal way to hide a wide forehead. Trim the blonde strands into a subtly layered chin-length bob with bluntly cut strands grazing the eyes at the front. Finger-comb the hair and the look is done.
8. Side-Swept Front
Show your hairstylist this cute haircut ideal for young girls asap. The deeply side-parted front grazes the eyebrows and elongates towards the outside. Couple these side-swept bangs with a low-side ponytail for an adorable look.
9. Cherry Red Micro Bangs
The edgy micro bangs are back! Dye the hair in a bright cherry red hair shade to turn around some heads. Cut the front strands into straight micro bangs covering a part of the forehead and top off the look with two pigtail braids along the sides.
10. Asymmetrical Mushroom Cut
A savage mushroom cut like this will surely keep all the eyes on you. The sides are dark and trimmed short to contrast with the longer platinum top falling over them. Don't forget to keep one side longer than the other at the front finishing off this asymmetrical look.
11. Front Bangs On Short Hair
Wow, see how front haircuts and bangs look stunning on both lengths! They are easy to cut bangs, but if you don't feel comfortable cutting them, you can go to your stylist to have them cut evenly.
This photo is a classic example of the almost same front bangs and how they complement well both chin-length bob and medium-length hair.
12. Straight Bangs Front Cut Hairstyle
If straight hair is worn the same way regularly, it can look dull. However, adding layers and bangs give you an exciting look.
The front bangs are styled from the middle and slide down to cover the eyebrows. This is an elegant look that made a comeback in 2023.
13. Bangs on A Choppy Haircut
Someone just said curly and bushy hair can't handle bangs? This sleek front haircut for women reveals how the fringe can be indirectly proportional to the entire volume of the hair.
Many times we have shiny, smooth hair and huge fringe, whereas, here the fringe plays a role in balancing the rest of the tresses which looks bulky. Here is a version of it.
14. Slight Uneven Bangs On Straight Hair
This is a great front hairstyle for women with broad and thin hair textures. The bangs are away from each other and are extended, creating a simple pattern around the eyes.
The back hair is styled in a half ponytail down do, and a portion of it is brought to the front of the left shoulder.
15. Choppy Fringes
This one is a chic and sassy women's front haircut. The front cuts extend up to the eyebrows and the manes at the back are styled forward over the shoulders.
16. Front Bangs On Burnt Orange-Colored Short Hair
This is a classic example of a short curly front blunt hairstyle for ladies with straightened, sleek bangs. The curls are slightly longer at the front and the fringe is trimmed in a precise straight line. The orange hue makes a neat contrast with the face color.
17. Front Cut Hairstyle for Round Face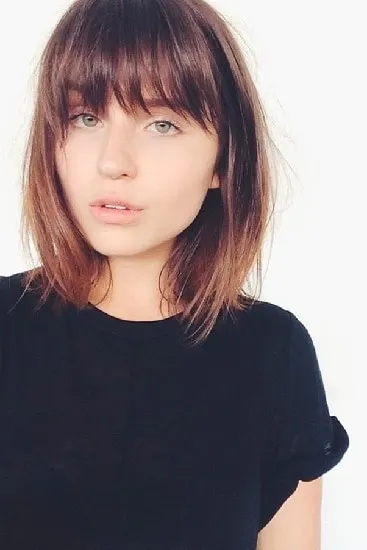 In this front hairstyle, the long bangs frame the face. It works well on the hair of any length. For the ladies with round face, allowing the side bangs to grow longer on the sides makes your face appear longer and more symmetrical. For a beautiful look, make the front fringe reach below the eyebrows.
18. Straight Long Bangs
If you don't care about obstructing some of your views, you can allow the bangs cut just slightly below the eye level. This is unusually hot if you have a silk-elongated Asian type of hair. You will surely look like a rock star.
19. Eye Brow-Grazing Bangs For Short Hair
If you care more about your vision, then get the haircut to the level of the eyebrow. The hair is trimmed at the same level and in a straight line.
It is a suitable hairstyle for women with wavy hair because the fringe is kept protruding to give a beautiful rounded effect.
20. Super Short Bangs on Black Hair
This is not only a style for black hair alone, but it can be for any colored hair. However, you have to be keen on winged eyeliner.
The fringe is styled to follow the forehead line. What is unusual and contrasting about this gorgeous women's front cut is that the hair is uniformly cut all the way to the ears.
21. Uneven Fringes with A Ponytail
Pretty romantic huh? Start by combing it before assembling your hair into a pony. There is lots of hair on the fringe, and the sides are left to grow out excessively, yet it looks so attractive to the eye! A bold way to spot a front cut which makes this hairstyle a super party haircut.
22. Tousled Hairstyle With Cropped Bangs
This very close front cut may give you memories of your 8-year-old nephew, but all the same, you know you can rock it.
This cute fringe haircut is correctly suited for jeans and a simple top if you want that hipster appearance.
23. Side Swept Fringes
You will find this hairstyle most suitable when you haven't gone to your hairdresser, and your bangs have grown so long. It is an elegant style you can opt for which will ensure you remain to look beautiful.
24. Front Pixie Hairstyle
This haircut with front style has a short cute fringe and pixie side bangs. Reveal your selfish side with this fabulous hairstyle!
25. Twisted High Bun With Bangs
For the women with long hair that is wispy and thin, choose some sassy bangs to frame your forehead. See how the front cut strands are styled in varying dimensions with the outer bangs growing below the eyes. High buns and buns, in general, are perfect complements to front bangs for women because they give hair pattern and enhance texture.
26. Blue Coloured Fringe For A Gothic Look
If you have a red or blue hair, trim it to a short fringe to finish your Goth look. The hairstyle is shaved short and slightly away from the face. The sides are kept shorter and rounded. The back hair is twisted and braided into separate buns. This front hairstyle is a sure way to turn as many heads as possible.
27. Brunette Fringe Brushes The Brows
Laid back and sleek, this women front cut is characterized by a thinned out ends. Just style them past the eyebrows so that they don' appear too short. The rest of the hair is composed of subtle layers and shiny wavy. However, the natural glow is still maintained.
28. Bangs To The Lashes
The definitive feature of this front hairstyle is the fringe which grazes the eyelashes to accentuate the windows of the soul. Add some attention to the rest of the design with some balayage at the trimmings of the hair. Remember to keep the bangs dark.
29. Full Pointed Fringe
Thick pointed bangs at the tips are the best compliment to lots of curly layers. Not so heavy, not quite straight, these bangs give a textured frame to the face and frame the eyes. A few accentuates around the face gives a glow to the look, so it doesn't get too cumbersome.
30. Super Thick Bangs
Generally, bangs look exciting on a very thick hair. When you have a coarse hair, you will not need to commit yourself on caring the bangs. However, if you have short layers at the side of your head, you may end up getting a bowl haircut look.
31. Long Blended Front Bangs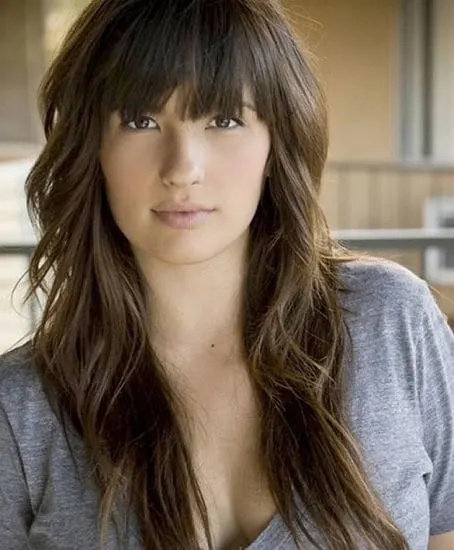 Bangs that mix into layers make a long haircut look stylish always. Thin out the tips rather than trimming straight across, and you will have a chance to sweep them to the right and left.
32. Caramel with Volume for Front Hair
The dimension is bold all over with these red-toned bangs. The thick fringe is made soft at the edges. The sides match neatly with the rest of the hairstyles. The primary layers enhance volume around the head; however, they are not cut into a fringe shape.
33. Strong Side-Swept Front Fringe
Let your hair pulled to the back and the bangs will speak for themselves. Bulky strands angle down into extended layers around the face. Pulling the hair into a ponytail makes the layers hang freely giving you a carefree look.
34. Short Front Bangs With Volume
This vintage front look is suitable for dark hair. The short bangs are an inch or so in length. They are highly layered. The bangs look great with lob or shag. If your layers are long, you can style them into a messy updo to match your fringe.
35. Perfect Sleek Bob
Bangs with sharp, dramatic edge are gorgeous with an angled bob. If your hair is not curly, this front hairstyle will indeed hold it perfectly. However, if you have a wavy hair, start by straightening it before sealing it with an anti-frizz serum.
In conclusion, front haircuts for women can look really beautiful and work pretty well with long or short wavy hair. We hope you enjoyed these styles and have found one ideal for your face type and hair texture.