Indian hair is well known for its beauty. Simply defined, it is long, luscious, thick, and black. But not all women have straight tresses. Some even have curly locks that look equally stunning if styled correctly.
Though curls can be difficult to manage at times, this does not mean you need to keep them straightened all the time. Even if you do, you might ultimately damage your mane beyond repair.
So leave everything behind, as it's time to wear your hair in its natural form with the following classy Indian hairstyle ideas for curly hair.
Ideal Curly Hairstyles for Indian Women
Only because you have curly hair, this doesn't mean you can't wear gorgeous trendy hairstyles. Want to know about the top Indian hairstyles for curly hair? Check out the ultra-glam and stylish Indian hairstyles for curly hair.
1. Indian Frizzy Wavy Hair
Indian curly hair may be frizzy, but you can use all sorts of products that are specially designed for your hair type. They will reduce the frizz and define the waves and curls. Stop straightening your hair because you will highly damage it, especially if you go for this procedure in the long term.
2. Indian Long Layered Curly Hair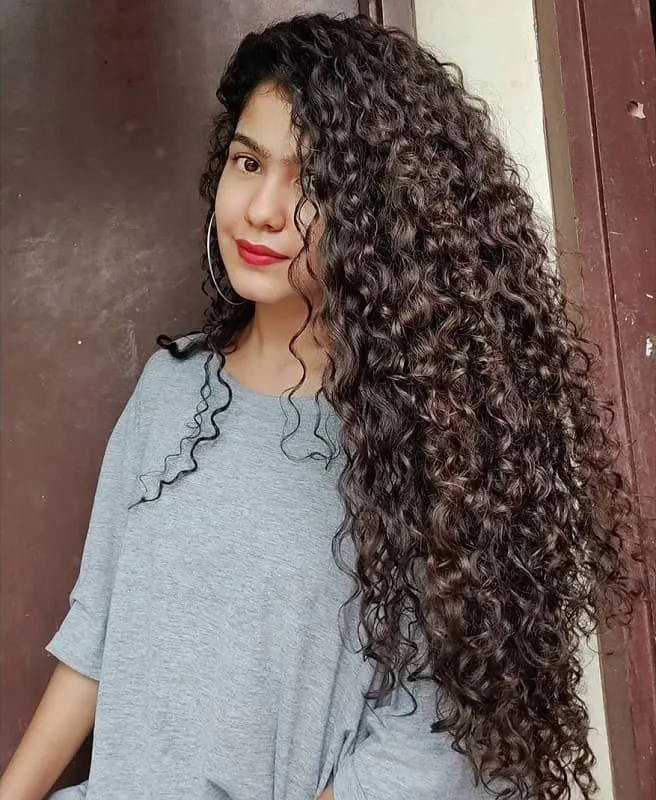 When having long Indian curly hair, the best thing you can do is avoid a blunt hairstyle! Nobody wants a triangle-shaped haircut! Instead, we highly suggest you go for layers and products that give your coils bounce an movement.
3. Indian Curly Updo
This Indian bun hairstyle will certainly make you look mesmerizing if having thin curly hair. Create a messy hairdo and wear the tips on the forehead. The outcome is ideal for parties and even business meetings.
4. Loose Curls For Indian Hair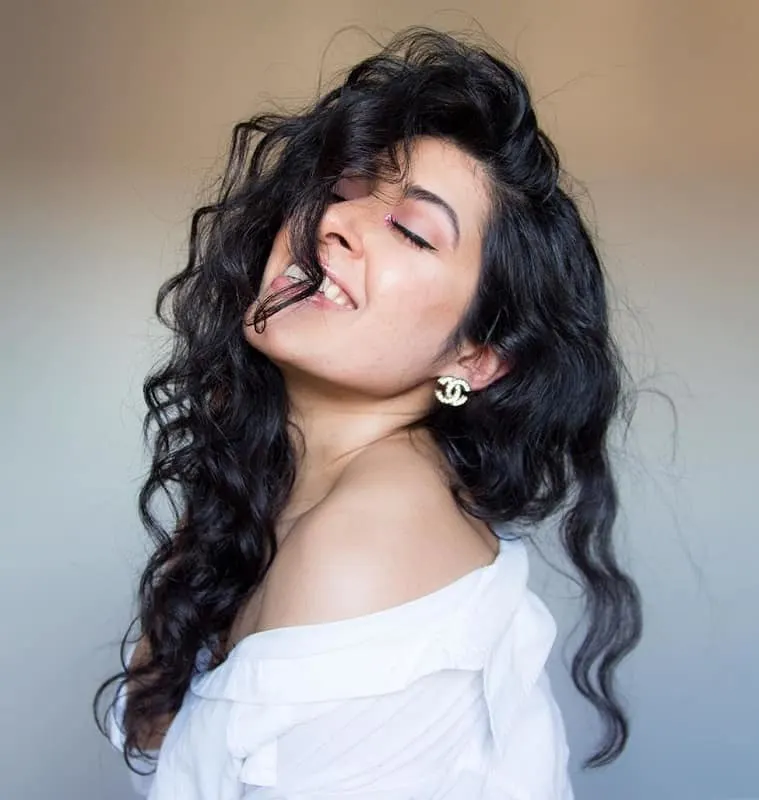 Dark loose curls look gorgeous on Indian women. Even if most Indian hairstylists will give you advice about the best straightening options, remember that curls can look even better. Instead, find products that will better define your coils.
5. Indian Curly Updo with Head Wrap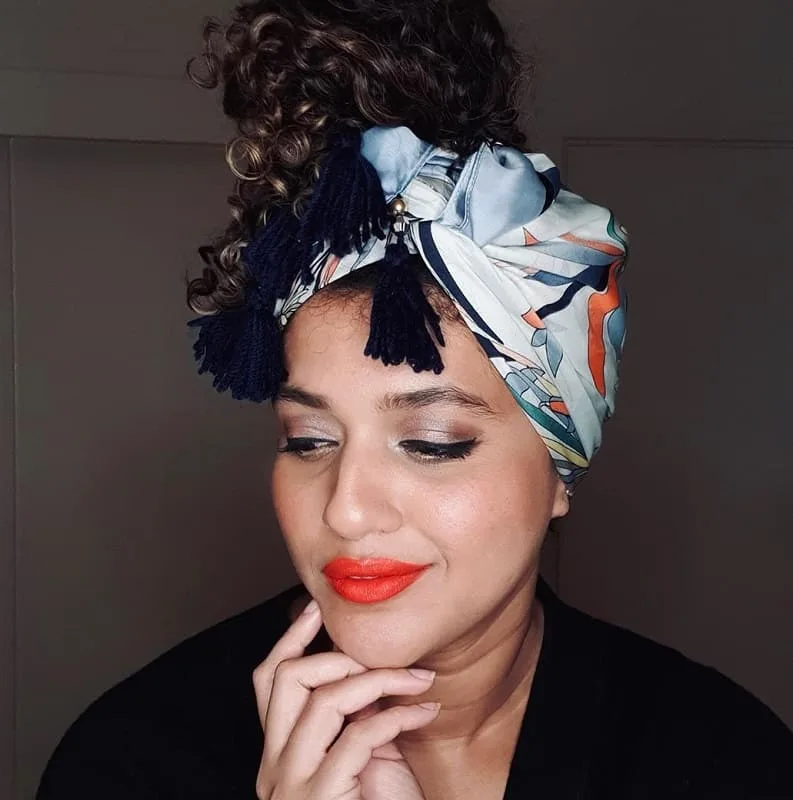 You don't always have to wear your hair on your back. During summer, you can style a big curly bun on top of the head and use a multicolored scarf and wrap it around. Knot it in front, and your look will be so chic.
6. Curly Bob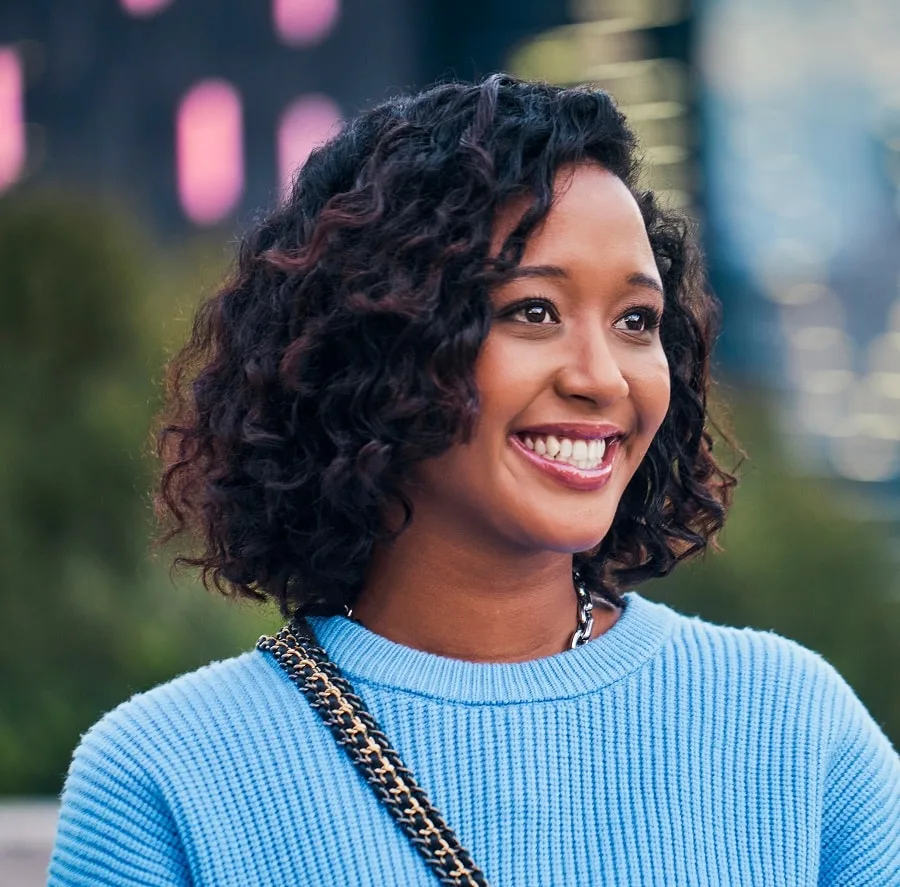 Straight bobs are gorgeous without a doubt but curly ones don't look any less too. This cropped curly hairstyle is ideal for Indian women who prefer to keep their locks short.
A bit of layering with medium-length side bangs framing the face will give you a refreshed look that won't be ignored.
7. Everyday Top Knot
Keeping the hair on the loose all the time might not be an option for everyone. Try styling those precious curls in a simple top knot on busy/lazy days.
Create a high ponytail and swirl it around into a bun. Don't pull the strands too tight to avoid damaging your curl pattern.
8. Balayage Curls
Tired of your naturally dark hair shade? Lighten it down without completely letting go of your black tresses.
Make your curly mane more noticeable with a classy balayage featuring hand-painted highlights that concentrate towards the ends. Choose a caramel blonde color to accent your warm skin tone.
9. Side Braid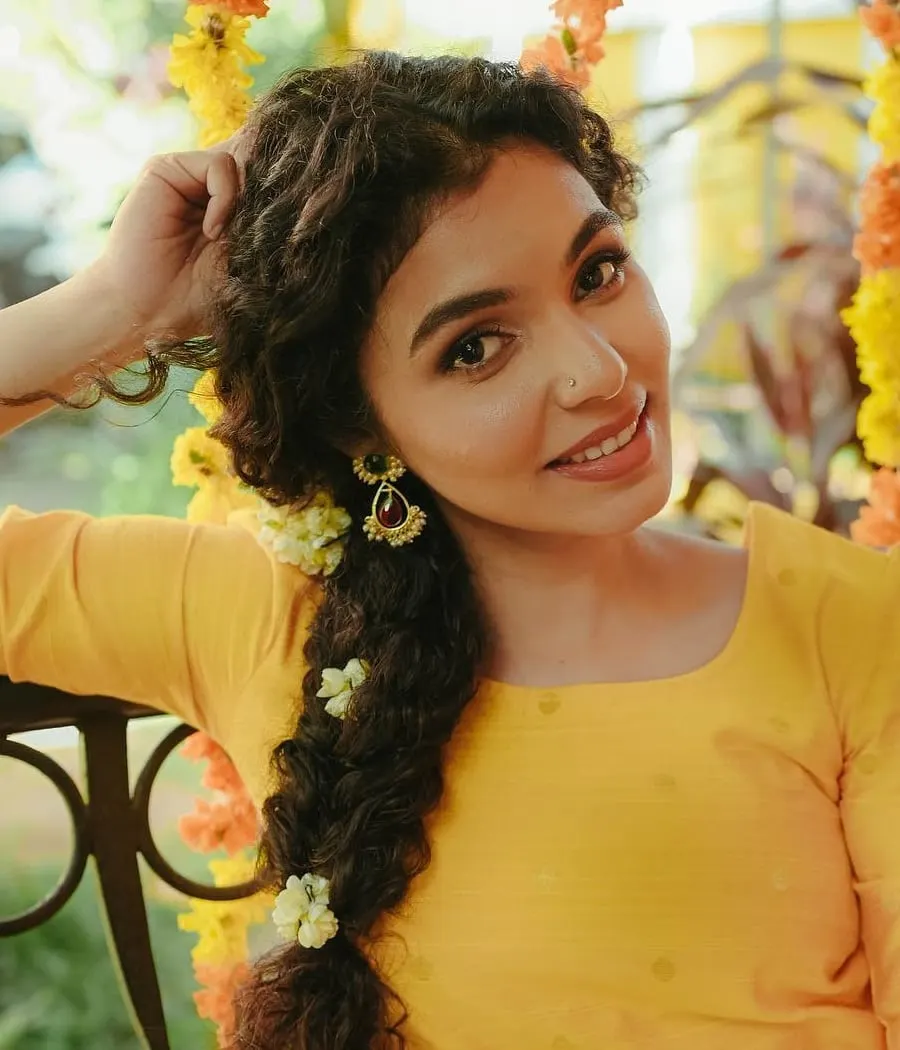 Curly side braids are too good to be true. They can be rocked both on normal days and at formal events.
Tousle the hair on one side with a middle or side parting and plait it down. Knit the strands loosely to retain the curl shape and adorn them with flowers for a festive look.
10. Natural Asymmetrical Pixie
Consider this Indian hairstyle idea for curly hair if you plan on going bold this year.
Get an asymmetrical pixie haircut with one side significantly longer than the other. Throw in some highlights and you'll love your natural hair texture. Try a shaved side design too!
11. Soft Twist-Back with Floral Halo
Opt for a boho-chic appeal to drop some jaws. Detangle the tresses with a side part and twist those side locks to be pinned at the back.
Pull out some tendrils to frame the face and place a floral hairband on top to turn yourself into a dreamy princess!
12. Casual Pixie-Bob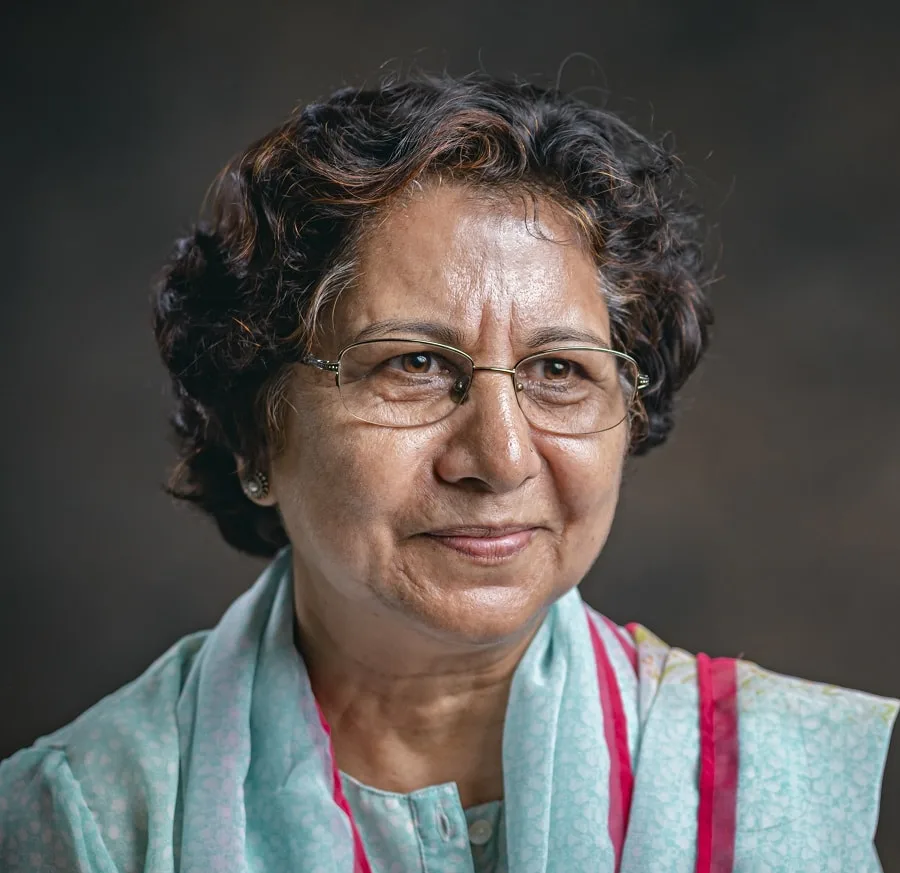 A pixie-bob is rounded like a bob and short like a pixie, hence the name. It makes a suitable curly hairstyle for senior Indian ladies who don't have the energy for elaborate hairdos.
The strands are shortest on the top and elongate along the sides towards the back. Some highlights won't hurt.
13. Curly Ponytail with Pouf
Here's a nostalgic hairstyle that almost every Indian woman has sported in her school days and can still try it today.
Backcomb the front strands and smooth them out into a soft pouf while assembling the remaining tresses in a low, medium, or high ponytail. Tousle the curls at the front and done!
14. Braided Half-Up Style
Half-up hairstyles never disappoint. Carve out a suitable parting and opt for single or double braids along both sides of the head. Pin them at the back.
You can also plait to the ends and roll them into a cute flower bun. Decorate with pearls and there you go!
15. Relaxed Messy Updo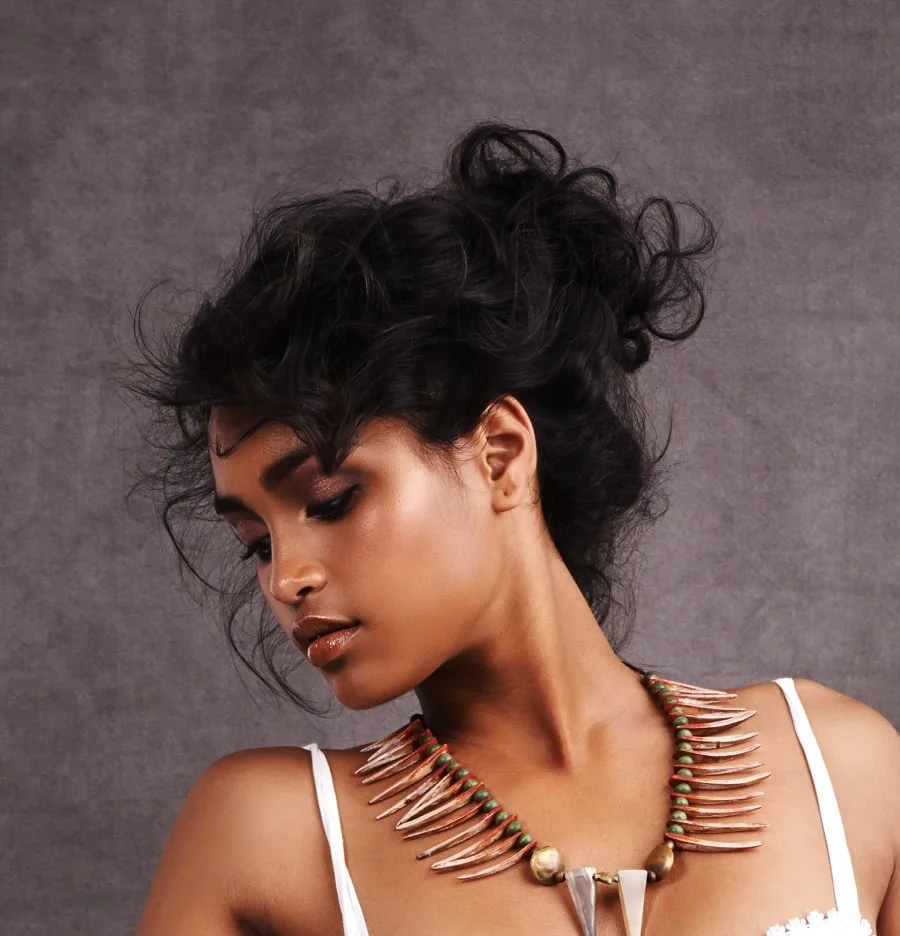 When it comes to Indian curls, the messier the hairstyle, the better it looks! Scrunch those natural coils to define their pattern before assembling them carelessly at the back of the head.
Keep the strands in place with pins and pull out plenty of chunks for a 'no care' vibe. Simply chic!
16. Classic Indian Bouffant
Another traditional Indian hairstyle for all the curly-haired beauties out there that isn't getting old anytime soon!
Opt for a sleek side parting with a bouffant pouf on the crown area. Assemble the remaining locks in a half-up style with the curls cascading on one shoulder. Finish off with a fancy hair jewel.
17. Voluminous Festive Ponytail
Put your curly mane on display with an elegant ponytail updo. Instead of going for a usual flip-twist pony, flip the strands the other way around for a voluminous look.
You can also try the double ponytail hack. Finish off with face-framing chunks at the front and some sparkling gems at the back.
18. Indian Brown Hair with Highlights
Create a mindblowing hairstyle for Indian curly hair by getting a layered haircut. Opt for a brown shade and give your strands dimension by making some thin blonde highlights.
19. Half Up Half Down for Indian Curly Hair
Part your gorgeous mane in two parts and knot the top with a big pink scrunchie. Wear the lower part on your shoulders and back. This way, you will elongate your face, and your bangs won't get in your way.
20. One-Sided Hairstyle for Curly Indian Hair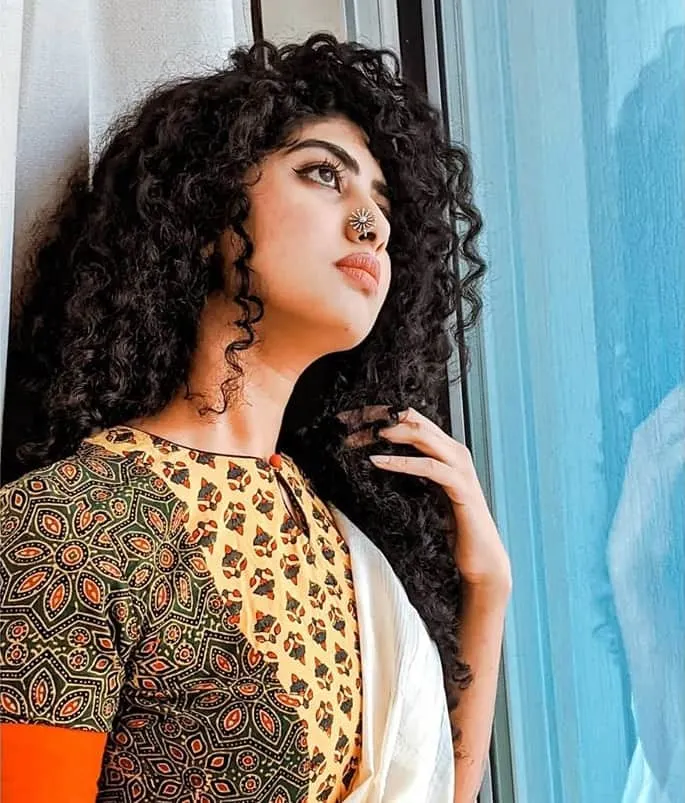 Why spend so much time straightening your hair when you have such amazing beautiful curls. If they are very tight, you will need a layered haircut and you can wear your fringe on one side, creating even more volume.
Hair Care Tips for Indian Curls
If you have Indian curls, there are some natural tips that you should keep in mind to ensure your hair stays healthy and easy to maintain.
Moisture is key — Moisturizing is key to keeping your curls healthy and bouncy. Only wash your hair twice per week and focus on removing any dirt or debris from your scalp, not over-drying the long strands of your hair. After you wash your hair, use post-wash cream to moisturize and condition the hair.
Use special products — If you have curly hair, invest in special products to ensure your hair is free of sulfates and natural oil-stripping ingredients. Using a special serum and conditioner can help you keep the integrity of your curls.
Go all-natural — Keep your curls natural. Avoid brushing your hair while it's dry, as this will only lead to frizz and weigh down your hair.
Find the best salon — Indians with curly hair need to find a salon owner and stylist who knows how to work with coarse or curly hair during the cut, care, and styling process.
Avoid chemically straightening your hair — The last tip to keep in mind is to avoid chemically straightening or permanently altering the texture of your hair. Although it can be tempting to follow beauty trends, heating your hair can damage it for a long time.
It is time to embrace your stunning curls and ditch the straighteners. Curly hair holds its own charm. It may come as a surprise but the graceful curl locks are in an in thing. So if at times you run out of options, feel free to try some of these Indian hairstyles for curly hair.
FAQs
Read these frequently asked questions to learn more about curly Indian hairstyles.
Do Indians have curly or straight hair?
Indians typically have straight hair. Curly hair is rare in India, with straight or wavy hair being the norm.
What should I use for Indian coarse curls?
Indians with coarse, curly hair should use products with coconut oil to keep the hair moisturized and healthy.