Do you want to get dark hair? What if we told you there's a color that is darker than black. Seems impossible, right?
Not if you opt for a jet black hair color that'll make your strands seem dimmer than ebony. If you haven't already heard about this astonishing shade, it is undoubtedly time to discover it.
Jet Black hair has purple and blue undertones, and the name of this shade was inspired by a rock called a jet. If you are a woman with olive or dark skin, don't think twice and opt for a significant change; it will make you look brilliant.
If you're feeling adventurous, you can also opt for some blue undertones, ombres, and highlights, and if you need some inspiration, scroll down and find out the best jet black hairstyles!
1. Long Jet Black Hairstyle
Long jet black hair will make you look like a modern Snow White princess. Black shades have a particular glow that will hide all hair imperfections and will make your shade and mane stand out, no matter the way you choose to style your strands.
2. Curly Jet Black Hair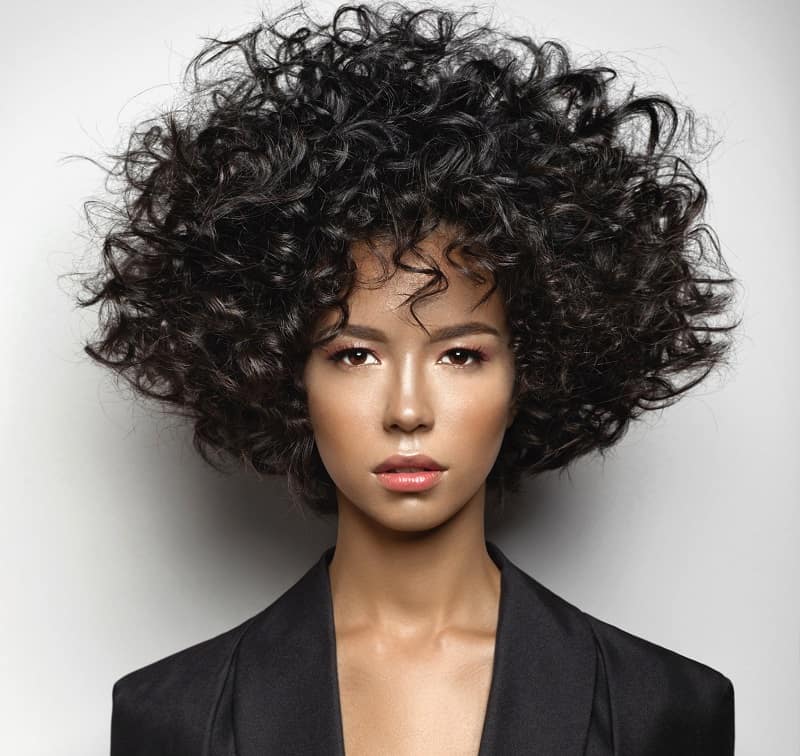 If you have curls, a jet black shade will make your riglets shine and stand out. Also, they will gain a lot of texture, and if you opt for a haircut that provides lots of volume for the top, the hairstyle will look astonishing.
3. Short Jet Black Hair
A jet black hair for dark skin is certainly going to suit you. Opt for a short trim that offers dimension on top and will allow your coils to form. Complete the look with a blue eye shadow and put a big smile on your face; you look fabulous!
4. Jet Black Hair for Olive Skin
Natural jet black hair makes you look glamorous and provides such a beautiful frame for your features. It also tends to highlight your eyes, and if you want a relaxed look, go for a bob haircut and style a few waves for the tips.
5. Jet Black Hair with Highlights
If you have long hair, get a blunt cut. It will give your mane more volume, and jet black hair with highlights will undoubtedly suit you, especially if you wear glasses. Use a straightening iron, and the whole hairdo will look flawless.
6. Jet Black Hair for Black Girls
A jet black hair for brown skin will look gorgeous if you are a black girl that wants an impeccable mane. Part your hair in two sections and style two low ponytails on each side. Tousle them and style a few thin curls.
7. Pixie Jet Black Hair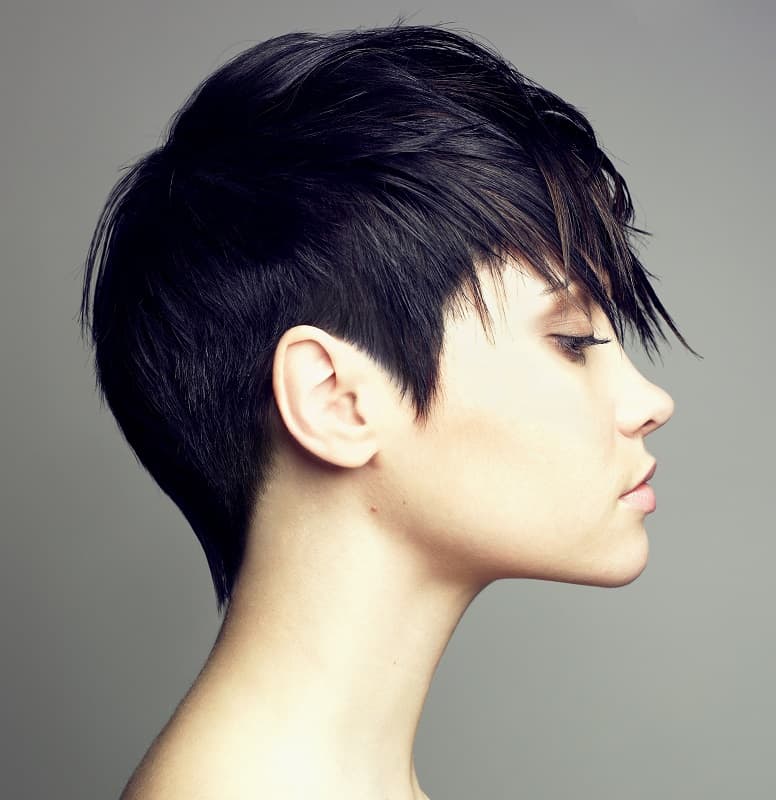 Whenever you get tired of long manes that take ages to style, wash, and maintain, a pixie jet black short hair is ideal for you. Go for an undercut and some layered bangs that you can style with some hair gel on your forehead.
8. Jet Black Hair with Highlights and Waves
Opt jet black hair with blonde highlights that will suit your pale skin. If you choose to wave your hair, the highlights will shine even more, and the contrast between those blonde hues and dark tones will be more powerful.
9. Asia Jet Black Hairstyle
Asian jet black hair will perfectly suit you if you have a bob haircut with long bangs tossed on one side. This dark shade will give you a gorgeous frame and you can complete the look with rounded silver earrings and red lipstick.
10. Long Wavy Jet Black Hair
Jet black wavy hair is ideal for women with rounded faces. Go for a layered cut and build waves only for half of the mane. Swipe your long bangs on one side to make your face look longer and slimmer.
11. Jet Black Hair with Bangs
Opt for a jet black medium hair with bangs that cover the eyebrows. Straighten the whole hair with an iron and spread the fringe on the forehead. The hairstyle will provide such an excellent framing for your features.
12. Messy Jet Black Hair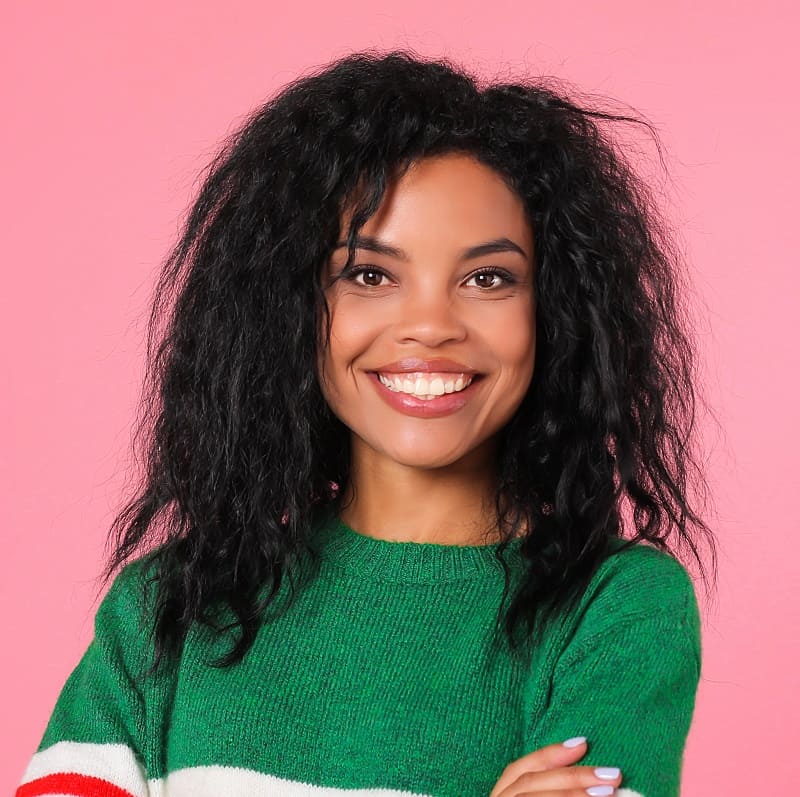 A jet black hair for light skin is perfect for you, especially if you're going for a messy look. Layer your African American hair, create a one-sided part for the bangs, tousle the mane, and you are ready to go.
13. Straight Layered Jet Black Hair
This jet black straight hair looks mesmerizing, especially if you have thick hair. Create a middle part and let your hair fall on your shoulders. Each thread will look healthy and with a gorgeous glow.
14. Red Jet Black Hairstyle
Every time you want to take your hairstyle to the next level, go for a jet black hair with red balayage highlights and an ombre. Keep the roots darker and get a V shape cut. Style curls only for the red strands of hair and keep the mane falling in a cascade on the back.
15. Jet Black Hair with Bangs
When you want to obtain an excellent frame for your face, opt for a jet black hair with bangs that are longer in the temple area. Use a straightening iron to lift the roots and create a bump. Gather the rest of the hair and pin it in a bun on top of the head.
If you are a woman with olive or black skin, jet black hair will give each strand texture and a fantastic glow. Also, the hairstyling options are limitless, and you don't have to stick to this shade, combine it with other colors because it works so beautifully with blonde highlights and a red balayage. So, which of the examples above is your favorite?