While getting rid of unwanted hair on the body is nothing new, traditional hair removal remedies tend to have adverse side effects. As a result, natural hair removal has become increasingly more popular.
Homemade Hair Removal Methods
It may seem made up, but take our word for it – there are many ways to get rid of hair naturally. Here is a list of 13 natural and homemade hair removal remedies proven to help rid you of pesky body hairs.
1. Sugar Wax
Becoming more popular worldwide, even in salons, sugar wax is a simple, homemade hair removal method that can be put together quickly and easily from ingredients you likely already have in your pantry.
How to Make Sugar Wax
Before you get started, make sure you have these simple ingredients to make your sugar wax from home:
1 cup of white sugar
1/8 cup of lemon juice (or apple cider vinegar)
1/8 cup of warm water
How to Use Sugar Wax for Hair Removal
Follow these eight steps to make the wax, and use it as your homemade hair removal:
Add all ingredients to a saucepan and stir to combine. Heat slowly once combined until the mixture comes to a boil.
Once at a boil, simmer the ingredients at low heat and often stir to avoid burning. The mixture should turn a golden brown.
When golden brown, remove the mixture from the pan and pour into a temperature safe jar/container to cool for approximately 30 minutes.
Once the mixture is cool and has turned to a wax consistency, spoon some out and roll it into a ball in your hands.
Make sure you prep the skin you will be waxing by cleaning and drying it properly first. Take the wax ball and spread it over this area.
Let the wax sit for one minute, then peel back one corner, so you have enough to grip.
Hold down your skin with your other hand and rip the wax off in a motion opposite to your natural hair growth.
Following your wax, make sure to clean the area properly and remove any remaining sugar wax residue.
2. Pumice Stone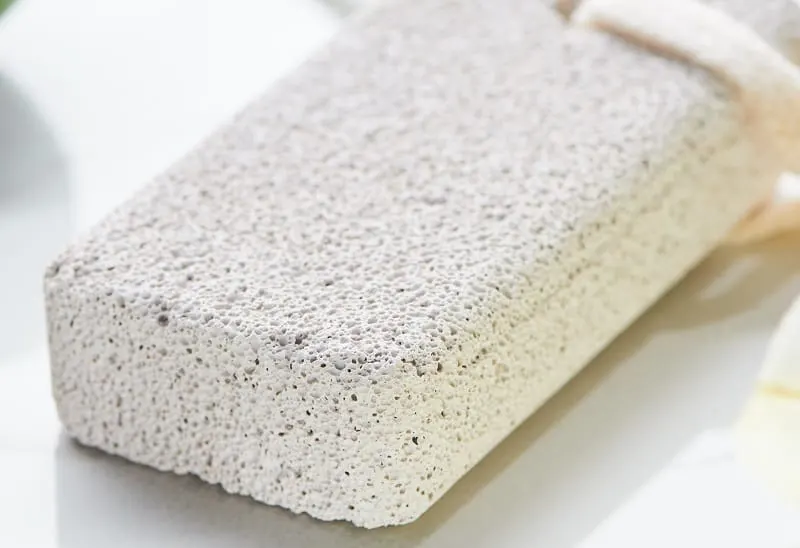 You will often find a pumice stone in the shower for use on dry, rough feet. Surprisingly, there is another use for this stone you might not have heard of – natural hair removal. Because of the rough and porous texture of a pumice stone, its surface is excellent for catching and removing hairs.
How to Use Pumice Stone for Hair Removal
Follow these easy steps for natural hair removal using a pumice stone:
Make sure the skin is clean and dry.
Using small, circular motions, rub the pumice stone over your skin.
Once finished, moisturize your skin as the pumice acts as an exfoliator.
3. Egg and Cornstarch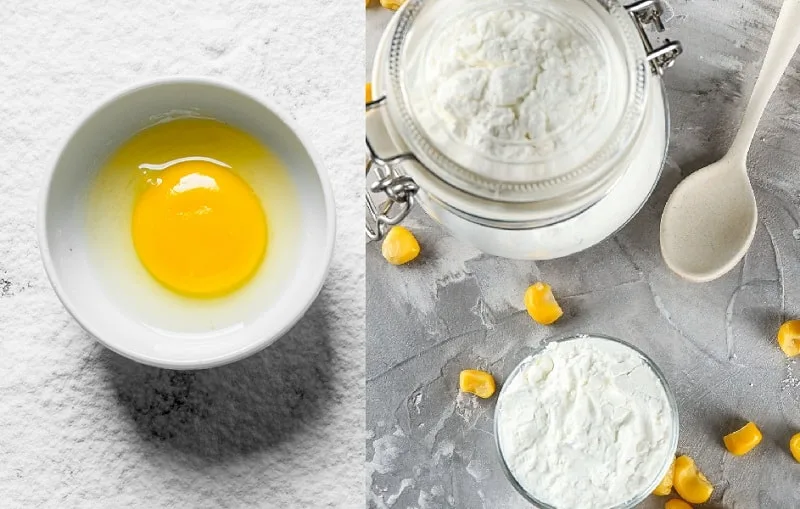 Delicious, nutritious, and a natural hair removal ingredient? You've got that right. The film created from a dried egg can help when it comes to getting rid of unwanted hair. Eggs serve as effective face masks, but now you can get rid of the hair while taking care of your skin.
How to Make Egg Hair Remover
It's more than likely you've already got these three ingredients in your kitchen to whip together this hair remover:
1 egg white
1 tbsp of sugar
1/2 tbsp of cornstarch
How to Use Egg for Hair Removal
Follow these three simple steps to use your egg mixture to remove unwanted hair:
Be sure your skin is clean and completely dry. Combine ingredients and apply a thin layer to the skin.
Leave the mixture on your face for around 15-20 minutes until you form a film.
Once the film has formed, peel back from the outer edges.
4. Papaya Paste
If you're looking for a longer-term solution to hair removal, papaya is a great place to start. Papaya contains the enzyme papain that is responsible for the removal of hair. Keep in mind that using papaya won't stop hair growth immediately but could address how to remove hair permanently in the long run.
How to Make Papaya Hair Remover
While you might not necessarily have these ingredients lying around the house, they should not be hard to find at your local grocery store:
1-2 tbsp of mashed, raw papaya
1/2 tsp of turmeric powder
How to Use Papaya for Hair Removal
Because papaya hair removal requires multiple uses, repeat these four steps two to three times per week to see optimal results:
Mix ingredients together to form a paste.
Rub mixture onto skin generously, making sure to massage the mixture into the skin.
Leave the mixture on the skin for 15 minutes.
Wash the mixture off the skin with water.
5. Turmeric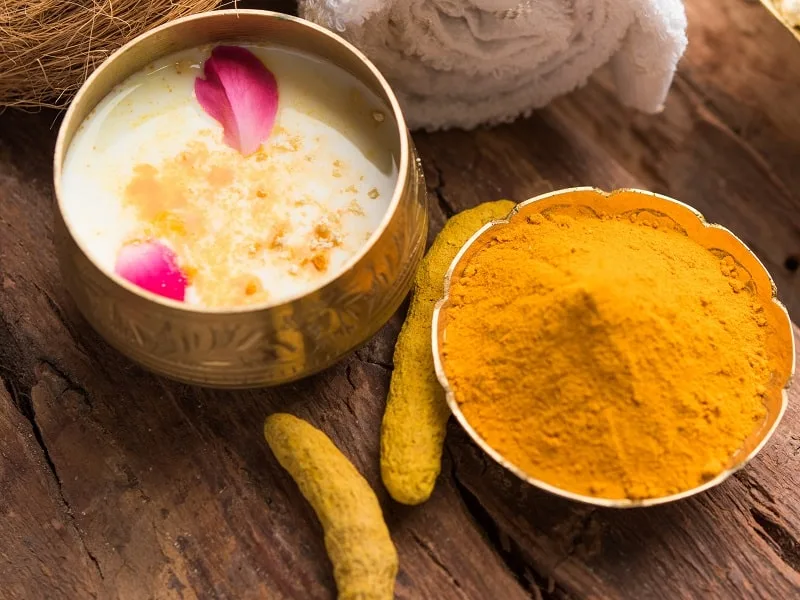 Turmeric is a spice that is common to Indian recipes. Not only a useful ingredient in the kitchen, but Indian women have also been using it for years as an ingredient in natural hair removal. Because of the active ingredient, Curcuma, found in turmeric, hair growth can slow down when used frequently.
How to Make Turmeric Hair Remover
You may not have turmeric in your spice rack but fear not. Turmeric is easy to find in most grocery stores along with other commonly used spices. You will need these two ingredients to create your hair remover:
3 tsp of turmeric powder
1 tsp of milk
How to Use Turmeric for Hair Removal
Similar to papaya, turmeric can help to reduce hair growth over time, so it is essential to repeat this process regularly to see results:
Mix ingredients together to form a paste.
Spread the mixture onto the skin in the same direction as your hair growth.
Let the mixture dry on your skin for about 20 minutes.
Once dried, add a small amount of water to your hands and begin scrubbing the skin in small, circular motions.
Wash off the mixture completely using lukewarm water and pat dry.
6. Potato and Lentils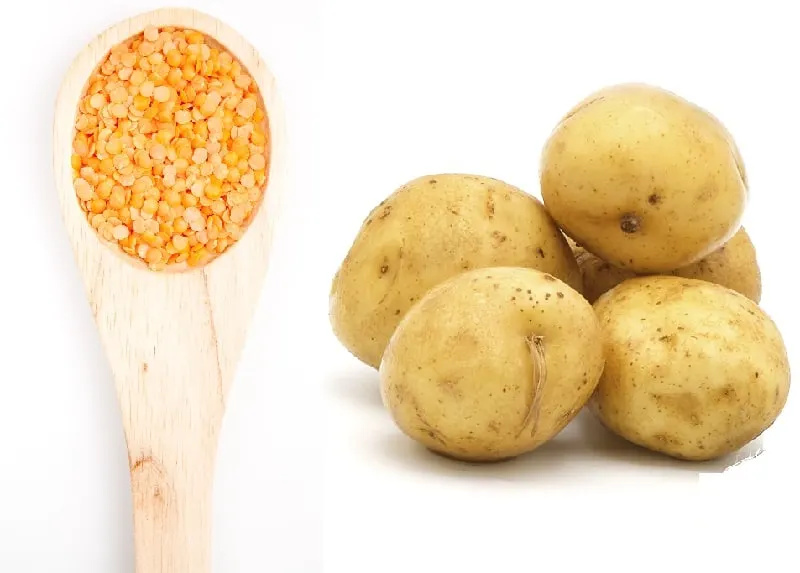 Great for not only a hearty soup but removing unwanted hair on your body – potato and lentils. The liquid in potatoes has high acidity and acts as a bleaching agent, which lightens your hair and eventually reduces the growth rate over time. The lentils help to form a paste that pulls unwanted hairs out.
How to Make Potato and Lentil Hair Remover
Create a potato and lentil hair removal using these everyday household items:
1 cup of lentils or moong dal
3 cups of water
1 potato, uncooked
1 tbsp of honey
1 tbsp of lemon
How to Use Potato and Lentil for Hair Removal
While this process takes more time than some other options, the steps remain as simple as ever. Follow these six steps for your potato and lentil hair removal process:
Soak lentils in water overnight.
The following day, grind the lentils into a thick paste.
Grate the potato and extract the juice using a spoon or cloth.
Mix the potato juice with the lentil paste and add honey and lemon.
Apply your final mixture to the body and let it sit for about 20 minutes.
Once the mixture has dried, rub it off with your fingers, and wash the skin using soap and water.
7. Oil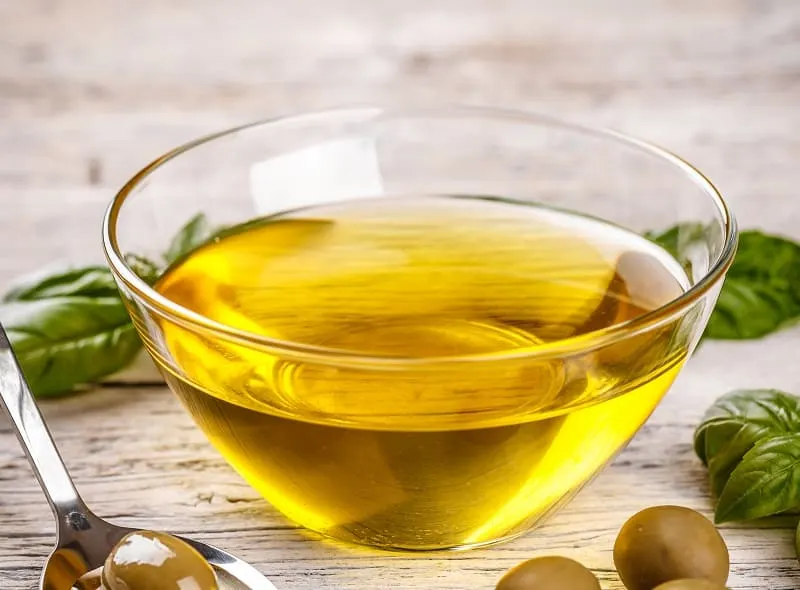 Routinely getting hot oil massages helps to reduce the growth of your hair over time. By closing down the roots of hair over an extended amount of time, friction helps to thin and lighten hair during the process. Oil massage is by far the simplest and most relaxing method for hair removal.
How to Use Oil for Hair Removal
It's as easy as sitting back, relaxing, and enjoying! Just make sure your hot oil massage is with one of the following oils: castor, coconut, mustard, tea tree, sesame, or olive.
8. Garlic
Another common household item that can help with hair removal is garlic, full of sulfur, selenium, and zinc. The garlic method might leave you a little stinky, so feel free to follow up with your favorite scented moisturizer.
How to Use Garlic for Hair Removal
Smash a handful of fresh garlic cloves and smash them together to extract the juice. Using a cotton ball, dip it into the liquid and apply it directly to your skin. Leave the juice on your skin for 15-20 minutes and wash off with lukewarm water once finished.
9. Oatmeal and Banana
Oatmeal acts as a gentle exfoliator on the skin while banana softens it. Massaging the two into the skin helps to remove hair and also reduce future growth. Oatmeal and banana is an excellent option for anyone who might suffer from dry skin.
How to Make Oatmeal and Banana Hair Remover
Use these two simple household items to make your homemade hair removal:
2 tbsp of oatmeal
1 banana, peeled
How to Use Oatmeal and Banana for Hair Removal
Luckily for this hair removal remedy, the steps are easy as can be. Remember to repeat this process frequently for the best hair removal results:
Mash the banana into a paste and mix in oatmeal.
Apply the mixture directly to the skin and massage in the direction opposite of hair growth.
Let the mixture sit on the skin for 20 minutes.
Rinse the mixture off the skin with cold water and dry gently.
10. Cornstarch and Milk
Together, cornstarch and milk form a thick paste that sticks to your hair follicles, ripped out when removing the mixture. This method tends to work better for thinner hair.
How to Make Cornstarch and Milk Hair Remover
Using two household items, you can easily create your cornstarch and milk hair remover:
1/2 cup of cornstarch
1 cup of milk
How to Use Cornstarch and Milk for Hair Removal
In three simple steps, you can work towards removing your hair gradually:
Mix ingredients together to form a paste.
Apply the paste directly to the skin and leave it on for 20 minutes until dry.
Peel off the dried mixture and pat dry with a clean cloth.
11. Rosewater and Alum Powder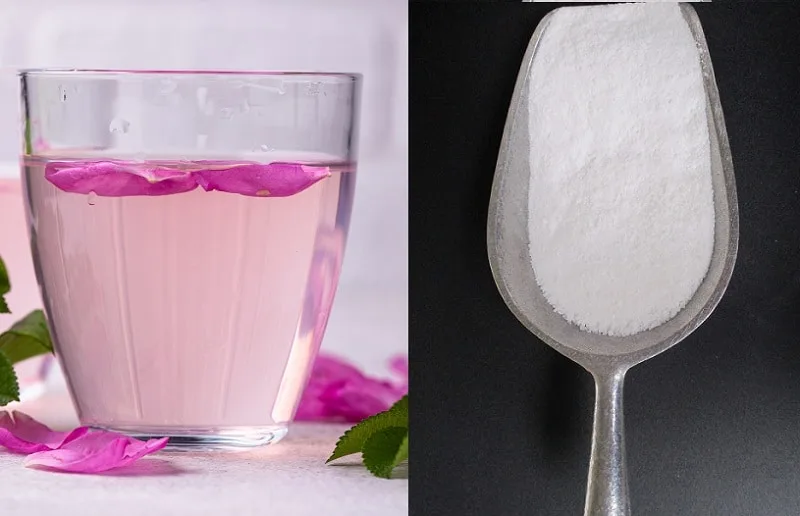 While alum is not common in households, it is easy to find in stores as a powder or rock. Alum works to remove hair while the rosewater adds hydration to make a great natural hair removal paste:
How to Make Rosewater and Alum Powder Hair Remover
Two simple ingredients make up this effective hair removal paste:
1/2 spoon of powdered alum
3 tsp of rosewater
How to Use Rosewater and Alum Powder for Hair Removal
One of the more timely processes, the rosewater and alum powder method, will require some patience:
Mix ingredients together to form a paste.
Apply the mixture directly onto the skin and leave on for 45-60 minutes.
Wash the mixture with cold water and apply a moisturizer to the skin.
12. Basil and Onion
Basil is naturally anti-inflammatory and contains antioxidants that help to prevent skin from irritation. Onion helps keep the skin healthy, and combined, basil and onion work together to help remove unwanted hair.
How to Use Basil and Onion for Hair Removal
Crush 5-6 fresh basil leaves and thinly sliced onion to create a paste to apply directly to your skin. Leave the paste on your skin for 20 minutes before washing off. You will need to repeat this a couple of times per week over a few months to see results.
13. Chamomile Tea
Chamomile tea works naturally to lighten your hair by soaking its golden color into your hair follicles.
How to Use Chamomile Tea
Allow two tea bags to cool before applying them directly to your skin. Allow the tea to sit on your skin for 20 minutes before rinsing it off. You will need to repeat this multiple times a week for a few months to begin to see results.
Related Topics: