Even if your hair is thin, wavy is arguably one of the best textures for men's hair. Each extra curve is like a volume booster that adds interest to short haircuts like a charm.
If you prefer a closer crop as opposed to longer locks, then you're in luck. We have all of the very best short hairstyles out there for guys with naturally wavy hair.
Short Wavy Hairstyles for Men
Read on to see our top 50 styles to suit your every mood and need.
1. Hight and Tight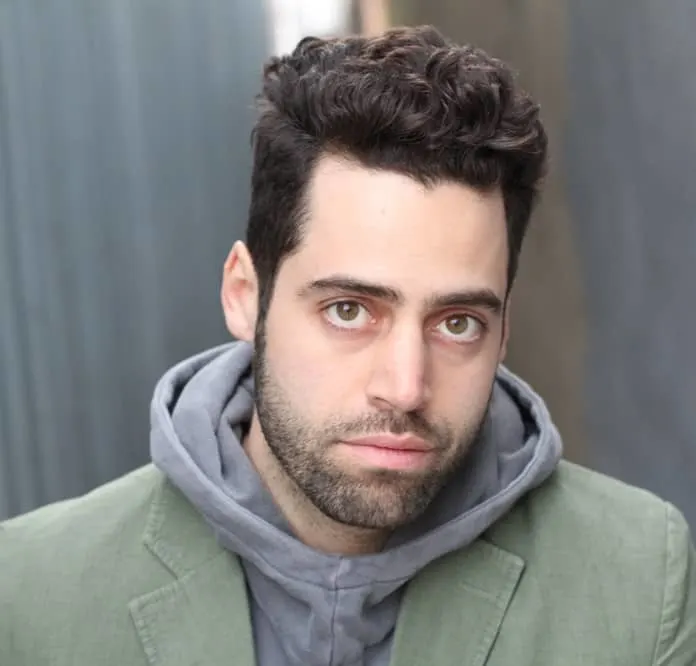 Creating sleek shape is important when styling short thick wavy hair for men. High and tight looks feel professional and prevent any bushy vibes. Ask your stylist to honor your waves up top but crop hair closely around the head.
2. Wavy Hair for Men Over 50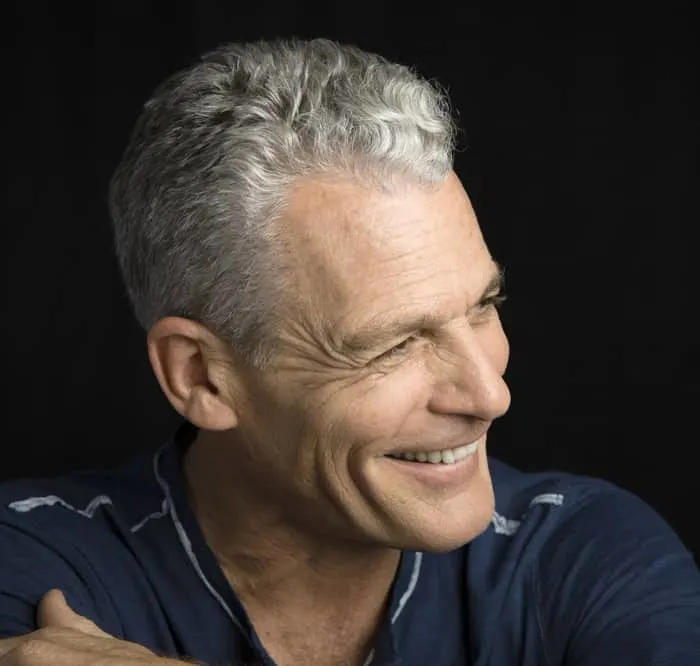 Closer to the scalp is usually the way to go for hair as it ages. Short grey hair is desirable so long as you honor the natural waves that sit at the front of the head. Cut it short over the ears and at the back of the head for a polished and professional look.
3. Subtle Undercut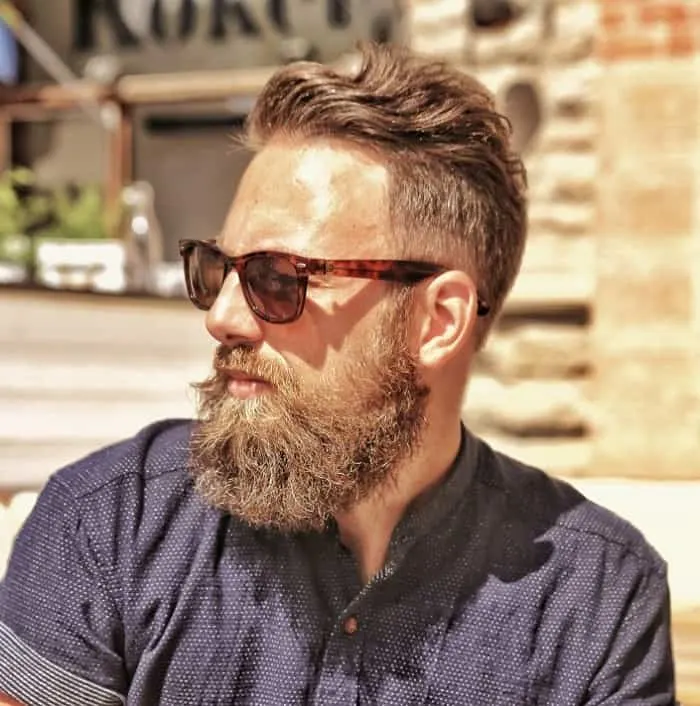 Short wavy hair with undercut is ideal for guys with beards. Undercut portions have a pruning effect that makes space for a full beard and gorgeous textured hair. Push all of the hair back off of the forehead for a sexy, confident vibe.
4. Short Mohawk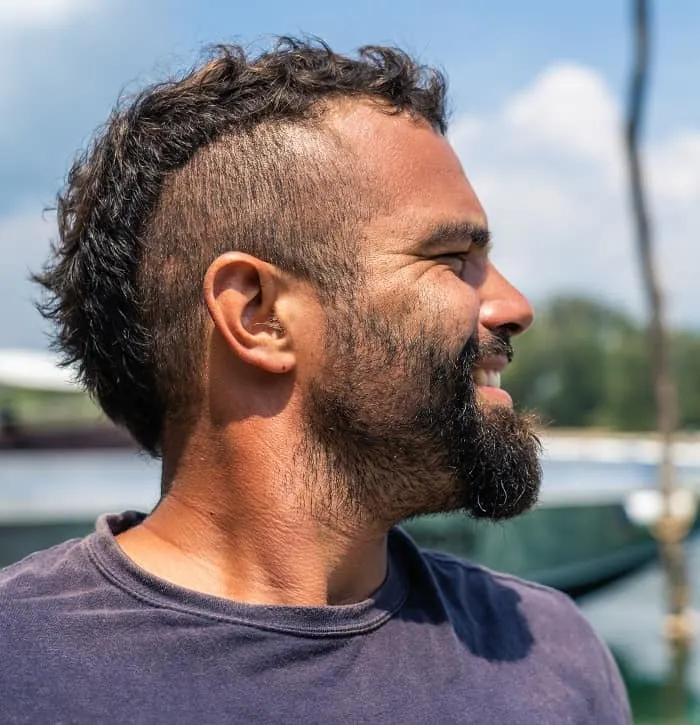 A short mohawk can be fun for wavy hair because the volume is achieved all on its own. Work the width of your mohawk according to your face shape for the most pulled together appeal.
5. Wavy Pompadour
Pompadours are easy on wavy hair because your natural texture can be used for creating the polished height that the look requires. Buzz hair on the sides of the head for a modern and trendy twist.
6. Dyed Waves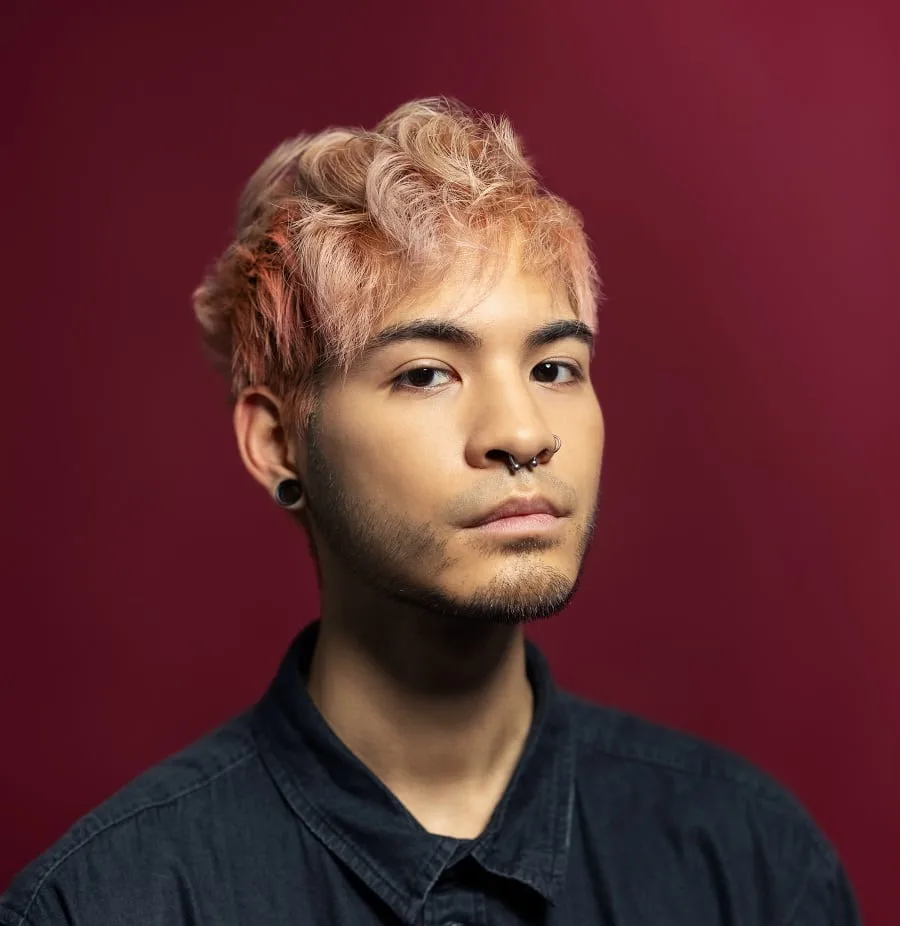 Coloring your naturally dark hair is a good way to stand out. Make the waves on top a lighter shade than the sides so you can create a feeling of depth to your look.
7. Blonde Mohawk + Disconnected Line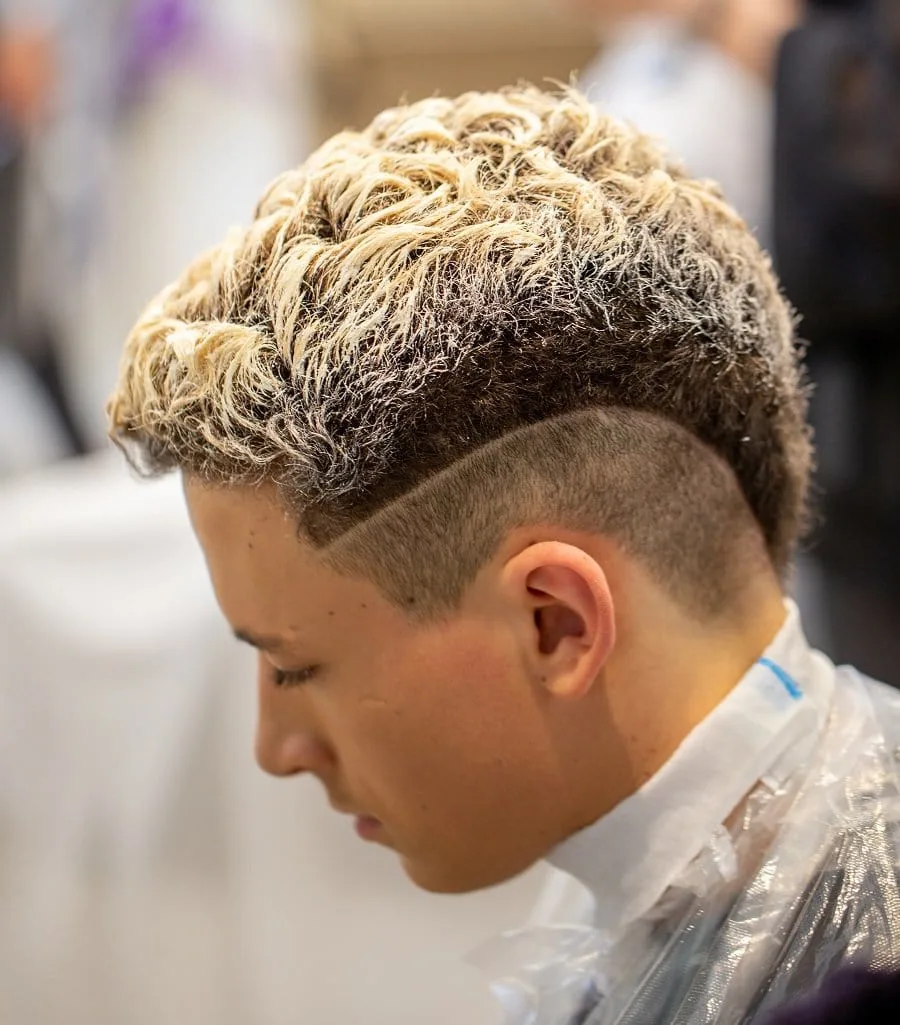 Combine lots of trending styles to create something new. Dye the top blonde and keep the waves closely packed together.
Get a undercut on the sides with a hard curved line shaved in to separate the thicker from the thinner hair. This look suits younger men best as it fits in with youthful hair trends.
8. Thick Waves + Undercut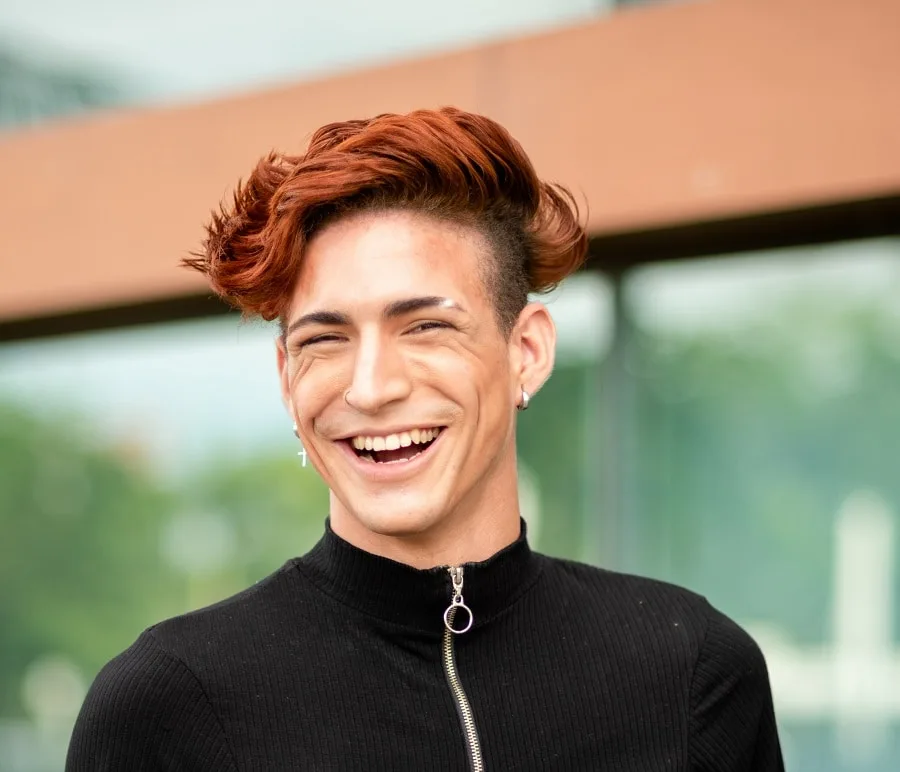 Men with thicker hair should get an undercut to make it easier to manage their short wavy hairstyle. Style the rest by brushing it over to one side to create volume and make the ends look the waviest.
9. Dark Shiny Waves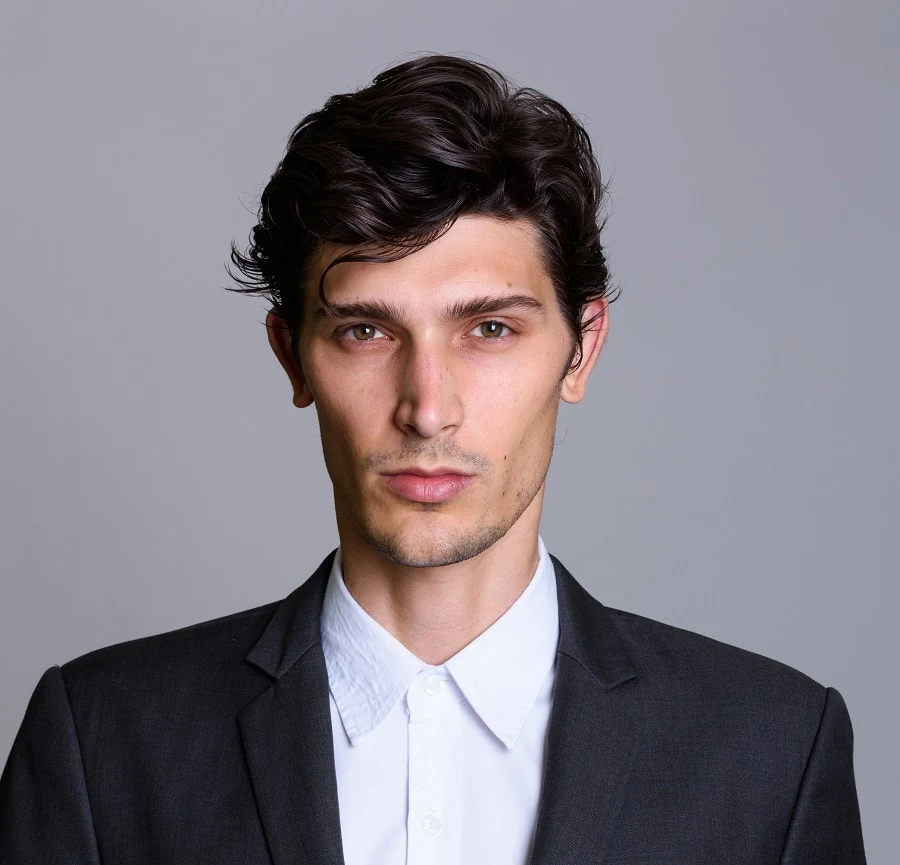 Ladies love a man who is tall, dark, and handsome. Add some waves to that shiny dark hair.
Keep it thick and get a side parting. One side should be neat while the other has some hair falling onto your forehead.
10. Chocolate Brown Waves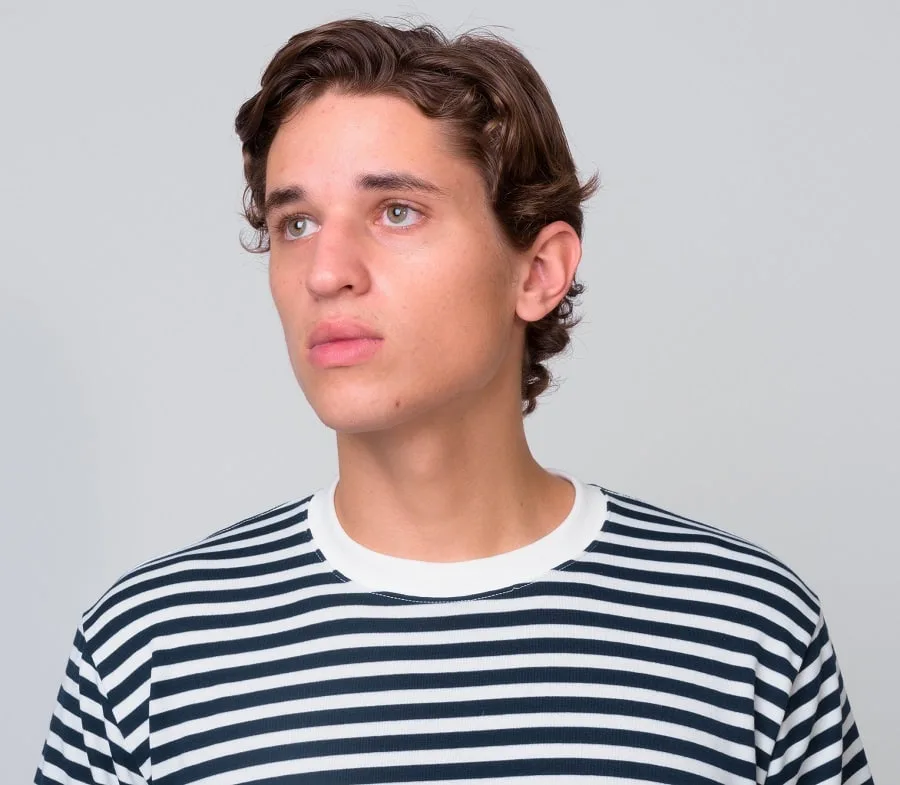 Chocolate brown is such a desirable shade for anybody. This tone is eye-catching, so make sure your hairstyle is neat.
A gentle side parting with volume towards the front will make you look handsome. Let the hair around the nape of your neck become curly rather than wavy.
11. Slicked Back + Beard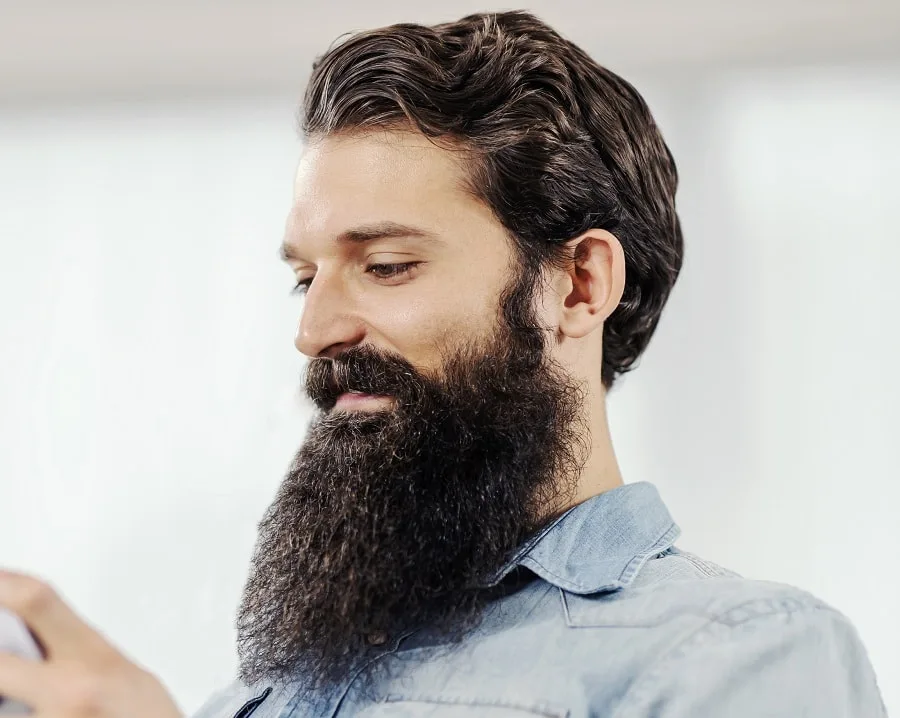 Slicking your short hair back is the perfect way to hold your waves in place. If you use a hard-hold gel, then the texture will remain very visible.
Add a bushy and long beard to contrast the neatness of the hair on your head. Ideally, let the beard's natural texture show but brush it through so there are no tangles.
12. Side Part
A youthful face looks fantastic with a soft side part. Wavy texture gives bangs a curling effect that frames truly gorgeous eyes. Create some height at the top of the head to slightly elongate the face.
13. Bleach Blonde Bangs
Even if you choose a short cut, bangs can be worn a bit longer to frame your face and add softness to any angularity. Peroxide blonde is particularly fun for a textured and beachy surfer vibe.
14. Medium Fade
The clean cut guy should look no further than a short wavy hair with fade style. Create a bald look over the ears that gradually fades into closely cropped wavy texture. This style looks best with a clean face.
15. Textured Comb over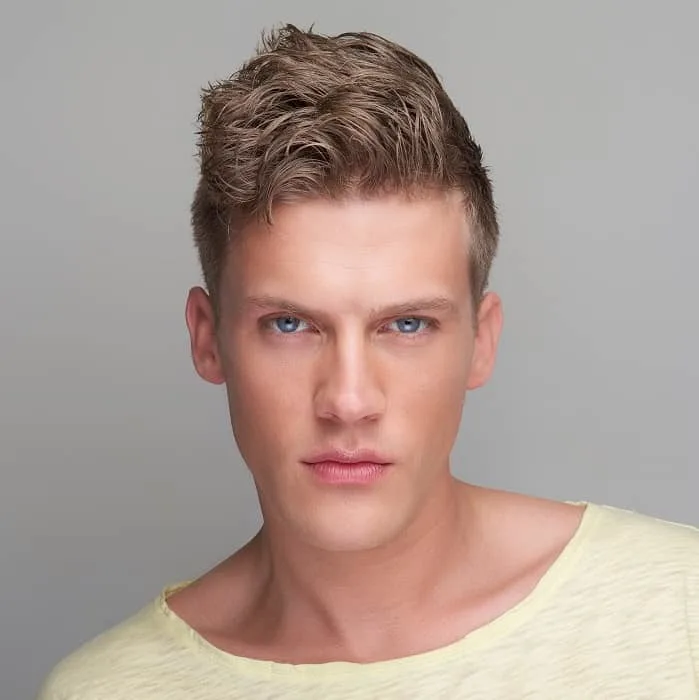 Wavy hair has the added benefit of looking effortless in a comb over style without that stiffly preppy vibe that comes with straight hair. Emphasize that texture with your favorite lightweight mousse.
16. Sexy Messy Style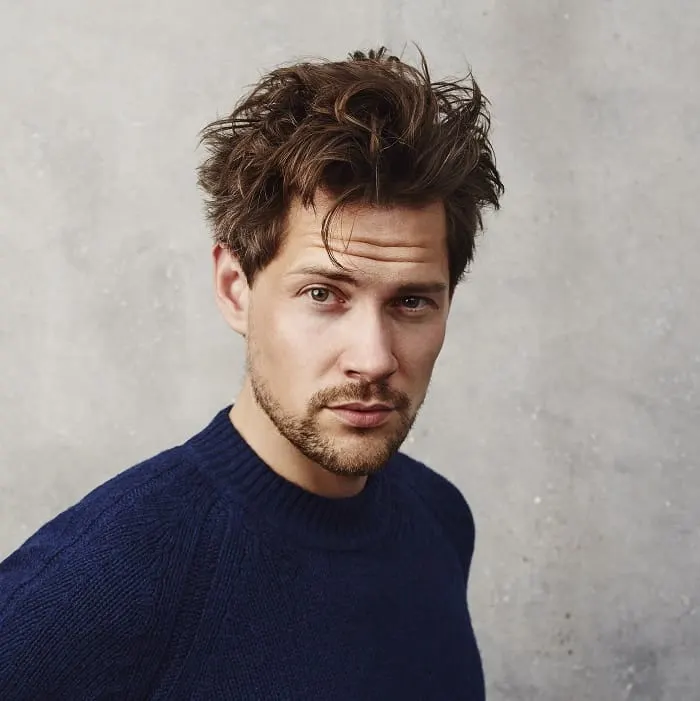 Don't worry about looking polished, the tousled bedhead look is also in right now. Make sure hair is clean, however, and find a method to your madness when styling this 'undone' look.
17. Asymmetrical Waves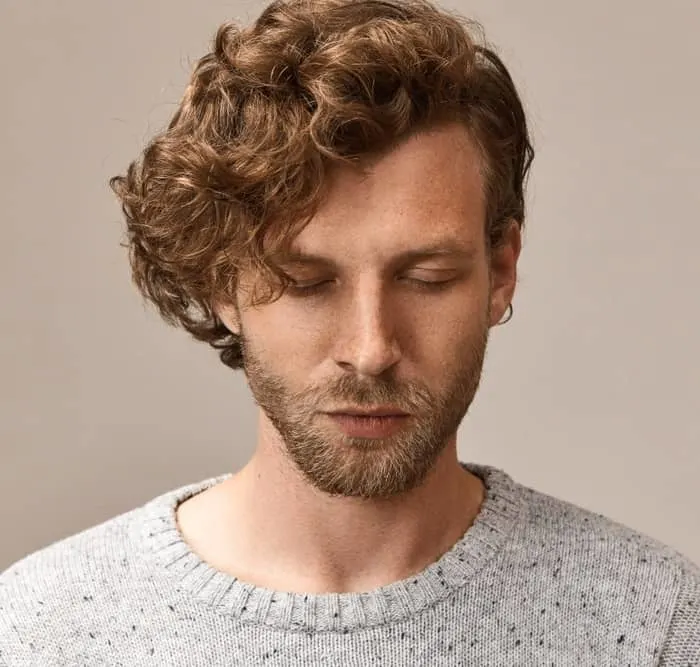 To avoid an overpowering or bushy look, an asymmetrical style shows off texture with a contained and polished vibe. Cut hair shorter on one side and brush it back for a minimal look.
18. Piecey Bangs
Guys with weaker chins or round or square face shapes should utilize a piecey fringe. The see-through nature elongates the appearance of the face while honoring the beauty of naturally wavy curls.
19. Short Wavy Quiff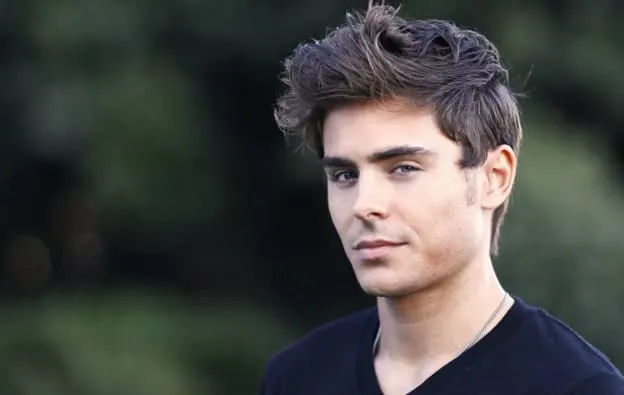 Keeping it simple is more than often the safe and easy option to go for. Not only that, but it is also quite attractive. Just quiff your hair up a little to give it a voluminous and smart look.
20. Short Messy Waves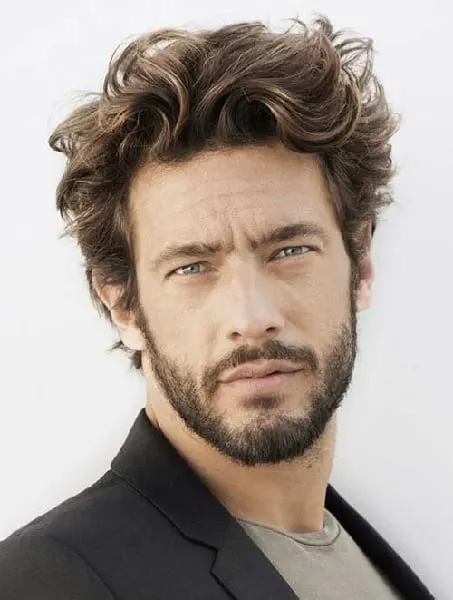 You can't go wrong with this one. Just run a hand through your hair, and you'll have a swoon-worthy carefree hairstyle providing a laidback vibe.
21. Silver Blonde
Hair so light that it becomes almost silver has been common for the last decade. Keep the sides short and brushed back while you lead the top waves to become unruly but in a controlled manner.
22. Side Bangs
Wavy hair makes bangs look different than you'd expect, and brushing hair onto the forehead is very common with them.
Brushing enough hair forward so that it looks like you have side bangs covering one half of your forehead.
23. Defined Ginger Waves
Men with short ginger wavy hairstyles should do everything they can to make their hair look their best as this color stands out so much.
Use a scrunching technique when you condition your hair and add curl cream or gel to the locks that fall across your forehead.
24. Tall Waves + Side Part
When you style your hair tall you should create a very defined side parting to help the top stand out more.
You will need a gel with a very strong hold that dries soft if you want your waves to stand up like this.
25. Soft Waves + Frizz
Letting some frizz flyaway hairs define your look will make you appear as though you put no effort in and look this good naturally.
Make sure the sides remain short so the entire top section of your hair can stand out more.
26. Flat Waves + Undercut
Undercuts always make it easier to focus on the hair on top of the head. Get a fade if you want to make your undercut look better.
Keep the hair right on top of your head mostly flat so the waves are more concentrated towards the forehead area.
27. Multidirectional Waves + Stubble Beard
Having a beard that starts as stubble near the sides of your head and gets thicker always creates a highly cohesive look.
The neatness of your beard and the sides of your hair can contrast the way the waves on top of your head stand out in multiple directions.
28. Thin Waves with Hard Gel
Thinner hair can be harder to make wavy. You'll have to add some hard gel if you want to lock the texture in.
Add a dark beard that's neat around the jawline but patchy towards the cheeks to neaten up your look.
29. Hardline + Fade
Create a soft wavy texture and hold it in place with soft hold cream. Get a hard line shaved into your side part, and get a fade below the line for a modern style.
30. Forward Waves + Fade
Fades are clearly popular in short wavy hairstyles for men. It will be easier to see the fade if you style your hair upwards and let the waves curve towards the front of your head.
Some hair should fall towards your forehead which shouldn't touch it due to the amount of volume in your locks.
31. Skin Fade + Hard Line
Teenagers and younger men often get haircuts with a hard line. Get your line to separate the sides of your hair just above a skin fade.
Leave the hair on top substantially longer than the sides so it falls messily towards your forehead.
32. Retro Waves + Gel
Decades ago men wore waves just at the very front of their short hair, secured with hard gel. The rest of their hair was slicked back.
Add a full and neatly groomed beard if you want to fully embrace the art of manliness. Don't forget to blend the sideburn area into the sides of your hair.
33. Fluffy Waves + Design
Men sometimes decorate their fades with a design. Here there's a small line shaved into the hair and a patch of longer hair left to go with it.
The top serves as contrast as the hair is particularly soft and fluffy as it's brushed towards the face. Adding a straight beard creates further contrast to make it very difficult for people to look away from you.
34. Eye Brushing Messy Layers
Messy wavy haircuts are often so long that they hide the eyebrows and gently brush the tops of the eyes. Layers give the hair an even thicker and messier appearance.
Styling your hair over your face like this brings more attention to your hair and it creates the illusion of a shorter face if you have a large forehead.
35. Forehead Waves + Gradient Beard
Brush your hair onto your forehead but keep it straight. Only the top layers should be wavy.
Add a beard with a gradient where it starts thinner towards your ears and gets thicker towards your cheeks and chin. It should blend in with the sides of your hair.
36.
37.
38.
39.
40.
41.
42.
43.
44.
45.
46.
47.
48.
49.
50.