A taper fade haircut is the one where the hair is trimmed so that it becomes gradually shorter and then "fades out". Although taper fade cuts look great with a clean shaven men's hairstyle, the latest trend is for people to try wearing their hair as a taper fade cut with beard combination. This helps to produce a rugged yet styled look to give you the best of both worlds!
Styling a Taper Fade with Beard
Most modern beard trimmer or hair trimmer devices come with settings which allow you to style your hair to variable lengths. Use the trimmer to gradually fade out your hair. Your barber may also use a template if you want to include line up elements. For a fade with a beard, you can either keep your facial hair at a consistent length or you can "fade" back in by gradually wearing your beard hair longer and longer.
1. Pomp with Fade
One of the most common taper fade haircuts with a beard features a high top slightly tossed on one side, and a medium beard. You will need a pomade to keep those longer pieces looking good all day. Style your hair using a rounded brush.
2. Dreadlocks and Medium Fade
For this look, you will need to build a medium taper fade for the sides. If your hair is long, create an ombre and build your dreadlocks. However, if you have short hair, that doesn't mean you can pull off this hairstyle. Use dreadlock hair extensions and attach them to the roots.
3. Caesar's Cut
Caesar's cut is a hairstyle that never seems to lose popularity. Make it look stylish and fun by creating a bald fade for the sides and back and keeping the crown hair slightly layered. Pull off short straight bangs and get a stubble beard.
4. Disconnected Fade with Bun
Man buns are still at their peak and allow men to sport cool and fancy hairstyles. Ask your barber to build a fade for the nape area and for the temples. Get a well defined beard that is more than dense in the chin and mouth area.
5. Indian Hairstyle
For the sideburns and nape section, style a minimal fade. Get a medium-short haircut that shows off the thickness of your hair, and style very short bangs, resembling a Caesar's cut. Go for a goatee that highlights your mouth.
6. Receding Hairline
When you have a receding or a V hairline, you should consider building your hairstyle with a taper fade for the sides and back and a longer crown section. This will help you mask the bald corners of your forehead. Complete your look with a short beard and a fancy pair of glasses that suit your face shape.
7. Hairstyle with Line Design
If you have naturally wavy hair, you might want to draw all the attention to that section. To do so, create a disconnection between a temple fade and the slightly pointy beard. Also, style a razored curved line to better delimit the waves from the fade.
8. Gray Pomp
Your whole look will be flawless if you choose to combine a taper fade haircut with the beard. Use a pomade on wet hair and blow-dry the top to build that height and give your hair some texture. Using a rounded brush you can style a marvelous wave.
9. Cornrows with Fade
Black men love braids especially because they are protective hairstyles that maintain their unruly hair in one place. Also, cornrows are stylish and low-maintenance and a great option for men who want a more exciting hairdo.
10. Curls with Beard and Fade
Take advantage of those gorgeous curls and give them more value with the temple and nape taper fade. As for the beard, keep it well shaped, and go for a short mustache.
11. Short Hair with Goatee
If you have a chubby face, a medium taper fade with a top styled upward we'll make your face figure look elongated. If you want to look manly, go for a goatee.
12. Bowl Cut
The bowl cut gained a lot of popularity, especially thanks to the K-pop culture. Men all over the world fancy this hairstyle because it is so low-maintenance and can be arranged in multiple ways. You can wear it with a middle part or slightly combed over.
13. Intricate Deads
If you are searching for a new hairstyle that is fun and exciting, you should certainly consider this bald fade with intricate dreadlocks and a medium-long beard. To better highlight your hairstyle and beard, ask your barber to define them with powder.
14. Classic Line Up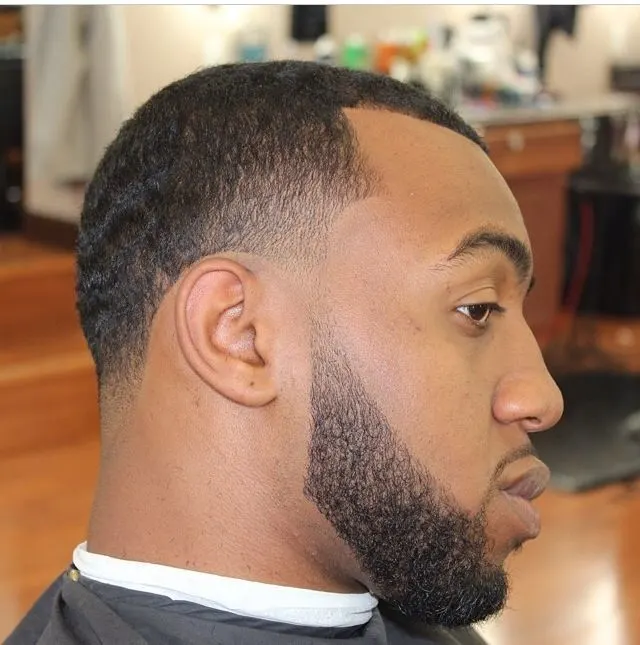 The Classic line up style is a simple yet effective version of the taper fade haircut with beard trend. Clean lines and sharp angles make this a great manly style.
Difference Between Taper and Fade
15. In and Out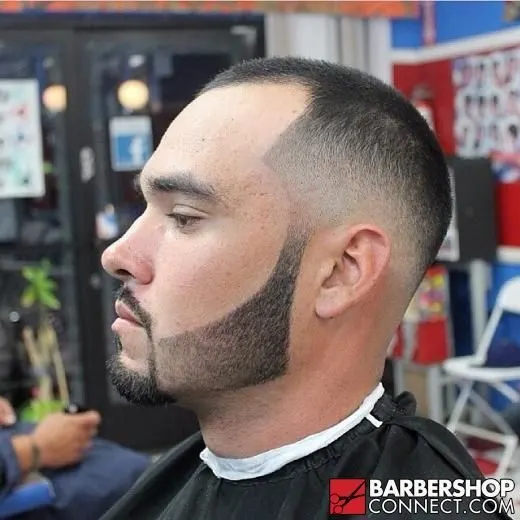 This taper fade arrangement gets gradually lighter and darker in a lot of different places. Fading in and out can help to highlight different areas of the style, such as the goatee beard.
16. Mid-length Fade

The taper fade style can be really effective if the hair on your head is mid-length. Style it up into a spiked style. Grow your beard longer too for added effect.
17. Forward Groomed Spikes with Mid-length Beard

Use a comb to groom your hair forwards into a stiff fringe. Taper fade the cut around the sides and the back, but allow your facial hair to lengthen into a medium beards.
18. Man Bun and Taper Fade with Thick Beard

Long lush hair can be pulled up into a man bun. Taper your hair then move down to a thick full beard for a really effective men's hairstyle.
19. Curly Hair with Taper Fade and Stubble

You can still choose a taper fade men's hairstyle even if you have naturally curly hair. If you do not want a full beard look, keep your facial hair trimmed to stubble length instead.
20. Natural Textured Hair with Taper Fade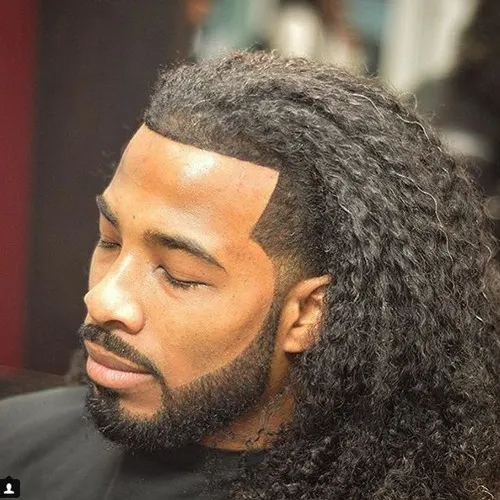 Natural African textured hair can be kept long and then shortened down at the base using taper fade techniques. A thin but intense beard style will help to complete this fabulous men hairstyle.
A taper fade haircut with beard is all the rage at the moment. Thankfully there are lots of different combinations that you can try so that you can assert your individuality on the look. Choose one of the styles from our list and then make it your own signature hairstyle!