Every girl wants to look her best at school, and we can understand why. If you wish to win that obnoxiously hot boy's heart or you just want to be the next queen of the school, we have prepared for you 25 ideas of back to school hairstyles that you need to get ASAP.
Back to School Hair Ideas
Back to school hairstyles are, at the same time, childish and suitable for any student, but they can also have a touch of style. Get your inspiration from our fun jaw-dripping hairstyles, and you'll be ready to rock the school with your style.
1. Long Pony
Ponytails are certainly one of the best back-to-school hairstyles for both kids and students. And if you are not content with the length of your hair or its thickness, a fake pony is going to take this simple hairstyle to a whole new level.
2. Dutch Braids
Start your Dutch braid from the center of your forehead and place it over the ear, securing it with bobby pins. Pull off the corners and let that stunning wavy hair loose to get that voluminous full appearance.
3. Straight Bangs
Straight shorter bangs are not for everybody, so before making such a dramatic change, you need to know about your face shape and bone structure. So if your figure is long or oval, you are safe, and you can get the cut. Pair those bangs with a casual messy bun.
4. Braids and Buns
Instead of starting your French braids from the top, why not try something new? Like you regularly do, part the hair in two and start braiding towards the top, starting from the nape. Once you reach the center, roll the hair into two space buns.
5. Scarf Hairstyle
You certainly don't need to worry too much when you want to embody that Emily In Paris looks. A suitable scarf with a romantic print is all you need to feel like walking in the Capital of Love. Swipe your bangs on one side and tie the scarf in a knot on the other part.
6. Puff Braids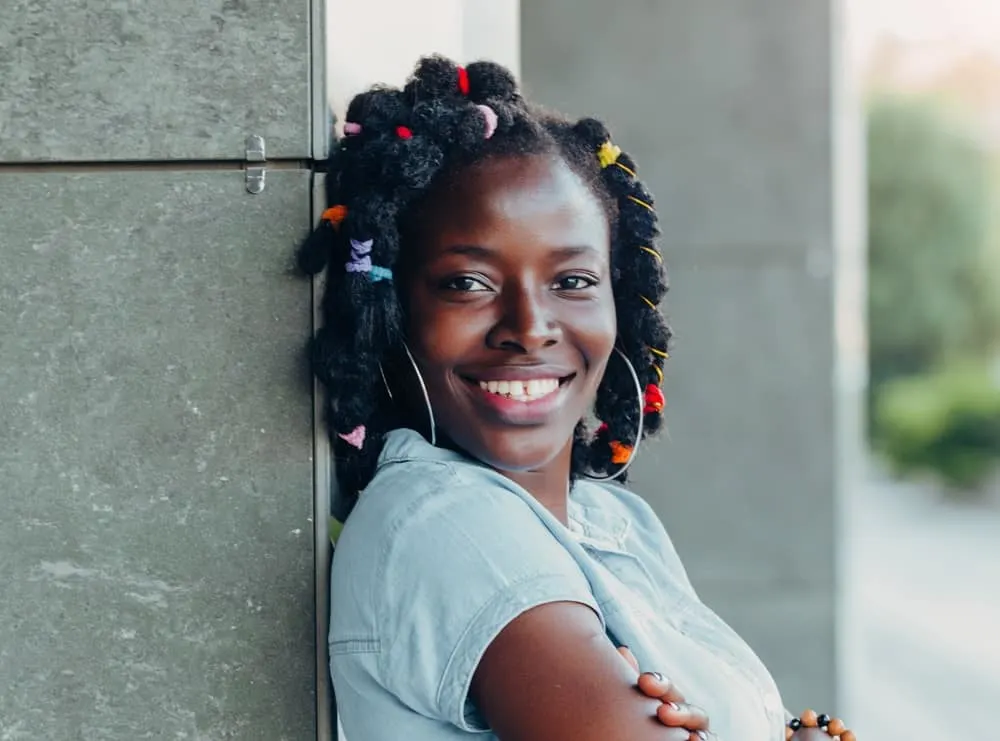 There are many ways to bring joy and color to your back-to-school hairstyle. And if you don't want to apply hair dye, you should consider getting thick, colored elastic bands. Use them to style several bubble braids and even go further by decorating some with wrapped threads.
7. Two Ponytails
Are you feeling childish and happy? In this case, you need a hairstyle that suits your state of mind. Therefore, two high ponytails will look fabulous on you. Make sure that before pinning them down, you spare two thick strands from the front.
8. Messy Half Up Half Down
Decorated bobby pins can make real wonders even for a messy look, right? Pull the crown hair in the back and messily tie it with a hair elastic. On each side, place two decorated clips. Style a few waves to upgrade hair texture.
9. Fishtail Braid
A mini crimping iron is a tool you need in your house, especially if you're struggling with fine, straight hair. Use it for the roots to make the base for your fishtail braid look more voluminous. Spare some tendrils in front and curl them for an alluring look.
10. Messy Space Buns
To gain that wavy hair texture, consider braiding your hair overnight. Once you let it loose, the strands will preserve the wave and you'll get a gorgeous hairdo without using heat. Part the crown hair into two pieces and roll each into messy buns.
11. One-Sided Top Pony
Ponytails are probably the best hair styling ideas when you're in a hurry for your class. Instead of securing the hair in the center, place the pony slightly on one side. You'll end up with an easy-going look that is childish and great for busy days.
12. Intricate Braids
It is true, these intricate pull-through braids can be hard to style, but you have to acknowledge that the effort is worth doing. To create them, start with a small strand that you'll secure with an elastic. Then pull over the two strands from the laterals and connect them. Repeat the process until you have your chunky romantic braids.
13. Bows and Curls
This is a hairstyle that looks gorgeous on medium and long hair. Firstly, you need to tie the top in a small pony. To create that amazing flawless hair bow, hair needs to be previously straightened to get that silky smooth look. Use a curler for the other half.
14. Long Waves
There are so many tools out there that can make your hair wavy. You just need to find out what is the most preferred style since you can even use a straightening iron to style waves.
So once you give your mane some texture, it's time to style the top twists. Make sure the hair sections are thin and loose so you'll be able to slip tendrils between the rolls.
15. Clear Forehead
Plastic headbands come with all sorts of pins that part the hair. And the one above has thick, rare pins that highlight the sectioning. The hairstyle requires thorough combing and some rounded tips. You can achieve that with a rotative brush.
16. Halo Braid
Halo braids might look intricate, but, in fact, they are so easy to pull off. You only need to know how to do a French or a Dutch braid. Start from the top and go-round on the hairline. If your hair is long enough, you can even create a double circle.
17. Bubble Pony
Bubble ponytails are so versatile because they can be a great option for both school, meetings and even a night out in the club.
Firstly, you need to style a perfect ponytail on top of your head. Make sure no bumps or threads are sticking out.
Use hair elastics to secure the pony and later wrap tendrils around them for coverage. Pull off the hair to get that bubble look.
18. Two French Braids
If you have thin hair, two French braids styled on the laterals are probably the best choice. On school days, you need a suitable hairstyle that looks cute, is simple but with a twist, and suits your hair type.
Give it a romantic look by pulling off a few tendrils around the forehead and temples.
19. Two Short Ponytails
Loose ponytails are so childish and cute and make one of the best back-to-school hairstyles. To make your hairdo look less dull, it will be a great idea to spice things up with a stunning color blend. Redheads always get more attention, so opt for a dark red with orange highlights.
20. Glittery Dutch Braids
One of the best ways to give straight hair more volume and texture is using a crimping iron. Choose a small iron and mostly focus on the roots.
If you love that texture, you can use the tool on the rest of the hair. Section the top to style two Dutch braids. Crimped hair will make your braids chunky and much more volume.
21. Hairline Braid
A Dutch braid that follows your hairline is a marvelous way to keep the bangs and other strands away from your face.
The hairstyle is cool, shows your braiding skills, and works for both long and shorter hair. Once you've reached the back, tie the mane in a low ponytail.
22. 3C Ponytails
When having 3 C curls, this simple yet cool hairdo is one of the cutest back-to-school hairstyles for a casual day. Part the hair in two and create ponytails on top of the head.
Use your favorite jam to make sure your hair is glued to your scalp and looks flawless without any threads sticking out.
23. Faux Bubble Braid
Even if it looks simple to recreate, this faux bubble braid will require your undivided attention. It has that romantic vibe and all you need is patience and a few hair elastics.
Once you did the ponytail, part it into two sections that you'll twist and tie again. Repeat the process for the full hair length.
24. Twists and Fishtail Braids
Combining two types of braids, it's always a good idea. Take small strands and roll the hair while feeding in the twists for the upper part. Once you reach the back, put them together and start building a fishtail braid.
25. School Braids
Back-to-school hairstyles don't need to be dull and with no personality. It is one of the easiest hairdos out there, you just need to know how to do a simple braid. Use those front pieces and create two braids that you'll tie in the back, revealing the forehead.
Back-to-school hairstyles are fun and involve a lot of creativity. They can be simple, like a cute ponytail or two buns, or more intricate, blending complex braids, highlights, and colors. Depending on your personal style, you can adapt them to your preferences and school regulations.