Those seeking to tame their naturally curly hair without the addition of too many chemicals just might find that the Brazilian blowout just might be for them. We will discuss Brazilian blowout cost & before-after photos in this post as we discussed the process, dangers, and advantages of the blowout earlier.
What is a Brazilian Blowout?
Brazilian blowouts are used to remove frizz, add shine, lock in color and straighten hair. While it may not fully straight hair for those, who have a kinky, curly or coily texture, many clients of the Brazilian blowout report hair that is smooth and shiny and easy to manage.
The Brazilian Blowout is also utilized by those who already have chemically treated or relaxed hair.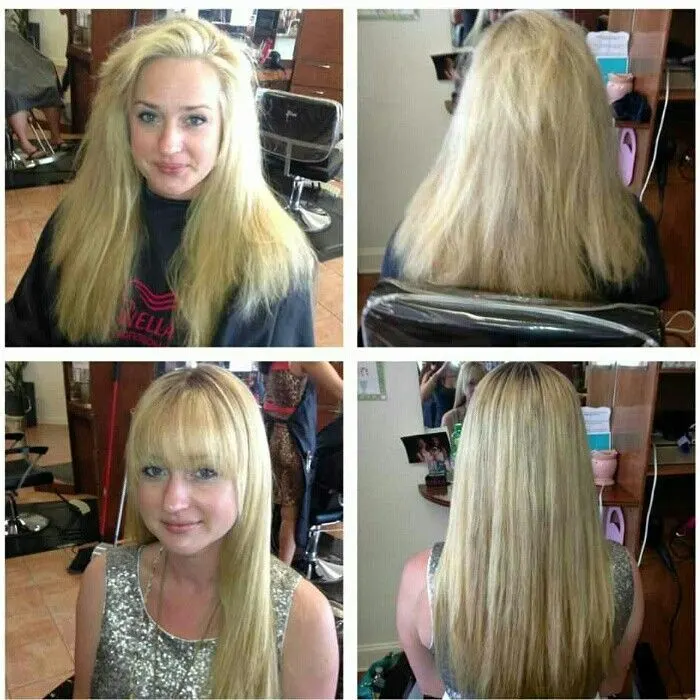 Hair is shampooed and conditioned, then lightly dried before the application of the Brazilian Blowout product to the hair. Once the solution is applied, hair is dried with a blow dryer, flat-ironed and then the product is rinsed from the hair.
Heat is used after applying Brazilian Blowout solution to activate the ingredients of the product.
Next, the hairstylist repeats the steps of drying and flat ironing the hair. Many prefer this treatment over Keratin treatments because they last longer, are typically cheaper and require less time for application.
Brazilian Blowout Dangers & Before-After Photos
How Long Does Brazilian Blowout Generally Last?
Brazilian blowouts may take upwards of one to two hours to complete but can last anywhere from 10 to 12 weeks or an average of 30 to 40 washings with ongoing treatments before the original texture of one's hair begins to reappear.
For those who would like to maintain or keep their Brazilian blowout, it can be done every three months and with treatment, they may be able to stretch the lasting effects of the Brazilian blowout to upwards of six months.
For those who prefer to save a few extra dollars, the Brazilian blowout treatments can be done from the comforts of your home for as little as $15 to $50.
How Much Do Brazilian Blowouts Cost?
Brazilian Blowouts may range in prices from $200 to $500 per treatment, depending on the length of hair. For example, a woman with a shorter to medium length of hair may pay closer to the $200 price range, while someone with shoulder-length, thick hair could pay closer to the $500 price point.
Nonetheless, many women who have struggled to manage their curls deem the price well worth it.
What Does an At-Home Brazilian Blowout Treatment Cost?
Since a salon visit for a professional Brazilian blowout is costly, try an at-home blowout to save a pinched wallet. There is a wide variety of products to choose from, ranging in price between $11 – $40.
Factors Influencing Brazilian Blowout Cost
There are two things that influence the cost of a Brazilian blowout: the length of your hair and its thickness. As with most hair treatments, the more hair you have, the pricier the hair treatment becomes.
If you were to get a professional blowout, other factors like which salon you choose and its location would influence the cost.
Brazilian Blowout Care
Those who wear the Brazilian blowout should try not to get their hair wet within the first few days of treatment. This protection plan includes the avoidance of rain, sweat and inadvertent moisture.
Once you are past that initial period, your Brazilian blowout is safe. The more treatments an individual receives, the healthier and more responsive hair is to the experience.
Brazilian Blowout: Pros and Cons
Pros
The Brazilian blowout has many supporters because of the impact it has on otherwise coarse and curly hair. Also, it helps to give hair color a more brilliant hue.
The duration of the treatment earns high marks, and many appreciate that this is not a permanent hairstyle. Also, it does not carry the same strong aroma as Keratin treatments. Finally, hair appears to behave better in that it dries faster and readily conforms with the application of heat.
Cons
The main disadvantage that experts cite relates to the presence of formaldehyde –a carcinogenic agent. While levels are reported to be lower than they were a few years ago, the concern still exists for some customers.
Next, there are reports that some women experience hair loss after having multiple treatments, or their natural hair texture was able to push through the treatment.
Damage may not necessarily be the result of the product so much as a side effect of excessive heat used to flat iron hair. The latter experience appeared to be few and far between, but hair damage may be a concern for some people.
Tips to Make Brazilian Blowouts Last Longer
To keep your locks looking sleek and shiny, follow these tips:
Wash Your Hair Less
At most, you should only wash your hair about three times per week. The more your locks are exposed to water, the more the blowout formula's coating is broken down. Also, use a sulfate-free shampoo, which won't counteract the ingredients. If your hair needs freshening up, use a dry shampoo.
Use Hair Masks
Twice a month, deep condition your hair with a hair mask. It will prolong the smoothness of your locks, as well as reinforce the coating on strands.
Wait to Use Hot Tools
In the first week after getting your blowout, avoid using your hair straightener or your blow dryer to extend the life of your blowout. Do use a heat protectant.
Protect Hair from Chlorine
Using a swimming pool or ocean water is fine, but use a hair cap to protect your locks from chlorine and salt water, which can strip the blowout's formula from your hair.
Use Less Oil
Whether you touch your hair a lot or you add oil for styling, cut down on its use.
Watch A Beauty Blogger Sharing Her Brazilian Blowout Experience
The Brazilian Blowout may not be for everyone, whether due to potential risks or existing hair texture, but those who choose to pursue the use of this product may find it to be a beneficial treatment process.
It will require ongoing visits to the salon for maintenance, but those who desire straight and manageable hair may find this product well worth their while.