What is Brazilian Blowout?
The Brazilian Blowout is a popular hair straightening process that has become a go-to for women with frizzy or textured hair.
The process used in the Brazilian Blowout involves a protein-rich solution that is used to coat the hair strands for straightening without any damage.
The Blowout Process
In this process, the protein is bonded to the hair by a flat iron to protect and smooth the hair, and also to make it stay straight for a longer time.
This process can range from $120 to $300 in the US, but the cost may be higher or lower in different countries.
The Brazilian Blowout process is usually a top choice for celebrities and people with thick, textured hair, i.e., curly, kinky, or wavy.
It's also an ideal choice for straight-haired girls who can't deal with the amount of frizz that their hair has.
For any of these hair types, the Blowout aims to make frizzy, unruly strands look silky, manageable, and shinier.
Hair is bone-straight when flat ironed, and when washed, it becomes softer, more controlled, and less tangle-prone than before.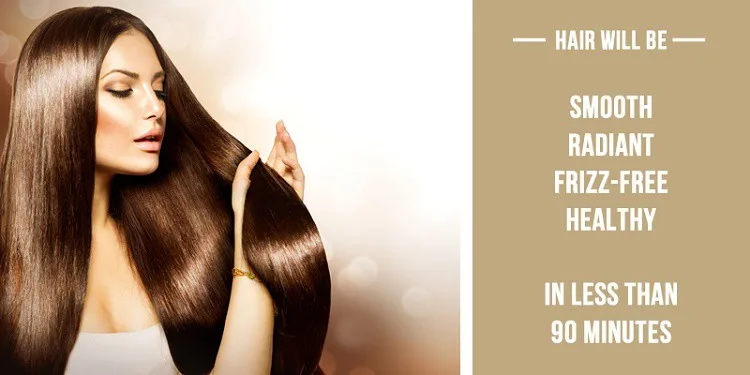 Don't worry – the process is simple despite its chemical use. Below, we show a five-step explanation of the popular method.
The hair is washed with clarifying shampoo to remove buildup and then coated with an amino acid-rich solution applied in small sections to damp hair.
The hair is blow-dried to begin sealing the protein solution.
The hair is flat ironed, while the solution is sealed into the hair.
The solution is rinsed out of the hair.
Hair is flat ironed for the second time, although if the customer wishes to keep their curls, they do not have to, instead, you simply scrunch the hair back into its curl pattern.
Brazilian Blowout Cost & Duration
How Does the Brazilian Blowout Solution Work?
The key to the solution's power is in its amino acid-rich composition. The amino acids leave hair frizz free, tangle-free, more manageable, and much more responsive to styling and handling whether the hair is straight or in its natural textured state. This is the number one benefit of the Blowout, as it leaves frizzy hair looking completely healthy, makes hair easier to deal with and cuts hairstyling in half!
The blowout lasts around 12 weeks usually, but there are a number of follow-up products that are made especially for customers of the process and infused with additional proteins. These products are usually sold at salons after the process and can help the Blowout effect last for up to 6 months.
Brazilian Blowout: Before & After
Here are a few photos of the before-and-after results of customers who used the Brazilian Blowout. Frizzy, unruly and tangled hair became sleek, smooth and shiny when flat-ironed.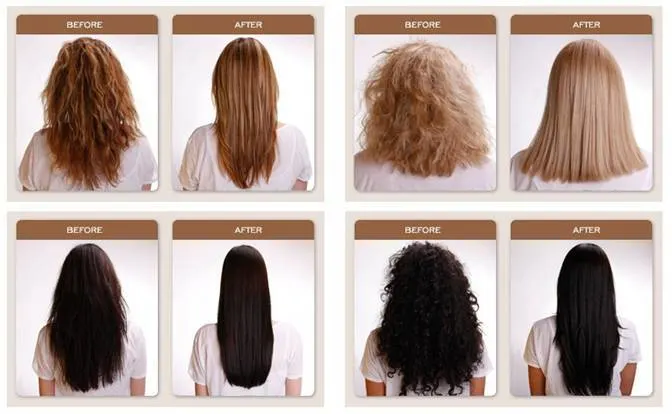 However, as with any chemical straightening process, there are shortcomings. Let's have a more conclusive look at the pros and cons of the Brazilian Blowout Method.
What Are The Advantages of Brazilian Blowout?
No unpleasant chemical odors
The process is only 90 minutes long – less than the time that you may take to flat iron your hair
The high-protein solution protects hair from the flat irons' heat as well as additional styling at home
Hair looks and behaves better
The process is not permanent – customers can expect the effects to wear off within 12 weeks if they don't like the results
What Are The Dangers of Brazilian Blowout?
If you are thinking of Brazilian blowout dangers then you are not completely wrong. Below are some of the disadvantages of the Brazilian blowout.
The treatment is rather expensive. You may be struggling with your hair, but $120 to $300 is a hefty price to pay for a temporary process. If you purchase follow-up products, that's even more money out of your pocket
Salons that use too much heat or use heat irresponsibly when flat ironing your hair can leave you with heat damage
Many solutions used by salons that perform the Brazilian Blowout have traces of formaldehyde in them– and formaldehyde has long been linked to cancer. Some salons do boast formaldehyde-free processes, but this is a big factor to consider if you're worried about health risks.
Difference Between Brazilian Blowout and Keratin Treatment
How to Maintain Brazilian Blowout
Unlike a regular keratin treatment, you can wash your hair after the Brazilian Blowout as soon as you need to. But to preserve the treatment, it's best not to use sulfate or clarifying shampoos. Choose mild, moisturizing shampoos, instead. And avoid those that contain salt, which will read as sodium chloride on the shampoo bottle.
You're also not restricted by how you style your hair, as it won't bend and hold the position of clips and ponytails. Stylists recommend that you use hair masks to maintain your levels of hydration. Hair masks that contain keratin or amino acids will help prolong the Brazilian Blowout treatment.
Does the Brazilian blowout cause hair loss?
It can if your hair is already damaged or breaking. If your hair is strong, a Brazilian Blowout should make it stronger. However, some people do have scalp reactions to the formaldehyde in the formula, or the formaldehyde-releasing chemicals. These chemicals cause hair loss in some people.
If you have a sensitive scalp, or if you are sensitive to formaldehyde, it's best to forego a Brazilian Blowout or similar keratin treatments. Keratin hair masks also use formaldehyde or formaldehyde-releasing chemicals to bond the keratin to your hair. These have also been known to cause hair loss in some people.
Are Brazilian Blowouts safe for thin hair?
If your hair is thinning as part of the aging process, a Brazilian Blowout is not recommended. The formaldehyde-releasing chemicals that are part of the process might be too strong for your hair and scalp to handle.
If your hair is naturally thin, a Brazilian Blowout is safe for you, although it might decrease your hair's volume.
The Brazilian Blowout has many benefits for girls with hair that just can't seem to lay flat, be sleek or act right.
It's simple, lasts for a considerable amount of time and saves you time in styling and caring for your hair, but its price and risks are definitely a factor to take into account before you get this treatment done.
What is the difference between Brazilian blowout and Japanese straightening?
Japanese straightening uses similar amino acid chemicals as the Brazilian Blowout. The difference is that the chemicals are stronger and designed to penetrate the hair cuticle in order to break the protein bonds within the hair.
Whereas, with the Brazilian Blowout the chemicals only work on the surface of the hair to seal the hair cuticle, remove frizz and facilitate straightening. This last only a few months so it is not permanent.
Once the hair is processed with Japanese straightening chemicals, they are rinsed out and the hair is straightened by blow-drying and with a flat iron. Then a neutralizing solution is applied to stop the action of the straightening chemicals. The hair is rinsed and straightened again.
Brazilian Blowout vs. Relaxer
A Brazilian Blowout and a relaxer have nothing in common, although both are used to straighten the hair. A relaxer uses relaxer cream to straighten the hair without blow drying it prior. It doesn't use keratin or amino acid solutions to further straighten the hair. So it is unlike a Brazilian Blowout.
Brazilian Blowout Vs. Rebond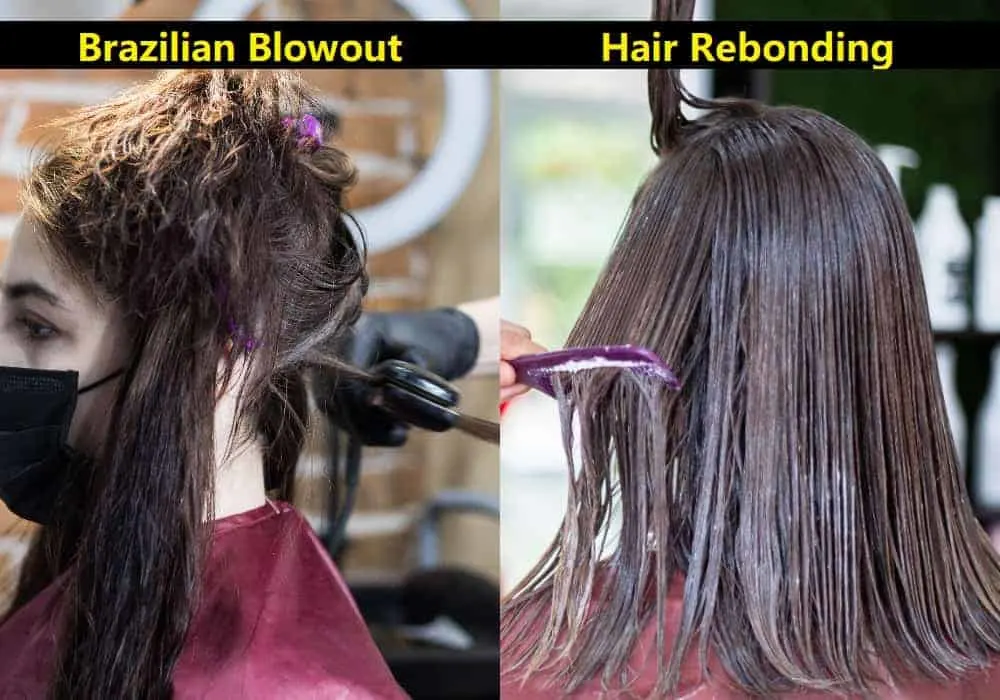 A rebond is a Brazilian Blowout with an extra step of processing a relaxer cream before adding the keratin or amino acid solution. Rebonding gets straighter, more permanent results, as compared to a Brazilian Blowout. It also costs more. Here are the steps:
After washing the hair, it's blow-dried to make it as straight as possible before adding the relaxer.
Relaxing cream is then added to the hair. Relaxers break the protein bonds in the hair to allow it to reform to another shape — in this case straight. When relaxing creams are used with rollers, the result is a perm. The cream is processed for up to a half-hour.
After rinsing the relaxer and re-washing the hair, it is steamed to replace the moisture content.
Then the hair is blow-dried again. It's not until this juncture that a keratin solution is applied to the hair. Then the rest of the treatment goes like a Brazilian Blowout.
FAQs
How long is the Brazilian Blowout process?
It takes about an hour and a half.
How long will the Brazilian Blowout last?
A Brazilian blowout will last between three to six months.
Can I use a flat iron on my hair after a Brazilian Blowout?
Flat irons are used to seal the keratin into your hair with a Brazilian Blowout. However, formaldehyde-releasing chemicals are also used to get the keratin to bond with your hair.

If you flat iron your hair at home, you run the risk of re-releasing these chemicals, which can be harmful to your lungs.
Will the Brazilian Blowout make my hair straight?
Yes, if you tell your stylist that you want your hair absolutely straight, it can be done with a Brazilian Blowout. You can also let the stylist remove frizz but leave your hair wavy.
Is the Brazilian Blowout costly?
Yes, it costs between $200 to $500.
Is the Brazilian Blowout good for my hair?
It actually depends on the condition of your hair before you start with the treatment. If your hair can't handle high heat, it's best not to do a Brazilian Blowout.

Consult your stylist if you have hair that's damaged or breaking off before deciding to do this treatment. If you have light damage or color treatment, the Brazilian Blowout can be very beneficial.
What'll happen if I don't rinse out a Brazilian Blowout?
As part of the treatment, the Brazilian Blowout formula is not rinsed at all. Instead, it stays in the hair for the processing time, then the hair is blow-dried with the treatment still on the hair.
Is a Brazilian Blowout permanent?
No. The Brazilian Blowout uses semi-permanent straightening. It is also cumulative, so the results improve the more treatments you have.
Brazilian blowout or color – Which one is first?
If you're going to color your hair, it's best to get your color treatment first. This way, you can seal in your color with the Brazilian Blowout treatment.
Does Brazilian blowout loose curls?
Yes, you can expect your curls to be loosened after a Brazilian blowout.
Can I wash my hair after a Brazilian Blowout?
Yes, washing hair is perfectly fine after a Brazilian blowout. There is no waiting time to wash hair after a Brazilian blowout.
Can I lose hair volume after the Brazilian Blowout?
Yes, the Brazilian Blowout helps tame curly and wavy hair, so you might lose some volume.
You Might Also Like: