What is Brazilian Blowout?
The Brazilian Blowout is a popular hair straightening process that has become a go-to for women with frizzy or textured hair. The process used in the Brazilian Blowout involves a protein-rich solution that is used to coat the hair strands to straighten it without damaging it.
The Blowout Process
In this process, the protein is bonded to the hair by a flat iron to protect and smooth the hair, and also to make it stay straight for a longer time. This process can range from $120 to $300 dollars in the US, but the cost may be higher or lower in different countries.
The Brazilian Blowout process is usually a top choice for persons with thick hair that's textured, i.e. curly, kinky or wavy. It's also an ideal choice for straight-haired girls who just can't deal with the amount of frizz that their hair has. For any of these hair types, the Blowout aims to make frizzy, unruly strands look silky, manageable and shinier. Hair is bone-straight when flat ironed, and when washed, they become softer, more controlled and less tangle-prone than before.
Don't worry – the process is simple despite its chemical use. Below, we show a five-step explanation of the popular method.
The hair is washed and coated with an amino acid-rich solution.
The hair is blow-dried to begin sealing the protein solution.
The hair is flat ironed, while finishes the sealing process of the solution into the hair.
The solution is rinsed out of hair.
Hair is flat ironed for the second time, although if the customer wishes to not have their hair re-ironed, they do not have to.
How Does the Brazilian Blowout Solution Work?
The key to the solution's power is in its amino acid-rich composition. The amino acids leave hair frizz free, tangle-free, more manageable and much more responsive to styling and handling whether the hair is straight or in its natural textured state. This is the number one benefit of the Blowout, as it leaves frizzy hair looking completely healthy, makes hair easier to deal with and cuts hair styling in half!
The blowout lasts around 12 weeks usually, but there are a number of follow-up products that are made especially for customers of the process and infused with additional proteins. These products are usually sold at salons after the process and can help the Blowout effect last for up to 6 months.
Brazilian Blowout: Before & After
Here are a few photos of before-and-after results of customers who used the Brazilian Blowout. Frizzy, unruly and tangled hair became sleek, smooth and shiny when flat-ironed.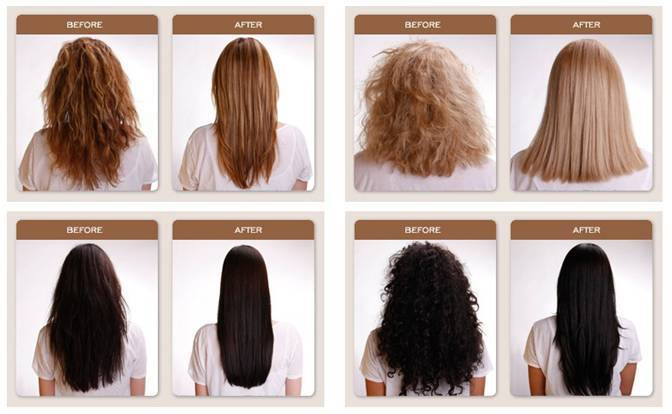 However, as with any chemical straightening process, there are shortcomings. Let's have a more conclusive look at the pros and cons of the Brazilian Blowout Method.
What Are The Advantages of Brazilian Blowout?
No unpleasant chemical odors
The process is only 90 minutes long – less than the time that you may take to flat iron your hair
The high-protein solution protects hair from the flat irons' heat as well as additional styling at home
Hair looks and behaves better
The process is not permanent – customers can expect the effects to wear off within 12 weeks if they don't like the results
What Are The Dangers of Brazilian Blowout?
If you are thinking of Brazilian blowout dangers then you are not completely wrong. Below are some of the disadvantages of the Brazilian blowout.
The treatment is rather expensive. You may be struggling with your hair, but $120 to $300 is a hefty price to pay for a temporary process. If you purchase follow-up products, that's even more money out of your pocket
Salons that use too much heat or use heat irresponsibly when flat ironing your hair can leave you with heat damage
Many solutions used by salons that perform the Brazilian Blowout have traces of formaldehyde in them –and formaldehyde has long been linked to cancer.Some salons do boast formaldehyde-free processes, but this is a big factor to consider if you're worried about the health risks.
Brazilian Blowout Cost & Duration
The Brazilian Blowout has many benefits for girls with hair that just can't seem to lay flat, be sleek or act right. It's simple, lasts for a considerable amount of time and saves you time in styling and caring for your hair, but its price and risks are definitely a factor to take into account before you get this treatment done.