Chris Evans beard style comes under the short beard style which is really easy to maintain. Kindly follow the following guide to style Chris Evans beard the right way so you can impress the ladies exactly the same way Chris Evans did through his elegant "full beard".
How to Get Chris Evans Beard Style
If you want to copy his beard style like a pro, just maintain the following steps and achieve your desired Chris Evans beard style.
Stay Healthy
Healthy life gives a guarantee of a healthy full beard.  Stay healthy. Do exercises on a daily basis. Ensure adequate intake of water to improve blood circulation. Eat protein abundant meal. Include biotin, eggs, spinach, milk, and nuts in your diet plan.
Stay Calm and Wait
While growing a full beard, first, prepare your mind about the long time span that your beard would take to grow. Remove all the stress from your life.  You have to wait for four to five weeks at least so your beard can grow a few inches long. Chris Evans took five months to grow his full signature beard that's why his beard looks so even and thick.
Skin Caring
Apply facial scrubs that can exfoliate your skin and removes the dead cells from your skin. Skin exfoliation plays an important role in fast beard growth.
Supplements
If you think your beard is growing at a low-speed rate, you can take multivitamins, vitamin D tablets and iron tablets according to the prescription of the consultant.
Trimming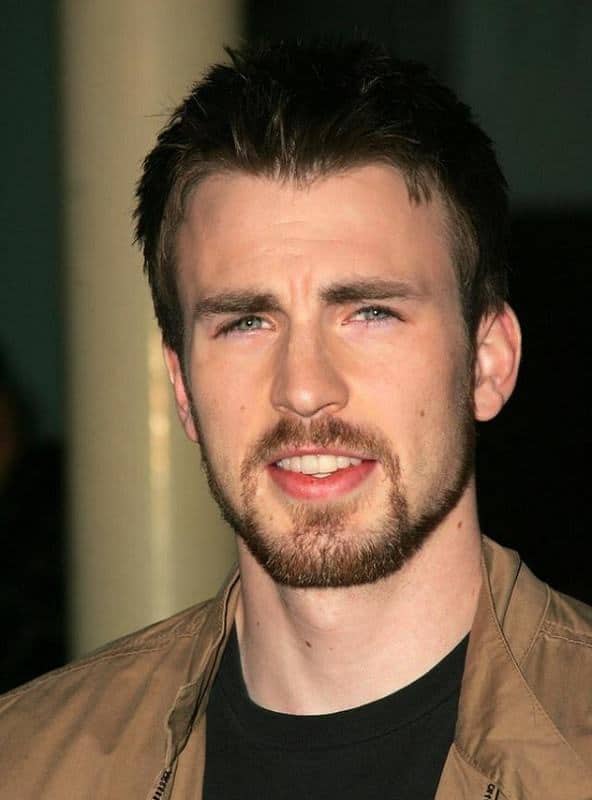 Once you achieve the desired beard length, you are ready to trim your beard to style it as Chris Evans inspired beard look. While trimming your beard, you have to determine your face shape first.
Chris Evans has a diamond face shape. He has narrow chin area so he trimmed his chin beard in a square shape for a broad chin area. He trimmed the sides of his face through clipper gradually from the sideburns which blend with the chin hair perfectly. His well-trimmed mustache connects strongly with his beard. He has not given the cheeks line any shape i.e. step-up or crew cut, but let it in a natural way instead. His neckline is neat and clean.
If you use this beard trimming guide of Chris Evans carefully, you will get the exact graceful result as he gets.
Fill Patches
If you are unable to grow a full beard and worried about the patches, you must take extra care of your beard. Gives these beard patches time to fill out. Use beard oil to make the beard thick. Minoxidil is a hair growth booster that comes in many product forms.
You can use minoxidil product to regrow your beard from the patchy zone. One thing to keep in mind is to stop your beard growth until the patchy area filled in completely. You can stop your beard growth by not letting it grow longer through clippers.
Minoxidil Or Rogaine for Beard Growth: Fact or Myth?
Apply Beard Color
Chris Evans has naturally brown hair. If you do not want to have a black beard or want the exact avatar of Chris Evans bearded look, you can apply brown dye on your beard as well as on hair.
More Attractive Beard Styles of Chris Evans to Follow
Following these steps, you'll get your desired Chris Evans beard style.