Actor Chris Evans' beard style comes under the short beard style which is really easy to maintain. To copy his handsome look, follow the guide below. You'll be sure to impress the ladies the same way he did through his elegant "full beard."
How to Get Chris Evans' Beard Style
Want to copy his beard style like a pro? Just follow these steps:
Stay Healthy
Healthy living guarantees a healthy full beard. Exercise on a daily basis, drink plenty of water to improve blood circulation, and eat protein-rich meals. Include biotin, eggs, spinach, milk, and nuts in your diet plan.
Stay Calm and Wait
While growing a full beard, first keep in mind the length of time your beard will take to grow. You'll have to wait for four to five weeks at least for your beard to grow a few inches long. It took Chris Evans five months to grow his full signature beard.
Skin Caring
Apply facial scrubs to exfoliate your skin and remove dead cells. Skin exfoliation plays an important role in fast beard growth.
Supplements
If you think your beard is growing at a slow rate, try adding supplements. Multivitamins, Vitamin D tablets, and iron tablets may help, but only use them according to a doctor's recommendation.
Trimming
Once you achieve the desired beard length, you are ready to trim your beard to style it as Chris Evans inspired beard look. While trimming your beard, you have to determine your face shape first.
Chris Evans has a diamond face shape. He has a narrow chin area so he trims his beard in a square shape for a broad chin area. He trimmed the sides of his face through clipper gradually from the sideburns which blend with the chin hair perfectly. His well-trimmed mustache connects strongly with his beard. He has not given the cheeks line any shape i.e. step-up or crew cut, but let it in a natural way instead. His neckline is neat and clean.
If you use this beard trimming guide of Chris Evans carefully, you will get the exact graceful result as he gets.
Fill Patches
If you are unable to grow a full beard and worried about the patches, you must take extra care of your beard. Gives these beard patches time to fill out. Use beard oil to make the beard thick. Minoxidil is a hair growth booster that comes in many product forms.
You can use minoxidil product to regrow your beard from the patchy zone. One thing to keep in mind is to stop your beard growth until the patchy area filled in completely. You can stop your beard growth by not letting it grow longer through clippers.
Minoxidil Or Rogaine for Beard Growth: Fact or Myth?
Apply Beard Color
Chris Evans has naturally brown hair. If you do not want to have a black beard or want the exact avatar of Chris Evans bearded look, you can apply brown dye on your beard as well as on hair.
Popular Beard Styles of Chris Evans
1. Au Natural
The actor's sparse beard seen above was a handsome way to let his natural beard color show through. There's a little light brown mixed with white and black, all colors that looked great with his natural hair color.
2. Medium Brown
Matching your beard color to your hair color is a nice way to look seamlessly put together and stylish. Chris Evans once colored his beard a medium shade of brown to pick up the brown tones in his haircut.
3. Scruffy But Trim
The top of this beard style was trimmed fairly short, while the bottom half of it was a little scruffier. Its neatness helped a slicked back hairstyle stay suave on the red carpet.
4. Buzzed Beard
Chris Evans showed everyone the right way to rock a beard with hair that has been combed back and parted off center. A buzzed beard is a great look for older men with white or gray facial hair and it's easy to do at home.
5. Light Brown
The actor's signature slicked back hairstyle also looked great with a light brown beard. It's slightly longer than a buzz cut, making it more noticeable but still easy to maintain.
6. Sparse Beard with Buzz Cut
When he took a break from having longer hair up top, Chris Evans rocked a buzz cut for awhile. He matched it with an equally short beard that was longest at the chin and almost bare at the cheekbones.
7. Brown on Brown
Women everywhere swooned when Chris left his hair long. To frame his face better, he made his beard color the same as his hair and let it get slightly scruffy.
8. Thick and Dark
If you're choosing to sport a buzz cut these days, copy what Evans did and let your beard grow thick and full. Color it dark to offset your hair color for cool contrast.
9. Thin Buzz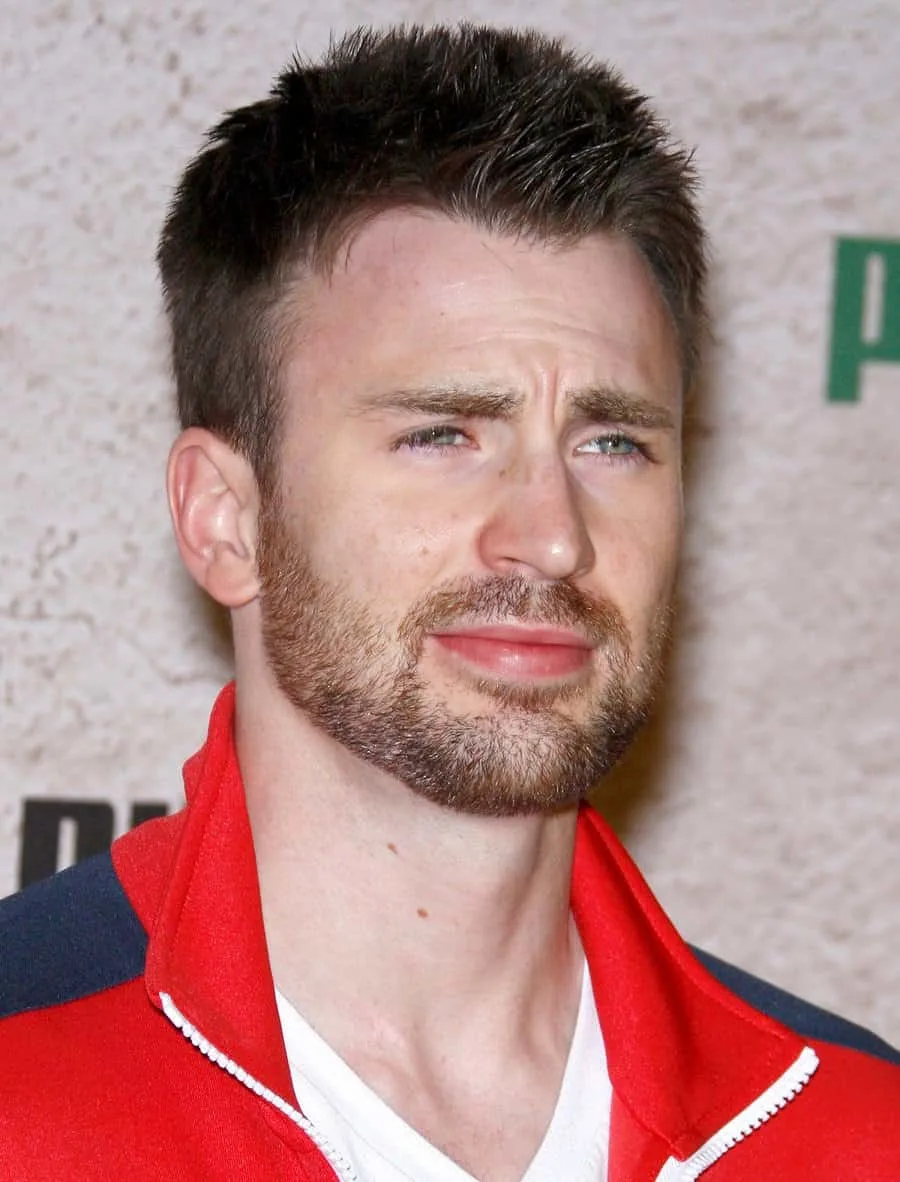 Keep your face cool in the summer with a buzzed or very short beard. Try styling it with a spiked up hairstyle for a youthful look.
10. Short Buzz
When you feel like tidying up your beard, take a note out of Chris' book and go with a very short buzzed beard. We like the way it looks with longer hair spiked up.
11. Buzzed with Goatee
Chris Evans looked very handsome when he sported a trim goatee and buzzed short the rest of his facial hair. If you like the matchy look, consider this pairing!
12. Thin Chin Strap
If your face has some angles, you should definitely consider a thin chin strap beard. In his younger days, Chris Evans rocked this style in a light brown with a textured haircut.
More Attractive Beard Styles of Chris Evans to Follow
Following these steps, you'll get your desired Chris Evans beard style.