Men have worn long hair with a beard for thousands of years, although there weren't so many variations then like we see nowadays.
Many men consider a long hairstyle because they want something that is anti-establishment. However, you cannot deny that lots of long hairstyles for men look cool. Long hair also gives you many choices if you have enough patience to wait for it to grow.
Combining the long hair with a classy beard can bring the manliest look to any face. In fact, if you have already seen some viral videos that depict the transformation of a man without a beard and with a beard, you have certainly become a fan of the beard.
How to Take Care of Long Hair and Beard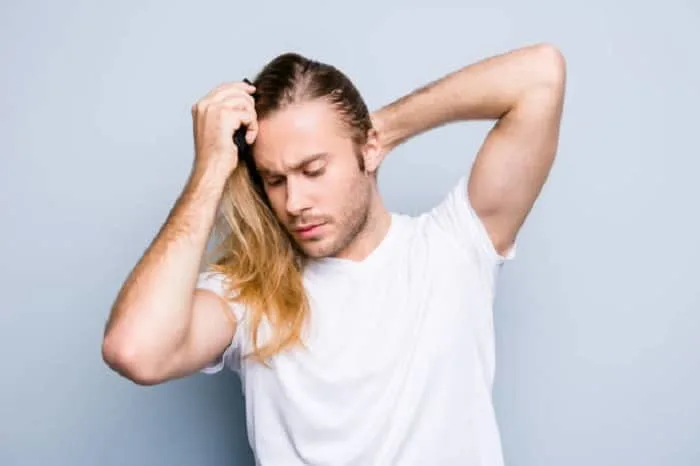 Some guys got irritated when styling their long hair and weekly trimming their beards. Some guys grow their hair and beard so long that it becomes difficult for them to carry both in their regular and business life.
Maintaining men's long hair and beard includes easy steps, but regularly caring is difficult, especially for lazy or busy guys. Here below are some easy tips for maintaining your hair and beard effectively;
Wash your hair and beard with shampoo after two to three days
Trim your hair to remove the split ends and damaged hair
After washing your hair, do not dry hair by rubbing it with a towel. Use a blow-dryer instead
If you have rough and dry hair and beard, keep them moisturized with good quality hair and beard oil
Comb your beard and hair regularly to remove the tangles
Do not tie your long hair too tightly; otherwise; it will cause damage to your hair
Classy Long Hairdos With Beard
Long hairstyles go well with a short beard. Sometimes long hair can look a little effeminate, but a beard helps add a touch of testosterone to the style.
Combining long hair with a beard style can achieve hundreds of different looks. In this article, we'll explore some of the coolest long hairstyle and beard styles to get an idea of how we can combine both to get the look you dream of!
#1: Thick Curly Hair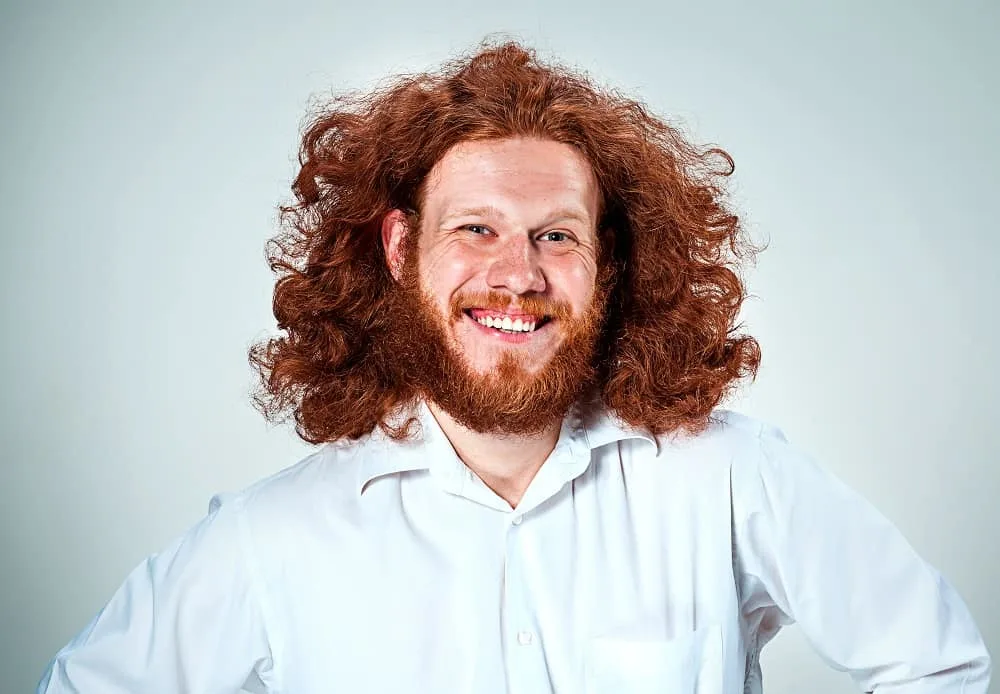 You're already set as far as a statement hairstyle if you have red hair! Add wavy or curly hair texture to it, and you might need a little help taming those locks. Cut it into a long shoulder-length hairstyle, but keep your beard relatively short to prevent your look from being overwhelming.
#2: Fade Haircut and Long Beard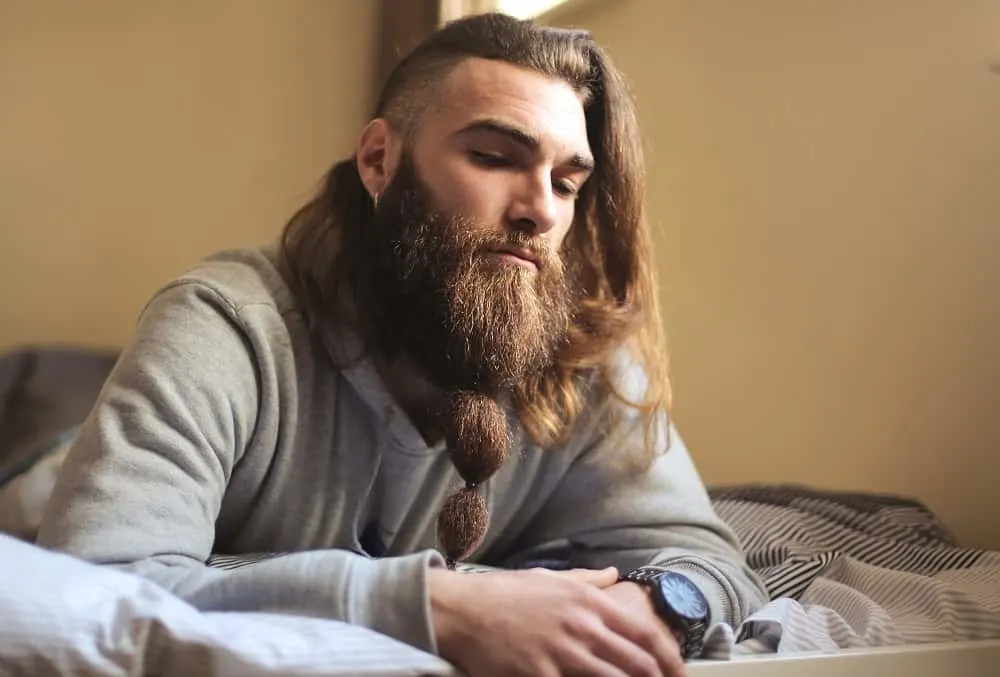 Consider adding a high fade to just one side on a long hairstyle. This will make you look edgier, but it's easier when you only have one side of the hair to maintain! Also, a long ponytail will look neat, not messy, when you section it off with hair ties.
#3: Long Twists with Anchor Beard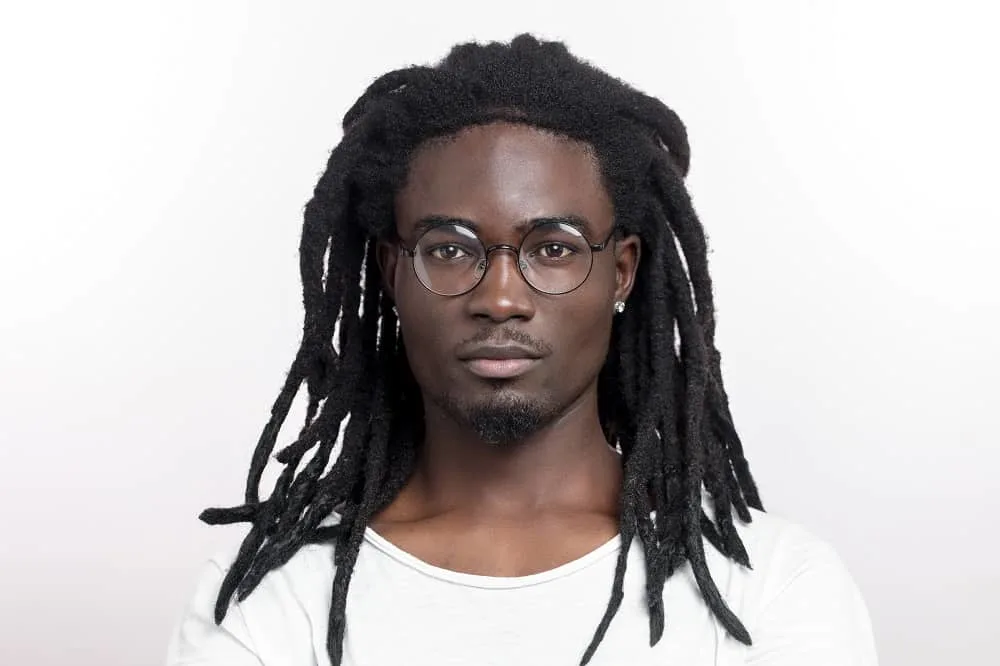 A short anchor beard is super classy when paired with long hairstyles. For men with natural long black hair, twists are a protective style, not to mention easy to maintain!
#4: Layered Hair and Horseshoe Beard
This beard style for older men is a mix of a horseshoe and a soul patch! The mustache is more pronounced with its upside-down squared sides and looks best without a full beard. Instead, wear it with a casual layered long hairstyle for balance.
#5: Long Mohawk and Wavy Beard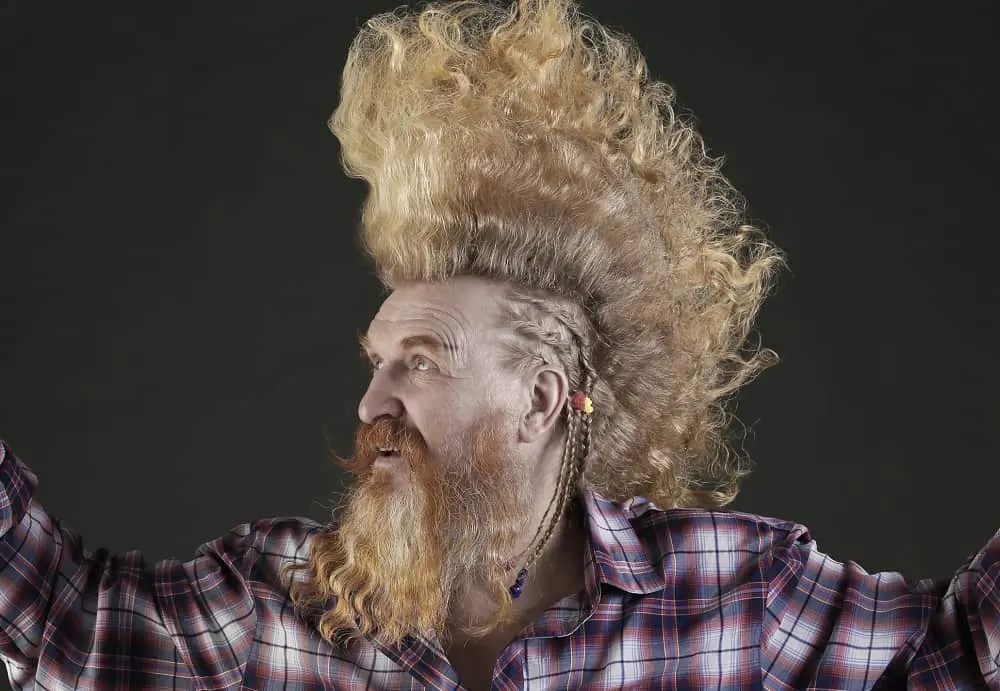 If there were ever a punk combination of long hair and a beard, it would be this one! A long mohawk nicely shows off wavy hair with braided sides, while a full beard does the same with its soft length.
If you're feeling bold, consider adding in some beads or braids around the beard!
#6: Long Curly Hair and Handlebar Mustache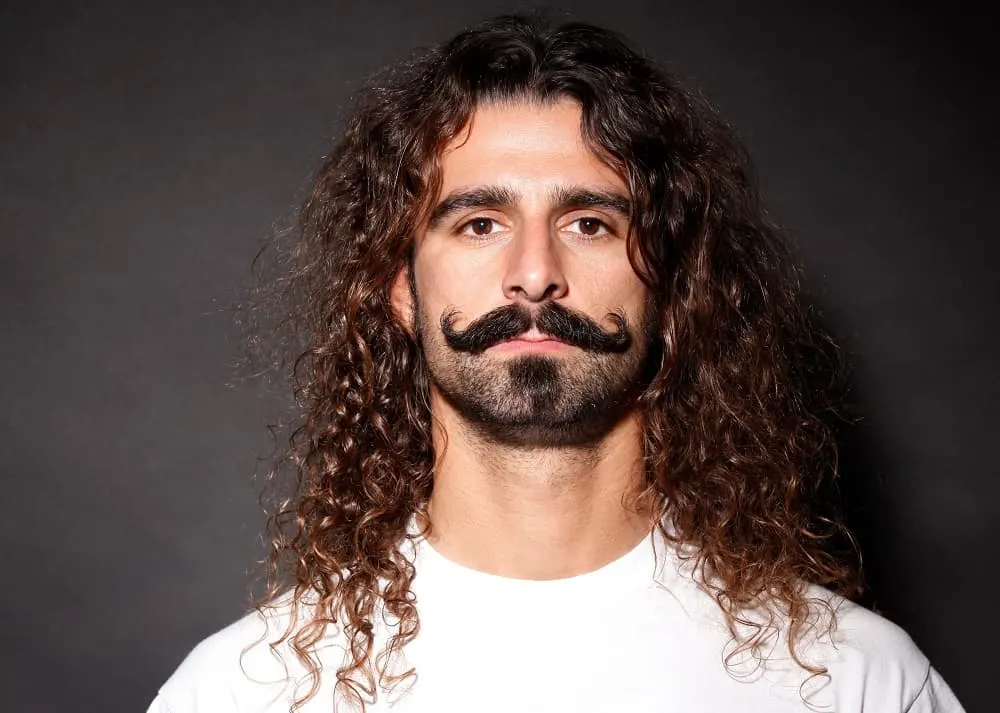 The handlebar mustache is an easy way to make your beard a statement style! Shape it with beard oil and wear it with a small soul patch. The short length will emphasize a thick head of long curly hair.
#7: Messy Long Hair and Braided Beard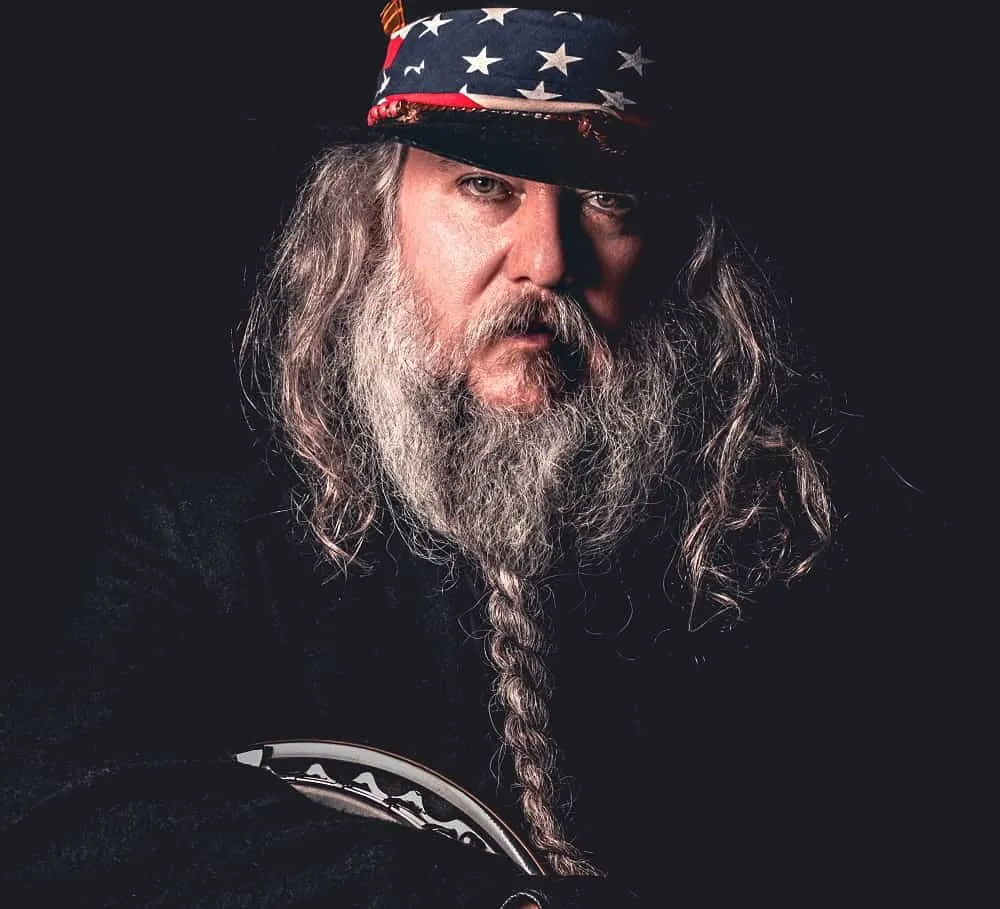 For older men working with a head of long white or grey hair, get quick morning styling done by throwing on your favorite hat. Then, contain your full beard by making one single braid.
#8: Pink Beard and Man Bun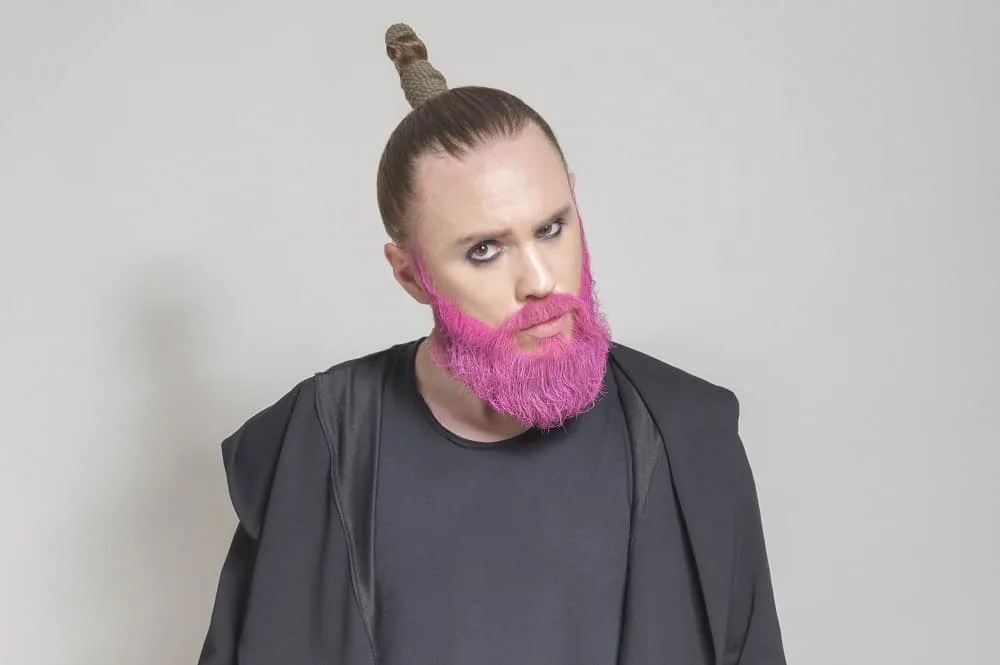 A tight, high man bun slicked and smoothed is a classy choice of a long hairstyle for fancy nights out. As if a man bun wasn't hip enough, a vibrant pink color added to a full beard will ensure your sense of style isn't unnoticed!
#9: Twist Bun with Loc Beard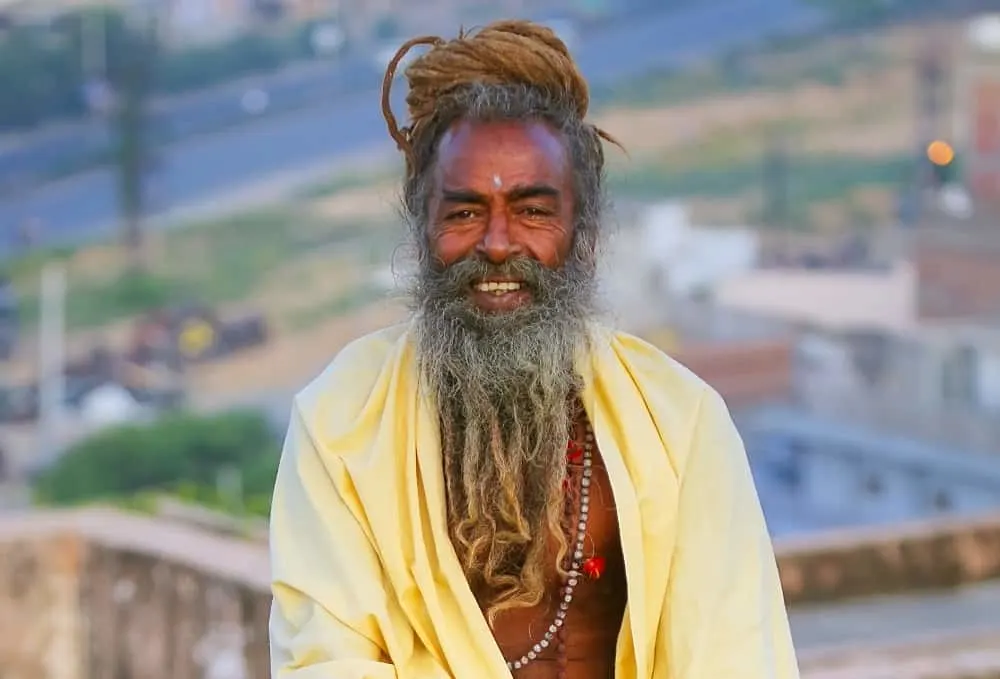 Are you a black man who loves locs or dreads? Throwing them up into a large round man bun will keep the hair out of your face and off your neck. Match your beard by putting it into locs as well.
#10: Straight Hair and Disconnected Anchor Beard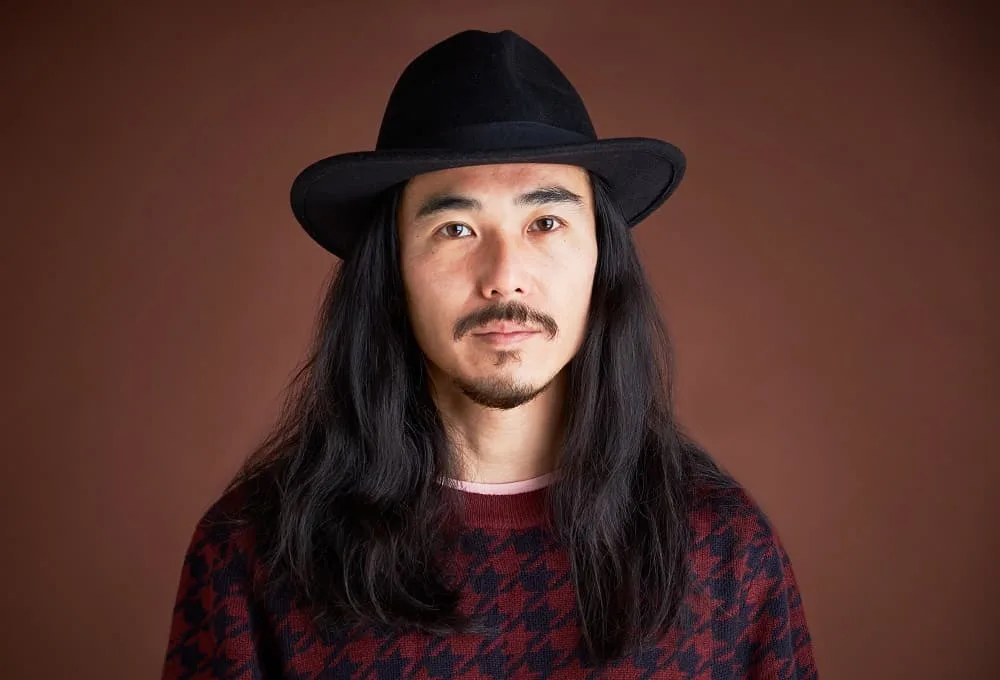 Play with your sense of style on long hair that is mostly straight by topping it off with your favorite hat. A short anchor beard is an excellent match and easy to trim up between barber visits!
#11: Chin-Length with a Gentle Wave
Wow! These gentle waves look gorgeous. Many ladies would kill for gentle waves or soft curls like these. Use a men's hairstyle product to keep them looking fresh and bouncy.
Coolest Short Hair with Beard Styles
#12: Soft Swept Back Style
Keeping your hair properly groomed will help ensure that it stays nice and soft. Sweep your hair back to keep it out of your face if you have a long hairstyle.
#13: Rockstar Style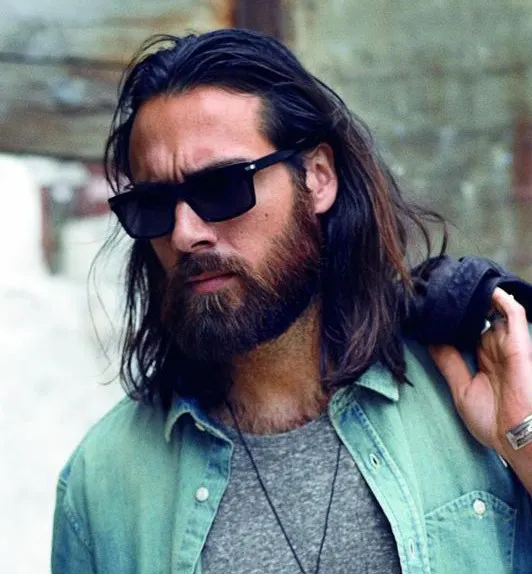 This cool men's hairstyle screams "long hair, don't care." It is a very rock and roll look that seems to be anti-establishment. So keep growing your hair as long as you want.
#14: Shoulder length hair with a low curl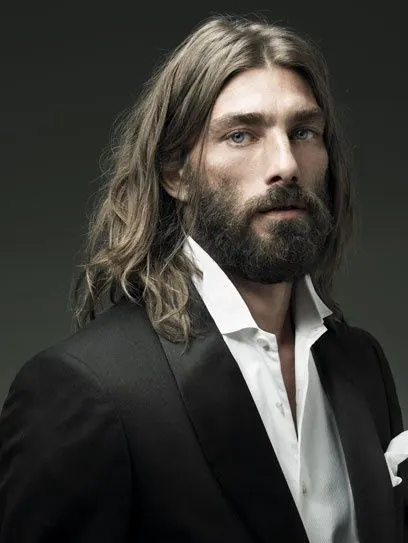 Long hairstyles for men can be pretty heavy. This might pull the top section straight while leaving a loose curl near the bottom. The style looks great with a carefully groomed short beard.
#15: Volume
Give a volume by backcombing it upwards from your roots. You can use a comb or your hands to create the effect. A style like this is the perfect choice if you are looking for a low-maintenance long hairstyle for men.
#16: The Man Bun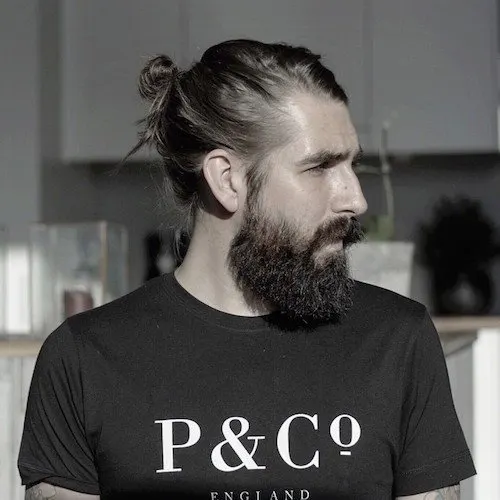 A man bun is one of the most popular styles at the moment. Just pull your long hair up into a knot on the top of your head and fix it with a hair elastic. This is great teamed up with a long beard or a short beard. Check these awesome man bun fade hairstyles.
#17: Long Hair On The Side With Long Beard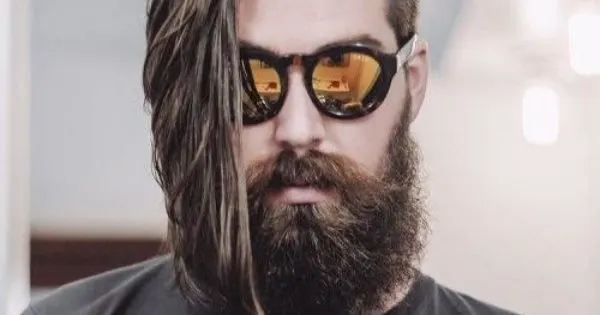 Long hairstyles for men do not need to be completely symmetrical. Instead, try sweeping all of your hair over from one side to the other so that it all falls on the same side of your face.
#18: Half Up Half Down 'Do + Full Beard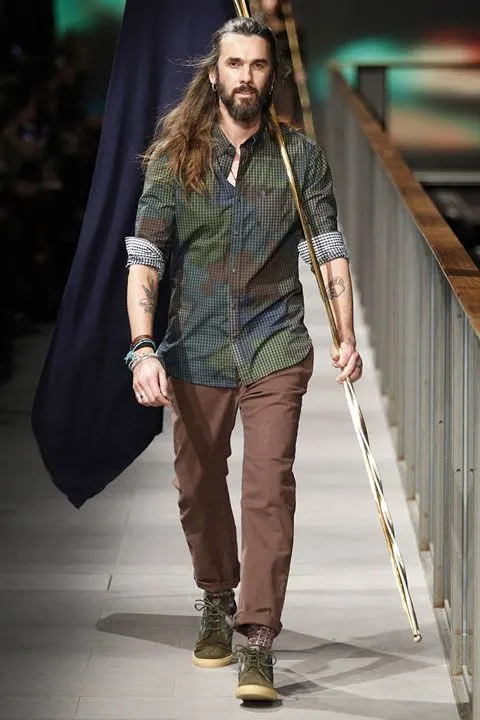 Pull your hair together at the back of your head and tie up sections with a hair elastic. Leave the rest flowing freely down at the back of your head. This is the perfect way to keep your hair out of your face.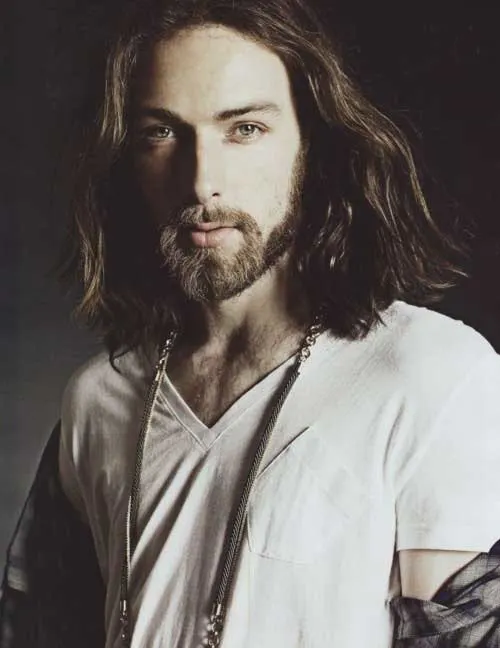 A thick goatee beard is the main feature of this style. The beard has been carefully trimmed and shaped so that it looks perfect. As a result, the beard has a maximum effect when teamed up with long hair.
#20: Big Lush Curls + Patchy Beard
Although this style would attract many women, it is still a great men's hairstyle. Give the look a testosterone boost by matching it with a short beard. It can be pretty hard to style if you are not lucky enough to have this hair naturally.
#21: Top Knot with Short Beard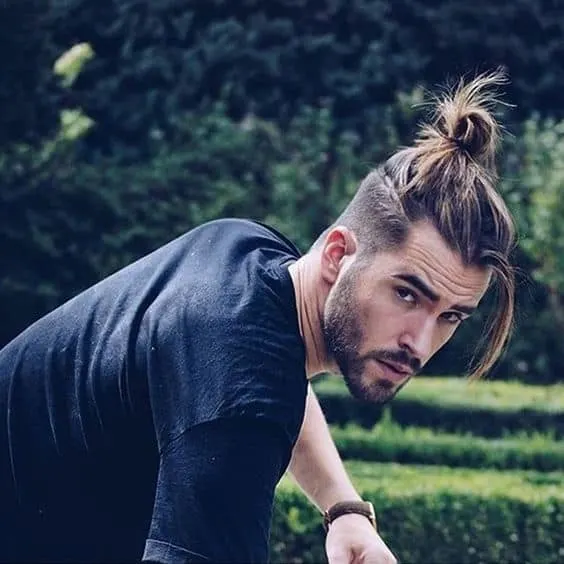 An undercut is one of the trendiest hairstyles of this current era that makes a voguish combination when styled with a long hairstyle and a short beard.
To achieve the desired look, keep the sides and back of the head shorter than the top, which contains longer hair that is tied into a topknot hairstyle later. Grow thick stubble for masculine features.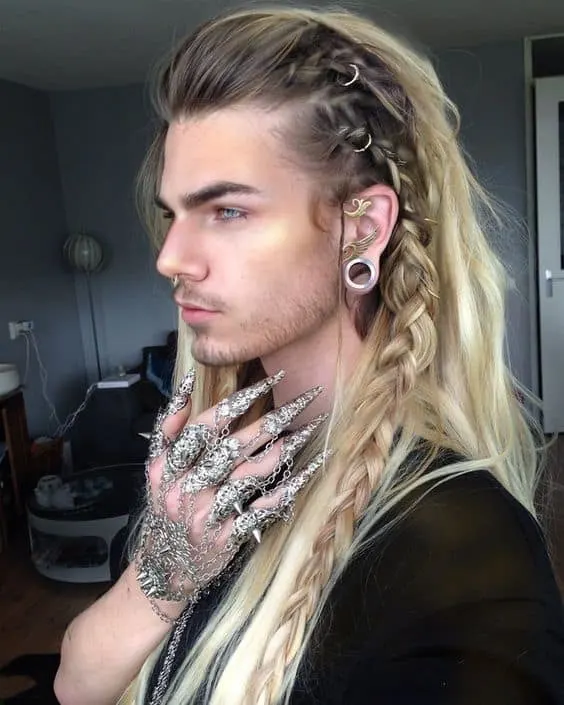 When styled into a braided Mohawk, long hair pulls an enigmatic personality out of the man. For this particular hairstyle, you do not have to shave the sides of the head; make the braids of side hair instead.
Keep the top hair relatively puffy to make it resemble Mohawk. Wear light stubble to add more impact to the whole style.
#23: Goatee and Man Bun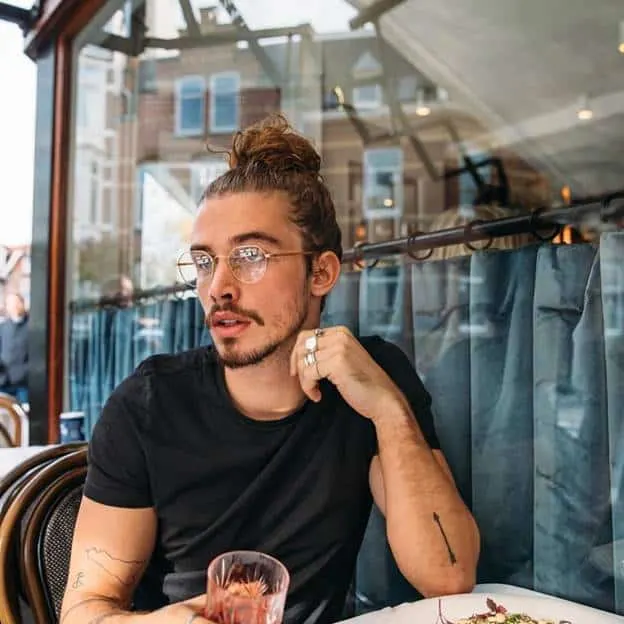 If you are in search of low-maintenance beard and hairstyles, you can go for a disconnected goatee and a high man bun to achieve your desired look. High man bun will take people's eyes off your patchy beard and add more class to your personality.
#24: Circle Beard with Long Messy Hairstyle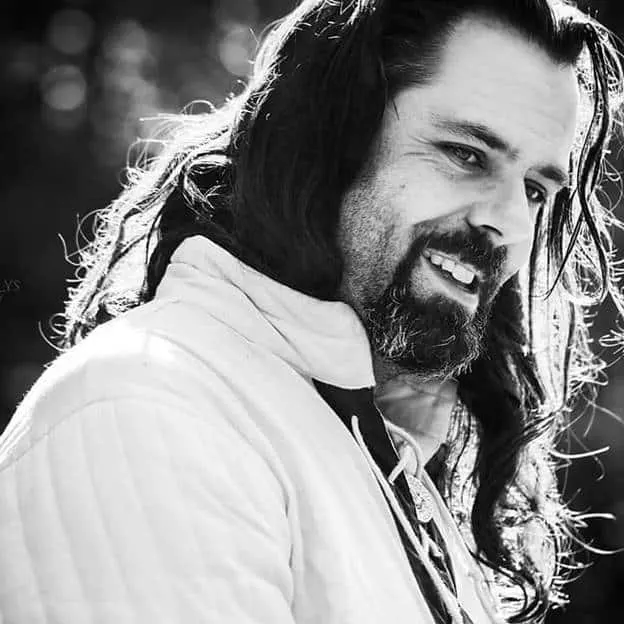 You can keep it simple and cool at the same time by pairing up long messy hair with a short, circle beard. You can achieve this look without going through the hectic treatments and styling.
If you love to keep your hair muddled, keep it the way you want. Pair up the thick circle beard with light stubble cheek sides to get a unique look.
Here is another unique combo that will make the people around you fall in love with your long hair and personality. Trim the sides and back of the head shorter and keep the top hair longer. Grow a thick beard and keep the side facial hair shorter to make it blend with the undercut hairstyle.
Have you ever tried a short neckbeard with a long hairstyle? If not, what are you waiting for to make your appearance awe-inspiring? Add a modish touch to your look by golden balayage incorporation. You can keep the hair free or tie it into a man bun; there is no restriction in styling your long hair.
#27: Ponytail and Short Beard
Choose this particular combination fearlessly if you are a big fan of ponytails, as a modern touch in your styling can significantly impact your personality.
Taper fade the sides of the head and turn the remaining hair into a ponytail for a well-groomed look. In addition, a faded short beard will give you ultra-mannish features.
It is hard to take eyes off this guy because how graciously he is carrying himself is admirable. Give an alluring touch-up to a simple half-up hairstyle by incorporating side braids. Grow a well-kept short beard for a debonair appearance.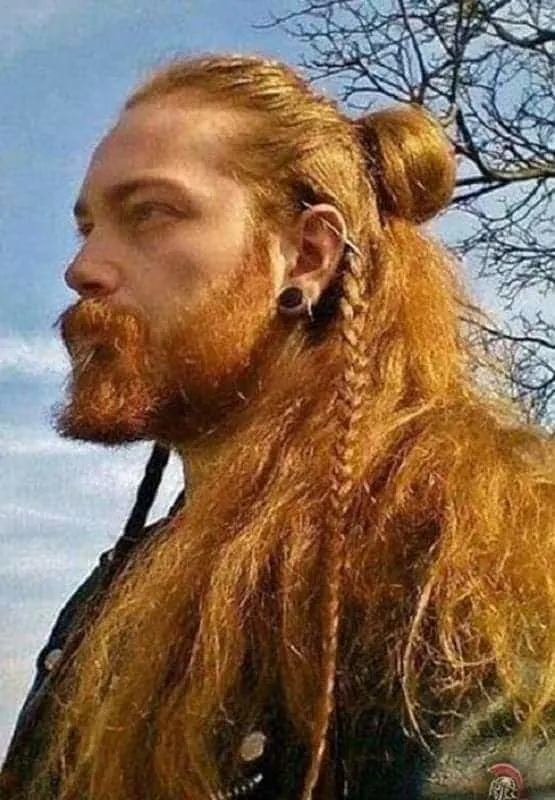 Not everyone has the guts to adopt such an extensive long hair and beard combination. Viking style reveals the mysterious personality of men. If the "ginger color" is in your genes, the whole style becomes more imperial.
Take the upper half hair section of the head and turn it into a bun or topknot. Leave the rest of the hair open. Take a few hair strands from both sides of the head and turn these strands into a single braid.
Grow a short beard so that the facial hair around the mouth has a thicker texture than the cheeks area.
#30: Cornrows and Beard
It is easy to style and maintain. You can keep this style for two days at least without being messy.
Divide hair into several sections and turn these sections into braids. Do not tie the braid too tightly; tie it a tad bit loose to prevent damage to your hair texture. Grow a chin strap bead along with a mustache to complete the look.
One of the most delightful and creative combinations makes the man's personality even more alluring.
Separate the hair into two sections. First, turn the top hair section into a French braid and tie the braid into a topknot. Next, take the lower half section of the hair and turn it into another topknot. Finally, grow a full thick beard for a manly look.
#32: Dreadlocks + Medium Length Beard With Connected Mustache
It is a perfect choice to wear for afro men. It is easy to maintain and can last for several days. Keep the dreadlocks free, side-swept the dreadlocks or make a bun; the choice is all yours! Grow a beard that features a circle goatee and thick neckbeard.
Are you looking for a bolder and unique avatar? First, combine your long hair with an undercut and stubble. Then, separate the trimmed side of the head with a curvy hard part.
#34: Long Masculine Hairstyle with Beard
Long hair with a full beard gives men a macho and robust look. You do not have to spend time styling your hair. Untied hair reveals a sturdy look of men.
Man-bun becomes one of the classiest long hairstyles when worn with a beard. Grow long stubble or full beard for a tamed look.
#36: Long Hair with Bandholz Beard
What an impressively virile look! Grow shoulder-length silky hair with a fully grown bandholz beard for a dauntless appearance.
#37: Long Dreadlocks Hairstyle
Dreadlocks hairstyle is becoming trendy amongst the current generation very rapidly. It is easy to maintain a long hair beard style. Grow a full beard or Garibaldi for a masc. look.
The fantastic benefit of having long hair is that you can play a lot with them. You can make creative braids or a braided Mohawk for a captivating personality. Light stubble or a chin strap goatee without a mustache adds more spell to the whole look.
If you have naturally wavy hair, you do not need to bother with any hairstyle. Keep the hair untied, grow a full beard, and wear stylish goggles. Then, you are ready to rock!
#40: Long Hair and Extended Goatee Beard
Due to their weak physique, some guys fail to impress others or look younger than their actual age. You can grow chest-length hair for a modern look and an extended goatee for a mature and mannish look.
#41: Kinky Long Hairstyle with Garibaldi
Boxed beard gives long hair, an ultra-mannish look. Reddish-brown long hair and beard look even more stylish on guys.
#42: Long Pony Hairstyle with Beard
It gives a sophisticated look to guys. It is easy to maintain a hairstyle. For example, you can grow light stubble or a goatee beard with a ponytail hairstyle.
#43: Sleek Hair and Goatee
Sleek straight hair along with a full beard makes an extraordinary combination.
#44: Long Balayage Hairstyle with Beard
Grow a chin strap goatee for a balanced and macho look if you have thick and subtle hair.
#45: Shoulder Length Hair and Blonde Beard
It is an elegant long hairstyle with a beard that looks equally good on casual and formal outfits. You can keep the hair long or tie the hair as a half-up hairstyle with long stubble.
#46: Side-Swept Long Hair
Men's long thick hair suits well with a full beard or full Balbo beard. It is easy to maintain hairstyle, but the beard needs trimming.
#47: Medium Long Hair with Thick Beard
It is a simple yet stylish hairstyle. It is ideal for thick hair. You must go with a full beard with medium hair to add manly charm to your personality.
#48: Waist Length Hair and Full Beard
Waist-length hair might look weird on guys and gives a girlish appearance, but you get spectacular results when you grow a full thick beard with long hair.
It is a stylish, trendy, and creative long hairdo with a beard. It is easy to maintain as well. You do not have to grow a full or thick beard as a trimmed chin strap goatee looks incredible with it.
#50: Half up Hairstyle and Ginger Beard
Whether hair is open or tied half up, in both ways, it looks decent on guys with a full beard or thick Balbo beard. You can reddish-brown your hair for a most modish look.
The hair may look rough but has its class when you grow a long mustache and long stubble.
Side fringe mostly gives a guy a handsome look, but when you grow a long, rugged beard with this hairstyle, it gives you a robust and virile look.
Johnny Depp is also famous for his mesmerizing fashion sense. He carried his medium-long hair and beard very professionally at various events. If you are a big fan of him, give this style a big shout-out!
The big afro hairstyle is one of the thick and textured hairstyles that gives a rugged look to a guy. If you are thinking of growing a beard, grow a chin strap goatee with a soul patch and trimmed mustache for a balanced look.
What an elegant long hairstyle with a beard! Apply pomade for a glossy look and tie the half hair into a bun. Grow a full beard for an ultra-impressive look.
#56: Sleek Hairstyle with Bushy Beard
Want to add more masculinity to your personality with a simple slick back hairstyle? Grow a rugged bandholz beard for this purpose.
#57: Long Gray Hair and Beard
Age is not a barrier for those who know how to maintain their class through their remarkable fashion and grooming sense.
It gives guys a funky and messy look. It is mainly for those guys who do not want to spend time styling their hair. Go with long stubble for a mannish look.
It gives men a fiercer look. It needs regular maintenance. Comb it regularly for a well-groomed look.
#60: Long Hair and Goatee Beard
If you think your long hair is not giving you a compelling look, why not grow a full goatee without a mustache. It will provide you with a mature and manly look.
Mid parted long hair and beard look fantastic and professional on men. In addition, platinum balayage provides an ultra-striking appearance.
#62: Long Hair and Light Stubble
Cut your long hair into several layers for a stylish look. Give your light stubble an extended goatee shape. It looks simple but enjoyable as well.
#63: Two-Toned Dreadlocks with Stubble
Love dreadlocks but want something unique and more appealing to wear; try out the two-toned dreadlocks long hair beard style with a stubble beard. Apply red dye on the lower half dreadlocks for a delightful appearance.
#64: Splendor Hairstyle with Beard
It gives men a brave and fierce look. You can grow a ducktail beard with long, platinum hair for an impressive look.
Long blonde hair with a red beard makes a fabulous pair that looks equally good on young guys as it looks on matured and aged men.
FAQ's Long Hairstyles and Beard
Will long thick hair suits well with thick beard?
It only depends on the grooming of your beard. If you keep your beard dirty, untrimmed, and rough, it will not look better with long thick hair.

If you keep the thick beard clean, glossy, and well-combed, it will add more charm and manly factor to men with long thick hair.
Is the long hair with beard look professional?
It depends on the hairstyles you choose for your long hair. If you choose a ponytail, man bun, slick back, or a half-up hairstyle along with the most suitable beard, it looks not only professional but remarkably graceful.
Does long thin hair look good with beard?
Yes, long thin hair looks good with a beard. A beard gives your long thin hair a promising look. It drives the attention from your thin hair texture. Just focus on growing your beard thick, full or bushy to compensate for your long thin hair.
Short or long beard- which is better with long hair?
Mostly, the short beard looks better with long hair as it gives a guy tamed and even looks. If you have medium-length hair, you can grow a long beard, but we suggest you grow a short thick beard or stubble for chest-length or waist-length hair.

A long beard looks good with long hair only when you tie them into a bun shape.
The above-named long hair and beard styles are the enchanting blends of unique, balanced, stylish, and trendy styles. Although it can take a lot of time to grow your hair long, it is worth the wait. So why not take some time to tell us about your long hairstyles in the comments section?