Curly hair is stylish and in trend, you have to admit no matter you are blossed with curly hair or not. If you are looking for funny and inspiring curly hair quotes we have the best for you. We know the everyday hustle of the curly haired people and converting those into curly hair quotes are the best way to echo your soul!
Having curly hair is something not too many people get to experience. The bouncy curls, the big volume, the cute shape of our hair, is something not everyone is lucky enough to have! And why not embrace it with funny hair quotes?
Listen, we know taming and dealing with your curly hair can be quite a lot sometimes, and that's completely normal, but the truth be told, having curly hair is the best thing ever! Finally, laugh out loud before going to the barber with these barber quotes.
Best Curly Hair Quotes
Having curly hair is one of the most amazing things, and we have put together a list of curly hair quote to prove it! Trust us, after you read each and every one of these curly hair quotes, you'll love your hair even more.
Yes, we know and understand there are some struggles to having natural, curly hair. It gets tangled sometimes, you have to use A LOT of conditioners, and you can't even try to comb it while it is dry, or you might lose all your hair.
So, are you ready to spend the next minutes reading funny, relatable and surprisingly great quotes about life, the struggle and the wonders of having curly hair? Let's begin!
1. I don't dare color my curls blonde because I am afraid my friends will think of it as instant noodles and will try to eat it.
2. My curly hair shows who I am. I'm open-minded, careless, and sometimes rough. Just like my curly hair.
3. Curly hair with a wide sweet smile is the perfect combination of beauty.
4. My curly hair is a blessing for me because it shows the attitude I have.
5. A person with curly hair may marry the person with straight hair so their children can have well balanced hair.
6. "Why didn't you comb your hair?" Most girls with curly hair have heard this at least once.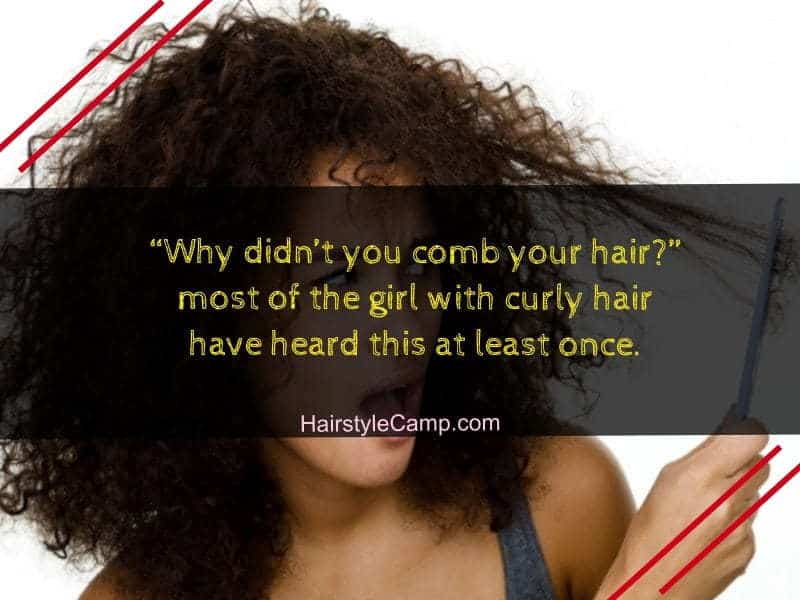 7. Right before you go to bed, you notice that your hair looks good, so you make an effort to preserve it while you sleep. You wake up, look in the mirror… and wonder where the lion came from.
8. In my place, I'm the only person who is passionate, beautiful, and free minded because only I have the curly hair.
9. You are more patient, more courageous, and have a big heart if you can wear your natural curly hair shape and be proud of it!
10. Your curly hair is not a radio, but the volume is too loud!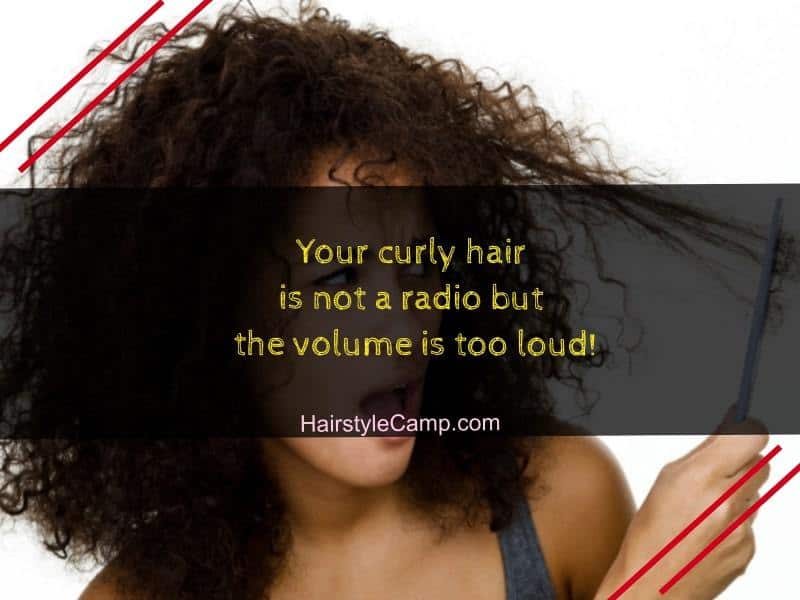 11. Find a partner who not only loves you but also loves your curly hair.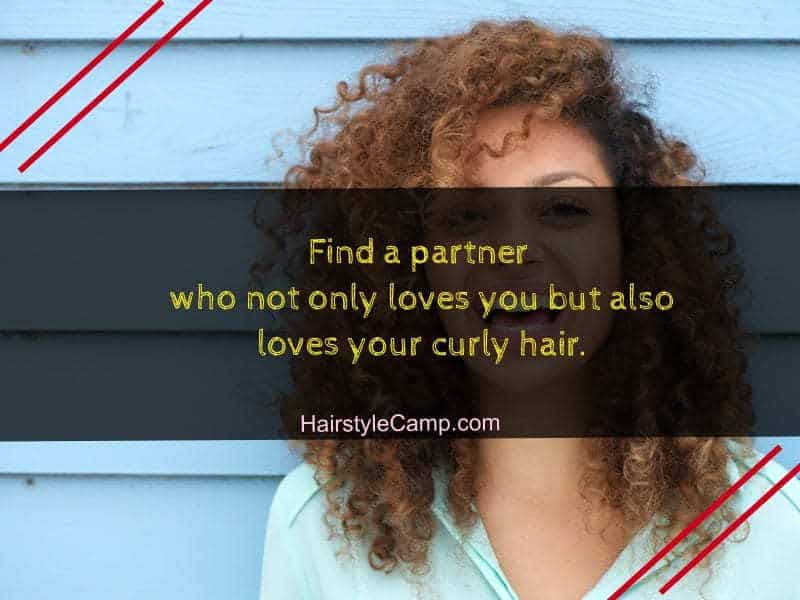 12. Stop worrying with your curly hair while styling rather let the soft breeze flow on it to take care of it.
13. People always expect more of you when you have naturally curly hair!
14. Every person with curly hair has to check the weather forecast before deciding whether to straighten their hair.
15. To make your curly hair super curly you don't need to do much. Just sleep on it and see the results.
16. Love your natural curls! Curly hair is not a trend, it's a lifestyle.
17. Yes, I have curly hair. No, I don't wish that it was straight…
18. "I was shy, but it came out in a big personality. My turning point was when I let my hair go naturally…" – Tracee Ellis Ross
19. Curly hair is more than just hair, it's an attitude.
20. I'm a queen crowned in my curls.
21. Time in the shower: – 10% taking care of my body, 60% fighting with my curly hair, 30% thinking about how life could have been easier with straight hair.
22. You think your hair is a mess but strangers say it's awesome.
23. I'm blessed with curly hair. Thank you humidity, I always wanted to be the lion king… said no one ever.
24. The struggle of having curly hair; is doing the same hair routine every time and getting a different result, every single time!
Funny Quotes About Curly Hair
Do you want big, fluffy curls? You've got them! You don't feel like having all that volume? You can blow dry it and still look amazing! You want to look a bit different today, why not try different hairstyles that suit your hair type? Do what suits you the best and share us your curly hair journey. If you want to share any curly hair quotes and memes you want to share, feel free to comment.
25. I love my natural curls! "Curly hair is not a trend, it's a lifestyle"
26. The bigger the hair the harder they stare.
27. As a kid I was told "pretty girls have straight hair" so I was always insecure about my curly hair. Now that I'm older, I couldn't be more in love with my crazy beautiful curls.
28. Naturally curly hair is a curse, and don't ever let anyone tell you different. – Mary Ann Shaffer
29. Having curly hair some days you're lucky and some days you're not.
30. Happiness is… Doing curls on my curly hair with my finger.
31. Curly hair can capture the attention but it's personality which captures the heart.
32. Curls run the world.
33. Big curls bigger attitude. So what!
34. I don't need a relaxer, my hair ain't stressed out.
35. Curly hair is like a box of chocolates you never know what you're going to get.
36. Just a curly haired girl living in a (mostly) straight haired world!
37. Why fit in with straight hair when you were born to stand out with your curly hair?
38. Curly-haired girls unite! And use lots of product to tame it!
39. "The straight-haired girls, they all want curls" – Sara Evans
40. My mood for the day greatly depends on how my curls are behaving!
41. My life may not be perfect, but my curly hair sure as heck is!
42. "I'll just quickly jump in the shower and then go," said no curly-haired person, ever.
43. Do I have curly hair? Yes. Do I wish it was straight? Nope!
44. It's a Netflix and hair mask night.
45. Never let a fear of frizz keep you from wearing your curly hair natural.
46. I like personalities the way I like my hair: wild and loose.
47. When most girls go out, they straighten their hair. Me? I flaunt my natural curls.
48. When you aren't sure if you're really part of your family because no one else has curly hair.
49. "Letting your hair air-dry can be the best or worst decision of your life."
50. Life is too short to have boring hair.
Let's be real, even with all of that (and the fact curly haired people spend the most on hair products) having this type of hair is fun and extremely versatile, and no one can deny that! We hope that you have enjoyed the above curly hair quotes. Let us know which one is your favorite.