Are you looking to share some inspiring or funny hair quotes with your friends? No matter what your taste is – we have some amazing quotes about hair that you are definitely going to love.
The hair industry is a successful industry. It has evolved and developed in providing complete solutions for everyone regardless of gender, hair type, or hair issues. The progress of the hair industry has allowed everyone especially women, to experience, obtain and maintain healthy hair. The growth of the industry provides excellent ways to change your look and hairstyles as frequently as you like.
Popular Hair Quotes
The following quotes about hair can also help you appreciate the essence and beauty of your hair. Read on to get inspired and learn to love your hair more. You can also find some of the funniest curly hair quotes, barber quotes etc in our blog.
1. I wanted to try a new short hairstyle and then I become a jane doe even to myself.
2. Natural hairs give you the freedom, express your attitude and make you feel carelessness!
3. Those women deserve a prize who proudly wear the natural hair and be comfortable with it.
4. Your hair generated as much oil that would be enough to make the fried chicken.
5. Girls with red hair become irritated to explain to everyone that their hair color is not natural, they soak it in the blood every night.
6. I hate to buy a wig to wear that's why I cut my long hair and make a wig to wear.
7. Hairstylists are like: Disasters becomes a new style to follow.
8. Having good natural hair is not easy. A lot of artificial things are needed to make it more natural.
9. It is said that the first impression comes from the hair and the shoes. So concentrate on these things and express your personality.
10. The people whoever says that money can't buy happiness surely never visit a hairdresser.
11. Good hair is the best revenge and speaks louder than the word.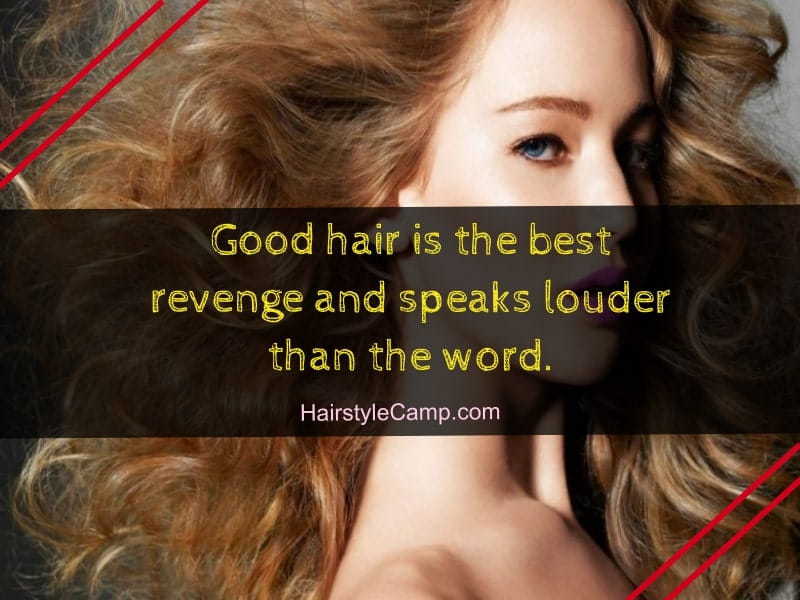 12. Love is in the hair. Let your hair down and let's have fun.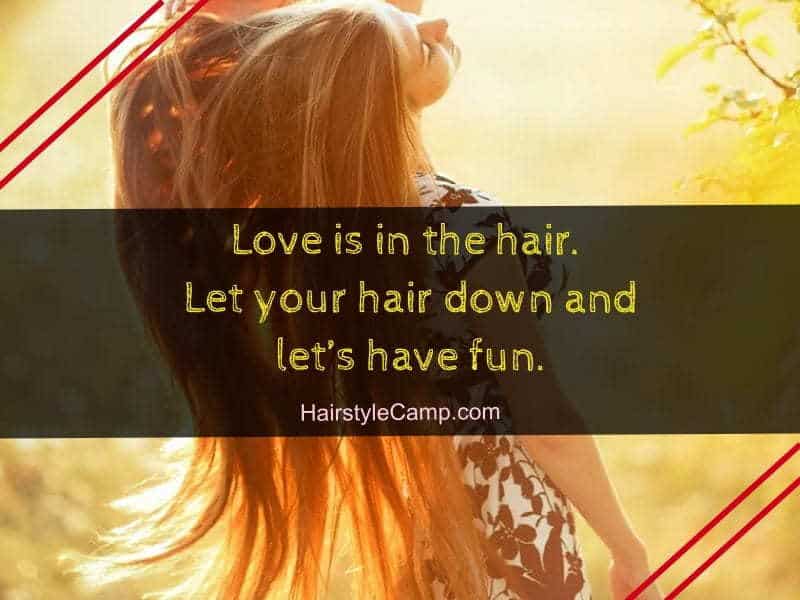 13. A lot of people make hair contact before eye contact.
14. I have a new hairstyle today and it's called "I tried my best".
15. You're never fully dressed without great hair.
16. I love my hair because… It's a reflection of me and me is beautiful.
17. Hair style is the final tip-off whether or not a woman really knows herself. -Hubert De Givenchy.
18. When my hair looks good: 3%- at school, 7%- at home, 90%- right before I'm about to shower.
19. Grey hair is hereditary. We get it from our children.
20. I don't need a hair stylist, my pillow gives me a new hairstyle every morning.
21. You can't control everything. Your hair was put on your head to remind you of that.
22. Grey hairs seem to my fancy like the soft light of the moon, silvering over the evening of life. – John Paul.
23. It's your hair. Do whatever you want.
24. I don't have gray hair. I have wisdom highlights.
25. Hair doesn't make the woman but good hair definitely helps.
The Best Quotes About Hair
Your hair goes a long way to reveal your identity. It tells those around you something of your personality and values. Hair is every woman's beauty and how you take care of it determines the results you get. Here are some more quotes and memes about hair you may like.
26. When your hair won't listen to you and it's a mess and you're just like???? I grew you myself??? I gave you life and this is how you repay me??
27. Those aren't gray hairs. They're strands of glitter growing from my head.
28. Good hair days make me feel like I can rule the world.
29. "A woman who cuts her hair is about to change her life." – Coco Chanel.
30. Life is too short to have boring hair.
31. If your hair is done properly and you're wearing good shoes, you can get away with anything.
32. Life isn't perfect but your hair can be.
33. If my 22 inch hair hits you when I flipped it, then you are 22 inches too close to me. Back up.
34. And forget not that the earth delights to feel your bare feet and the winds long to play with your hair. -Kahlil Gibran.
35. The shorter the hair the harder they stare.
36."People who worry about their hair all the time, frankly, are boring." -Barbara Bush.
37. You can't expect to always have a good hair day!
38. Everybody has a bad hair day, but us girls still like to be told we look nice even if we don't feel like we do. – Cat Deeley.
39. A little gray hair is a small price to pay for this much wisdom.
40. Hair brings one's self-image into focus; it is vanity's proving ground. Hair is terribly personal, a tangle of mysterious prejudices. –Shana Alexander
Funny Hair Meme
Here we've collected some funny memes about hair which are worth checking. Have a look:
41. Thank You Hair, for Only Looking Good When I'm Not Going Anywhere.
42. Oh My God! What's Wrong With Your Hair?
43. I'm Sorry. I Couldn't Hear You Over The Volume of My Hair.
44. Clients Be Like; I Waited for You to Come Back from Vacation.
45. That Moment When You Step Out of Your Hair Appointment.
46. They Wouldn't Stop Pulling My Hair. I Wouldn't Stop Pulling The Trigger.
47. The Way Your Face Looks When You Spot Your First Gray Hair in The Mirror.
48. My Hair-tie Won't Go Around My Hair Three Times. But It's Too Loose When It's Only Wrapped Twice.
49. My Hair Every day Before I Go to A Hairdresser.
50. When You Ask for A Trim But Walk Out Looking Like Jim Carrey in Dumb And Dumber.
51. It's Not Me Who's Trying to Bribe The President into Releasing More Info Than Any Other Ever Before. It's My Hair.
52. When You Thought Your Hair Wasn't Going to Come Out Like The Girl from YouTube But It Did.
53. Girls Used to Compliment My Long Hair Until I Cut It. Now Guys Call Me Handsome.
54. When You Do Your Hair Before A Party Then Sweat It Out Afterwards.
55. When It's 2 am at The Sleepover, And You And Your Bestie Decide to Cut Each Other's Bangs:
56. My Hair Is A Dog, Your Argument Is Invalid.
57. When You Cut Your Hair And Instantly Regret It.
58. Did You Know? If You Cut Your Hair, It Gets Shorter.
59. Waking Up in The Morning When You Have Curly Hair.
60. When You Straighten Your Hair But Then You Leave The House And It's Like; Bad Hair Day.
61. I Did It at Home… It's Called Home-Bre.
62. If Anyone Tells You Your Hair Is Too Big, Get Rid of Them. You Don't Need That Kind of Negativity in Your Life.
63. And Lord Please Don't Let A Bum Try to Touch My Hair. I'm Not Trying to Cut Anybody Today… Amen.
64. Black Girls… What If I Told You. You Could Grow Your Own Hair.
65. Grey Hair? That's Okay, Free Highlights!
66. Oh So You Flat Iron Your Hair on High Heat Everyday? Yes Please Tell Me More About How You Have "No Heat Damage".
67. When Your Hair Is Having A Good Day But You Aren't.
68. Girls With Straight Hair: I Wish I Had Curly Hair. Girls With Curly Hair: I Wish I Had Straight Hair. Guys: I Just Want Hair on My Head.
69. Leave Your Hair Natural They Said. It's Not That Humid They Said.
70. That Face You Make When Someone Ask Is That All Your Hair.
Sometimes it may seem difficult to give your hair the good treatment it deserves, or you may have tried several ways to get rid of a hair issue with no results. This can be frustrating and cause you to give up trying. The best solution is to get inspired by the above amazing hair quotes we have put together.